15 Wildest Chip Flavors You've Got to Try (If You Can Find Them!)
Wacky and out of the ordinary, but so tasty!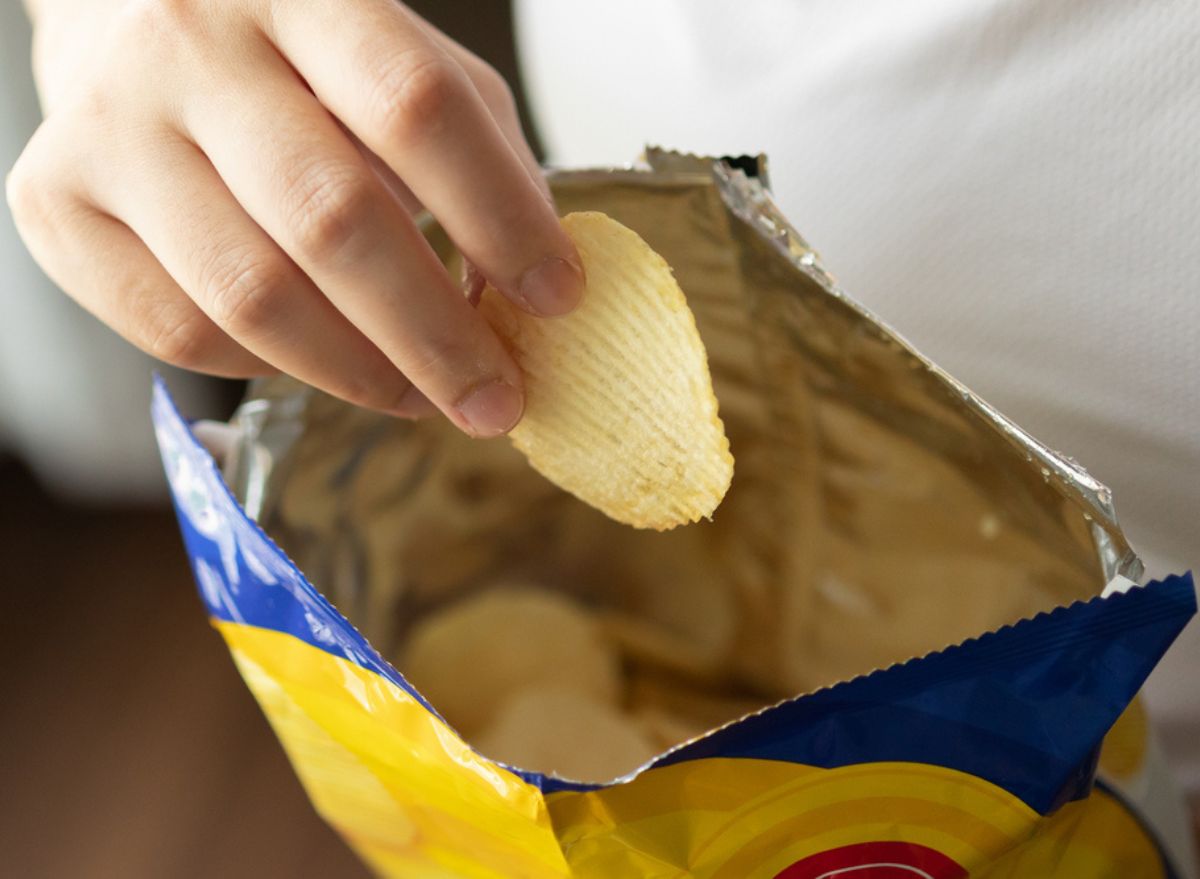 This post contains affiliate links. If you use these links to buy something, we may earn a commission.
Just who created potato chips is up for debate. One theory attributes the invention to a chef named George Crum at Moon's Lake House in Saratoga Lake, New York in 1853. Legend has it diner railroad tycoon Cornelius Vanderbilt sent his french fries back to the kitchen because they were too soft and thick, so Chef Crum decided to slice the potatoes thin and fry them until they were crisp and golden brown. They soon became known as his Saratoga Chips, and were very popular with customers.
But potato chips didn't become widely known until the 1920s when North Carolina businessman Herman Lay began selling chips out of his car to markets throughout the South. And, not surprisingly, Ireland owns a piece of potato history. In 1954, Dubliner Joseph "Spud" Murphy, owner of the Tayto company, began to cook up ways to flavor potato chips. Employee Seamus Burke rose to the occasion, inventing a cheese and onion flavor that's still very popular in Britain.
However potato chips were born, we've come a long way from the simple fried potato to some of the wildest flavors you've ever heard of like Chicken & Waffles, Baked Scallop with Butter and Garlic, and others. If you see these flavors, best pick them up and give them a try—in moderation, of course! And if you're looking for something to pair your chips with, check out these 10 Old-Fashioned Dips Made With Healthier Ingredients.
Humpty Dumpty
This 70-plus-year-old regional Maine potato company is a favorite in Maine and New England,  the sour cream and clam flavor is one of the most popular. The company was bought by Canadian Old Dutch about 16 years ago, so they're also available north of the border now. But the rest of us can only pine for a taste of one of Maine's best products. Also popular are the All Dressed flavor (ketchup, BBQ sauce, salt and vinegar) and Ketchup flavor.
Lay's Chicken and Waffles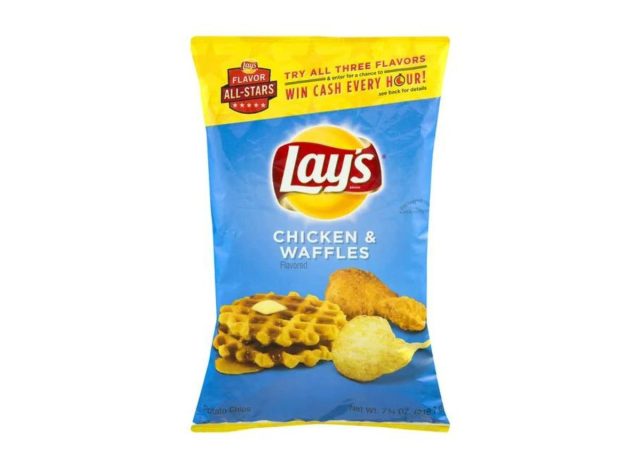 Years ago, Lay's debuted its crazy popular Chicken and Waffles potato chips for a limited time. These chips gained a cult following and they were brought back on several more occasions. The flavor is sweet and salty with a hint of maple syrup and the aromas of salty fried chicken.
Lay's Wasabi Ginger Chips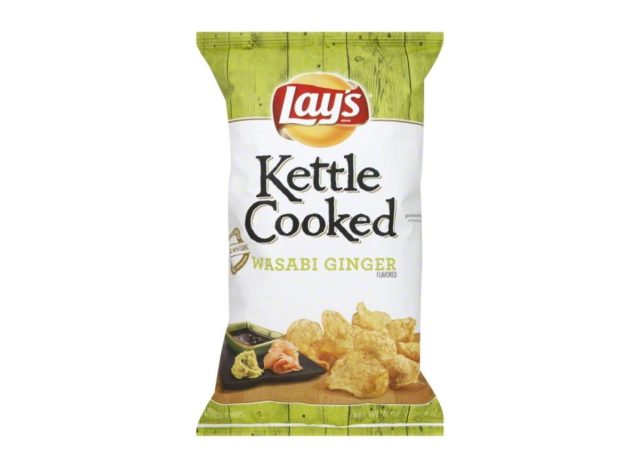 Sushi lovers know that wasabi and ginger are a dyno duo. Throw potatoes into the equation and you've got a potato chip trifecta.
Lay's Wasabi Mayo Chip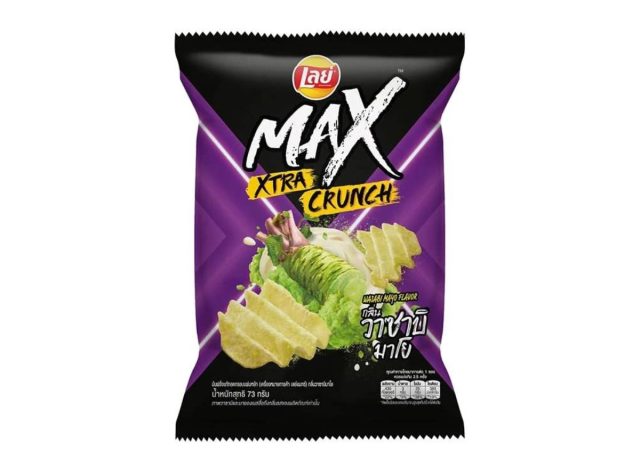 There's also the Wasabi Mayo chip from Lay's in Thailand. Apparently, Martha Stewart is a fan of wasabi and mayo, according to the site.
Lay's Baked Scallop with Butter and Garlic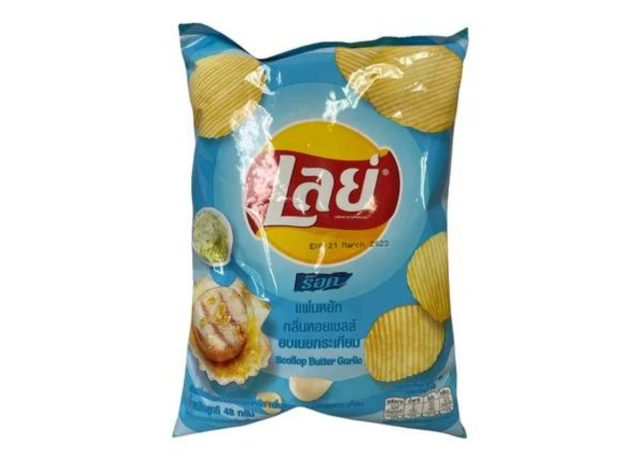 This unique flavored Lay's chip surfaced a few years ago in Thailand. It's garlicky with a squid-like aroma, according to Lay's Around The World. The site also says that this Lay's chip is so good it should be Michelin Star status.
Lay's Cucumber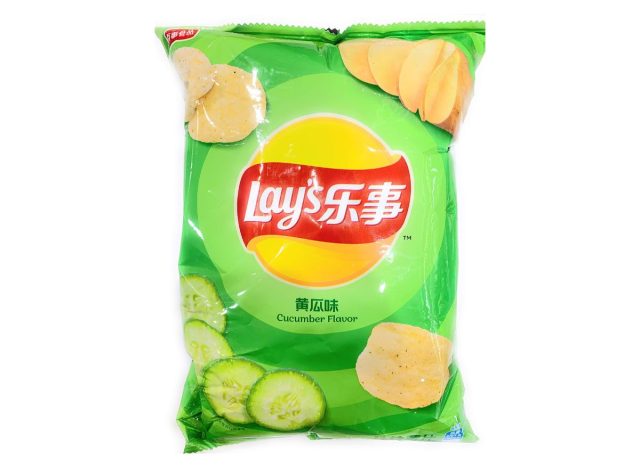 Though very light on the cucumber flavoring (even real cucumbers are subtle on flavor), these chips are very popular in China.6254a4d1642c605c54bf1cab17d50f1e
Pringles Japan
Pringles are especially beloved overseas, Pringles Japan even released a collection of limited-time-only products called 'Passport Flavours' to represent flavors of different countries. Fun fact: there have been at least 162 Pringles flavors released around the globe, according to Snack History.
London Fish and Chips
This is another flavor in the Pringles Passport Flavours chip lineup—a cheeky nod to England's iconic pub dish. The result is a flavor of fish, tartar sauce, and, of course, salt. And there's nothing fishy about it, there is no fish listed in the ingredients.
Pringles Cheeseburger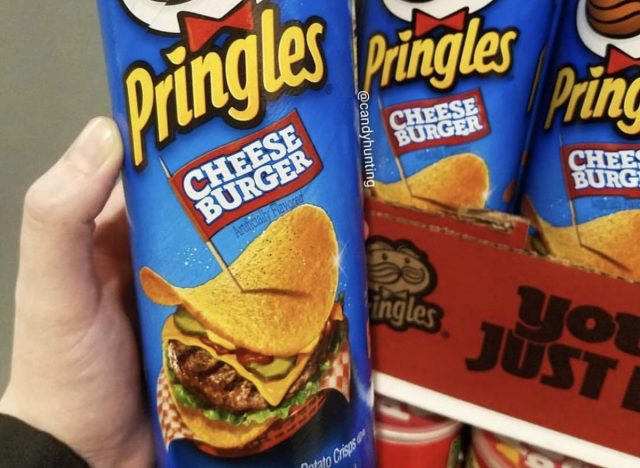 Pringles Japan also gives a nod to the U.S. with its Pringle Cheeseburger chip. It's a taste of a grilled burger, with cheese and pickles. An interesting ingredient included is mustard powder, for those who like their cheeseburger with mustard.
Butter Caramel Pringles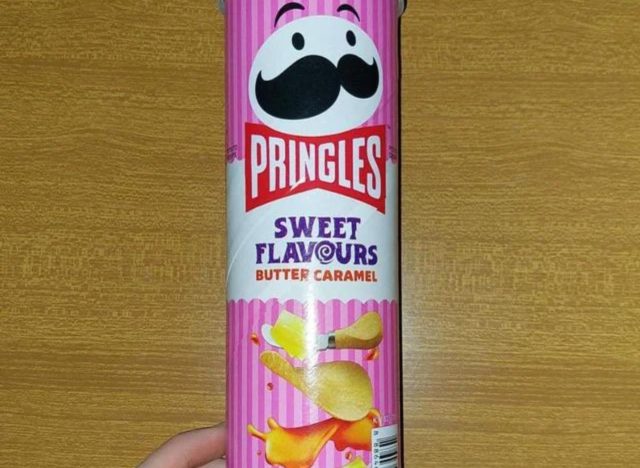 South Korea also celebrates Pringles with flavored chips exclusively available on the peninsula, including these sweet, buttery, salty chips. Fans hail the chip as one of the most popular Pringles flavors out there.
Burts Chips Maple Pigs in Blanket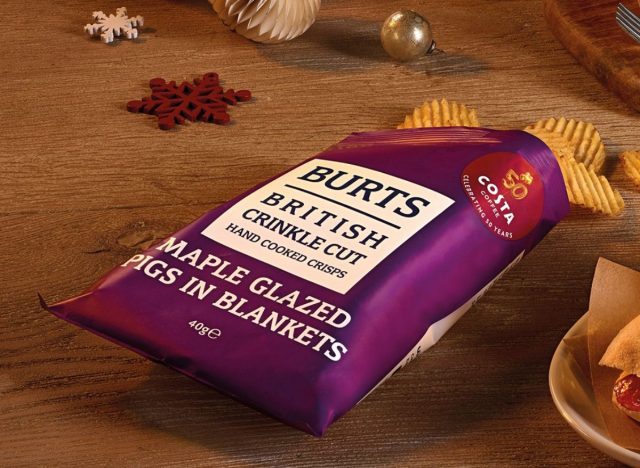 Made in Devon, England, these small-batch, hand-cooked potato chips combine the flavors of smoky sausage and bacon with a sweet maple glaze. Bonus: they claim to be free of artificial flavors. And, thanks to popular demand, they're making a limited edition comeback for the upcoming Christmas and holiday season.
Mackies of Scotland Scotch Bonnet Chilli Pepper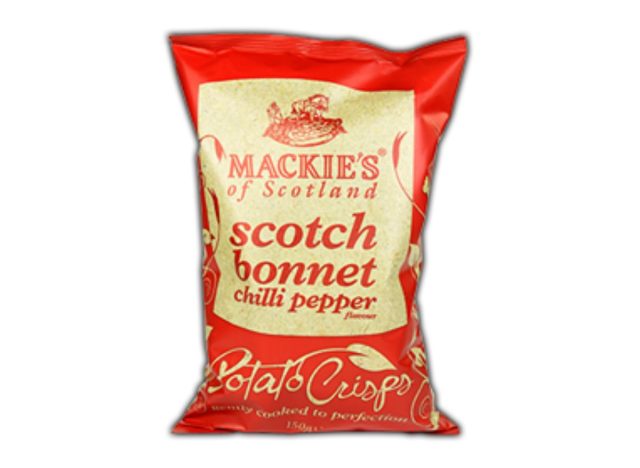 Some like it hot. This spicy Scottish chip, made with scotch bonnet chili pepper seasoning, is best washed down with a fine Scotch.
Mackies of Scotland Crispy Bacon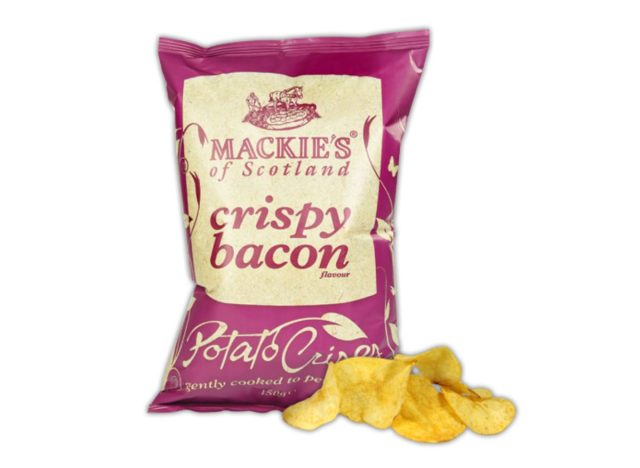 If you love bacon, this chip is for you. Also, the packaging notes that this chip is "suitable for vegetarians & vegans." Go figure.
Mackies of Scotland Ridge Cut Prawn Cocktail
Made with prawn cocktail seasoning, this chip flavor was a big catch in Scotland, and Mackie's more recently reimagined the chip to add ridges so that beloved prawn flavor is even more pronounced.
Walkers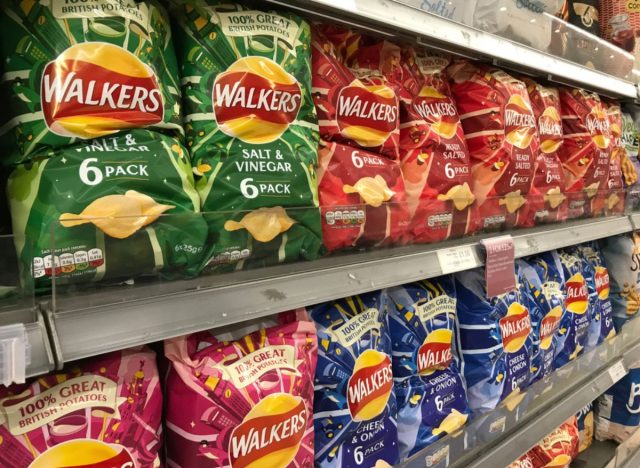 The U.K. is also home to Walkers, whose motto is "when life gives you potatoes, make crisps." Walkers uses "100 percent Great British Potatoes" in their potato crisps, and produces many flavors, including fan-favorite Supreme Prawn Cocktail. But you'll have to cross that pond to get them.