The 10 Most Popular Fast-Food French Fries Right Now
Find out which spot came out on top.
When you think about fast food, the big burgers and chicken sandwiches immediately come to mind, but we all know fast-food joints are nothing without salty fries.
While the iconic Big Mac and Whopper have famously been duking it out for over a century, there's also a competition amongst restaurant chains to see who has the best fries.
Ranker lets the people speak and uses a feature that allows readers to up-rank or down-rank fries. This setup allows us to see a real-time sampling of what the greater popular thinks are the best fries out there right now.
This list celebrates a variety of french fry types including curly, steak fries, shoestring, and waffle-cut, suggesting that what people really want is variety.  Here are the top 10 most popular fast-food french fries.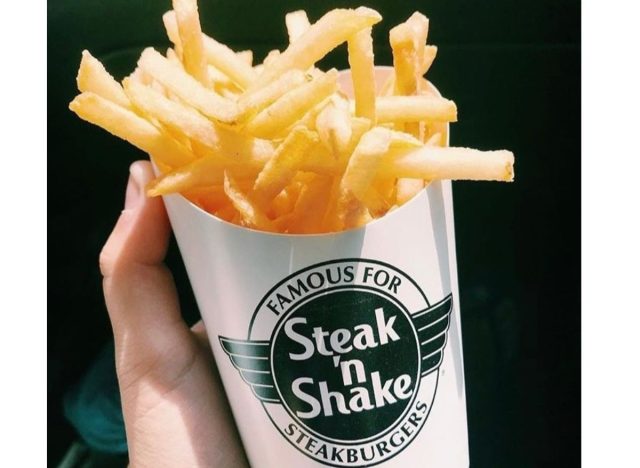 This chain has thin shoestring-type fries that are coated in a flour/starch mixture that help keep them crisp. Esquire ranked these very high on its "Definitive Ranking of French Fries" list, stating that they are "the smallest, thinnest, and crispiest of fast-food fries."
Wendy's Natural Cut Fries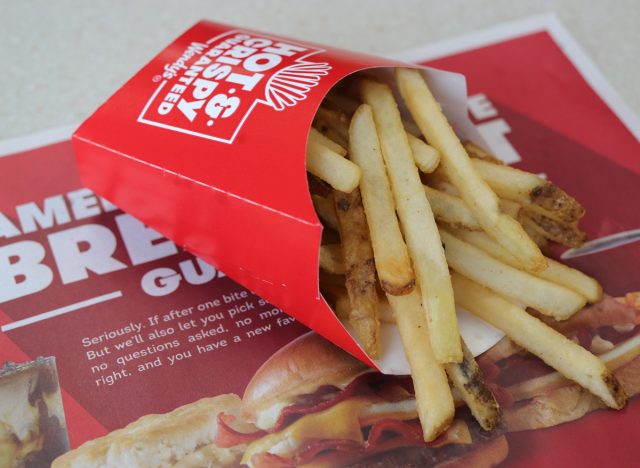 What does "natural cut" mean? To Wendy's, it simply means that they leave the skin on the potatoes instead of having the skin "blown off" after steaming, which happens to most fast-food fries. However, CBS News investigated and found out that despite the name, this doesn't mean that the fries are "natural" per se because they still have added dextrose and sodium acid pyrophosphate to prevent the fries from turning brown. FYI, these are now known as the Hot & Crispy Fry and are lightly coated for a longer-lasting crunch.
Red Robin Bottomless Fries
Red Robin fries are the only offering on this list that are thicker-cut steak fries. While this might not be great for your waistline, people love that burger joint Red Robin allows for unlimited steak fry refills (among other sides).6254a4d1642c605c54bf1cab17d50f1e
Jack in the Box Seasoned Curly Fries
A spiced-up, flour/cornmeal/corn starch coating makes these curly fries crunchy, but another spot has the best curly fries further down this list.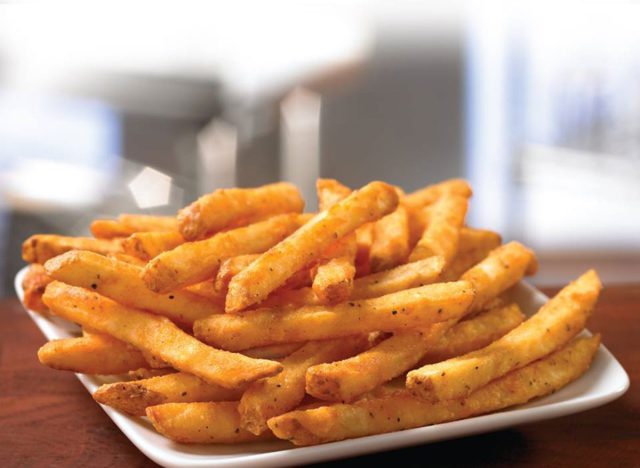 The spice gets high marks for these fries, but reviews say that they lose their crisp rather quickly, so eat 'em fast!
Rally's/Checker's Seasoned Fries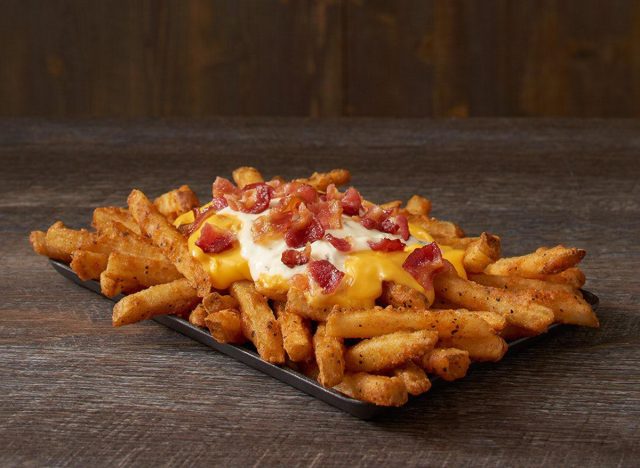 The seasoned batter is what makes these crunchy fries unique as well as the larger cut. Corn starch, flours, spices, and a touch of MSG make these craveable. Fun Fact: This is also the coating they use on their mozzarella sticks.  Like Rally's/Checker's fries? You can actually buy them frozen at Walmart.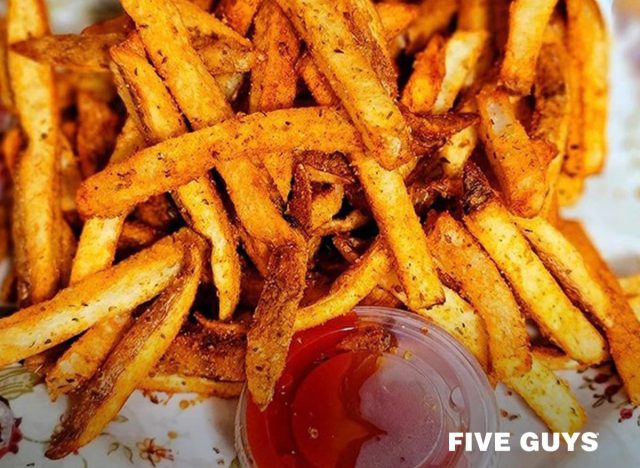 Five Guys is famous for giving the customer fries with an extra big scoop on top, making them both messy and fun to eat. Five Guys calls their fries "boardwalk-style," which means that they're cooked twice for a firm outside and a mashed potato interior, and it's their spicy cajun ones that take 4th place on this list. Five Guys Cajun fries are simple and preservative-free. They are made with potatoes, peanut oil, salt, and a blend that includes garlic, salt, onion, paprika, oregano, white pepper, red pepper, and other spices.
Waffle fries, like curly fries, are polarizing. Some people believe that this type of fry belongs in a pub and not in fast food restaurants. The people, however, love Chick-fil-A's hatched offering. As far as fries go, there aren't many ingredients for these fries. The potatoes shine through, though dextrose–a sugar–is added for flavor and preservation.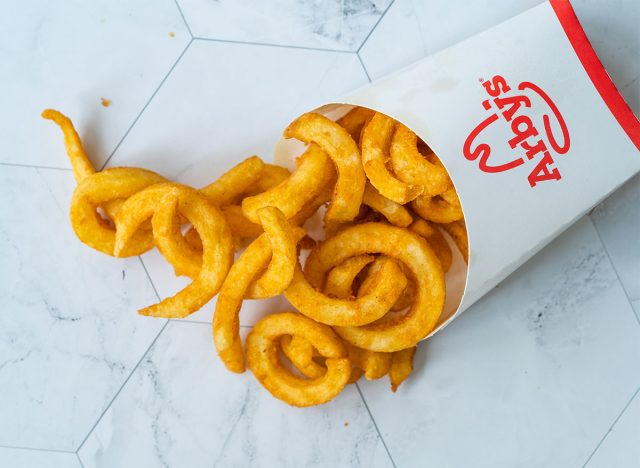 Arby's Curly Fries probably rank so high because they are truly unique. Coated in a corn starch mixture and spices that crisp up in the fryer, these fries are crunchy and tasty. Reddit threads abound debating the worth of these fries but most agree they are special. Thrillist ranked them as their best fast-food french fry, but one other holds the torch in Ranker's ranking.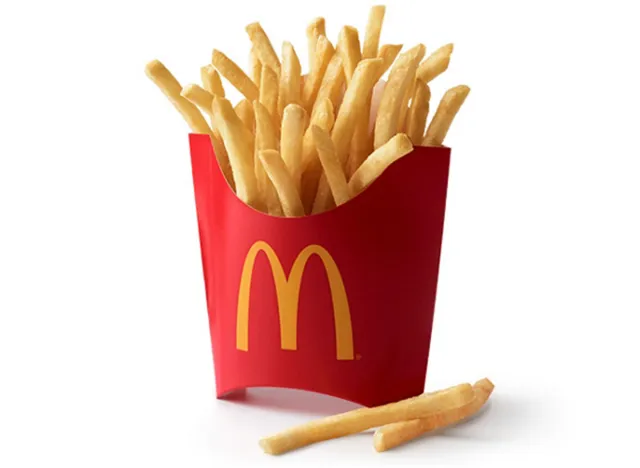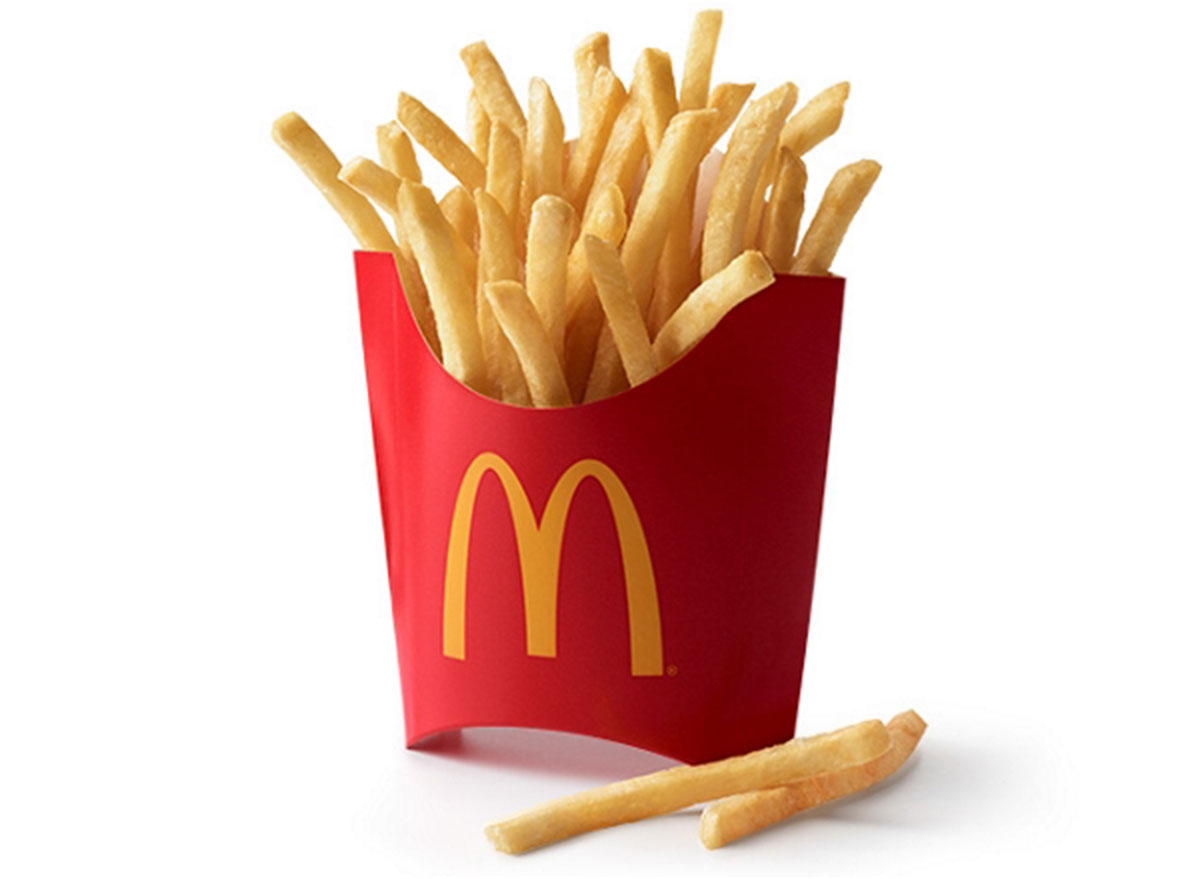 Was there ever any doubt? McDonald's french fries seem to be the gold standard. They are usually served hot and crisp with just the right amount of salt. Plus, they are uniform in size and texture. When you think of fast-food french fries, the red and yellow box is the classic. Is it the natural beef flavor that makes the difference? Who knows, but nearly everyone loves them.