The Best and Worst Menu Items at Wingstop
We asked a registered dietitian to weigh in on which Wingstop wings and tenders you should order, and avoid, too.
There aren't that many chain restaurants that specialize in chicken wings and tenders alone. In fact, aside from Buffalo Wild Wings, Wingstop may just be one of the most well-known chicken-centric chains where you can order a combination of anything from fiery hot wings, such as the atomic flavor, to even pleasantly savory ones, like the lemon pepper. But what's really work ordering off the Wingstop menu?
Patricia Bannan, MS, RDN, nationally recognized nutritionist and healthy cooking expert, examined the Wingstop menu and picked out the foods she thought were the worst for you as well as the ones that won't cost you an entire day's worth of sodium and trans fat.
Here's the breakdown of the best and worst Wingstop menu options.
Jumbo Wings
Per 2 wings
: 206 calories, 15 g fat (4 g saturated fat, 1 g trans fat), 140 mg sodium, 1 g carbs (1 g fiber, 0 g sugar), 16 g protein
"Not only are these wings the highest in calories, but they are also the highest in saturated fat," says Bannan.
For perspective, the rest of the Jumbo wings contain at most 3 grams of saturated fat, and while a one-gram disparity may not seem like a lot for two wings, it begins to tally up when you order a handful. Let's say you ordered six Jumbo garlic parmesan wings—that totals 12 grams of saturated fat, which is more than half of your recommended daily intake of just 22 grams.
Not to mention, these wings also contain trans fat, which is known to raise the harmful levels of cholesterol known as LDL. We'll pass on these wings and get our parmesan fix elsewhere.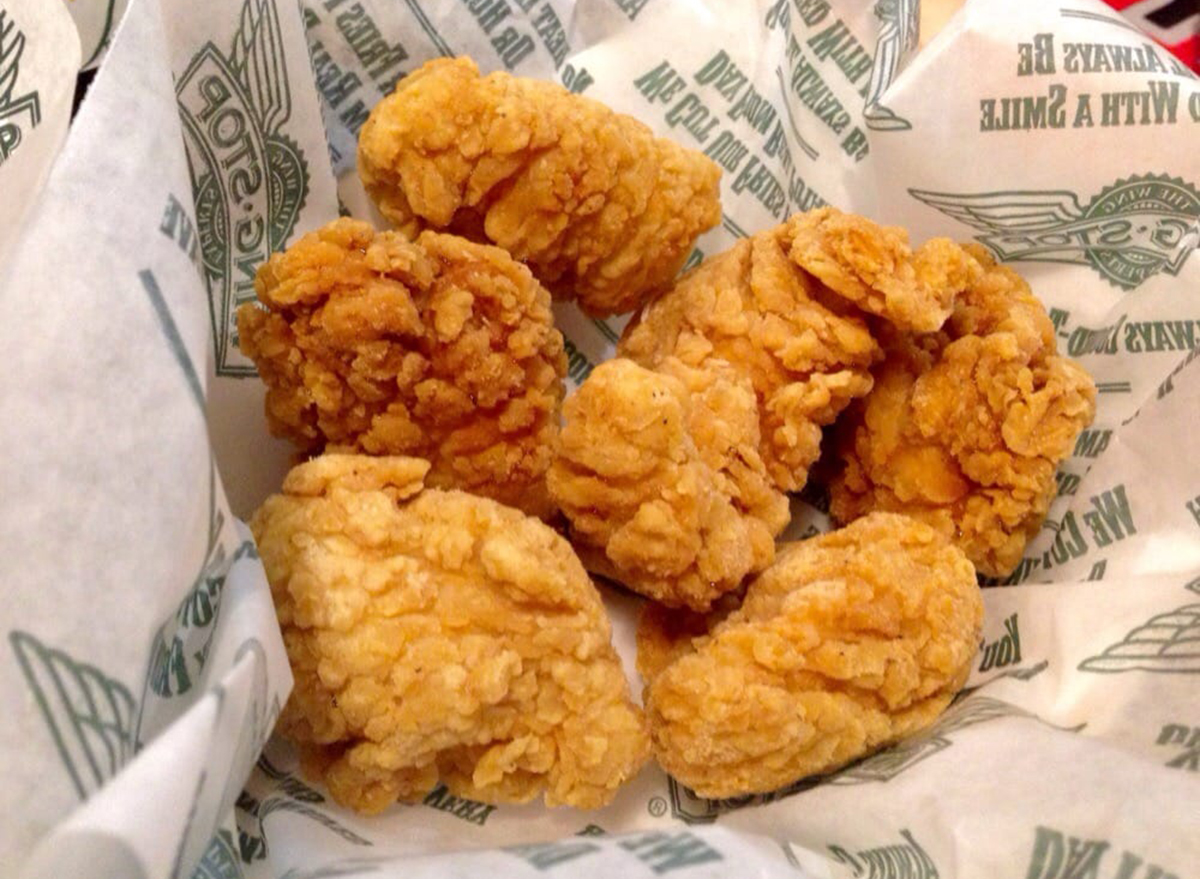 Per 2 wings
: 140 calories, 8 g fat (2 g saturated fat, 0 g trans fat), 66 mg sodium, 1 g carbs (1 g fiber, 0 g sugar), 15 g protein
"It may sound boring, but the plain wings are the best choice," advises Bannan. "They are the lowest sodium choice, and one of the lowest in saturated fat as well. Ask for a side of BBQ sauce or hot sauce on the side to dip wings in if you want a little more flavor."
Boneless Wings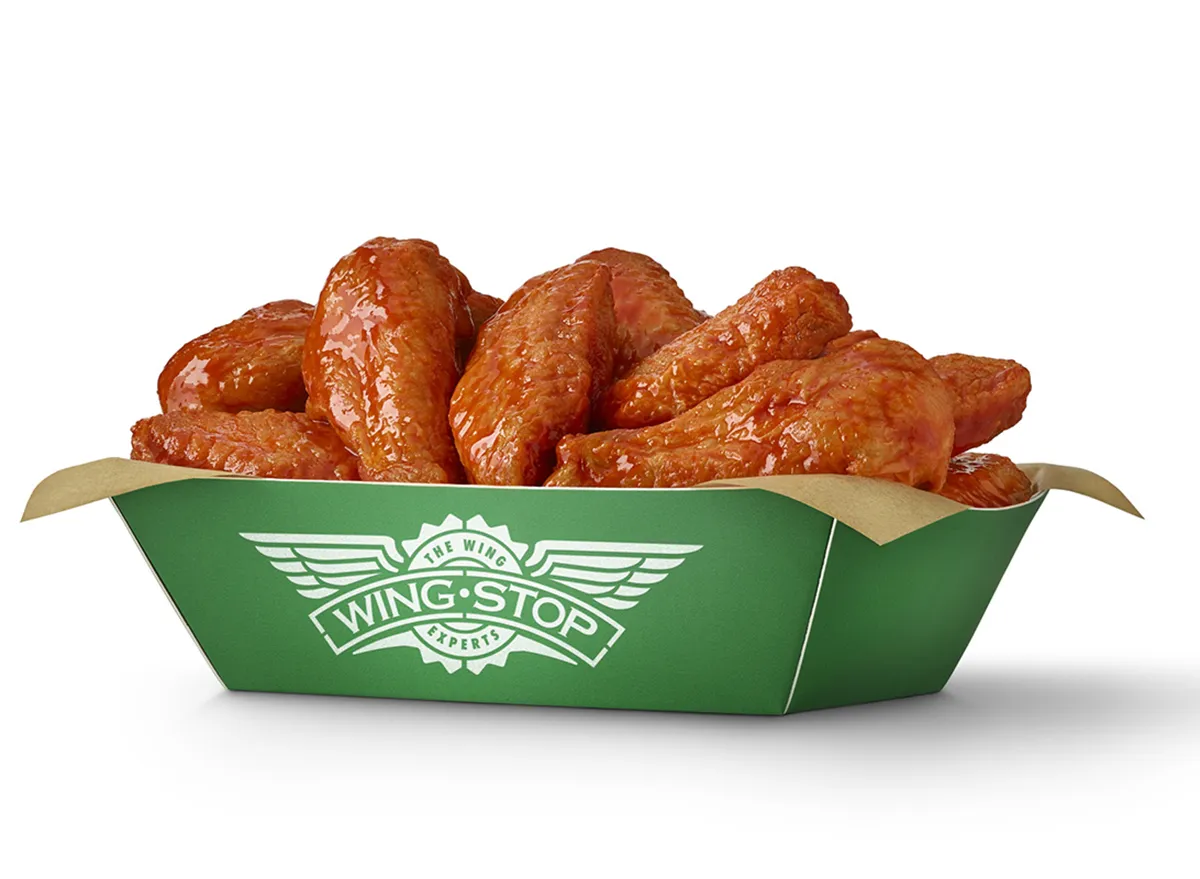 Per 2 wings
: 217 calories, 14 g fat (3 g saturated fat, 1 g trans fat), 834 mg sodium, 14 g carbs (1 g fiber, 0 g sugar), 9 g protein
"Surprisingly, the mild option is not the best choice when it comes to boneless wings. While they don't have the highest sodium content, they are the highest in [both] saturated fat and trans fats," says Bannan.
The garlic parmesan boneless wings also clock in at an equivalent amount of both saturated and trans fat. As far as sodium goes, the wings with the highest amount of the salty stuff are the original hot variety with a whopping 1,039 milligrams of sodium in just two chicken wings. That's almost a half a day's worth of sodium in just 169 calories!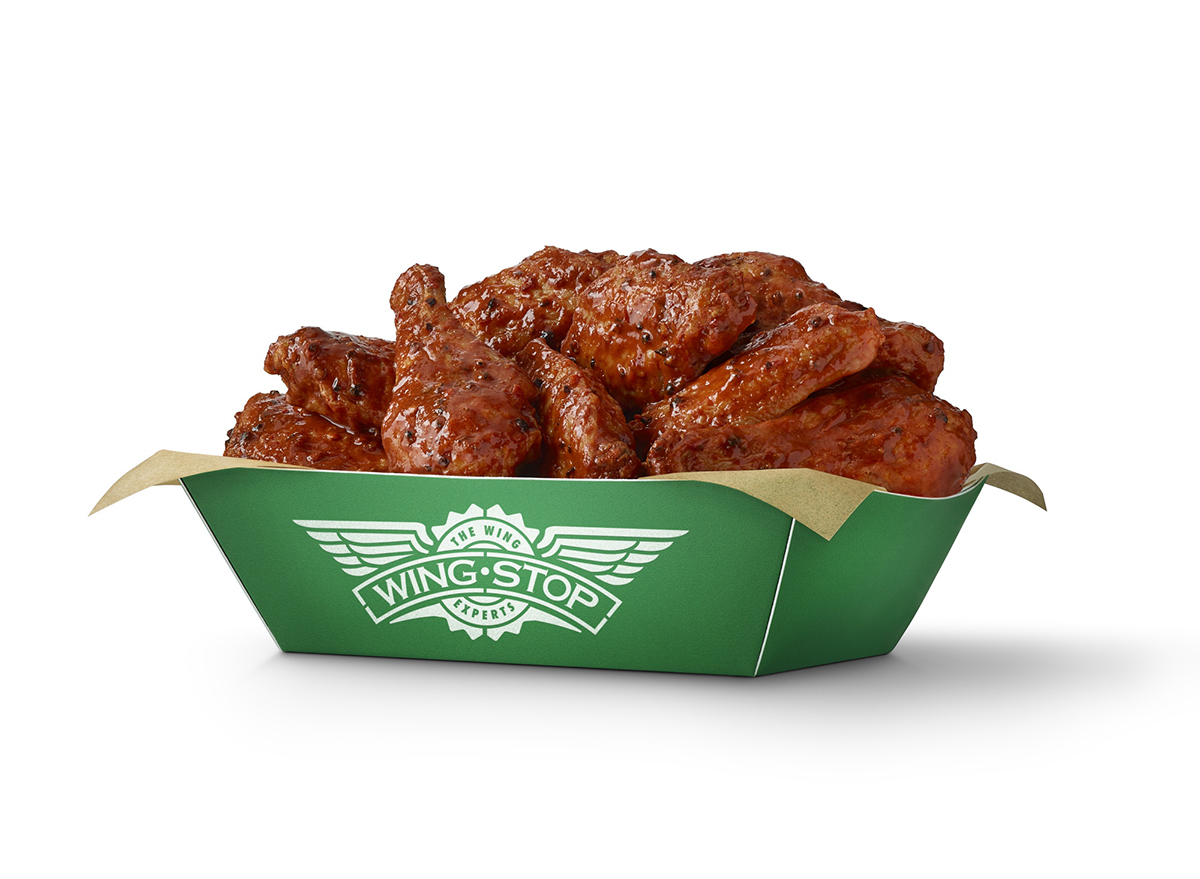 Per 2 wings
: 172 calories, 8 g fat (2 g saturated fat, 0 g trans fat), 673 mg sodium, 15 g carbs (1 g fiber, 1 g sugar), 9 g protein
"If you like things spicy, you're in luck. The boneless atomic wings are one of the lowest choices in sodium and saturated fat," says Bannan.
While this type of wing contains the second smallest amount of sodium, that doesn't classify it as a low sodium option.
"Two atomic wings still provide 673 milligrams of sodium or about 30 percent of the daily recommendation," explains Bannan.
Boneless Tenders
Per 2 wings
: 341.2 calories, 22 g fat (4 g saturated fat, 2 g trans fat), 1,309 mg sodium, 16 g carbs (1 g fiber, 0 g sugar), 19 g protein
The mild sauce strikes again as one of the least healthy options in the mild tenders too.
"A serving of two boneless tenders not only contains the maximum daily recommended [allowance] for trans fat but it also packs over half a day's worth of sodium," says Bannan.
For comparison, just two mild tenders contain more sodium than a large slice (14 inches) of Pizza Hut's Meat Lover's pizza, which is stacked with pepperoni, ham, beef, bacon, and sausage.
RELATED: The 7-day diet that melts your belly fat fast.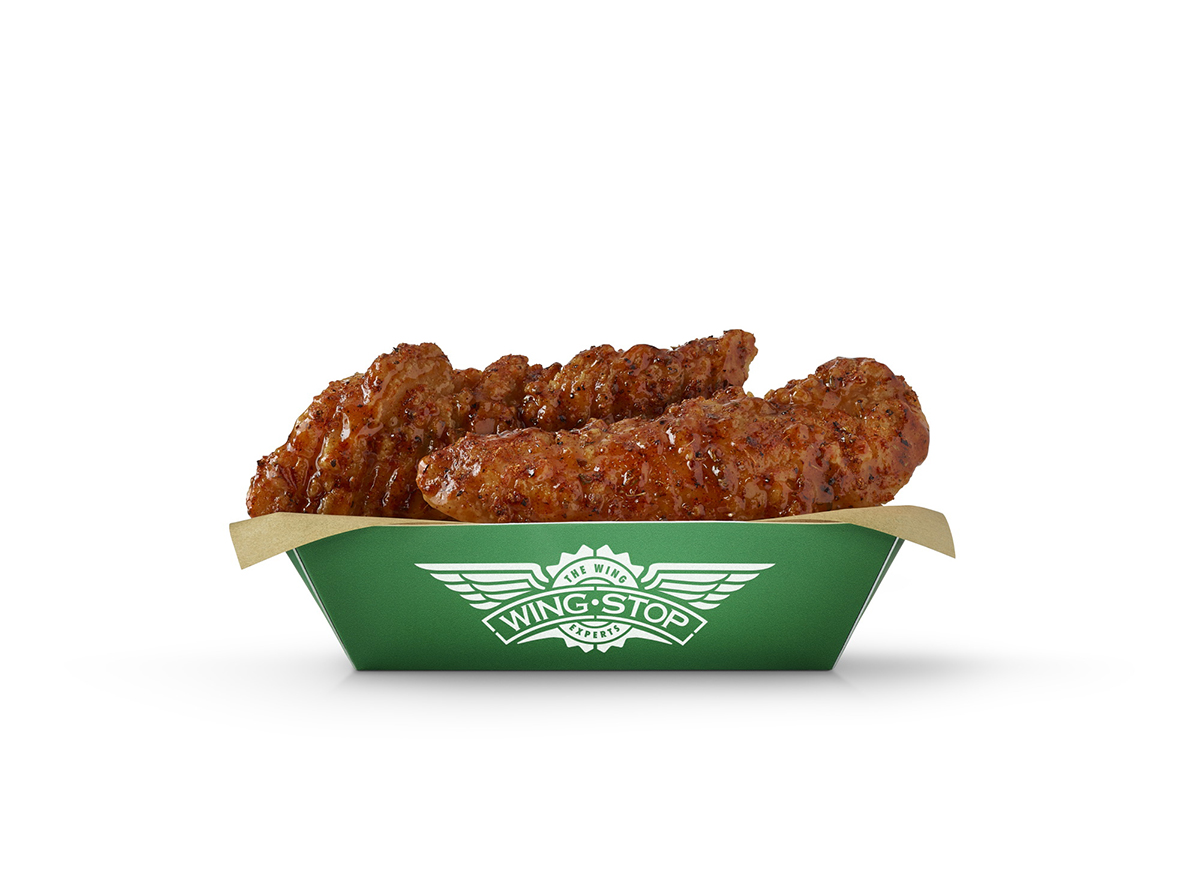 Per 2 wings
: 236.3 calories, 10 g fat (2 g saturated fat, 0 g trans fat), 929 mg sodium, 19 g carbs (2 g fiber, 1 g sugar), 20 g protein
Are you beginning to see a pattern here between the wings and the tenders?
"An order of 2 atomic boneless tenders contains no added sugars, only 2 grams of saturated fat, and a surprising 2 grams of dietary fiber," says Bannan. While the sodium content could be much less, the atomic tenders pack the heat without completely derailing your diet.
Sides
Worst: Large Seasoned Fries
710 calories, 30 g fat (6 g saturated fat, 4 g trans fat), 1,910 mg sodium, 97 g carbs (0 g fiber, 7 g sugar), 14 g protein
The seasoned fries shockingly is the only side to contain trans fat—and a lot of it.
"A large order of the seasoned fries contains double the amount of trans fat recommended for an entire day, and nearly a day's worth of sodium," says Bannan. "Trans fats can raise levels of LDL cholesterol, as well as increase your risk for heart disease."
We're not exactly sure what's amping up the trans fat content in here, but until that information is revealed, we suggest you steer clear of this menu option!
Best: Veggies Sticks with Ranch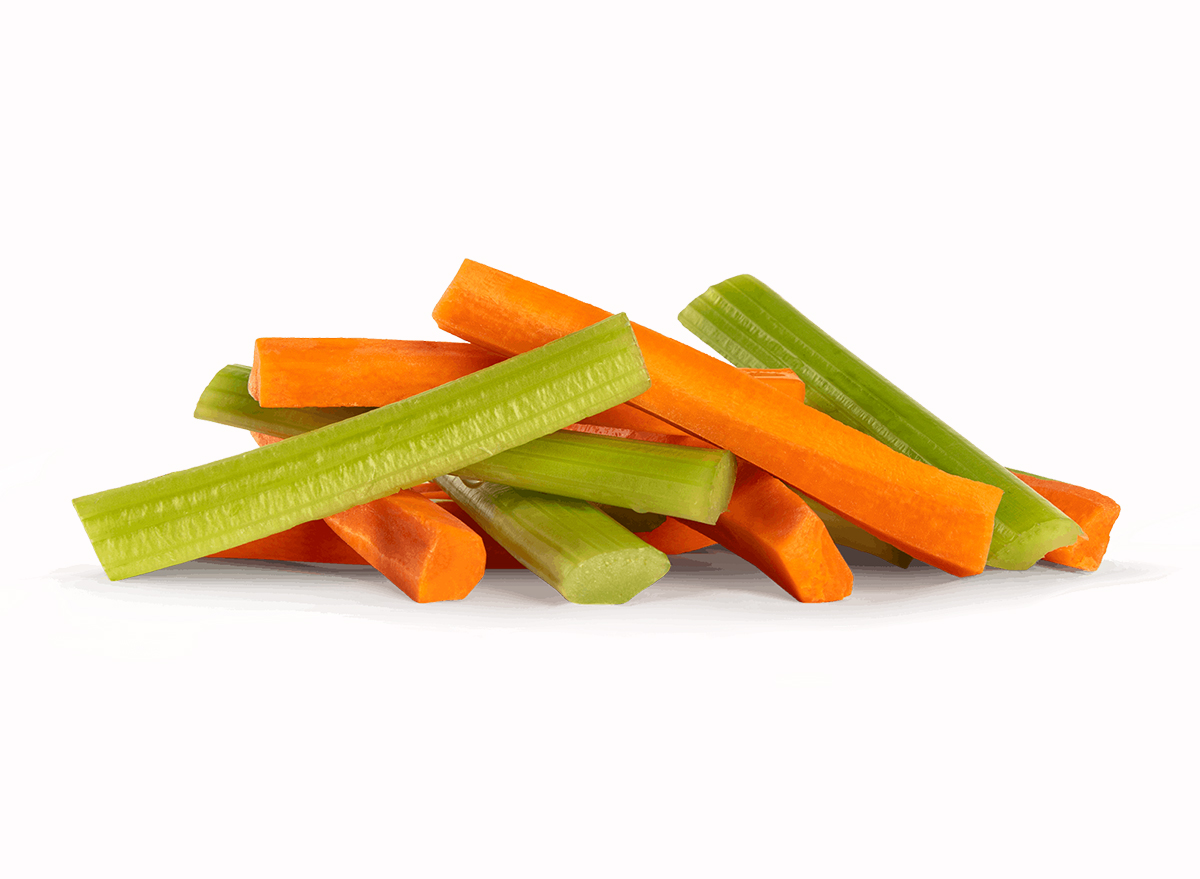 335 calories, 33 g fat (5 g saturated fat, 0 g trans fat), 563 mg sodium, 7 g carbs (1 g fiber, 4 g sugar), 1 g protein
"Opting for a side of carrot sticks or celery is a much lower calorie and sodium option than most side offerings on the menu," says Bannan.
Glancing at the menu you'll see she is not kidding. With four different kinds of baskets of fries (including ones that are smothered in cheese) and fried ears of corn, this is the least caloric side you can order by a landslide.
"Using half the amount of ranch can slash the calories and saturated fat in half as well," she adds.
Cheyenne Buckingham is the news editor of <Eat This, Not That!, specializing in food and drink coverage, and breaking down the science behind the latest health studies and information.
Read more