The Worst Chicken Wings in America
They might be finger-licking good, but the same can't be said for their nutritional value.
Whether you're a fan of the bone-in or boneless variety, like spicy or mild sauce, or prefer blue cheese instead of ranch as your dipping sauce, there really is no wrong way to order and eat chicken wings as far as your taste buds are concerned. But there are some wing orders that are worse for you than others in terms of nutrition.
When you're ordering in or picking up a to-go order of chicken wings from one of your favorite chain restaurants, make sure you're not choosing a chicken and sauce combination that will blow up your sodium intake. The American Heart Association recommends most adults consume no more than 2,300 milligrams a day… but most wings orders can put you well past that.
What follows are the chicken wings that you should avoid at all costs if you're looking to eat healthy. And for more, check out the 100 Unhealthiest Foods on the Planet.
Buffalo Wild Wings Spicy Garlic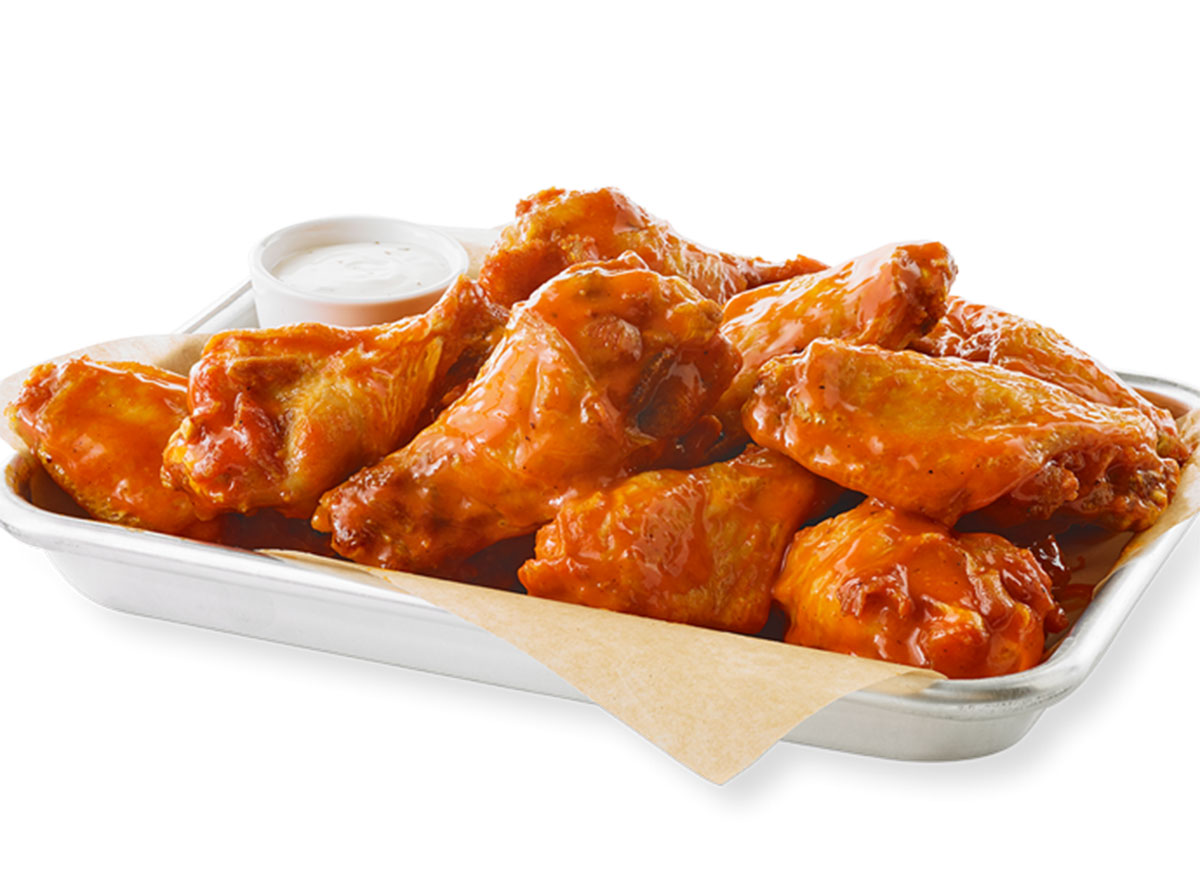 Per 15-piece order
: 1,050 calories, 58 g fat (20 g saturated fat, 3 g trans fat), 6,540 mg sodium, 57 g carbs (2 g fiber, 1 g sugar), 73 g protein
If you're getting food from Buffalo Wild Wings, you're going to eat, well, wings. Just keep in mind portion control. It's far too easy to eat a whole plate of wings if they're in front of you, and getting a 15-piece order of the Spicy Garlic wings has two and a half days' worth of sodium. Stick with a 6-count order!
Related: Sign up for our newsletter for the latest healthy eating news.
Applebee's Boneless Wings, Classic Hot Buffalo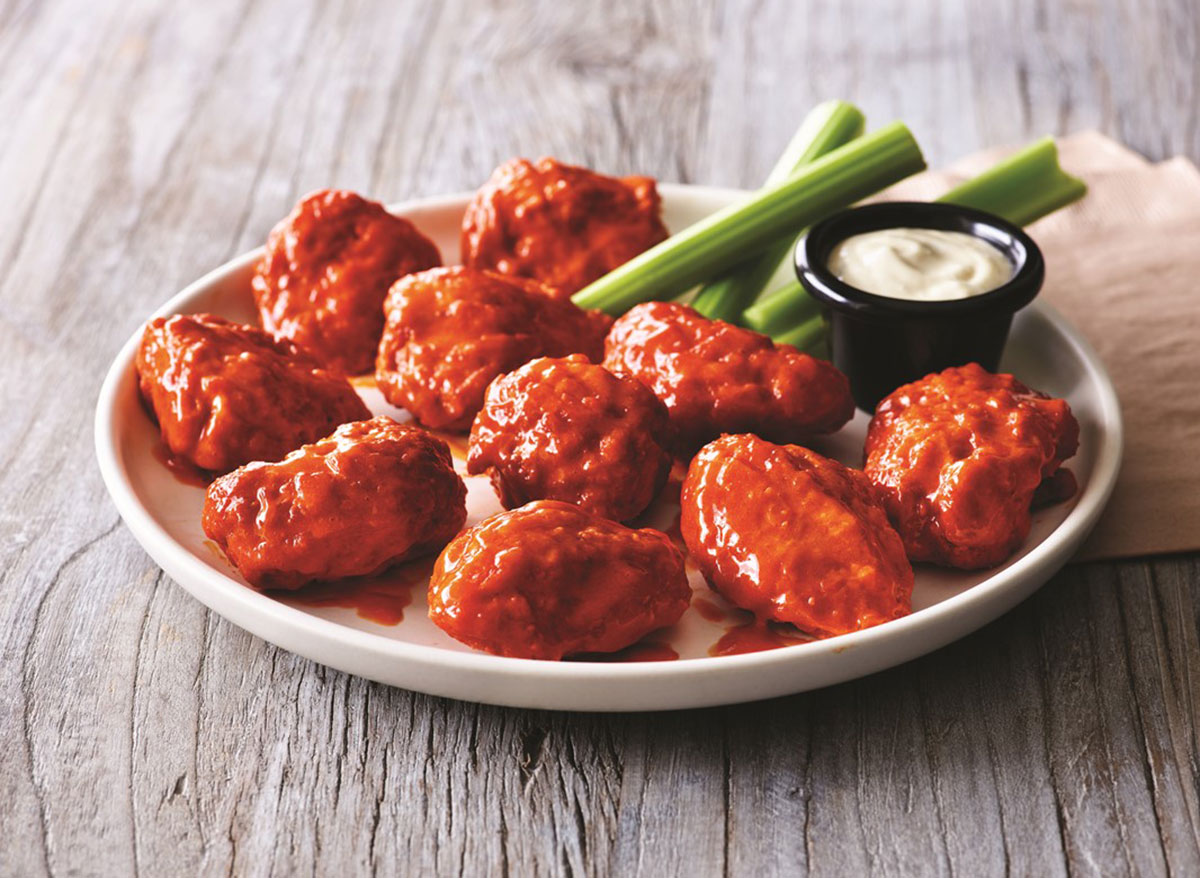 Per order
: 840 calories, 53 g fat (13 g saturated fat, 0 g trans fat), 4,040 mg sodium, 49 g carbs (3 g fiber, <1 g sugar), 40 g protein
There's a good chance if you're an Applebee's fan, you've taken advantage of the iconic half-priced appetizers special. And that means it's the perfect time for a plate of wings… Well, the Classic Hot Buffalo Boneless batch is coming in at more than 800 calories and has more sodium than 356 Lay's Classic Potato Chips. And that's just an appetizer!
Related: The Best & Worst Chips on the Planet—Ranked!
Chili's Loaded Boneless Wings
Per order
: 1,370 calories, 92 g fat (27 g saturated fat, 1 g trans fat), 3,230 mg sodium, 64 g carbs (4 g fiber, 6 g sugar), 72 g protein
At Chili's, you can choose to have their spin on wings, which is the Loaded Boneless Wings. The chicken is smothered in white queso, shredded cheese, bacon, and green onions. "Loaded" is always a red flag on a menu, no matter what the meal is, and these wings are further proof of that theory.
In case you want to try making your own wings at home, here's a sesame garlic recipe that's way healthier.
TGI Friday's Garlic Parmesan Boneless Wings
Per order
: 1,090 calories, 74 g fat (13 g saturated fat, 0 g trans fat), 3,090 mg sodium, 63 g carbs (6 g fiber, 10 g sugar), 41 g protein
Garlic Parmesan sauce sounds fancy for chicken wings. It's a fairly common option, but at TGI Friday's, it results in an order of wings that comes in at more than 1,000 calories.
Domino's Sweet Mango Habanero Chicken Wings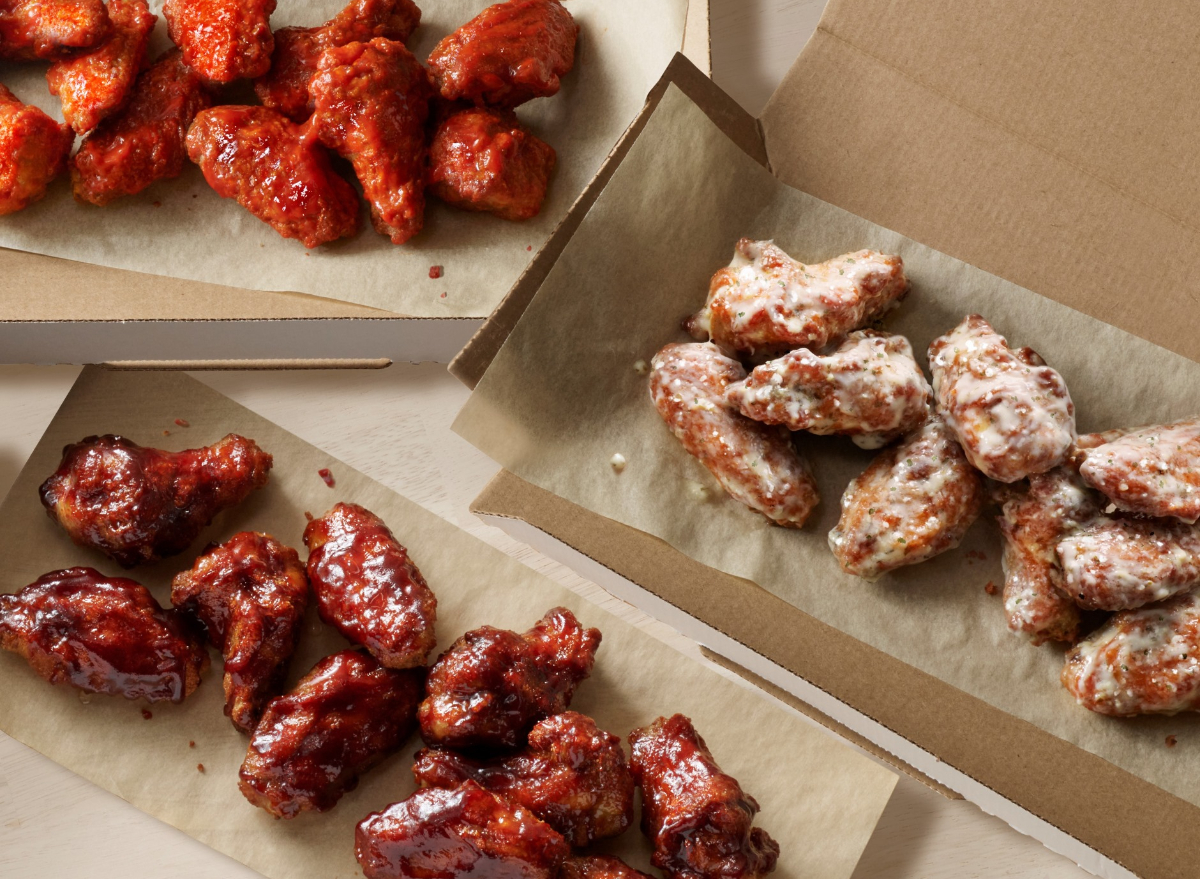 Per 8-piece order
: 620 calories, 40 g fat (10 g saturated fat, 0 g trans fat), 1,580 mg sodium, 42 g carbs (0 g fiber, 20 g sugar), 30 g protein
Domino's serves up some chicken to go alongside its pizzas, but the Sweet Mango Habanero Chicken Wings are the ones you want to skip. Not only are they high in fat and sodium, but one order has as much sugar as two Original Glazed Krispy Kreme Donuts.6254a4d1642c605c54bf1cab17d50f1e
Related: One Major Side Effect of Eating Too Much Sugar
Pizza Hut Garlic Parmesan Bone-Out Wings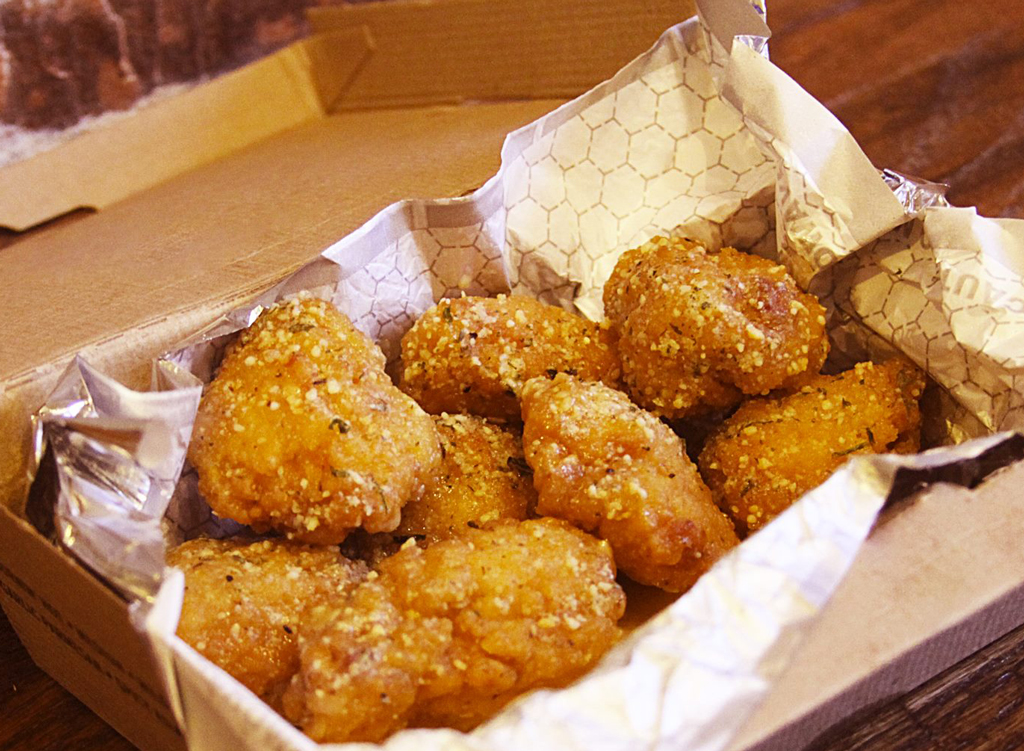 Per 8-piece order
: 1,010 calories, 72 g fat (13 g saturated fat, 0 g trans fat), 2,170 mg sodium, 51 g carbs (3 g fiber, 2 g sugar), 40 g protein
The Garlic Parmesan wings strike again, this time from Pizza Hut. Their boneless version, or "bone-out," as it's called, is just as high in fat and sodium.
Related: The Surprising Effect Sodium May Have on Your Blood Sugar
Outback Steakhouse Kookaburra Wings Hot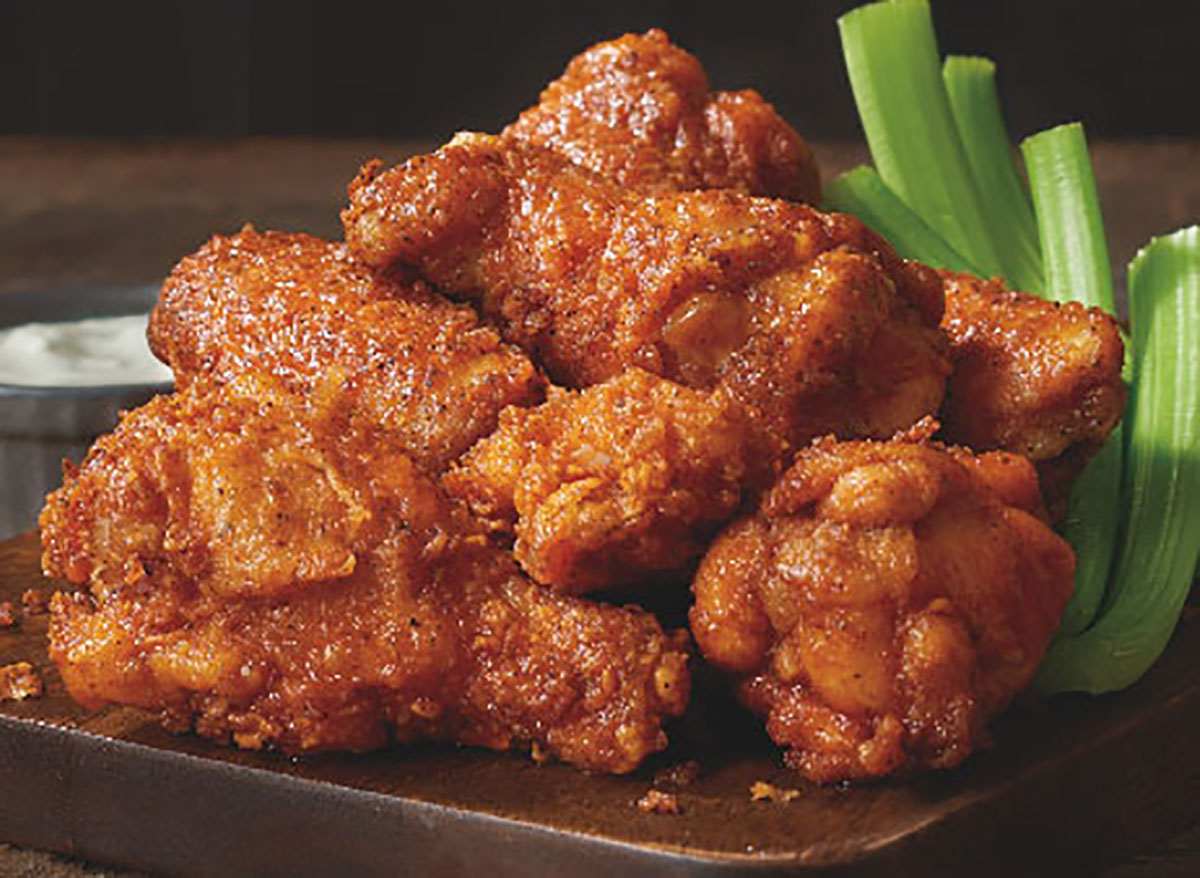 Per regular size
: 1,570 calories, 125 g fat (41 g saturated fat, 2.5 g trans fat), 4,960 mg sodium, 44 g carbs (5 g fiber, 4 g sugar), 70 g protein
A regular order of wings at Outback Steakhouse means you're eating chicken that is tossed in the restaurant's secret spices. Somehow, this order manages to come in at more than 1,500 calories, and an astronomically high amount of fat and sodium.
Zaxby's Buffalo Traditional Wings & Things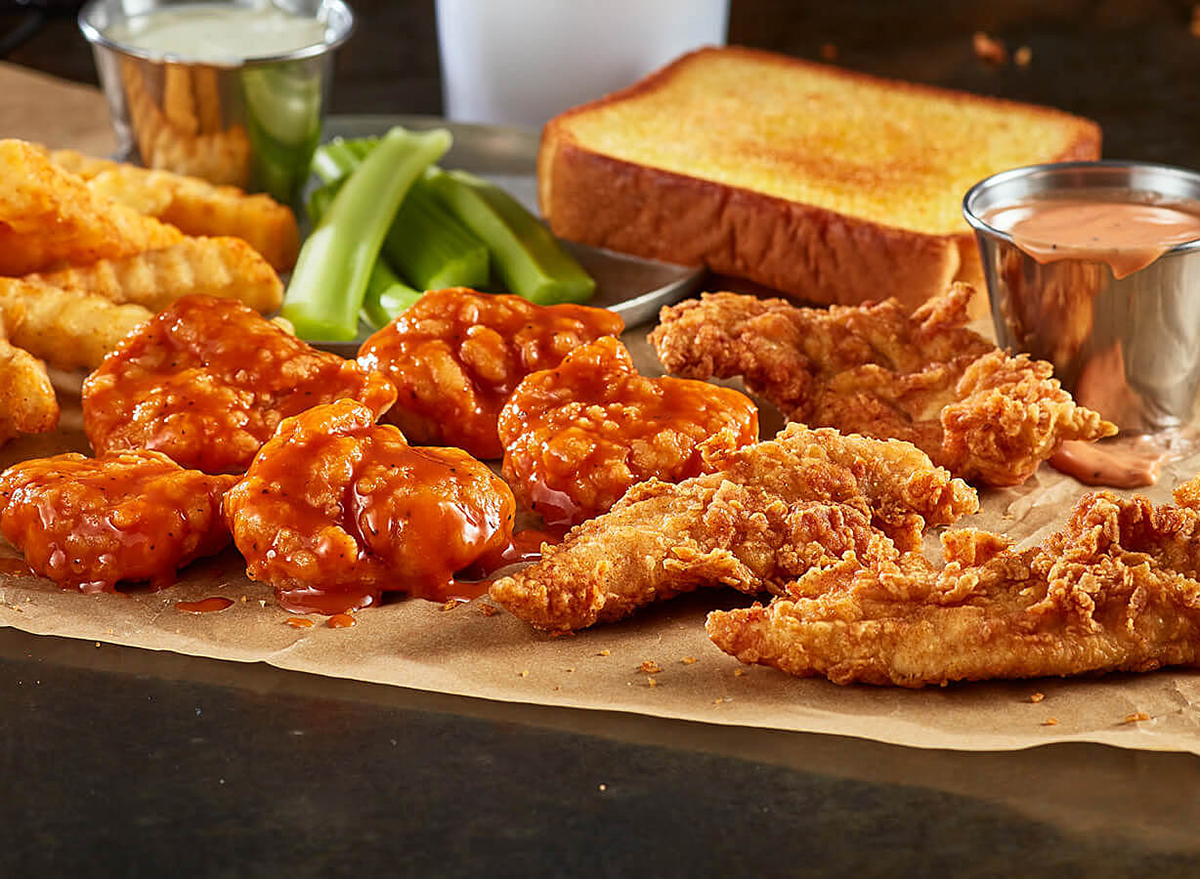 Per meal
: 1,550 calories, 98 g fat (17 g saturated fat, 0 g trans fat), 4,130 mg sodium, 88 g carbs (7 g fiber, 5 g sugar), 78 g protein
Zaxby's Wings & Things menu option means "you don't have to make a choice between hand-breaded goodness and finger-licking deliciousness," since you get chicken fingers, crinkle fries, and Texas toast alongside those traditional buffalo wings. Talk about overload! This is one of the worst chicken wing orders you can have in America.
Instead, you're better off making one of these 73 healthy chicken recipes at home. And for more, make sure to avoid the Worst Restaurant Burgers in America.
Jennifer Maldonado
Jennifer Maldonado is a senior editor at Eat This, Not That!, specializing in food and health content.
Read more about Jennifer