The Unhealthiest Fast-Food Chicken Nuggets
They're a fast-food staple, but some orders are just bad news.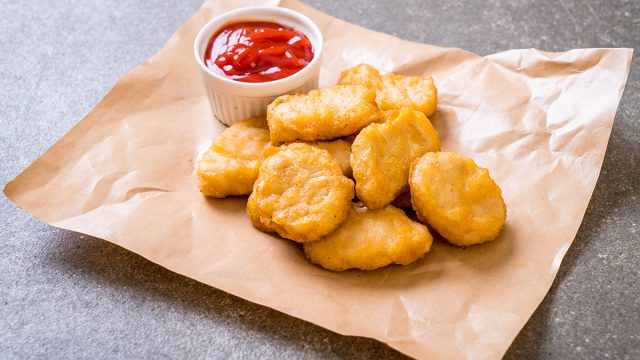 When you think of fast-food, there are a few menu items that come to mind. An order of French fries, a burger, and, of course, the chicken nugget. The bite-sized bits of breaded chicken can't be beat and for many, it's their go-to order, no matter which fast-food restaurant they visit. While an order of chicken nuggets might seem harmless, you do want to keep in mind that it's still fast food. There are plenty of options out there that aren't necessarily the best for your health!
So in order to help you make the best choice next time your fast-food craving comes calling, we looked at the most classic fast-food chicken nuggets. We looked at large order sizes of crispy-style nuggets from classic chains and ranked them from the least offensive to the worst of the bunch. All to help you uncover the worst fast food chicken-nuggets. And while you're making healthier choices, be sure you try out the 21 Best Healthy Cooking Hacks of All Time.
Per 8-count order
: 250 calories, 11 g fat (2.5 g saturated fat, 0 g trans fat), 1,210 mg sodium, 11 g carbs (0 g fiber, 1 g sugar), 27 g protein
While this order of nuggets from Chick-fil-A is a bit higher in sodium, it's the lowest-calorie option on the list. It's also the nuggets order with the lowest amount of fat, too. If you really want to make the best choice when you hit the drive-thru, go for the 4-count order of grilled nuggets. It's packing just 70 calories and only 220 milligrams of sodium.
McDonald's Chicken McNuggets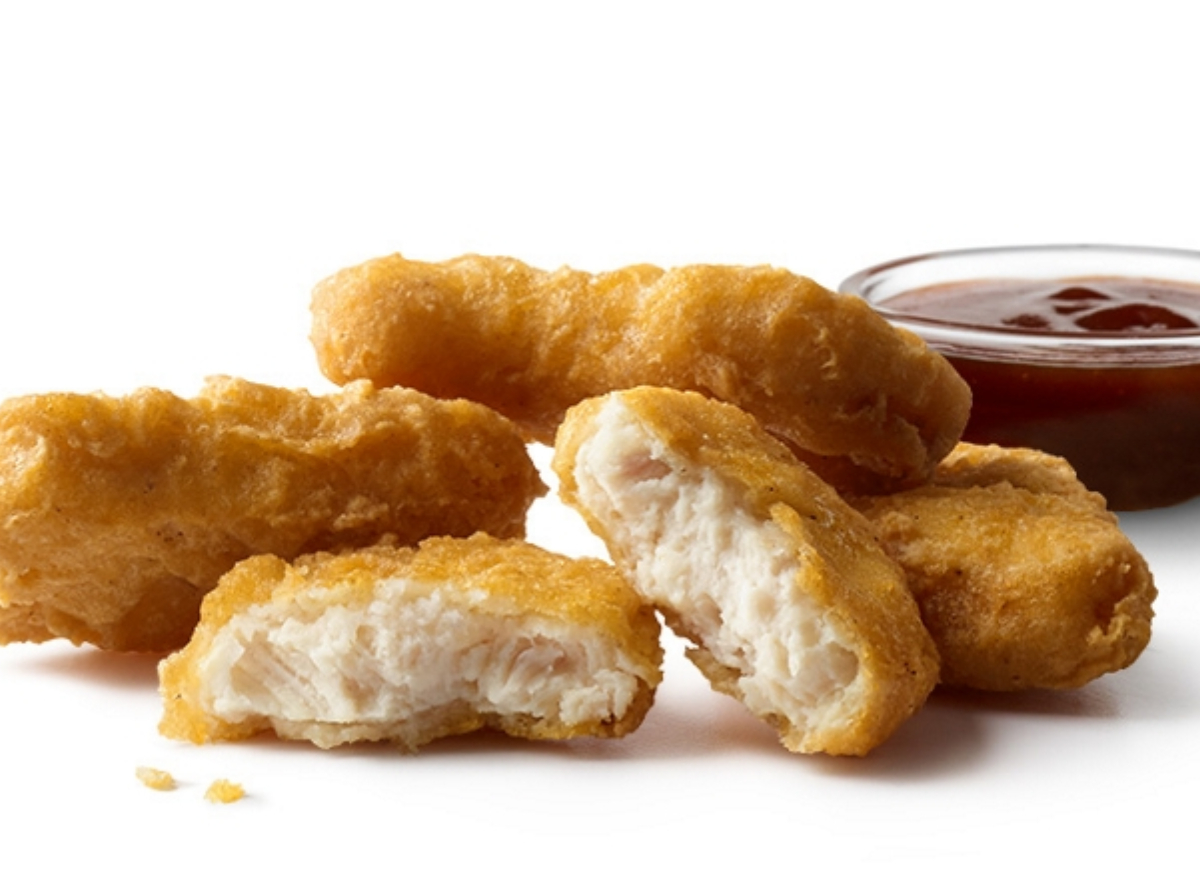 Per 10-piece order
: 420 calories, 25 g fat (4 g saturated fat, 0 g trans fat), 840 mg sodium, 25 g carbs (1 g fiber, 0 g sugar), 23 g protein
There might not be a chicken nugget more famous than the McDonald's McNugget. A 10-piece order has slightly less fat and sodium than the Wendy's order, but you really shouldn't ever eat that many chicken nuggets at one time.
Per 10 piece order
: 420 calories, 27 g fat (5 g saturated fat, 0 g trans fat), 850 mg sodium, 24 g carbs (1 g fiber, 0 g sugar), 22 g protein
Ordering some nuggets from Wendy's means you're eating 100% white-meat chicken that is "breaded to crispy perfection." A 10-piece order is packing a little more than 400 calories, and has 850 milligrams of sodium. If you tack on a medium order of fries, you're looking at an additional 280 milligrams of sodium, pushing you at more than 1,100 milligrams of the salty stuff.
White Castle Chicken Rings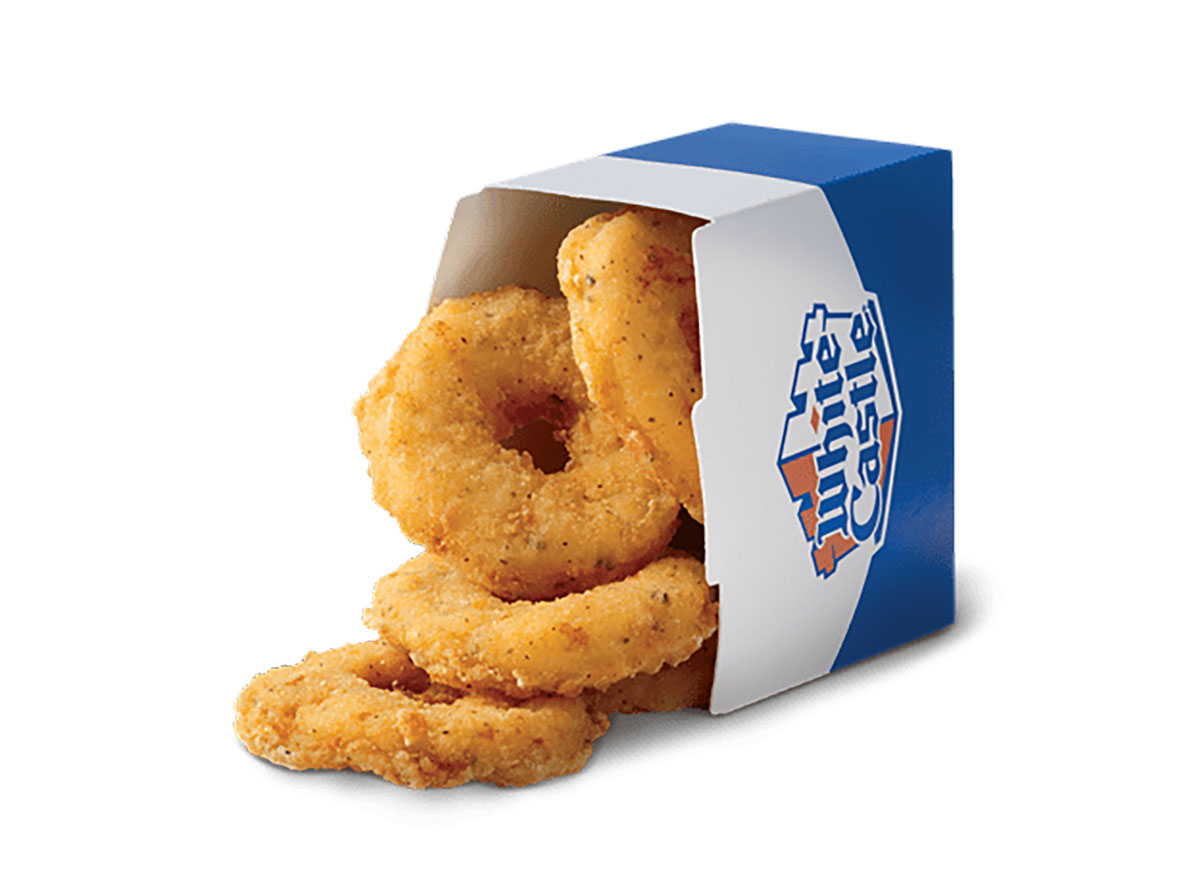 Per 9-piece order
: 470 calories, 31 g fat (7 g saturated fat, 0 g trans fat), 910 mg sodium, 18 g carbs (1 g fiber, 0 g sugar), 26 g protein
White Castle is known for its sliders, but there are some chicken options on the menu. Specifically, you can munch on some chicken rings, which combine the concept of the chicken nugget with that of an onion ring, thanks to its shape and crispy exterior. If you select the 9-piece order, it sets you back more than 900 milligrams of sodium. Keep in mind The American Heart Association recommends most adults should have no more than 2,300 milligrams of sodium a day, with the hope of moving toward an ideal limit of no more than 1,500 milligrams.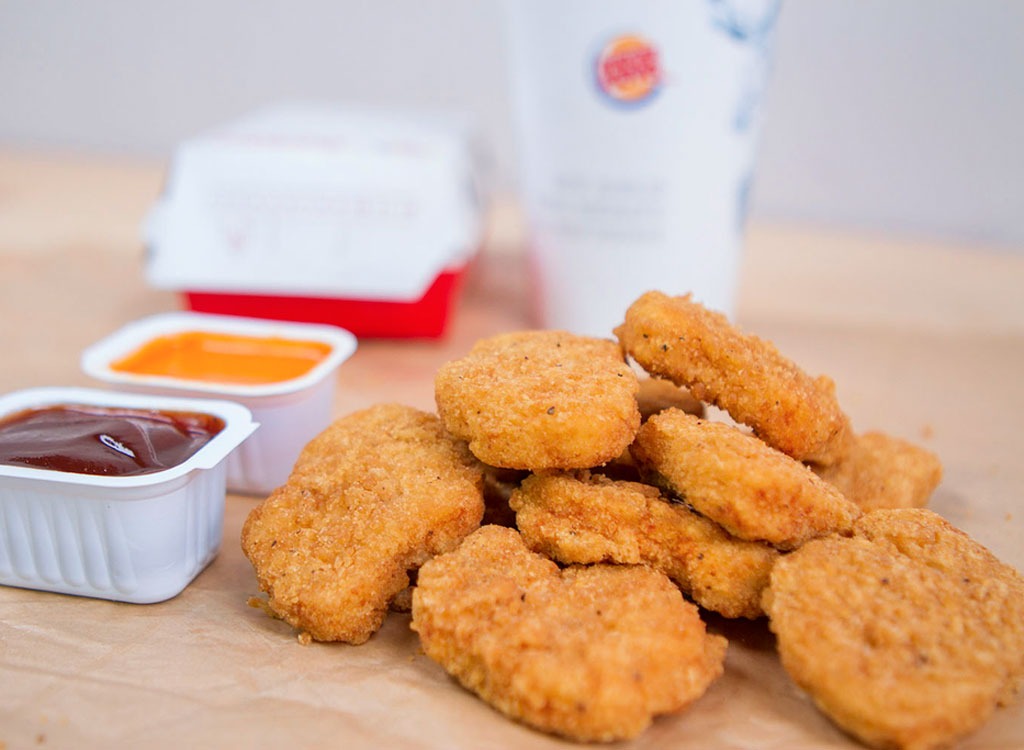 Per 10-piece order
: 482.2 calories, 27.3 g fat (4.3 g saturated fat, 0 g trans fat), 1,005.7 mg sodium, 39.2 g carbs (1.8  g fiber, 11.3 g sugar), 19.8 g protein
Burger King's bite-sized chicken nuggets are described as "tender and juicy on the inside and crispy on the outside," and are "coated in a homestyle seasoned breading." They might sound delicious, but a 10-piece order has more than 1,000 milligrams of sodium. And those 11 grams of sugar? Now, that's just not OK.
Looking for more helpful tips? Your ultimate restaurant and supermarket survival guide is here!
A&W Hand-Breaded Chicken Tenders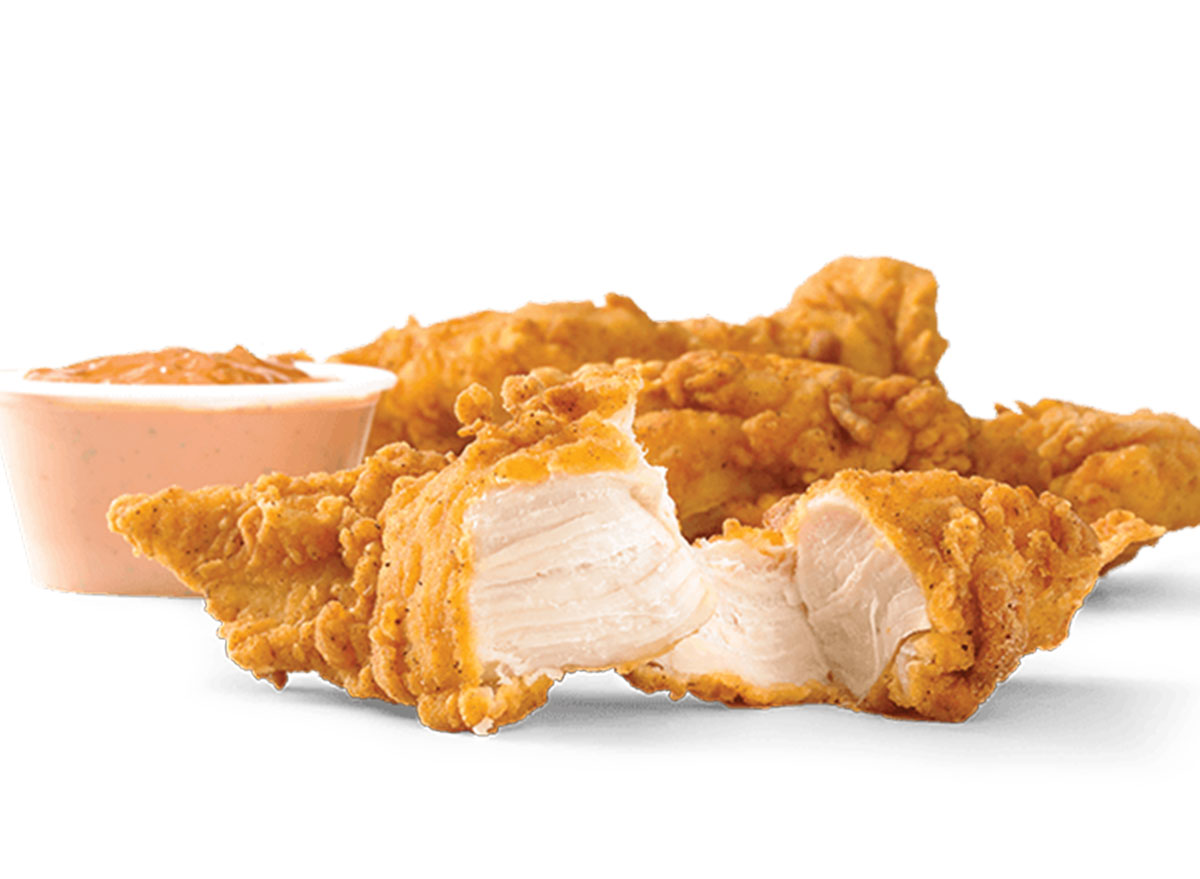 Per 5-piece order
: 430 calories, 15 g fat (4 g saturated fat, 0 g trans fat), 1,830 mg sodium, 8 g carbs (1 g fiber, 0 g sugar), 21 g protein
At A&W, an order of the hand-breaded chicken tenders contains 1,830 milligrams of sodium. A side effect of eating salty foods often? Weight gain. Researchers at Deakin University found that consuming excess salt can lead to craving and eating more fatty foods overall, which then can lead to the pounds packing on.
Culver's Original Chicken Tenders
Per 4-piece order
: 540 calories, 24 g fat (3 g saturated fat, 0 g trans fat), 1,840 mg sodium, 42 g carbs (2 g fiber, 2 g sugar), 40 g protein
If you want to enjoy some chicken from Culver's, you'll want to keep in mind that just a 4-piece order of tenders contains more than 1,800 milligrams of sodium. Perhaps it's best to split these with a friend!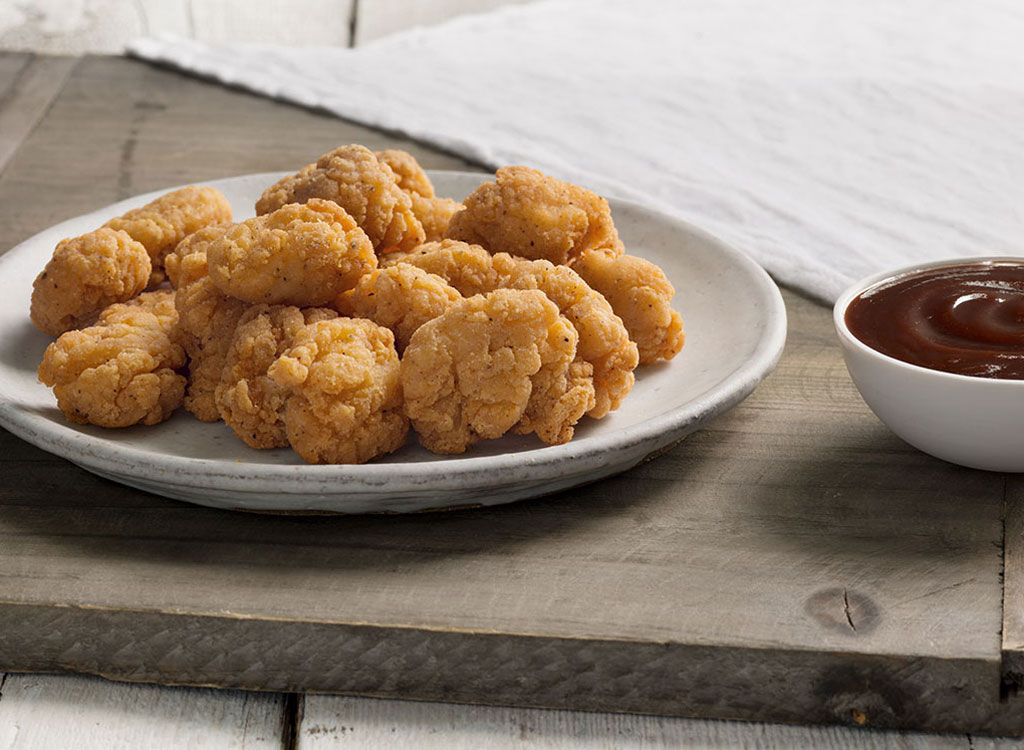 Per large order
: 620 calories, 39 g fat (5 g saturated fat, 0 g trans fat), 1,820 mg sodium, 39 g carbs (2 g fiber, 0 g sugar), 27 g protein
KFC's chicken might have the reputation of being finger'-lickin' good, but a large order of the popcorn nuggets isn't doing your health any favors. Just look at that sodium!
Sonic Jumbo Popcorn Chicken
Per large order
: 750 calories, 43 g fat (8 g saturated fat, 0.5 g trans fat), 2,520 mg sodium, 55 g carbs (6 g fiber, 2 g sugar), 36 g protein
The large order of the jumbo popcorn chicken at Sonic comes in at 750 calories and has more than a day's worth of sodium. And that's without any side dishes or sweet treat you might decide to indulge in…
Popeyes Handcrafted Tenders
Per 5-piece order
: 741 calories, 34 g fat (14 g saturated fat, 2 g trans fat), 3,050 mg sodium, 48 g carbs (3 g fiber, 0 g sugar), 63 g protein
When it comes to the one chicken order that should get a skip, that title goes to Popeyes. A 5-piece order of the tenders not only has more sodium than 30 pretzel rods, but it's high in fat, along with packing 2 grams of trans fat. As you most likely already know, trans fats are harmful, as they can lower your HDL levels (which is your good cholesterol) and can even trigger heart disease, stroke, diabetes, and other chronic conditions, according to Harvard Health. Big yikes.
Jennifer Maldonado is a senior editor at Eat This, Not That!, specializing in food and health content.
Read more