14 Worst Holiday Menu Items at Fast-Food Chains
There's a good reason these foods only make a limited-time appearance...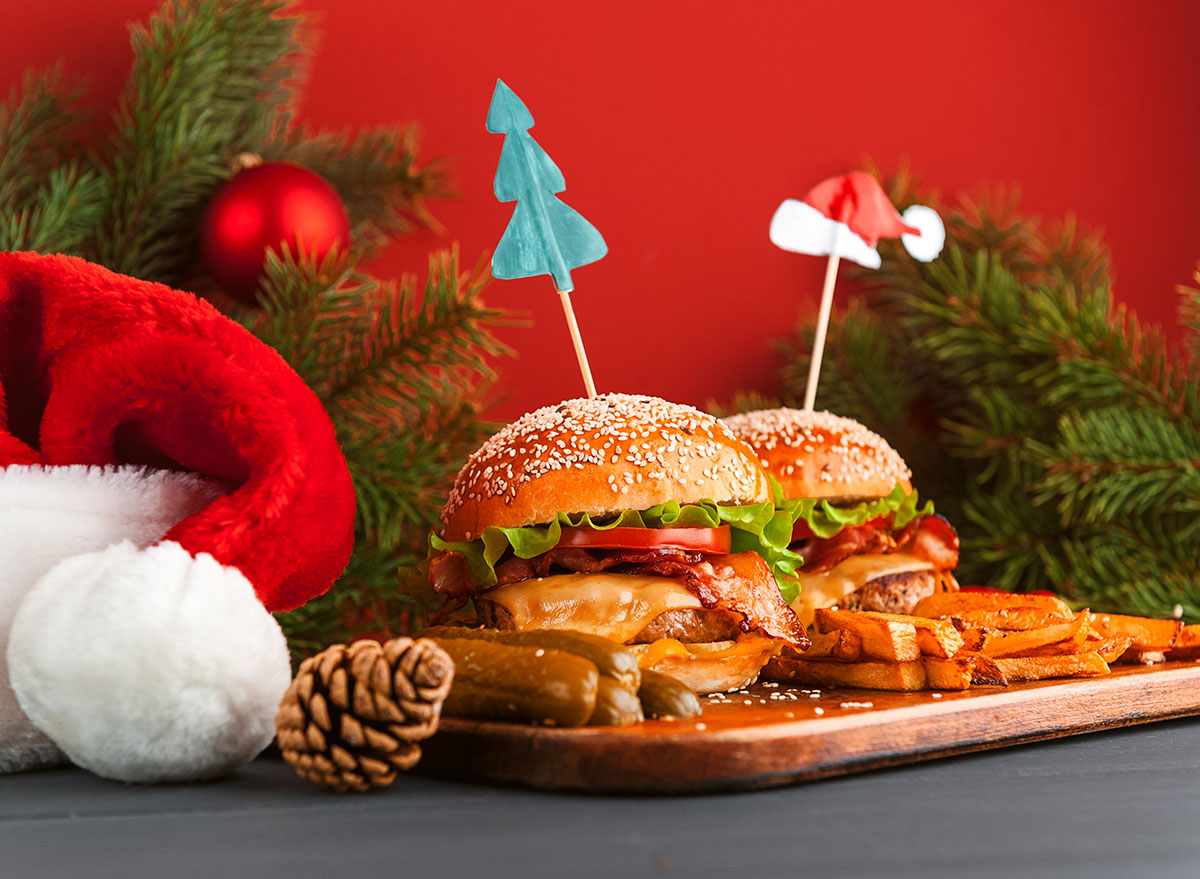 The holiday season is a time when just about everyone indulges in some way. From the cookies, cakes, pies, and warm meals that only make sense to eat during the winter months, there are plenty of delicious options. For some, this time of year might mean a trip to the drive-thru as a celebratory treat. And while you don't want to deprive yourself of your classic go-to order, you might be enticed by the holiday options you see on menus. They are often just seasonal, so you only have a limited window to enjoy them!
Well, it should come as no big surprise that there are plenty of holiday fast-food goodies that are not so great, nutritionally speaking. So in order to help you make a solid decision, we rounded up the worst holiday fast-food menu items. This way, you can avoid totally derailing your health goals! If you're trying to make healthier choices to set you up for 2021, be sure to check out the 21 Best Healthy Cooking Hacks of All Time.
Chick-fil-A Peppermint Chip Milkshake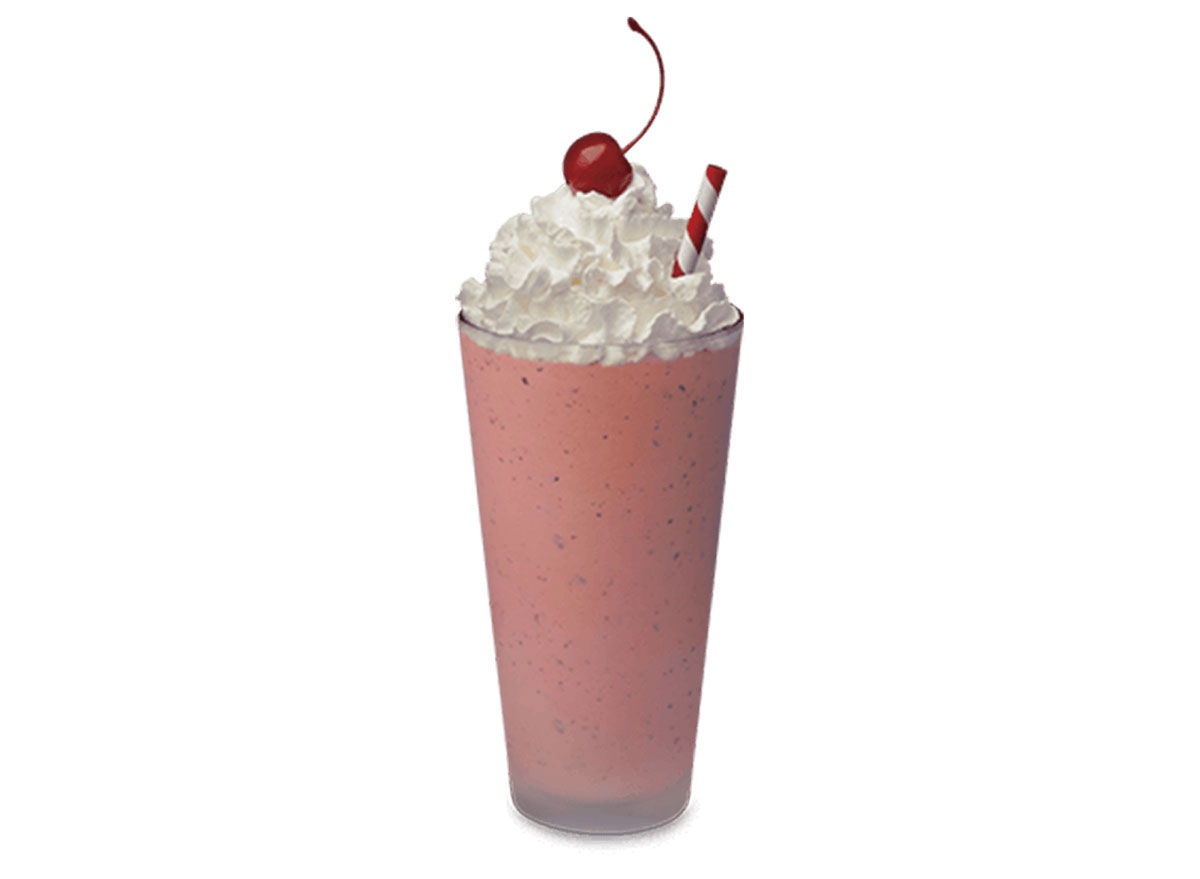 Per large
: 950 calories, 30 g fat (20 g saturated fat, 1 g trans fat), 500 mg sodium, 158 g carbs (1 g fiber, 134 g sugar), 15 g protein
Chick-fil-A added this peppermint-flavored milkshake to its seasonal menu that features actual chips of peppermint bark. Can't get more festive than that, right? Well, a large size of this treat is packing more than 900 calories and has more sugar than you would get from 28 Oreo cookies. Big yikes.
Dairy Queen's Peppermint Hot Cocoa Blizzard Treat
Per large
: 1,340 calories, 48 g fat (29 g saturated fat, 1.5 g trans fat), 390 mg sodium, 214 g carbs (4 g fiber, 178 g sugar), 23 g protein
Any DQ fan knows there are often new Blizzard of the Month options throughout the year and in 2020, the Peppermint Hot Cocoa Blizzard made its way to the seasonal holiday menu. It's made of chocolate chunks, peppermint candy cane pieces, and cocoa fudge that is blended together and, of course, features a whipped topping. A large size is drowning in sugar—178 grams of it to be exact. Keep in mind The American Heart Association recommends men should consume no more than 36 grams of added sugar per day, and women shouldn't have more than 25 grams per day.
Jack in the Box Cluck Deluxe Sandwich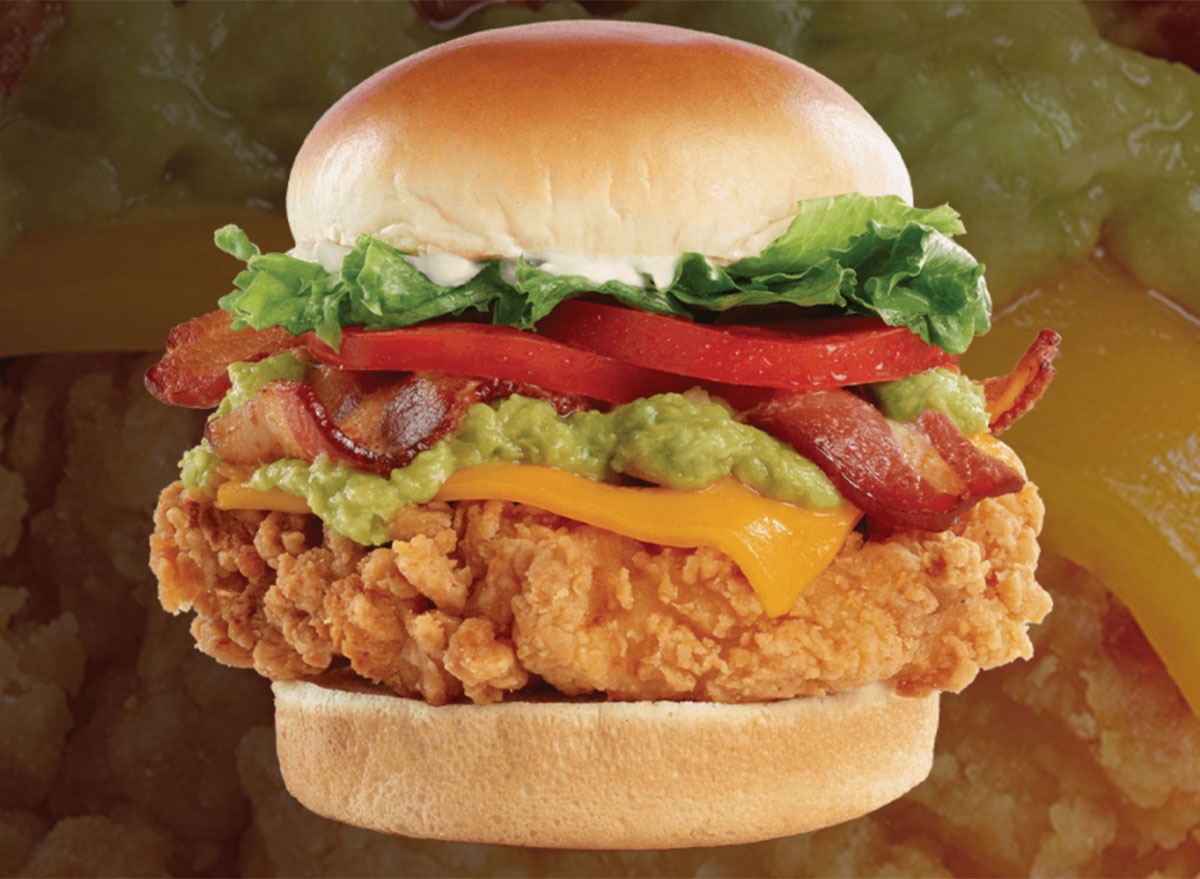 Per sandwich
: 630 calories, 32 g fat (8 g saturated fat, 0 g trans fat), 1,520 mg sodium, 56 g carbs (1 g fiber, 9 g sugar), 32 g protein
Jack in the Box debuted two new chicken sandwiches in December, and the Cluck Deluxe is just a lot to take in. It's made of a thick, crispy chicken fillet that is topped with melted cheddar cheese, bacon, guacamole, lettuce, tomatoes, and mayonnaise, all between two brioche buns. The limited-time sandwich is loaded with sodium, packing more than half of a day's worth. Remember, the American Heart Association says to limit daily consumption to no more than 2,300 milligrams, and this without any side dishes you want to eat, too.6254a4d1642c605c54bf1cab17d50f1e
Looking for more tips? Your ultimate restaurant and supermarket survival guide is here!
IHOP Milk 'n' Cookies Pancakes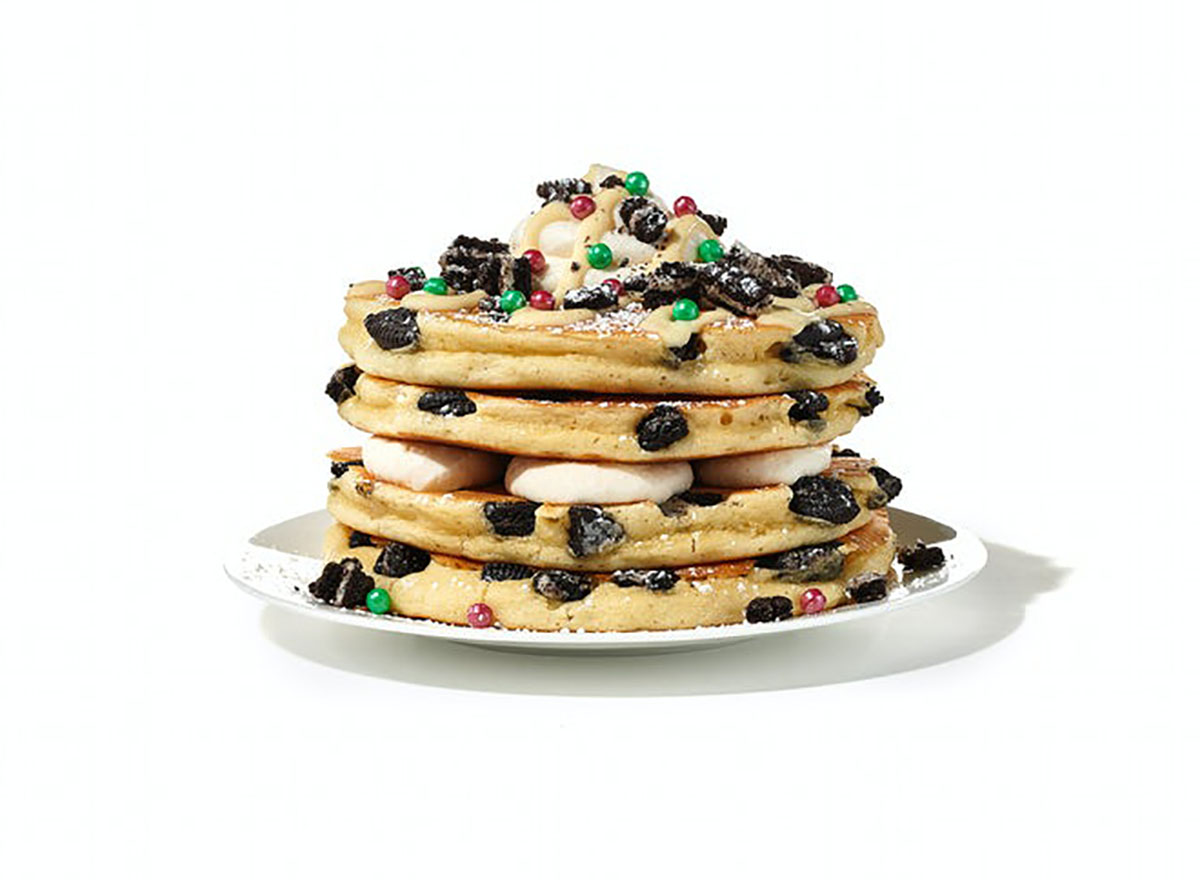 Per full stack
: 1,190 calories, 48 g fat (20 g saturated fat, 1 g trans fat), 2,460 mg sodium, 169 g carbs (6 g fiber, 76 g sugar), 22 g protein
Is this breakfast or dessert? This holiday menu item at IHOP is made of up four buttermilk pancakes that are filled with Oreo Cookie pieces and are layered with a milk mousse. But it doesn't stop there, as this stack is then topped with more mousse, vanilla sauce drizzle, cookie pieces, powdered sugar, and sprinkles. It's (not surprisingly) high in sugar, but also quite high in sodium, too.
Starbucks Cranberry Bliss Bar
290 calories, 15 g fat (9 g saturated fat, 0.5 g trans fat), 240 mg sodium, 38 g carbs (1 g fiber, 28 g sugar), 3 g protein
Starbucks is known for its seasonal menu offerings, and this cranberry bliss bar seems harmless for the most part. There are cranberries—an actual fruit! But this blondie cake is made with dried cranberries, and has a layer of cream-cheese icing, so it's not so innocent. While it might seem lower in calories compared to other options on this list, the 28 grams of sugar isn't something you should take lightly!
Dunkin' Peppermint Mocha Swirl Frozen Chocolate
Per large
: 910 calories, 18 g fat (13 g saturated fat, 0 g trans fat), 370 mg sodium, 177 g carbs (4 g fiber, 163 g sugar), 10 g protein
The concept of frozen chocolate is already an indulgent-sounding treat, and Dunkin' has tons of holiday flavors you can mix in, including peppermint mocha. A large size of this frozen treat has more than 900 calories and has as much sugar as more than six full-sized Hershey's milk chocolate bars.
Krispy Kreme Gingerbread Original Filled Cheesecake Donut
Per donut
: 260 calories, 13 g fat (6 g saturated fat, 0 g trans fat), 140 mg sodium, 32 g carbs (<1 g fiber, 19 g sugar), 3 g protein
Krispy Kreme brought back the Gingerbread Glazed Donuts and this holiday season, there's even an option to get your fix with a creamy cheesecake filling. Just one donut, though, is packing 19 grams of sugar, and we all know how easy it is to eat more than one Krispy Kreme donut when a whole box is in front of you.
Per pie
: 260 calories, 12 g fat (6 g saturated fat, 0 g trans fat), 150 mg sodium, 32 g carbs (4 g fiber, 12 g sugar), 3 g protein
If you're lucky enough to get your hands on a McDonald's holiday pie, it's easy to see why you would want to down one of these alongside a Big Mac and fries.
Inside a buttery crust that is glazed with sugar and topped with rainbow sprinkles is a creamy smooth, vanilla custard. This pie is only available for a limited time, and overall, seems like a not-so-terrible option. What you do want to keep in mind about this holiday menu item is that its ingredient list is miles long. It's loaded up with food dyes such as Yellow 5 & 6, which studies have linked both to learning and concentration disorders like ADD in children.
Sonic Oreo Espresso Shake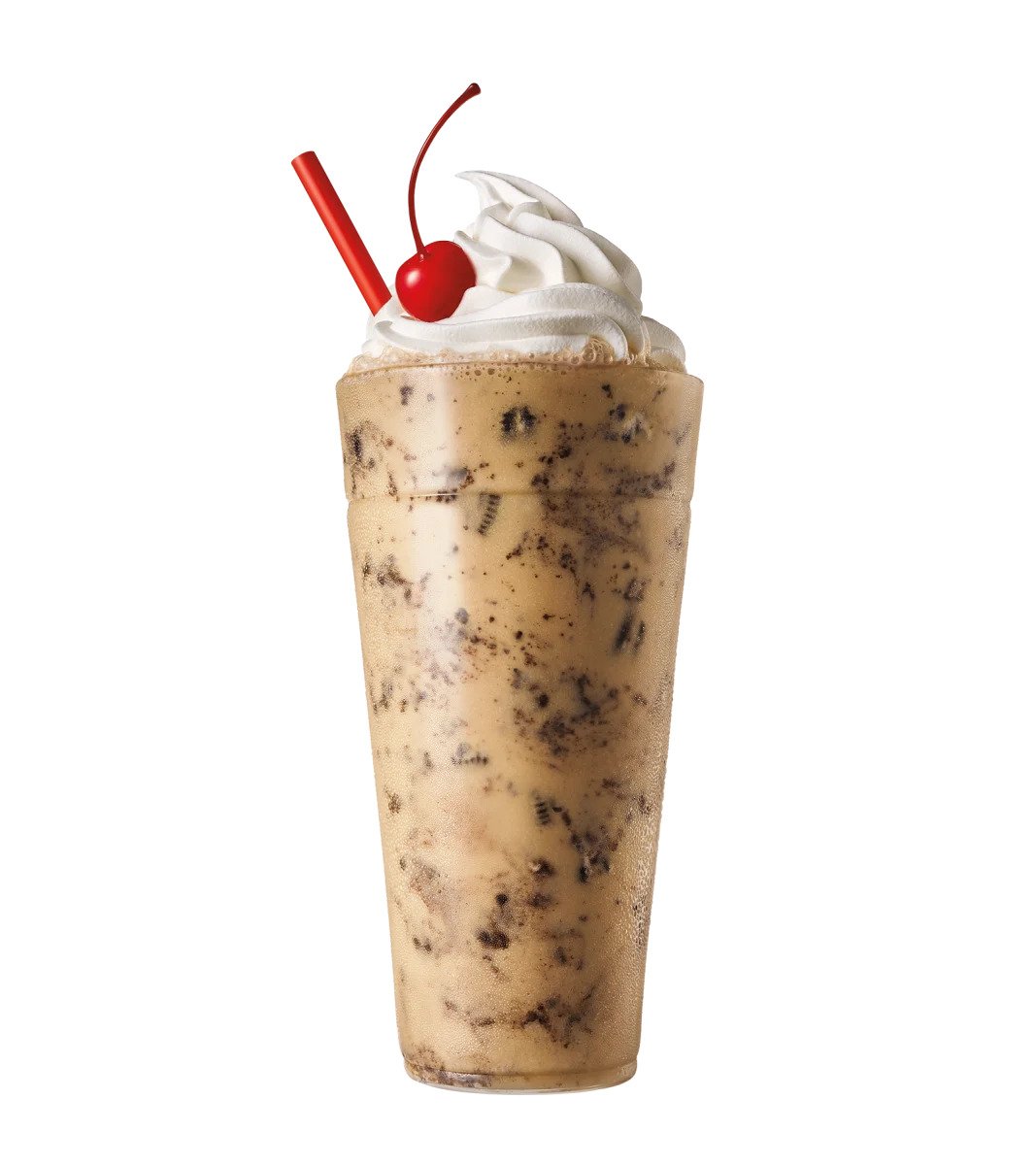 Per large shake
: 1,360 calories, 70 g fat (42 g saturated fat, 2 g trans fat), 870 mg sodium, 163 g carbs (2 g fiber, 101 g sugar), 19 g protein
Sonic introduced this limited-time shake for the holiday season and one sip treats you to a double shot of espresso, Sonic's creamy vanilla ice cream, and Oreo cookie pieces. While this might be an oh so tasty way to get your caffeine fix, a large shake is packing tons of fat and more than 100 grams of sugar. Perhaps, go for a small size and just have a few sips if you really want to indulge!
Smashburger Gingerbread Holiday Shake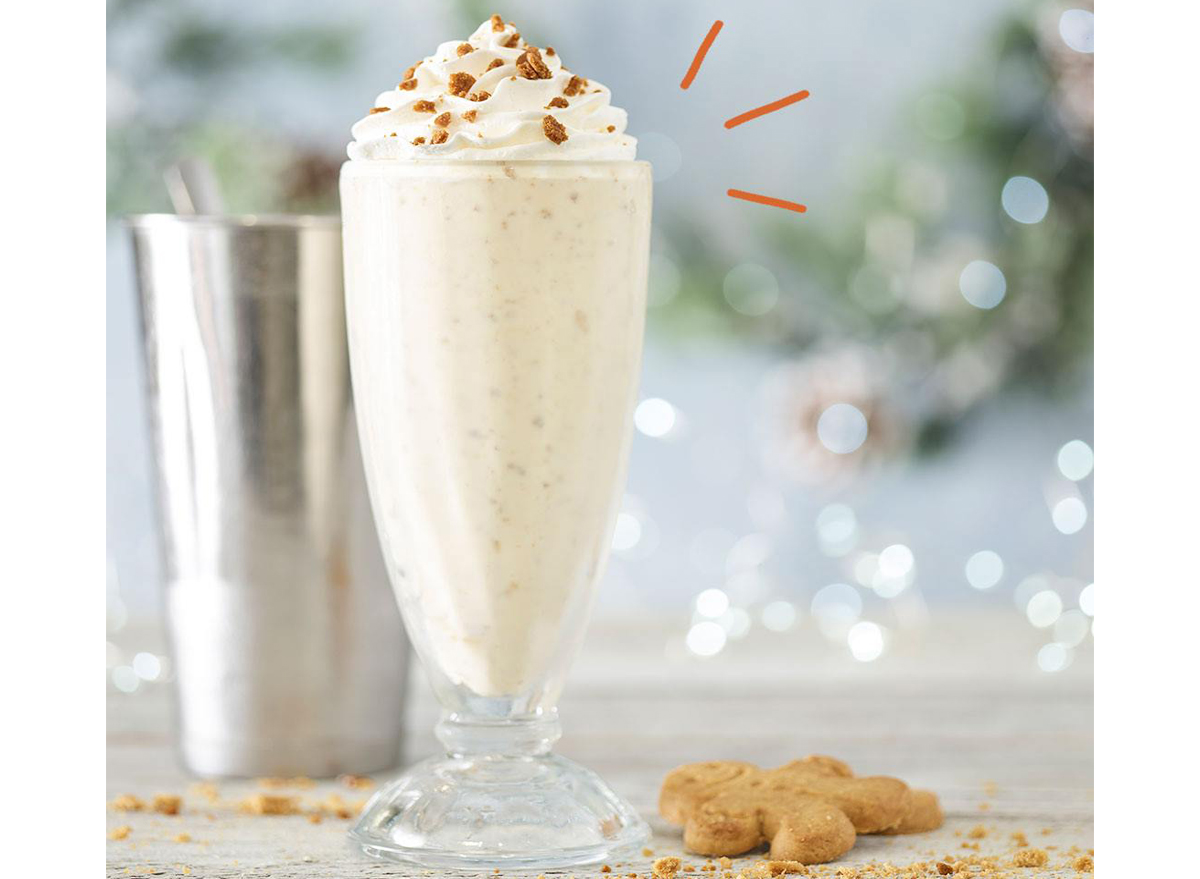 Per shake
: 850 calories, 54 g fat (31 g saturated fat, 1 g trans fat), 300 mg sodium, 77 g carbs (0 g fiber, 64 g sugar), 15 g protein
This holiday-themed Smashburger shake made its way onto menus toward the end of 2020. The shake is mixed with real Häagen-Dazs ice cream and gingerbread cookie crumbles, but downing 850 calories is just excessive. Along with the high fat content, it has as much sugar as you would get from five Dunkin' Chocolate Frosted Donuts.
Per cookie
: 390 calories, 23 g fat (14 g saturated fat, 0 g trans fat), 140 mg sodium, 45 g carbs (1 g fiber, 23 g sugar), 4 g protein
A snowman cookie, now that just screams the holiday season. This buttery shortbread dessert you can find in the Starbucks bakery is covered in a white chocolate icing, making for a super sweet cookie. If you really want a piece, be sure to split this little guy with a friend.
Dunkin' Sourdough Breakfast Sandwich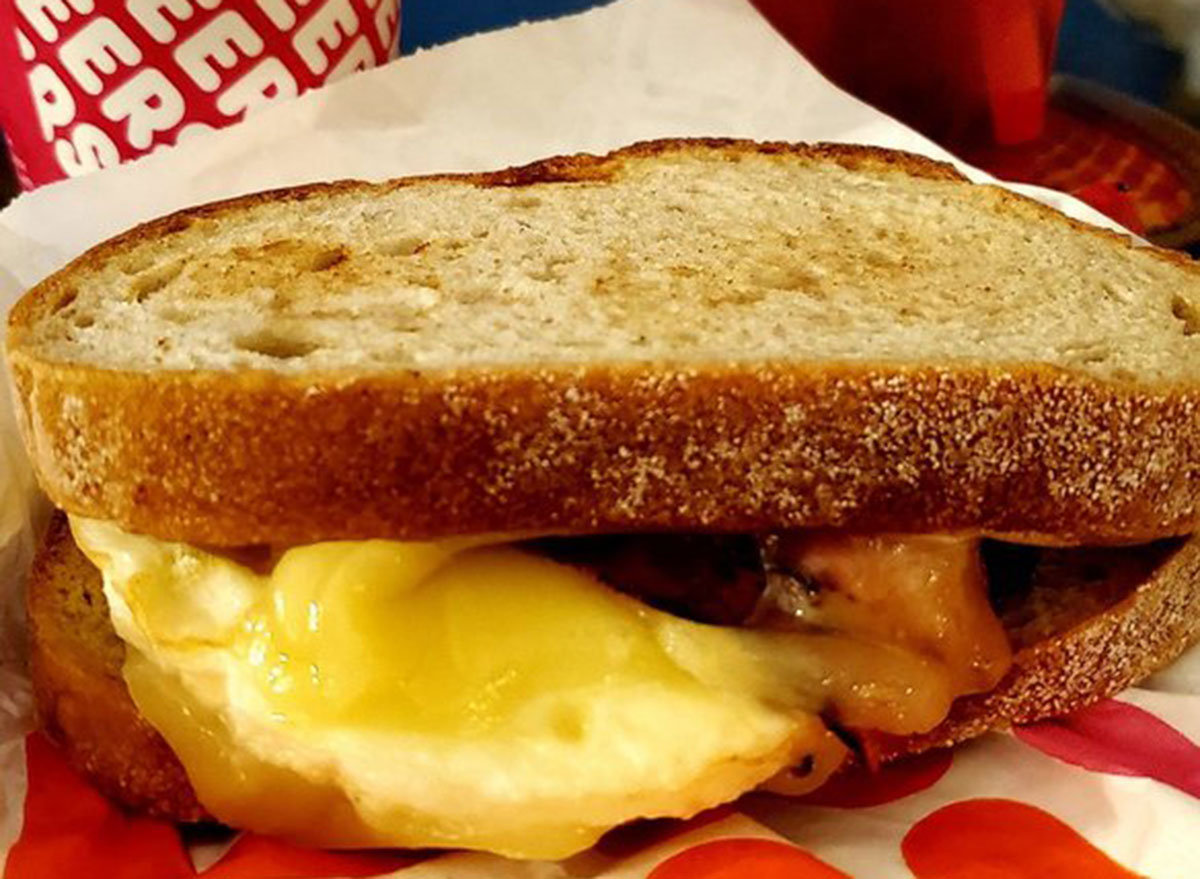 Per sandwich
: 650 calories, 32 g fat (11 g saturated fat, 0 g trans fat), 1,360 mg sodium, 58 g carbs (3 g fiber, 2 g sugar), 31 g protein
This sandwich made its debut in November as part of Dunkin's holiday lineup. Here, you get extra Cherrywood-smoked bacon plus two fried eggs and aged Wisconsin white cheddar cheese, all on sourdough toast. Not only is this a high-calorie breakfast sandwich, but it has as much sodium as seven and a half small order of McDonalds' French fries. Plus, it contains more protein than a person should have in one meal. Skip!
Dairy Queen Frozen Hot Chocolate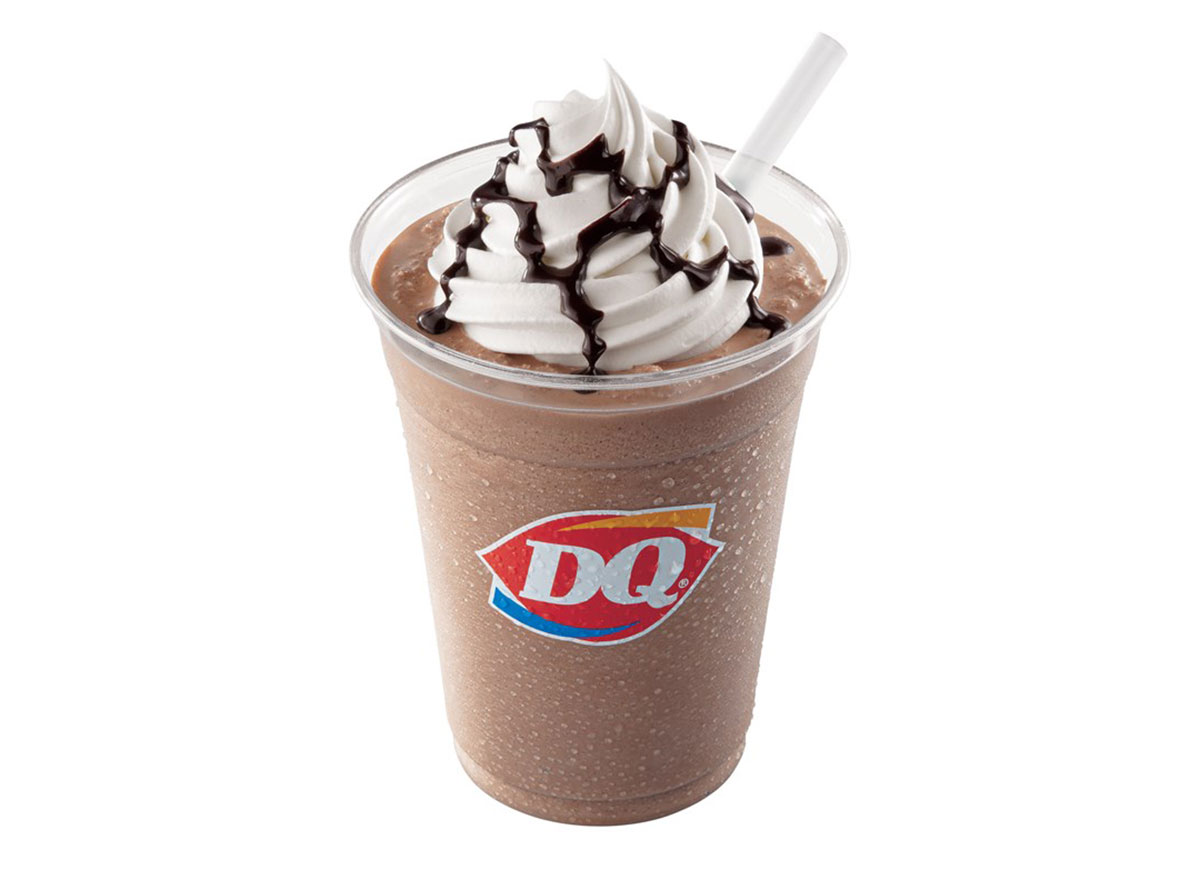 Per large
: 1,010 calories, 46 g fat (20 g saturated fat, 1 g trans fat), 400 mg sodium, 143 g carbs (5 g fiber, 124 g sugar), 16 g protein
Frozen hot chocolate strikes again! This version from Dairy Queen has more than 1,000 calories and is loaded up with more sugar than 12 Krispy Kreme Original Glazed Donuts.
Sonic Fritos Chili Cheese Wrap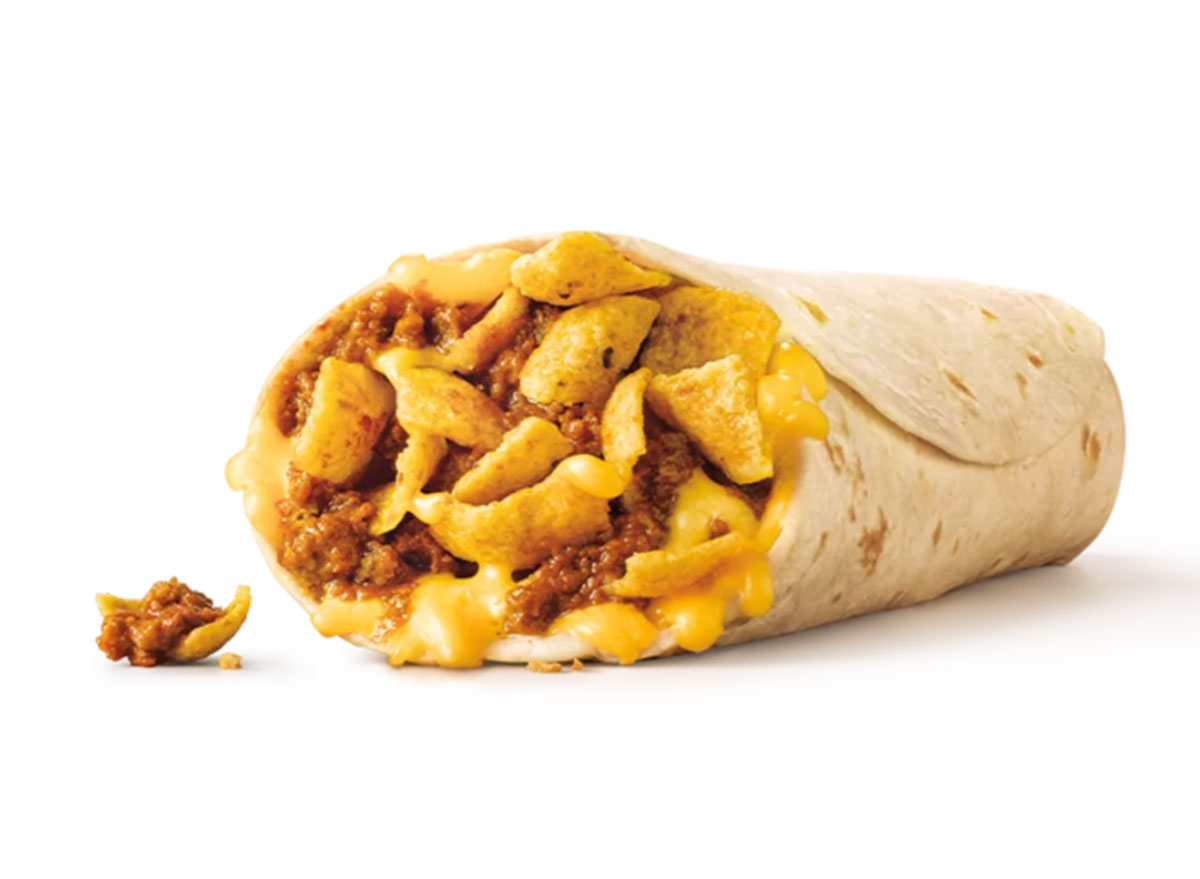 Per wrap
: 650 calories, 35 g fat (13 g saturated fat, 0.5 g trans fat), 1,500 mg sodium, 62 g carbs (2 g sugar), 19 g protein
Sonic brought back its Fritos infused chili cheese wrap for the colder months and while this might be a mouth-watering treat, it's one you want to stay away from. Not only does have it contain troublesome trans fat, but it's packing more sodium than if you ate 282 actual Fritos chips…
Jennifer Maldonado
Jennifer Maldonado is a senior editor at Eat This, Not That!, specializing in food and health content.
Read more about Jennifer