The #1 Worst Juice To Drink Every Day, Says Science
It may seem healthy, but do your body a favor and avoid these juices at the grocery store.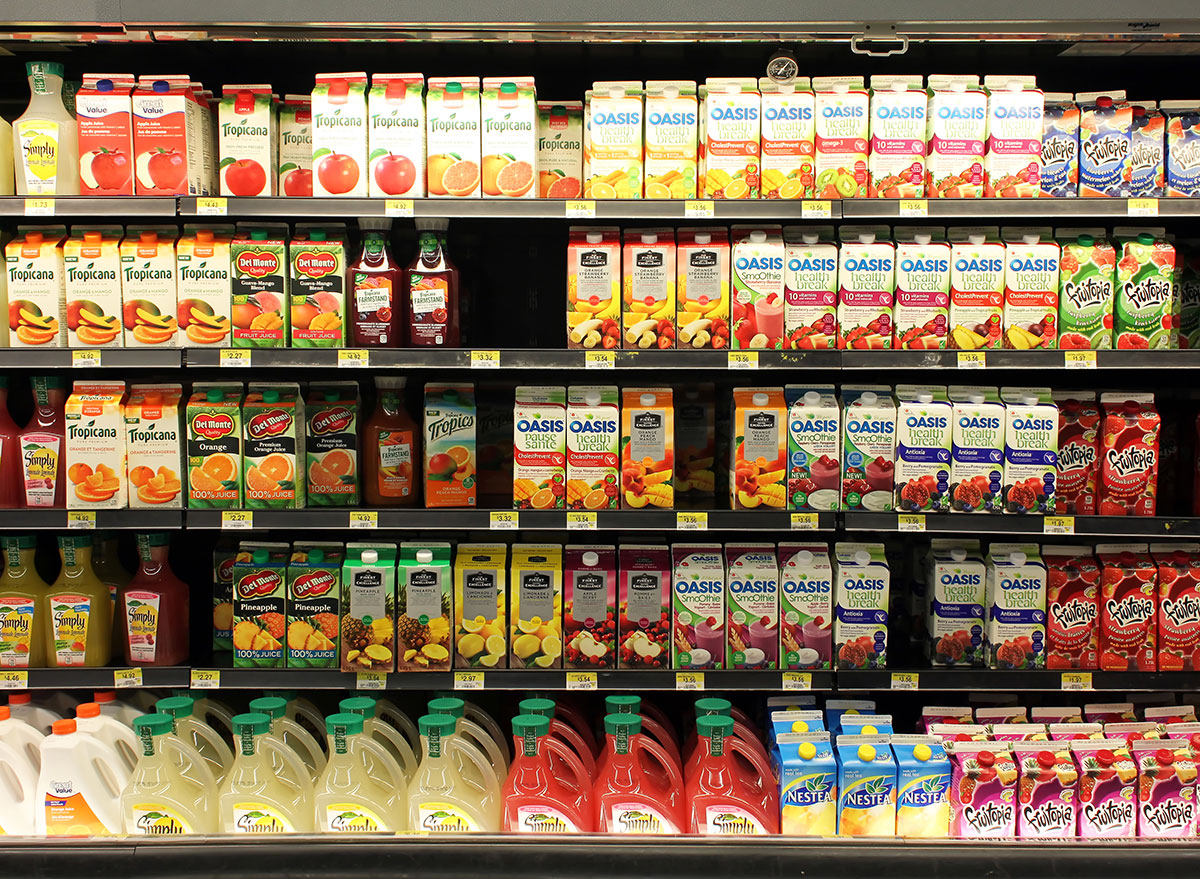 Juice can be a delicious and easy way to get some added nutrients in your daily diet, especially on those extra-busy days. For example, a 100% fruit juice like pomegranate juice can provide your body with free radical-fighting antioxidants and even has more potassium than a medium banana!
However, while moderate amounts of 100% fruit juice can be a healthy part of your diet, one of the worst types of juices to drink every day are juice drinks with added sugar.
Continue reading to learn why these are the worst juices for your health, and for more healthy tips, make sure to check out Drinking Habits to Avoid If You Have High Cholesterol.
What are the health risks of sugary beverages?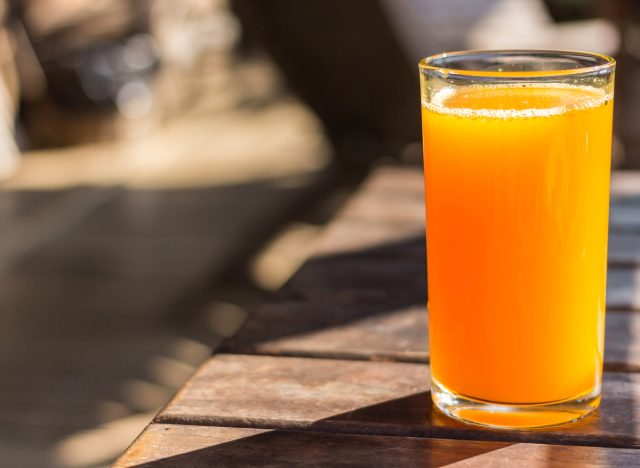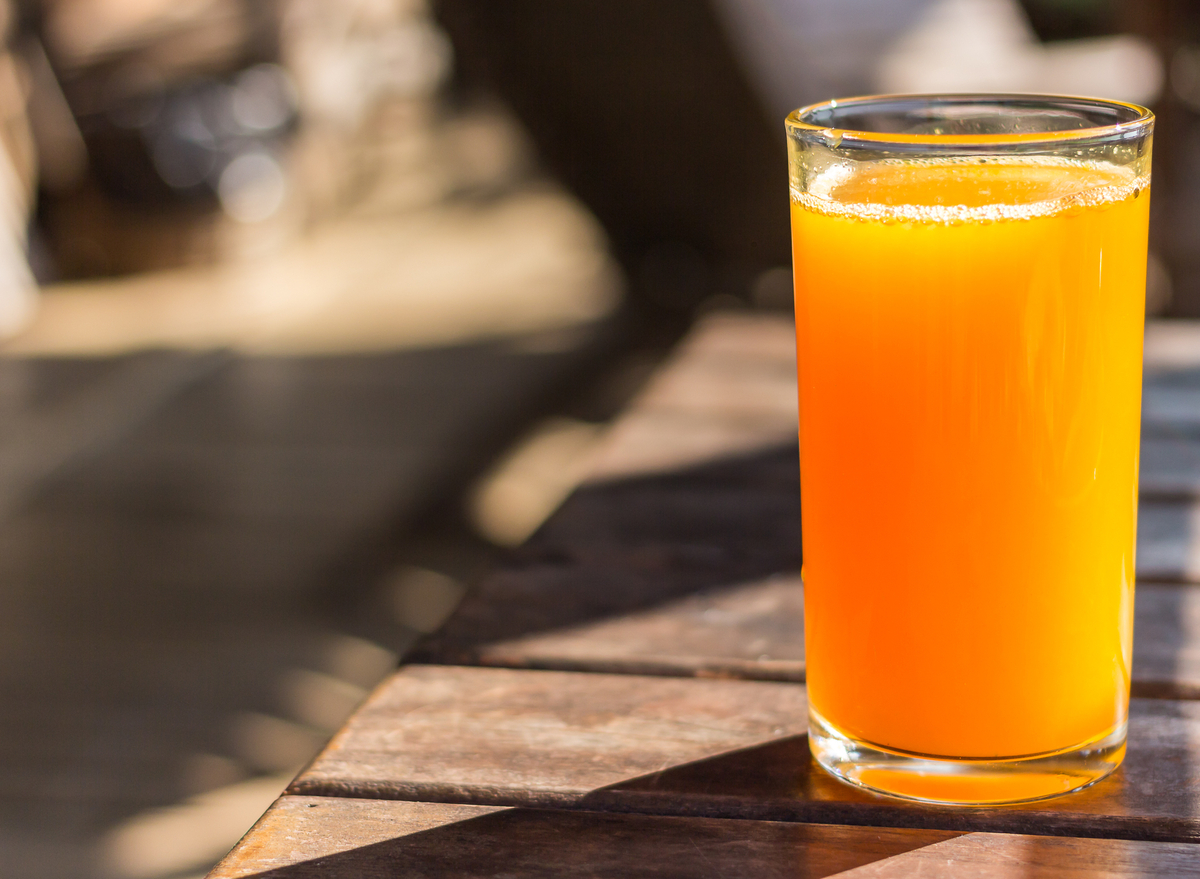 Drinking your sugar can be one of the most damaging choices you can make for your health. Not only are you consuming a high amount of calories from added sugar, but you're not getting enough key nutrients like fiber for your body to process it properly. Fiber—as well as protein—is a satiating macronutrient that slows down your body's digestion, helping to lessen blood sugar spikes that can lead to insulin resistance and weight gain. Fruits are naturally good sources of fiber, just like vegetables and whole grains.
According to Harvard Health, drinks with added sugar not only leave you feeling unsatisfied and hungry, which can cause you to pack on even more calories, but regular consumption can increase your risk of things like heart disease and type 2 diabetes.
What counts as a juice drink with added sugar?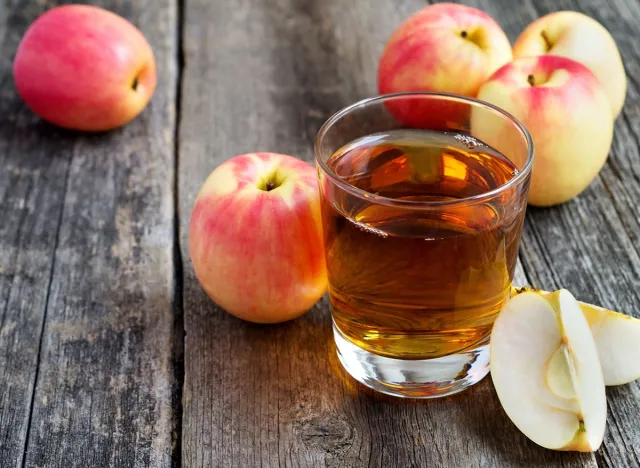 While many people think of just soda when they hear "sugar-sweetened beverage," the CDC classifies it as any drink that is sweetened with corn syrup, brown sugar, fructose, glucose, high-fructose corn syrup, raw sugar, or sucrose. While the most common forms of sugary beverages include soda, energy drinks, and sugary coffee drinks, fruit drinks or juices with added sugar are also sugar-sweetened beverages.
When we're talking about juice drinks with added sugar, we're not talking about bottles and cans that say "100% Juice." These juice drinks don't contain any added sugars—all the sugar comes naturally from the fruit.
Juice drinks with added sugar—the #1 worst juice to drink every day—contain a lower percentage of juice and are sweetened with added sugars like cane sugar and high fructose corn syrup.
Some of the worst juices to buy
There are plenty of juice drinks with added sugar you should look out for—here are just a couple of egregious examples.
Minute Maid Cranberry Cocktail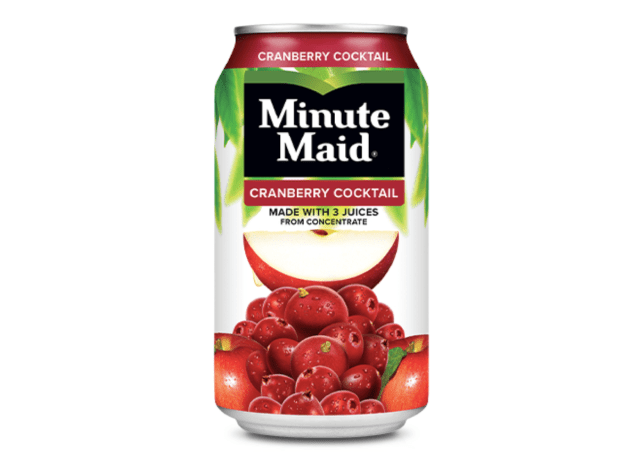 6254a4d1642c605c54bf1cab17d50f1e
This Minute Maid Cranberry Cocktail may seem healthy at first, but this juice cocktail comes loaded with 58 grams of total sugar—53 grams are considered "added sugar"—in every can! And not only that, but the second ingredient on the nutrition label, right behind water, is high fructose corn syrup (you'll also find regular sugar in there).
Simply Fruit Punch
Simply Fruit Punch tastes great, but there are little nutrients in each glass. For just one 8-ounce serving, you're looking at 21 grams of added sugar from cane sugar (25 grams of total sugar) and zero fiber or protein.
Minute Maid's Peach Mango
Minute Maid's Peach Mango juice drink is another one to avoid if you can. This bottle is made up of mostly fruit concentrates and high fructose corn syrup, and in just 12 ounces of liquid, you're looking at a total of 37 grams of sugar, 28 grams of which are added sugar. Minute Maid takes it even a step further by making the drink taste sweeter without the sugar and calories by using the artificial sweetener sucralose!
How to tell if you're drinking a juice with added sugar.
While it's not always easy to tell if your juice drink has added sugars like high fructose corn syrup without turning the bottle around and reading the ingredients list, there are some words you should look out for as red flags, like "juice beverage," "cocktail," "juice drink," "fruit-flavored," and anything that has a percent juice content of 99% or lower. (Some juice drinks contain just 5% juice!)
And if you do check out the nutrition facts panel, look to see if there's a number next to "Added Sugars" and scan the ingredients for "high fructose corn syrup," "sugar," and "cane sugar."