4 Worst New Fast-Food Pizzas To Stay Away From Right Now
These pizzas may be lacking in the nutrition department.
Is there ever a bad time to order a pizza? We think not. Unfortunately, not all pizzas are created the same when it comes to ingredients and nutritional value. While some are packed with healthier, high-quality ingredients, like vegetables, whole grains, and greens, others are filled with massive amounts of sodium and carbs. Because of this, newly-launched (and re-released) fast-food pizzas, such as those from Papa Johns and Pizza Hut, may be some of the least healthy pizzas out there.
"Fast food pizzas typically contain high levels of calories, fat, and sodium," says Lori Walker RD, registered dietitian and recipe developer at Easy Kitchen Guide. She points out that these pizzas often lack significant nutrients, such as fiber and vitamins because the ingredients used are lower-quality. They are also usually made with processed ingredients, including pepperoni, sausage, and cheese, which can be unhealthy if not enjoyed in moderation. "The combination of these ingredients can make for a very unhealthy meal if eaten in excess," she adds.
The good news is that fast-food pizzas can be made a bit healthier by making a few tweaks. "First, look for lighter options that contain fewer calories and lower levels of saturated fat and sodium," Walker explains. "Also opt for pizzas with more vegetables, such as mushrooms, bell peppers, onions, spinach, and tomatoes for added nutrients." She also points out that you should watch out for high-sodium sauces, like garlic tomato sauce. It's also a good idea to order whole wheat or whole grain dough because it has more fiber than traditional dough made with white flour. "By making these small changes when ordering fast food pizza, you can enjoy it without compromising your health," she says. "Just remember to always eat in moderation!"
If you're interested in learning more about some recently launched fast food pizzas you should (probably) not eat in excess because they're lacking in the nutrition department, read ahead. From the new pizza/cheesy sticks hybrid from Papa John's to a colossal New York pizza from Pizza Hut, here are some of the new, least healthy fast-food pizzas you should only order in moderation.
Pizza Hut – The Big New Yorker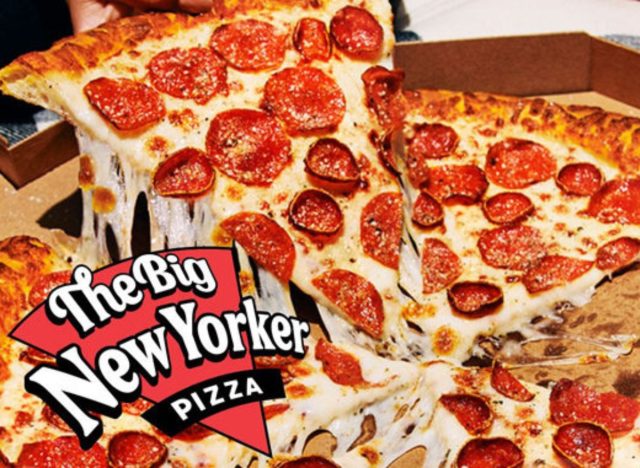 per 1 slice
: 470 calories, 21 g fat (10 g saturated fat), 960 mg sodium, 47 g carbs (4 g fiber, 4 g sugar), 22 g protein
Sure, Pizza Hut's The Big New Yorker looks delicious (I mean, it has six jumbo slices, what's not to love?) but it's a whole other story when it comes to nutrition. This pizza, which originally was launched in 1999 and is now back on the chain's menu, has nearly 1,000 milligrams of sodium per slice.
"These pizzas are typically larger than the average pizza and contain more cheese, meat, and other fatty ingredients, making them higher in calories and saturated fat," says Mary Sabat MS, RDN, LD. She shares that eating these pizzas too often can contribute to weight gain and an increased risk of diabetes, heart disease, and stroke. "They should be enjoyed in moderation, as part of an overall healthy diet," Sabat adds.
Papa Johns – Epic Pepperoni Epic Stuffed Crust Pizza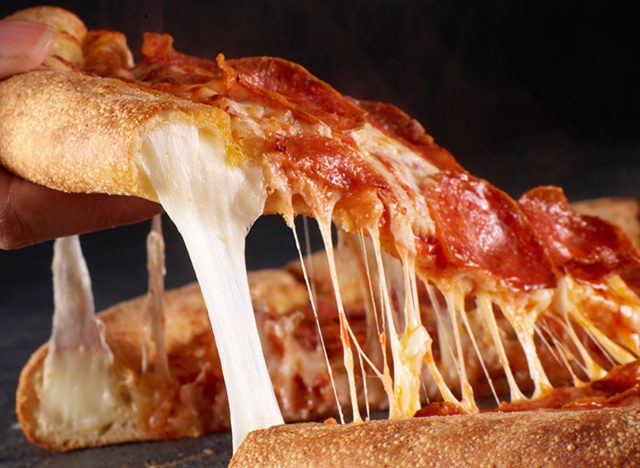 per 1 slice
: 390 calories, 17 g fat (8 g saturated fat), 980 mg sodium, 40 g carbs (2 g fiber, 4 g sugar), 16 g protein
Cheese, cheese, and more cheese. Any pizza can be made into an "Epic Stuffed Crust" pizza at Papa Johns, which may not necessarily be a good thing. This new type of crust, which features a colossal amount of, you guessed it, cheese, only dials up the amount of sodium, fat, and carbs in each serving. For example, making a regular cheese pizza into an Epic stuffed Crust pie may double the amount of sodium, carbs, and calories in each serving.
If you're in the mood for Papa Johns but are looking for a healthier option, instead order a pie with a thinner crust that is made sans processed meats and additional cheese.
Pizza Hut's Meat Lover's Melt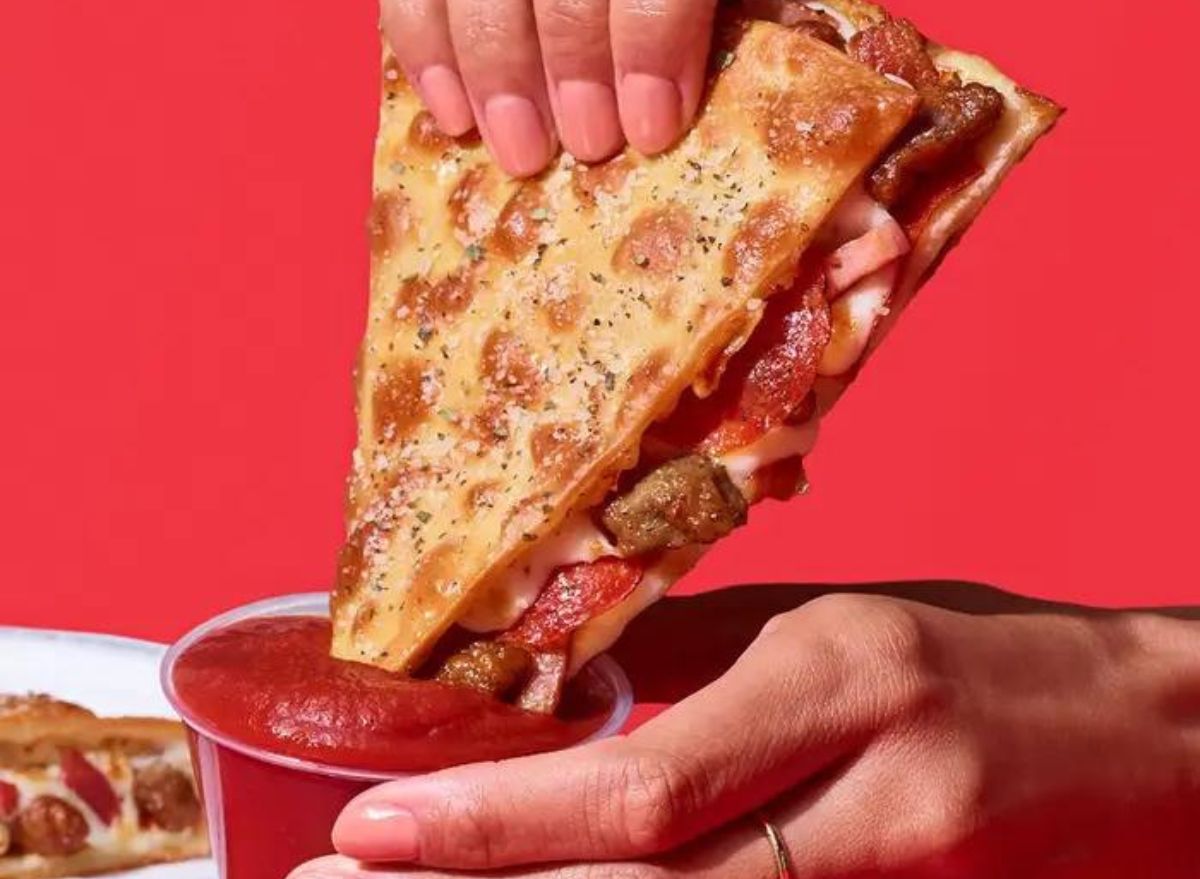 per 1 melt
: 1,100 calories, 59 g fat (24 g saturated fat), 2,700 mg sodium, 93 g carbs (7 g fiber, 17 g sugar), 49 g protein
Just because something is smaller in size, doesn't mean it's healthier for you. Pizza Hut's Meat Lover's Melt, which is one of a few pizza melts the chain released last year, has an eye-watering 2,700 milligrams of sodium in it and nearly 100 grams of carbohydrates. Instead of ordering a melt, opt for a regular slice of cheese pizza or order a pie topped with different vegetables, like peppers and onions.6254a4d1642c605c54bf1cab17d50f1e
Little Caesars' Slices-N-Stix
per 1 pizza pie
: 2,950 calories, 141 g fat (69 g saturated fat, 4.5 g trans fat), 6,710 mg sodium, 264 g carbs (15 g fiber, 14 g sugar), 161 g protein
Another unhealthy pick is the Little Caesar's Slices-N-Stix which, although it looks delicious, is filled with tons of sodium. This pizza was a hit a few years ago before disappearing, and now it's back again for a limited time.
Sabat shares that this pizza, which is full of sodium, fat, and calories, should only be enjoyed in moderation. If you want a healthier fast-food pizza, she suggests choosing pies made with reduced-fat cheese, whole wheat crust, and wholesome ingredients, like vegetables and lean protein. "Additionally, avoid pizzas with multiple layers of dough, which can increase the calorie and fat content. It is also important to pay attention to the portion size," says Sabat.