Pizza Hut Is Winning the Pizza Wars Again—Here's Why
The popular chain saw major success with a recent product launch.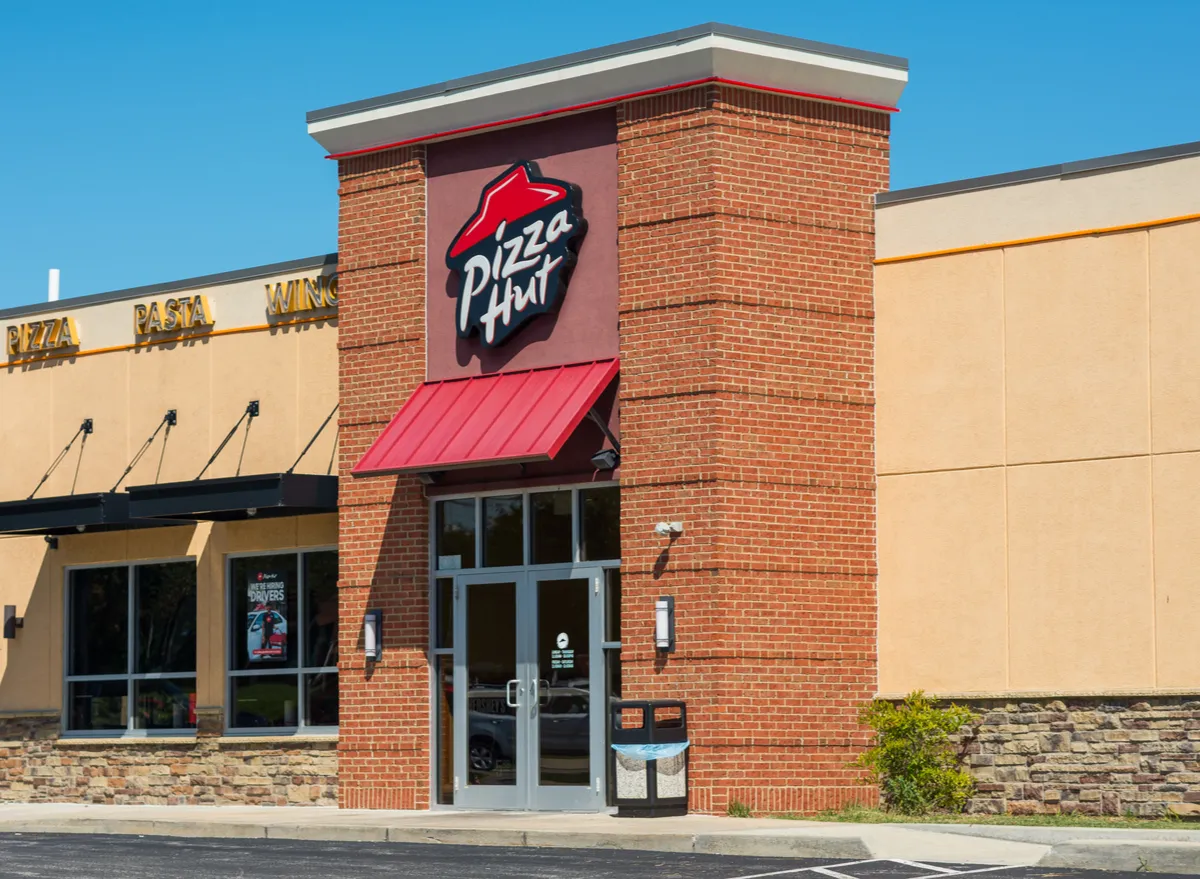 Pizza Hut, Domino's, and Papa Johns have all crystalized as the leaders in the pizza industry. Many Americans would likely list one of the three if asked to choose their favorite quick-service pizza chain (although Little Caesars and Marco's Pizza are also nipping at their heels.)
Declaring one of those three brands as the best would not be a straightforward task, but recent sales reports show that Pizza Hut had a particularly strong end to 2022 while Domino's and Papa Johns struggled in some areas.
This is an especially impressive feat since Domino's and Papa Johns have pulled ahead of the rival brand in the pizza wars over the past couple of years. Domino's overtook Pizza Hut as the largest pizza chain in the world by store count in 2021, after already making more in systemwide sales. Pizza Hut also had to close hundreds of locations because of the COVID-19 pandemic and saw its year-over-year sales drop in 2020 while both Domino's and Papa Johns recorded impressive gains.
This trend started to change in 2022. Pizza Hut's international same-store sales increased 1% over the course of the year, though its U.S. same-store sales dropped 1%. The fourth quarter of 2022 is where the chain really shined. U.S. same-store sales increased 4% in the quarter, while overall sales in its U.S. system increased 5%. 
What exactly could be the reason for this strong showing? David Gibbs, the CEO of Pizza Hut's parent company Yum! Brands, revealed during the latest earnings call that the launch of the brand's new handheld Melts line in October was a big driver for sales.
Pizza Hut Melts are similar to what you would get if you folded two pieces of pizza together. Cheese and toppings are encased within the chain's signature Thin N' Crispy crust, while the end product comes with a side of dipping sauce. Pizza Hut marketed it as a good, quick option for solo-eaters and customers who want a meal they can take on-the-go. But patrons also seemed to be drawn in by the product's budget-friendly price of $6.99 as inflation and elevated costs stretched consumer wallets.
Gibbs said that interest in good value meal options had increased, and Pizza Hut Melts were one of Yum! Brands' best offerings to fill that demand. He noted that the product helped entice individual customers who may not want to shell out for a whole pizza, as well as "recover" customers from lower income households because of its price.
To top it off, Pizza Hut boosted sales by 30% on DoorDash and Uber Eats by taking part in marketing campaigns with the delivery platforms, according to Gibbs. Yum! Brands exceeded analyst expectations for earnings and revenue overall in the quarter.
These positive takeaways from Pizza Hut's fourth quarter report are a stark contrast to the aftermath of Domino's and Papa John's unveiling their own reports on Feb. 23. Domino's missed expectations on same-store sales growth for the quarter, while Papa John's missed expectations on North America sales. Domino's stock shares dropped more than 11% after the earnings were announced, while Papa John's shares dropped 6%, according to CNBC.
While Pizza Hut was able to draw in more budget-sensitive customers in the fourth quarter with its $6.99 Melts, certain Domino's and Papa John's customers were forced to cut back on eating at the chains after both increased their prices to combat elevated costs for food, labor, and other commodities. Domino's has particularly angered some of its fans by changing the prices or value of two popular deals. 
Additionally, in contrast to Pizza Hut's recent success on the delivery side, Domino's has been facing an ongoing delivery driver shortage that has impacted sales and delivery times. Unlike Pizza Hut, Domino's does not use third-party delivery services that could ease the pressure on its employees.
Papa John's also contended with delivery driver staffing shortages in 2022, but the chain's CEO said in May that partnerships with DoorDash, GrubHub, and Uber Eats were improving the issue.6254a4d1642c605c54bf1cab17d50f1e
Whether Pizza Hut will be able to win the pizza wars in the longer term remains unclear, but for now, the chain has much to brag about.
Zoe Strozewski
Zoe Strozewski is a News Writer for Eat This, Not That! A Chicago native who now lives in New Jersey, she graduated from Kean University in 2020 with a bachelor's degree in journalism.
Read more about Zoe