The Most Toxic Salad Dressing on Grocery Shelves
It's the one way you might not realize you're adding on tons of calories and sugar.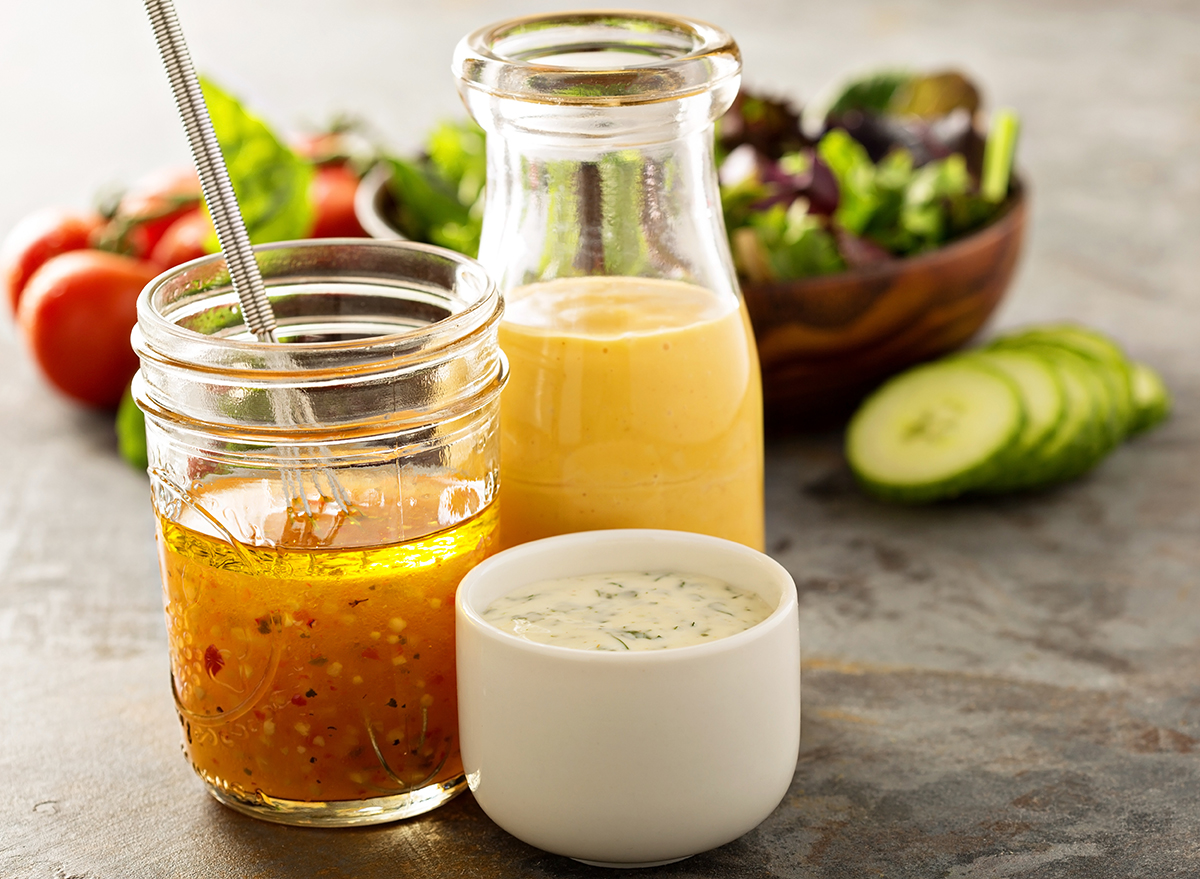 If you're incorporating more salads into your diet, you're obviously focusing on trying to make healthier choices. And we commend you for taking that step toward an overall better diet! While you're loading up on fresh veggies to mix in with those leafy greens, there is one way you might just be unknowingly turning your healthy salad, well, toxic. And that comes down to the salad dressing.
Yes, what you put on top of your salad matters! Unless you're making that dressing yourself, you might not really know exactly what is in those bottles of salad dressing that line grocery store shelves. There are actually tons of options out there that are just adding on tons of calories, sugar, and inflammatory vegetable oils.
So which seemingly harmless dressing is the one to avoid at all costs? (Instead, be sure you're trying out these 21 Best Healthy Cooking Hacks of All Time!)
Wish-Bone Creamy Caesar Dressing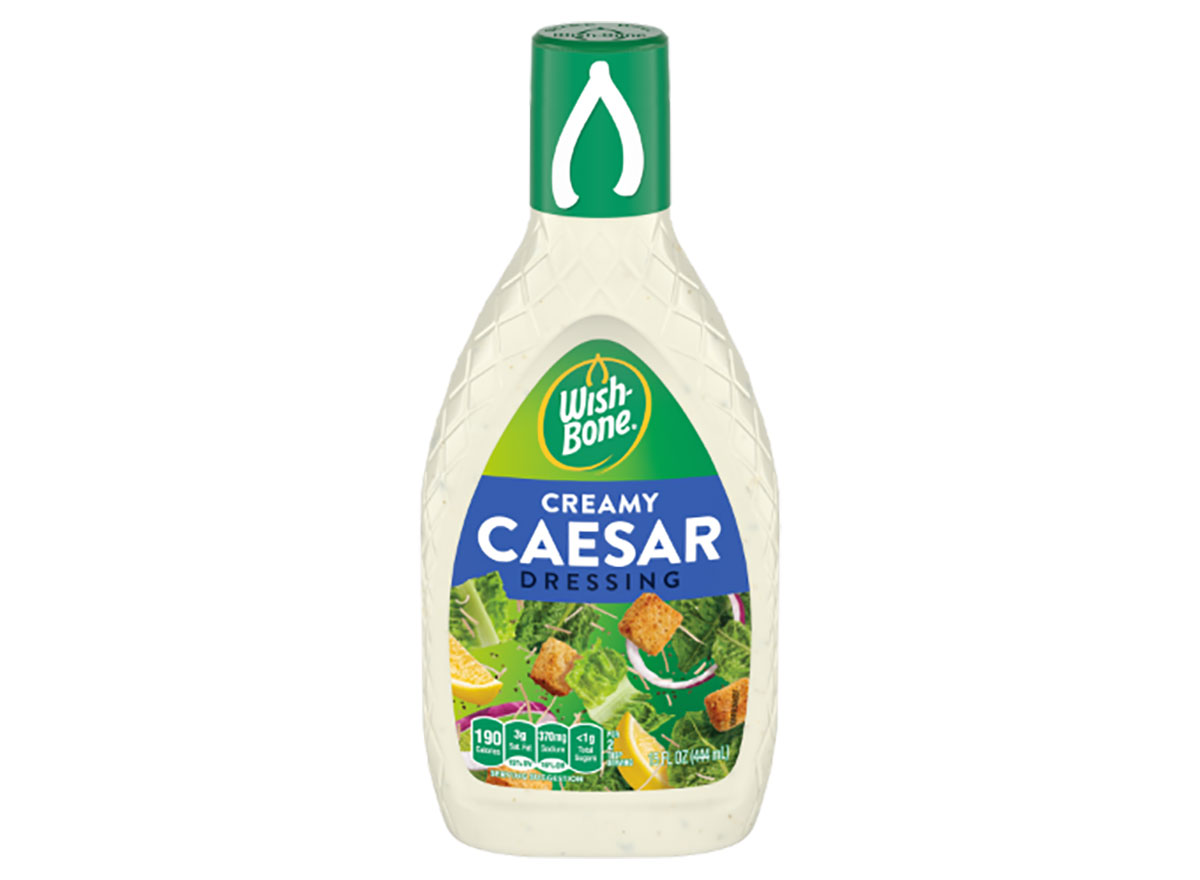 Per serving (2 Tbsp)
: 190 calories, 20 g fat (3 g saturated fat, 0 g trans fat), 370 mg sodium, 1 g carbs (0 g fiber, <1 g sugar), <1 g protein
It's no secret that the main component of the beloved Caesar salad is the Caesar dressing. And here, you're going to be spreading a dressing that is made with Parmesan cheese and a blend of black pepper, parsley, and other seasonings. While it might taste great and Wish-Bone is a classic brand, that doesn't mean you should anywhere near this salad dressing.
See, in just one serving—a mere 2 tablespoons, keep in mind—you're getting nearly 200 calories and 20 grams of fat. And 370 milligrams of sodium, too? That's more sodium than you would get if you ate two bags of Lay's Classic Potato Chips. Yikes!
The bad news doesn't stop there, either. Take a look at the ingredients list and you'll see that the main ingredient is inflammatory soybean oil. Sugar and corn syrup are also listed. Plus, it's important to remember that with Caesar salad, it's often drenched in dressing. If you try to replicate the flavors you get from a restaurant salad, you'll most likely have to double up on the amount fo dressing that's suggested. So you would be adding upwards of 400 calories to your salad. Big yikes.6254a4d1642c605c54bf1cab17d50f1e
Now, you don't want to add unnecessary calories, fat, sodium, and sugar to your salad, do you? Skip the Caesar dressing, especially this one from Wish-Bone.
Eat This, Not That!
Inspired by The New York Times best-selling book series, Eat This, Not That! is a brand that's comprised of an award-winning team of journalists and board-certified experts, doctors, nutritionists, chefs, personal trainers, and dietitians who work together to bring you accurate, timely, informative, and actionable content on food, nutrition, dieting, weight loss, health, wellness, and more.
Read more about Eat This