11 Worst Stadium Foods You Should Never Order
Take yourself out to a ball game, but be careful what you choose to snack on!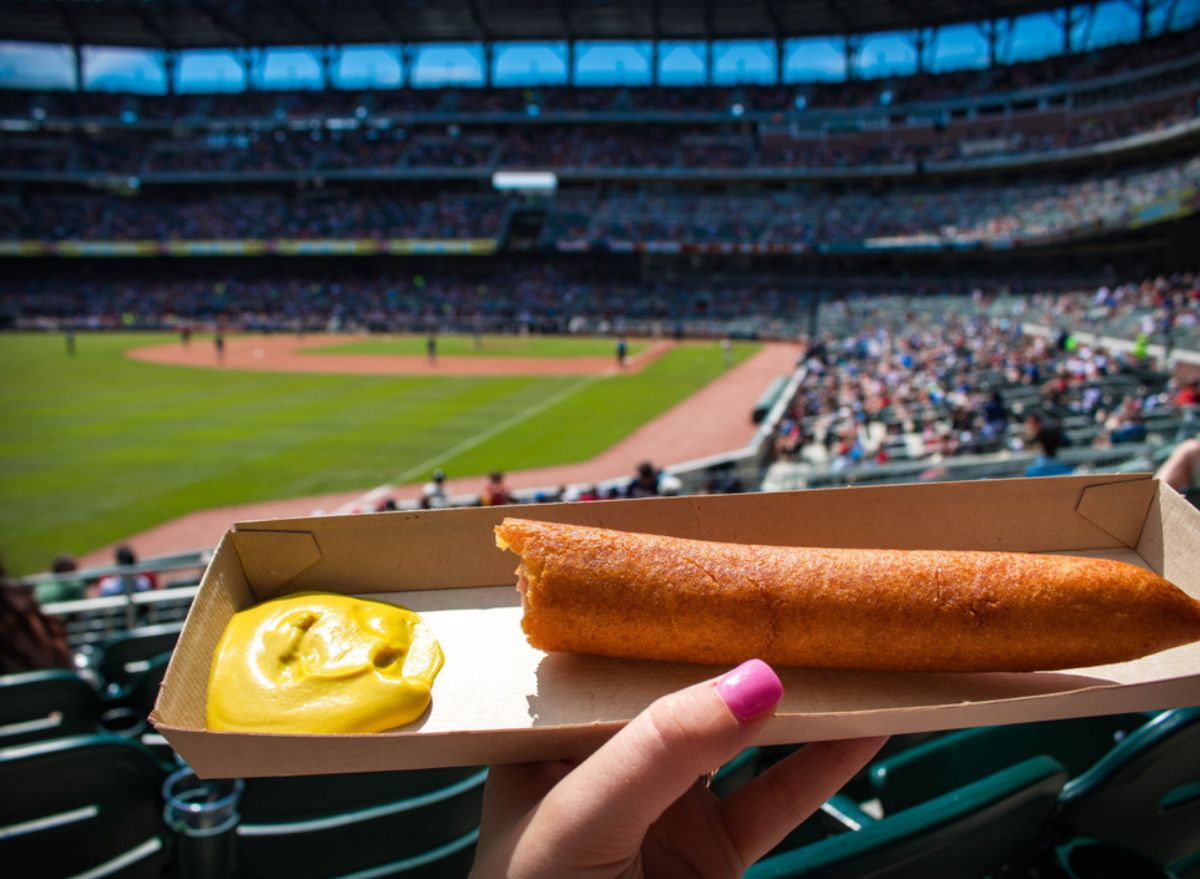 Stadium food and drink, while expensive, are often the best part of a day at the ballpark. Even if your team is tanking, there's always a hotdog, jumbo pretzel, or soft serve ice cream to help take the sting out of the loss. However, there are some stadium foods that you should absolutely avoid. Whether creative combinations of food that really should never be in the same dish or overpriced, under-flavored dishes, here are the worst stadium foods to skip at ballparks around the country.
RELATED: Hot Dog Sales at Baseball Stadiums Can Predict This Major Thing, Data Says
BBQ Reese's Sandwich at Kauffman Stadium (Kansas City Royals)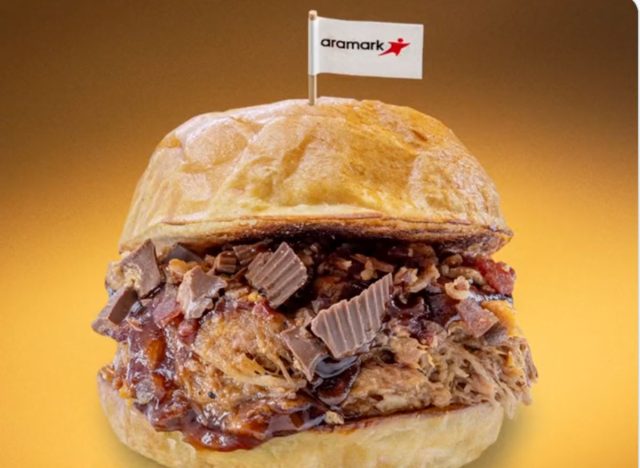 As part of the partnership between Major League Baseball and food vendor Aramark, several new and strange dishes have been rolled out at baseball stadiums recently. This sandwich, which features pulled pork topped with BBQ sauce, bacon bits, and Reese's Peanut Butter Cups is one of them. Salty and sweet flavor profiles are great, but there is too much going on here. No thank you.
Burgh Katsu at PNC Park (Pittsburgh Pirates)
This is another sandwich with way too much going on. Katsu, which is panko encrusted chicken, or in this case ham, is delicious. And katsu with the kimchi and hoisin sounds amazing, but the mini pierogies (while on brand for the 'burgh) are confusing in this context.
Veggie Burger Sub at Sofi Stadium (LA Rams/Chargers)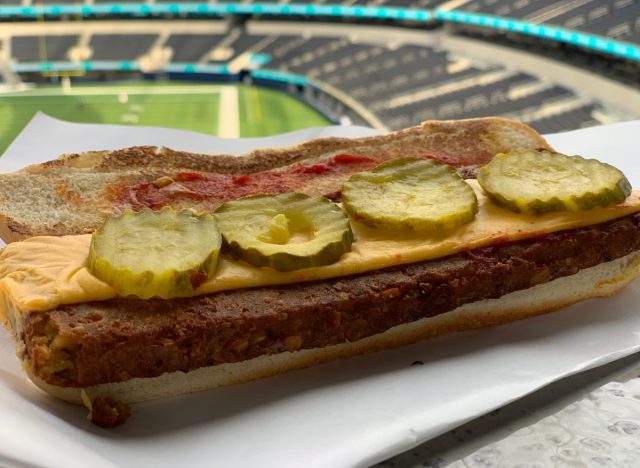 Twitter blew up last NFL season at the not great looking food offerings at the Los Angeles stadium, but the weird, long, sad pickled-covered veggie sub won the prize for the most grim-looking, overpriced meal.
Fowl Pole at Choctaw Stadium (Texas Rangers)
Everything's bigger in Texas, including this single, two-pound, breaded chicken tender that comes on a bed of waffle fries. It's paired with ranch and honey sauces for dipping and comes in its own carrying case. But, it's a two-pound chicken tender! Best sure to spilt this with some else if you choose to partake.
Pickle Poutine at Rogers Center (Toronto Blue Jays)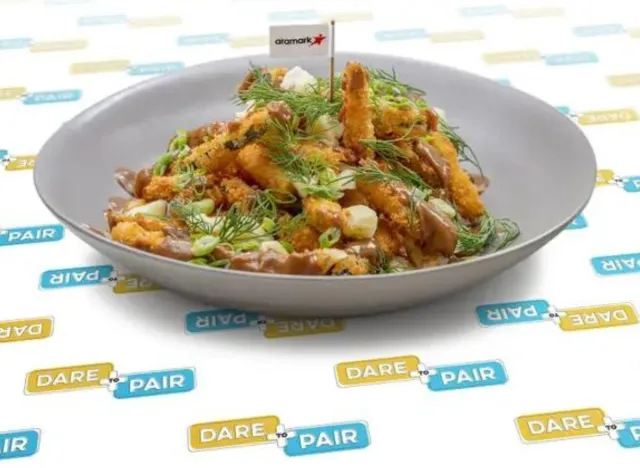 Poutine in our favorite Canadian city sounds like a no-brainer, but this dish of fried pickle straws, peanut butter gravy, cheese curds, bacon bits, and fresh dill scallions is honestly terrifying. Peanut butter should not be used in gravy.
The Pittsburgh Cone at PNC Park (Pittsburgh Pirates)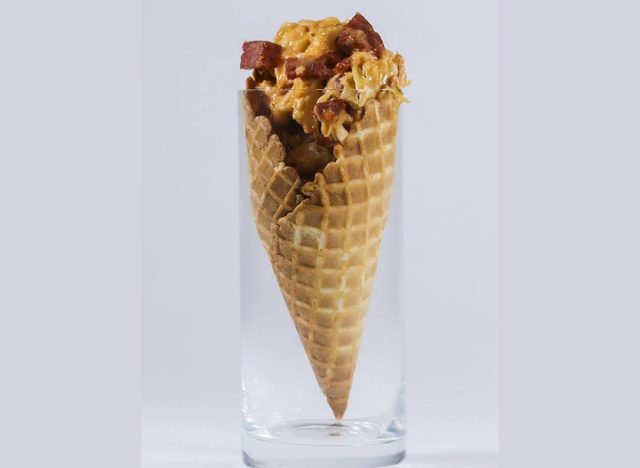 Pittsburgh—the city that puts French fries on its sandwiches—has more than one menu item on this list. For this dish, kielbasa, pierogi, Swiss cheese, sauerkraut, and Russian dressing are served in a giant waffle cone. While all the different parts of this cone sound delicious, how in world does anyone eat this?6254a4d1642c605c54bf1cab17d50f1e
Fluffer Nutter Fries at Fenway Park (Boston Red Sox)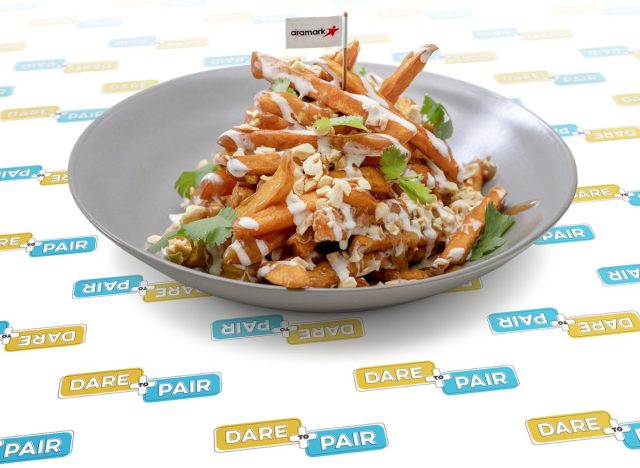 Why? In this dish, sweet potato fries are topped with crushed peanuts, cilantro, peanut sauce, and fluff sauce. What is wrong with a little BBQ sauce? Honestly, this sounds like it would be a soggy mess by the time you got back to your seat.
Apple Pie Egg Rolls at Comerica Park (Detroit Tigers)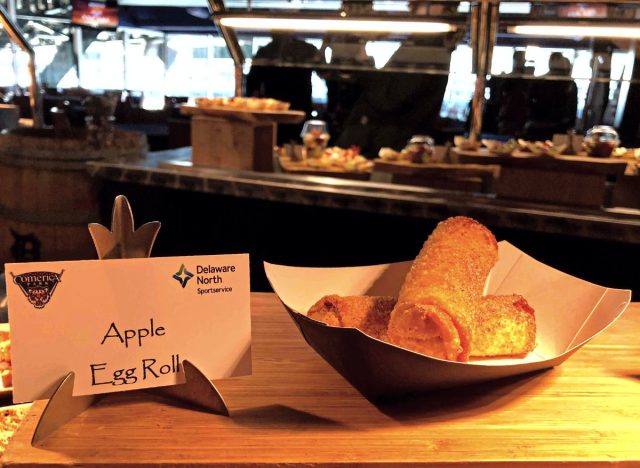 These are exactly what they sound like, apple pie filling in wonton wrappers, deep fried. This dessert sits on the edge of delicious and artery-clogging.
PBJ Burger at Citizens Bank Park (Philadelphia Phillies)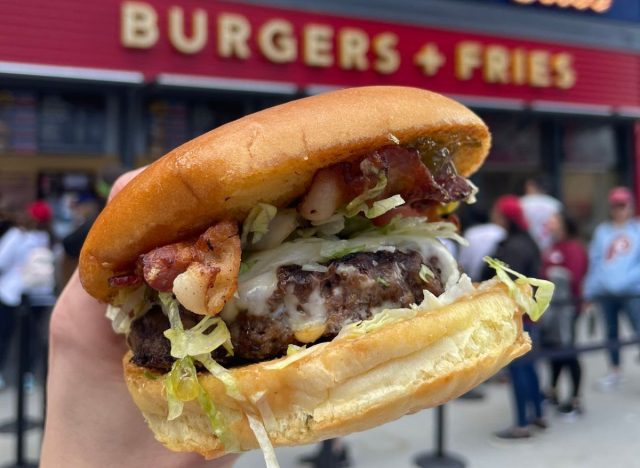 Again with the unnecessary peanut butter!  This special blend burger is topped with peanut butter, jalapeño jelly, American cheese, and bacon served on a brioche bun. This is another sandwich that seems like it would be a soggy mess by the time you reach your seat.
Flamin Hot Cheesesteak at Oakland Coliseum (Oakland A's)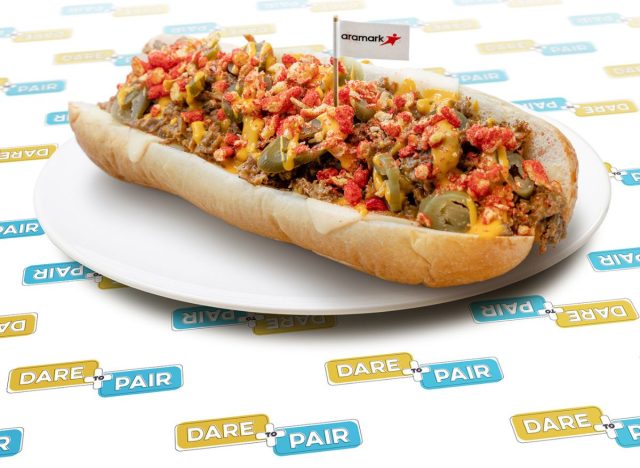 Maybe it's time to cool it with the Flaming Hot Cheetos. They don't go on everything. This chopped steak hoagie is dressed with (you guessed it) Flaming Hot Cheetos; plus chopped onions, and Cheez Whiz.
BONUS: Sushi at Any Stadium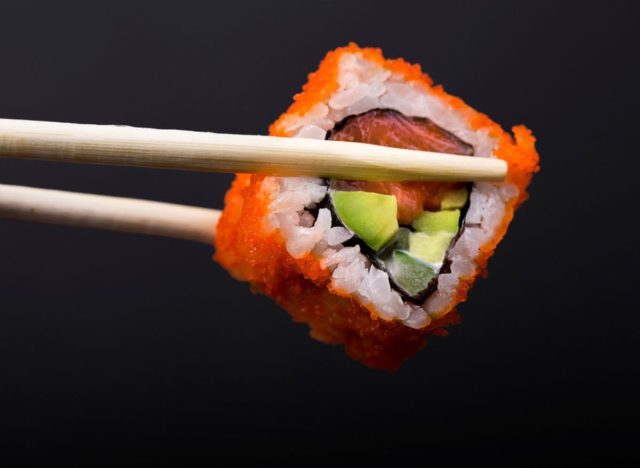 In 2018, ESPN combed through food safety inspection reports made over a two-year period and found that at 28 percent of sports venues in the country, at least half the food stalls had high-level violations. One major issue they found? Sushi at many parks was festering at dangerous temperatures that could breed bacteria and lead to illness.
Tanya Edwards
Tanya Edwards is a seasoned food and health journalist, who has held roles at Yahoo Health as Managing Editor and at Food Network as Programming Director.
Read more about Tanya