What Exactly Is 'French Style' Yogurt And Should You Try It?
Yogurt lovers, there's a new foreign flavor in town — and Yoplait says it's here to stay.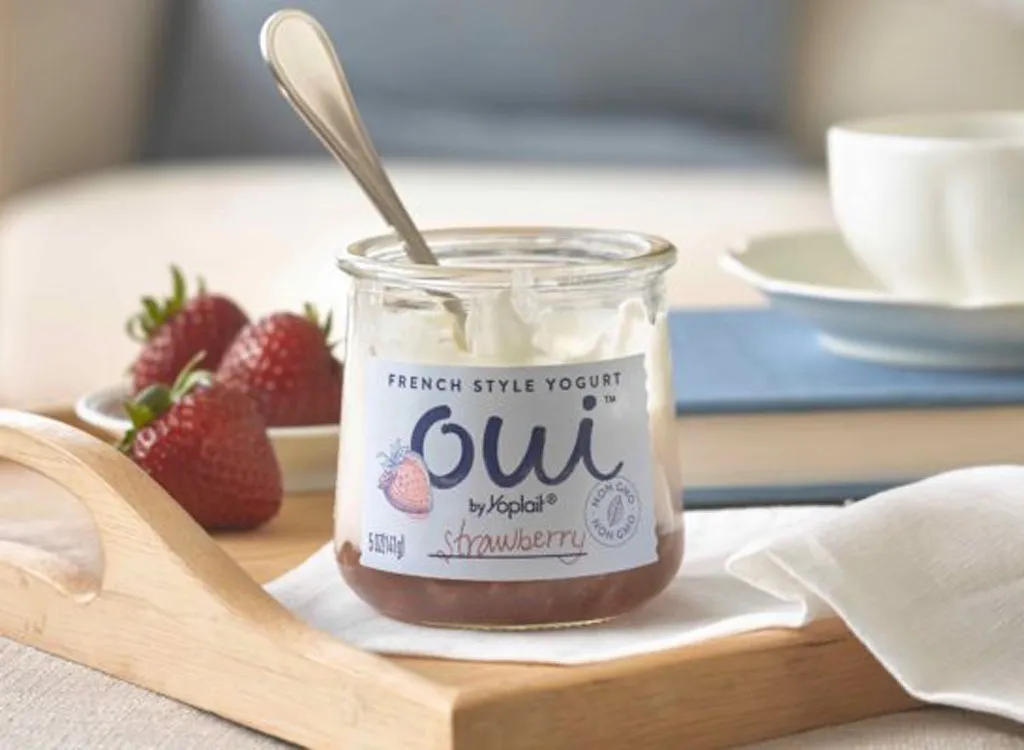 If you're a yogurt lover, the past few years have sent you on a world tour. From the creamy goodness of Aussie Noosa (which, let's face it, is more dessert than healthy fare), to the high-protein, low-sugar miracle that is siggi's Icelandic skyr, you've probably spent more time sampling the goodness of Greece, than anywhere else. But there's another country coming to the yogurt menu: France.
With Greek yogurt taking over the yogurt market, Yoplait's hold on the industry is slowly slipping. That's why they're hoping to steal a spot on your fridge shelf once again with its introduction of French style yogurt. The company's new product, Oui yogurt, was created to tout a transparent list of ingredients, a delightful taste, and the commonly craved thick texture. Did they do it? Read on to find out what we think of this new treat and whether or not it's worth the swap. And while you're at it expanding your breakfast repertoire, check out these best breakfast foods for weight loss.
How Oui French Is Different Than Greek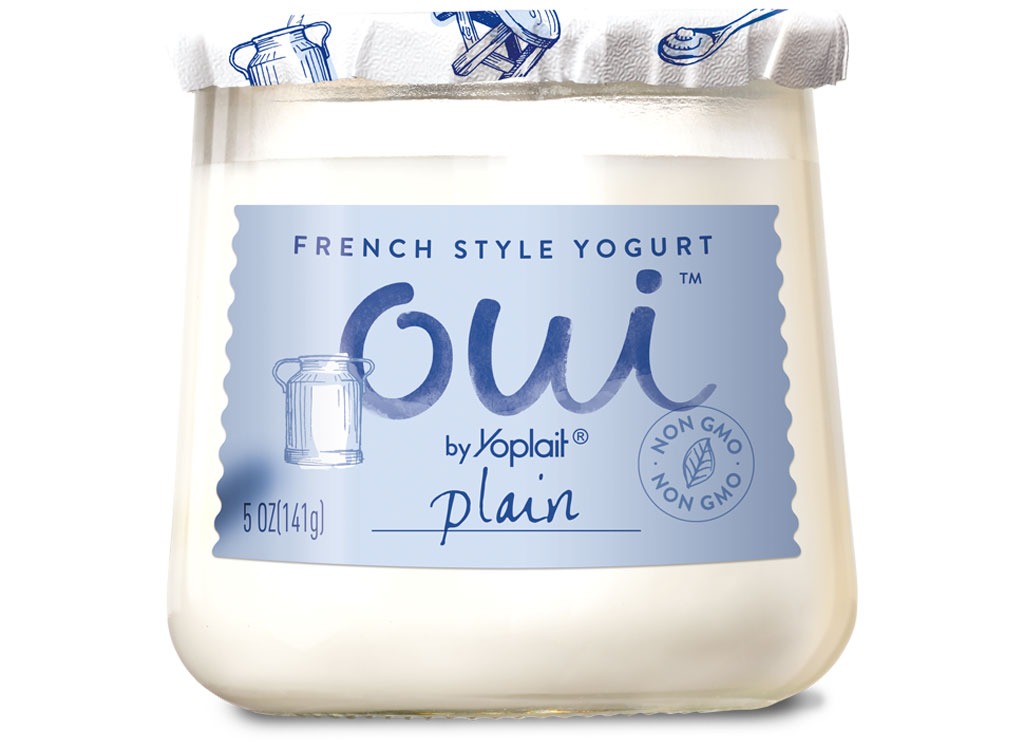 6254a4d1642c605c54bf1cab17d50f1e
Rest assured, we weren't sure what making "French Style Yogurt" entailed either. Here's the deal: Unlike Greek yogurt or traditional yogurt, which is often made in large vats, fully prepped and then individually packaged, French yogurt is made in the bottle it's sold in.
This technique is called "pot-set." That means, the ingredients — whole milk, pure cane sugar, fruit (if fruit flavored), and yogurt cultures — are poured into individual glass containers, to set and culture for eight hours. (If you have a hippie parent who jumped on the homemade yogurt craze in the 60s and 70s, this is how it was done.)
Yoplait Director, Doug Martin explains in a blog post: "It's the simplest way to make yogurt, but it's also the hardest to do at scale…" We were curious as to whether or not this was worth the risk taking. So, we flipped the bottles over and looked at the nutrition facts.
How The Nutritionals Compare
With a texture similar to its Greek competitors, we were curious has to how its nutritional profile would compare. Strawberry Oui has much less protein than any Greek fruit-on-the-bottom style yogurt: 5 grams compared to between 11 and 12 grams. But compared to traditional yogurt with fruit on the bottom, there's a significant difference on the sugar count.
Dannon's Strawberry Fruit on the Bottom holds 22 grams of sugar, while Oui & Chobani only carry 15.
Another plus for Oui? It's always made up of 8 or fewer ingredients. Strawberry has just seven — including whole milk (providing its high fat and sugar count, because of lactose) a product of cows raised on a non-GMO feed, pure cane sugar, and real fruit. But even that much sugar is a little too much for breakfast, in fact, it's more sugar than a Chocolate Frosted Donut from Dunkin Donuts.
If you're sticking to plain, you're definitely getting a better product. Oui's plain only has 6 grams of sugar — only two more than Chobani's Whole-Milk Plain yogurt. After speaking with Yoplait's customer service team, we realized both options were packed with live cultures — the good for your gut probiotics. Known to help aid digestion, help stop belly bloat and rapid weight gain.
The Final Verdict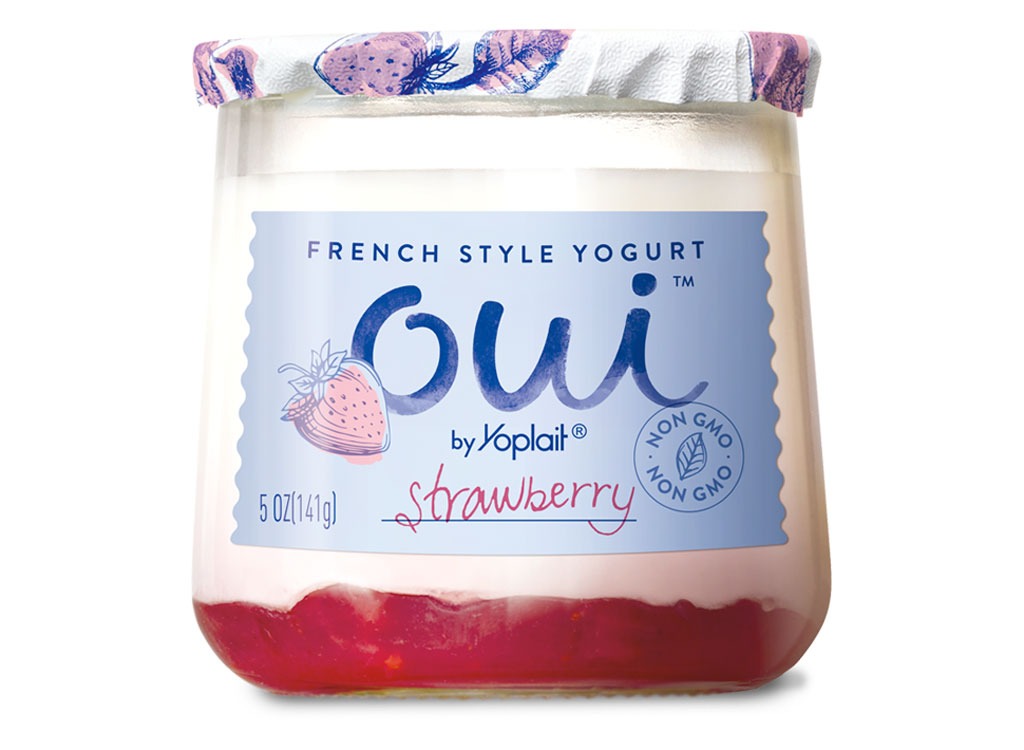 Go for it, but stick to plain. This creamy, decadent treat will be available in almost all major supermarkets. It's even on Amazon Fresh! Yoplait also went for eco-friendly packaging. The use of the recyclable glass pot protects their product in addition to reducing our carbon footprint giving all the more reasons to take a bite and indulge. Not ready to leave your favorite yogurt? Make sure it ranked on the good side of our every popular yogurt brand ranked!