What Are Adaptogen Drinks? What You Need To Know—and the Best Ones to Try
The function-forward beverages continue to grow in popularity—but are adaptogen drinks worth the hype?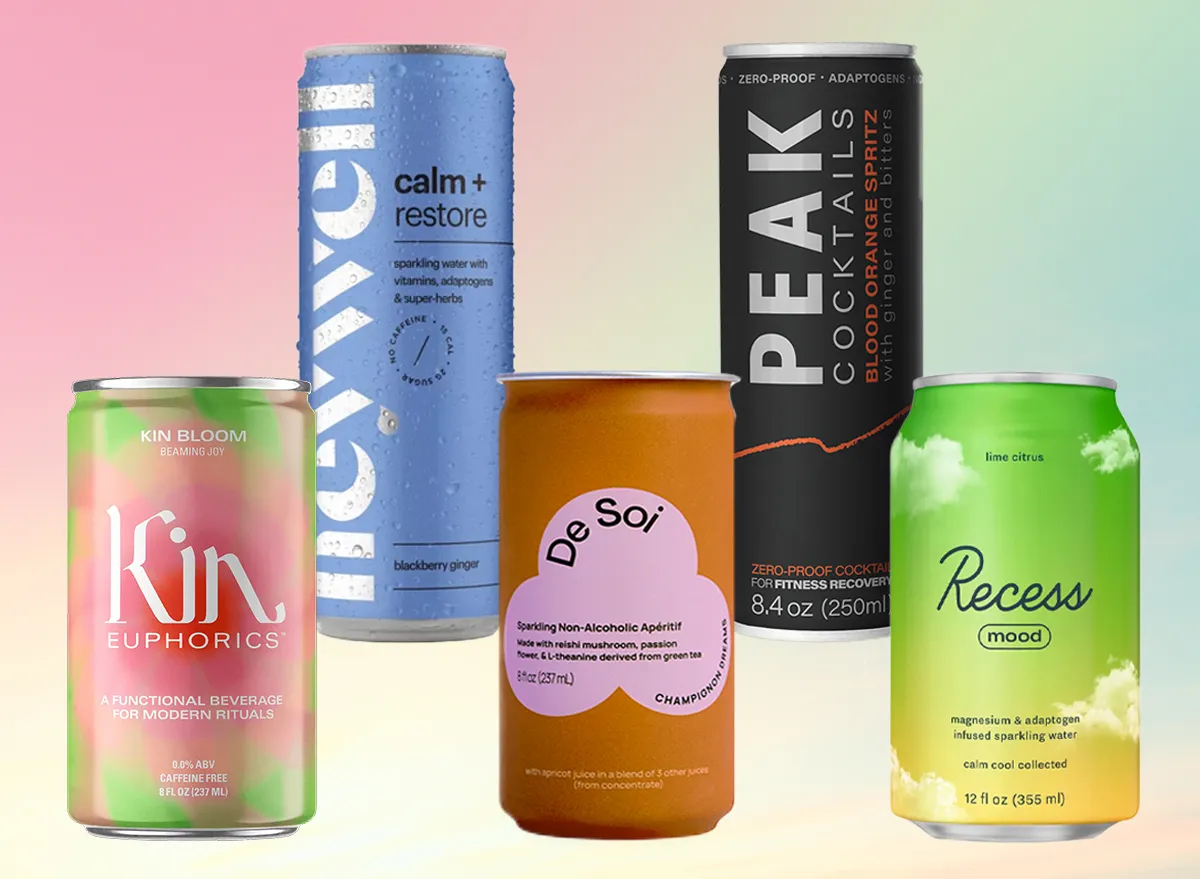 The product recommendations in this post are recommendations by the writer and/or expert(s) interviewed and do not contain affiliate links. Meaning: If you use these links to buy something, we will not earn a commission.
From chlorophyll water to CBD-infused coffee, it feels as though there's a new trendy drink on the market just about every day. One beverage category that's becoming increasingly popular is adaptogen drinks. Perhaps you've heard a thing or two about the potential effects of adaptogenic drinks and their function-forward properties while scrolling through your social media feed or walking around a natural grocery store. Either way, this curious new drink segment is fascinating—here's what you need to know.
What are adaptogenic drinks?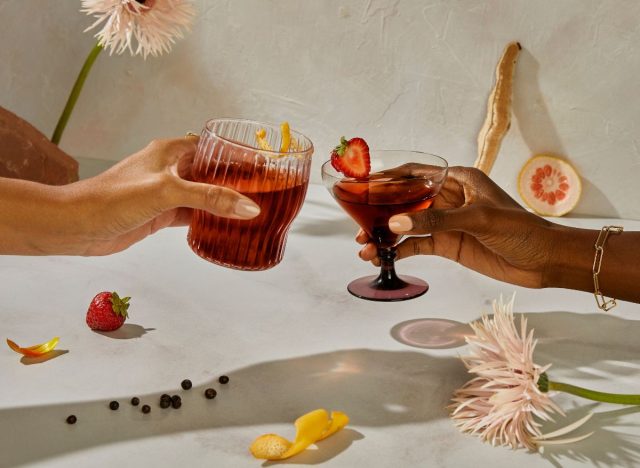 These beverages, which are often packaged in eye-catching colors and fonts, are made with functional plants and mushrooms known as "adaptogens." While these ingredients have been used for centuries in Chinese and Ayurvedic medicine, the term "adaptogen" was first coined in 1947 by Soviet scientist Nikolai Lazarev.
Commonly associated with effects like boosting mood, combatting fatigue, improving sleep, and reducing stress and anxiety, adaptogens have properties that have been shown to help the mind and body adapt to different situations.
"Adaptogens work like a thermostat," says Tammy Lakatos Shames, RDN, CDN, CFT, and Lyssie Lakatos, RDN, CDN, CFT, also known as the Nutrition Twins. "So if the body is on high alert and overly stressed, it will help the body to regulate and relax. If the body has low energy, it will help to boost it."
Examples of popular adaptogens include:
As the demand for alcohol substitutes continues to increase—with sales of no- and low-alcohol product sales surpassing $11 billion in 2022—several adaptogenic drink brands are positioning themselves as alcoholic beverage alternatives.
"A lot has been going on in the world recently, and while just a few years ago we would rely on ethanol as the primary means to cope, now we're looking for a natural cure that would enhance and calibrate the body's chemistry instead of suppressing its functions," says Nick Bodkins, co-founder and CEO of Boisson, a non-alcoholic beverage retailer.
However, mocktails aren't the only types of drinks that brands are infusing with adaptogens. The plant-based substances are also being added to coffees, teas, smoothies, and sparkling water.
Are there any risks?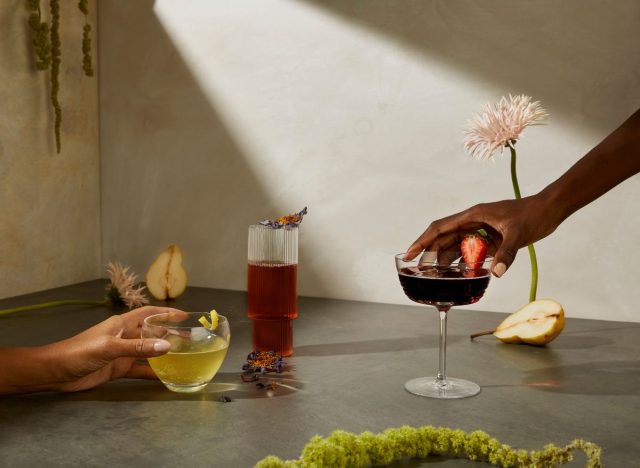 Despite the purported benefits of adaptogenic drinks, not everyone reacts to them the same way, the Nutrition Twins explain. "While someone may feel calmer from an adaptogen, someone else may get a headache from it or have some other negative reaction," they say.6254a4d1642c605c54bf1cab17d50f1e
They note that because the drinks aren't regulated, the products might not contain the adaptogens a brand may claim. Additionally, they may not include the necessary amount of adaptogens to elicit the desired effects, meaning there might not be enough to provide a benefit, or there could be too much, which could cause an adverse reaction.
"It is important to understand that just because something is natural, that doesn't mean that it is risk-free," explains Lauren Manaker, MS, RDN, registered dietitian and author of The First Time Mom's Pregnancy Cookbook and Fueling Male Fertility.
Both Manaker and the Nutrition Twins tell Eat This, Not That! that people taking prescription medication should always check with their doctor before sampling any adaptogenic drink to ensure there are no potential adverse interactions upon consuming them.
"People who are pregnant should confirm that adaptogens are safe to consume during their pregnancy, as many have not been studied extensively on this population," adds Manaker.
Which drinks should you try?
Since there is a plethora of adaptogenic drinks to choose from, I decided to see what all the hype is about by trying out a variety of brands aimed at promoting different effects, such as stress relief and boosted focus.
To help you navigate the products on the shelves, here is a roundup of seven adaptogenic drinks that are currently on the market, with the beverages organized into three categories: alcohol alternatives, powders, and sparkling waters.
Non-Alcoholic Alternatives
Founded by Katy Perry and award-winning distiller Morgan MacLachlan, De Soi is a line of sparkling non-alcoholic apéritifs that uses natural adaptogens to provide the "stress-soothing effect you look for in a nightcap." The brand carries three flavors: Golden Hour, Purple Lune, and Champignon Dreams.
I opted for the Champignon Dreams, which I thought had an earthy flavor that was initially sweet with a bitter aftertaste. Made with a blend of apricot, strawberry, black currant, and grapefruit juice, this mocktail also features reishi mushroom, passionflower, and L-theanine.
As for the effects, after drinking just half a can, I noticed that I experienced a calm and mellow feeling in less than an hour. I'm not sure if it was because I drank it at night, but I also started to feel some sleepiness. While I initially debated whether the sensation I experienced could be attributed to the placebo effect, there was a notable difference in the way I felt after consuming this drink.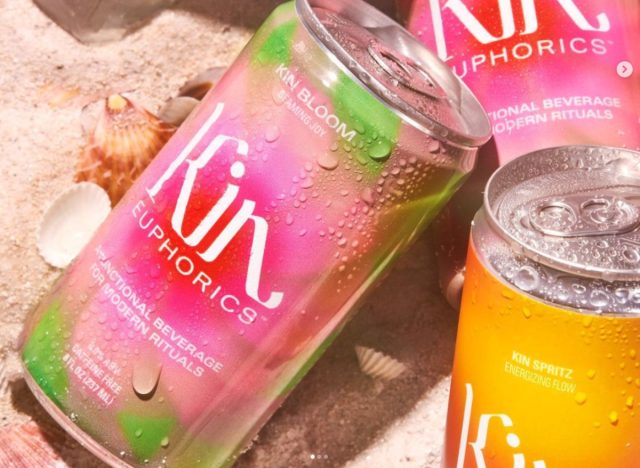 This line of non-alcoholic beverages, founded by Jen Batchelor and model Bella Hadid, uses ingredients aimed at nourishing the mind and body.
After tasting a few of the canned drinks for flavor, I decided to see how I would feel with Kin Bloom. This drink is geared toward releasing stress and supporting a calmer state of mind and is made with ingredients like schisandra, damiana, and L-theanine. The flavor reminded me of a cross between a sweeter rosé and a hard cider with notes of berry.
In terms of the effects, I chose to drink this beverage while I was feeling stressed. After about 20 minutes, I noticed that I felt more at ease and calm overall. I guess you could say I adapted.
Peak Cocktails Blood Orange Spritz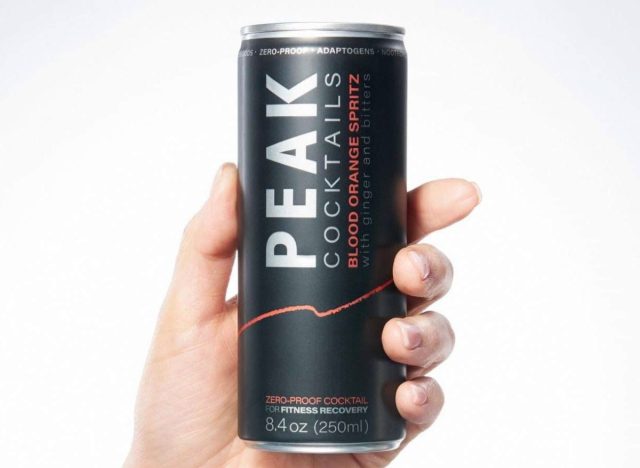 These alcohol-free cocktails were designed to promote fitness recovery while supporting mood, sleep, and mental clarity. Available in two flavors—Blood Orange Spritz and Passion Fruit Margarita—Peak Cocktails contain a mixture of ingredients known for their physical and mental health benefits. Some of these include tart cherry—which has been shown to lower inflammation, lessen pain after exercise, and improve sleep—as well as ashwagandha, and L-theanine.
I split a can of the Blood Orange Spritz with one of my friends, and the beverage was lightly carbonated and citrusy with notes of spice from the ginger. Since neither my friend nor I felt an effect after drinking half a can, I poured myself a second half a few hours later around 8 p.m.—and that that seemed to do the trick. Overall, I felt relaxed, but I was especially sleepy around 9 p.m., which is earlier than when I typically get tired.
Powders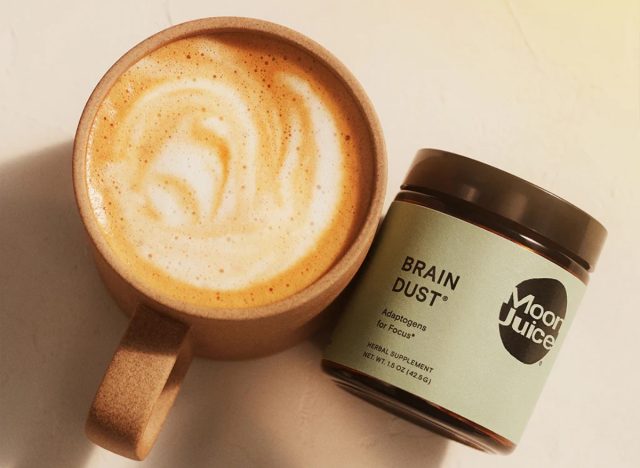 Moon Juice is a supplement company that carries a selection of adaptogenic "dusts," each one intended to target a different area, such as focus, mood, sleep, and energy.
One morning, I decided to try Brain Dust, which is packaged in a small sachet that reads, "Target stress to support mental stamina, alertness, and concentration."
The ingredient list starts with Lion's Mane Mushroom, which has been suggested to support cognitive health. The Brain Dust is also made with other ingredients that have been connected to brain health-promoting benefits, like maca root, astragalus root, and rhodiola.
Since the flavor is described as "malty and bitter," I mixed the Brain Dust into a chai latte. While the powder made my morning beverage taste earthier and slightly more bitter than usual, the sweetness from the chai latte helped keep the flavor profile in balance.
While I personally didn't notice a difference in my focus or energy level after drinking this concoction one time, Deputy Editor Jordan Powers Willard, who is a frequent user of Moon Juice products, says that after mixing Brain Dust with her decaf coffee every morning over the course of a few days, she loved how it made her feel "more focused and alert, yet calm and relaxed."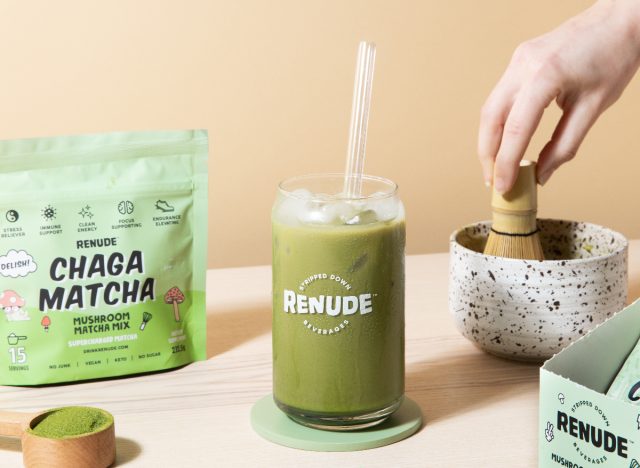 Leveraging the benefits of chaga mushrooms, Renude currently offers two adaptogenic drink powders: Chagaccino and Chaga Matcha. The brand highlights that chaga mushrooms can support immunity, promote anti-aging, and boost energy without any residual jitters.
As someone who doesn't drink coffee, I opted for the Chaga Matcha, which I mixed with oat milk as an afternoon pick-me-up that I enjoyed with a friend. The color was a darker green than other matcha drinks I've had in the past, while the flavor was balanced, both subtly sweet and earthy without tasting like grass. Since the matcha powder is naturally sweetened with monkfruit and erythritol, the beverage doesn't need any additional sweeteners.
As for the effect, I definitely felt relaxed after drinking it. While I'm not sure I noticed a major difference in my focus level, I did note that I was tuned into my work during the day without experiencing the jittery feeling I sometimes get after drinking caffeine. Meanwhile, my friend said she experienced heightened focus while working, as well as a sense of relaxation when she stepped away from her computer. I plan on trying the Chaga Matcha again to see if I notice a change in my focus—and also because I think the flavor is delicious.
Sparkling Waters
By infusing sparkling water with magnesium and adaptogens, Recess' Mood line aims to "calm the mind and lift the mood," according to the brand. These drinks contain a mixture of L-theanine, lemon balm, and most notably, a proprietary magnesium blend featuring magnesium L-threonate, which has been shown to reduce anxiety.
The first one I tried was the Lime Citrus, which is made with both lime and lemon zest, along with lime, lemon, and orange juice concentrate. The flavor was light, citrusy, and tart, reminding me a bit of kombucha. After drinking half a can, I noticed a subtle sense of relaxation within about 20 minutes.
Heywell Calm + Restore Blackberry Ginger
Heywell is a line of sparkling waters that uses a combination of adaptogens and antioxidants to support different functions of the body. Available in five different varieties, the drinks are geared toward boosting energy, immunity, and focus, as well as relieving stress.
Out of all the adaptogenic drinks I tried, Heywell's Calm + Restore Blackberry Ginger was my favorite. Made with stress-reducing L-theanine, lemon balm, schisandra, and amla berry, the beverage is designed to help consumers feel well, calm, and restored. The flavor was both sweet and tart without being overpowering on either end. I also noticed the calming effect kick in rather quickly—less than 10 minutes after I started drinking the beverage. I felt a pleasant sense of relaxation in my head that was slightly more prominent than what I experienced after drinking Recess Mood.
Brianna Ruback
Brianna is a staff writer at Eat This, Not That! She attended Ithaca College, where she graduated with a degree in Journalism and a minor in Communication Studies.
Read more about Brianna
Sources referenced in this article