4 Affordable Olive Oils That Taste Expensive, According to Chefs
High-quality olive oil is a kitchen essential, but you don't need to overpay to get the good stuff.
The product recommendations in this post are recommendations by the writer and/or expert(s) interviewed and do not contain affiliate links. Meaning: If you use these links to buy something, we will not earn a commission.
A really great olive oil has the power to completely change a dish–whether it's absorbed during the cooking stage or drizzled on top as the pièce de résistance. However, finding this healthy, protean, almighty oil—especially on a modest budget—can feel like trying to uncover a needle in a haystack, given the gobs of bottles available to you at the grocery store or market.
It helps to have a few words of wisdom in your pocket before making your choice. Chef Walter Nunez is an olive oil expert with over a decade of culinary experience working at some of Los Angeles and San Francisco's finest dining establishments. Currently the executive chef at The Rex Steakhouse in Redondo Beach, Calif., Nunez shared some tips on choosing the highest-quality bottle at the most affordable price.
First and foremost, you need to make sure that what you're purchasing is extra virgin olive oil, also known as an EVOO. This means that the oil is unrefined, or never processed with chemicals or heat, and contains much less oleic acid. Anything else is "subpar," according to Nunez.
"Second, you'll want to check the label for the country of origin and make sure the olive oil comes from one place–a single origin olive oil–preferably from the same farm or producer," he says. "Otherwise, you're likely getting a blend of olive oils from different areas which can impact the quality of the end product."
You can even look for a specific label or certification such as "OOOC," "NAOOA", or "PGI." These indicate that the olive oil has "undergone additional testing to guarantee the origin and olive variety of the product," he says.
Nunez added, "Unlike wine, olive oil does not get better with age, so it's also important to note the harvest and 'use by' dates to ensure you're getting a fresh product." And, the physical bottle or container your olive oil comes in matters, too. "You'll want to look for a dark, glass bottle or an opaque tin container, which protects your olive oil from light and heat. Anything that comes in a plastic and/or clear bottle is likely a lower quality product," he explains.
With this guidance in mind, Nunez and two other established restaurant chefs offered up what they consider to be the finest olive oils out there that additionally don't come with an unreasonably steep price tag.
California Olive Ranch Extra Virgin Olive Oil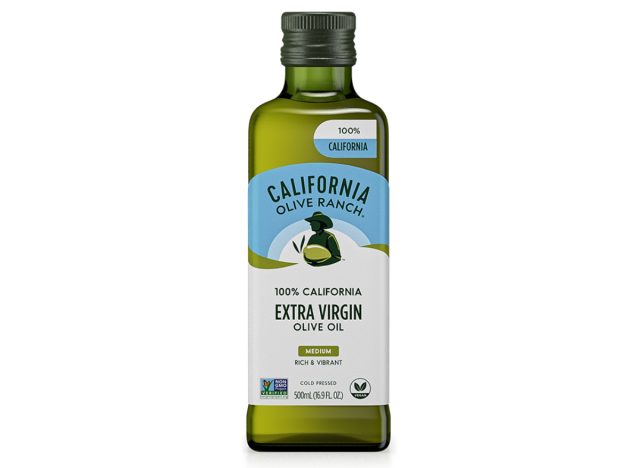 As its name would imply, this oil comes straight from the groves of California. And, as a California-based chef, chef Nunez backs it–not only because it's a local treasure, but also because it "offers good quality and a reasonable price," he says.
"In terms of flavor, it's on the milder side which makes it versatile for cooking, baking, and finishing," he adds. The California Olive Ranch website also shares that you can expect notes of florals, fresh herbs, fruit, and green grass within its flagship cold-pressed oil.
Straight from the brand, you can purchase a 500-milliliter (or 16.9 fluid ounce) bottle for $13.49. Or, if you're wanting to stock up, a 2 liter bag-in-box option is available. The California Olive Ranch name can also be found at retailers such as Walmart, Target, Kroger, or even Sam's Club.
Vignoli Extra Virgin Olive Oil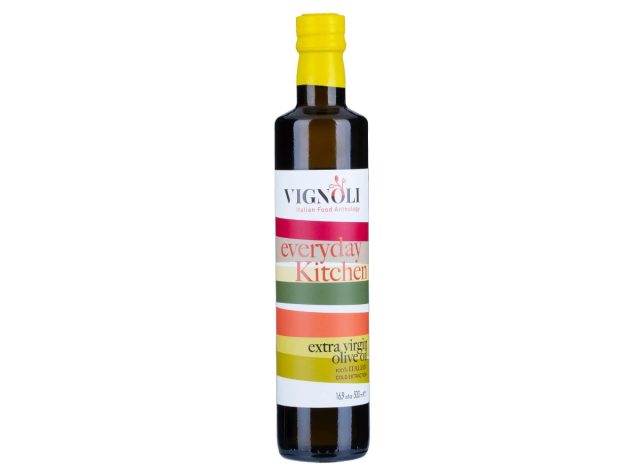 "For an olive oil with a more pronounced flavor, I like Vignoli Extra Virgin Olive Oil, which offers a grassier, more bitter flavor profile," says Nunez. Vignoli sells a line of 100% Italian olive oils which range from a standard organic extra virgin olive oil to oils infused with flavors of black garlic, blood orange, white truffle, and more. Specific regions of Italy such as Sicily and Tuscany are also represented by individual bottles.
All of the olives used are grown throughout Italy. And, for the oils sold in the U.S., they are actually packaged and bottled in a Miami factory to ensure freshness and flavor. However, since it is still an authentic small-batch Italian olive oil, Nunez does warn it can be a tad pricier than the others so you should plan to use it more sparingly. "This one is a little more expensive so I would save it for baking or to use as a finishing oil," he says.
A 16.9-ounce bottle of Vignoli's Everyday Kitchen Extra Virgin Olive Oil sells for $19. Or, for a more specialized bottle–like the Toscano Protected Geographical Indication (PGI or IGP) Extra Virgin Olive Oil–you're looking at a cost closer to $39 for the same size.
Graza Extra Virgin Olive Oil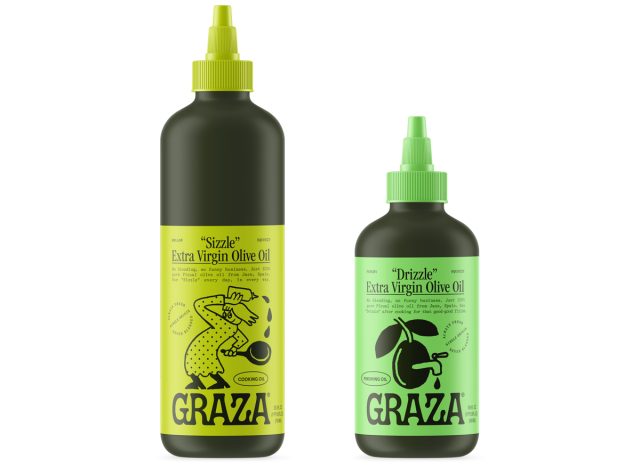 The brand Graza separates its Spanish olive oils into two distinct categories: "sizzle" and "drizzle." Its "sizzle" variety is meant for cooking and everyday use. Meanwhile, "drizzle" is made from olives that are picked early in order to achieve a bold flavor and should be used only as a finishing oil on anything and everything from salads to bread–or even ice cream, following the growing trend.6254a4d1642c605c54bf1cab17d50f1e
Chef Nunez pairs the Graza oil with raw fish and capers and notes "the quality and flavor is pretty solid for the price point." He also advises that since the finishing oil is packaged in a plastic bottle, you should be sure to store it in a cool, dark place so that it maintains its quality.
Chef William Dissen also has a deep appreciation for Graza's oil because of its flavor profile and versatility. "It's very fragrant with fresh vegetable flavors," says Dissen, owner of The Market Place Restaurant & Lounge in Asheville, N.C., and author of Thoughtful Cooking: Recipes Rooted in the New South. "It's a great all around extra virgin olive oil and equally great as a finishing oil over a soup, fresh seafood crudo, or sliced heirloom tomatoes."
The Graza 16.9-ounce "drizzle" bottle is priced at $21. You can also order the "drizzle" & "sizzle" duo for $37–or even less when you sign up for a subscription.
Heraclea Everything Olive Oil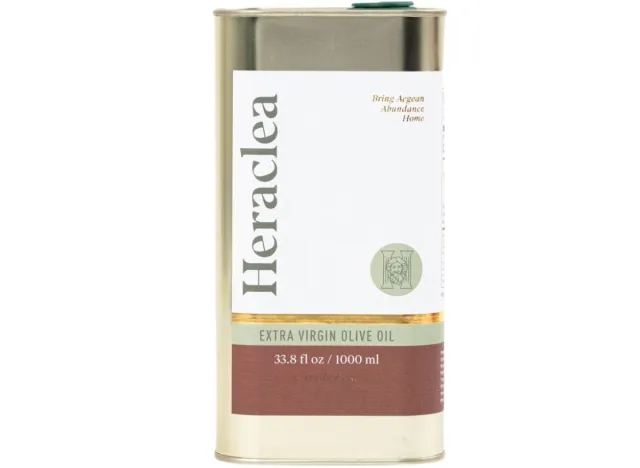 "Olive Oil, like most anything else food-related, is about freshness and integrity," says chef Ari Miller, founder of the renowned Philadelphia restaurant Musi BYOB and currently a private chef in New York City. "You want oil from olives farmed with care, oil pressed with intention and people that care about taste. It's the most simple recipe there is–put quality in and get quality out."
Miller adds that when it comes to cooking and food preparation "olive oil is everything." So, likewise, you need an oil that you can use for everything. Enter: Heraclea's Everything Olive Oil. "The blend of their early and mature olive oils in a one-liter container achieves the right balance of flavor, utility and price, which is everything you could hope for from an olive oil," Miller says. "Because of its size, the unit price gives you bang for your buck for a single-estate olive oil."
The Turkish Heraclea's Everything Oil is $50 for a 33.8-ounce metal tin–twice the size of typical olive oil bottles.