10 Affordable Seafood Items That Taste Expensive, According to Chefs
Fresh seafood is notoriously pricey but you can still find good values—if you know where to look.
The product recommendations in this post are recommendations by the writer and/or expert(s) interviewed and do not contain affiliate links. Meaning: If you use these links to buy something, we will not earn a commission.
Eating seafood helps to pack your diet with healthy fats, lean protein, vitamins, and minerals. And, the updated 2020-2025 Dietary Guidelines for Americans, developed by the U.S. Department of Agriculture, even states that you should be eating it at least twice a week—that's about eight ounces every seven days. Yet, nearly 90% of Americans are not meeting this recommendation.
So, what's holding people back? One possibility is that the sheer volume of choices, brands, and even fish species, makes it difficult to even know where to start. Another likely possibility is that people struggle to find realistic options that fit into their weekly budget.
"Seafood is the last 'wild' we consume regularly, so there is typically a high price tag associated with it," explains Brian Clevenger, executive chef and restaurateur at General Harvest Restaurant Group in Seattle. "However, there are a couple things to consider to ensure you are enjoying appropriately and oftentimes at a value price."
Walter Nunez, executive chef at ​​The Rex Steakhouse in Redondo Beach, Calif., agrees. "When you source seafood that is in season and fresh, you're 70% there in terms of taste and texture," says Nunez. "The rest comes down to the quality of ingredients you use to cook the seafood and the cooking/preparation technique."
These chefs and others have shared a few of their go-to seafood options, which always taste expensive despite their lower overall market value. Some are easily found in these chefs' own neck of the woods–which includes the West Coast, Miami, and even New York City. But, these culinary experts also offered a few recommendations that are easy to locate no matter what part of the country you happen to be grocery shopping—a couple of them can even be found at your neighborhood Costco!
Washington or Oregon Black Cod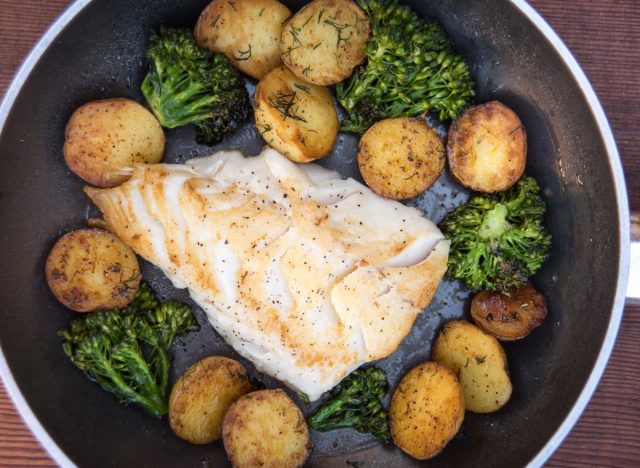 Sticking with his own advice to buy local, Seattle-based chef Clevenger threw out a couple of aquatic cuisine options from the Pacific Coast. First up, he says that black cod from Oregon and Washington State is "the best option for decadent seafood with an approachable cost." If you've heard more about black cod recently, also called sablefish, that's because it's growing in popularity in the United States. It tends to have a higher fat content compared to standard cod, and its silky and buttery texture gives it more of a gourmet status.
Alaskan Rockfish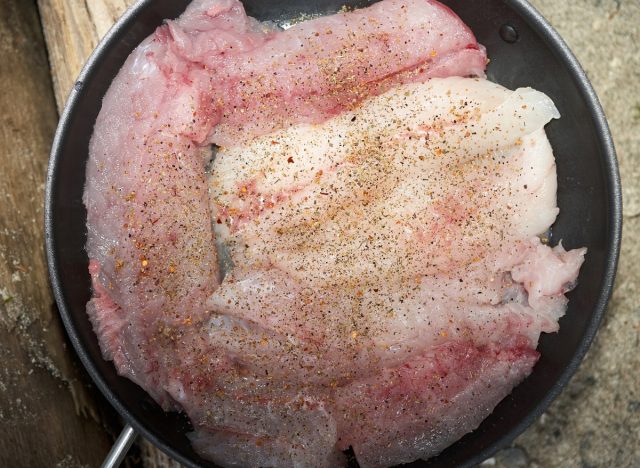 Straight from fisheries even further north, Alaskan rockfish is another "lower cost but amazing fish," says Clevenger. With mild, white meat and a slightly sweet flavor, rockfish can be compared to species like cod or even halibut. You may have already indulged in the fish and not even known, since it is often marketed and served as snapper instead. Clevenger adds that it's a lean fish, contains high protein, and also pairs well with rich accompaniments.
Frozen Alaskan Sockeye
Clevenger describes frozen Alaskan sockeye salmon as a "great option for winter months when fishing becomes less (due to weather or fishing restrictions)." Fishmongers and seafood lovers enjoy the rich and earthy taste that this specific kind of salmon brings to the table. But, because it still pairs well with a wide assortment of sauces and seasonings when cooked, it's a great option to have stocked in your freezer. You can find Alaskan sockeye in abundance at most fish markets or grocery stores, but the chef likes to get his straight from the source in False Pass, Alaska.
Branzino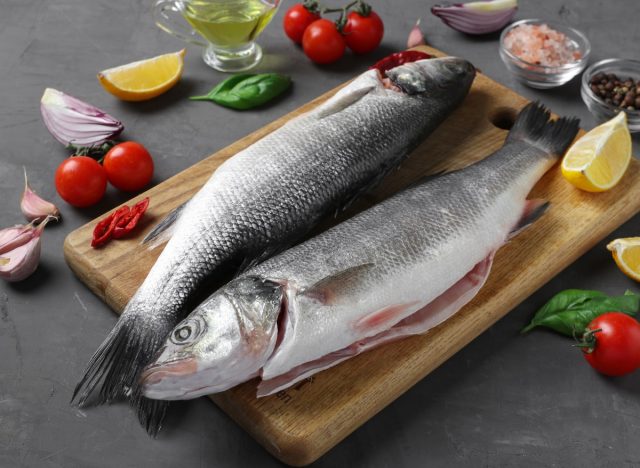 Branzino is a type of mild white fish that you may recognize by its alternative name: European sea bass. This specific kind of fish is commonly found at seafood markets and grocery stores, and strikes a proper balance between taste, quality, and budget, according to chef Nunez. He also notes that it doesn't take much to elevate fish like this into restaurant-quality dishes, and the fact that the chef serves it in his own California restaurant is all you need to know.
"We serve a popular branzino dish at The Rex Steakhouse with Americaine sauce, guajillo rub, and a citrus salad – accompaniments that are meant to highlight branzino as the star of the dish," he explains.
On the other side of the country, New York-based chef Alejandro Bonila also speaks highly of the bass, noting that it's his "favorite fish to grill, pan-roast, or bake." At his restaurant, Tiny's and the Bar Upstairs, which serves a curated assortment of new American fare including many seafood dishes, the branzino is served grilled with a sweet corn succotash. The restaurant's executive chef also recommends pairing branzino with a rose or white wine such as a Sancerre.
Costco Fresh Sushi-Grade Salmon
For fellow Costco members, chef Alvaro Machado shares a few seafood varieties which are always top quality and reasonably priced at the warehouse, starting with its sushi-grade salmon. Machado is the corporate chef of SuViche Hospitality Group, which owns popular Miami, restaurants such as SuViche, a Peruvian restaurant with an Asian flair, and the Argentinian steakhouse Novecento. "Big companies like Costco have a great and extensive seafood market and meat market," Machado notes. "This is my go-to when I need amazing seafood and sushi grade fish." Costco carries many kinds of fresh salmon, so always double check that the selection you're picking up is in fact sushi-grade and safe to consume raw.
Costco Fresh Yellowfin Tuna (also known as Ahi Tuna)
Yellowfin tuna, or Ahi tuna, is perfect for when you're trying to impress your dinner guests with some yummy seared tuna tacos or a garden-fresh poke bowl while still maintaining your budget. Alongside fresh salmon, this is one seafood option chef Machado regularly buys at Costco. Various packs of Ahi tuna steaks are available–both plain and sesame crusted. You can even find yellowfin tuna at Costco already pre-cubed and ready to throw right into a poke bowl, salad, or into a pan to be seared for a stir fry or noodle dish.
Costco or Whole Foods Fresh Scallops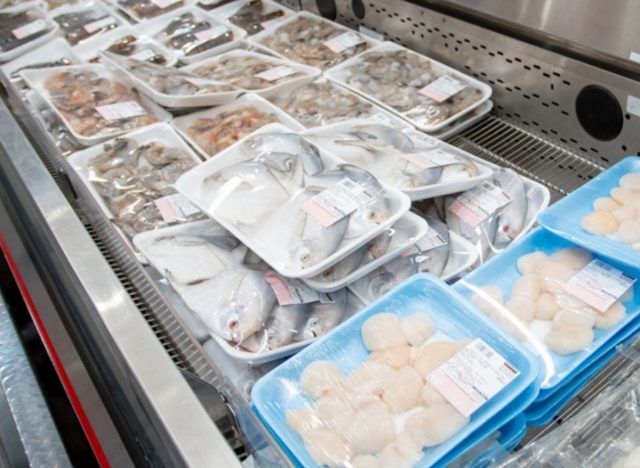 Contrary to popular belief, fresh scallops can actually be quite affordable, especially when purchased in bulk from Costco, as chef Machado does. The price is really largely dependent on the scallop's size and weight, and smaller scallops like bay scallops are generally more wallet-friendly.6254a4d1642c605c54bf1cab17d50f1e
Chef Bonila points out that you can also find a good deal on the mollusks at stores other than Costco. "10/20 per lb makes a very delicious meal for your guests and can be purchased at Whole Foods or any fish market in your neighborhood," says Bonila. "If you know your fishmonger, they might have U-10 dry scallops which would upgrade taste and flavor as these are not treated with chemicals and they are sweeter and pan sear beautifully leaving your guest impressed with your offerings." (The term "U-10" means that less than ten scallops make up a pound, so they are much larger and meatier than other selections.)
Mussels and Clams
Chef Machado says mussels are considered a "fine dining product," but they are actually quite low cost. The same goes for clams, which are an exceptional option to throw into a pasta dish. He buys both at Asian Mart–a local Asian grocery store in Miami.
Little neck clams specifically, are chef Bonila's favorite. "They come to $6-7 dollars a dozen and are very delicious," he says. "They can be baked, grilled, or served raw if desired and are very economical.  Cooking simply with garlic, lemon, tarragon, and butter, can make a nice unforgettable meal."
Mahi Mahi
"People have a misconception about this fish, but it's amazing for ceviche, poached, pan seared, even grilled," says Machado. Mahi Mahi additionally won't cost you too much moolah compared to other marine delicacies. At SuViche Hospitality Group's restaurants, you'll find the tropical dolphin fish thrown into various kinds of refreshing ceviche and even wrapped into sushi rolls.
Kanikama
If you love crab but the high price makes you want to claw your eyes out, then kanikama may be for you. Chef Machado explains that this is the Japanese word for imitation crab meat or crab sticks. He buys it frozen at his local Asian grocery store, and at an absolute steal compared to the fresh, whole crustaceans you would find at the seafood counter.
For example, the Osaki brand of kanikama is priced at just $11.99 for over one pound at the chef's store of choice. The seafood is highly versatile and Machado points out that it is "sold in really amazing sushi places too."
Sources referenced in this article