7 Thanksgiving Side Dishes You Can Make in Your Air Fryer
Free up some space in your oven on Thanksgiving by using an air fryer to make these side dishes.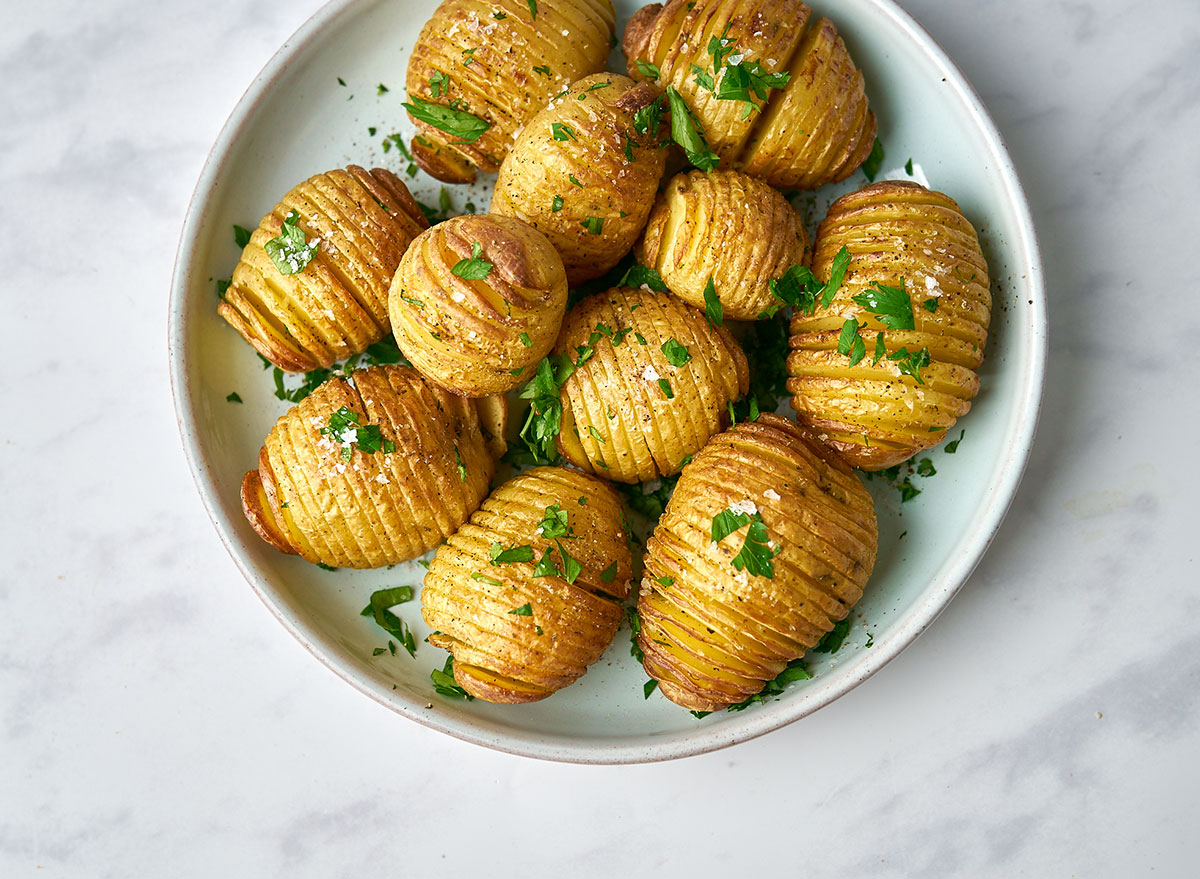 Thanksgiving is absolutely the biggest dinner of the year, and it seems that weeks go into not only planning the guest list and tablescape, but also plotting out the meal. There'll be welcome cocktails and appetizers, but those are just the teaser for the main event, which is sure to include a beautiful turkey with all the trimmings and an assortment of side dishes.
Recently, I made my own turkey breast using the air fryer. My goal was to show how I could do Thanksgiving without using the oven. Air fryers are super popular because they have tons of benefits, including they are healthier than traditional frying foods, but they also take away the need for an oven, microwave, and several other cooking appliances. The drawback though was—yes, I could make the protein in the air fryer, but my own small apartment air fryer was only big enough for a turkey breast, not a full-sized whole turkey. If I wanted to do a whole bird, I was going to either have to upgrade my air fryer, or reconfigure my Thanksgiving goal.
What if rather than make the turkey in the air fryer, we just made all the sides in the air fryer and reserved the oven for just the turkey? Oven space is valuable real estate when making such an expansive meal, and everything you can avoid putting in the oven is a major win. And, ultimately air fryers are sort of like countertop convection ovens anyway, right? They can do basically anything an oven can do, but in a more compact, often faster, way.
So, break out your air fryer and prepare to divide and conquer this Thanksgiving. You may be surprised how much you can do in there—as in, every side dish you can possibly want for the big meal!
Air Fryer Pumpkin Biscuits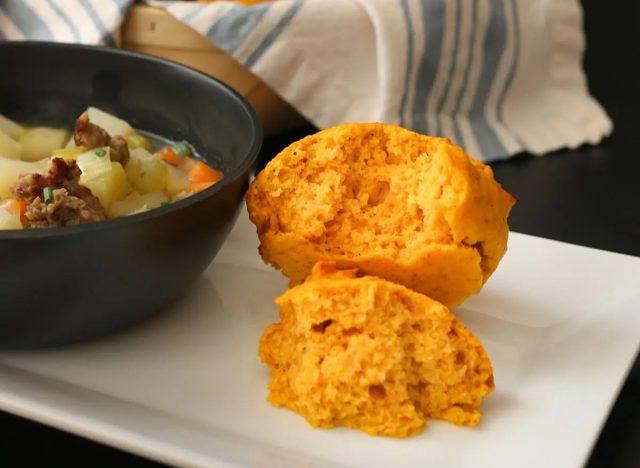 An important part of any Thanksgiving (or, if we're being honest, any big family dinner) is going to be some sort of bread situation. Traditionally, cornbread or biscuits are pretty common to see on a holiday dinner table, but why not pay tribute to the seasonal aspect of the holiday and go with pumpkin?
These pumpkin biscuits are very easy to make in the air fryer, and will come out deliciously light and airy and fluffy. But they won't forever and hog up the oven because they can be in the air fryer in under 10 minutes. They are also fiber filled and have a good amount of protein, so it's a good way to have that starchy element without feeling carb-loaded.
Get the recipe from Good Cheap Eats.
Crispy Parmesan Air Fryer Brussels Sprouts
I've been making Brussels sprouts for Thanksgiving for years, and I discovered on recent attempts that the more crispy and savory the ingredients, the more successful this dish ends up being.
These crispy parmesan air fryer brussels sprouts couldn't be easier to make. They are tossed in parmesan and a savory spice mix, and the results are crunchy and full of flavor. These are ready in under 10 minutes in the air fryer, so they couldn't be simpler, and I also love that they are incredibly easy to make your own, depending on your own family's tastes and flavor profiles. Want to switch out the garlic and Italian seasoning for taco seasoning or a curry blend? They'll be just as delicious.
Get the recipe from SideChef.
Air Fryer Honey Cinnamon Butternut Squash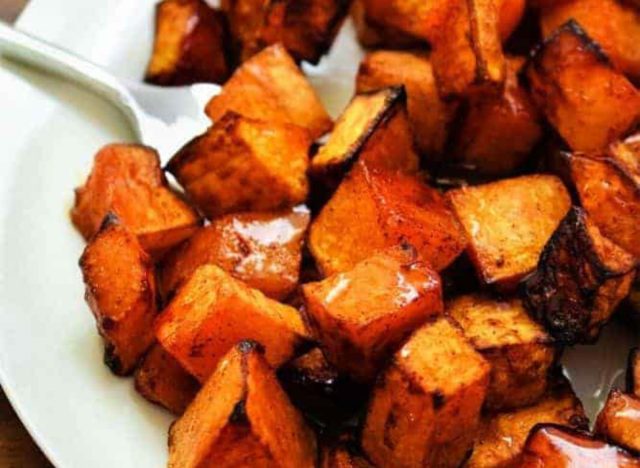 Butternut squash is a popular choice all through the season of falling leaves and harvests—but it's not a casual thing to make. It can take upwards of a half hour to roast in the oven, and that doesn't even count preheating or prep time. But this air fryer butternut squash recipe takes a fraction of that time and will be a sweet and delicious Thanksgiving side that incorporates warming spices and the sweetness of honey. It only takes about 15 minutes to make, too, so way less time commitment.
Get the recipe from Everyday Family Cooking.
Maple Harissa Caramelized Carrots with Lemony Yogurt and Feta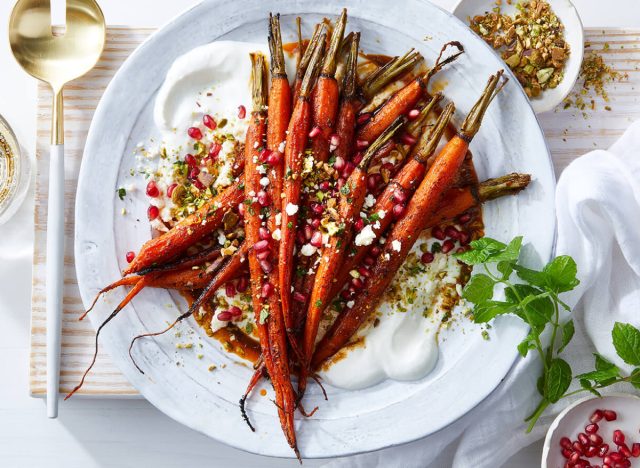 Carrots add a beautiful pop of color to that plate of turkey, stuffing, and potatoes. But they are also delicious, healthy, and easy to make. The air fryer really makes the caramelized flavor really pop, and saves serious time—this colorful and flavorful side will be ready in just 15 minutes. Make this recipe even more fun by using rainbow carrots for extra color variety.
Get the recipe from The Fresh Market.
Air Fryer Hasselback Potato Bites
You're going to need to have one potato dish (at least!) at any Thanksgiving dinner. Traditionally, this may have included anything from a garlic mash to scalloped potatoes. But why not have a bit more fun with it this year? These hasselback potatoes are simple to make and offer a beautiful presentation for the table, and the air fryer will leave them golden and crispy. Use those slits in the potatoes to add fun garnishes or seasoning, and they'll be even more Instagram-ready.6254a4d1642c605c54bf1cab17d50f1e
Get our recipe for Air Fryer Hasselback Potato Bites.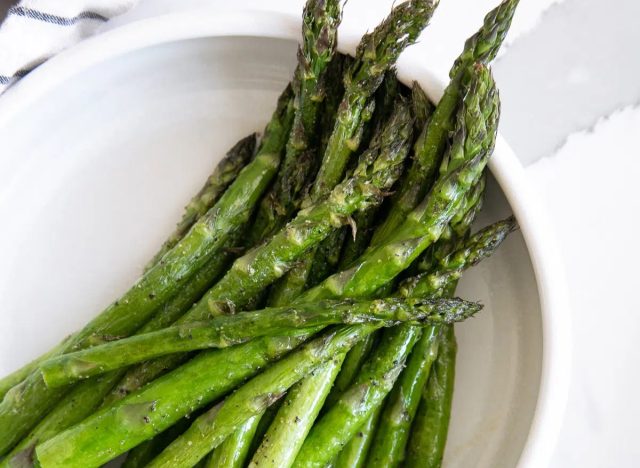 Asparagus is a tasty and healthy side dish that can be made tender and delicious in the air fryer. Cooking using this method takes under 10 minutes and involves less oil than other cooking methods. But it's also just so easy to make. All this recipe calls for is asparagus, a tiny bit of olive oil, salt and pepper. If you want to make these next level, some grated parm, a squeeze of fresh lemon, or some crushed red chili flakes would nicely do the trick.
Get the recipe for Air Fryer Asparagus from The Forked Spoon.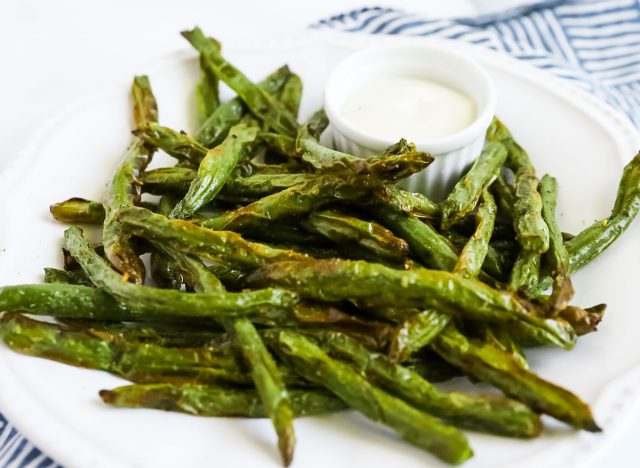 Yes, we know, green bean casserole is a mainstay of Thanksgiving. But that involves a whole lot of ingredients and is time-consuming and not all that great for you. These air fryer green beans are simple and require just a few ingredients. They also take just 15 minutes to make and will come out a gorgeous blistered brown. That's a fraction of the time you'd spend building that casserole and putting it in the oven. This recipe is also vegan and gluten-free, which is an important consideration as various people at your table may have dietary restrictions and we want them to be able to eat, too.
Get the recipe from Planted in the Kitchen.