The Best Desserts to Serve on Thanksgiving
With these recipes, the turkey won't be the only thing your family is talking about this year.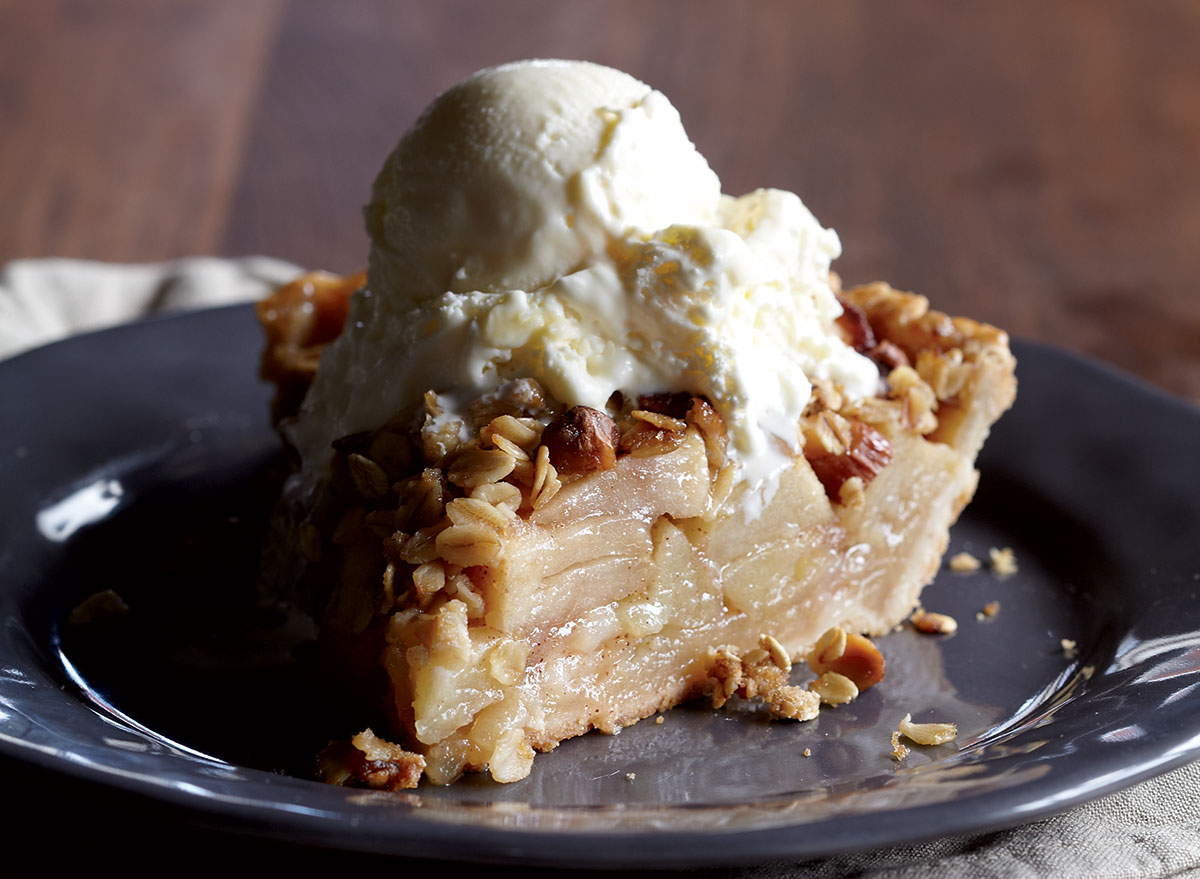 Thanksgiving is right around the corner, which means it's officially time to start looking for all those recipes to impress your family members. Even if you're having a much smaller gathering this year, you still want to have a nice meal! The focal point of the day is usually the turkey, but this year, we say the Thanksgiving dessert recipes should be your priority.
Whether you want to stick with a classic pumpkin treat or go for something a little more unique, these recipes have got you covered. Here's our list of the best desserts to serve after the turkey this year.
And for more, don't miss these 15 Classic American Desserts That Deserve a Comeback.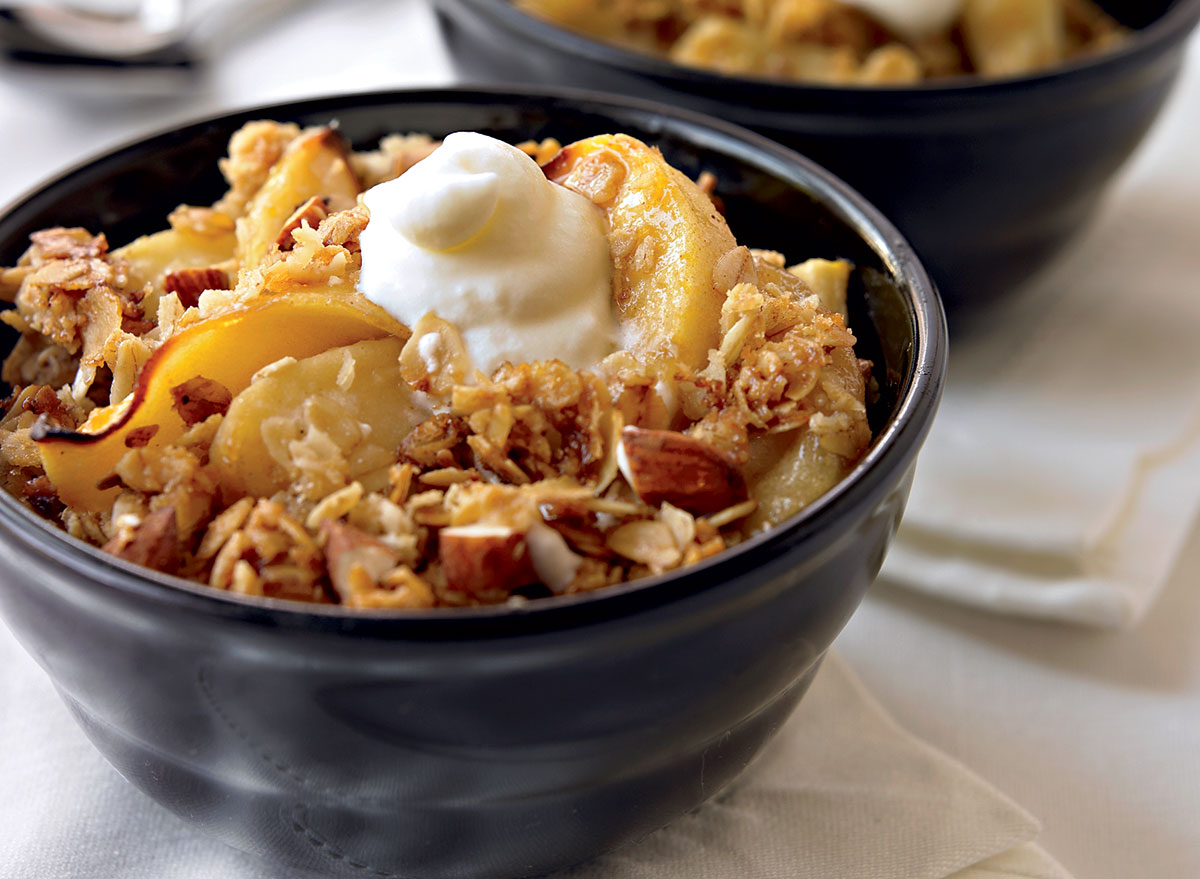 An apple crumble is a traditional Thanksgiving dessert favorite. There's something about the cinnamon and nutmeg that just bring in all the fall vibes you've been waiting all year to enjoy. And it doesn't even take too long to make, so your time and energy can be on the turkey, at least for the most part.
Get our recipe for an Apple Crumble.
We bet you never thought of having cheesecake as a Turkey Day dessert, but this pumpkin cheesecake is the perfect finishing touch on your Thanksgiving meal. It's light and creamy, and it even has that festive fall color.
Get our recipe for Pumpkin Cheesecake.
And if you're looking for more ways to add to your holiday table, these are The Only 25 Thanksgiving Recipes You'll Ever Need.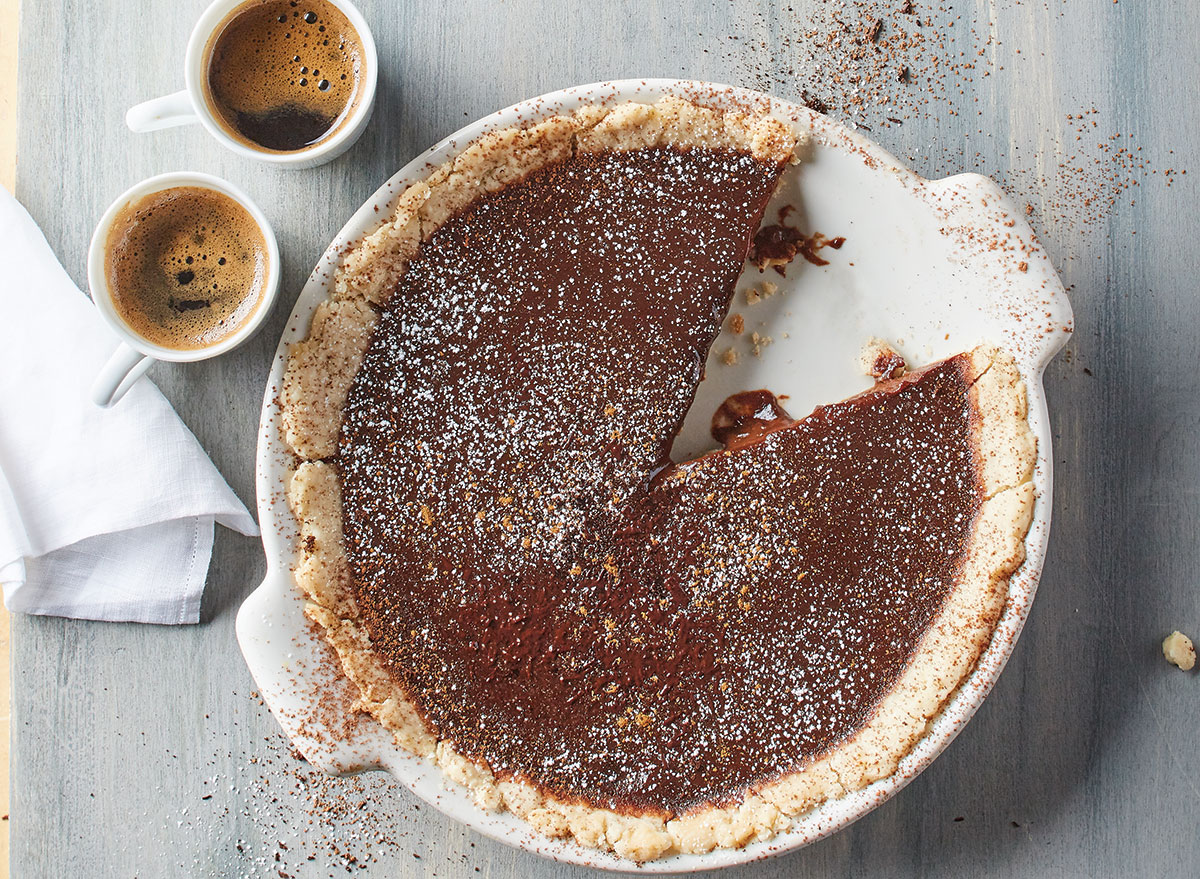 This warm mocha tart puts a new twist on a traditional dessert. If you like the combination of chocolate and mocha, this is definitely a recipe to try. Just because most people go the fruit-dessert route on Thanksgiving doesn't mean that you have to. After one bite, your family will be hooked.
Get our recipe for Warm Mocha Tart.
Apple Pie with Crunch Topping
If you do want to stick with a classic, this apple pie recipe is going to be your new best friend. Instead of that doughy topping that apple pies usually have, ours is made with a crunchy topping that makes it almost apple crisp-like. With one slice of this pie and a scoop of vanilla ice cream, you'll be in absolute pie heaven.6254a4d1642c605c54bf1cab17d50f1e
Get our recipe for Apple Pie with Crunch Topping.
And if you need help with the big bird, check out 25 Expert Turkey Cooking Tips and Tricks.
Another classic that's often overlooked for Thanksgiving dinner is chocolate chip cookies. Who says cookies can't be the perfect dessert after a giant meal? Directly after stuffing yourself with lots and lots of turkey, you'll find that there's something refreshing about eating something little and sweet to finish off Thanksgiving.
Get our recipe for Chocolate Chip Cookies.
And to make sure you bake the best batch this year, see The 30 Worst Mistakes You're Making When Baking Cookies.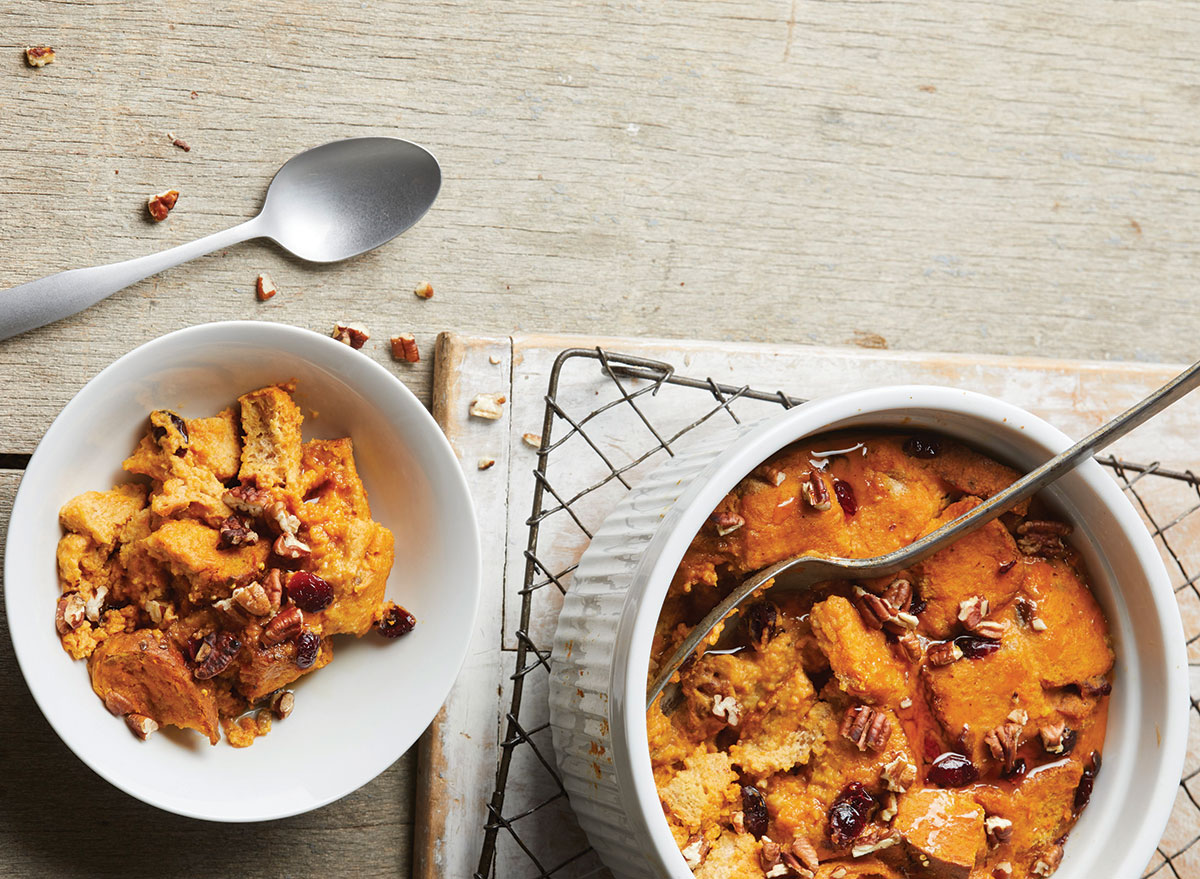 Bread pudding is a great Thanksgiving dessert option because you can make a lot of it at once, and people can serve themselves from the giant dish. This pumpkin bread pudding recipe will make you feel completely warm inside with all of the fall flavors of orange zest, cranberries, maple syrup, and pecans.
Get our recipe for Pumpkin Bread Pudding.
Molten Lava Chocolate Cherry Cake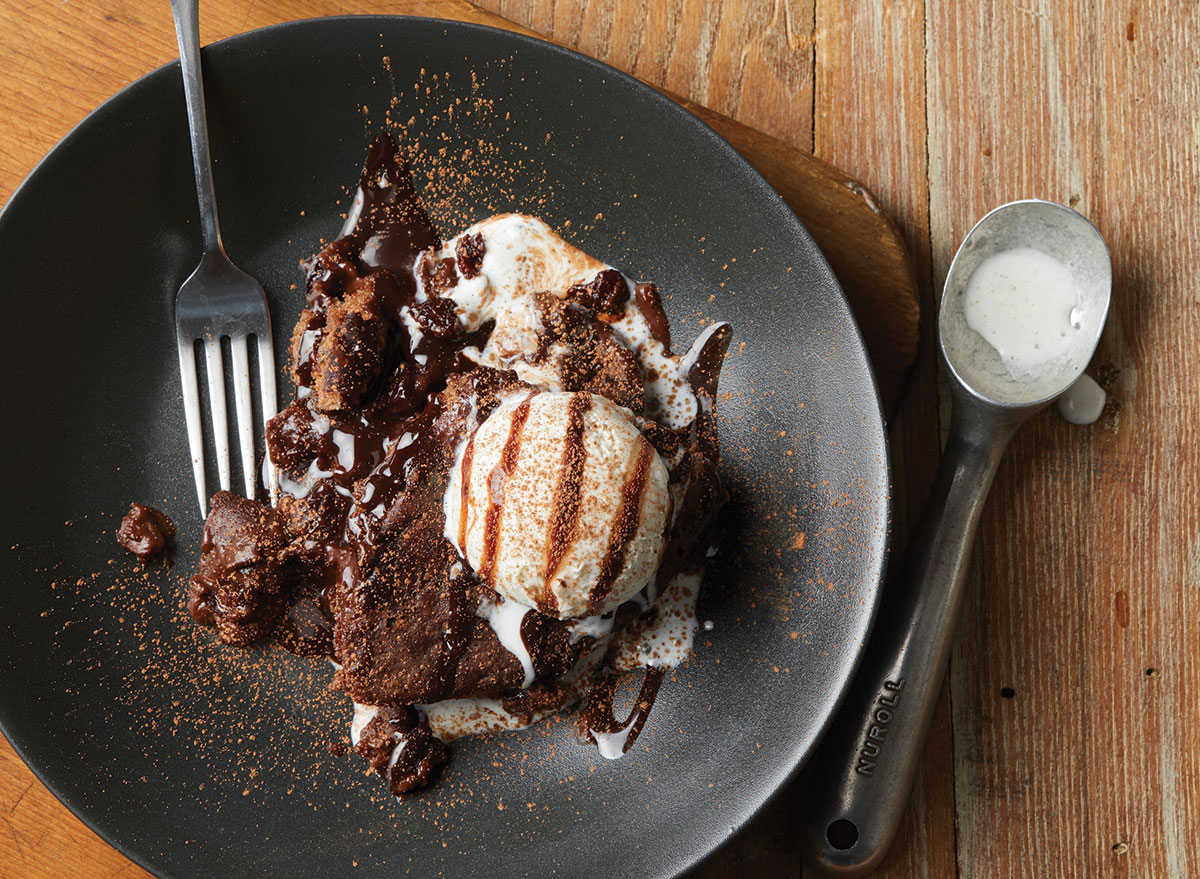 This molten lava chocolate cherry cake will satisfy chocolate-lovers and fruit dessert-lovers alike. Your family members will be licking their forks after getting a bite of this one.
Get our recipe for Molten Lava Chocolate Cherry Cake.
And for more Turkey Day food inspiration, see 50 Ways Thanksgiving Foods Have Changed in the Last 50 Years.
Fudgy Pumpkin Brownie Bites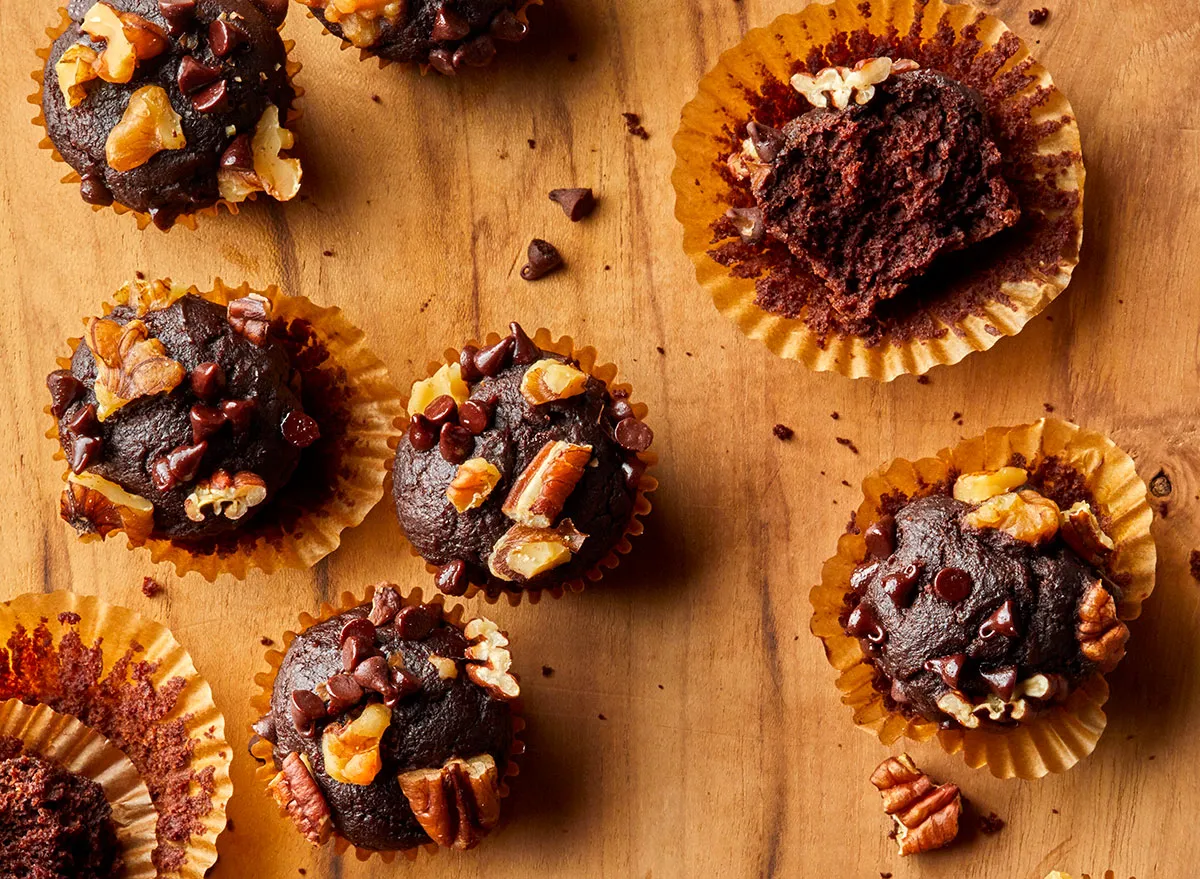 There's just something about bite-size desserts that people tend to love. If you put these pumpkin brownie bites out on your Thanksgiving table, they're bound to be gone in a second. Not only are they mini, but the pumpkin flavor also makes them the ultimate fall dessert.
Get our recipe for Fudgy Pumpkin Brownie Bites.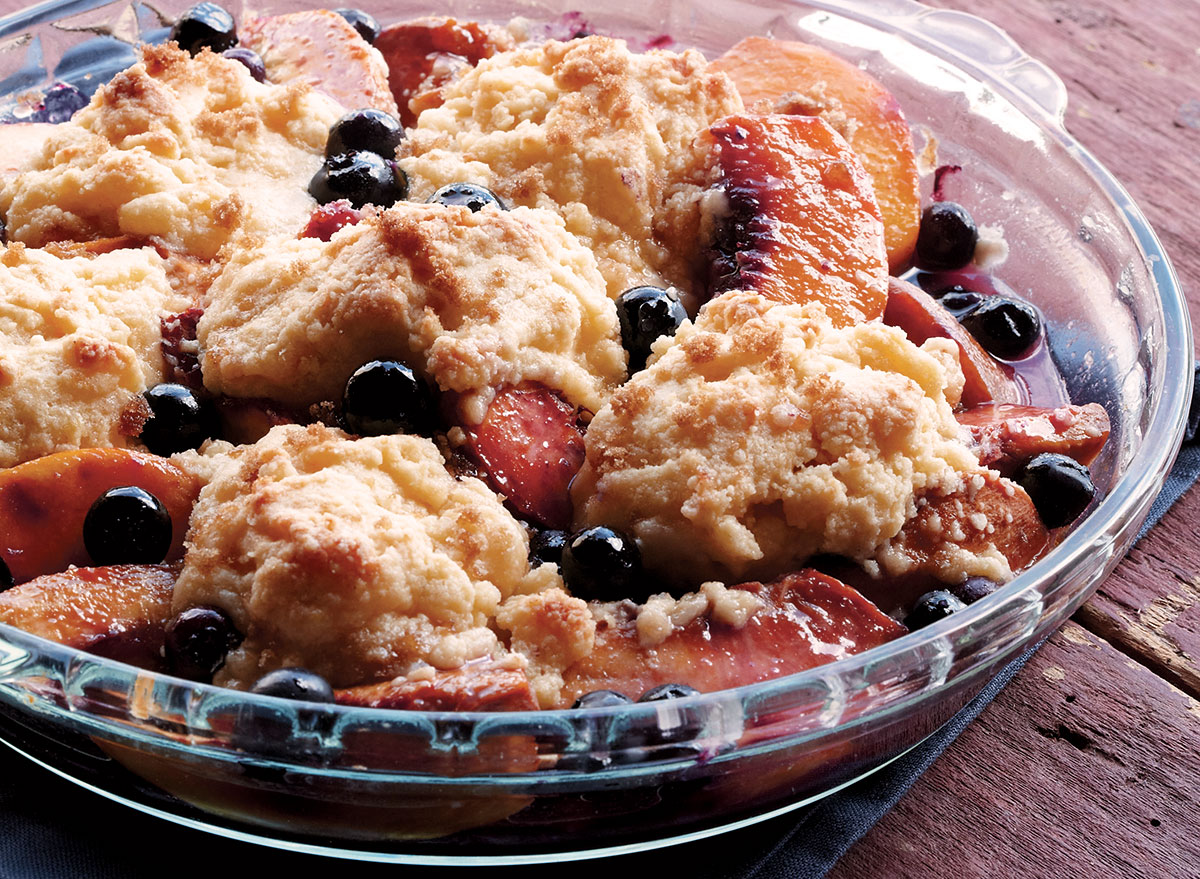 If you want to stick with a fruit dessert but don't want to go the traditional pie route, a cobbler is a similar idea. Rather than one flat pie crust, though, it has crispy tender biscuits baked right on top. This blueberry-peach cobbler is sure to be a crowd favorite.
Get our recipe for Blueberry Peach Cobbler.
This grilled banana split will satisfy both the adults and children at your Thanksgiving dinner table. After this one, you'll never have a normal banana split again.
Get our recipe for a Grilled Banana Split.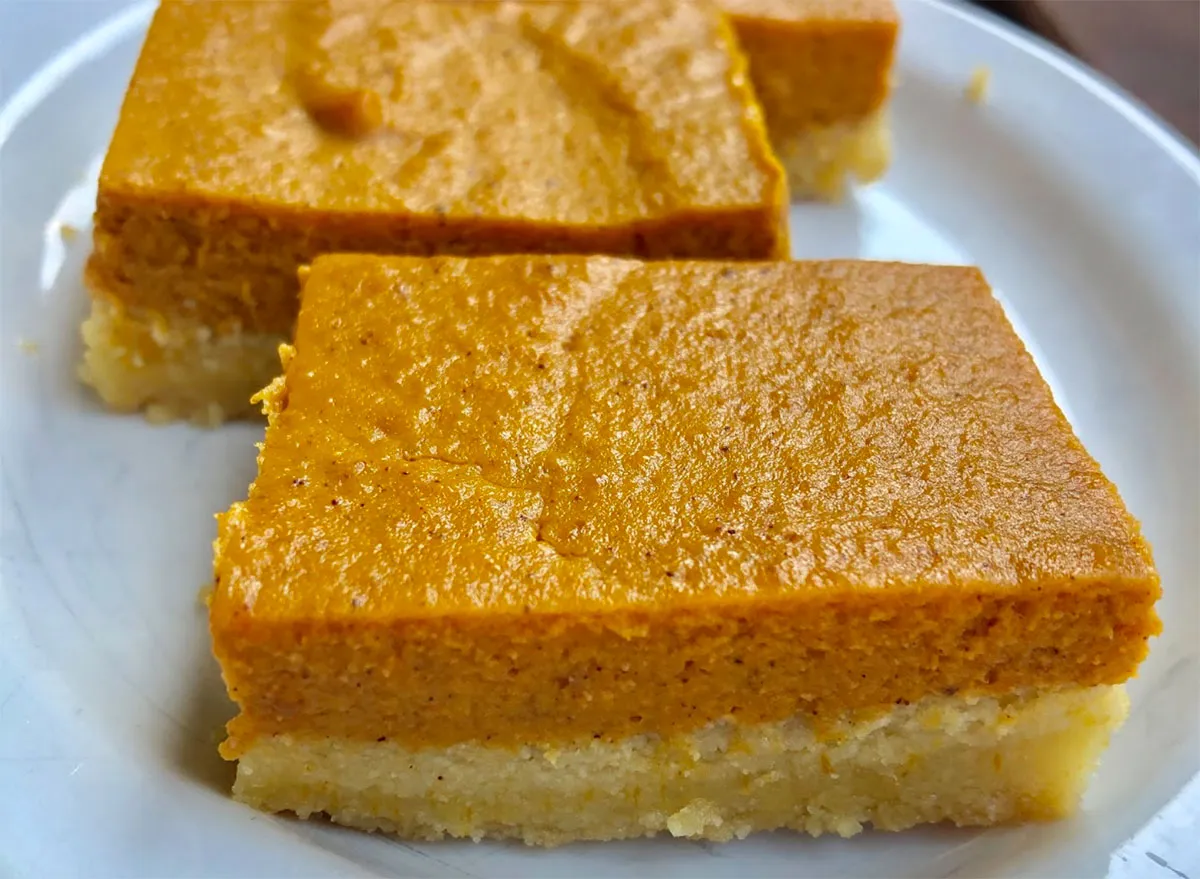 These pumpkin bars are pretty much like individual servings of pumpkin pie, but even better. The crust is buttery, while the filling truly melts in your mouth. The pumpkin season won't last forever, so this recipe is a great excuse to take full advantage of Thanksgiving in the best way.
Get our recipe for Pumpkin Bars.
If you're looking for something to satisfy those chocolate-lovers this Thanksgiving, these fudgy brownies are the move. They would accompany the pumpkin bars nicely and keep with the individual dessert trend, which we are all about. This brownie recipe actually taps into a new level of fudgy richness that will have even your grandma ready to switch up her recipe.
Get our recipe for Fudgy Brownies.
Cinnamon-Orange Lava Cake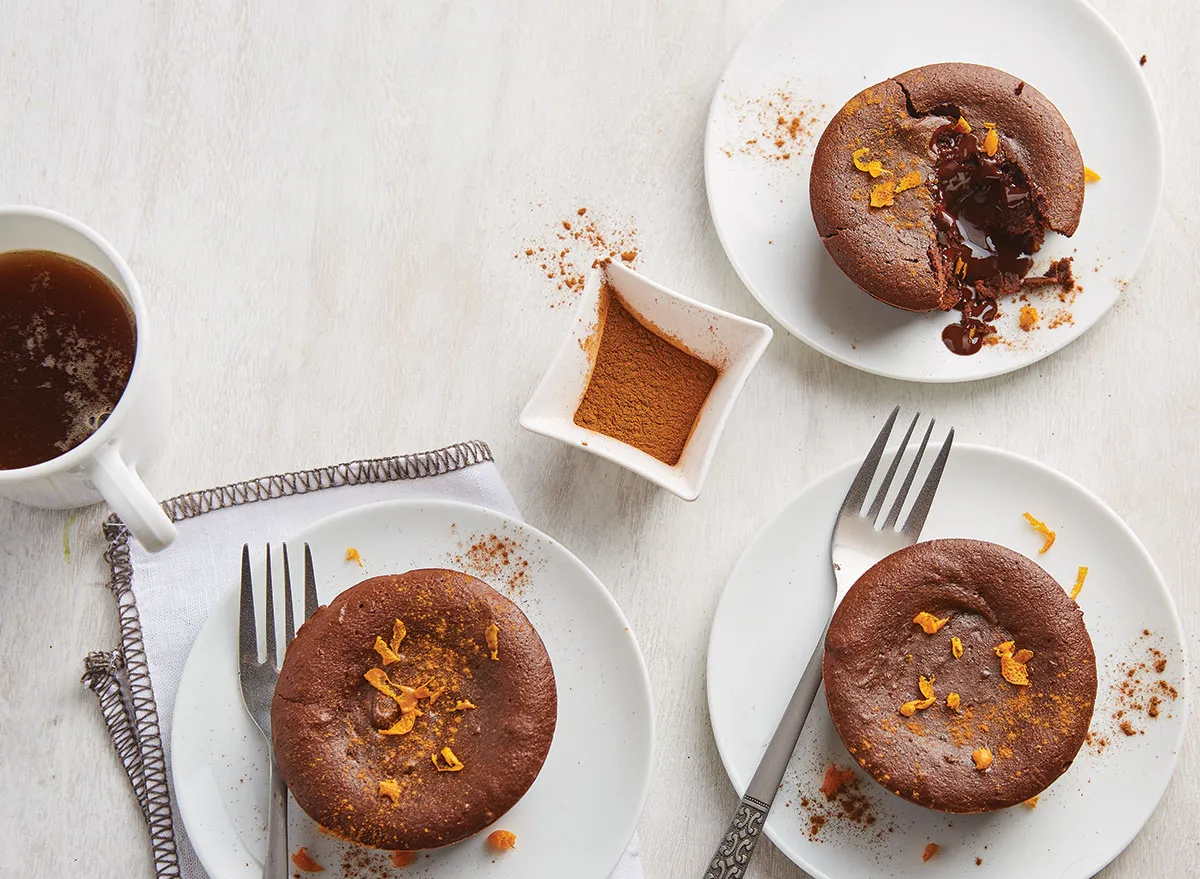 This flavor combo will take your Thanksgiving dessert to the next level. With cinnamon, bittersweet chocolate, and orange zest, this lava cake recipe will create a treat you won't soon forget.
Get our recipe for Cinnamon-Orange Lava Cake.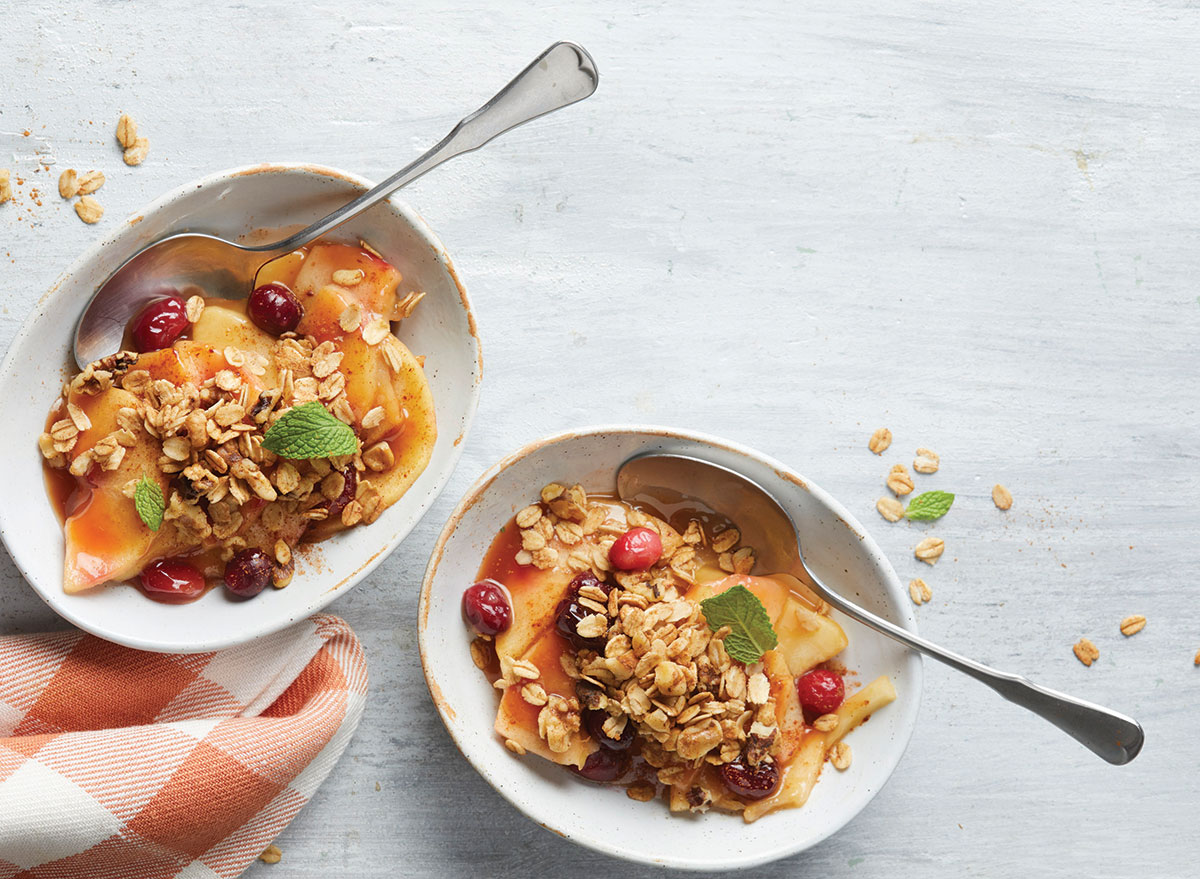 If you've been busy cooking your turkey and sides and are looking for a simple dessert that will still impress your family, this apple-cranberry crisp is the way to go because it can be done from start to finish in under an hour. There's nothing better than a dessert that's both simple and delicious.
Get our recipe for Apple-Cranberry Crisp.
If you're having a smaller Thanksgiving dinner, there's no reason why you can't break out the ramekins to make some lava cakes. If your family thought the turkey put them over the edge, this dessert will take them to the next level of Thanksgiving fullness. There's always room for dessert, right?
Get our recipe for Molten Chocolate Cake.
Coffee and Chocolate Meringues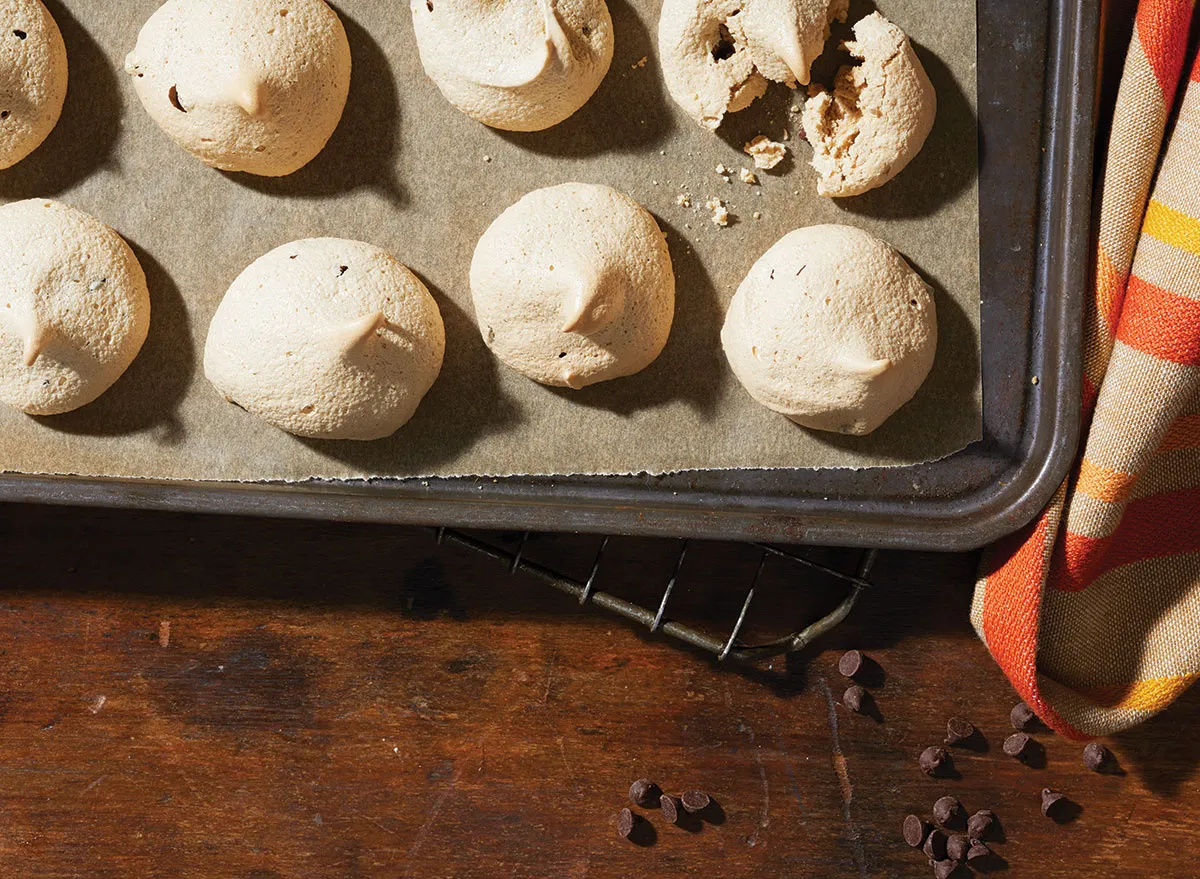 If you don't anticipate saving room for dessert, these meringues are the way to go. Sometimes it's hard to pace yourself, especially at Thanksgiving dinner, but with these coffee and chocolate meringues, your family can have a little something even if they're "too full for dessert." They're so light and fluffy, and they'd be great to put in to-go containers for a road snack for the trip home.
Get our recipe for Coffee and Chocolate Meringues.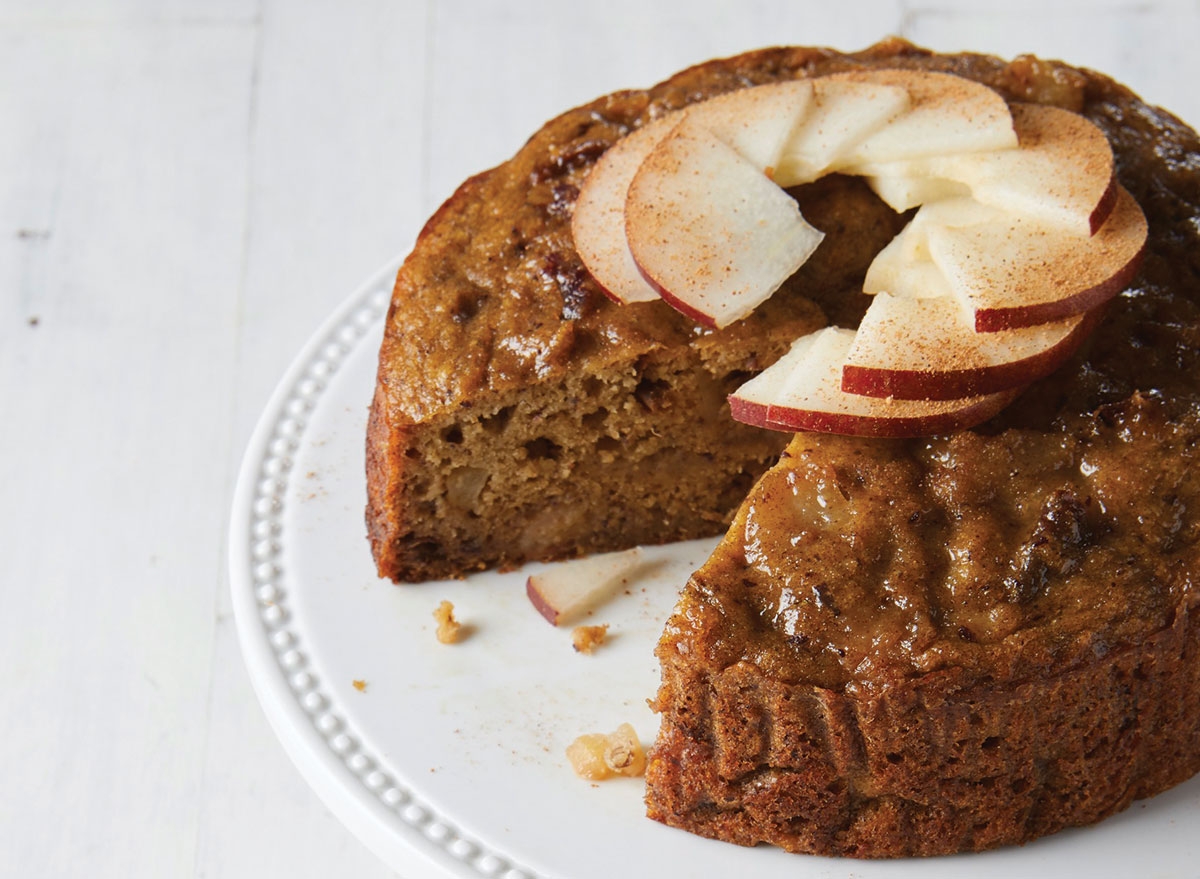 Looking at this cake just reminds us of the holiday season. With the pear on top, you know it's going to taste like autumn. And filled with nutmeg, dates, vanilla, and applesauce, it truly delivers. There are so many layers of flavor with this recipe, your family members will be dreaming about it while in their turkey coma.
Get our recipe for Sticky Toffee Date Cake.
Individual Key Lime Cheesecake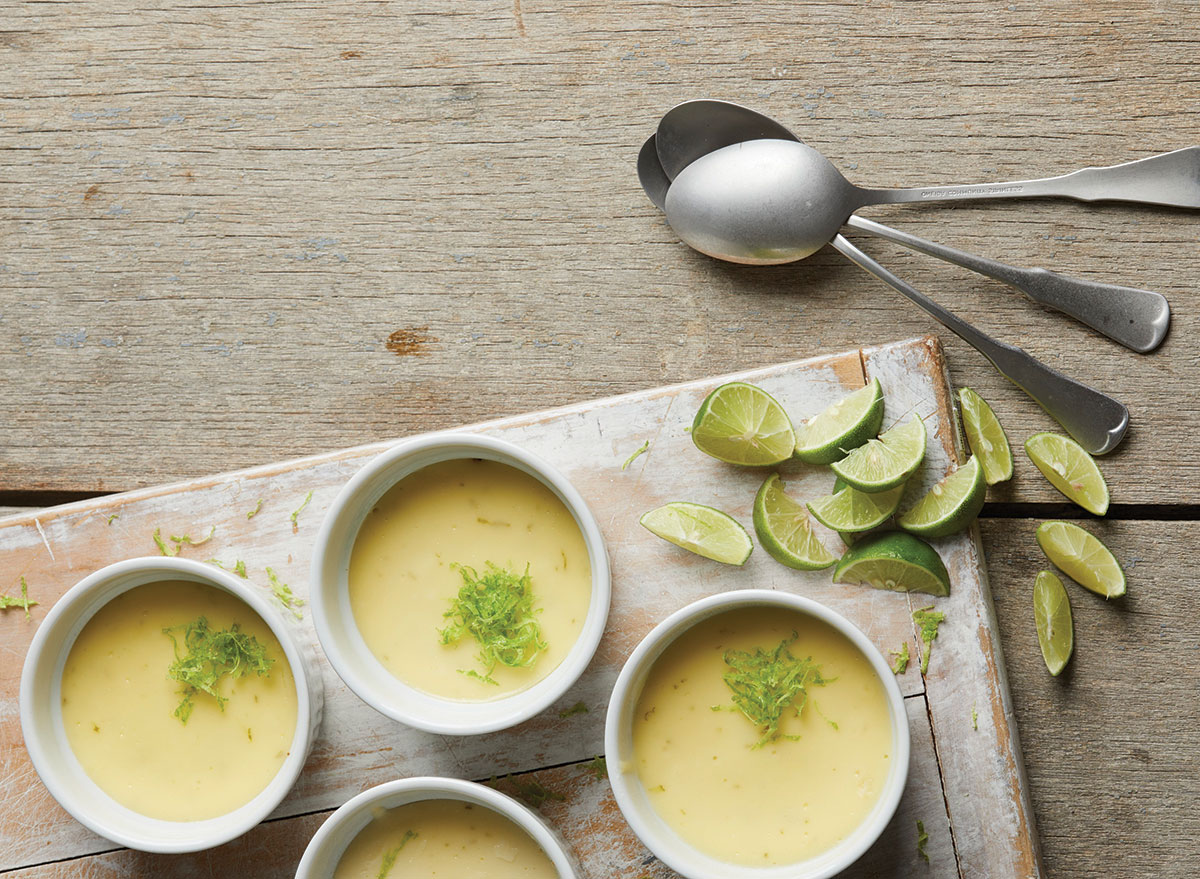 Pie is great, but there's one thing about having a lot of people to your house for the holidays eating a lot of pie: It can get messy. Between the crumbs and sticky fillings, it could be a recipe for disaster. This individual key lime cheesecake ensures that your couch will endure minimal mess this holiday season, and your family will absolutely love them.
Get our recipe for Individual Key Lime Cheesecake.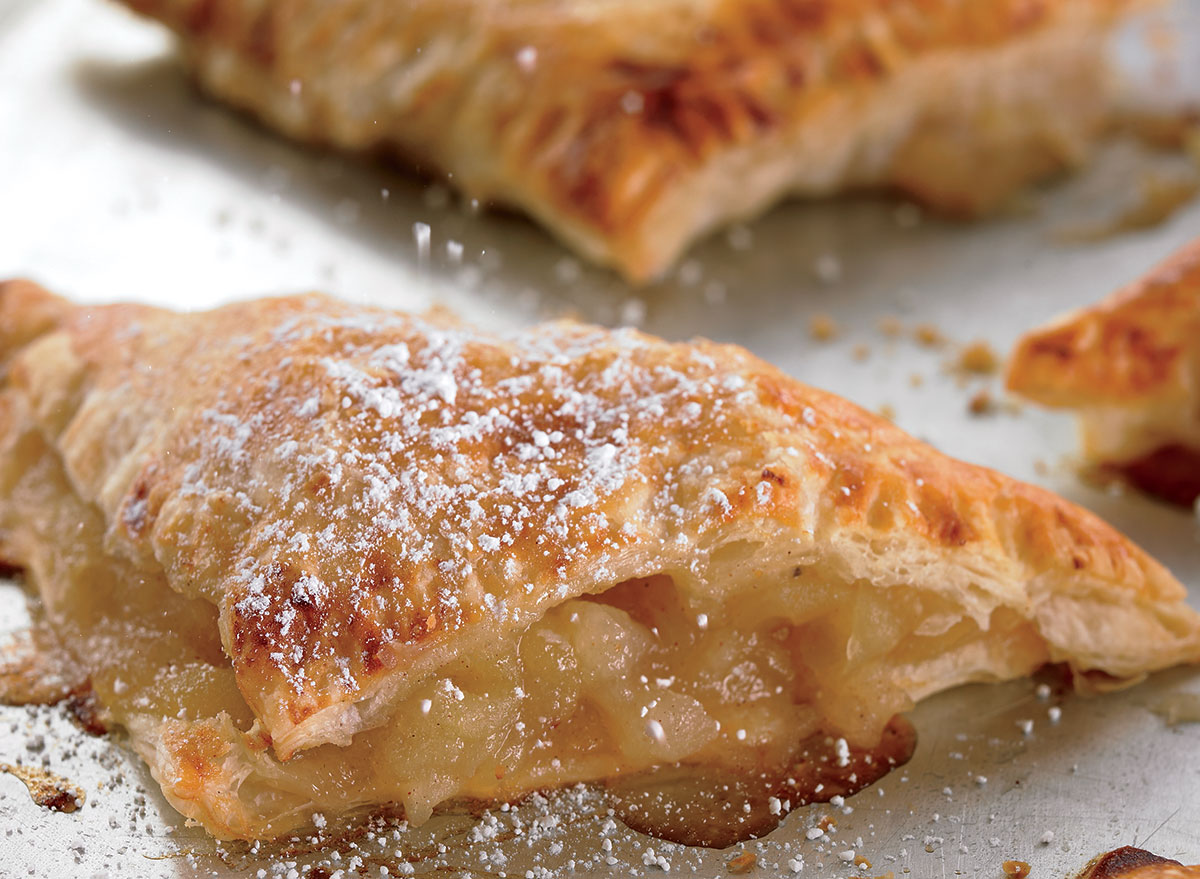 Continuing on the individual dessert trend, these crispy apple turnovers are the perfect balance of crispy outer layer with a soft, sweet inside. This dessert brings in all the flavors of fall: apple, cinnamon, ginger, and nutmeg. Your family members will undoubtedly be eating more than one of these.
Get our recipe for Crispy Apple Turnover.
And if you want to get even more creative with apples, check out these 25 Fall Apple Recipes You'll Love.
Poached Pears with Spiced Chocolate Sauce
This pear dessert is absolutely beautiful, and the fact that it's cooked in red wine and topped off with spiced chocolate…we're sold. Your family members will be licking their plates with this combo of the light pear and the rich chocolate sauce.
Get our recipe for Poached Pears with Spiced Chocolate Sauce.
Whatever you decide to serve on your Thanksgiving table this year, these desserts are the perfect way to end the meal on a sweet note.
For more, check out these 108 most popular sodas ranked by how toxic they are.
Rachel Linder
Rachel is an Associate Editor responsible for compiling the daily Eat This, Not That! newsletter, making TikTok and YouTube videos for the brand, writing articles for the site, creating original graphics and providing direct assistance to the editors when needed.
Read more about Rachel