Arby's Just Added 4 Items to the Menu, Including a Super Popular Burger
Arby's customers just got a handful of new items to choose from ahead of summer 2023.
With summer right around the corner, Arby's is freshening up its menu with several new items to give customers extra options for the hottest season of the year. This includes the return of its super popular, limited-edition burgers made with top-quality Wagyu beef.
The fast-food sandwich giant ventured into burger territory for the first time ever in May 2022 with the launch of those premium Wagyu burgers. which are back on menus again as of today. Wagyu beef is known for heavy fat marbling, intense flavor, and a tender texture. Arby's uses a blend of 51% American wagyu—the result of crossbreeding between Japanese Wagyu cows and domestic cows—and 49% ground beef for the patties in these fancy sandwiches.
Other offerings that just hit Arby's menus include a loaded french fry dish and a dressed-up version of its classic roast beef sandwiches, plus don't miss Arby's line of Bourbon BBQ sandwiches which debuted in late April. Be warned—all of these new options are only available for a limited time, so customers who want to try them shouldn't wait too long before doing so.
Wagyu Steakhouse Burgers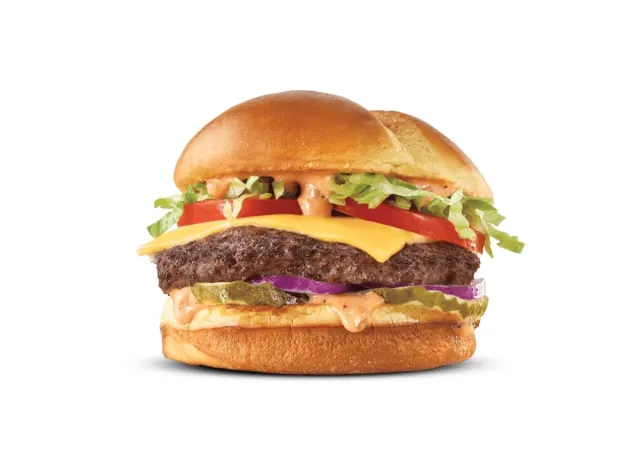 To say that there was high demand for Arby's first-ever burgers would be an understatement. When Arby's initially introduced them in May 2022, the chain sold out in two weeks despite planning to offer the burgers for six to eight weeks. This success inspired Arby's to bring them back for another limited-time run in November 2022, and as of today, they're back on menus again for a third run.
Customers now have the option to choose between two different versions of Arby's Wagyu burgers: the Deluxe Steakhouse Wagyu Burger and Bacon Ranch Wagyu Steakhouse Burger. In addition to those premium wagyu patties, the first option features American cheese, shredded lettuce, tomato, pickles, onion, and burger sauce on a toasted buttery brioche bun. The Bacon Ranch Wagyu Steakhouse Burger comes with bacon, of course, but it also swaps out the burger sauce from the deluxe version with a parmesan peppercorn ranch sauce. All of the other toppings from the deluxe Wagyu burger carry over to the bacon version.
The deluxe burger was priced at $6.99 and the bacon burger was priced at $8.99 at an Arby's restaurant in Rockaway, N.J., though prices and availability may vary depending on the location.
Chicken Bacon Ranch Loaded Fries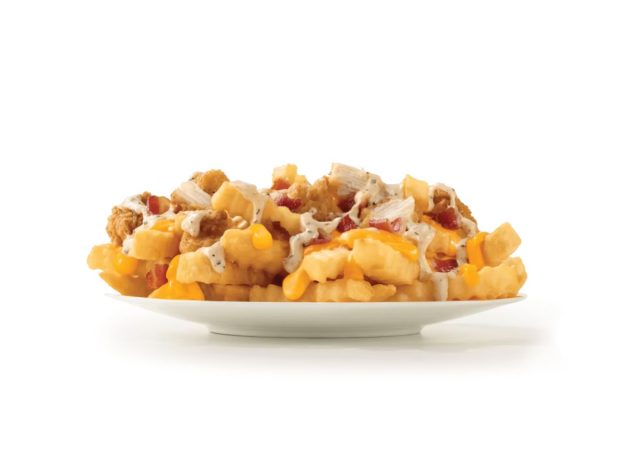 In terms of its side dishes, Arby's is best known for its famous Curly Fries, a favorite among chefs and regular consumers alike. But if you're craving a little differentiation and decadence in your Arby's side orders, the new Chicken Bacon Ranch Loaded Fries may be the perfect opportunity.6254a4d1642c605c54bf1cab17d50f1e
The item features Arby's Crispy Crinkle Fries topped with a cheddar cheese sauce, diced chicken nuggets, chopped bacon, and a drizzle of parmesan peppercorn ranch. The loaded fries cost $5.99 at another New Jersey Arby's restaurant in Watchung.
Americana Roast Beef Sandwich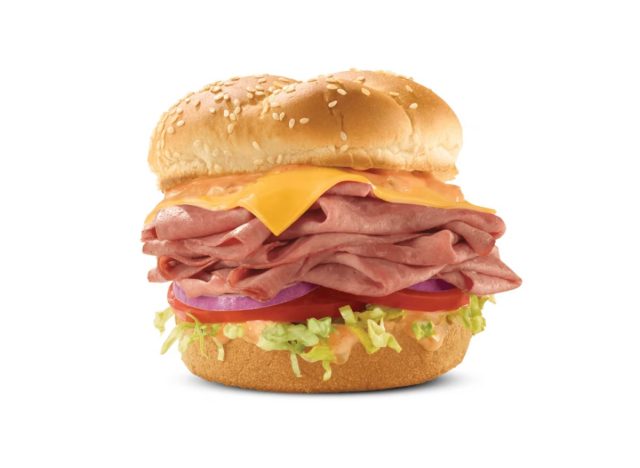 Another item that just hit Arby's menus is an upgraded take on the chain's classic roast beef sandwiches. The Americana Roast Beef Sandwich features thinly sliced roast beef topped with American cheese, lettuce, tomato, red onions, and a special sauce on a toasted sesame bun.
Other roast beef options on the Arby's menu are limited to just roast beef and buns or a couple of limited toppings like cheese and sauce, so the Americana Roast Beef Sandwich is a more dressed-up option for those craving extra flavor and texture. The sandwich was priced at $6.99 at the Watchung location.
Bourbon BBQ sandwiches
Arby's new line of Bourbon BBQ sandwiches debuted a couple of weeks before today's launch of the Wagyu burgers, loaded fries, and roast beef sandwich, but these limited-time items are currently still available to customers right now. The line features four sandwiches in total, including three sliders and one full-size sandwich:
The sandwich was priced at $7.99 and all three sliders were priced at $2.69 at the Watchung Arby's restaurant.
Zoe Strozewski
Zoe Strozewski is a News Writer for Eat This, Not That! A Chicago native who now lives in New Jersey, she graduated from Kean University in 2020 with a bachelor's degree in journalism.
Read more about Zoe