17 Restaurant Orders You Should Always Avoid, According to Chefs
From burger joints to a Thai restaurants, here's what the chefs skip.
There are over 660,000 restaurants in the United States, according to recent statistics, and 90% of those are smaller joints with less than 50 employees. So while we often cover chain restaurants and what you should or shouldn't eat at those locations, you'll inevitably find yourself at an independent spot and wonder: What's good and what should I avoid?
While every restaurant is different there are some red flag menu items that scream inauthentic at certain spots and some dishes that are never worth the price. We asked chefs to share the orders they always avoid for these reasons. Turns out, what's good at a seafood restaurant shouldn't be ordered at a steakhouse, and what's a good bet at a sushi spot would be a stretch at an Indian restaurant.
Here are 17 orders you should always skip when you are dining out.
A veggie burger at a burger joint
Beyond ordering your meat well done—the biggest faux pas at a burger restaurant—there's one more cardinal rule when it comes to burgers: make sure you get the signature offering. You wouldn't go to Italy and get a Mexican dish, so unless you're vegetarian or vegan and you don't have a choice, don't go to a burger joint and order a veggie burger.
"You're not going to get the best the kitchen has to offer," says Guy Crims, the head butcher at The Butcher Shop by Niku Steakhouse. Instead, you should ask what the most popular burger is and give it a try or go for the signature item.
An over-the-top burger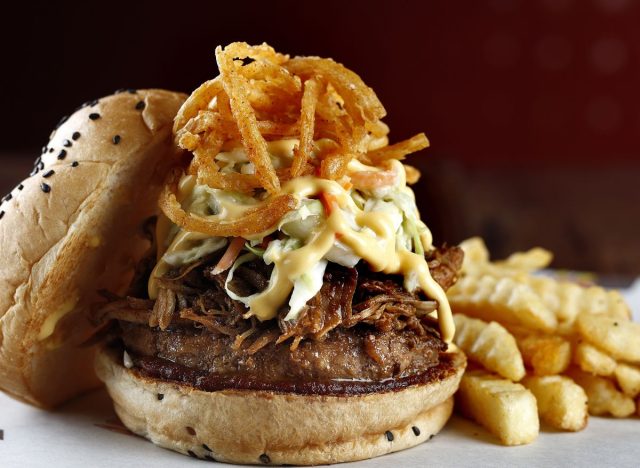 Stop spending money on something that isn't fun to eat. "The extra-large burger that is difficult to eat just to 'go large' is something I don't order and would never recommend", says Jeremy Shigekane, the executive chef of 100 Sails Restaurant & Bar at the Prince Waikiki Hotel. Also, skip the flashy toppings that don't add anything to the flavor. "Gold on a burger? No," says Shigekane.
Farmed fish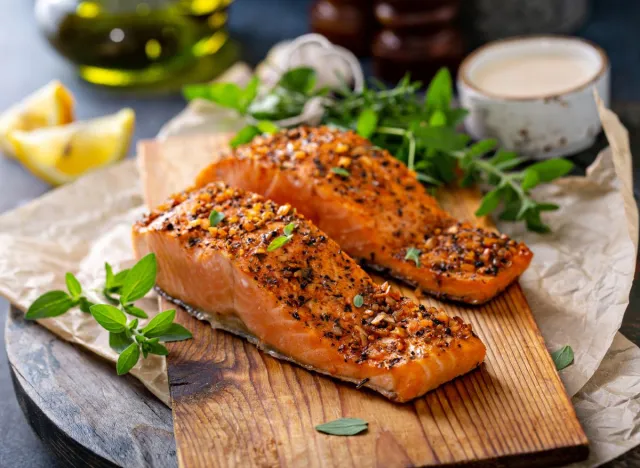 Owners and chefs of seafood restaurants take pride in where they source their catch–with many putting a great emphasis on local and sustainable. Farmed salmon raised in the Atlantic is often raised in overcrowded and dirty situations, says Craig Riker, the executive chef at Finch & Fork in Santa Barbara's Kimpton Canary Hotel.6254a4d1642c605c54bf1cab17d50f1e
"The farmed salmon can be full of antibiotics and prone to containing highly toxic chemicals," says Riker. Opt instead for ora king salmon from New Zealand. This is also a farmed fish but the care that goes into raising it makes it a better, healthier product. "It is like the wagyu beef of salmon," explains Riker. 
Tilapia is another fish that is often raised in crowded fish pens, says Mike Morales, the executive chef and partner at Sunda New Asian, with locations in Chicago and Nashville. "There are better alternatives for fish," says Morales. He recommends cod, branzino, and rainbow trout as delicious and healthy alternatives.
Well-done steak
Other than the cut, the biggest factor that will affect the quality of your steak is doneness. Not surprisingly, while there are steak cuts that chefs recommend, the biggest don't at a steakhouse is well-done meat. "The reason why well-done is not the greatest is because of all the loss of flavor, fat, juice, and the promotion of tough dry texture after it gets cooked past around 140 degrees," says Kyle Bradish, the executive chef at Rare Steakhouse at Encore Boston Harbor.
Tex Mex dishes at a Mexican restaurant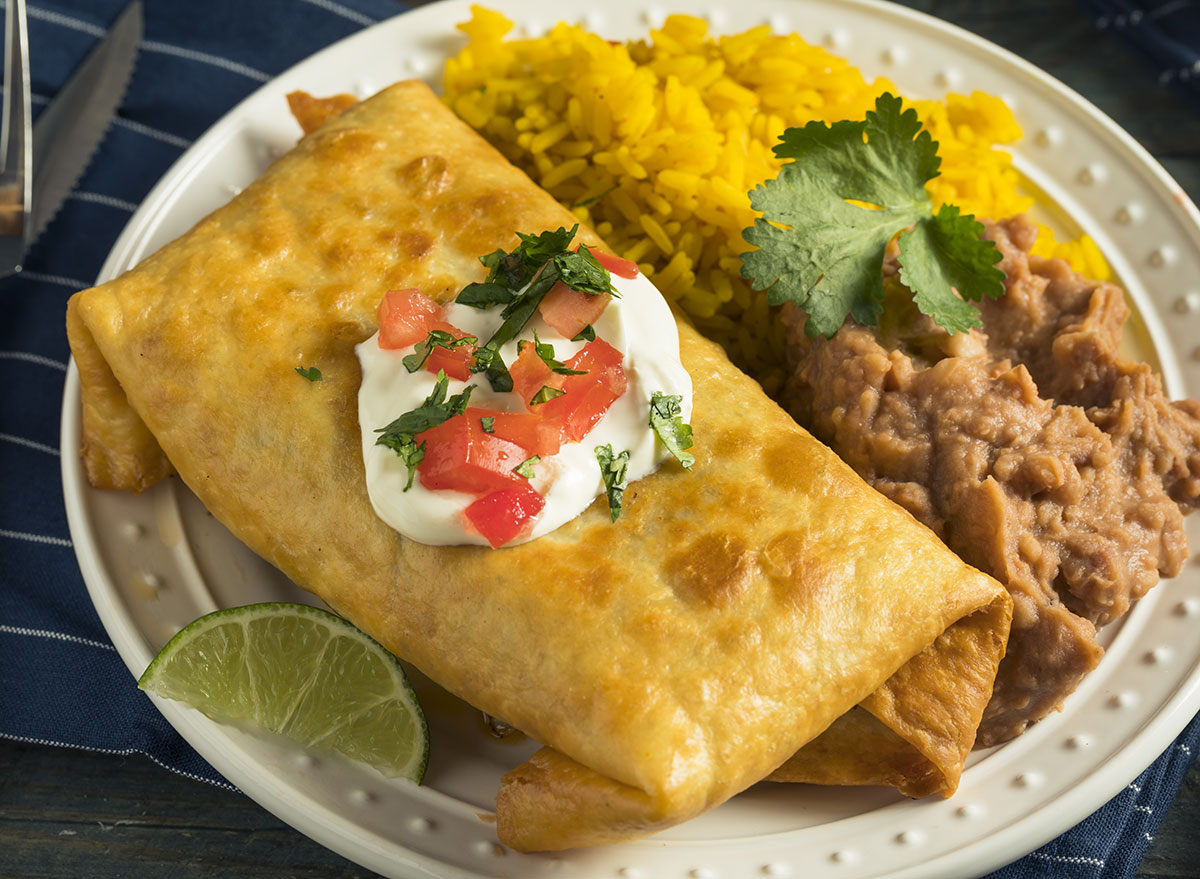 At a true Mexican restaurant, it's wise to avoid any of the Americanized dishes that aren't authentic, and that includes the deep-fried burrito known as the chimichanga.  "I am not saying the chimichanga tastes bad, but it is a dish that more often than not will not be found on the menu at an authentic Mexican restaurant," says Omar Montero, chef at La Santa Taqueria in Miami.
It's hard to skip the sizzling fajitas a Chili's but to order them at a Mexican restaurant would be inauthentic. "The worst thing to order would be fajitas,"  says Dariel Vazquez, the regional chef at Bodega Taqueria y Tequila. He called them, "as American as apple pie." Instead, he recommends tacos al pastor or barbacoa tacos. 
Queso that doesn't come in a skillet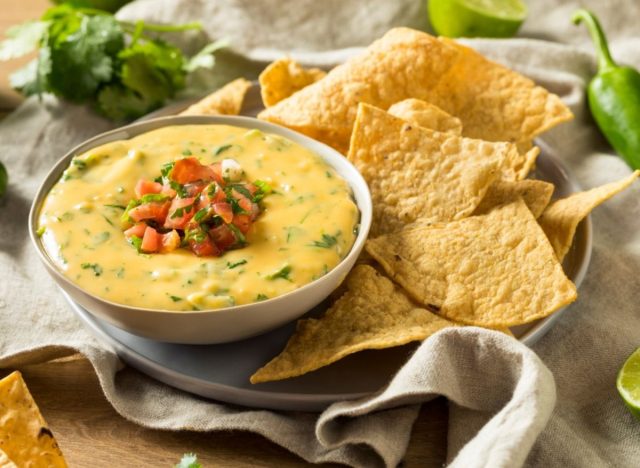 Everyone loves warm gooey cheese but it's not always worth the calories. The real deal is always served in a cast-iron pan. "Queso fundido is served in a cast-iron pan and is usually a staple in every real Mexican restaurant," says Dafna Mizrahi, a Mexican chef and co-founder of Curamia Tequila. "Authentic queso is not yellow like Velveeta cheese," Mizrahi adds.
Spicy dishes at a sushi restaurant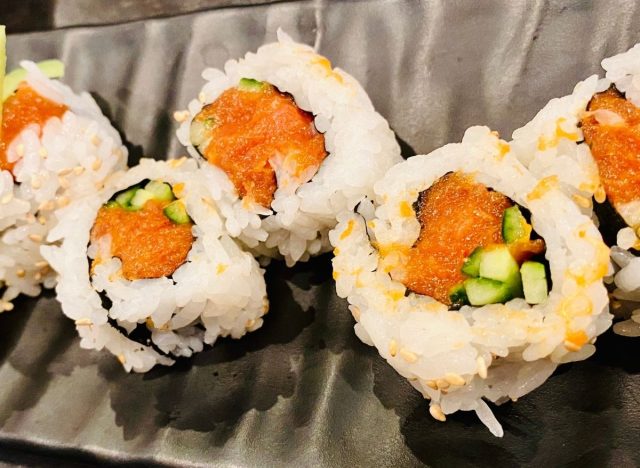 Chefs say freshness and simplicity are key when it comes to good sushi. Skip the frills and over-the-top ingredients and stick to fish and vegetables. Also, avoid spicy dishes to save your palate. "If you burn out your taste buds on the first course, you'll miss all the subtleties and beauties of the rest of the meal," says Josh Mouzakes, executive chef of ARLO at Town and Country Resort.
Leslie Daniel, the executive chef of Kuro at the Hard Rock Hotel & Casino in Atlantic City agrees. "A good sushi restaurant chef will spend a great amount of time preparing the fish, and some of these fish have very unique and delicate flavors that can be hidden by overcompensating with things like intense spices and other sauce-based items," Daniel says.
Chinese dishes at a Thai restaurant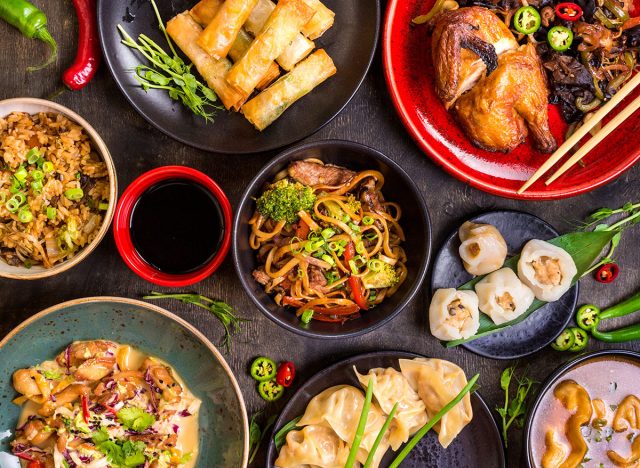 Thai restaurants are a common occurrence across the country, but some offer a more authentic taste of the region than others. Chefs recommend avoiding dishes that are meant to appeal to inexperienced diners, like Chinese dishes, and sticking to real Thai flavors. "Any Thai restaurant that still has Chinese dishes on the menu, avoid. There are some that still do that because they think they have to," says Dan Coughlin, a chef at Le Thai in Las Vegas.
Egg rolls are another menu item to skip at an authentic Thai spot. "They're more than likely just on the menu to appease clients who don't know what to order," says Chad Johnson of Bern's Steak House in Tampa.
Carbonara made with cream
At an Italian restaurant, stick to the dishes that the region that is highlighted is known for and skip the American additions. Carbonara is an incredibly simple dish of guanciale, eggs, and cheese, which combine to make a creamy sauce. But the classic pasta is often bastardized with the addition of cream. "All the creaminess you need comes from good aged Parm, and it better be the real thing, Parmigiano Reggiano," says Gianni Russo, a brand ambassador of Corleone Fine Italian.
Store-bought Mozzarella sticks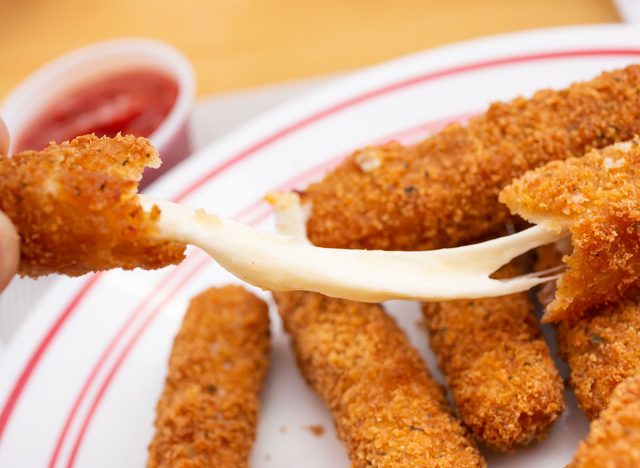 While fried cheese can be a wonderful thing, store-bought mozzarella sticks have no place on an authentic Italian restaurant menu. "Most restaurants are just buying frozen breaded mozzarella sticks and throwing them in their deep fryer, and I don't like to pay for something I could prepare in my air-fryer at home," says Sedona Kusler, a chef at Montelupo in Portland.
Anything with too much garlic at an Italian restaurant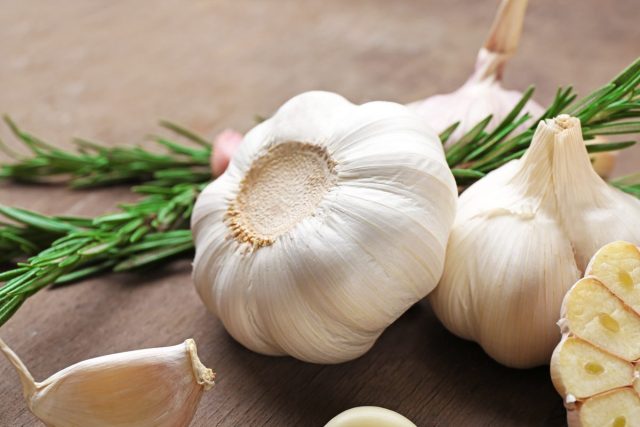 Yes, the scent of garlic and oil cooking is one of the best in the world, but it isn't an authentic Italian move like many think. "When you go to a supposedly Italian restaurant and smell it, just run away. This is the first sign that you are eating fake Italian food," says Chef Barbara Pollastrini, a Rome native and Ambasciatori Del Gusto. Authentic Italian spots smell like fresh tomato sauce or a simmering broth, she says.
BBQ slathered in sauce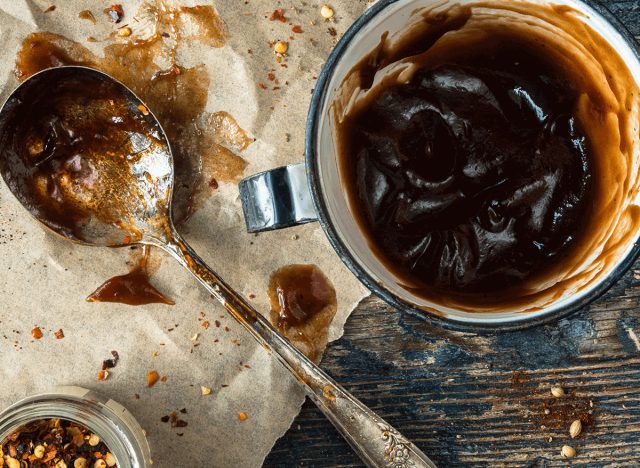 When choosing a barbecue restaurant, the pros say that the quality of the meat is key for a delicious experience. The ones that source amazing meat won't try to drown it in sauce. Different house sauces are great as an accent, but the smoked meats should stand on their own. "Give the food a taste before baptizing it in the house sauce," says Rick Mace, the owner and executive chef of Tropical Smokehouse in West Palm Beach.
The "Craveables"
Mace also advises diners to skip the items he calls 'craveables,' like pulled pork nachos or brisket chili-cheese fries. "Avoid these items at all costs… the way that you'll feel afterward it's not worth that eight-second ride," he says. The familiar foods with over-the-top embellishments will leave you with little room for the meat, the best part of a barbecue spot.
Sides at a barbecue joint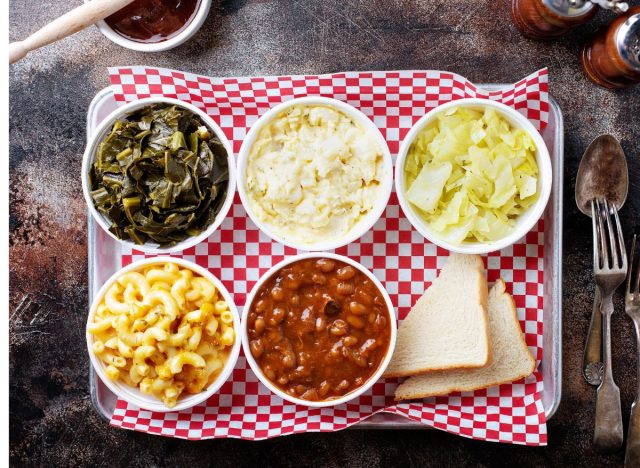 'This may be a bit controversial, but don't order sides," says Mike Rice, the beverage director at Alexandria Restaurant Partners. "The meat at a barbecue place has been trimmed, rubbed, rested, smoked, and given loving care for hours. Don't fill up on the boiled pasta with cheese," he cautions.
Steak at an Indian restaurant
While there a plenty of Indian-inspired dishes we love in America, several are dishes that no one really eats in India, and certain things are downright taboo. If you see something like tandoori steak, the spot you are in might not be authentic. "The vast majority of India practices Hinduism, a religion in which cows are considered sacred, so obviously beef is off the table," says Pujan Sarkar, the chef de cuisine at ROOH San Francisco and ROOH Palo Alto.
General Tso's chicken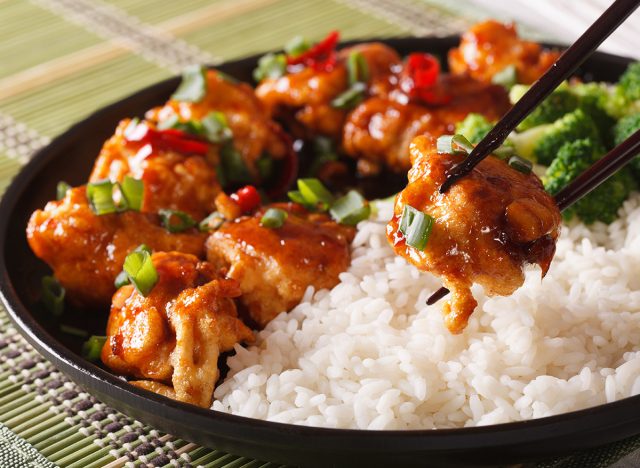 Authentic Chinese food is filled with vegetables, lean proteins, and rice, and not covered in those syrupy sauces that we expect with Americanized versions. "General Tso's chicken is often breaded, deep-fried, and coated in a rich sauce, making for quite a delicious but unhealthy option at Chinese restaurants," says Lon Symensma, the co-founder and executive chef of ChoLon Restaurant in Denver.
Seafood at a Chinese restaurant with a long menu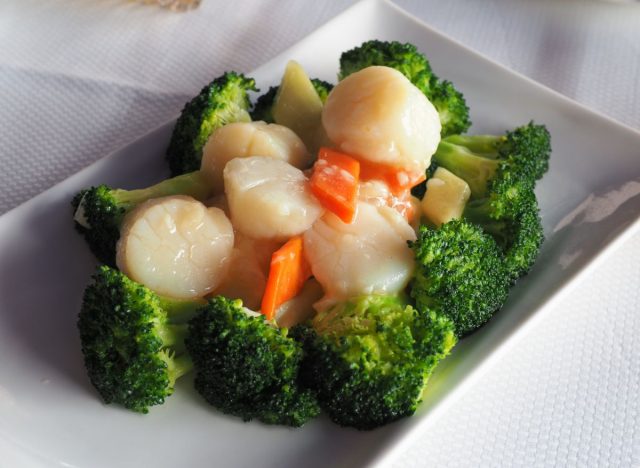 An endless list of seafood items is a warning sign that a restaurant could be stocking mainly frozen seafood. "I am often weary about scallops or other delicate items at Chinese restaurants with 200-plus menu items," says Hanson Li, the co-founder and CEO of Lazy Susan in San Francisco. "Though not always the case, huge menus can sometimes use frozen seafood that, when thawed, may diminish in quality. If a restaurant doesn't have the velocity, dishes ordered less frequently may suffer," Li adds.