5 Baked Chicken Breast Recipes
On the hunt for more ways to cook boneless, skinless chicken breast? Here are a few clever ideas!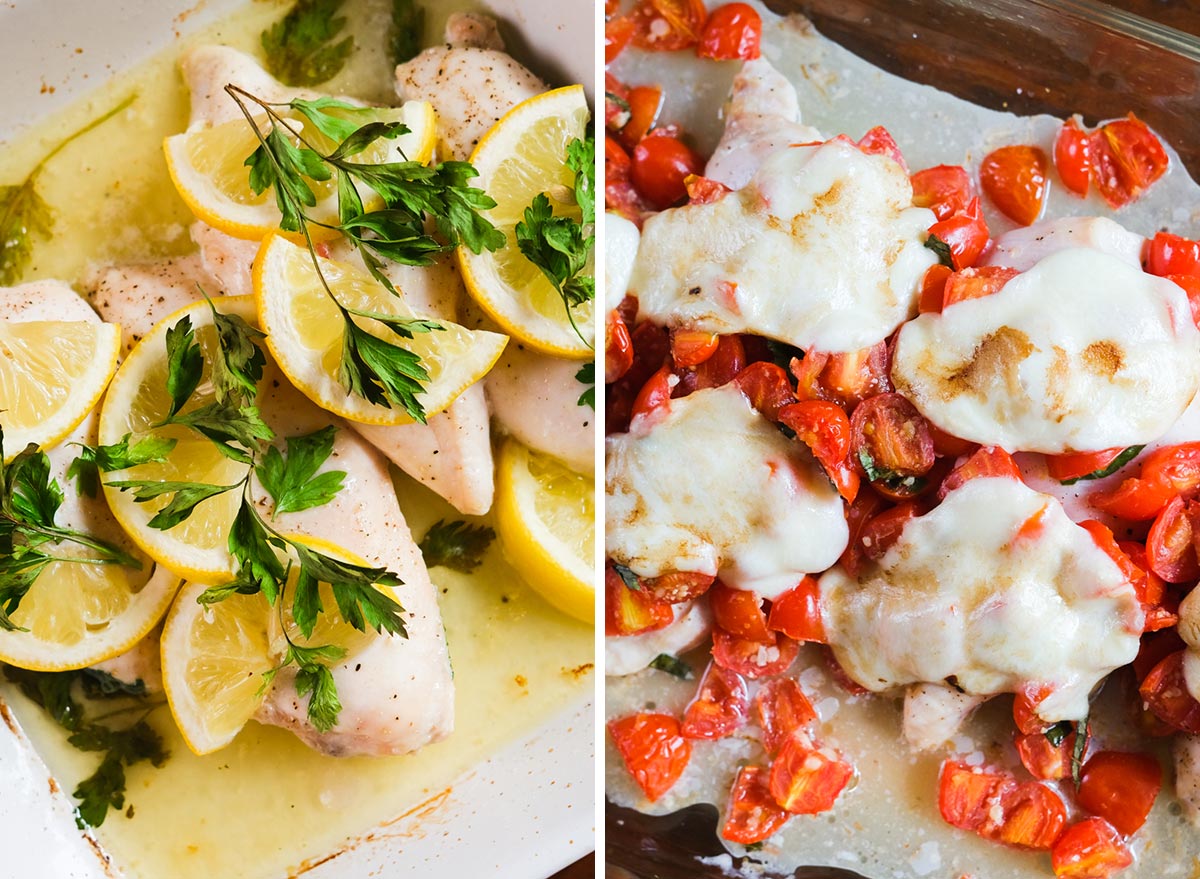 We all know that cooking chicken breast can get boring fast. It's one of the cheapest meats to buy and one of the most versatile proteins to cook with, and can pretty much go with any kind of flavor combo you can possibly imagine. Which is why I put together a few clever baked chicken breast recipes to spruce up your weeknight dinners. The best part? They only take 20 minutes to cook.
Make sure to season the chicken first.
While the toppings will give these baked chicken breast recipes great flavor, I do find seasoning the chicken with salt and pepper does elevate the taste of each piece of chicken. So add a dash of salt and pepper to each side of the chicken breast before cooking.
Cook the chicken in casserole dishes. I use smaller 8×8" or 13×9" casserole dishes for my baked chicken breast recipes. I'll also spread a little bit of olive oil on the pan before adding the seasoned chicken.
Here's how to properly bake chicken breast.
While each recipe below calls for different ingredients, they all bake for the same amount of time at the same temperature. Convenient, right? To make each of these baked chicken breast recipes, set the oven temperature at 375 degrees and bake for 20 minutes.
So if you're looking for super simple baked chicken recipes to just throw in the oven on your busy weeknights, these are it. Even with minimal ingredients, you can make a delicious and nutritious meal. Here are my five favorite baked chicken breast recipes to make at home.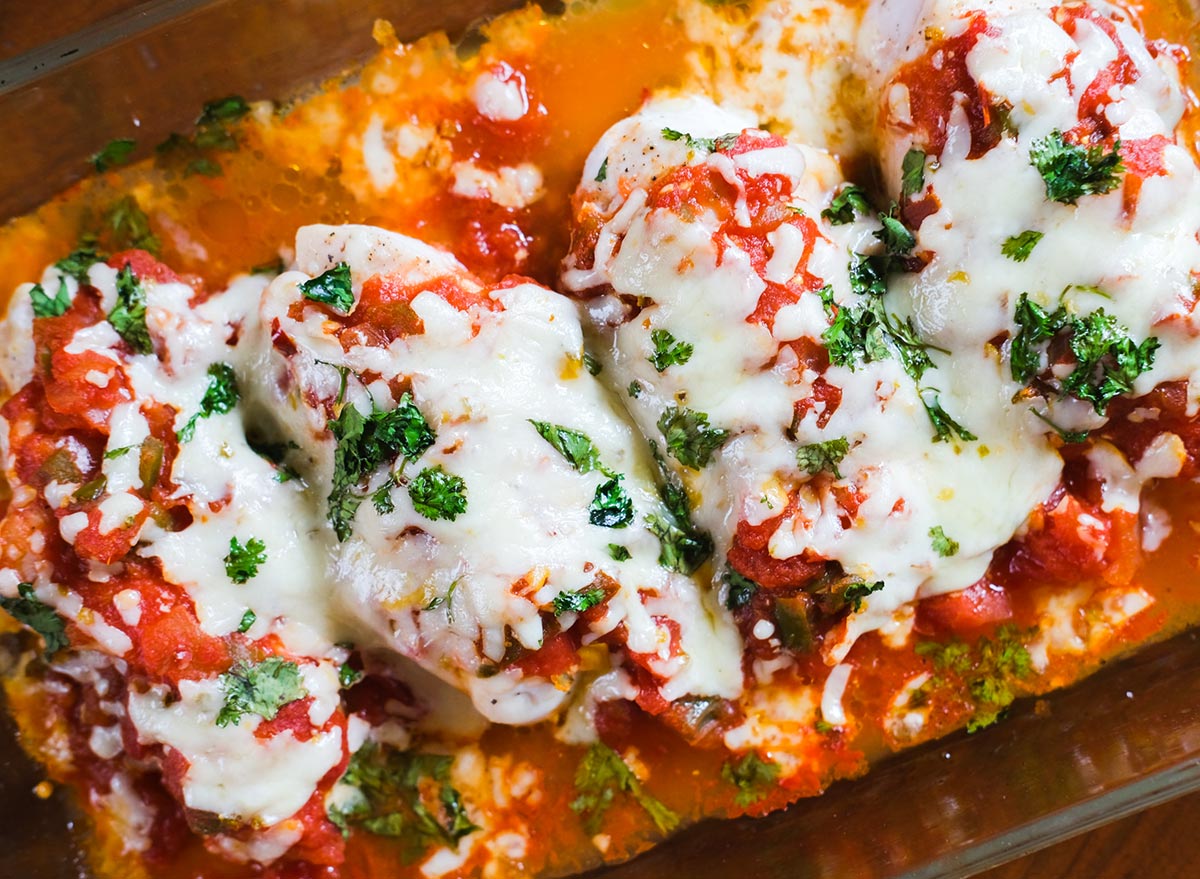 Who knew a jar of salsa could be so versatile? You can get all the delicious flavors of chicken tacos by simply adding scoops of your favorite jarred or homemade salsa on top of the chicken! Top with shredded cheese, and be sure to shred the cheese yourself! It makes the world of a difference compared to using the bagged stuff. For more clever cooking tips and tricks, be sure to sign up for our newsletter.
To make, top chicken breasts with:
Salsa
Shredded pepper jack cheese
Fresh cilantro, chopped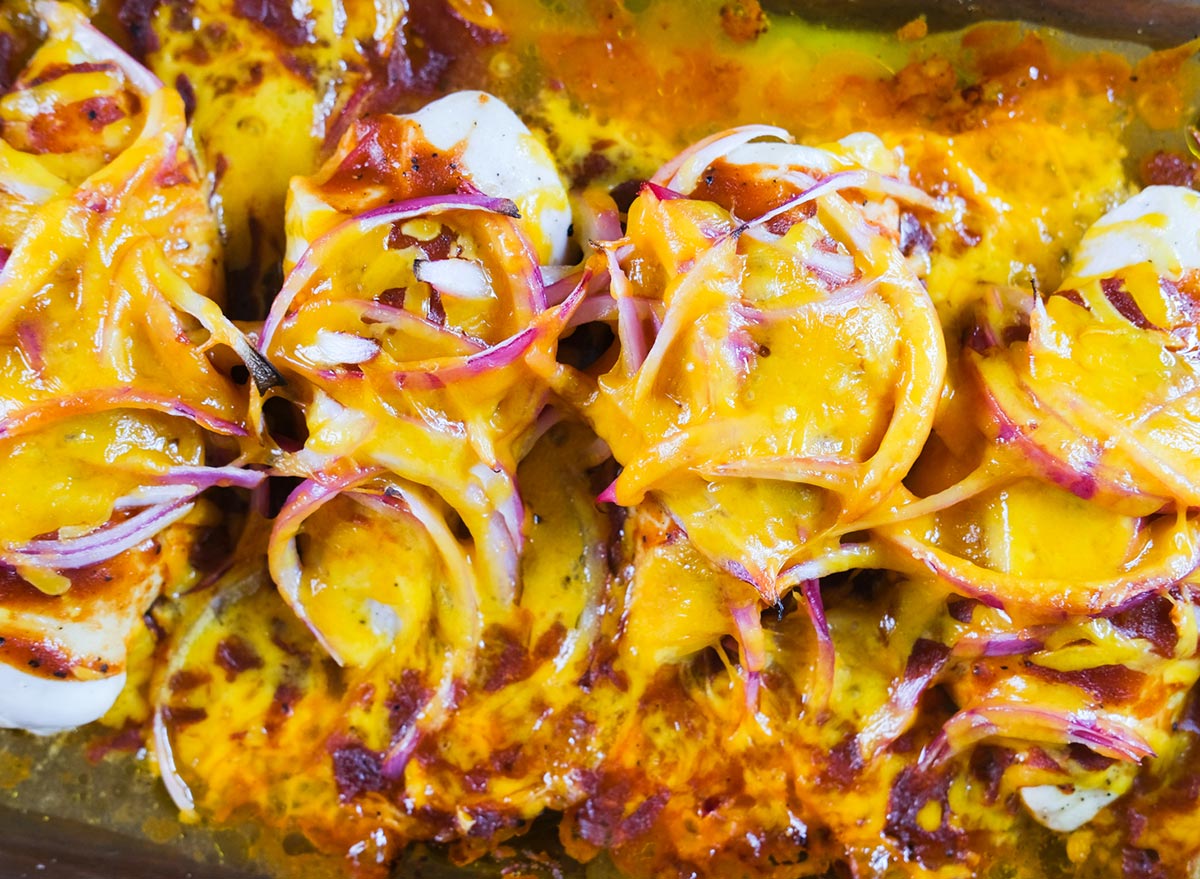 While it would be nice to throw some barbecue chicken on the grill, it's not the ideal meal to cook for a busy weeknight. You can get the same delicious barbecue flavor your craving by making this super simple baked chicken breast recipe. Slather the chicken breasts with your absolute favorite barbecue sauce, add some sliced onion, and sharp cheddar cheese. I will admit, I think this one is my favorite.
To make, top chicken breasts with:
Barbecue sauce
Sliced red onion
Shredded sharp cheddar cheese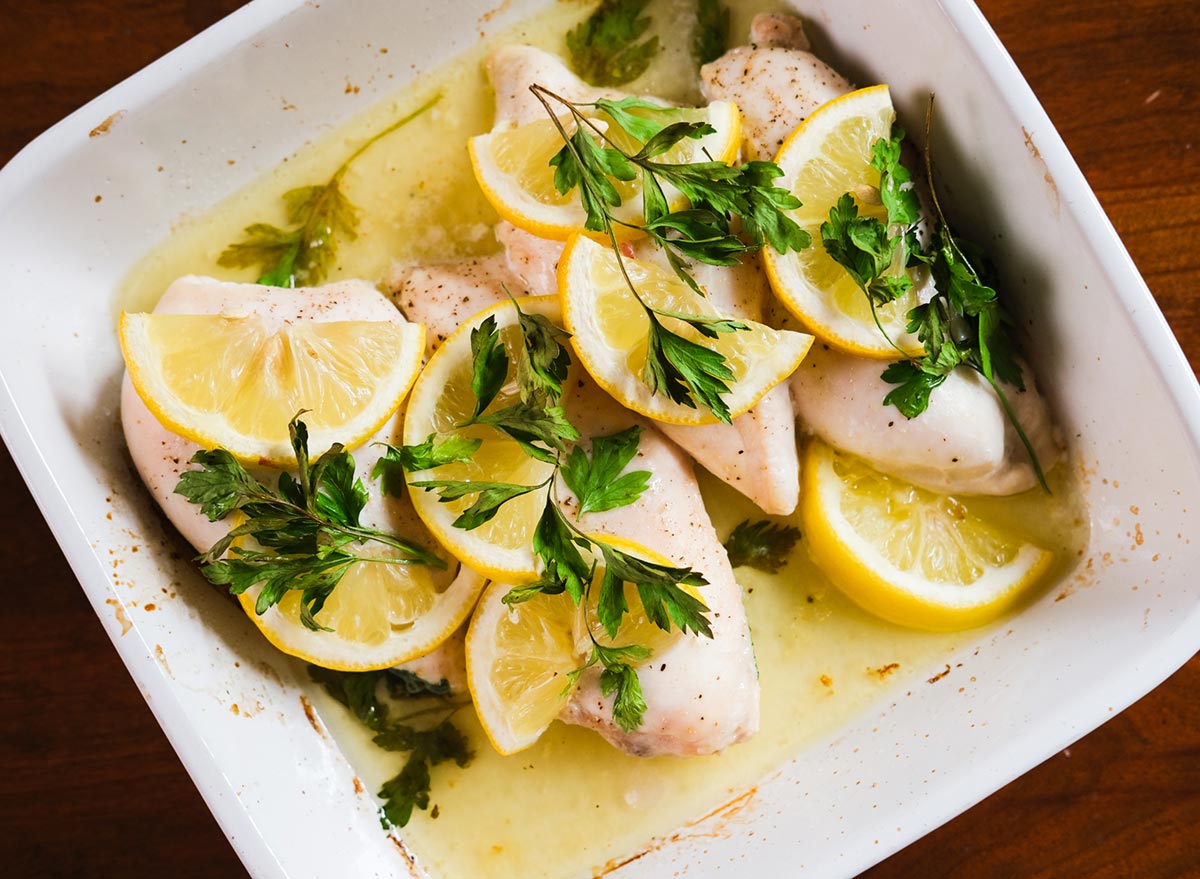 If you're in need of a dairy-free baked chicken breast recipe, this one is going to be your new fave. You really can't go wrong with butter, lemon, and parsley—it's the perfect trifecta. This chicken comes about super juicy and goes really well with other roasted broccoli and rice.
To make, top chicken breasts with:
1 Tbsp butter, cut into small cubes
Juice of 1/2 a lemon
Slices from the other half of the lemon
Sprigs of fresh parsley
Bruschetta is great on bread and all, but have you tried it on your chicken? The juices from those cherry tomatoes will make the chicken really moist and juicy, and is perfect when topped on a bowl favorite whole-wheat pasta or a huge bed of mixed greens!6254a4d1642c605c54bf1cab17d50f1e
To make, top chicken breasts with:
Bruschetta (2 cups quartered cherry tomatoes, 1 Tbsp grated parmesan, 1 tsp chopped fresh basil)
Slices of fresh mozzarella
1 tsp balsamic vinegar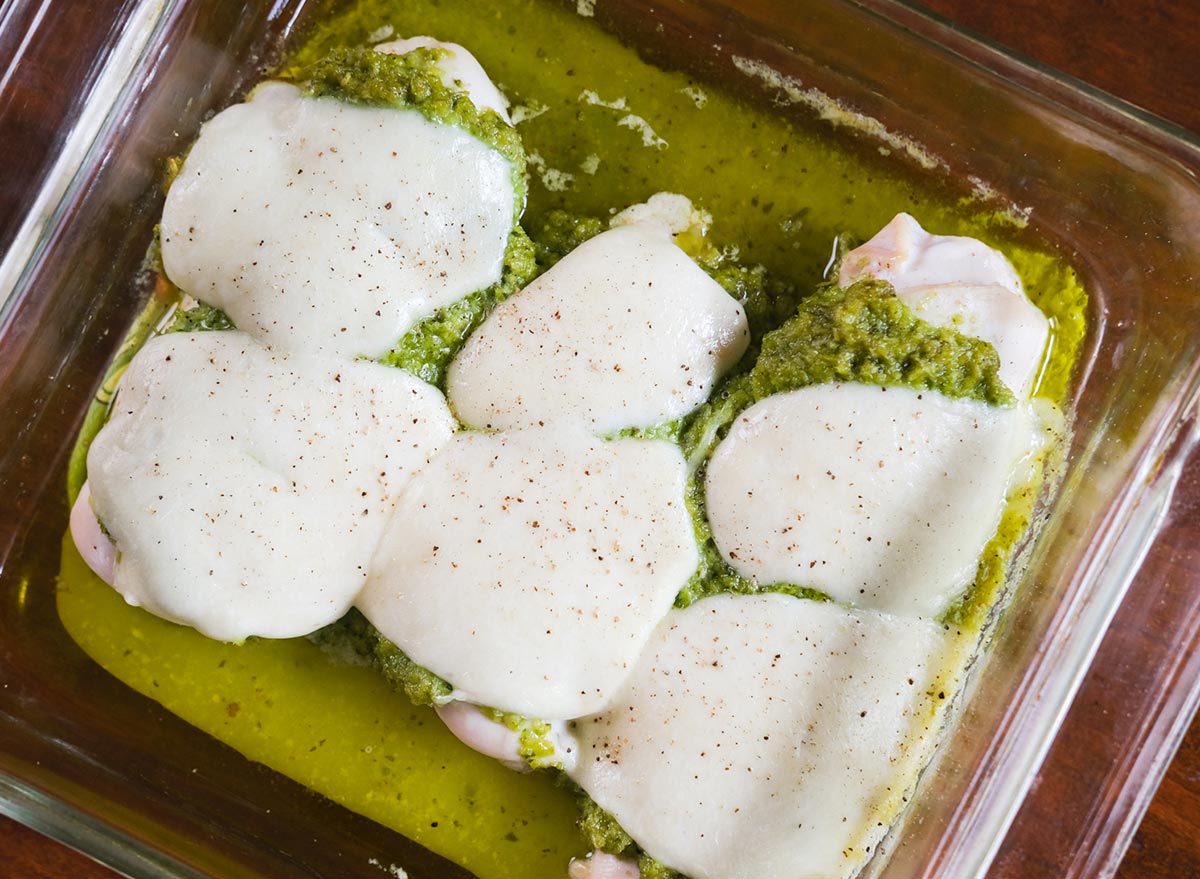 I'm obsessed with the super simple, three-ingredient recipes—especially this pesto chicken. I do find that the type of pesto really does make a difference when it comes to this recipe, so make sure to use the kind of pesto you really like. Or you could even attempt to make your own pesto! Top with thick slices of fresh mozzarella and fresh cracked pepper for the easiest, low-carb baked chicken dinner.
To make, top chicken breasts with:
Scoops of pesto
Slices of fresh mozzarella
Fresh cracked pepper