11 Bakery Chains That Bakers Actually Rave About
From Panera Bread to Paris Baguette, find out where the experts are getting their sugar fix.
Magnolia, Levain, Krispy Kreme—these bakery chains aren't just loved by the masses, but by baking experts also. It may be easy to assume that bakers and pastry chefs only enjoy their own creations, but many of them have their own list of personal favorite bakeries, too.
Whether you're curious as to where the experts like to frequent, or are looking for some inspiration on where to pick up your next sweet treat, then read ahead. From Sprinkles and its colorfully-designed cupcakes to Laduree's undeniably good macarons, here are 11 bakery chains that bakers actually rave about (and exactly what they order from them).
Plus, check out 5 Dessert Chains Customers Are Flocking To.
Beard Papa's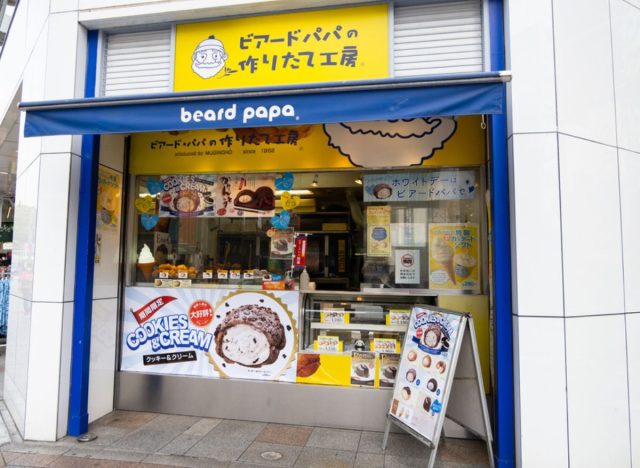 Chef Jasmine Weiser, the executive chef at Edwards Dessert Kitchen (EDK) in Minneapolis and Schwan's Chef Collective pastry expert, loves the Japanese crème puff bakery chain, Beard Papa's. "They fill the crème puffs to order which means the shell remains fresh and not soggy," Weiser, who was recently featured on Zoë Bakes on the Magnolia Network, says. "I especially love their use of ingredients like green tea and ube."
Even though Weiser's go-to order is a variety box, she says that her overall favorite flavor is the chocolate shell puff with ube filling because "the earthiness of both the ube and the chocolate complement each other."
Panera Bread
Panera Bread, the beloved chain most known for its bread bowls and impressive baked goods, is raved about by professional bakers, too.
"I grew up in Anderson, SC where there weren't a lot of options for dining out," says Katie Chaney, owner and chief pastry officer at Hester General Store in Easley, SC. "When Panera Bread opened it was like this new concept where it's casual, but still somewhat elevated. I remember going in there when I was 11 or 12 years old and seeing this place and how amazing it was—they offered a BREAD BOWL!"
Chaney explains that the chain's cinnamon toast crunch bagel quickly became her favorite. "Gosh, it's so good, like eggs with cinnamon—it's so amazing a bagel as a sandwich," she adds.
La Brea Bakery
Chef Christian Darcoli, chef, baker, and restaurant owner, makes all of his restaurant's bread in-house, except for one kind—ciabatta, which is bought from La Brea Bakery. "As an Italian chef and restaurant owner, I teach my restaurant staff to bake all of our breads in-house, with one exception," says Darcoli.
La Brea Bakery, which has a handful of locations around the country and is sold at certain supermarkets, also makes their bread available to restaurants to use for food service, explains Darcoli.
"The ciabatta bread is very versatile, crisp on the outside and soft on the inside, and it is the best bread to toast for a crispy bruschetta or to serve in the restaurant," he adds. "I love to break the La Brea Bakery ciabatta bread with my hands instead of a knife, and when you eat it, you get the classic crumbling and crunch."
Porto's Bakery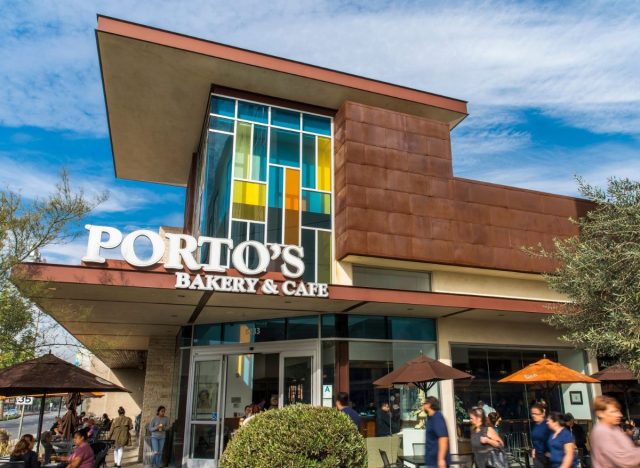 Porto's Bakery, the West Coast mainstay that sells delicious treats including dulce de leche cake rolls and sweet churro croissants, is a favorite of Diana Manalang, chef and owner of Little Chef, Little Café in New York City. "One place that's always on my West Coast list is Porto's Bakery," Manalang says."Their guava pastries, savory empanadas, and meat pies always find their way into my carry-on."
Choc-O-Pain
Since 2012, Choc-O-Pain has been whipping up goodies throughout New Jersey that are irresistible. Not only do they know how to make madeleines and flourless chocolate cakes just right, but they also are lauded for their scrumptious savory options, which include homemade quiches and breads.
"Choc-O-Pain has some of the best bread that I have ever tasted, especially if you're into sourdough," says Joshua Coleman, pastry chef at Halifax in Hoboken, NJ. "Also, I'm in love with the ham and cheese croissants and the almond croissants."
Magnolia Bakery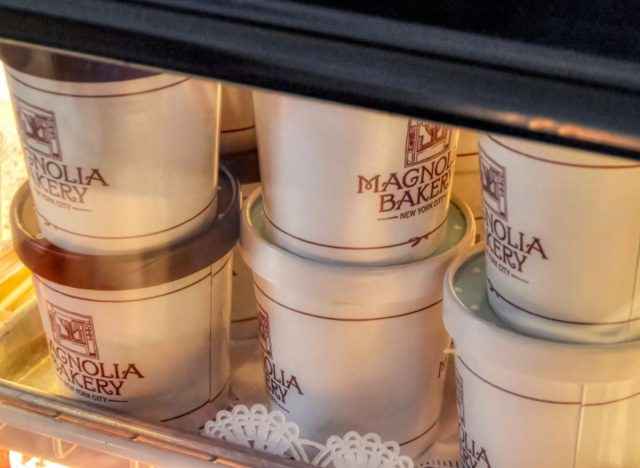 Another favorite of Coleman's is Magnolia Bakery, the iconic New York City bakery that now has locations throughout the world. "Magnolia Bakery, which is known for its banana pudding—which is amazing—also has some really good cupcakes and brownies for any occasion," says Coleman.
Krispy Kreme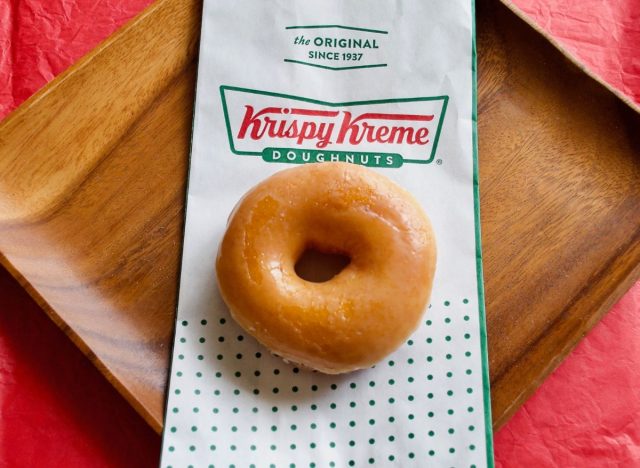 Krispy Kreme has been a fan favorite for over 80 years—and we know why. Not even professional bakers and pastry chefs can deny its delicious flavor.
"A fresh gooey Krispy Kreme doughnut is a beautiful thing," shares Kierin Baldwin, chef-instructor of Pastry & Baking Arts at the Institute of Culinary Education. "When they have the sign on and they're pulling freshly fried doughnuts off the conveyor belt—that is when their doughnuts are great."
Paris Baguette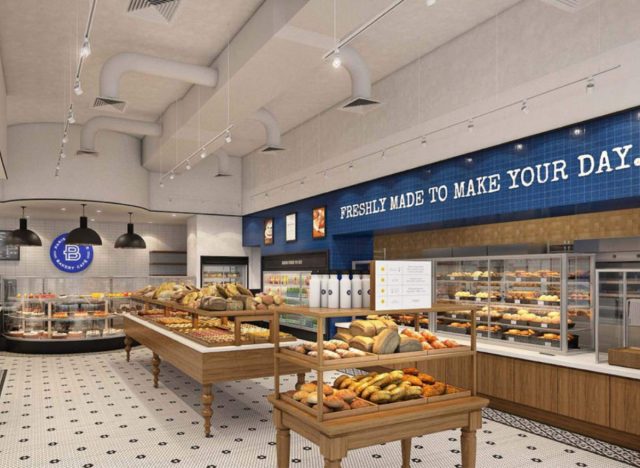 Some experts love Paris Baguette for its welcoming spaces and scrumptious menu options. "I've always been a fan of Paris Baguette!" shares Nickey Boyd, pastry chef at Josephine in Jacksonville, FL. "Their locations bring a cozy vibe and always transport me to a neighborhood café in Paris."
Boyd's must-have at Paris Baguette is a strawberry croissant. "The flaky layers are perfectly buttered and are filled with an airy Bavarian cream and fresh strawberries—what's not to love about that? It's a classic dessert with a twist, and that's similar to my baking style," Boyd adds.
Levain Bakery
Justin Ellen of Everything Just Baked shares that his favorite bakery chain is Levain Bakery, the bakery that got its start in New York City's Upper West Side, became a sensation, and can now even be found in certain grocery stores. One of its most talked about treats is its cookies.
"They make the most decadent, freshest cookies you will ever taste!" says Ellen. "I always go for the classic chocolate chip cookies and they never disappoint. Perfectly thick and chewy just how I like them—whenever I deliver a cake to NYC I make sure to stop there."
Sprinkles
Sprinkles, the bakery chain that is most famous for its tasty cupcakes, is a favorite of Carolyn Truett, a former pastry chef and founder of Caramel and Cashews.6254a4d1642c605c54bf1cab17d50f1e
"I found this amazing cupcake shop while on my honeymoon in New York City," says Truett. "The cupcakes are light and fluffy with just the right amount of frosting. They also have gluten-free options!"
Laduree
Laduree, the renowned French bakery that is known for its high-end pastries and gorgeous tea rooms, has also captured the hearts of baking experts.
"Hands down the best macarons in Paris and I'm so glad they have US locations," says Teresa Ging of Sugar Bliss Bakery in Chicago. Ging explains that Laduree has the perfect shell—"slightly crunchy on the outside and soft on the inside"—and does a great job with flavors, especially the rose and raspberry macarons.
"It can be tricky to incorporate a floral flavor—it's usually either overtly dominant or non-existent as a flavor. The rose macaron from Laduree has a nice balanced floral flavor that isn't overpowering," Ging shares. "I'm such a fan of these two that at Sugar Bliss we do a raspberry rose macaron combination that is inspired by Laduree."