The 7 Best Cheesesteaks in Philadelphia, According to Chefs
Made with the perfect delicacy and a whole lot of cheese.
Philadelphia is an excellent food city, where you can sample iconic Federal Donuts, the uniquely Philly water ice (an Italian ice-adjacent combination of fruit, syrup, and finely shaved ice), or the greasy spoon diner special, scrapple (a mix of pork, spices, and cornmeal). However, as most know, the most iconic Philly food is a sandwich made from hot steak and melty cheese served on a long flaky roll. And, whether you like it slathered with Whiz (Cheese Whiz), provolone or American cheese is something that can get you into a long debate in the City of Brotherly Love. 
According to local legend, the cheesesteak was invented in 1930, when Pat Olivieri, a hot dog vendor and namesake to Pat's King of Steaks, threw beef on his grill to make a sandwich. A passing cab driver asked Olivieri to make one for him, and the rest is sandwich history. 
Whether you're planning a trip to this historic city, or you've been local to Philly your whole life, you probably know the cheesesteak debate has been going on since Pat first threw that beef on the grill. We don't have a definitive answer, but we checked in with chefs who live in Philly, grew up in Philly (or South Jersey), or just love the Philly food scene for their tips on the best cheesesteaks and why. 
Pat's King of Steaks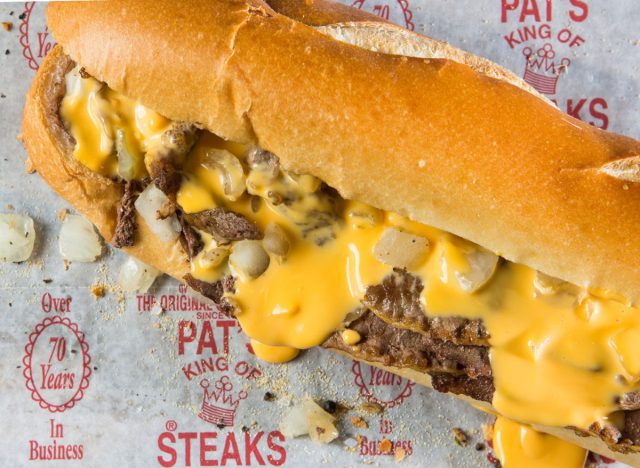 Obviously, this list had to include the originator, Pat's King of Steaks gets the nostalgia vote from chefs who grew up with the full experience. Chef Stephen Parker from Black Tap Craft Burgers and Beer, a multiple New York City Wine and Food Festival Burger Bash champion, has fond memories of visiting this spot at the corner of 9th and Wharton. 6254a4d1642c605c54bf1cab17d50f1e
"Nostalgia is the main reason this is one of my favorite places to get a cheesesteak. It is one of the OGs and still takes the crown," says Parker. "Everything from the Rocky movie, to the ordering procedure, makes for the perfect experience. They serve a classic Philly-style cheesesteak." 
Pat's also serves Mushroom Steaks, Pizza Steaks, Pepper Steaks, hot dogs, Fish Cake sandwiches, and fried with or without cheese sauce. Be sure to bring cash because that's all the iconic spot accepts.
Geno's Steaks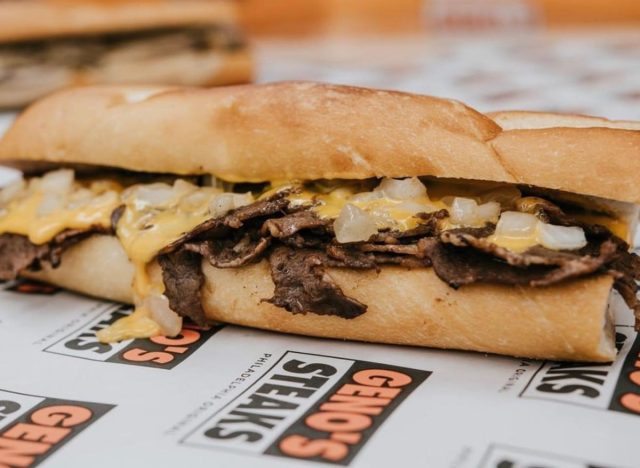 Straight across the intersection from Pat's, at 9th and Passyunk, sits Geno's Steaks, another cheesesteak institution. Founded by Philly native Joey Vento in 1966, Geno's prides itself on serving thinly sliced rib-eye steak that grills up nice and juicy, and celebrity Chef Ming Tsai is a fan. 
The Iron Chef told us he always hits Geno's Steaks when he's in Philadelphia. Tsai says, "Classic and best extruded cheese and those creamy french fries. Also, great orange baguettes!"
John's Roast Pork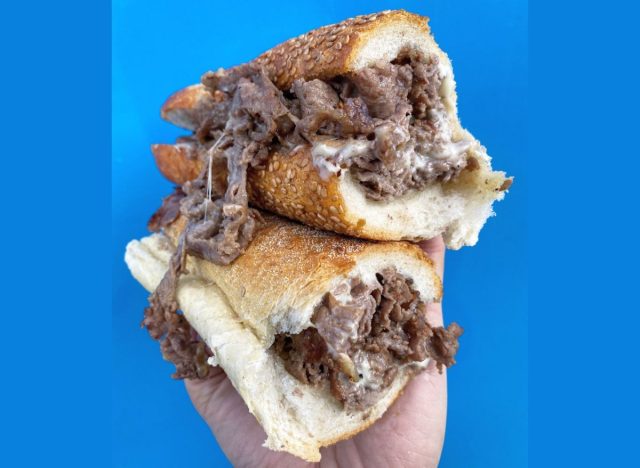 This South Philly mainstay claims to have "the ultimate cheesesteak" and several of the chefs we spoke with agree wholeheartedly. Executive Chef Thomas Harkins of Bank & Bourbon in Center City, Philadelphia gave a rousing endorsement to the provolone-topped cheesesteaks.  
"The best cheesesteak in Philadelphia is from John's Roast Pork in South Philly," says Harkins. "It is packed full of meat and they weave the cheese in and out of the sandwich for a pure taste of Philly in every bite."
Chef Parker agrees, telling us, "Carangi Baking Company is one of the reasons why John's is the best. The inside of the roll absorbs the juices, while the crusty exterior prevents leakage. Plus, the crunch of the roll lends a hand to the soft steak and gooey cheese. A great roll, well-seasoned steak, and cheese throughout the sandwich, make John's the champ of Philly."
Angelo's Pizzeria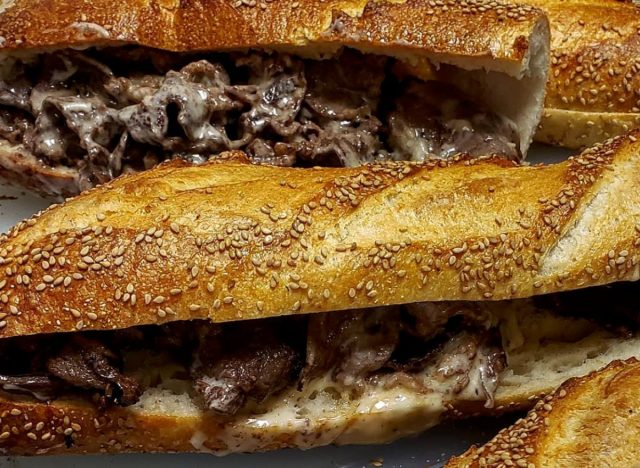 Harkin's other pick is also all about the bread, and the cash only Angelo's Pizzeria makes theirs in-house. 
"Another spot in South Philly/Bellavista is Angelo's on Christian Street. They make homemade bread daily—it is truly what makes the sandwich," Harkins said.
At Angelo's, you can also get Pizza Steaks, Diavolo Pizza Steaks, Chicken Steaks, and Buffalo Chicken Cheesesteaks. And if you're looking for another Philly classic, try one of the many hoagies.
Jim's on South Street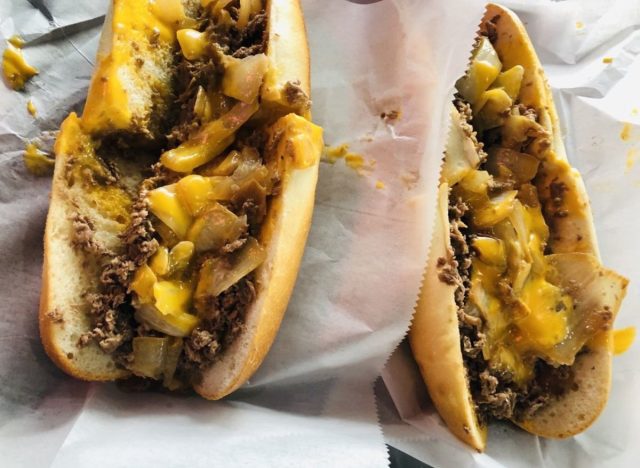 Boston-based Chef Michael Serpa, of Select Oyster Bar, Little Whale Oyster Bar, and Atlántico, is a Pennsylvania native who has done his cheesesteak research, and his choice is Jim's South Street.
"Growing up in Pennsylvania, I was always a fan of Jim's on South Street," says Serpa. "I loved the whole vibe in that place. It was our go-to before checking out all the shops on South Street back in the day as kids. They currently are closed from a fire, but are expanding and reopening later this year. I haven't had a cheesesteak in forever but I might have to pay a special visit for one once they're back up and running." Check the shop's Facebook page for updates.
Rocco's Italian Sausages and Philly Cheese Steaks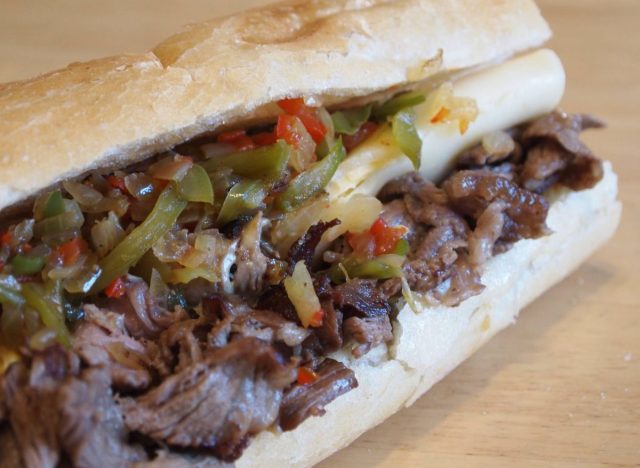 This humble Philly sandwich shop (don't get it mixed up with the food truck in Phoenix, Ariz.) also gets a nod from Parker. 
"The cheesesteaks here feature hearty chunks of steak mixed with American cheese, served on a roll that can barely contain all the juices. Just damn good"
Barry's Steaks and Hoagies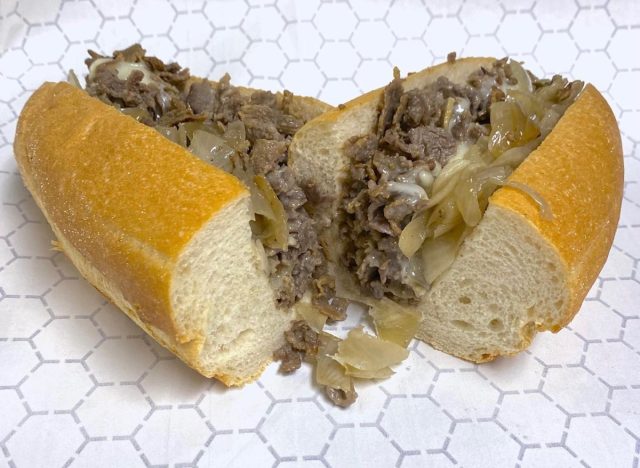 Founded by Roxborough native Barry McGuinn, and his wife Wendy in July of 1989, Barry's is a family-owned and operated cheesesteak spot that's been open for over 30 years. Chef Brian Pancir, Corporate Culinary Director of Thompson Hospitality Group, tells us it tops his list. 
"Philly has many top cheesesteak sandwich spots and it's hard to only choose one, but over the last few years, Barry's Steaks and Hoagies has my taste buds bursting like fireworks. The thinly sliced sirloin steak with American cheese on a soft hoagie roll is a simple but most perfect combination," Pancir raved to us.
Tanya Edwards
Tanya Edwards is a seasoned food and health journalist, who has held roles at Yahoo Health as Managing Editor and at Food Network as Programming Director.
Read more about Tanya