7 Fast-Food Chains That Serve the Best Steak Sandwiches
In the mood for beef but don't want a burger? These chains are serving up unbeatable steak sandwiches.
The product recommendations in this post are recommendations by the writer and/or expert(s) interviewed and do not contain affiliate links. Meaning: If you use these links to buy something, we will not earn a commission.
Fast-food chains are often immediately associated with the classic hamburger as a prominent menu item. Indeed, it is not difficult to find this sandwich at your local drive-thru. But of course, the hamburger is not the only kind of sandwich out there that uses beef, and for fans of steak sandwiches, there are plenty of great options.
Several fast-food chains specialize in steak sandwiches or offer hot and cold versions of sliced steak on crusty rolls. Cheesesteak, in general, is surging on menus and shows up in 19.5% of chain menus in 2023, reports research company Technomic. 
So when you're in the mood for steak, whether it's a gooey Philly cheesesteak or some other variation, these chains each offer something to satiate your cravings. Plus, most of these chains stand out for serving fresh ingredients, hand-sliced meats, and unique menu options that offer their customers something different than the usual suspects.
The next time you have a hankering for beef, skip the burger and consider a steak sandwich at one of these seven sandwich chains. 
You would hope that a fast-food chain with "Philly Steaks" in the name would serve up a great steak sandwich, and Charley's Philly Steaks rises to the occasion. Its signature Steak Philly Cheesesteak is made with high-quality USDA choice steak "grilled and seasoned to perfection," per Charley's website. Charley's also serves up an Old School Cheesesteak with cheese sauce and a Bacon 3 Cheesesteak for even more meaty goodness.
What's better, the classic Philly Cheesesteak from Charley's is one of the better-for-you menu items if you stick to its smaller serving size. The sandwiches at Charley's come in small, regular, and large sizes to satiate any level of hunger.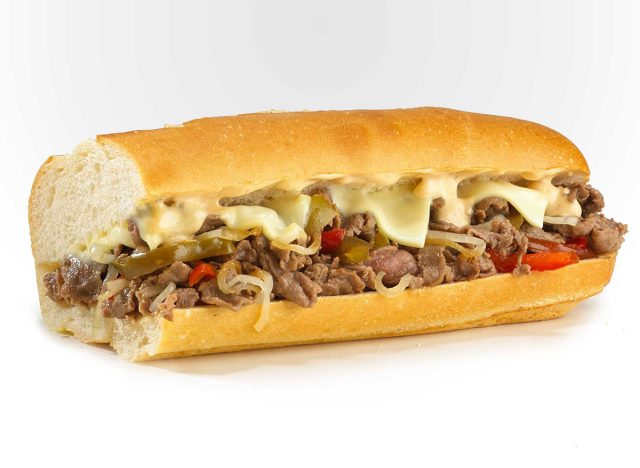 Do not sleep on Jersey Mike's—according to a 2022 survey by Market Force, it ranked number one as consumers' top pick among sandwich chains. So it should come as no surprise that the steak sandwiches sold at Jersey Mike's are part of the reason customers love the chain so much.
Jersey Mike's menu of hot subs includes Mike's Famous Philly, along with unique spins like the Portabella Cheese Steak and Chipotle Cheese Steak. For cold sandwiches, customers can order Roast Beef and Provolone, made with USDA Choice top rounds.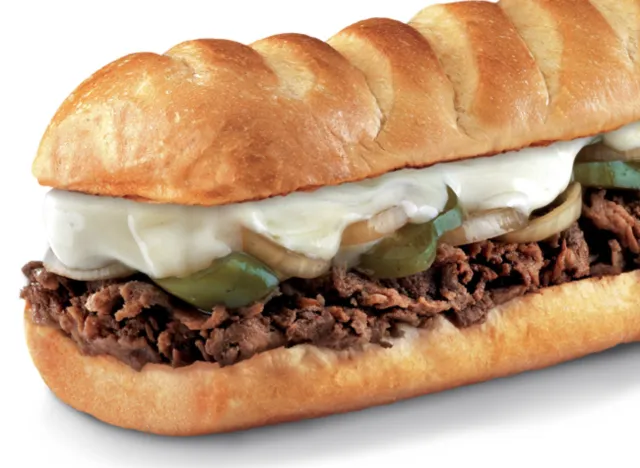 Firehouse Subs is all about delivering big flavor, and thankfully you do not have to search its menu long to find mouth-watering steak sandwiches. For Philly fans, there's the Firehouse Steak & Cheese. Customers can also custom-build their own sandwiches with premium roast beef. Its signature subs also include the Smokehouse Beef & Cheddar Brisket, which is made with USDA Choice beef brisket smoked for up to 16 hours, according to its website.6254a4d1642c605c54bf1cab17d50f1e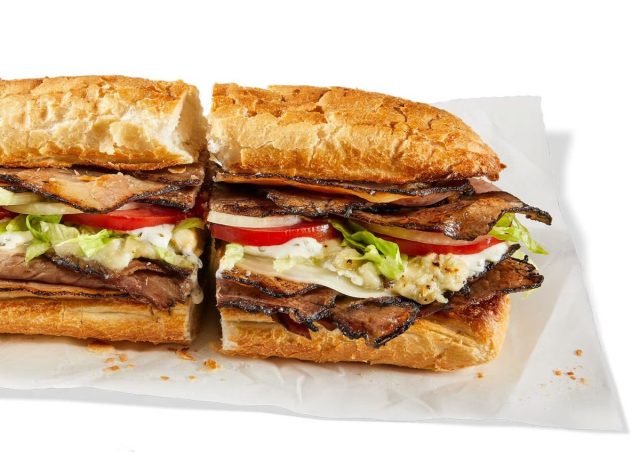 Potbelly is growing fast with no intention of slowing down. The sandwich chain posted record revenue in 2022 as it works its way to operating 2,000 total locations in the next decade. Potbelly thinks it can get there thanks to its tasty menu items, which include the signature Steakhouse Beef Sandwich and the classic Roast Beef Sandwich, both made with Angus beef. These days, customers simply cannot keep away from Potbelly, and its steak sandwiches are a part of its recent comeback.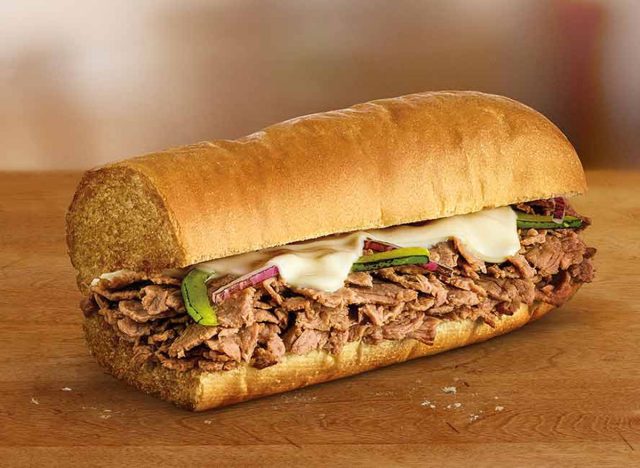 When it comes to customizable sandwiches, it is hard to top Subway. There is probably a Subway not too far from where you live—the sandwich chain has the most locations of any fast-food chain on the planet. So Subway certainly has the most accessible steak sandwiches. Its Philly Sandwich is a top seller according to its website, but it also keeps things fresh and interesting by offering three other steak sandwiches on its recently-added-to Subway Series Menu—the Teriyaki Blitz, The Outlaw, and The Monster. The regular menu also has a Steak & Cheese sub.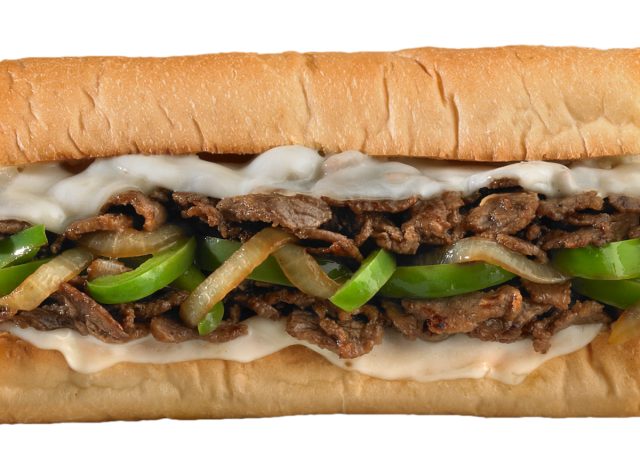 Which Wich is a sandwich chain with locations in 37 U.S. states. Despite slowing growth in recent years, many customers are still loyal to Which Wich. The chain has a unique ordering system where the customer writes their order on a paper bag. Novelty aside, Which Wich gives steak sandwich fans what they want with its Philly Cheesesteak which is made with sirloin steak, provolone, caramelized onions, and sautéed bell peppers. It also has a sub called a Chzbrgwich which is made with sliced sirloin steak, bacon, cheddar, tomatoes, caramelized onions, pickles, and 1,000-island dressing.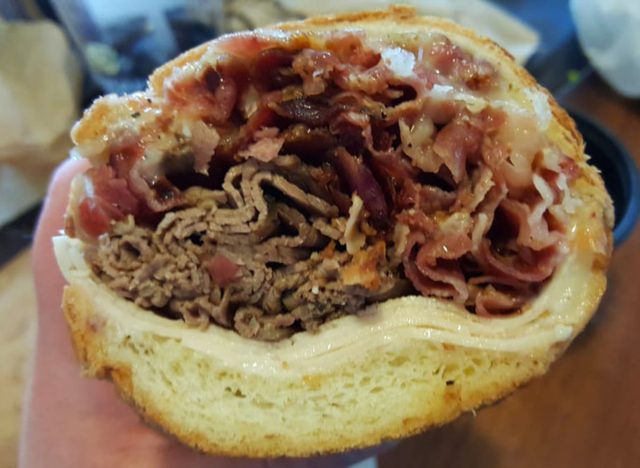 West Coast sandwich chain Togo's is a fan favorite for many reasons, steak sandwiches being chief among them. Togo's is very big on its steak sandwiches, even introducing a new cheese steak melt in 2021 for its 50th anniversary according to 1851 Franchise.
Its limited-time Cheese Steak sandwich was so popular, it became a regular menu item. The key to Togo's success with its steak sandwiches, along with the other meats it serves, has to do with how it hand-slices the meat fresh in-store every day.
Carly Terzigni
Carly Terzigni is a freelance writer specializing in all things food, travel, Disney, and theme parks.
Read more about Carly