The Most Popular Cookie in Every State
From chocolate chip to peanut butter, what's your state craving?
Whether you crave the sweet and salty flavors of chocolate chip, the butteriness of sugar cookies, or the warm spices in snickerdoodles, every cookie should be celebrated. And while December 4 is National Cookie Day, we don't need a food holiday to reach for the cookie jar. From ice cream sandwiches to whoopie pies, cookies are arguably America's favorite treat. But which cookie comes out on top and is truly beloved in every state?
We looked to the one and only Nestle Toll House, which issued a nationwide consumer survey on the most popular cookies in America. Kentucky loves its Bourbon Spice and Vermont prides itself in Maple Pecan. But who can't get enough chocolate chip? We're sure you want to know which cookie best represents the state you're from!
So without further ado, here is a breakdown of the most popular cookies in every state. And for more, don't miss The Most Popular Cake Flavor in Every State.
ALABAMA: Peanut Butter with Chocolate Chips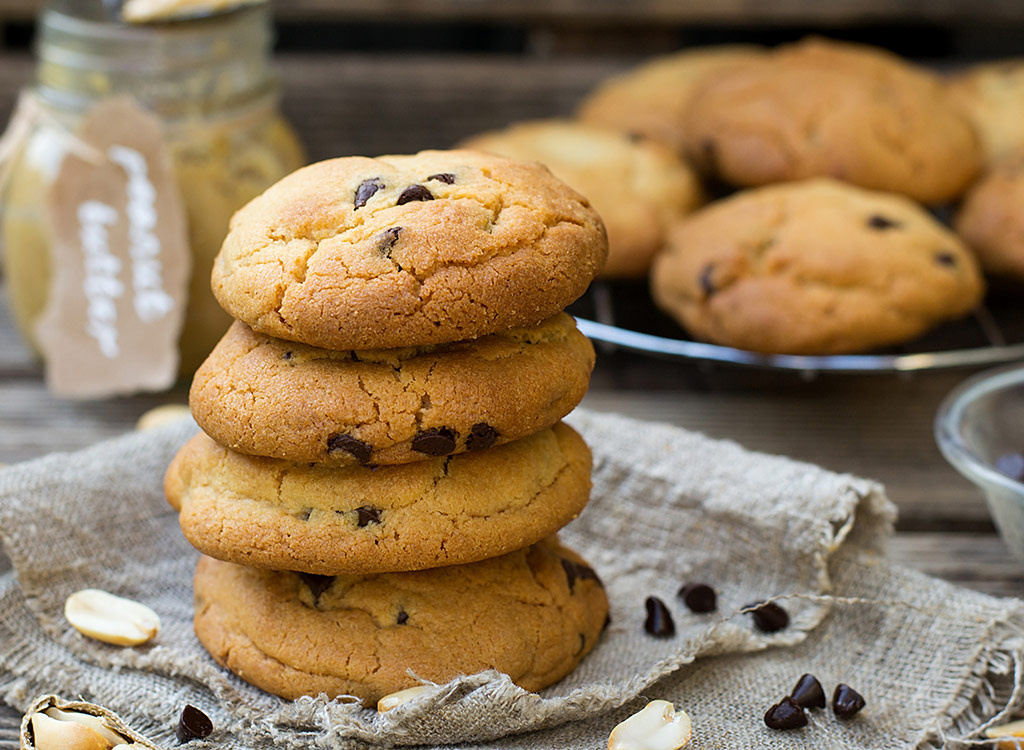 'Bama is best known for country-fried steaks, banana pudding, and fried green tomatoes, but the state's favorite cookie is none other than peanut butter with chocolate chips. Perhaps, it's because it's the state where college football lives and reigns, and peanut butter makes the ultimate game-viewing snack.
ALASKA: Russian Tea Cakes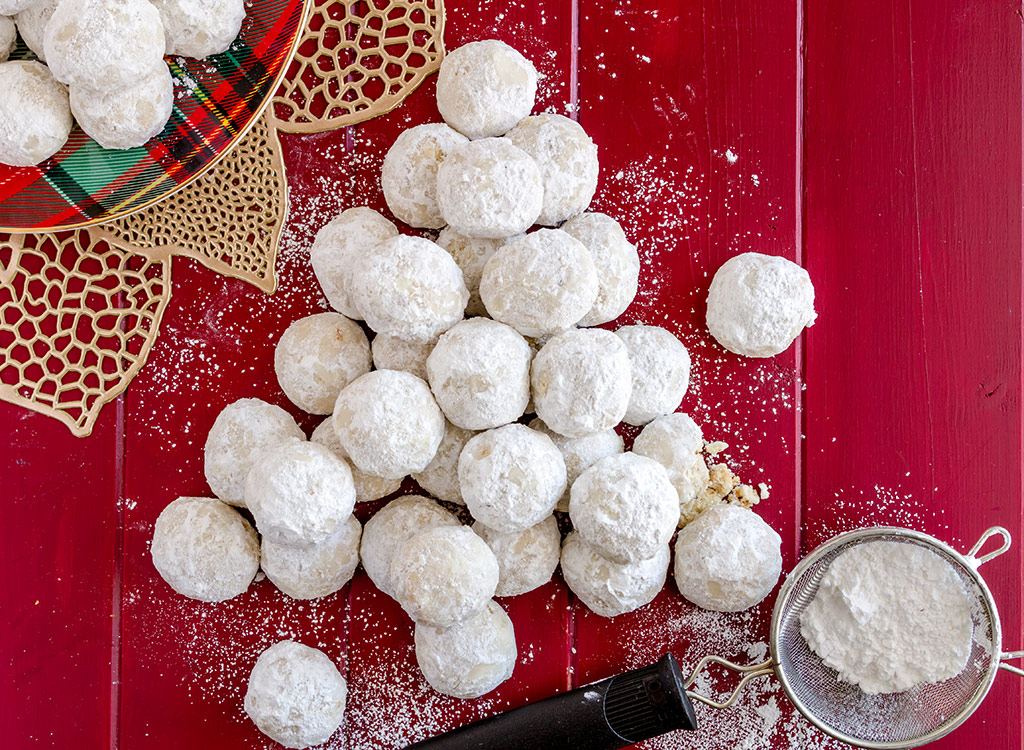 When Russia negotiated with the U.S. for the Last Frontier, they left crumbs of their culture behind in the form of Russian Tea Cakes. Russian Tea Cakes, also known as polvorones, are small balls of buttery dough filled with finely ground nuts that are rolled twice in powdered sugar. They basically look like mini snowglobes.
You'll find the best Mexican fare around when you visit the Sunset State, so it's not surprising that Arizona residents have chosen Mexican Wedding cookies as their favorite treat. Mexican Wedding cookies are very similar to Russian Tea Cakes because they have a thick dusting of powdered sugar and a rich buttery texture. They're often cut into crescent moon shapes.
Looking for the best spot to enjoy Mexican food? Check out The Best Mexican Restaurant In Every State.
ARKANSAS: Peanut Butter with Chocolate Chips
Arkansas is tucked inside the Southern belt of classic comfort food, and no cookie screams "comfort" quite like peanut butter with chocolate chips. Peanut butter lends a smooth and creamy texture and infuses a salty, sweet flavor that's hard to resist. Sprinkle the dough with some chocolate chips, and you've got some crunch, too.
CALIFORNIA: Peanut Butter with Chocolate Chips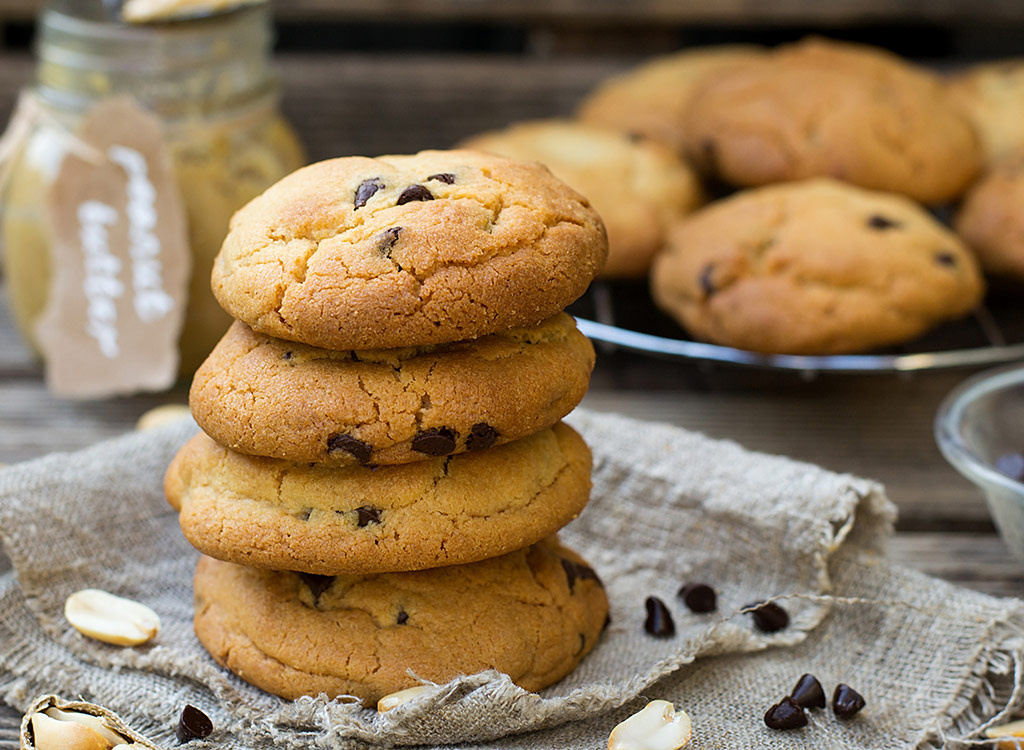 Thanks to California's sunny weather, it's home to some of the tastiest foods: wine, avocados, almonds, truffle oil. Should we go on? So there's no better way to define the Golden State than two mighty flavors: peanut butter and chocolate.
Want to try making another type of cookie with these classic flavors? Check out The Easiest Peanut Butter Blossoms Cookie Recipe.
COLORADO: Chocolate Chip with Nuts
With its breathtaking mountain views and green plains, Colorado is all about foods that resemble their rocky roads. Whether you like chocolate chips with walnuts or pecans, you'll need a hearty cookie to journey up the Centennial State's stunning climbs.
CONNECTICUT: Chocolate Chip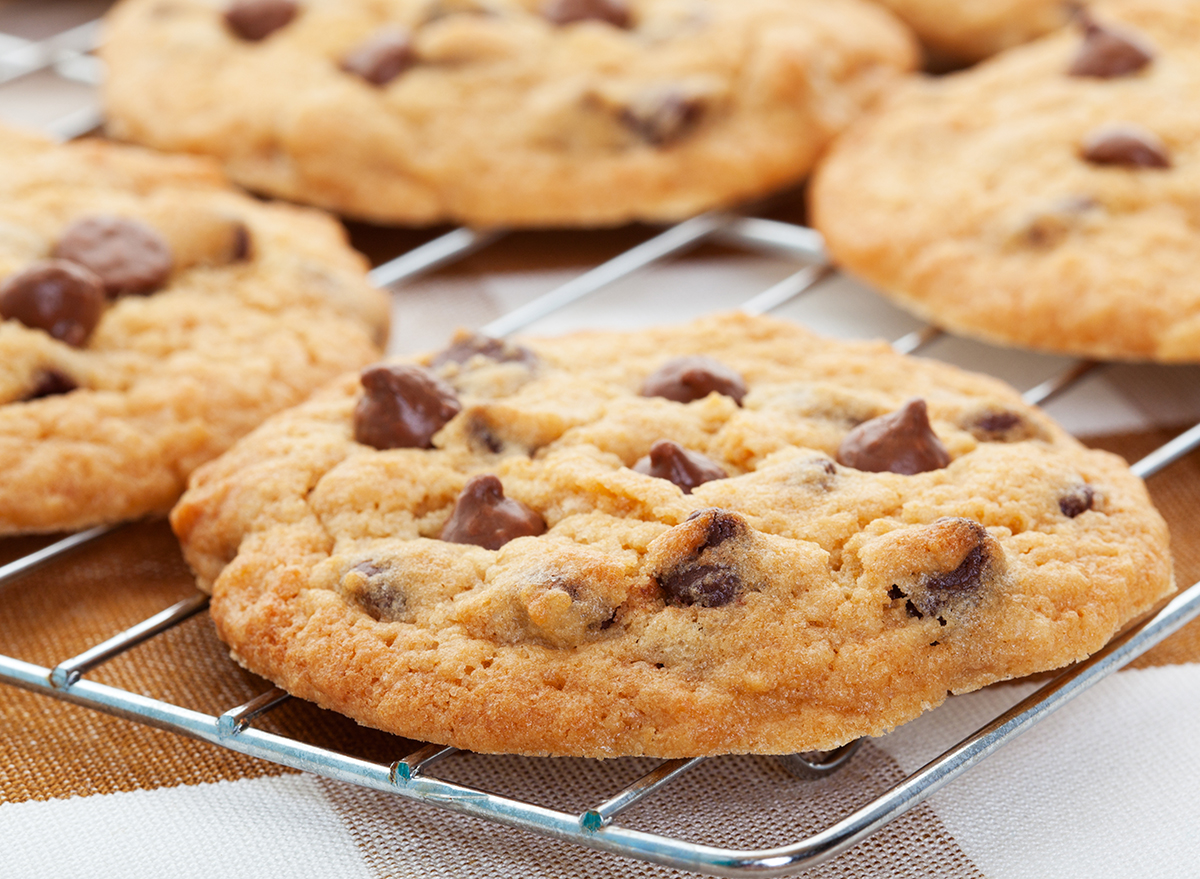 Collegiate, classic, chocolate chip: These are the best words to describe the Nutmeg State, according to its residents. But if you happen to be visiting Connecticut, be sure to dig into its quintessential suburban towns, which are also home to some of the tastiest New England eats.
Thinking about baking up a batch yourself? This is The Single Best Way to Keep Homemade Cookies Fresher for Longer.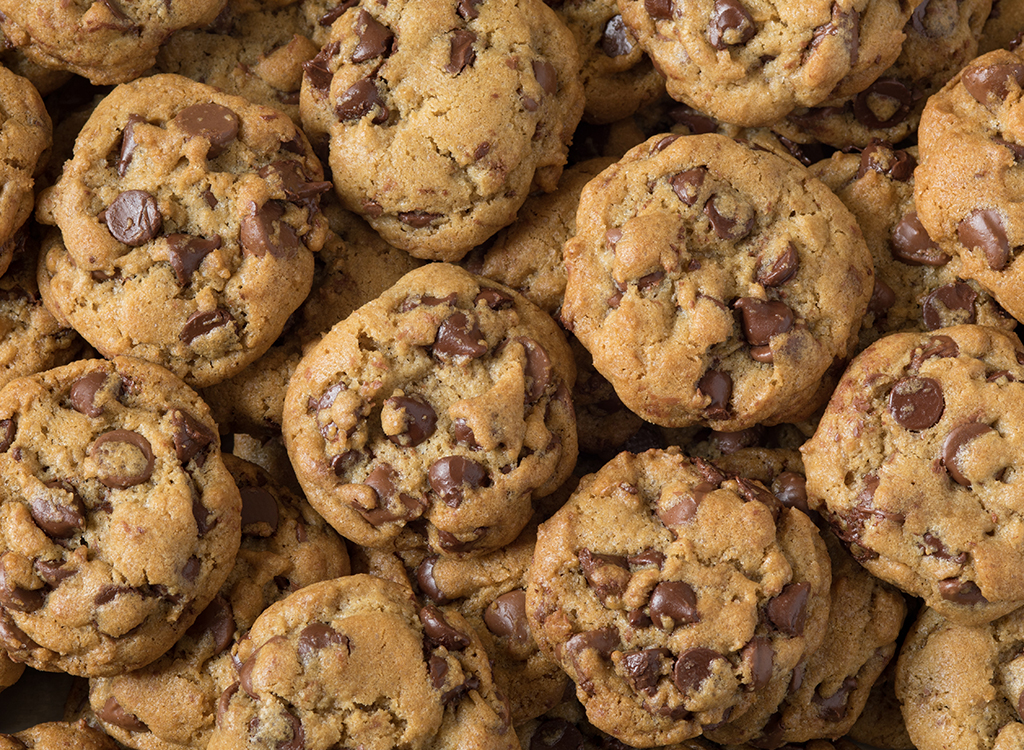 During the summer, families will flock to Delaware's oceanside towns, where farm-to-shop ice cream is a local favorite. And we bet something with chocolate chip cookies gets into a cone.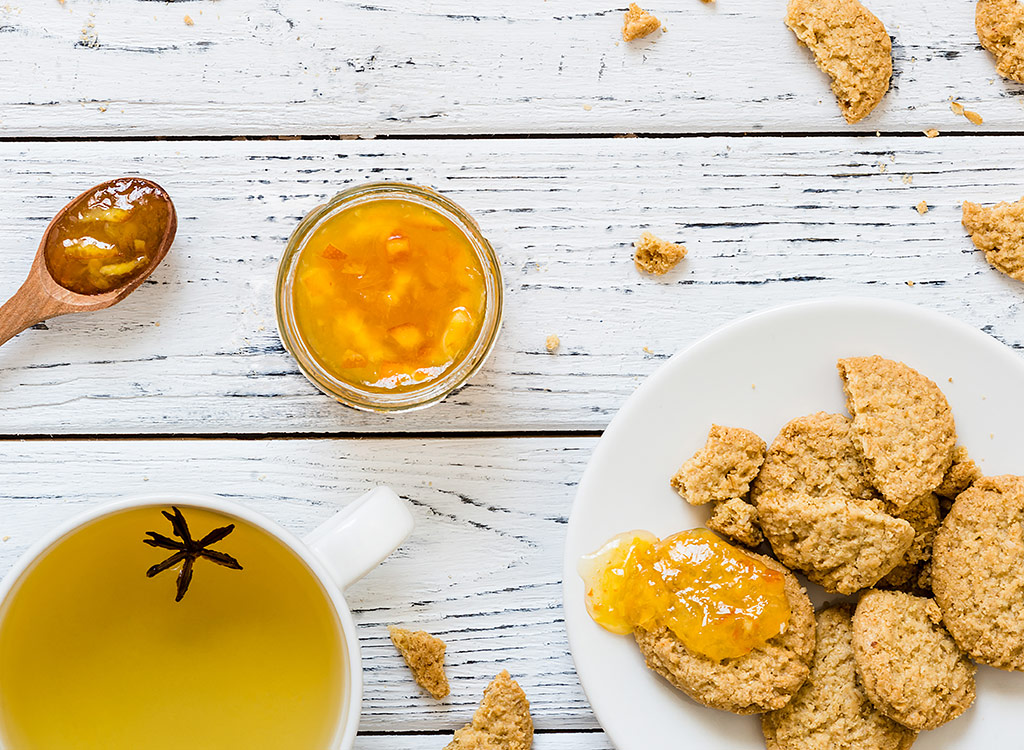 The Sunshine State is all about its citrus, whether it's key lime pie or orange juice. As the official state fruit, oranges make their way into any dessert from Miami down to the Florida Keys.
GEORGIA: Peanut Butter with Chocolate Chips
You'd think there would be chunks of peach hiding in Georgia's cookie, but it's the old-fashioned PB with chocolate chips that wins the heart of Savannah.
HAWAII: White Chocolate Macadamia Nut
One bite of a white chocolate macadamia nut cookie will transport you to the land of hulas and surfers. White chocolate and macadamia nuts lend a nice sweetness to the buttery cookies.6254a4d1642c605c54bf1cab17d50f1e
IDAHO: Oatmeal Chocolate Chip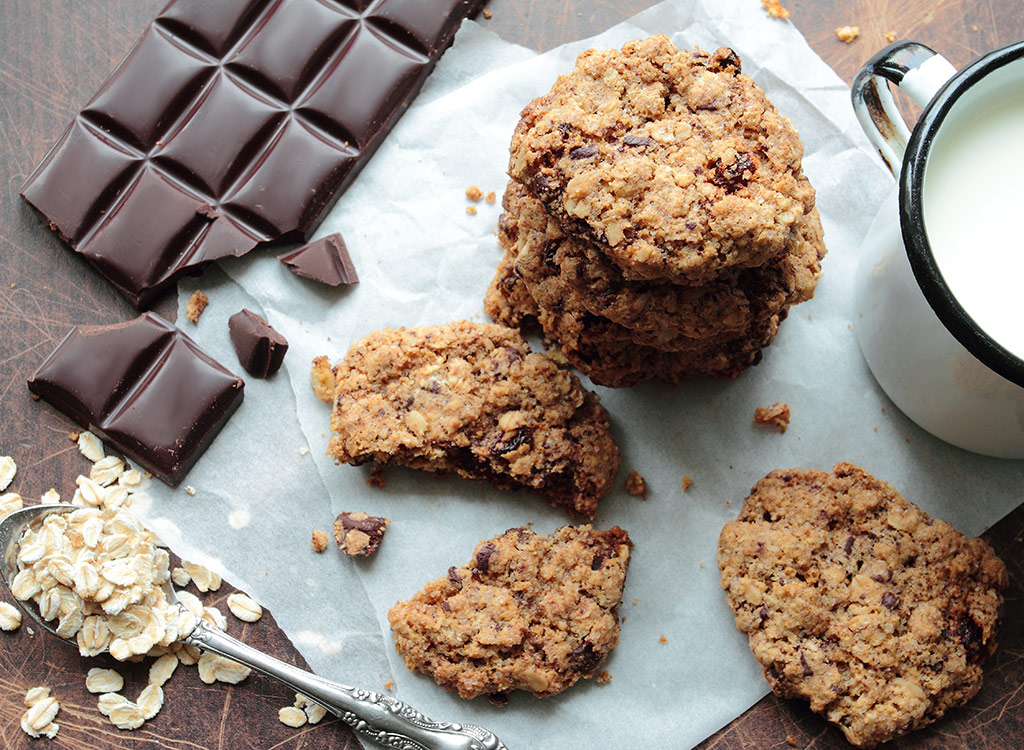 Between the potatoes, wheat, and oats, Idaho is known for its bounty of crops. So it's no surprise the state's cookie of choice is oatmeal chocolate chip.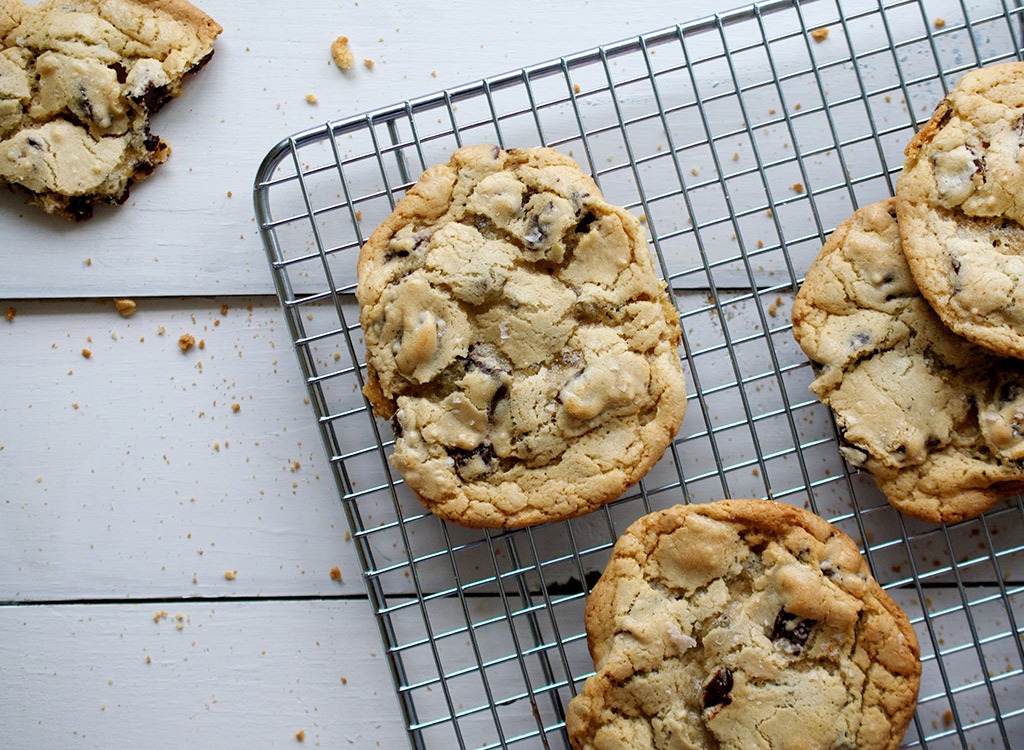 In the land of Lincoln (and Obama), chocolate chip cookies take the cake. Its rich, buttery texture and hearty chocolate chips pay homage to the state's diverse landscape and cultures.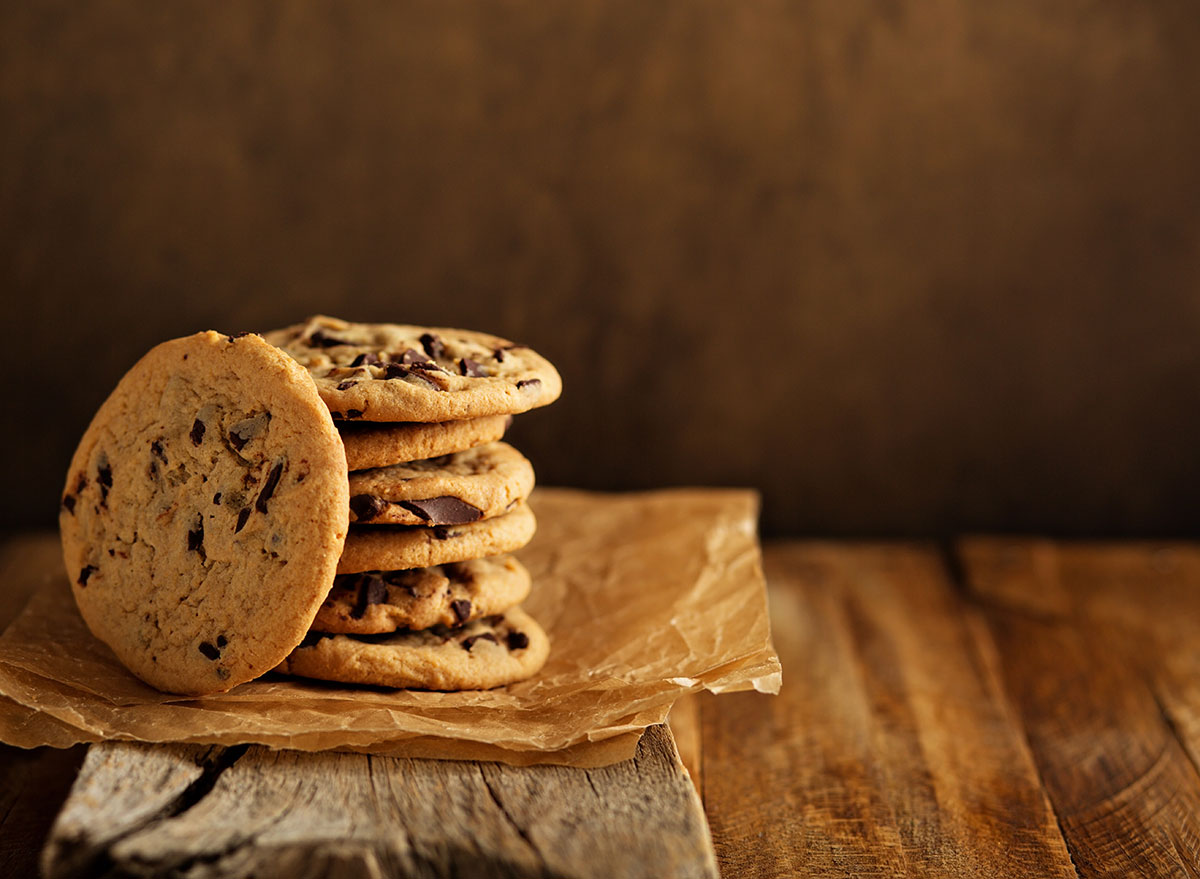 The Midwest is all about the chocolate chip cookie. Notice a trend here? The Hoosiers are no different when they for voted this classic treat.
We think Iowa's popular Blue Bunny ice cream will make the perfect frozen 'wich with some chocolate chip cookies.
Want to know exactly where you can get the best scoop to pair with your cookie? Check out The Absolute Best Ice Cream Shop in Every State.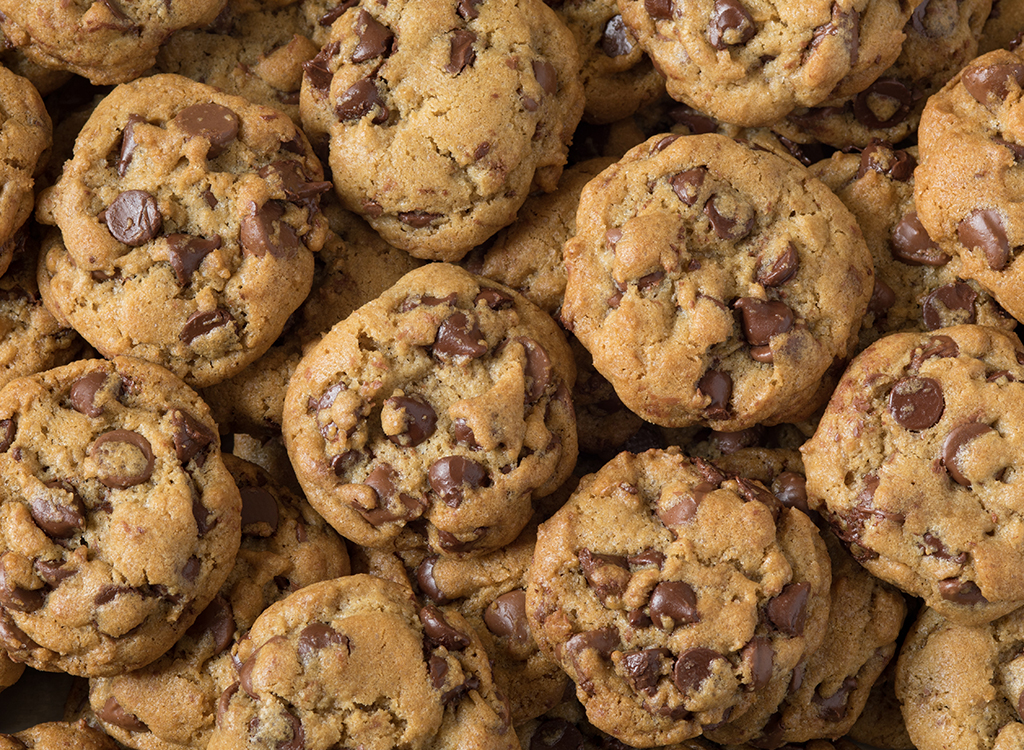 With abundant farmland and cattle, you'd think that Kansas' cookie would feature some bacon, but the "Home on the Range" is serious about sticking to their Midwestern roots with the chocolate chip cookie.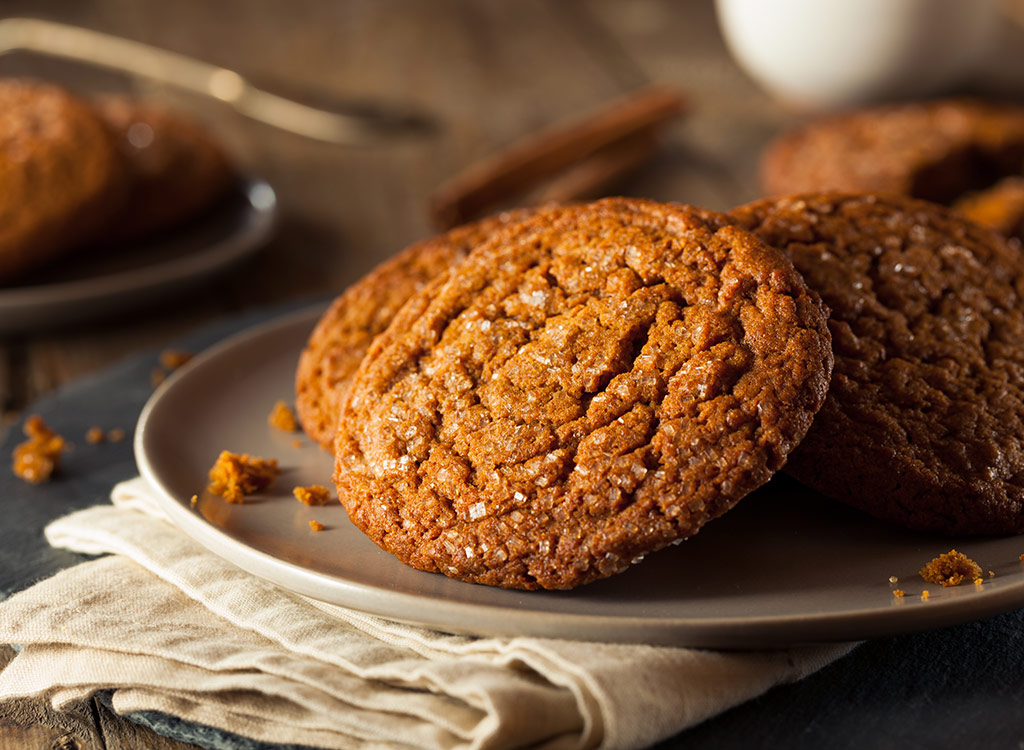 The Bluegrass State is the biggest distributor of—you guessed it—bourbon. And you bet it's in the Commonwealth's culinary concoctions as it is in its cocktails.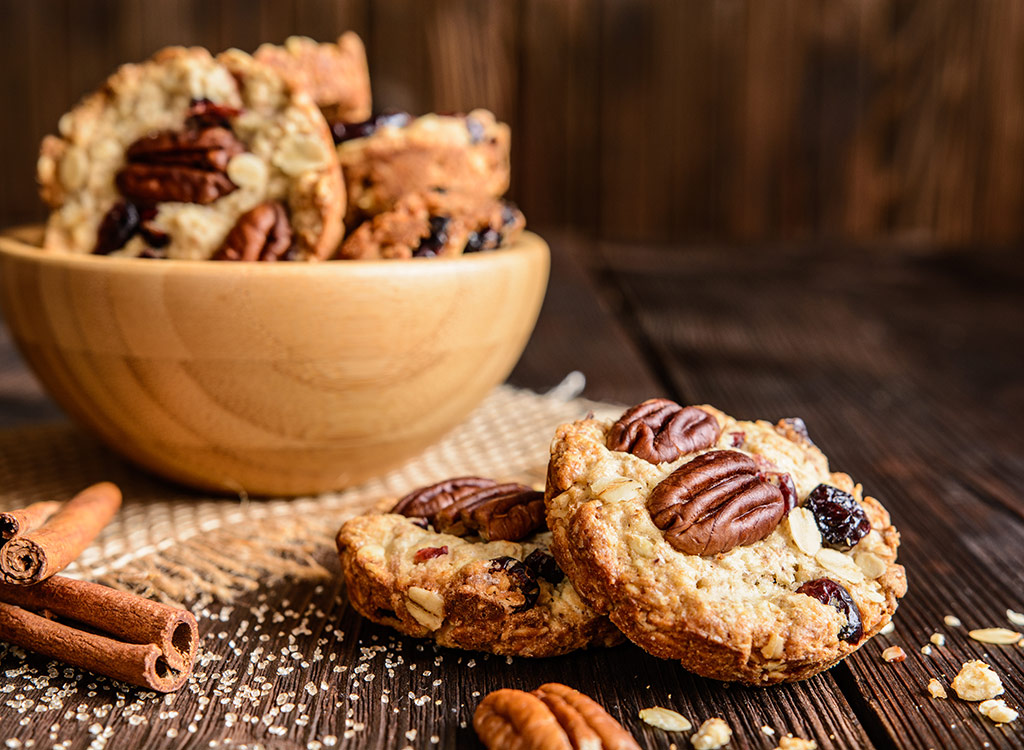 With jambalaya and gumbo, what's not to love about Cajun and Creole country food? But when it comes to dessert, Louisiana picks maple pecan cookies over beignets.
Lobster rolls and clam chowder aren't the only things you'll find to eat in this New England state. In fact, molasses seeps its way onto many of Maine's desserts. The warm, thick, and not-too-sweet taste of molasses plays well with gingerbread cookies.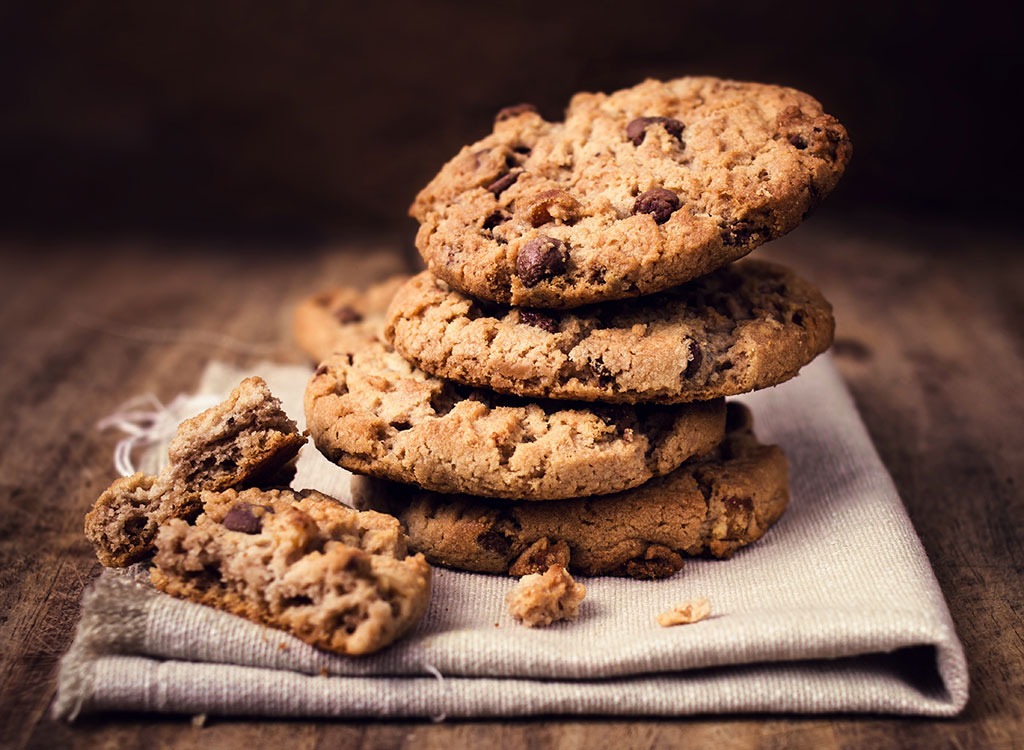 Unfortunately, crab cakes aren't offered with chocolate chip cookies in Baltimore. But we wouldn't judge you for ordering some for dessert!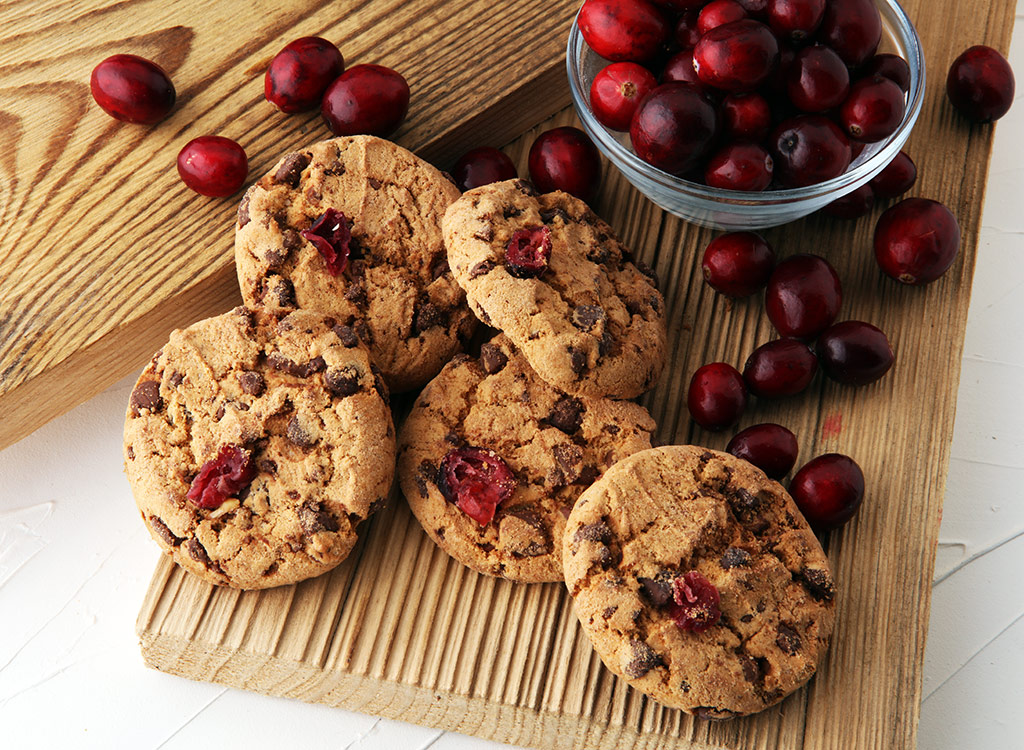 Massachusetts does fall flavors best, and cranberry cookies are a great celebration of the season. Adding cranberries to cookies can also help you cut back on the sugar and infuse some natural sweetness to the treat.
The state of Michigan is the shape of an oven mitt, so it's only fitting that Michigan residents bake the best cookies, right? As one of the many states that chose this classic cookie, we could only hope that they like baking them deep-dish, Detroit-style.
MINNESOTA: Chocolate Chip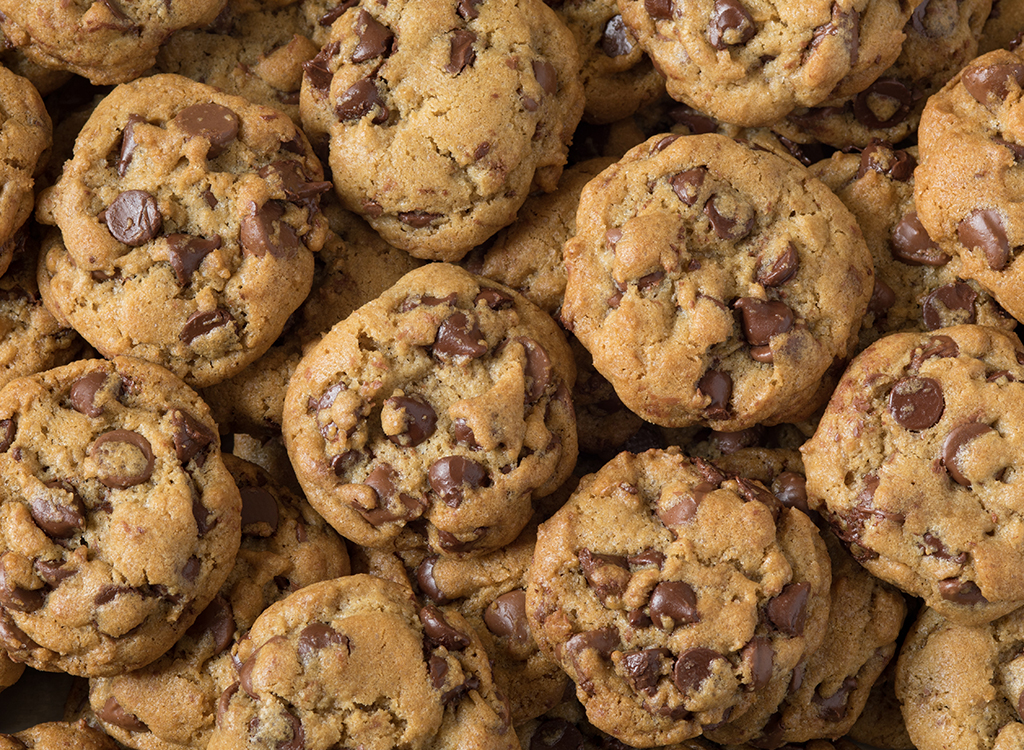 Minneapolis was formerly known as Mill City, so it's become an epicenter for bread and baked goods in the country. The chocolate chip cookie is also the North Star's favorite, and we're pretty sure their pastry chefs have it down to a science.
MISSISSIPPI: Peanut Butter with Chocolate Chips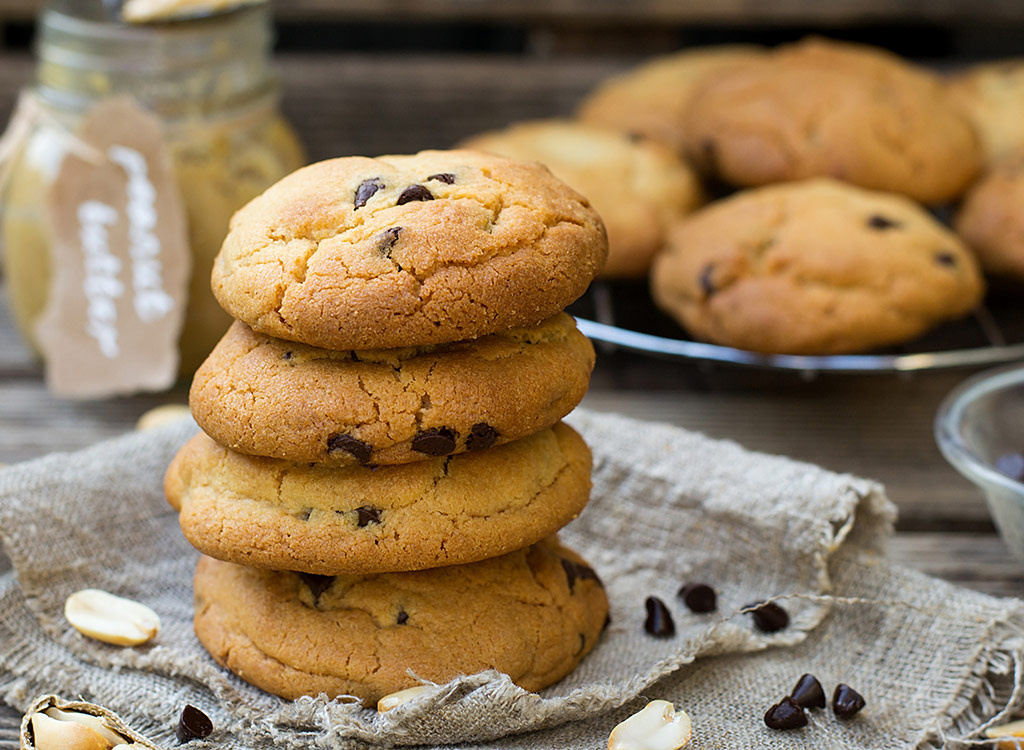 As the country's capital of Southern fare, Mississippi is all about offering up the most indulgent comfort foods. While other states on this list also voted for peanut butter and chocolate chips, we think the Magnolia State can make the treat iconic.
Yet another state on the list that loves chocolate chip cookies! If you've ever visited St. Louis, you know that gooey butter cake is a local favorite, and we're pretty sure they would make these cookies the same way.
If you're looking for even more sweet treats, here's your guide to The Most Magical Chocolate Shop in Every State.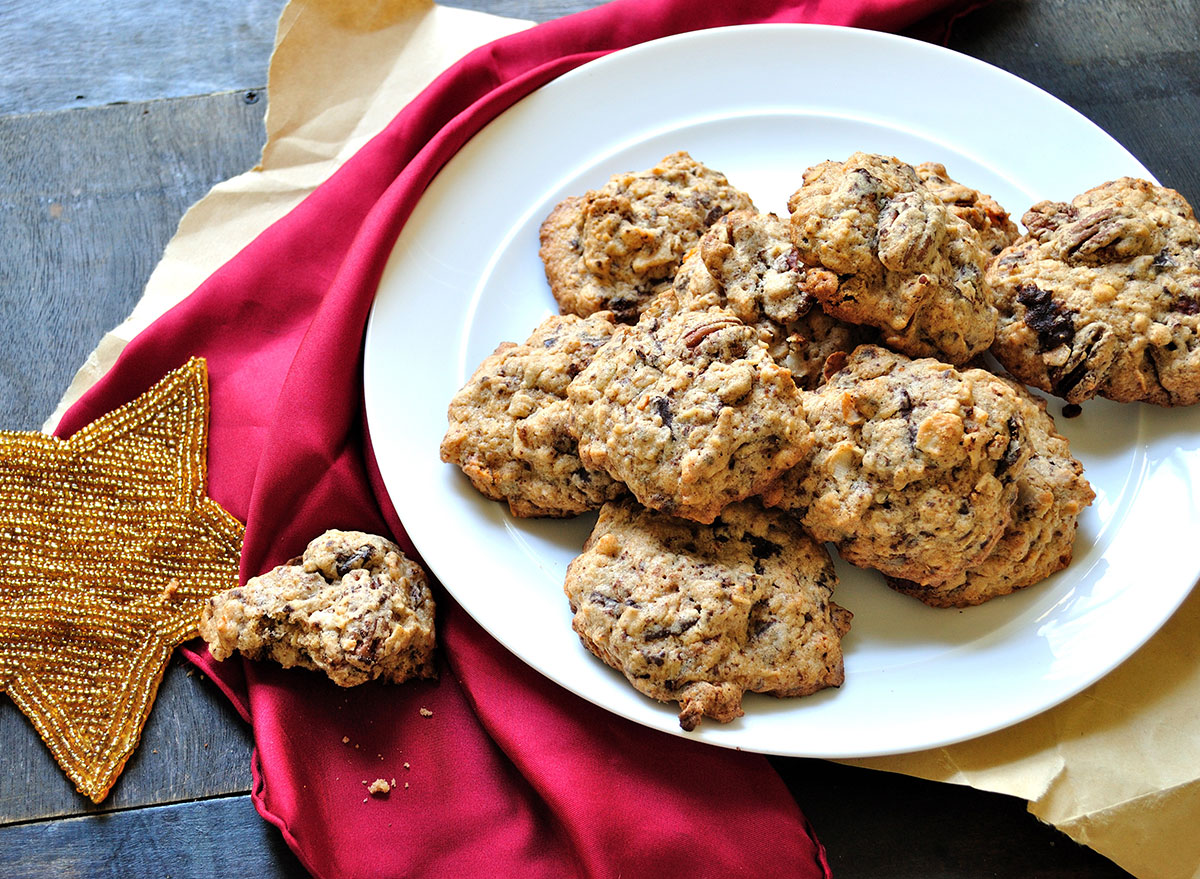 Cowboys are the bad boys in the Wild West of cookies. They're thick and hefty with oatmeal, chocolate chips, pecans, coconut, and brown sugar.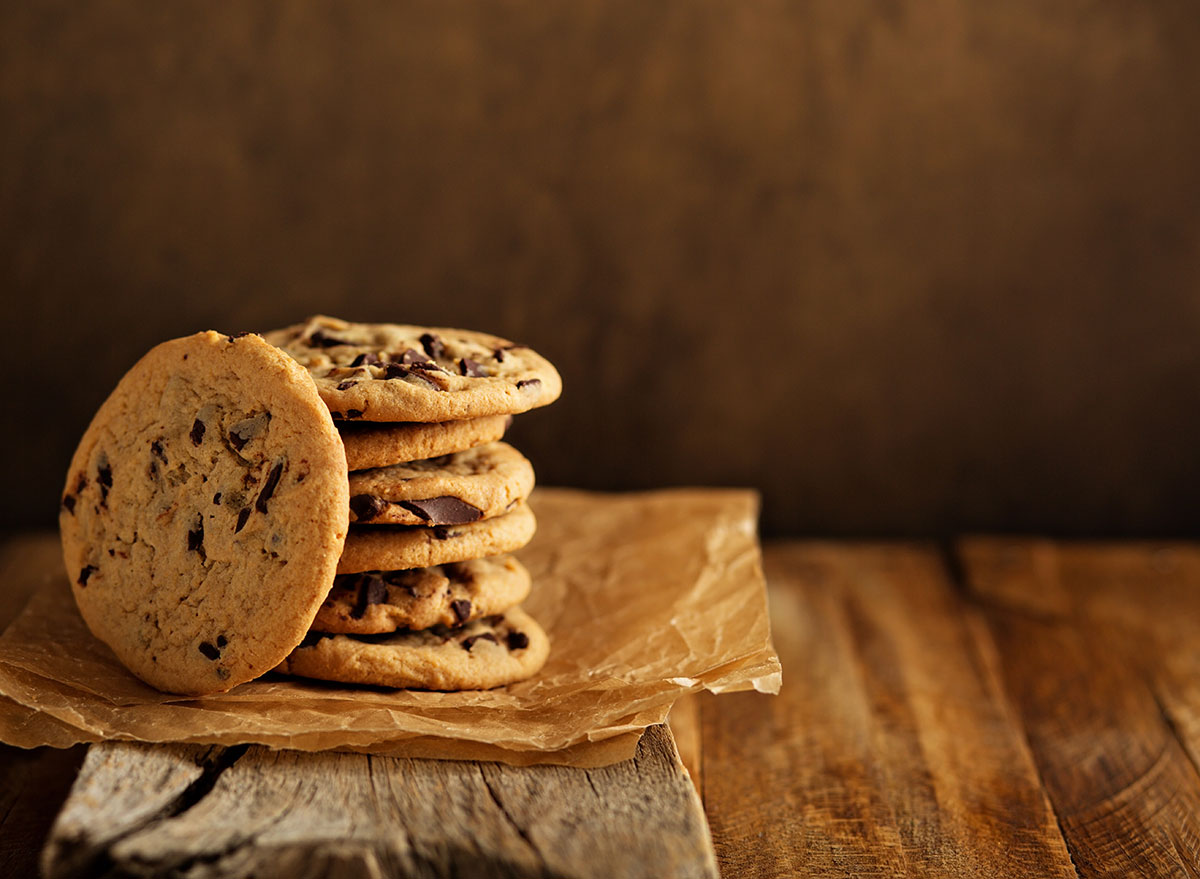 Omaha God! While Nebraska is filled with corn and beef, traditional chocolate chip cookies get the vote for the state's favorite.
NEVADA: Peanut Butter with Chocolate Chips
If Nevadans had to choose two foods to eat in the desert, it's peanut butter and chocolate chips. Creamy and satisfying, peanut butter seems to be everyone's sweet savior.
NEW HAMPSHIRE: Pumpkin Spice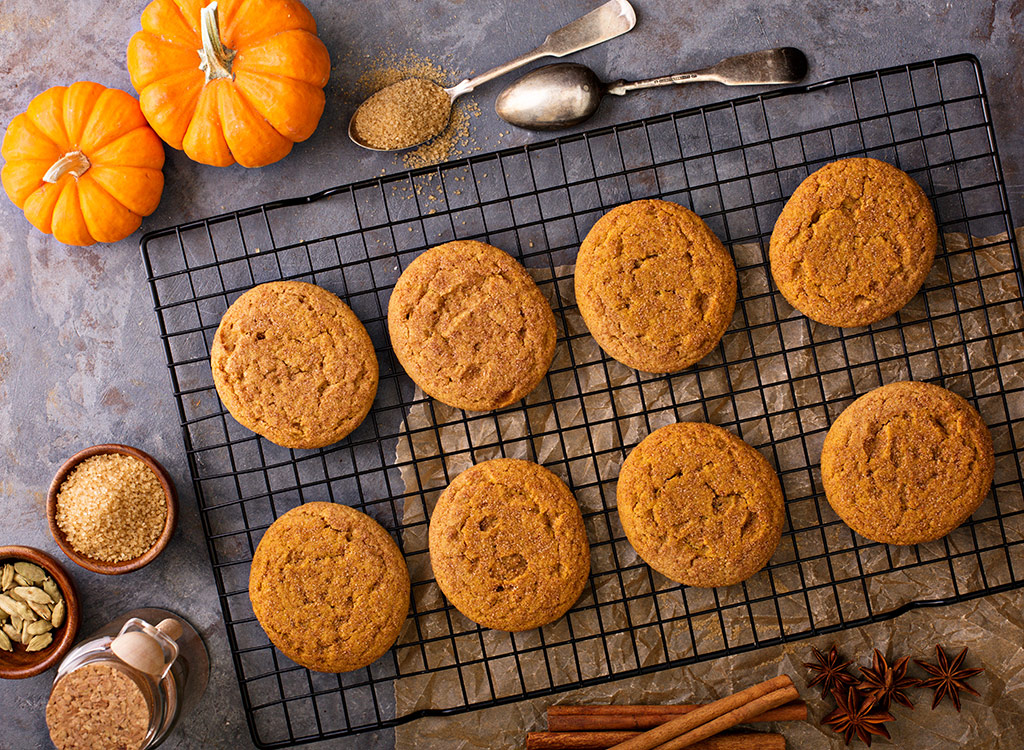 Pumpkin pie cookies come to mind when you describe New Hampshire's foliage in food terms. Are the cinnamon, nutmeg, and allspice hitting your senses yet?
NEW JERSEY: Chocolate Chip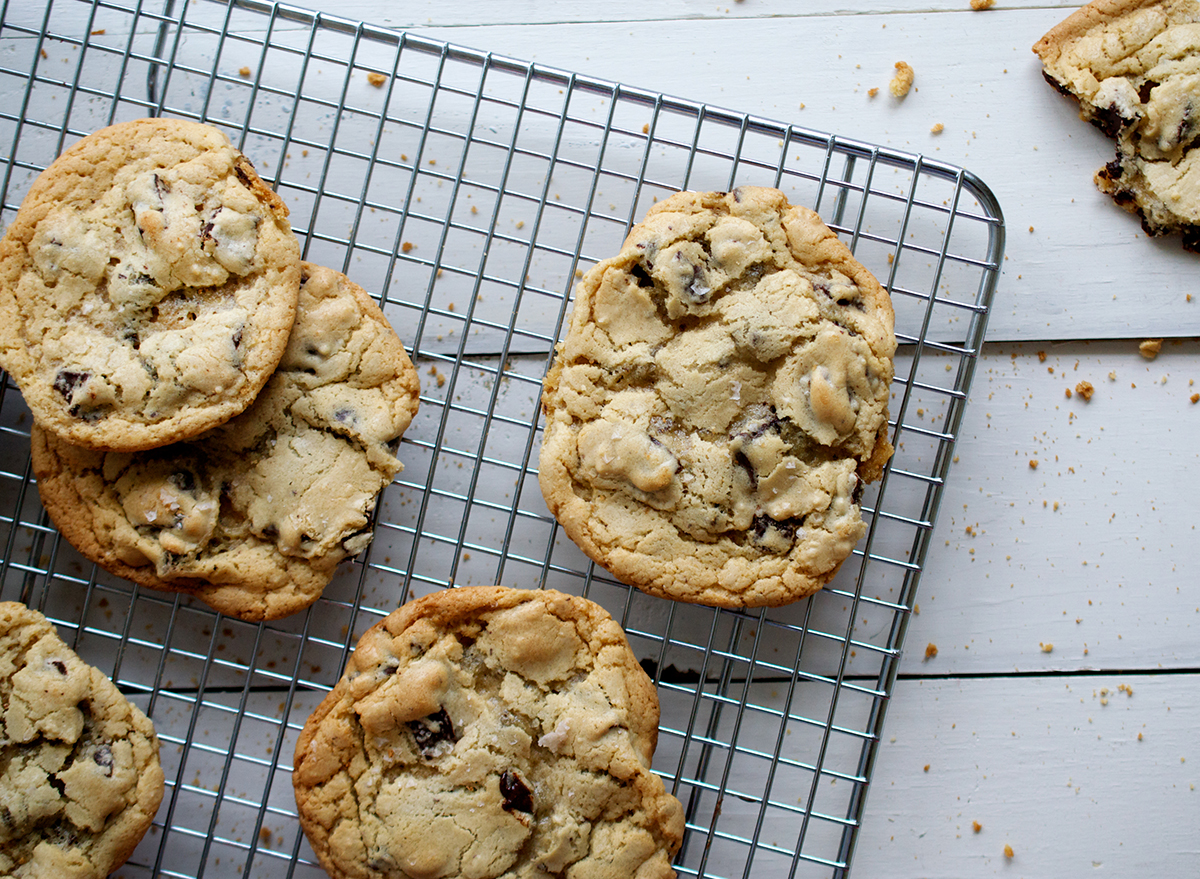 People who hail from the Garden State will argue they've got the best pizza, disco fries, and Taylor ham (or is it pork roll?), so don't expect them to think anything less of their chocolate chip cookies.
What other sweet treats are popular choices? The Most Popular Candy Bar in Your State has more.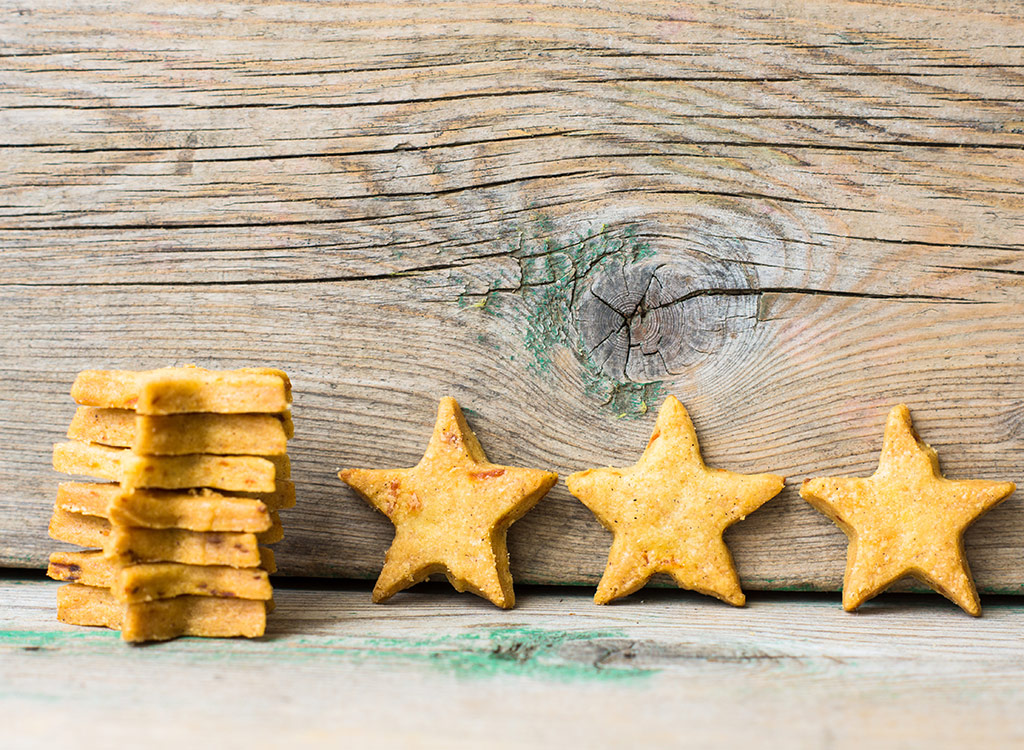 Bischochito is a butter-based cookie that's flavored with cinnamon and anise. You can usually find the cookie in the shape of stars and crescent moons.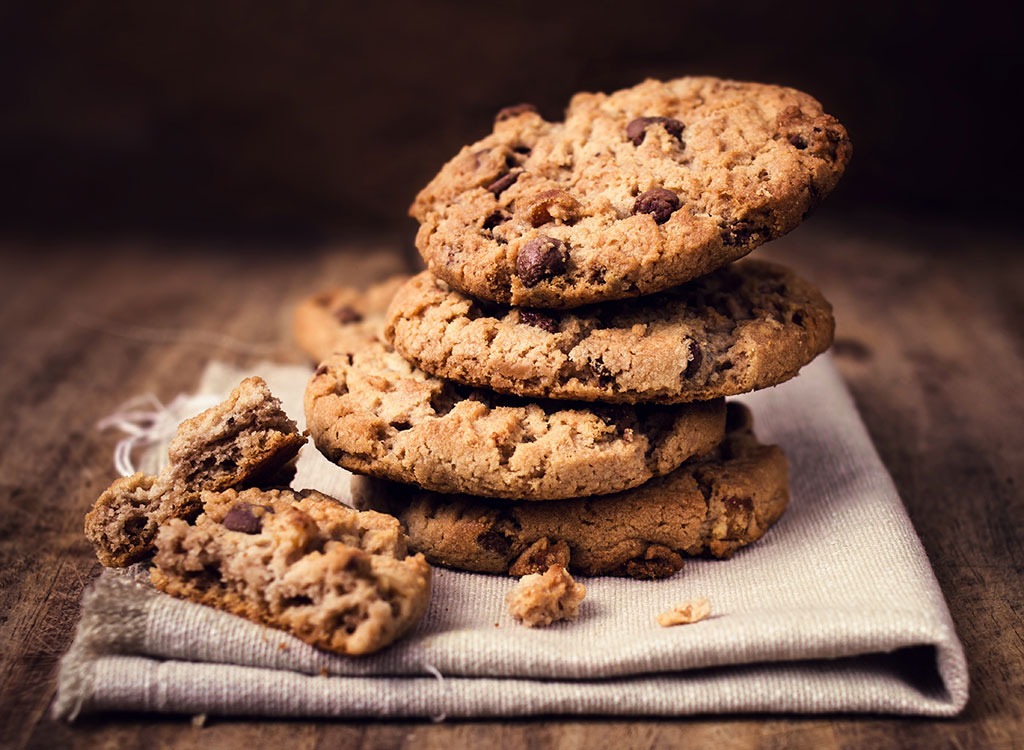 Whether you like Levain, Insomnia Cookies, or Jacques Torres, these all-star New York City bakeries house some of the best chocolate chip cookies in the world.
NORTH CAROLINA: Chocolate Chip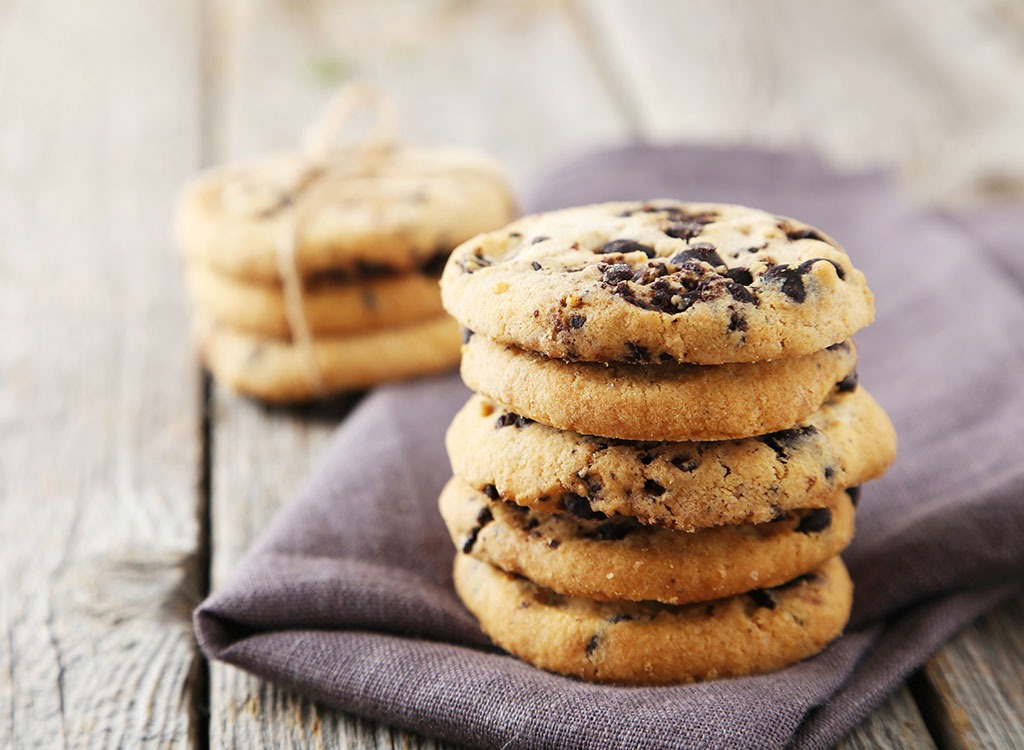 In the homeland of Krispy Kreme donuts, the Tar Heels and Blue Devils rank chocolate chip cookies number one.
NORTH DAKOTA: Chocolate Chip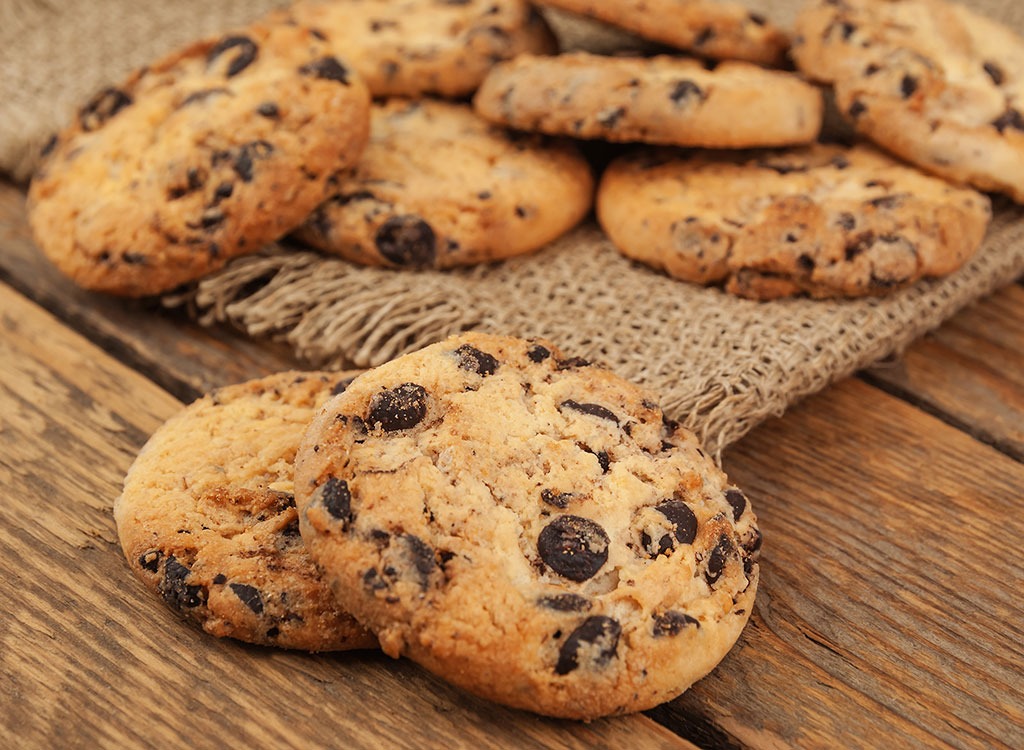 Have we convinced you yet that chocolate chip is the most popular cookie variety? It's no surprise that North Dakota, which is known for its Chippers (chocolate-coated potato chips), loves the sweet and salty flavor combo in their cookies, too.
OHIO: Peanut Butter with Chocolate Chips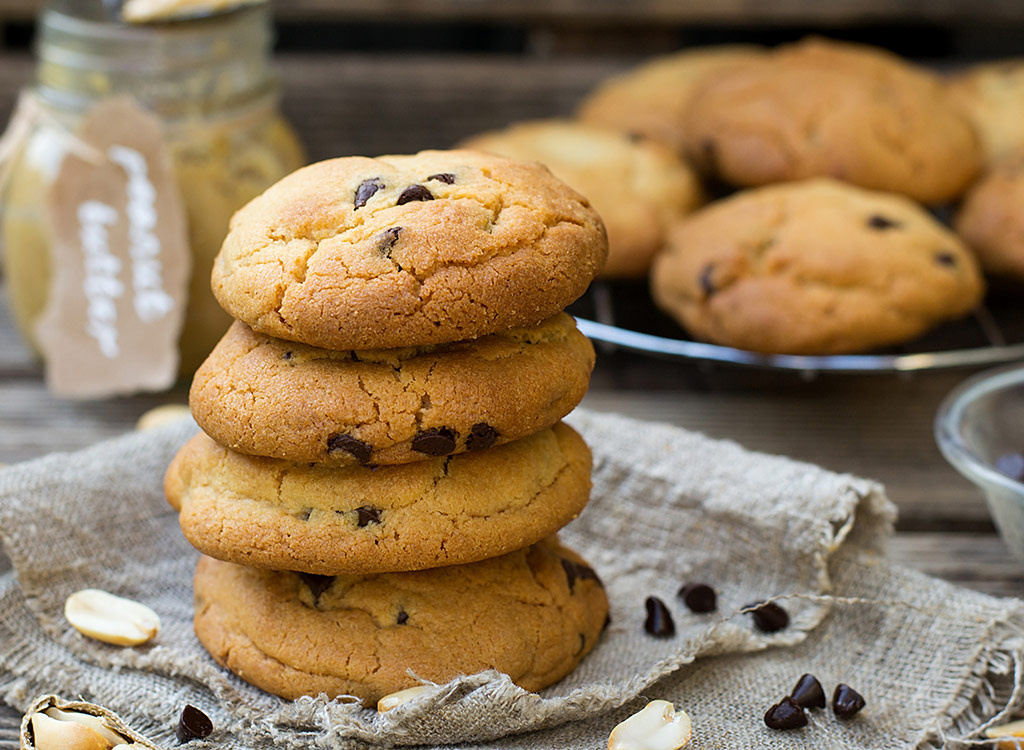 Buckeye candy happens to be a thing, and guess what it features: peanut butter and chocolate. A ball of peanut butter fudge is coated with milk chocolate and finished with peanut butter.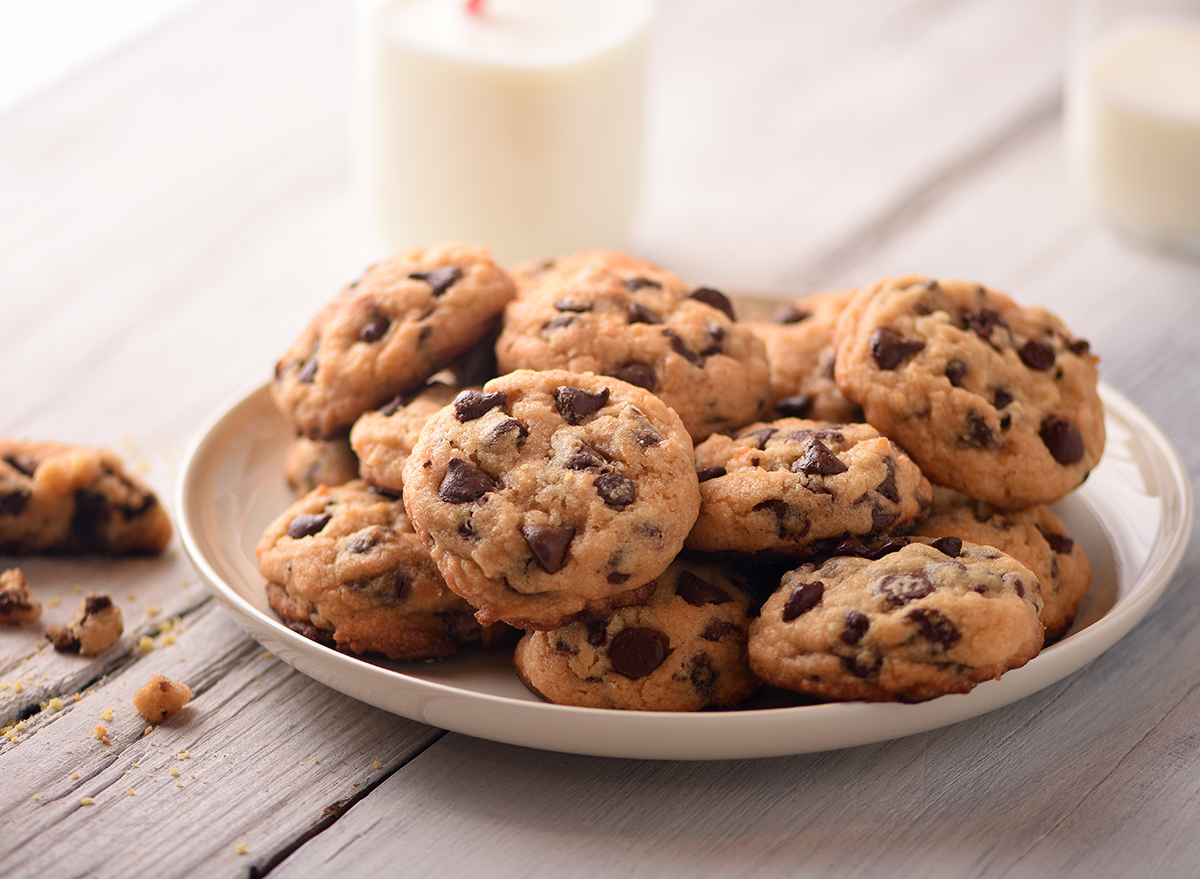 The official state meal of Oklahoma is a heavy dish consisting of fried okra, cornbread, barbecue pork, squash, biscuits, and sausage and gravy. But for dessert, Oklahoma residents would rather have chocolate chip cookies than strawberries (the state fruit) or fried pies (a local favorite).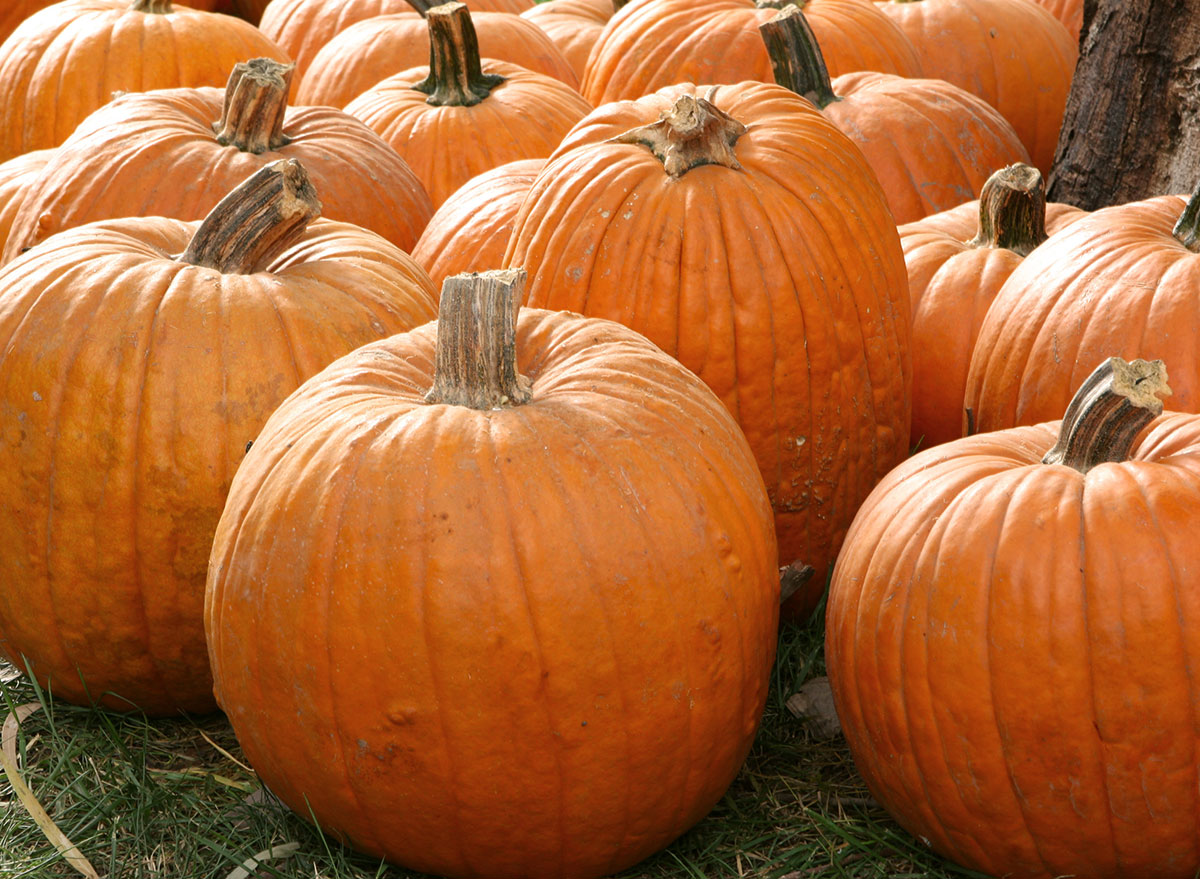 If you're hopping on the Oregon Trail this fall, there are plenty of pumpkin patches throughout the state to visit. The Beaver State takes pride in preparing high-quality, local food from many of its farms.
PENNSYLVANIA: Peanut Butter with Chocolate Chips
There's more to Pennsylvania than hoagies, cheesesteaks, and shoofly pies. It's also home to Hershey, the official distributor of Reese's peanut butter and chocolate cups.
Biscotti is most similar to Rhode Island's hermit cookies, which are made with reused dough, cinnamon, nutmeg, cloves, raisins or currants, and molasses.
Want to know which cookies to make this year? These 25 Easy Christmas Cookie Recipes give you plenty of options.
SOUTH CAROLINA: Peanut Butter with Chocolate Chips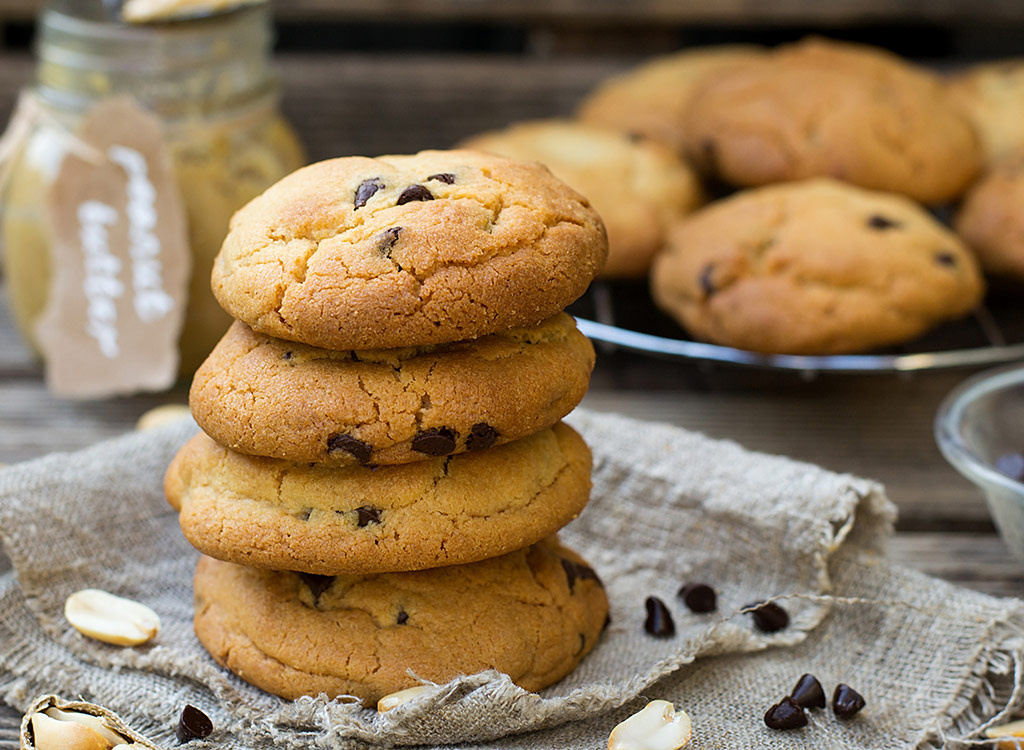 Peanuts are one of South Carolina's most abundant crops in the summer, so much that they've become a pantry staple in the South. Boiled peanuts, in particular, are a local favorite.
SOUTH DAKOTA: Chocolate Chip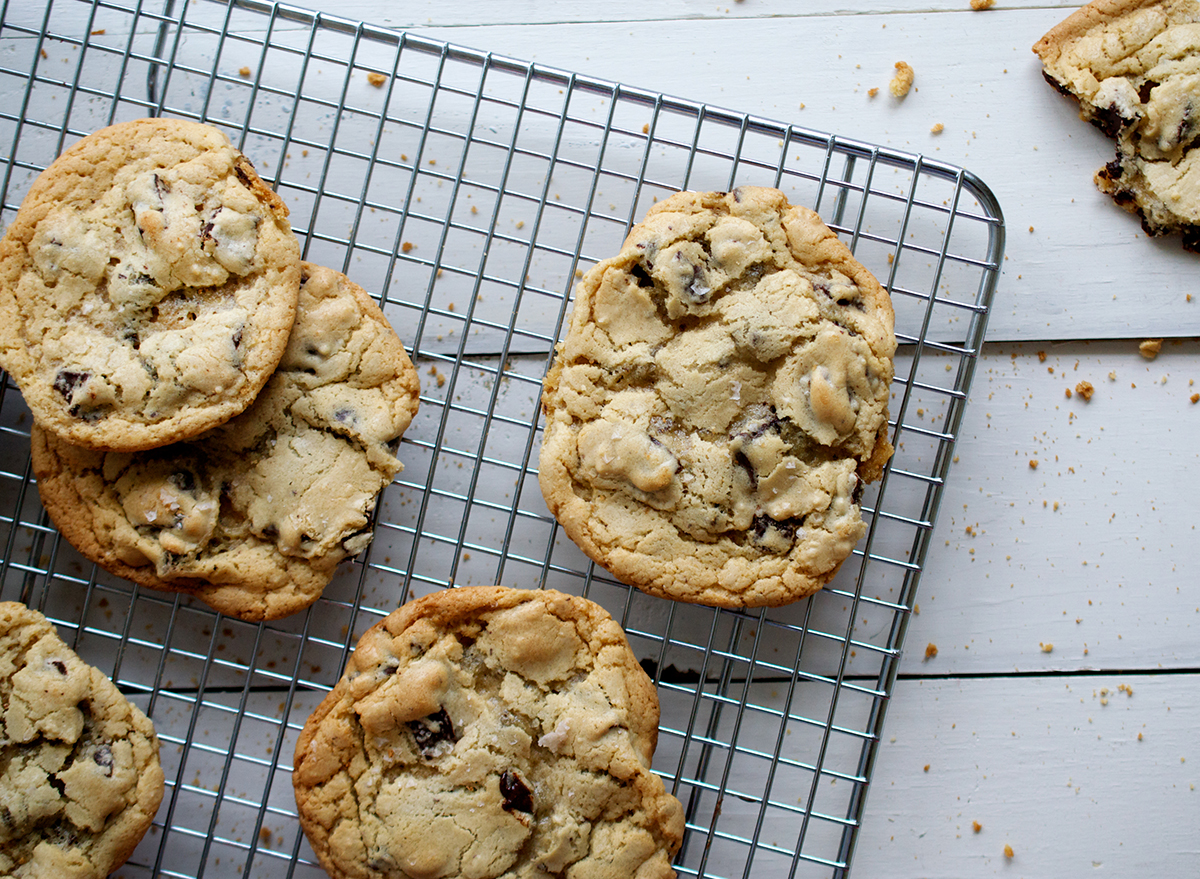 South Dakota State University claims it created cookies-and-cream ice cream, so we can't help but wonder, why isn't the Oreo the state's favorite cookie?
If you're a true Oreo fan, you'll want to check out The 25 Weirdest Oreo Flavors on the Planet.
TENNESSEE: Chocolate Chip
Next to chocolate chip cookies, MoonPies are Tennessee's next best cookie. They're marshmallow-stuffed graham cracker sandwiches with chocolate, vanilla, or banana frosting on top.
There's no better cookie to represent the Lone Star State. Cowboys are hearty cookies made with oatmeal, chocolate, chips, pecans, coconut, and brown sugar.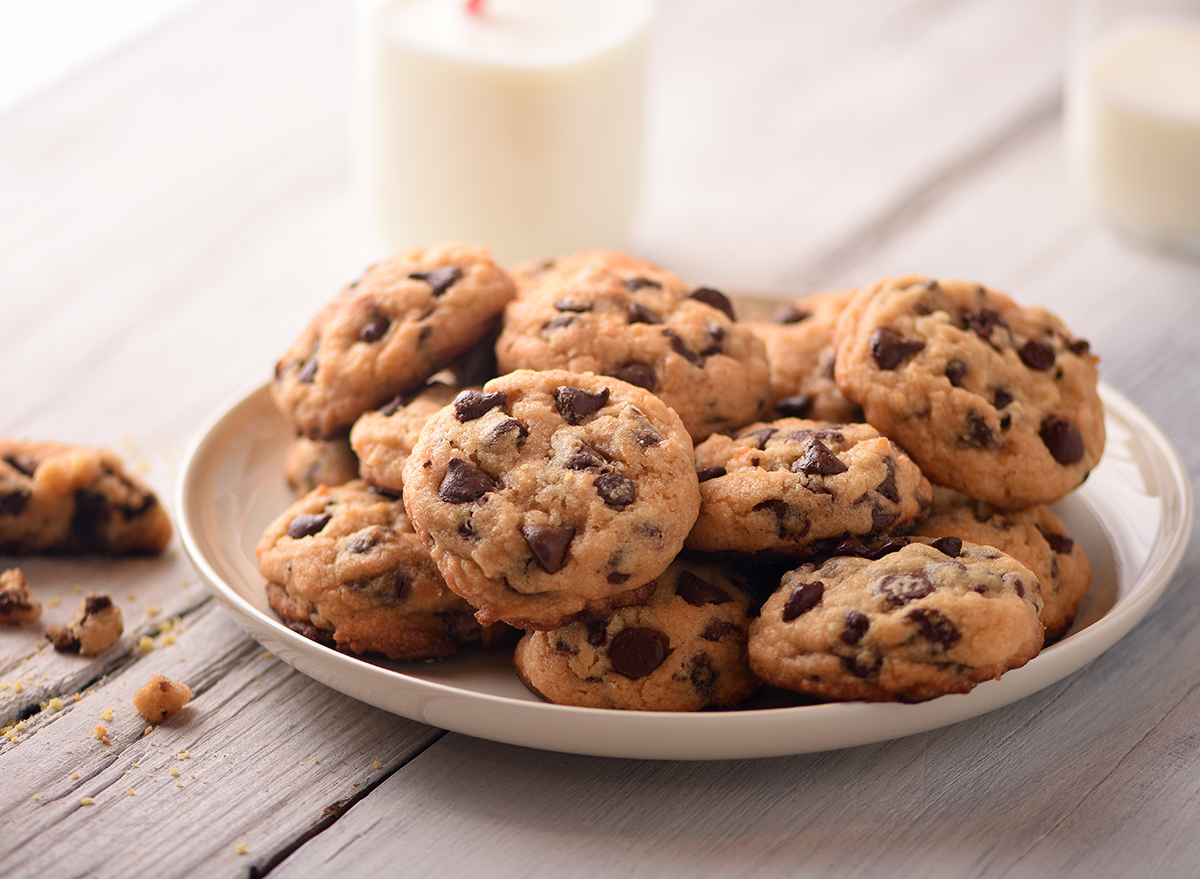 In Utah, there's something called high-altitude cookies, which are essentially chocolate chip cookies. They're very dense and are made with salted butter, brown and white sugar, vanilla, and chocolate chips.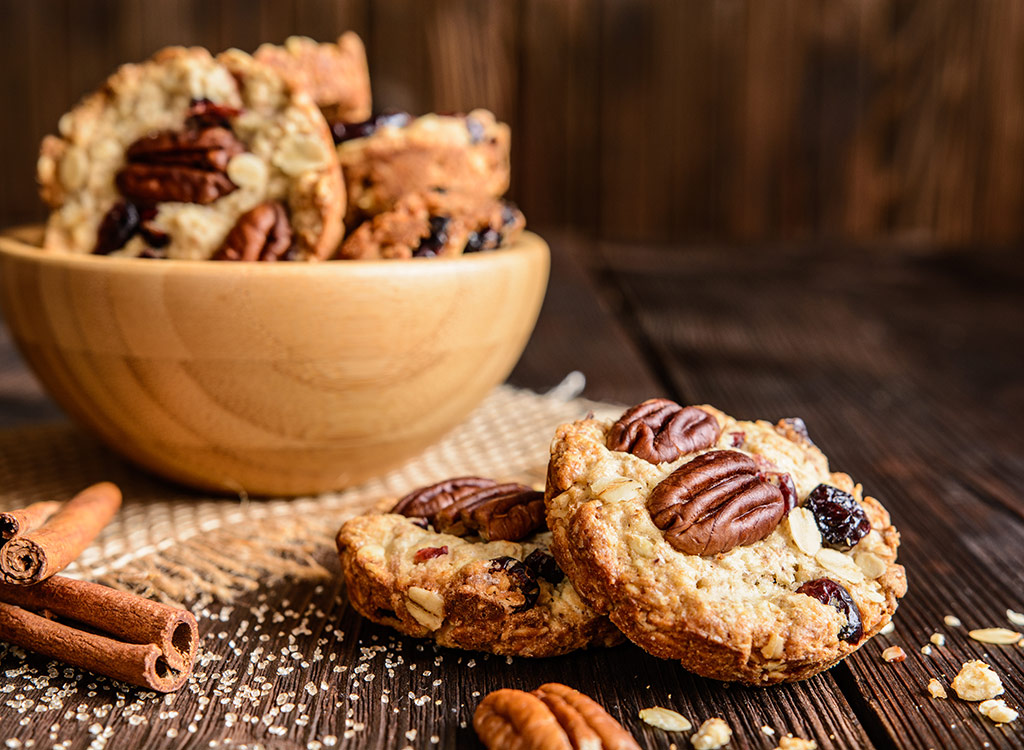 There are no two ingredients that can perfectly describe Vermont like maple syrup and pecans. The Green Mountain State is dotted with maple trees and local shops that make Grade A and B syrups.
VIRGINIA: Peanut Butter with Chocolate Chips
Virginia is famous for its peanut pie, where peanuts are roasted and combined with a gooey golden syrup mixture. If you can't find a slice of this heavenly pie, a peanut butter cookie with chocolate chips will have to do.
WASHINGTON: Apple Cinnamon
The Evergreen State loves its apple cider donuts, so it's only natural that it's the state's favorite cookie flavor, too.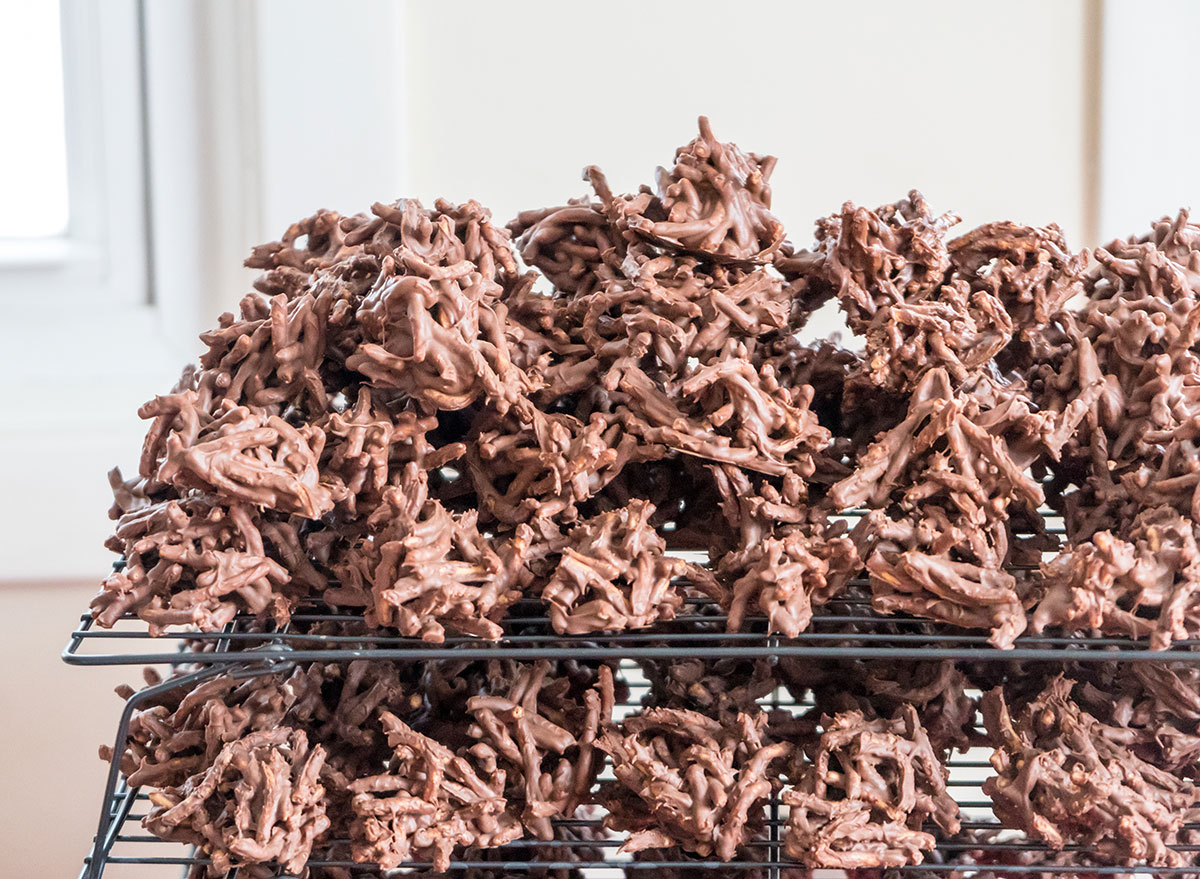 Haystacks cookies are usually a mound of peanut butter, butterscotch, chocolate, marshmallows, and noodles or oats. The best part is they don't require any baking—you can use your microwave to melt the ingredients together and allow them to set in the fridge.
WISCONSIN: Chocolate Chip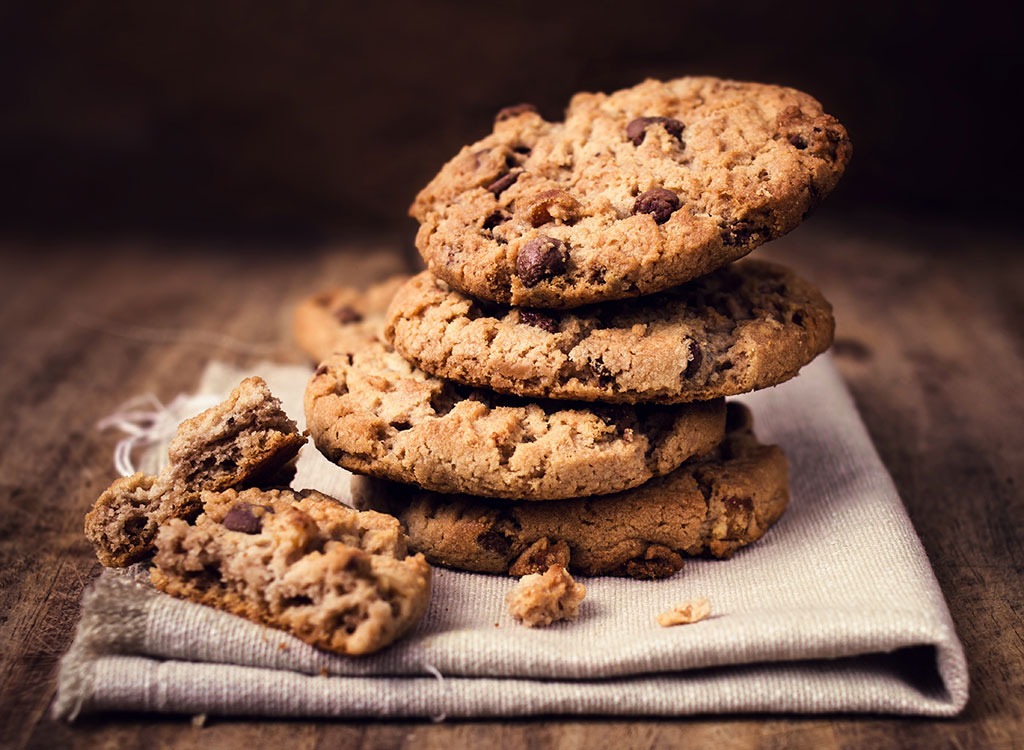 Wisconsin is the land of beer and Colby cheese, but the state's sweet tooth loves the most popular cookies: chocolate chip.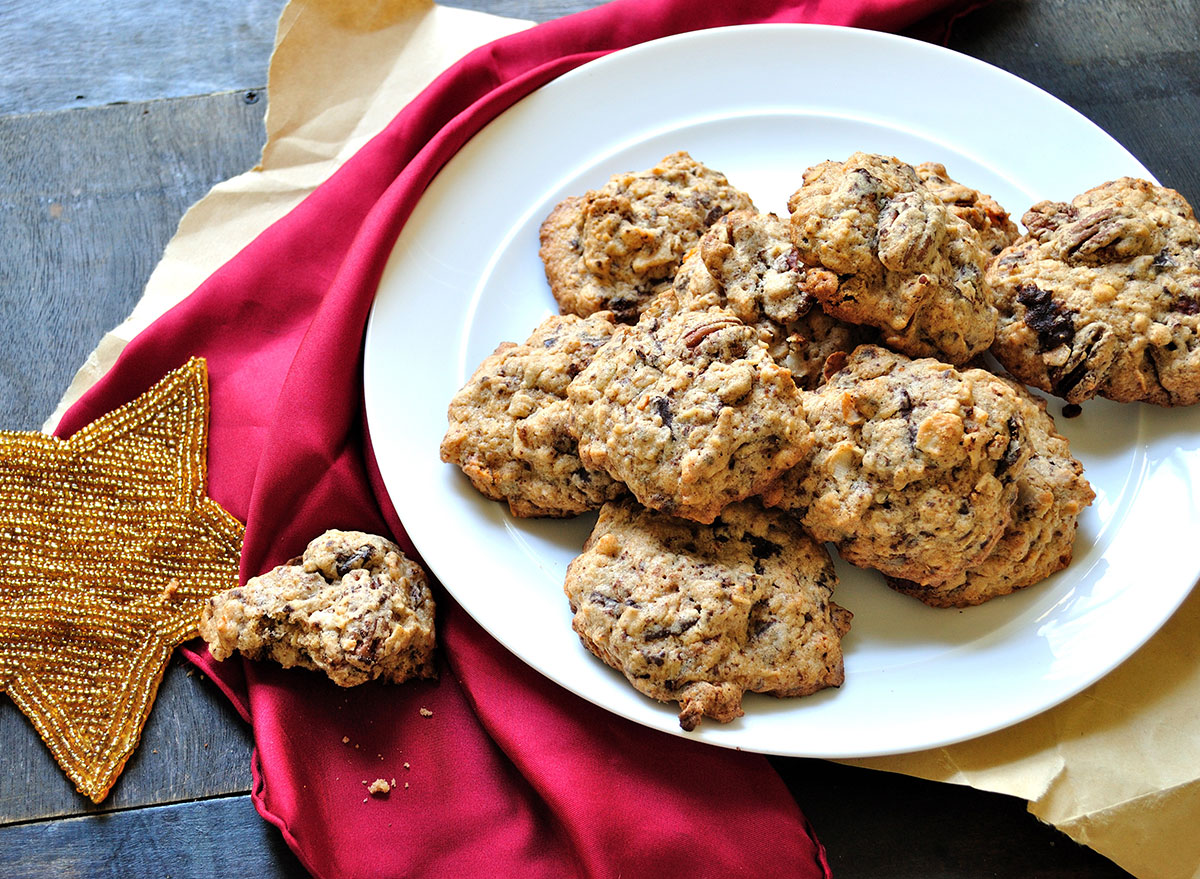 You'll need Cowboy cookies to fuel your hikes and adventures through Wyoming's mountain ranges, rich farmland, and stunning national parks.
Find out what other culinary delights are popular in your state:
The Best Steakhouse in Every State