10 Drinks Costco Members Say Are the Best at the Warehouse
Quench your thirst by stocking up on drinks that Coscto members rave about.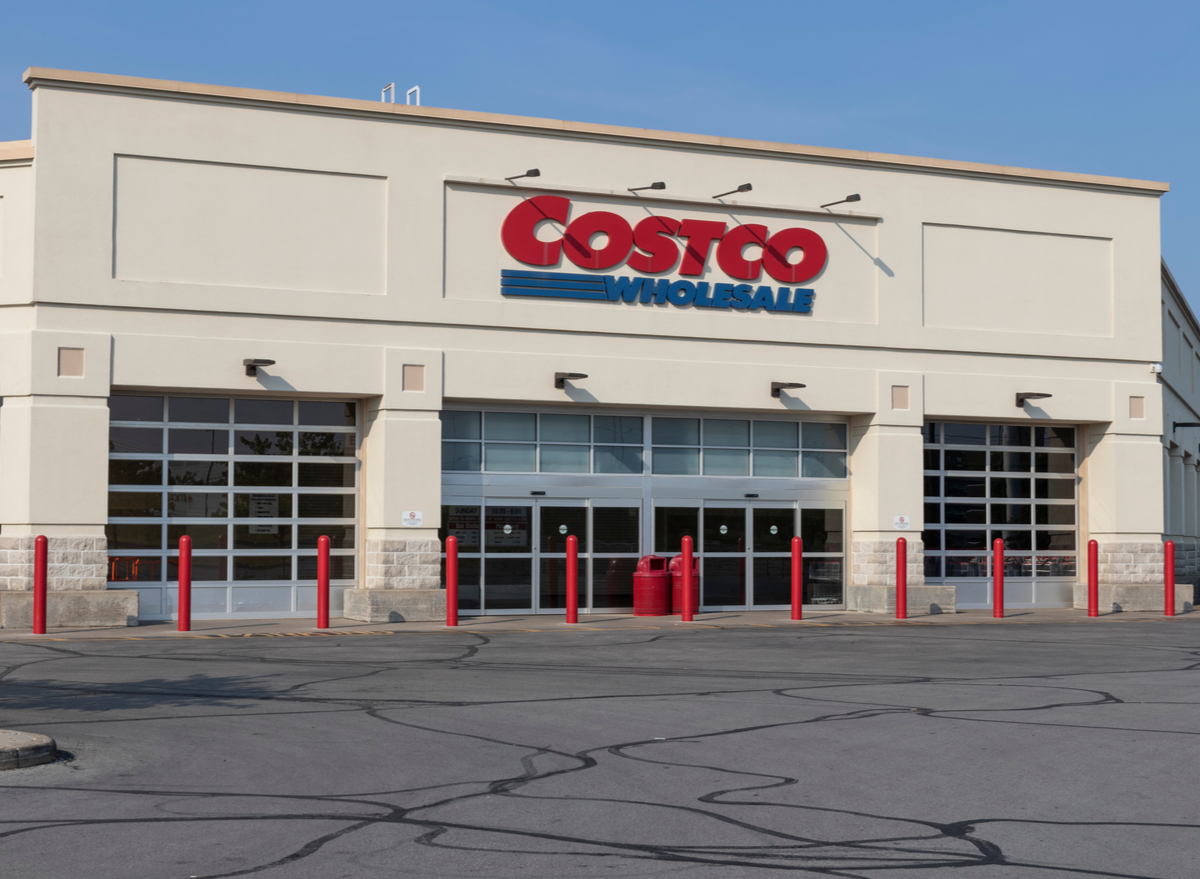 This post contains affiliate links. If you use these links to buy something, we may earn a commission.
Becoming a raving fan of a warehouse store is a true sign of adulting, and Costco members take their shopping seriously. From family-sized jugs of juice to individual cold brew coffee cans, Costco is the place to stock up on delicious thirst-quenching drinks.
Whether you're health conscious, craving caffeine, or just want to be sure you have an ample supply of drinks that will make the whole family happy, the various beverage options that Costco has available might leave you feeling indecisive about which drinks will appease all the appetites of your household. But you're in luck! Because after consulting a few expert dietitians who are also Costco shoppers and taking a deep dive into the social media abyss, we were able to find out what people believe are the best drinks at the warehouse, according to Costco members themselves.
Read on to learn more about what these Costco fans have to say about the beverages that best quench their thirst—and for more insight into the Costco shopping landscape, check out The #1 Grocery Item To Never Buy At Costco, According to Insiders.
What's as healthy as water, but amazingly flavorful, and can add little carbonated pizzazz to your day? Sparkling water! Spindrift sparkling water is made with real fruit juices and purees. Additionally, it's low in calories, and has only 1 gram of sugar per can from natural fruit.
"In addition to it being a great price at Costco, I love that it's flavored with a small amount of real fruit juice and contains no other added sweeteners—real or artificial," says Kelsey Stricklen, MS, RD, at Root Functional Medicine.
Reddit users following Costco-themed subreddits are also impressed with Spindrift's ingredients. In response to a subreddit thread posted by user robin7907 inquiring about which drinks are best for those who are especially health conscious, guess how people responded?
"Spindrift, you'll not find anything with cleaner ingredients," writes seniorkickz.
And Reddit user SWGardener loves Spindrift as well, commenting on how "light and refreshing" this sparkling water was, too.
Kirkland Signature Unsweetened Almond Milk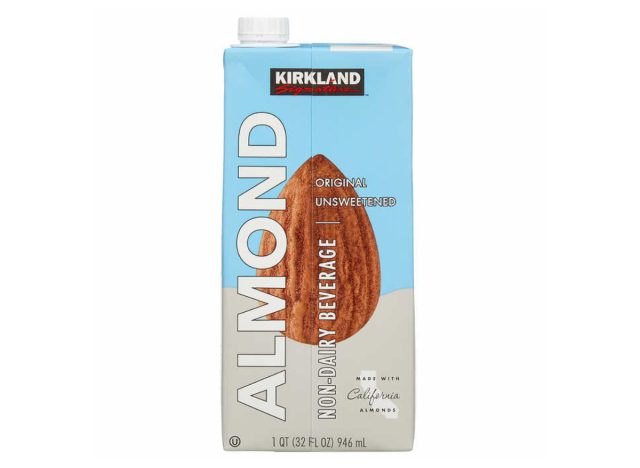 Always having dairy-free milk on hand is easy when you stock up on unsweetened almond milk from Costco.
"I love that it's shelf-stable but has a short ingredient list. Since it's unsweetened, it's so versatile," says Jen Hernandez, CSR, founder of Plant-Powered Kidneys.
If you're only using almond milk for drinking, you can start to broaden your horizons with this one. There's no shortage of ways to use this shelf-stable drink.
"We use it in everything from coffee creamer and cereals to pasta and sauces," Hernandez says.
Kirkland Signature Cold Brew Coffee
The Kirkland Signature Cold Brew Coffee single-serving cans are perfect for waking up and getting out the door.
"There's nothing added to them, so they're free of sugar and calories. Plus, they're easy to drink on the go," says Julie Andrews, MS, RDN, CD, FAND, trained chef, and the creator and owner of the Healthy Epicurean.
Reddit user Djlin02 describes these drinks as delicious, but also "strong and bitter," which is how many coffee drinkers prefer their brew.
"I love them, but if you're more of a latte fan, they might not meet your expectations," the comment from Djlin02 continues.
But, if you do enjoy a sweet coffee drink, don't write them off!
"I add a chocolate Kirkland protein shake. Tasty!" TheGookie comments in a subreddit thread about Costco's brand of canned cold brew.
Kirkland Signature Purified Water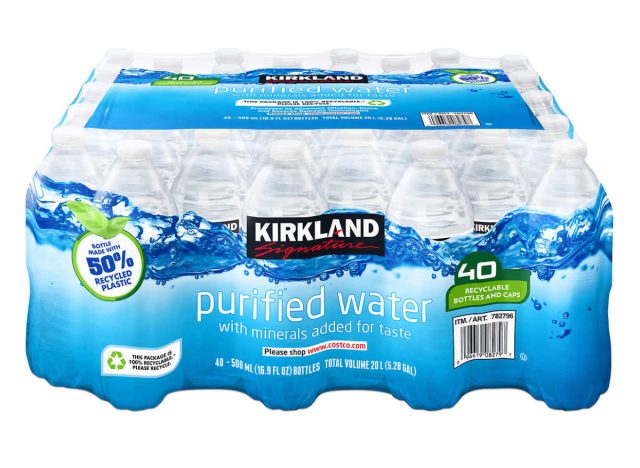 While you could snag a water filter at Costco for great tasting (and safe) water at home, you might also want to keep a stock of bottled water on hand.
"We're on a well and need to have an emergency supply of water on hand for when we lose power. Costco is one of my favorite places to get it. And, at least locally, they seem to do a good job keeping it in stock when other stores have run out," says Summer Yule, MS, RDN.
Passion Orange Guava Cold Pressed Juice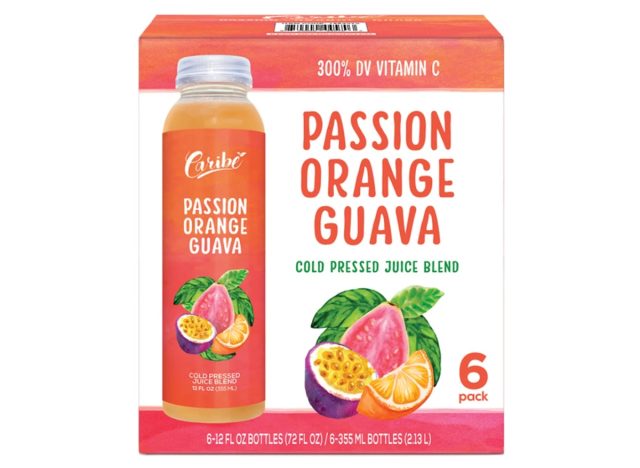 If fresh juice gets you going in the morning, this Passion Orange Guava Cold Pressed Juice from Costco should be added to your list.
Costco members who also just so happen to follow the Costco subreddit can't seem to get enough of this juice.
"These are so good… we bought a box and went back the next day to buy two more," writes Chunologist.
While there are other flavors of this juice available, most folks appear to lean more toward this guava flavor, often raving about it.
"I love guava drinks, so I bought this. It's really good," Reddit user artistxecrpting says in a post.
Kirkland Signature Organic Lemonade
For a refreshing drink on a hot summer day—or any time, really—Costco members love Kirkland's Organic Lemonade and Organic Strawberry Lemonade.
Reddit user Stonedgar312 describes this beverage as "the perfect balance of sweet and sour."
"The Organic Strawberry Lemonade absolutely rules," user Simmie also shares in a Reddit post.
While it's refreshing and sweet to drink all on its own, other members suggest using it as a base for a flavorful cocktail.
"We spice it up with Deep Eddy's Lime Vodka, blend it with ice similar to a frozen margarita…amazing!" claims Reddit user jstx333.
Kirkland Signature Organic Raw Kombucha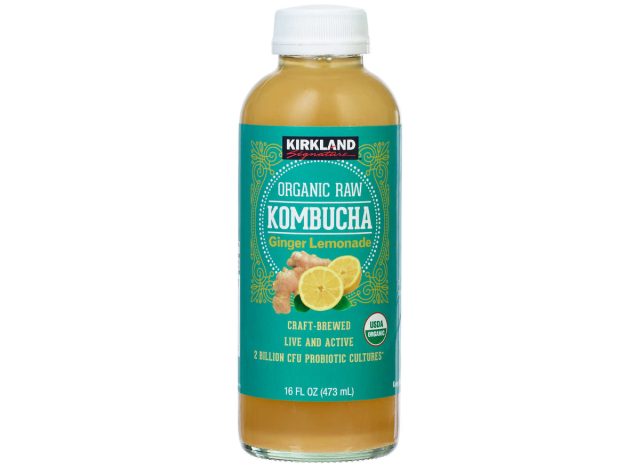 If you love the tangy taste and fizzy sensation of kombucha, try Costco's Kirkland Organic Raw Kombucha.
"A satisfying beverage that is low in added sugar, it also provides a substantial amount of probiotics—aka the good gastrointestinal bacteria we need for our gut," says Michelle Nelson, RDN.
Though a handful of Reddit users commented on the lack of sweetness in Costco's brand of kombucha, it still did not stop them from singing this beverage's praises.
"Well, I'm not very familiar with healthade. I want to say I have tried it cause the bottles look familiar, but I don't remember the details cause it's been a while. I actually had a GT Trilogy the other day and I didn't really like it: the fermented tea flavor was strong and the other aspects took second stage. I really like this ginger lemonade cause the ginger flavor and lemon flavor both do a great job of standing up to the fermented flavor. It's not sweet, but the flavor is very pleasant in my opinion. I'd say if you like lemon flavor, this is a winner," Reddit user lhymes writes in the Costco subreddit.
Other followers of the Costco subreddit agree that if you like GT's Organic Raw Kombucha or Health-Ade Kombucha brands, then you'll likely enjoy the the Kirkland Signature kombucha flavors, too.
POM Wonderful 100% Pomegranate Juice
POM Wonderful 100% Pomegranate Juice is full of antioxidants, vitamins, and minerals. Granted, this juice is a bit tart. So, if you're not a fan of drinking pomegranate juice straight, don't worry! There are endless ways to jazz up this colorful drink.
Cindy Chou, RDN, chef, and founder of The Sound of Cooking, says that she likes to mix POM Wonderful juice with sparkling water and ice for a refreshing drink. Also, she will use it to make pomegranate glazes for savory dishes.
"My kids love it in smoothies and adds the perfect amount of tartness without being sour," recommends Brynn McDowell, RDN, at the Domestic Dietitian.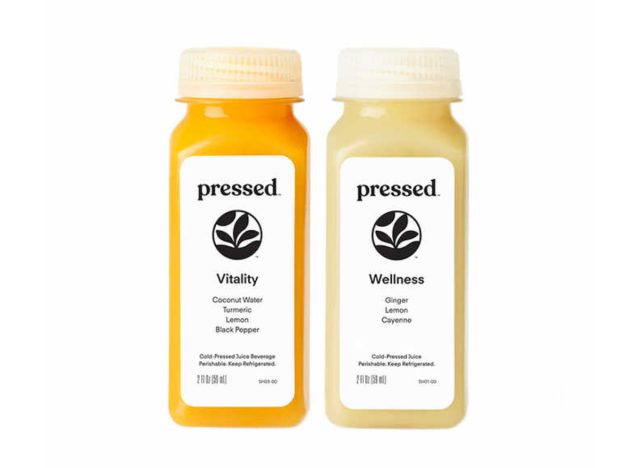 Stephanie Wagner, RDN, loves the Pressed Wellness Shots with turmeric and ginger sold by the case at Costco.6254a4d1642c605c54bf1cab17d50f1e
"Turmeric has been studied for its potent anti-inflammatory, pain-reducing, and antioxidant properties," Wagner says.
One case has 36 shots of pure fruit, vegetables, and spices. No added sugars or flavors or anything artificial added to them.
Vonbee Honey Citron & Ginger Tea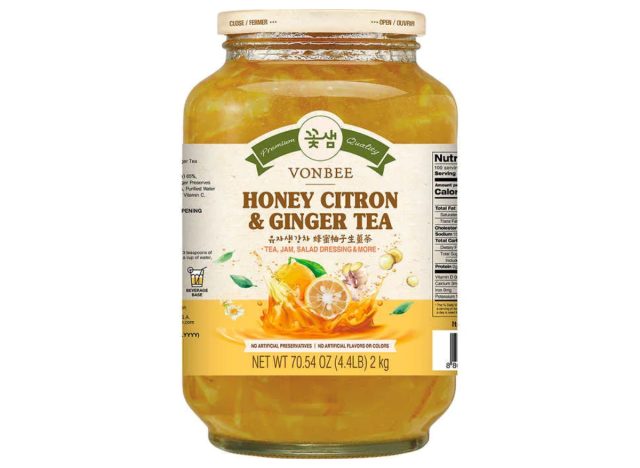 This tea concentrate is a favorite among Costco members, especially during cold and flu season! Drinking this tea concentrate hot can help soothe a sore throat with the anti-inflammatory powers of ginger.
"I always have a jar in my house. Great comfort drink when you're sick," writes Reddit user SkullsRoad.
All you need are 2–3 teaspoons mixed in with hot or cold water for a sweet tea with a zingy kick from the ginger.
Kelsey Kunik, RDN
Kelsey Kunik is a registered dietitian, freelance writer, nutrition consultant, and sustainable food blogger.
Read more about Kelsey