10 Best Protein Bars for Weight Loss
Registered dietitians share their picks for the best protein bar options to help you lose weight in a healthy way.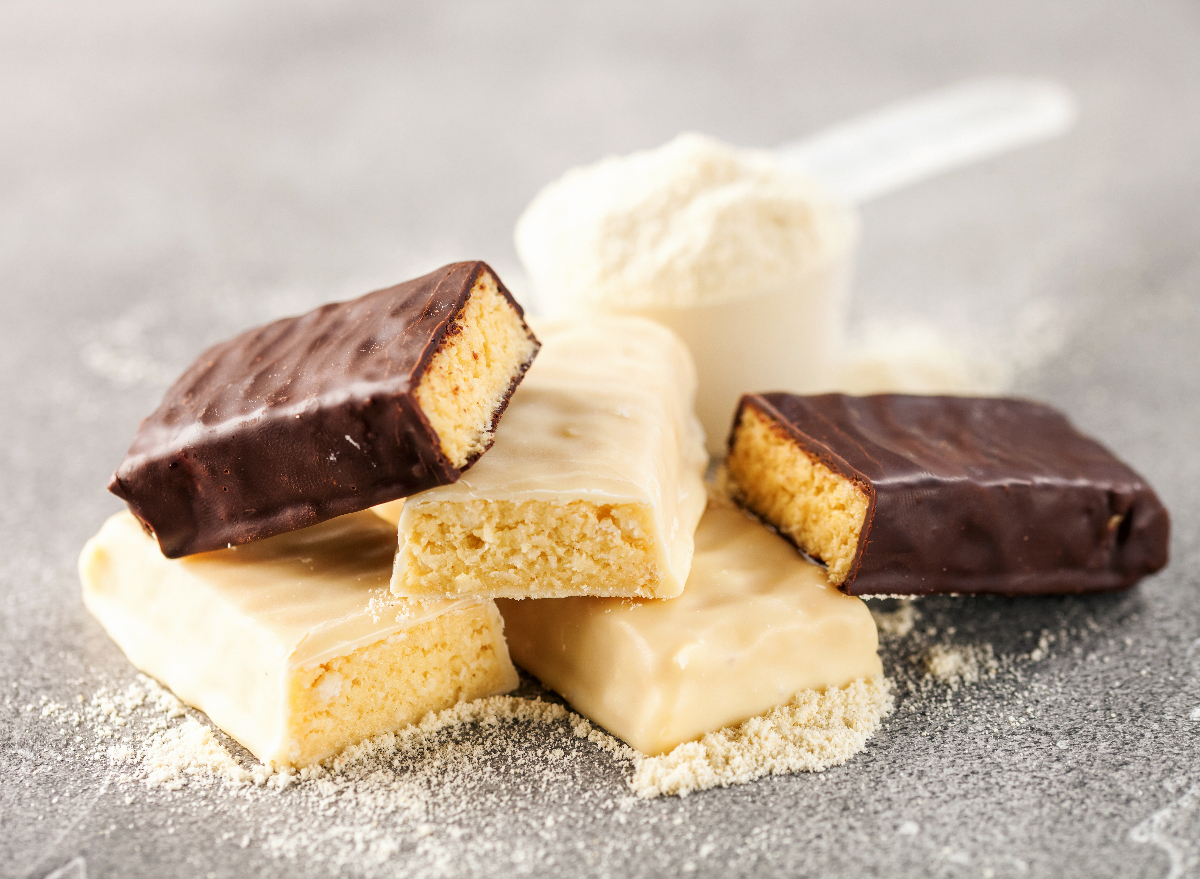 The product recommendations in this post are recommendations by the writer and/or expert(s) interviewed and do not contain affiliate links. Meaning: If you use these links to buy something, we will not earn a commission.
If you have a goal to slim down or improve your fitness, eating healthy snacks between meals is just as important as what you choose for your main meals. That's because, for most of us, snacks contribute to about a third of our daily calories. One of the best ways to choose healthy, nutrient-dense snacks that help keep you satisfied is to look for a wholesome protein bar.
Research shows that eating a diet that optimizes protein at about 1.2 to 1.6 grams per kilogram body weight (.5 to .7 grams per pound body weight) or about 20-30 grams of healthy protein sources per meal, can lead to better weight management and lower body fat while reducing risk for some chronic health conditions. Having the right high-protein bars on hand can help you when you need a between-meal snack that will keep you on track.
How we selected the best healthy protein bars:
To help you find a high-protein bar that can help you lose and maintain a healthy weight, here's what to look for:
High protein counts: Look for a bar that provides at least 10 grams of protein. Since meals should provide 20-30 grams of protein, you're looking for a bar with about half of the protein that a meal should provide.
Moderate calories: Make sure the protein bar has no more than 300 calories. Snacks should be kept to up to 250-300 calories to help ensure that you don't exceed your daily caloric budget.
Low in added sugar: Be sure to choose a protein bar that limits added sugars to no more than 10 grams or 2.5 teaspoons. Added sugar is digested and absorbed quickly, and provides no staying power, so you'll likely be hungry soon after eating. One exception is if you are eating a snack post-exercise, as it's okay to have more added sugar to help replenish depleted glycogen stores after exercise.
High in fiber: When it comes to fiber, choose bars with at least 3 grams of fiber. Fiber will help keep you satisfied, improve your GI health, and help reduce the risk of chronic diseases.
Made with wholesome ingredients: Bars that have more natural ingredients should be prioritized, like nuts, seeds, and whole grains.
The 10 best protein bars for weight loss.
Here are the 10 best protein bars for weight loss, according to nutrition pros. Read on, and for more, don't miss 10 Amazing Benefits of Eating Protein.
RxBar Peanut Butter Chocolate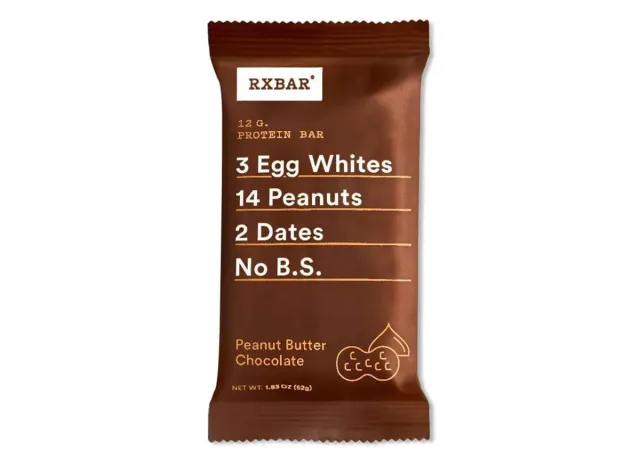 1 bar
: 210 calories, 9 g fat (2 g saturated fat), 310 mg sodium, 23 g carbs (5 g fiber, 0 g added sugar), 12 g protein
This whole-food bar is made with egg whites, dates, peanuts, chocolate, cocoa, and other more natural ingredients, compared to many other bars. It packs in 5 grams of fiber and 12 grams of protein to keep you satisfied for longer.
Quest Cookies and Cream Bar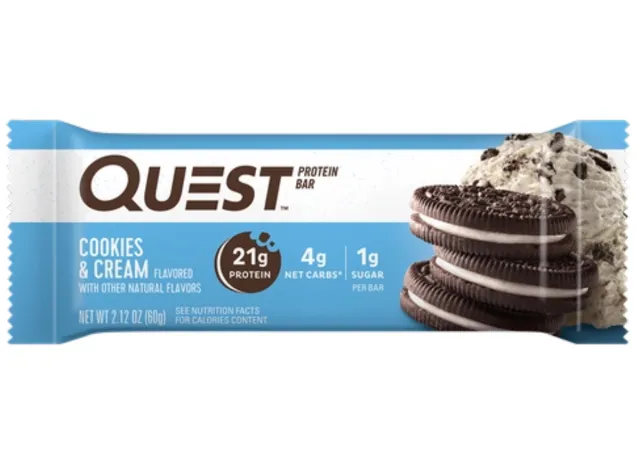 1 Bar
: 190 calories, 8 g fat (2.5 g saturated fat), 290 mg sodium, 22 g carbs (13 g fiber, 0 g added sugar, 4g net carbs), 21 g protein
The original protein bars by Quest are high in both protein and fiber. The combination can help provide energy and keep your appetite in check, so you'll be less likely to overeat. Quest also has no added sugar, making the bars a great option for those counting their carbs to help with weight management. The dairy-based protein is high-quality and helps provide essential amino acids your body needs. They are sweetened with erythritol, stevia zero-calorie sweetener, and sucralose.
Power Crunch Pro Peanut Butter Fudge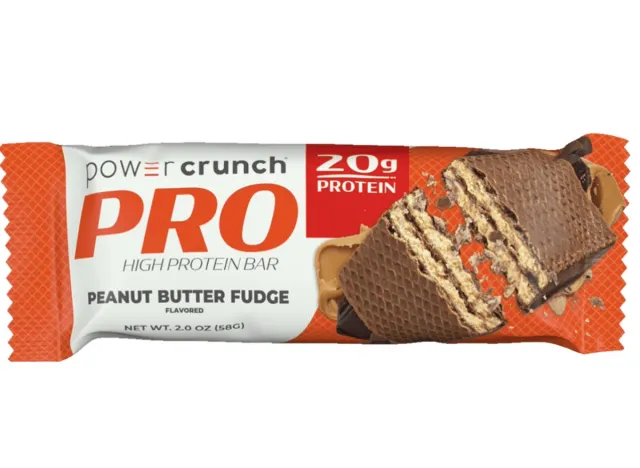 1 bar
:  300 calories, 21 g fat (10 g saturated fat), 220 mg sodium, 15 g carbs (2 g fiber, 4 g added sugar), 20 g protein
Power Crunch protein bars are a favorite of registered dietitian and certified athletic trainer, Dana Angelo White, MS, Rd, ATC. "These bars are, come in great flavors, and offer up a good dose of protein. The protein source in these bars is primary whey protein, so the protein will be digested and absorbed slowly to help keep you satisfied longer," notes Angelo White. The bars are also sweetened with stevia so added sugars are lower than many other bars.
Clif Builders Bar Chocolate Mint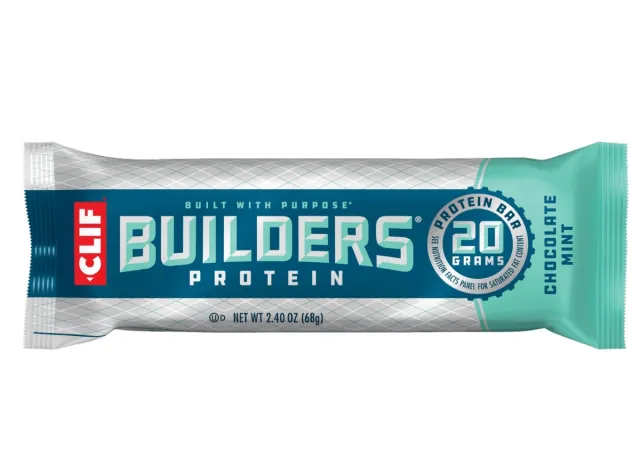 1 Bar
: 280 calories, 9 g fat (6 g saturated fat), 200 mg sodium, 31 g carbs (3 g fiber, 17 g added sugar), 20 g protein
Clif Builders Bars exceed our guidelines for added sugar, but Angelo White says they are still a good option for active individuals to enjoy post-exercise. The protein is soy protein isolate, and soy protein concentrate so the bar provides all essential amino acids to optimize recovery. With 3 grams of fiber and 20 grams of protein, the Builders Bars will help you keep your calories in check.
Aloha Peanut Butter Chocolate Chip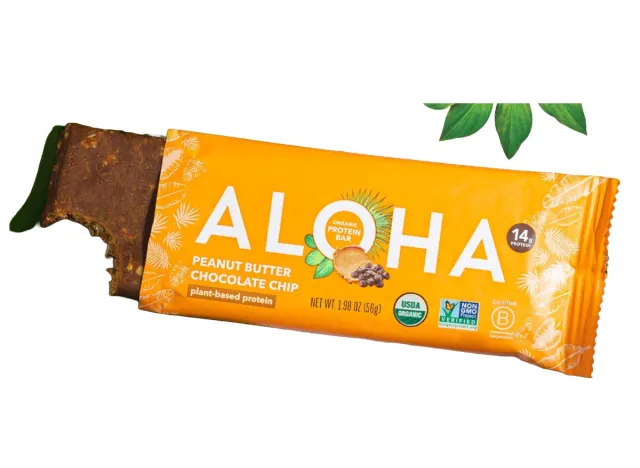 1 Bar
: 240 calories, 12 g fat (3 g saturated fat), 90 mg sodium, 24 g carbs (10 g fiber, 0 g added sugar), 14 g protein
Packed with 14 grams of plant-based protein, 10 grams of fiber for gut health, and only 3 grams of added sugar, Aloha Protein Bars are a great choice, says Patricia Bannan, MS, RDN, author of From Burnout to Balance. They are also vegan, gluten-free, and USDA-certified organic.
KIND Protein Crunchy Peanut Butter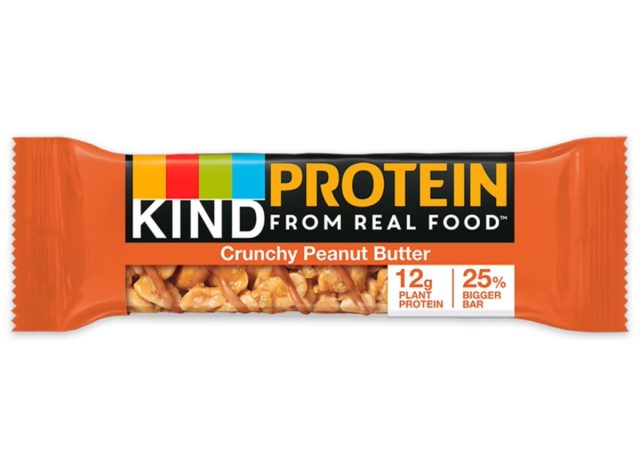 1 Bar
: 250 calories, 18 g fat (4 g saturated fat), 135 mg sodium, 17 g carbs (6 g fiber, 6 g added sugar), 12 g protein
This 250-calorie bar packs in 12 grams of protein and 6 grams of filling fiber. The protein in this bar comes from peanuts, soy protein isolate, and nonfat milk powder. Added sugar is limited to 5 grams so this bar packs a lot of positive nutrition in a calorie-controlled bar.
Zing Keto Peanut Butter Chocolate Cookie Dough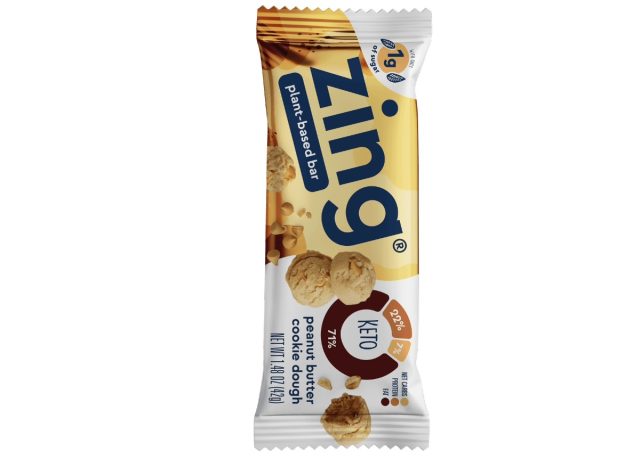 1 bar
: 210 calories, 11 g fat (2.5 g saturated fat), 110 mg sodium, 22 g carbs (5 g fiber, 6 g sugar), 10 g protein
These plant-based bars are vegan and have no added sugar. Made with quality ingredients like peanuts, tapioca fiber, brown rice protein, and medium-chain triglycerides. Calories in this bar are kept low because it's sweetened with monk fruit concentrate.
:ratio Keto Friendly Toasted Almond Bar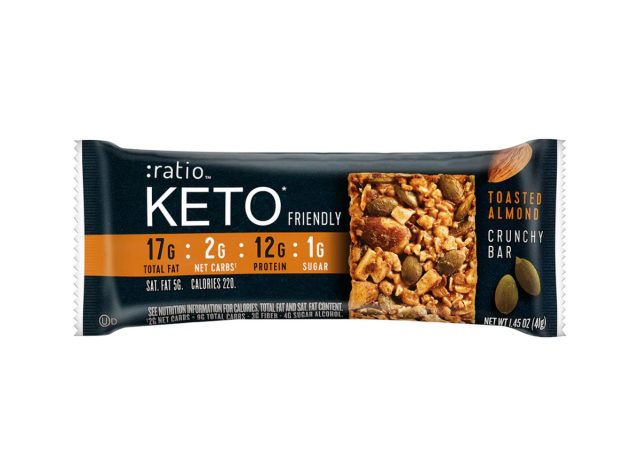 1 bar
: 220 calories, 17 g fat (5 g saturated fat), 170 mg sodium, 9 g carbs (3 g fiber, 1 g sugar), 12 g protein
Made with almonds, pumpkin seeds, soy protein isolate, and whey protein isolate, this is a great option for anyone trying to lose weight following a low-carb lifestyle. This keto bar has 1 gram of sugar and just nine grams of carbohydrate and it's also gluten-free and vegetarian.
Orgain Organic Protein Bar S'Mores
1 bar
: 150 calories, 5 g fat (1.5 g saturated fat), 260 mg sodium, 19 g carbs (1 g fiber, 6 g sugar), 10 g protein
Even though this bar doesn't meet our guidelines for fiber, it is calorie-controlled and packs in 10 grams of protein. What's more, the protein comes from organic brown rice protein, pea protein, and chia seeds. Added sugars are kept low because the bars are sweetened with erythritol, as well as other sweeteners.6254a4d1642c605c54bf1cab17d50f1e
Dang Lemon Matcha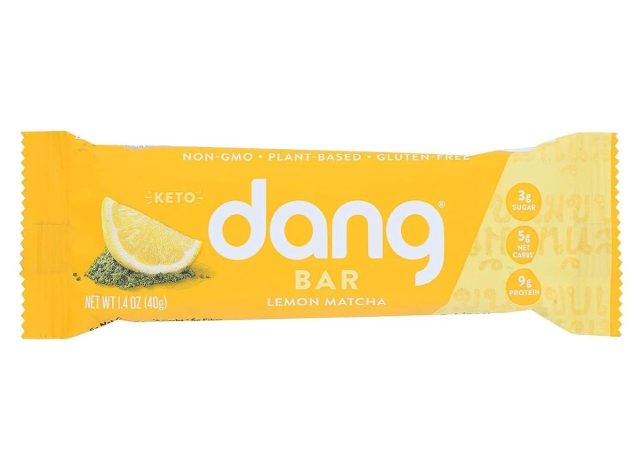 1 bar
: 210 calories, 15 g fat (5 g saturated fat), 40 mg sodium, 11 g carbs (6 g fiber, 0 g sugar), 9 g protein
This bar is shy of our 10-gram protein guideline by just 1 gram. However, we like that the bar is made with almonds, pea protein, and chia seeds and packs in a whopping 6 grams of fiber. The fiber and protein combo with help keep you satisfied, so you're less likely to overeat.
Julie Upton, MS, RD, CSSD
Julie Upton is an award-winning registered dietitian and communications specialist who has written thousands of articles for national media outlets, including The New York Times, US News & World Report, and USA Today.
Read more about Julie
Sources referenced in this article