25 High-Quality Costco Items Worth Buying Right Now
Shoppers flock to the warehouse club for its low prices—but product quality is another big draw for members.
The product recommendations in this post are recommendations by the writer and/or expert(s) interviewed and do not contain affiliate links. Meaning: If you use these links to buy something, we will not earn a commission.
Joining a warehouse club like Costco, you're often looking for the best deal or value, but Costco can also be a great place to get high quality goods, if you know what to look for.
Yes, Costco has been getting a lot of flack for its overall quality lately from the decline in produce quality to a funky taste of its once beloved Kirkland vodka and chemical-tasting rotisserie chicken. Don't let that turn you off from the warehouse completely.
There are still plenty of high-quality purchases to be had in-store and online. Costco sells items from incredible name brands and the in-house Kirkland Signature brand boasts items that are worthy of a second look, too.
These 25 items are excellent in terms of quality (many of them are affordably priced, as well) and even if you do see a dip in quality or you aren't satisfied, it's comforting to know that Costco has one of the best return policies around.
Nielsen Massey Vanilla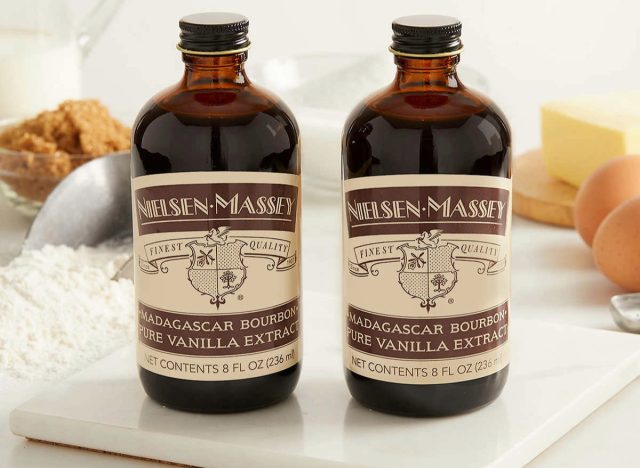 If you are a serious baker, you've likely heard chefs mention this high-quality vanilla brand. Costco always has a great deal on vanilla extract, but if you want to use the best of the best, this is it. It'll cost $39.99 for two 8-ounce bottles at the warehouse (and as much as $49.99 online). You'll really taste and smell the vanilla notes from this vanilla that comes from the Bourbon Island of Madagascar. Plus, with a three-year shelf life, it's worth the extra few dollars.
Roses
If you need flowers, Costco has a beautiful and fresh floral section. The roses are always top notch in a variety of colors. It'll cost you $18.99 for two dozen of these Rainforest Alliance Certified stunners that are sure to impress any recipient.
Eastern Standard Provisions Co. Pretzels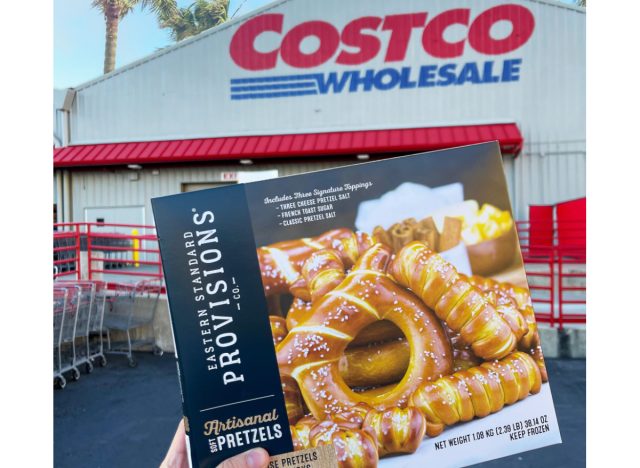 Per Serving (4 oz)
: 310 cal, 5 g fat (0.5 g saturated fat), 560 mg sodium, 54 g carbs (2 g fiber, 2 g sugar), 8 g protein
Newer to Costco, these pretzels are not to be missed. Once sold only by mail order, these all-natural, no additive pretzels taste great, and they are so easy to make. This variety pack comes with enough for a crowd with four wheelhouse pretzels, five turnbuckle sticks, and 22 single bites for $11.99 at the warehouse. I'd recommend snagging a few boxes because you never know how long they'll last.
Kirkland Signature Kettle Brand Potato Chips
Per Serving (18 Chips)
: 260 cal, 15 g fat (1.5 g saturated fat), 190 mg sodium, 27 g carbs (3 g fiber, 0 g sugar), 4 g protein
Kettle brand potato chips are always high quality, and this Kirkland-Kettle partnership is no exception. The variety varies. Sometimes it's ridged with Himalayan sea salt. Other times it is cracked black pepper and salt. Either way, these chips tend to be less greasy than an equivalent like Ruffles. Plus, the price is excellent, too, at $5.99 for a 32-ounce bag at the warehouse.
Health-Ade Kombucha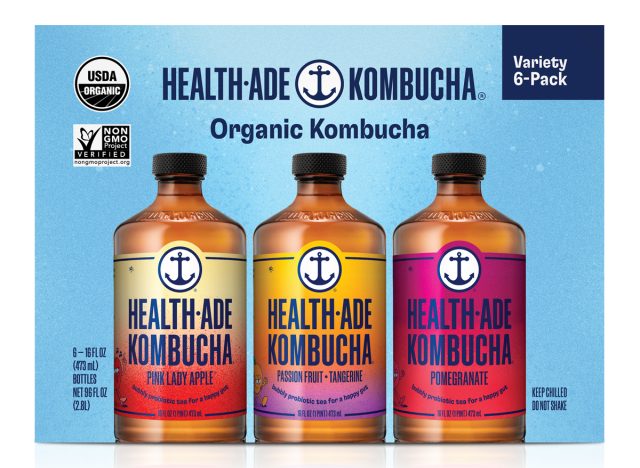 Pink Lady Apple (1 bottle)
: 80 cal, 0 g fat (0 g saturated fat), 0 mg sodium, 17 g carbs (0 g fiber, 16 g sugar), 0 g protein
If kombucha is your jam, this Health-Ade variety is a well-known brand that comes in a variety of flavors, filled with tons of probiotics but low in sugar. You'll find the pack in the refrigerated section at the warehouse, with six 16-ounce bottles for $13.99.
King Arthur All Purpose Flour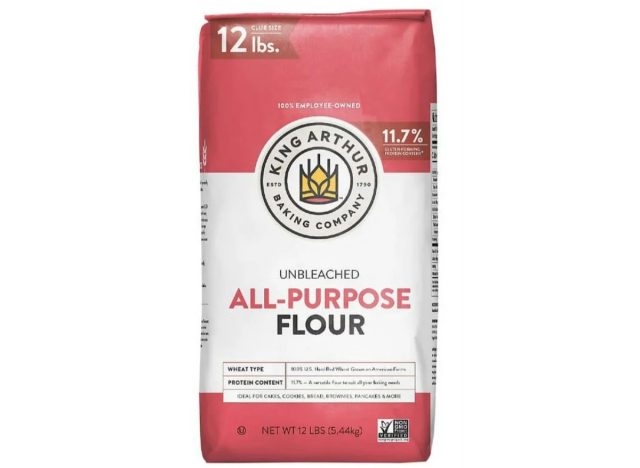 Per Serving (1/4 cup)
: 110 cal, 0 g fat (0 g saturated fat), 0 mg sodium, 23 g carbs (<1 g fiber, 0 g sugar), 4 g protein
When it comes to all-purpose flour, King Arthur reigns supreme. Most Costcos offer a variety of the brand's flours for different baking needs, but this is the most versatile and the one you'll want to have in your pantry. It'll cost $9.49 for 12 pounds at the warehouse. If you bake with any regularity, you'll move through it pretty quickly.
Kerrygold Irish Butter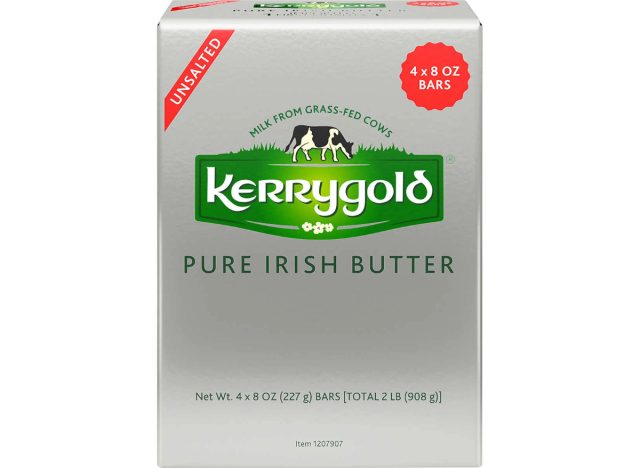 Unsalted (1 tbsp)
: 100 cal, 12 g fat (7 g saturated fat), 0 mg sodium, 0 g carbs, 0 g protein
There's no shortage of butter at Costco, but if you are looking for high quality, you'll want to pick up the Kerrygold Pure Irish Butter. The unsalted version is perhaps more versatile but you'll often see a choice of both. A two-pound pack will run $13.90 in the warehouse.
Just Bare Lightly Breaded Chicken Breast Chunks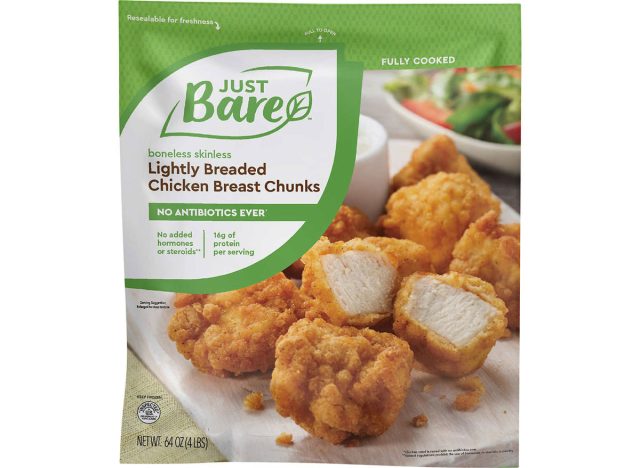 Per Serving (3 oz)
: 160 cal, 7 g fat (1 g saturated fat), 540 mg sodium, 9 g carbs (0 g fiber, 2 g sugar), 16 g protein
Costco sells a variety of frozen chicken items, all in varied quality. Perhaps the most popular are the these Just Bare chicken chunks, running around $17.99 for a four-pound bag. Many fans contend that they taste just like Chick-fil-A's popular nuggets. They even came out on top in a recent taste test comparing many popular brands. These nuggets are made with all-white meat chicken unlike other kinds that are made with chicken odds and ends, plus there are no hormones, preservatives, or other junk. So, you can feel great about putting them on the table for a meal.
Motor City Pizza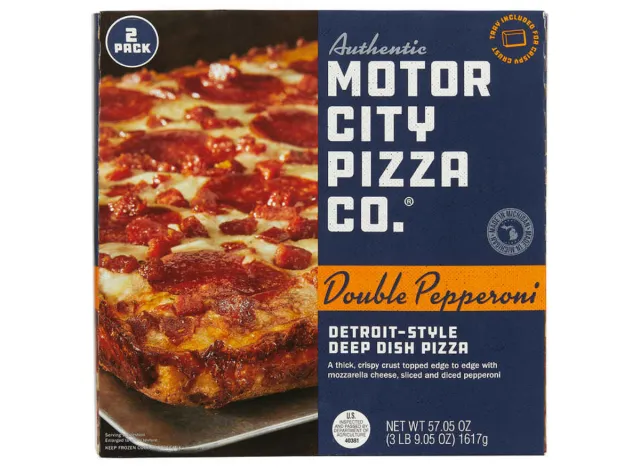 Double Pepperoni (1/6 pizza)
: 380 cal, 19 g fat (8 g saturated fat), 830 mg sodium, 34 g carbs (2 g fiber, 3 g sugar), 17 g protein
There's no shortage of pizza options at Costco but this Detroit-style pizza is a fan favorite, with Redditors calling it "remarkably good pizza," among other more colorful, less family-friendly descriptions. Regardless, Motor City's pizza and cheesy bread are high quality as far as frozen food goes and worth stocking up for those nights when you just don't want to cook.
Tuxedo Chocolate Mousse Cake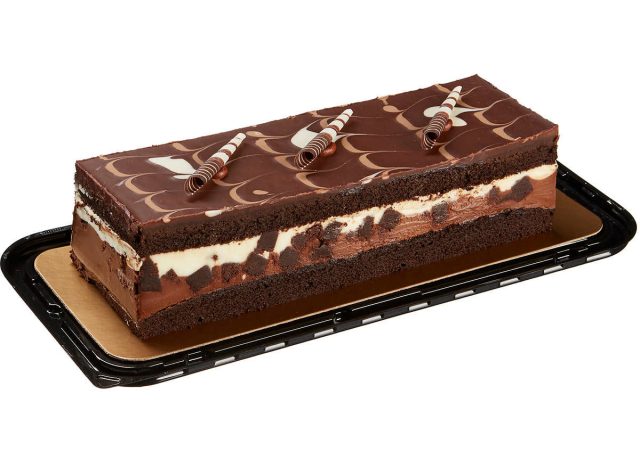 Per Serving (1 slice)
: 370 cal, 23 g fat (11 g saturated fat), 240 mg sodium, 37 g carbs (2 g fiber, 24 g sugar), 4 g protein
There's a reason this cake ranked No. 1 in a recent taste test. It's not only delicious, I'd venture to say it's also restaurant quality. Of all of the delicious desserts at Costco, and there are many, this would be the choice for highest quality at a price tag of $16.99 in store.
Kirkland Signature Organic Peanut Butter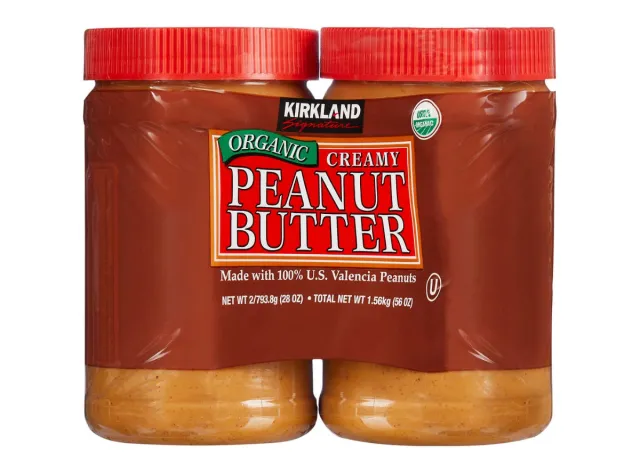 Per Serving (2 tbsp)
: 200 cal, 15 g fat (2 g saturated fat), 40 mg sodium, 7 g carbs (3 g fiber, 2 g sugar), 8 g protein
If you read peanut butter labels often, you'll note that oftentimes what you think may just be peanut butter contains all sorts of unwanted oils and sugars. The Kirkland Signature peanut butter is just dry-roasted Valencia peanuts and some sea salt, making it a great natural choice. A two pack of 28-ounce jars costs $12.99 online.
Kirkland Signature Olive Oil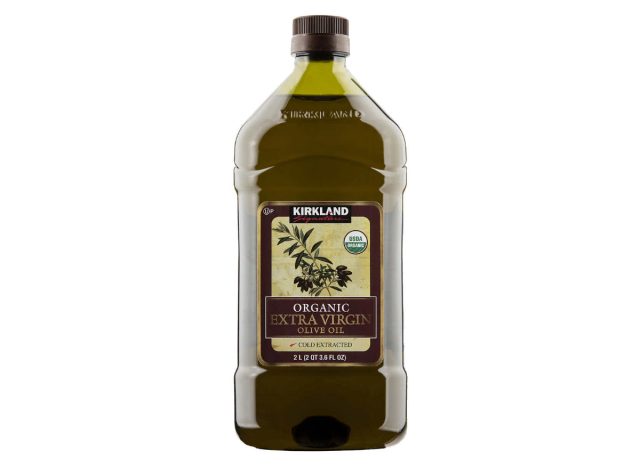 Per Serving (1 tbsp)
: 125 cal, 14 g fat (2 g saturated fat), 0 mg sodium, 0 g carbs, 0 g protein
This olive oil is loved by many shoppers and chefs, and it's often mentioned as a Costco item that you need to have. Sure, some of the adoration has to do with the price, but this Kirkland Signature olive oil really stands out in terms of quality, too. The flavor is full-bodied and rich but not overpowering making it versatile for any dish. A two-liter bottle costs $17.99 at the warehouse and $18.99 online.
Chosen Foods Avocado Oil Spray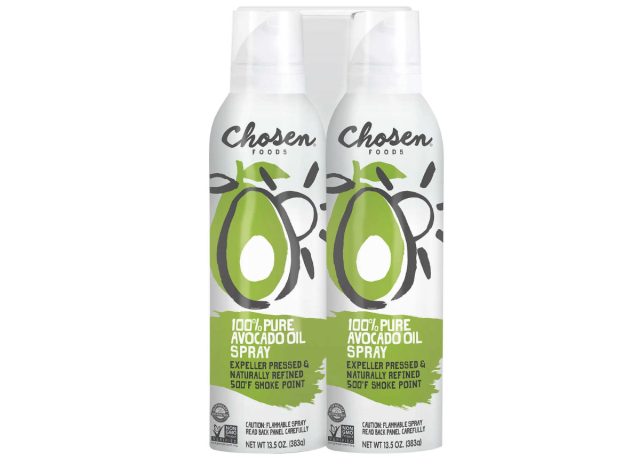 Per Serving
: 0 cal, 0 g fat, 0 mg sodium, 0 g carbs, 0 g protein
Cooking sprays have gotten some flack for unwanted chemicals found to help the spray cans spray, but this one includes none of that. Avocado oil is a healthy oil, plus it has a really high smoke point, which makes it a nice oil to have in your arsenal. For all these reasons, it's a high-quality item to have. You can grab a two-pack at Costco online for $16.49.
Crown Maple Syrup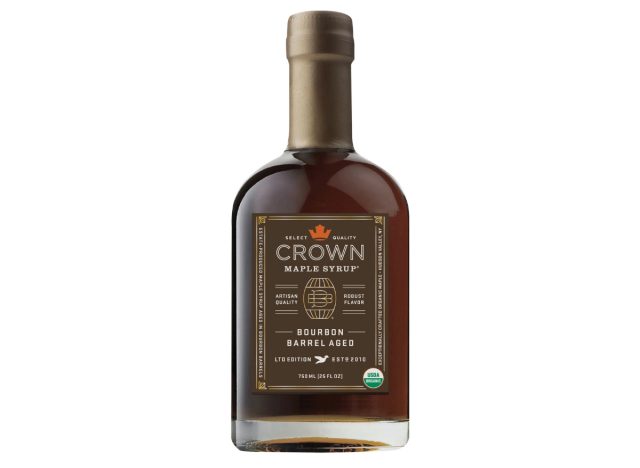 Per Serving (2 tbsp)
: 108 cal, 0 g fat, 5 mg sodium, 25 g carbs (24 g sugar), 0 g protein
Although many shoppers would tell you that the Kirkland Signature maple syrup is where it's at, Redditors have claimed that the Crown brand is enthusiastically the world's best maple syrup. It's now back at the warehouse after a two-year hiatus for $15.99. It's bourbon barrel aged, and fans on Reddit use it for so much more than pancakes. They substitute for simple syrup in Old Fashioned cocktails, use it as a glaze for ham, and even put it in coffee.6254a4d1642c605c54bf1cab17d50f1e
Rao's Homemade Tomato Sauce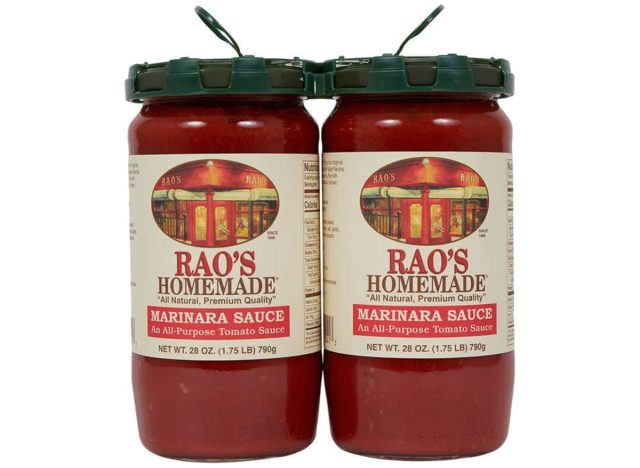 Per Serving (1/2 cup)
: 100 cal, 7 g fat (0 g saturated fat), 420 mg sodium, 6 g carbs (1 g fiber, 4 g sugar), 2 g protein
This jarred tomato sauce no longer needs an introduction. It has made every favorite and loved list there is, but truthfully, it's one of the best-quality sauces out there. Hopefully, it will remain that way even after the brand's recent purchase by the Campbell Soup Co. You'll get two 28-ounce jars, with the bigger sized jars ideal for making things like lasagna or baked ziti.
Ghirardelli Triple Chocolate Brownie Mix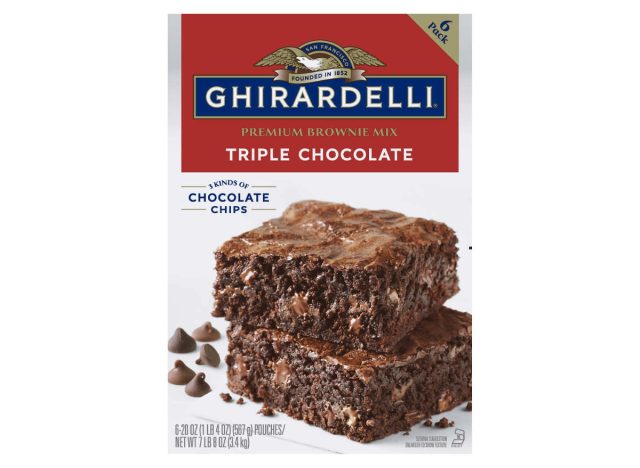 Per Serving (1/4 cup)
: 150 cal, 3.5 g fat (1.5 g saturated fat), 110 mg sodium, 29 g carbs (1 g fiber, 20 g sugar), 1 g protein
Ghirardelli has always been known as a high-quality chocolate brand, and its brownie mix follows suit. For $13.99 at the warehouse and $16.99 online, the box includes six 20-ounce packages, which makes a lot of brownies, but worth it once you try your first batch of these warm and gooey boxed brownies.
Organic Heavenly Hunks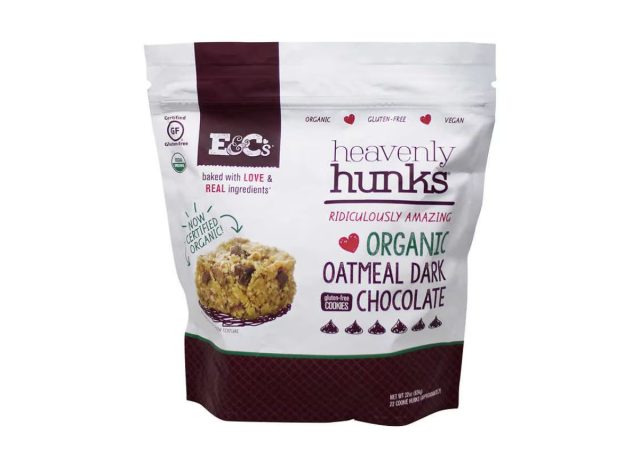 Per Serving (1 hunk)
: 100 cal, 6 g fat (3.5 g saturated fat), 40 mg sodium, 17 g carbs (1 g fiber, 5 g sugar), 1 g protein
Now, we know these aren't healthy—let's call them a dessert or sweet snack—but they are made of high-quality ingredients and they are delicious. Gluten-free rolled oats, cane sugar, chocolate chips, coconut, and more make up these dairy-free, gluten-free, and vegan treats that everyone will love, just hopefully not in one sitting. A 22-ounce bag costs $9.99 at the warehouse.
La Terra Fina Quiche
Spinach & Artichoke (1/5 quiche)
: 290 cal, 17 g fat (7 g saturated fat), 530 mg sodium, 23 g carbs (2 g fiber, 2 g sugar), 11 G protein
If you need something for a party or brunch that tastes just like homemade but you don't have time to make it, snag a two-pack of these broccoli-cheddar and spinach-artichoke quiches for $13.59 at the warehouse. The quiches are made with cage-free egg whites, real cheese, whole milk, and vegetables, ready to just pop in the oven.
Kirkland Signature Tequila Anejo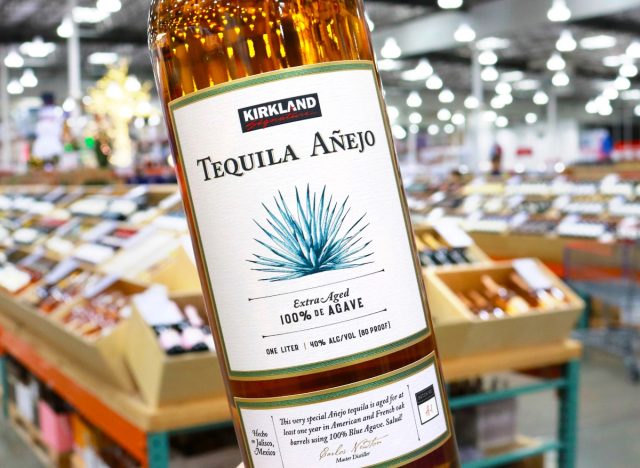 Kirkland Signature is known to have a pretty good selection of liquor for a great price. A recent fan favorite among the Reddit community is the Tequila Añejo. For $22, it has great notes of vanilla and makes the perfect sipping tequila.
A5 Wagyu Steaks
This is one of those snag-it-when-you-see-it Costco items because once it's spotted at the warehouse, it'll be gone in days. The Wagyu steaks are certainly not cheap, generally running close to $60 a pound, but they are some of the highest quality steaks you can grab.
Kirkland Signature Parmigiano-Reggiano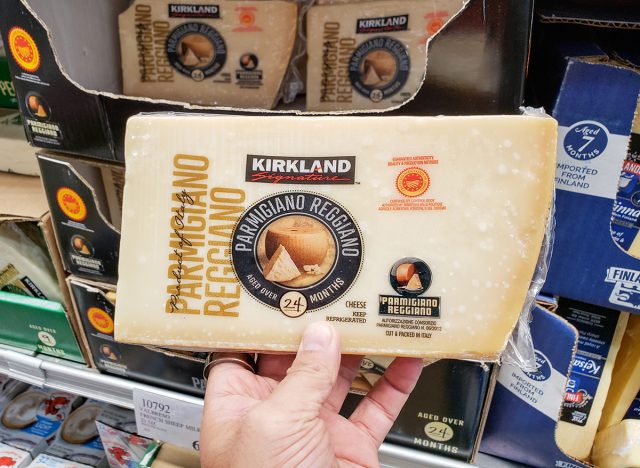 Per Serving (28 g)
: 110 cal, 8 g fat (6 g saturated fat), 180 mg sodium, 1 g carbs (0 g fiber, 0 g sugar), 9 g protein
You've got to love the strict food-quality regulations that Italy has. You can't call anything Parmigiano-Reggiano unless it fits the standards that the nation has put in place. This cheese is high-quality enough for snacking, shredding over pasta, or including in your favorite dish, and it'll cost you around $10.99 a pound at the warehouse.
Bonne Maman Four Fruits Preserves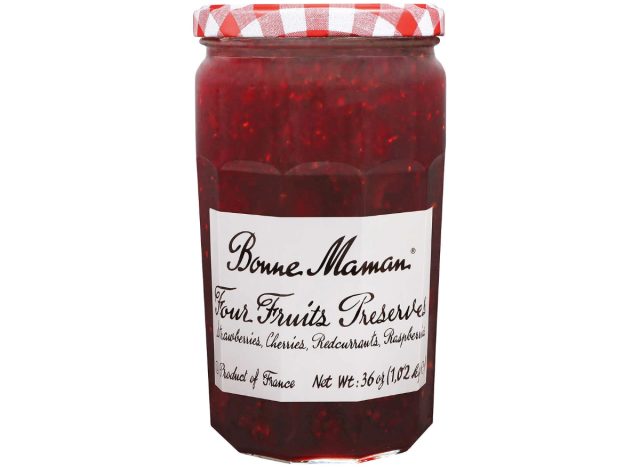 Per Serving (1 tbsp)
: 50 cal, 0 g fat, 0 mg sodium, 13 g carbs (13 g sugar), 0 g protein
These French preserves rise well above your standard jams in terms of quality. You can see and taste real chunks of fruit. This 36-ounce jar, combining cherries, strawberries, raspberries, and red currants, is great for PB&J sandwiches and also baking. It costs around $9.99 in the warehouse.
Dawn Platinum Powerwash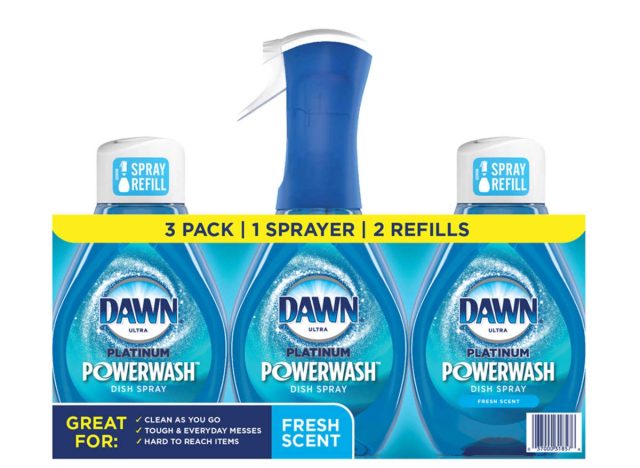 As a mom, sometimes high-quality means an item I can multipurpose. This Dawn powerspray is a miracle worker not just for washing dishes but for getting grass stains out of baseball pants, cleaning anything white that gets dirty, getting grease off of countertops and clothing, and so much more. The Costco set comes with refills that you can swap into the original sprayer, making it more sustainable, too. It'll cost around $10.99 online for one sprayer and two refills.
Bob's Organic Steel Cut Oats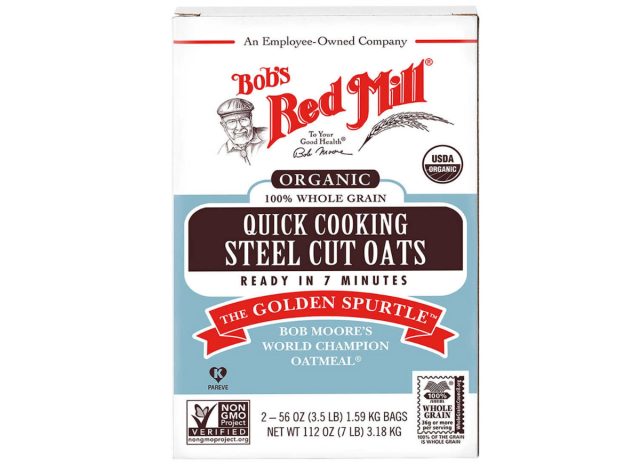 Per Serving (1/4 cup)
: 140 cal, 2.5 g fat (0.5 g saturated fat), 0 mg sodium, 25 g carbs (4 g fiber, 0 g sugar), 4 g protein
Steel cut oats are healthy for you, but like with any item, buying quality is key. These Bob's Red Mill organic steel cut oats are "top notch," according to Redditors and not stripped of nutrients like other brands. They also have a nice chew to them. These oats cost $16.49 online.
Emmi Roth Le Gruyere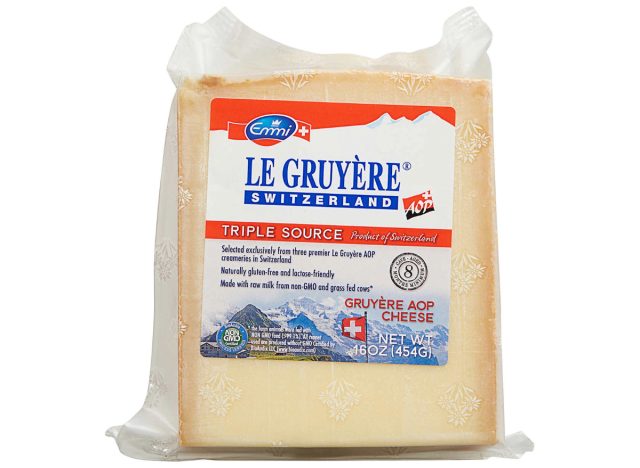 Per Serving (1 oz)
: 100 cal, 9 g fat (5 g saturated fat), 170 mg sodium, 0 g carbs (0 g fiber, 0 g sugar), 8 g protein
There is a reason this brand is one of the most loved when it comes to gruyere from Switzerland. If you are building a cheese board, making French onion soup, or just want to nibble, this high-quality cheese, made with milk from grass-fed cows, is a good one to add to your rotation when it's in stock at the warehouse.
Samantha Lande
Samantha is a freelance writer who covers food, health, wellness and other lifestyle subjects.
Read more about Samantha