7 Best Deep-Dish Pizzas in Chicago
From legendary chains to one-off joints, these spots are serving up the best deep-dish in the Windy City.
The product recommendations in this post are recommendations by the writer and/or expert(s) interviewed and do not contain affiliate links. Meaning: If you use these links to buy something, we will not earn a commission.
Aside from its famous Italian beef sandwiches and loaded hotdogs (sans the ketchup), no Chicago delicacy is quite as iconic as deep-dish pizza. These hearty pies are a major step away from the thin, foldable slices that are popular in New York due to their tall, crispy crusts, thick layers of stretchy cheese, long cooking times, and somewhat controversial tradition of placing the sauce on top of the cheese instead of below it. Purists may balk at the thought of pizza that requires a fork and knife, but any true fan knows that a great slice of deep dish can provide one of the most decadent, flavorful, and texturally-rich pizza-eating experiences of your life.
There are a couple of key qualities that define great deep-dish pizzas. According to James Beard Award-winning chef Erick Williams, who owns and serves as the executive chef at Virtue Restaurant & Bar in Chicago, "it's all about the crust."
"I like a crisp, buttery crust that isn't soggy. Ordering the pizza well done helps this and then the cheese won't overpower the crust. Fresh ingredients are also a must for me," he said.
Bill Kim, the James Beard Award-nominated chef behind several Chicago-area restaurants including UrbanBelly and The Table at Crate, agrees that the crust on deep-dish pizza has to be "amazing."
"The crust to me is 70%, then sauce 20%, sausage 5%, and cheese 5%," he said.
Locals and tourists alike will have no trouble finding a variety of great deep-dish spots across the Windy City and the surrounding area, but if you only want the best of the best, there are a few places that stand out from the rest. From legendary chains that have been slinging slices for decades to a newer restaurant that specializes in picturesque, artisanal pies, here's where you can find the seven best deep-dish pizzas in Chicago.
Lou Malnati's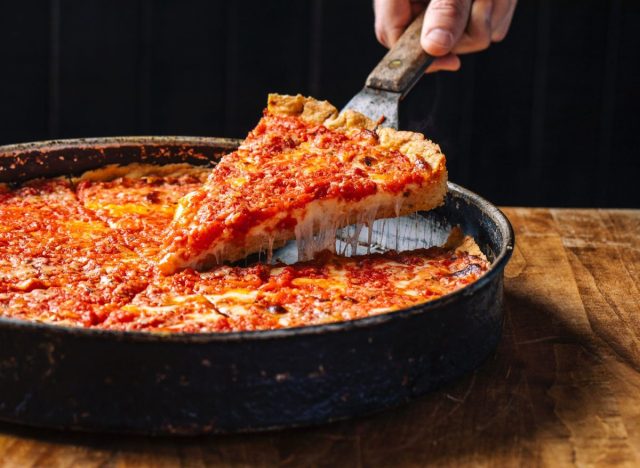 There are few Chicago deep-dish spots that are quite as beloved and well-known as Lou Malnati's, and the reason's no secret. Since the first Lou Malnati's Pizzeria opened in 1971, this chain has held itself to strict quality standards that ensure customers will consistently get great deep-dish pizza during every visit.
The secret to Lou's pizza is the flaky, buttery crusts that are made from scratch with a closely-guarded family recipe. The company also thoughtfully sources the ingredients for its popular pizzas, including California vine-ripened tomatoes that are both sweet and tangy, a special sausage blend seasoned precisely to Lou's specifications, and fresh mozzarella cheese from a small supplier that has been working with the chain for more than 40 years. This high level of care allows Lou's to win over customers time and time again.
"The attention to detail and craftsmanship that goes into each pizza is evident," one fan wrote on Yelp.
Lou's is also Chef Kim's "all-time favorite" and the place he'll go to treat himself on the rare occasions he indulges in deep dish. There are currently 59 Chicagoland Lou Malnati's restaurants, plus eight in Arizona, five in Wisconsin, and seven in Indiana.
Pequod's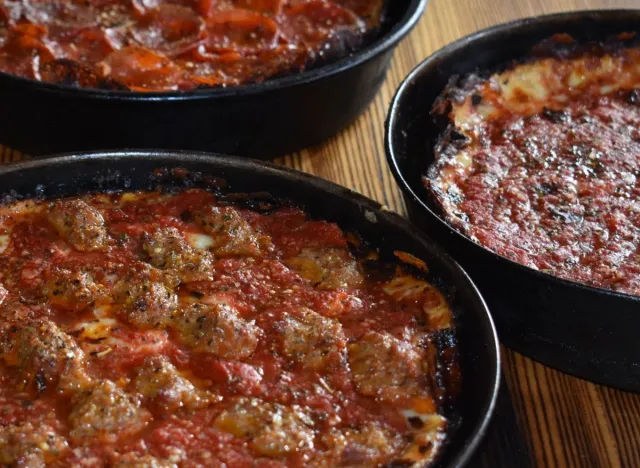 Don't let the dark, caramelized crusts you'll find at Pequod's Pizza fool you into thinking they're burnt. This is what makes Pequod's pies so flavorful, unique, and legendary among Chicago locals and tourists alike. 
The first Pequod's opened in 1970 in the Chicago suburb of Morton Grove, serving up pizzas with generous toppings, Instagram-worthy cheese pulls, and lots of caramelized mozzarella around the edges. The restaurant's faithful following of customers gave it the support it needed to open a second spot in Chicago's Lincoln Park neighborhood in 1992.
More than 50 years after it first started serving guests, Pequod's is still so popular that customers say you'll usually have to make your peace with waiting a bit before being seated if you decide to stop by in person. Still, there's no doubt about how fans feel about the taste of these famous pizzas.
"Easily the best deep dish/pan pizza I have ever had by a mile," a Yelp reviewer wrote earlier this year.
Pequod's is also a top pick for Chef Williams, who said the restaurant is "one of my favorites."
Giordano's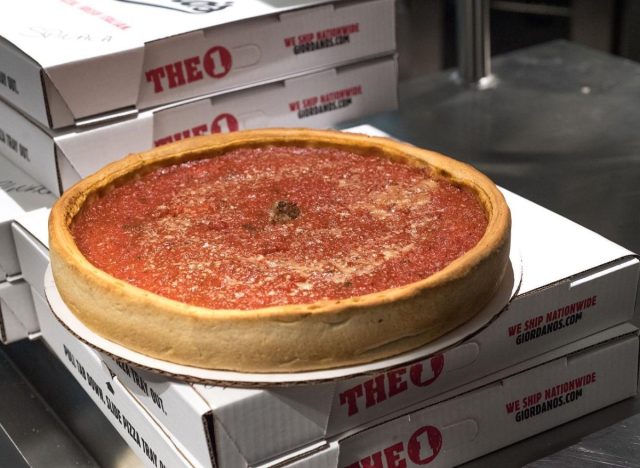 If you asked Chicagoans where to find the absolute best deep dish in the city, some would undoubtedly point you to Giordano's. While you won't find overly wacky pie options at this chain–the menu mostly highlights classic pies like sausage and veggie–Giordano's has mastered the art of delivering delicious, high-quality pizzas in its nearly 50 years in business. This spot is so good, in fact, that it has even won over the most dubious of pizza lovers.
"I grew up on New York pizza so I was skeptical trying Chicago-style for the first time, but I was not disappointed in the least. The crust had a bit of crunch, the sauce was flavorful (not overly salty), and the cheese flavor and texture were spot on," one Yelp reviewer wrote this month.
Giordano's currently operates dozens of locations across Illinois and the Chicago area. It also has a handful of additional restaurants scattered throughout the Midwest, Florida, Colorado, and Nevada.
Labriola Cafe
You'll never have to worry about getting soggy or bland deep-dish at Labriola Cafe. This Michigan Avenue destination uses a special focaccia-style dough that bakes up crispy and caramelized on the outside while remaining fluffy and light in the center for a perfect mix of textures. But this top-quality dough is only part of what makes Labriola's pizza so special and beloved.
Customers say that the signature chunky sauce is extremely fresh, the helping of cheese is generous, and the overall experience is flavorful and "delicious." While spots like Lou Malnati's and Pequod's may have more name recognition, fans say that Labriola competes with even the major chains and most famous deep-dish joints.
"This deep dish is truly worthy of best in Chicagoland consideration. I know that's saying a lot with all the great landmark pizza spots but after eating here many times and as a lifelong Chicagoan, I'll put it up there with anything," one fan wrote on Yelp.
Uno Pizzeria & Grill
No list of the greatest deep-dish pizzas in Chicago is complete without what's widely considered to be the literal birthplace of this special dish. Ike Sewell, the founder of Uno Pizzeria & Grill, first introduced Chicagoans to his tall, buttery pizza crusts packed with quality toppings and tons of cheese all the way back in 1943, and the Windy City has never been the same since.
Uno's popularity allowed it to expand beyond its Chicago roots and eventually open more than 100 restaurants across 20 states, Washington D.C., Honduras, Qatar, India, and Saudi Arabia. And while a lot of time has passed since Sewell first started serving up his famous pies roughly 80 years ago, customers say the pizza is still as good as ever.
In the words of one fan on Yelp: "Pizzeria Uno is probably the best deep-dish in Chicago."
Gino's East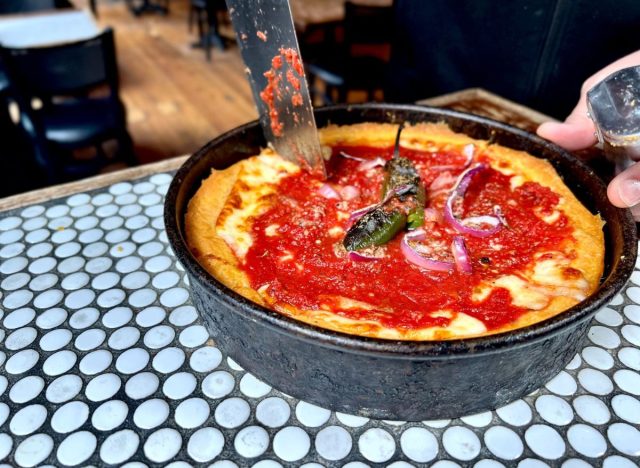 Gino's East has been a Chicago deep-dish institution ever since the chain's flagship restaurant near the Magnificent Mile first opened its doors all the way back in 1966. In a city packed with great deep-dish spots, Gino's owes its longevity and immense popularity to longstanding attention to detail. The owners of Gino's hired pizza chef Alice Mae Redmond to develop their signature pies, and she adopted a slowed-down method that involved gently stretching the dough into pans and carefully topping it with sauce, according to the chain's website.6254a4d1642c605c54bf1cab17d50f1e
In addition to this thoughtful pizza-making process, the company also puts a lot of consideration into where and how it sources ingredients. The sausage it uses is made right in Chicago. The tomatoes are family-grown in California. The cheese, which is "designed especially for pizza," comes from Wisconsin. Plus, the dough is made from scratch daily without any GMOs.
There are currently two Gino's East locations in Chicago and one in the suburban Illinois city of Wheaton, while Singapore, Los Angeles, and Lake Geneva, Wis., also boast one location each.
Milly's Pizza In the Pan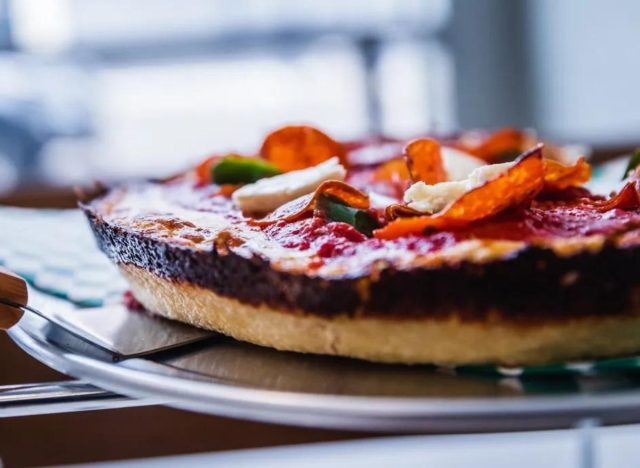 Milly's Pizza In The Pan is a pretty young deep-dish spot in comparison to some of the history-steeped chains on this list, but it has still been able to make a major mark on the Chicago deep-dish scene in the few years it has been around. Robert Maleski first opened Milly's in 2020 as a ghost kitchen that quickly exploded in popularity thanks to his unique, delicious slices, and then eventually moved to a brick-and-mortar shop in Chicago's Uptown neighborhood. To this day, Maleski alone handmakes every single pizza that comes out of his restaurant, only producing a set number each day they're open.
The menu itself is limited to a handful of different pizzas, but it's certainly not short on creativity, humor, or high-quality ingredients. Look no further than the "Clickbait" pizza topped with olives, red onion, mushrooms, mini peppers, kumato tomatoes, jalapeño, Calabrian chilis, and fresh ricotta cheese, or the "Craigslist.org" with peppadew peppers, sausage, mushrooms, red onions, toy box tomatoes, spinach, and ricotta.
His pizzas aren't quite as deep or tall as the deep dish you'll find at places like Lou Malnati's and Uno's. His fluffier, risen crust is also a step from the flakier crusts you'll get at classic deep-dish joints. Despite this break from tradition, customers can't seem to get enough of the caramelized, picturesque pizzas at Milly's.
"Best pizza in the city!! I highly recommend Milly's if you're looking for a good pizza with fresh ingredients," one Yelp reviewer wrote earlier this month.
Zoe Strozewski
Zoe Strozewski is a News Writer for Eat This, Not That! A Chicago native who now lives in New Jersey, she graduated from Kean University in 2020 with a bachelor's degree in journalism.
Read more about Zoe