We Tasted 9 Dill Pickle Brands & This Is The Best
This is the brand should always be in your refrigerator.
Dill pickles can be found in most grocery store refrigerators across America. The crunchy, tart condiment veggie is perfect on a snack plate, on cheeseburgers, or even on its own. But after trying nine different dill pickles, I learned that not all brands are created equally.
The top brand from my taste test was the easy favorite with my friends and family who participated and let's just say the bottom brand isn't one I will be buying again, even if it's the only jar left on the shelves at the grocery store. Keep reading to find out the best tasting dill pickles that should always be in your refrigerator. (Plus, if you are looking for tips on losing your gut, check out Eating Habits to Lose Abdominal Fat As You Age, Say Dietitians.)
Worst: Simple Truth Organic Kosher Dill Pickle Spears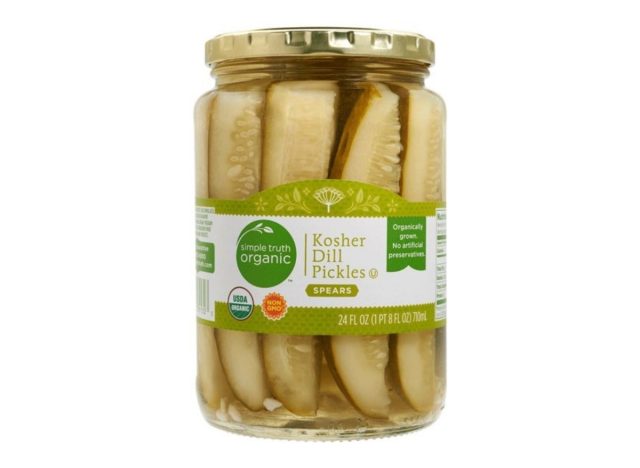 The least favorite of the dill pickle options is the Simple Truth Organic Kosher Dill Pickle Spears. The exterior skin of the pickle was tough to get through and I ended up chewing on it longer than I would have liked. The inside was mushy and soggy and fell apart as I was taking it out of the jar. The flavor was very acidic, which made it hard to get through more than a few bites of the pickle.6254a4d1642c605c54bf1cab17d50f1e
Mt. Olive Kosher Dill Spears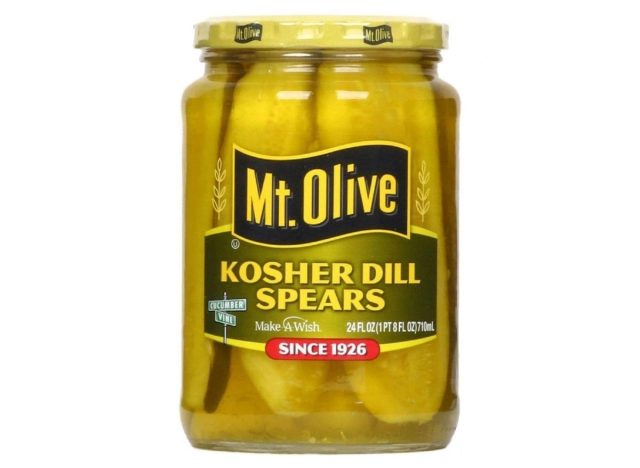 One brand that I had high hopes for was Mt. Olive, but it ended up falling flat. The pickles were soggy and lacked that punch of dill flavor that I was looking for in a pickle. The exterior skin was darker in color than many of the other pickle brands, which made me think that these had been sitting around at the grocery store for a while. These pickles also contain a variety of preservatives including polysorbate and sodium benzoate, extra natural flavors, and yellow 5. These are a skip.
Top 'Ems Fresh Pack Whole Kosher Dill Pickles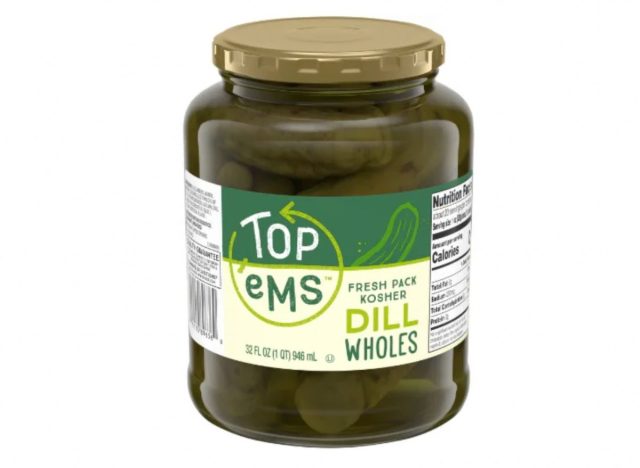 Top 'Ems was a brand I had never tried before and while this brand ranked pretty far down on the list, I wouldn't say no to it if it's all that was available. The pickles were crisp and juicy, which is exactly what I look for in a jarred pickle. The one thing that brought these down on the list was the warm spice flavor that the first bite of the pickle had. It was almost as if the pickling spice had cinnamon mixed in, but after the first bite, the flavor was more acidic. These also contain polysorbate 80, natural dill flavor (as opposed to real dill), and artificial colors, however.
Park Street Deli Kosher Dill Spears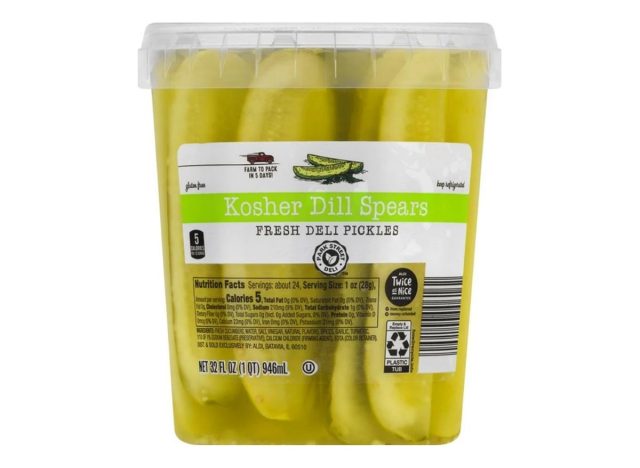 The first of the chilled pickles on the list is the Park Street Deli Kosher Dill Spears. These pickles came packed in a plastic tub versus a glass jar like more traditional pickles. The pickles were crisp but lacked any dill flavor. This pickle is what you might give to a kid who is trying pickles for the first time. Some sodium benzoate and EDTA are along for the ride with these pickles.
Kroger Kosher Dill Pickle Spears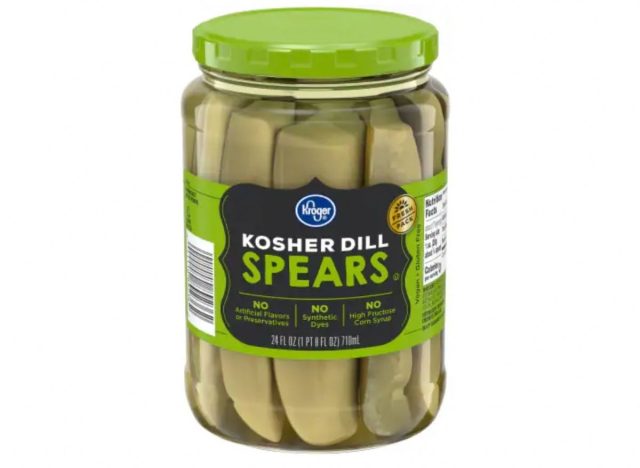 The Kroger brand dill pickle spears had a tough skin that was a bit challenging to get through, but the flavor was good. In fact, the pickle had a great balance of the intense acidity of a traditional dill pickle, with a slight sweetness that I wasn't expecting. The center was slightly mushy, but overall, these were pickles I would buy again.
Vlasic Kosher Dill Spears
This is the classic dill pickle that I think of when I think of dill pickles. The taste was smooth and refreshing without being overwhelming. The pickle had a nice snap to it when I bit into it, and the interior of the pickle wasn't completely soggy. Overall, I would keep these in my fridge on a regular basis. These also contain polysorbate 80 and natural flavors but are naturally colored with turmeric.
Vlasic Kosher Dill Spears Purely Pickles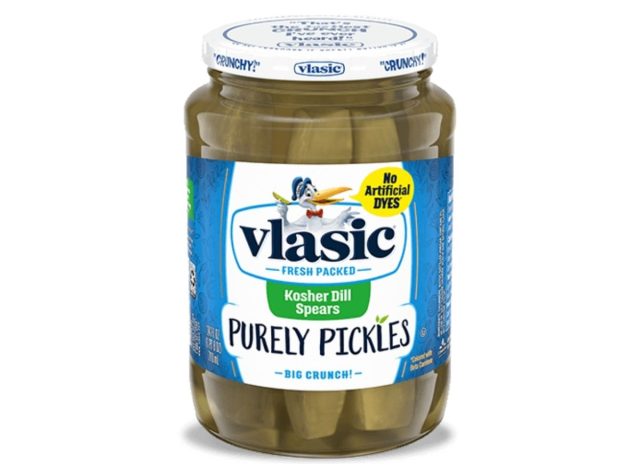 Vlasic rounds out the top three with its Kosher Dill Spears Purely Pickles. The spears had a tart vinegar taste and were very crisp. The pickles were juicy and had a nice dill flavor that wasn't too much. I also liked these because the pickles don't have any artificial dye, so all of the ingredients are ones I can actually pronounce and ones I know.
Claussen Kosher Dill Pickle Spears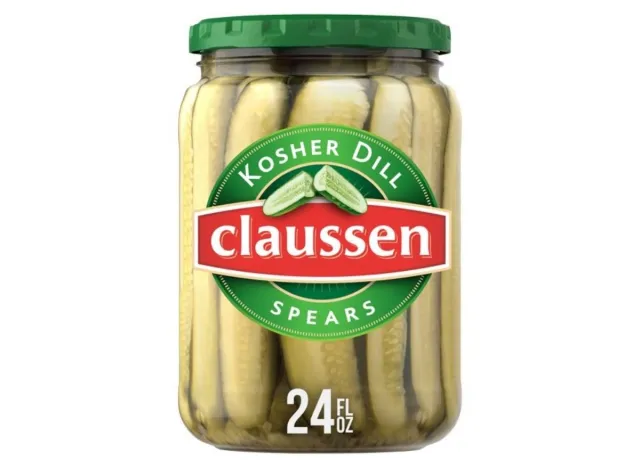 Just missing the top spot are the Claussen Kosher Dill Pickle Spears. These pickles were the best of the jarred options, with a bright flavor that was counterbalanced well with a strong dill taste. The pickles were crisp and crunchy, without a hint of interior sogginess. If you're looking for a jarred pickle, this is the one to get. Though these pickles contain polysorbate 80, they also contain lots of real spices and flavorings like dried garlic, real spices, mustard seed, and dried red peppers for flavor–with a little natural flavoring thrown in.
Best: Grillo's Pickles Dill Spears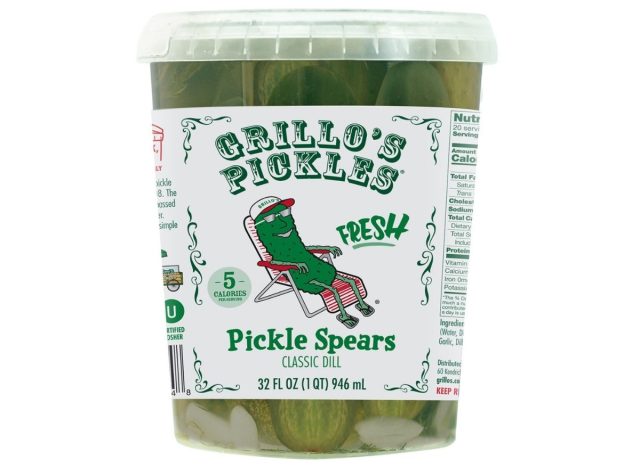 The number one pickle brand in the supermarket is Grillo's Pickles Dill Spears. What made these instantly rise to the top was the overall look, which resembled a fresh cucumber the most, with bright green skin and pale green flesh. The pickles were very crunchy and had a strong dill and garlic taste. In fact, there's dill and garlic floating around in the brine the pickles are packed in. Because these pickles are made, shipped, and sold cold they keep a lot of their juiciness without compromising texture. They are also the most natural of the bunch with just cucumbers, brine, garlic, dill, and grape leaves as the ingredients.
Final Thoughts
That all-natural pickles without preservatives would taste the best, makes sense, after all, pickling is a way of preserving food. In the end, you have to wonder why preservatives, added colors, and other flavors are needed. It's in your best interest to seek out pickles without these ingredients both for the health benefits and the taste.
Megan duBois
Megan duBois is a travel and lifestyle journalist with bylines across the internet and in print at Delish, Conde Nast Traveler, Travel + Leisure, Yahoo Lifestyle, and more.
Read more about Megan