The Best Seafood Restaurant in Every State
Prepare to add all of these locations to your "must-try" list.
Pan-seared, boiled, grilled, or fried, seafood can come in countless forms. While the perfect deep-sea dish can be hard to find, we've rounded up a list of seafood hotspots that consistently blow customers out of the water. From hole-in-the-wall locations to fine dining fare, this list goes to show that good seafood can fit every budget. So, what are you waiting for? Get ready to dive into the best seafood eateries America has to offer.
Read on to discover if your favorite seafood establishment made the list! Plus, don't miss the Best Once-in-a-Lifetime Meal in Every State.
ALABAMA: Cajun Seafood House in Birmingham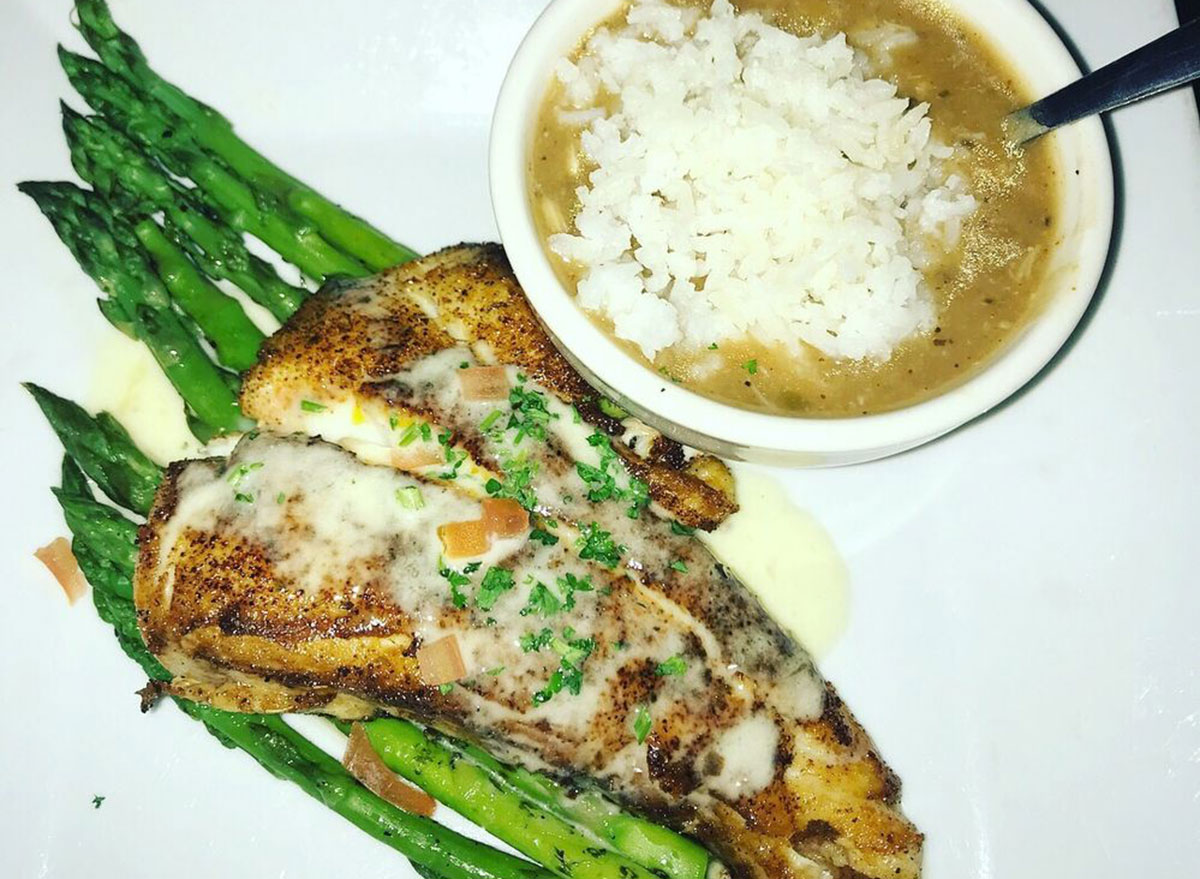 With star menu items like fried alligator and blackened red snapper, this Louisiana-style seafood joint has Yelp reviewers raving. "My husband went with an Etouffee tonight (I was scared he was going to lick the bowl). I opted for stuffed shrimp over rice and homemade chips. So delicious!" said one satisfied customer.
ALASKA: Glacier BrewHouse in Anchorage
Since opening its doors in 1996, Glacier BrewHouse has earned its reputation for a warm atmosphere and delicious, locally sourced eats. Yelp reviewers praise the "fresh as can be" King Crab legs and crab-stuffed cod. Located a short walk from the water, this restaurant's location is almost as good as its food.
ARIZONA: Bluewater Grill in Phoenix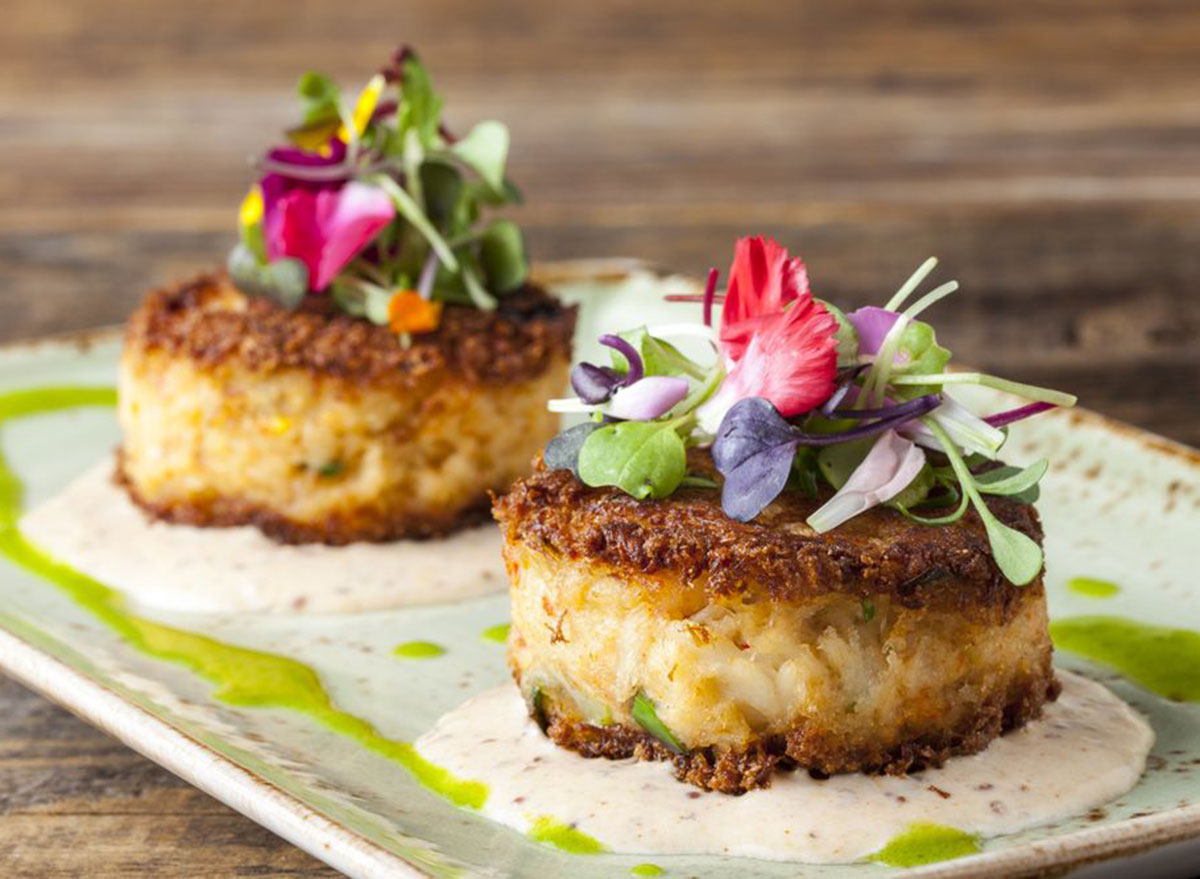 Nestled in the heart of Phoenix, this seafood spot is the first Arizona location of the California-based chain. From gourmet crab cakes to cedar plank salmon, the menu offers a wide variety of seafood favorites. "I can't get enough of this place! Seafood is always fresh! You will not be disappointed!" writes one happy Yelp reviewer.
ARKANSAS: Lazy Pete's in Little Rock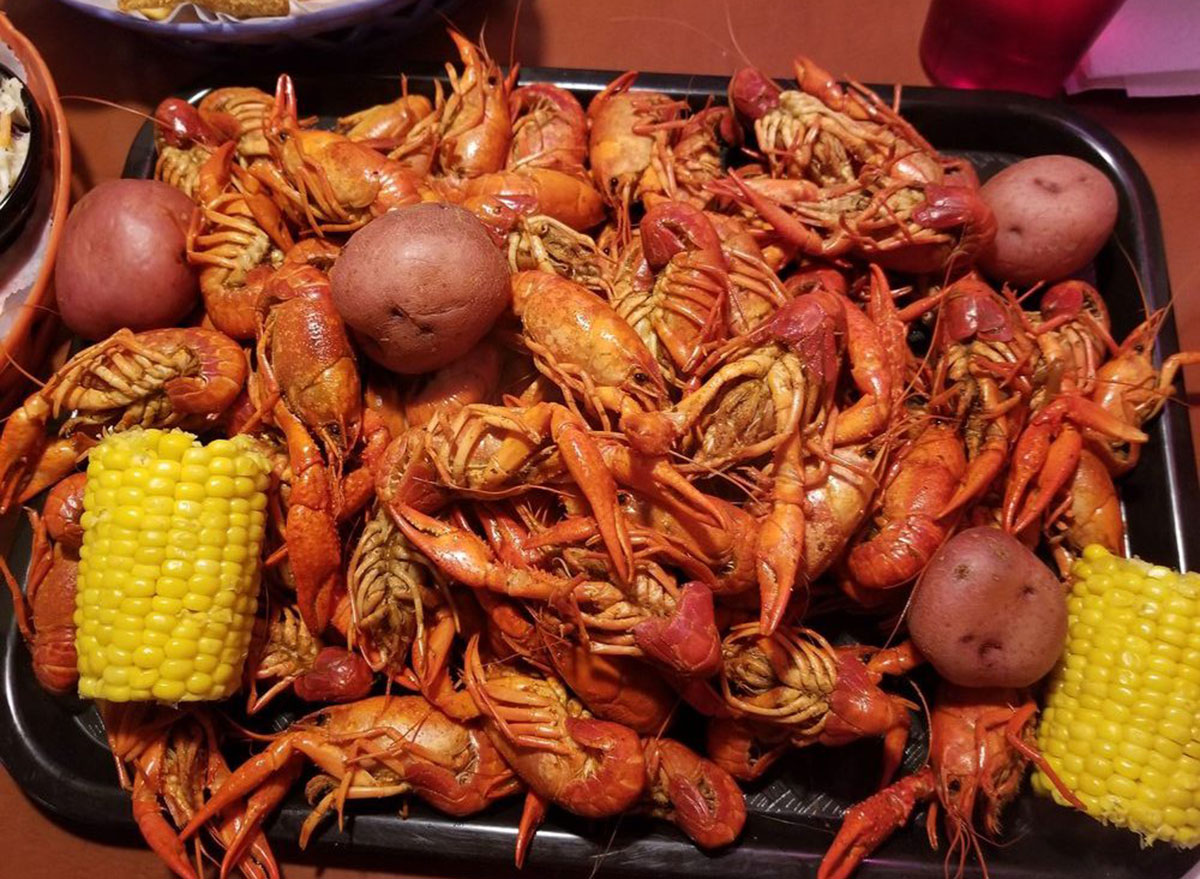 If you're looking for a casual ambiance and food that blows you out of the water, Lazy Pete's is the place for you. Featuring a combination of Southern and Gulf Coast cuisine, this surf and turf eatery offers no-frills dishes like fried catfish and spicy boiled crawfish.
CALIFORNIA: San Pedro Fish Market and Restaurant in San Pedro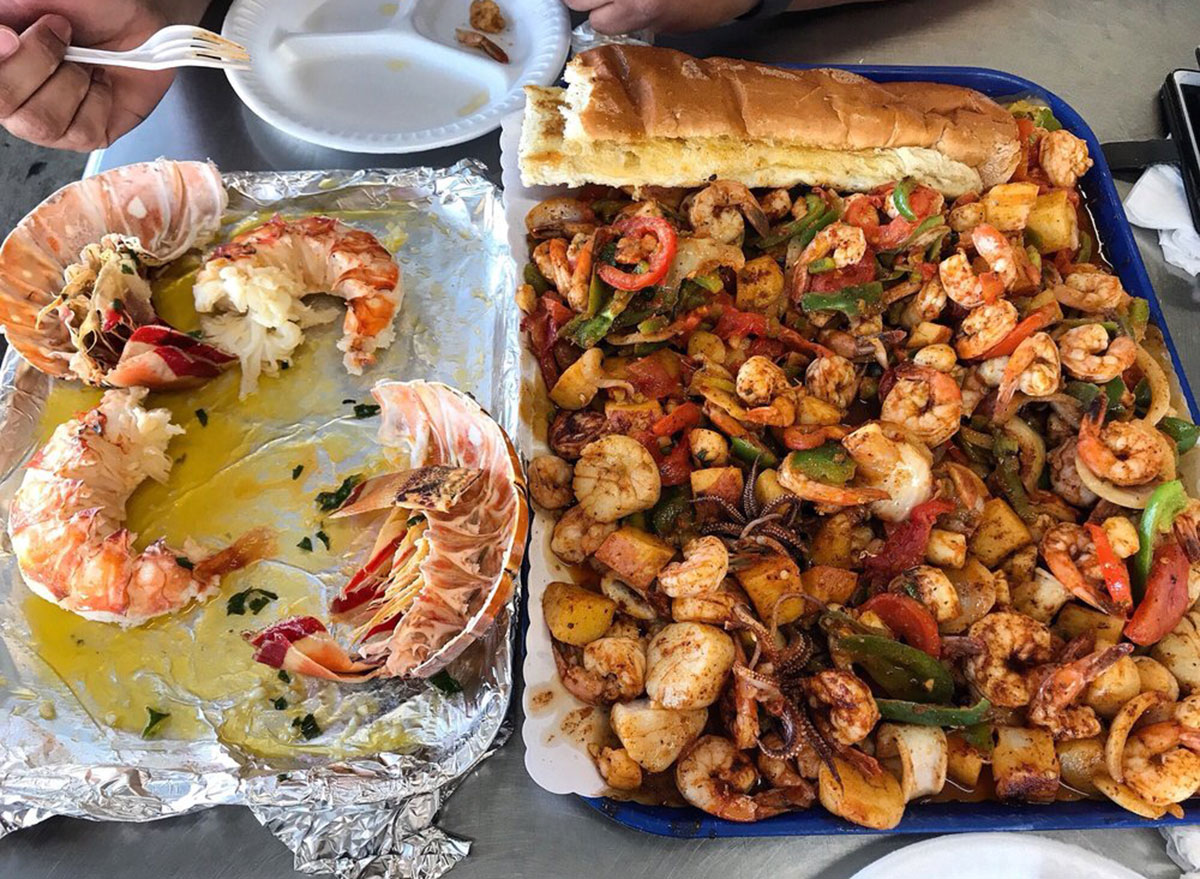 What started as a local, family-owned seafood shop in 1956 has grown to become California's largest seafood restaurant. The seafood behemoth offers seating for up to 2,000 and serves a whopping million meals every year. Brave the line and get treated to authentic shrimp tray platters, grilled swordfish, and a jaw-dropping view.
COLORADO: Jax Fish House LoDo in Denver
This seafood spot has been making waves in the Denver community since 1996. As a leader restaurant in the James Beard Foundation's Smart Catch program, the restaurant not only serves delicious meals, but also practices sustainable seafood sourcing. "DANG! The crab cakes BEAT those I've had in Maryland! A 'must-have!'" raves one Yelp reviewer.
CONNECTICUT: Jay's Crab Shack in Hartford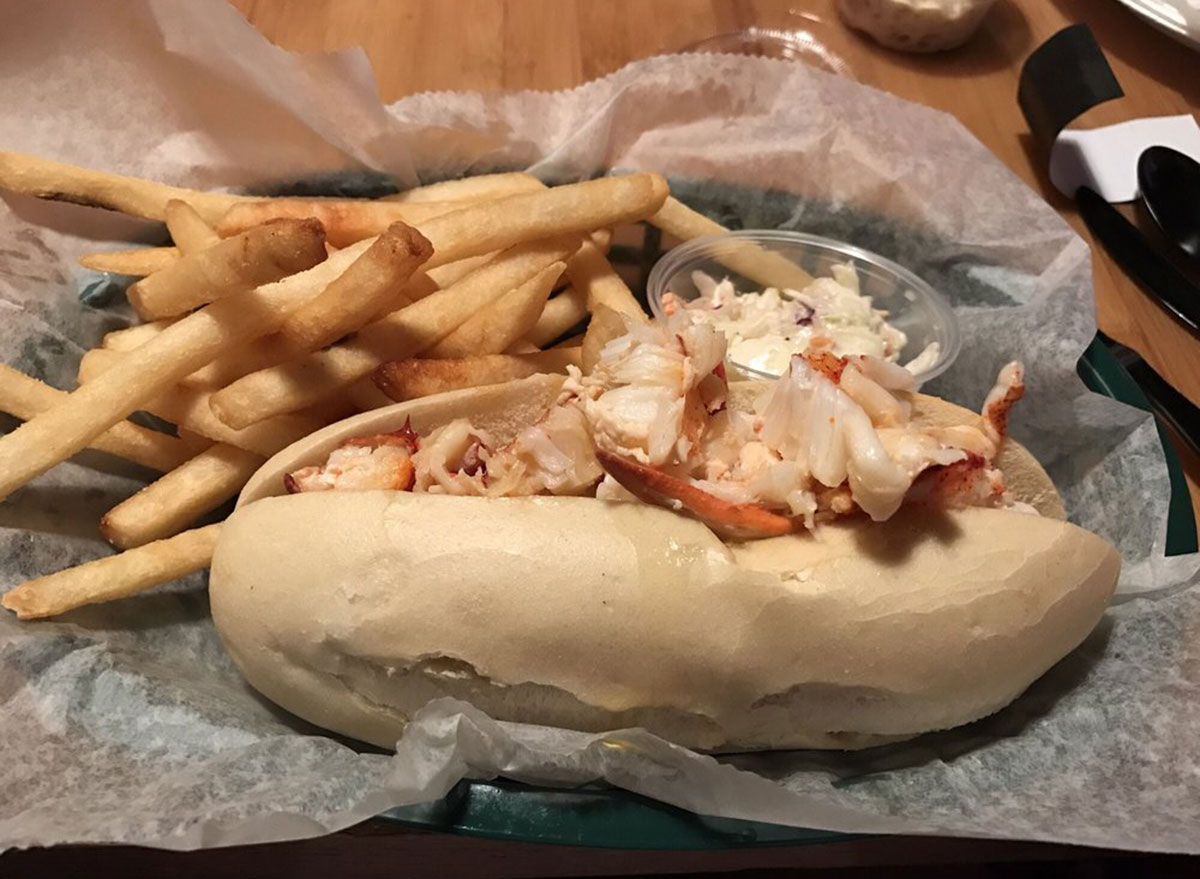 Founded by a scallop fisherman over 20 years ago, this modest seafood spot goes by one motto: the freshest fish and largest portions. Sounds good to us!
"Holy Moly! Slap your mama good! Who is responsible for the goodness?" says one enthusiastic Yelp reviewer. From authentic lobster rolls to steamed mussels, this local eatery has customers coming back for more.
DELAWARE: Big Fish Grill-Riverfront in Wilmington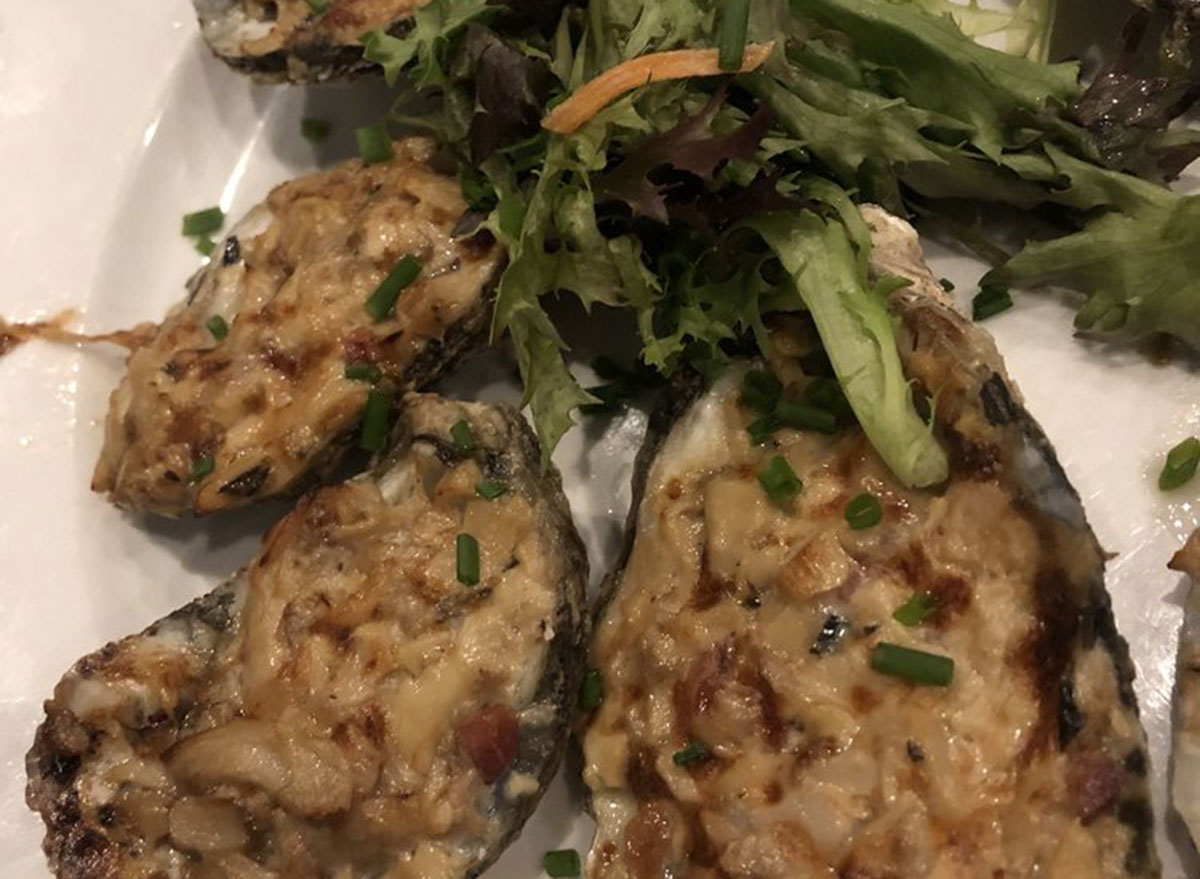 The sister restaurant to the successful Big Fish Grill-Sussex County location has made a name for itself on the scenic Wilmington riverfront. While offering a bevy of surf n' turf options, the seafood linguine, and baked oysters seem to steal the show.
FLORIDA: FreshCo Fish Market and Grill in Miami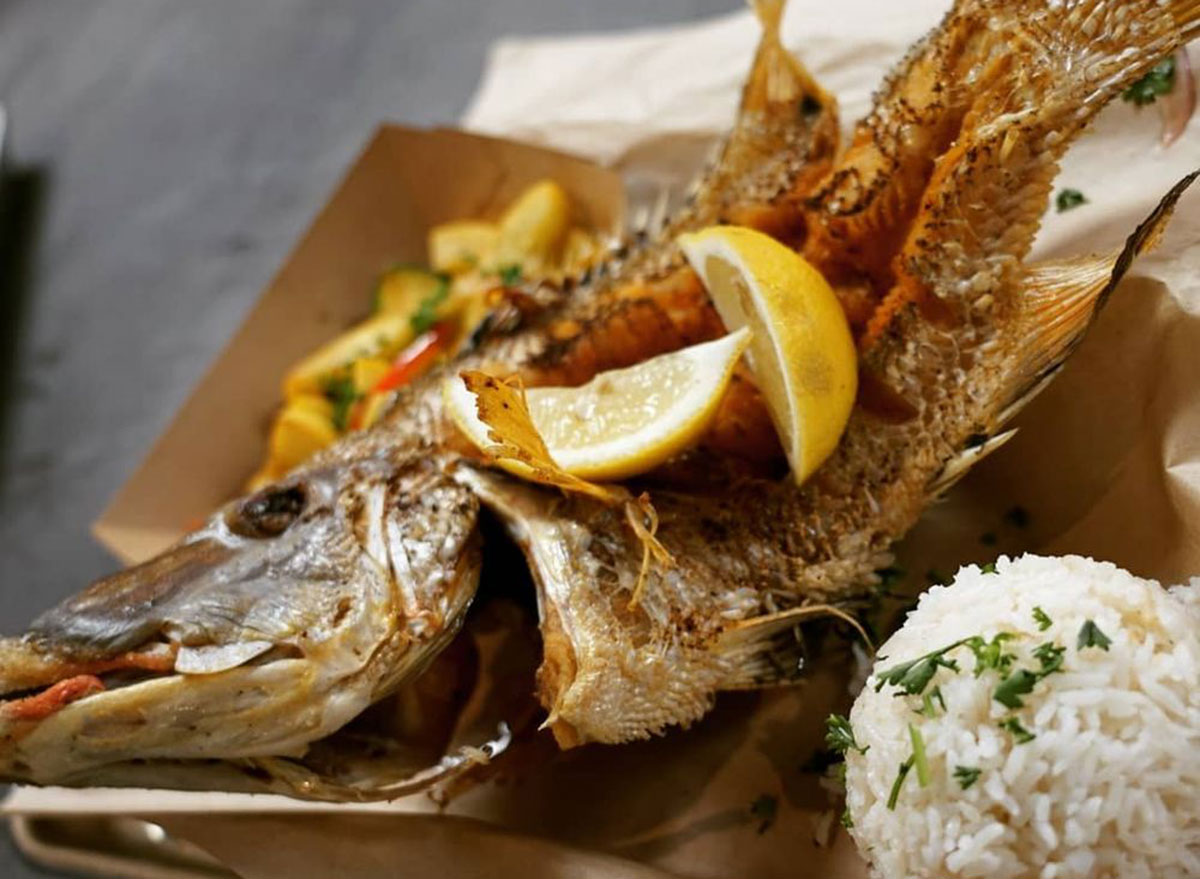 This family-owned market and restaurant is what seafood dreams are made of. The fish joint offers a wide array of unique interpretations of classic dishes, like the raved-about (and beautifully plated) hogfish platter.
GEORGIA: Steamhouse Lounge in Atlanta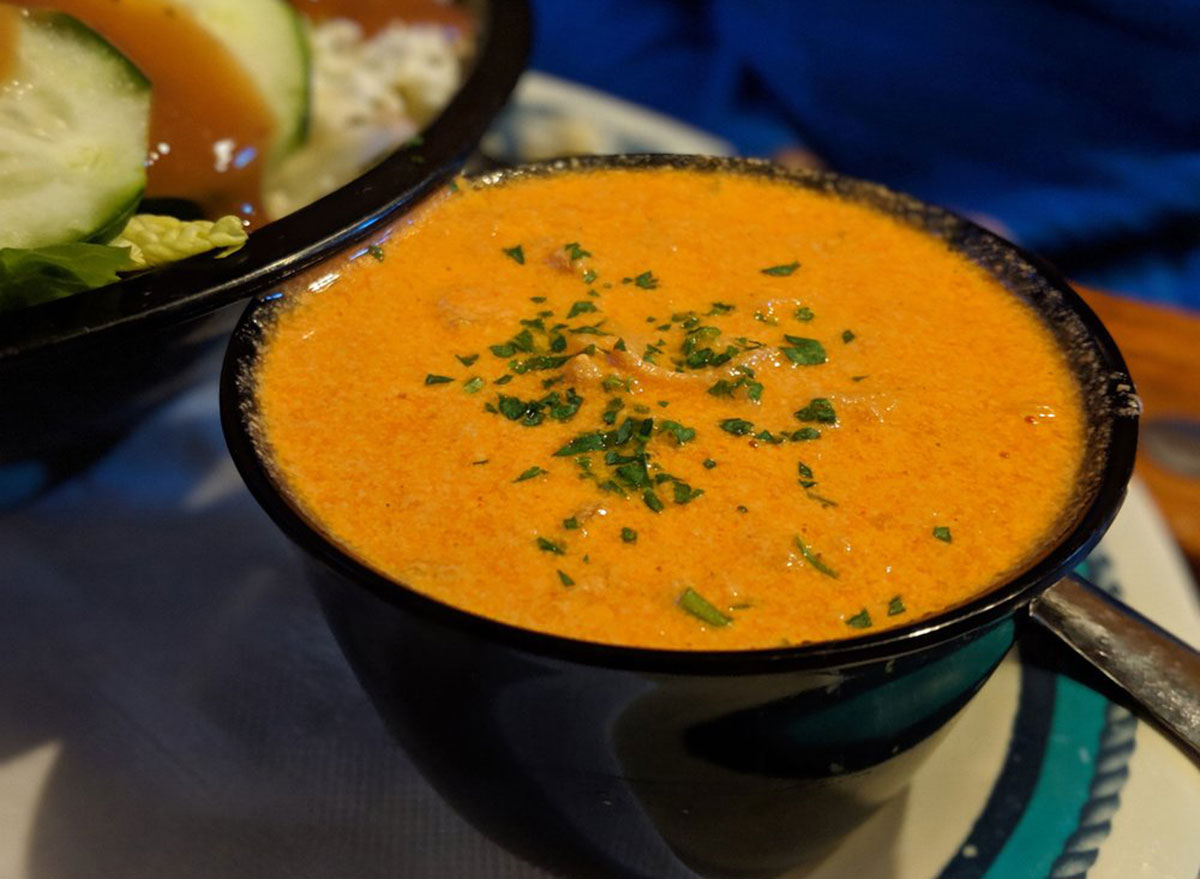 Located in bustling Midtown inside a two-story, 100-year-old house, this seafood staple offers as much character in its menu as it does its atmosphere.
"My absolute favorite restaurant in ATL. The service is always great, the drinks are even better but most of all, it's fresh seafood you only expect to get on the beach!" raves one reviewer. Try the highly rated lobster bisque soup for the supreme Steamhouse experience.
HAWAII: Ono Seafood in Honolulu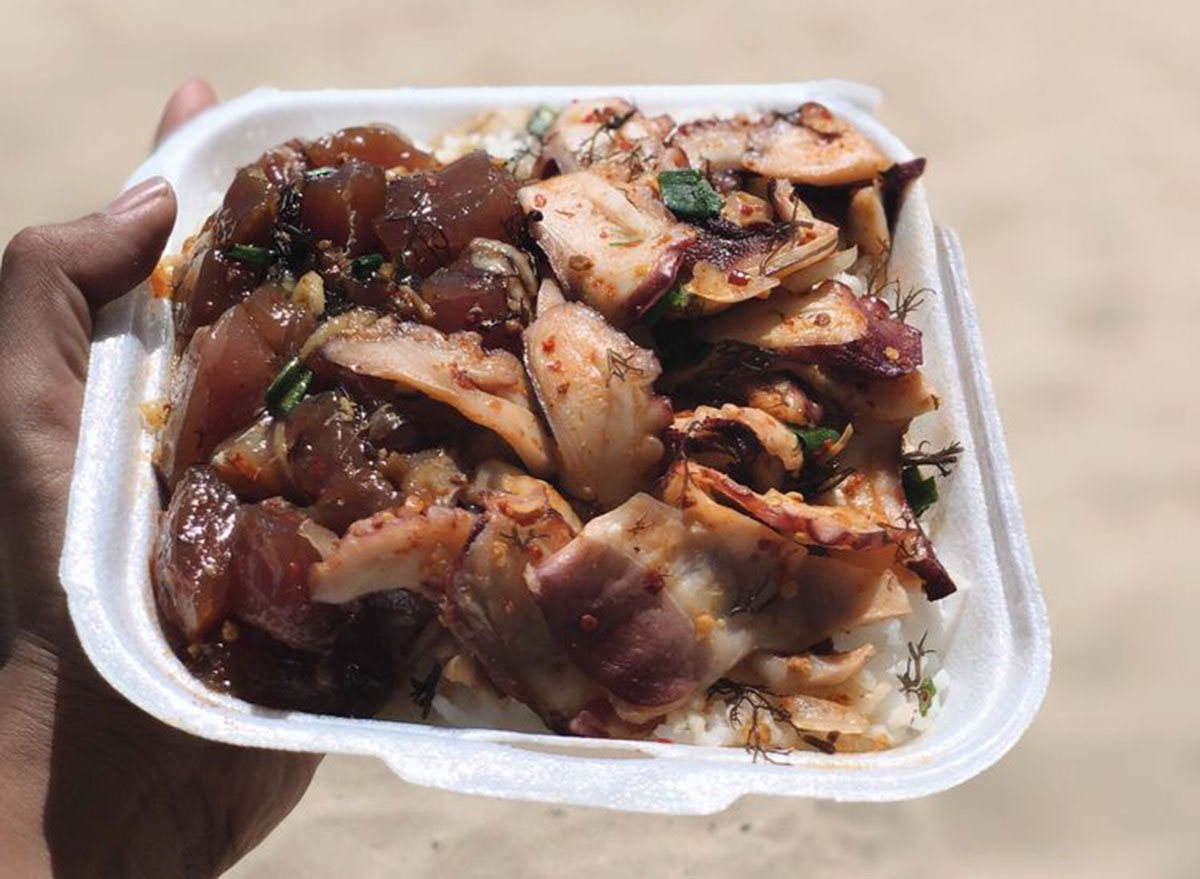 If you're lucky enough to travel to (or live in) the Aloha State, make sure to pay a visit to this highly praised Honolulu joint. This hole-in-the-wall seafood shop offers minimal parking and seating, but the fresh food is well worth the trip. Serving up premium poke dishes like spicy ahi & shoyu tako, this stop has customers from across the country raving.
"A must every time we visit Oahu. Always my first stop right after getting off the plane," reads one glowing review.
IDAHO: Lucky Fins Seafood Grill in Boise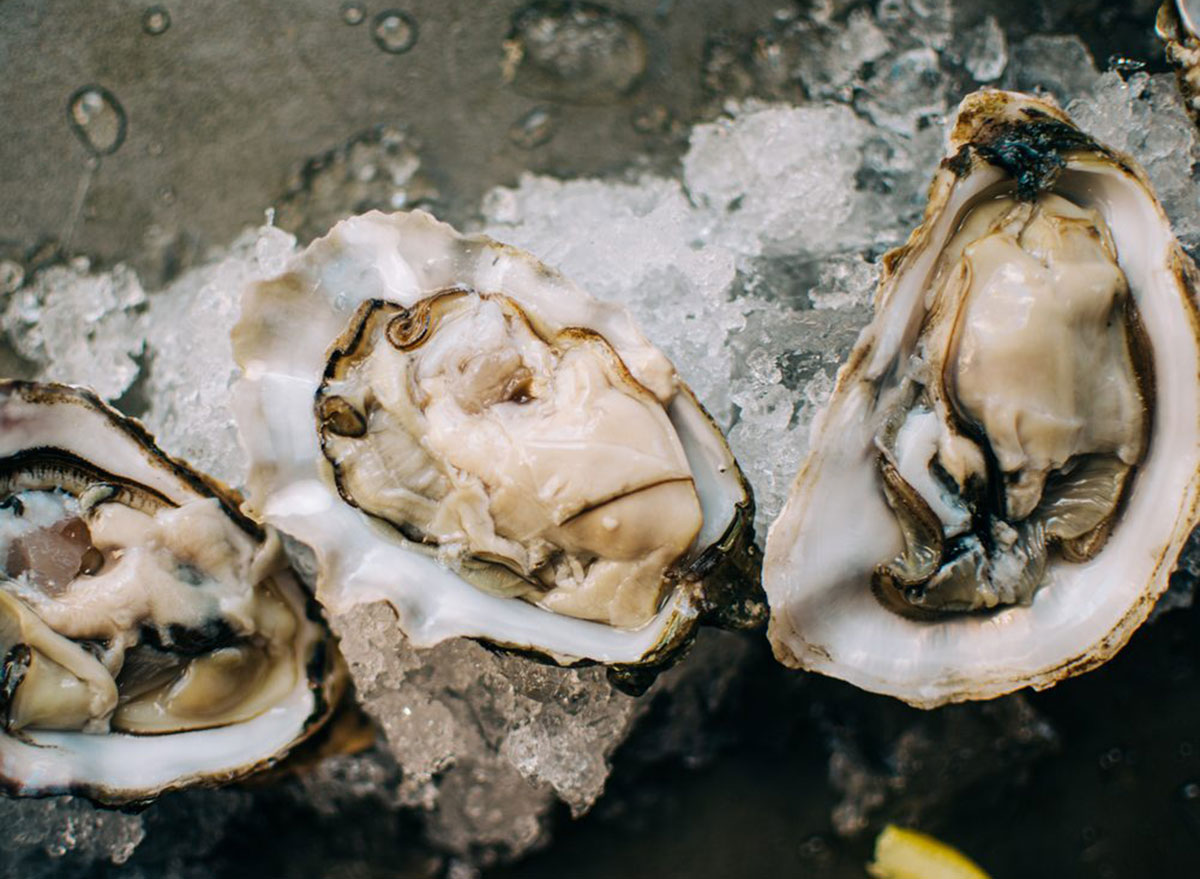 Finding a quality seafood spot in the land of potatoes can prove to be a challenging feat. Since opening its doors in 2011, Lucky Fins has made a splash in downtown Boise. Offering dishes influenced by Asian, Mexican, and Northwest cuisines, this hotspot has something for every palette. Menu highlights include the Mango Tango sushi, as well as the shrimp tacos.
ILLINOIS: Lowcountry Lakeview in Chicago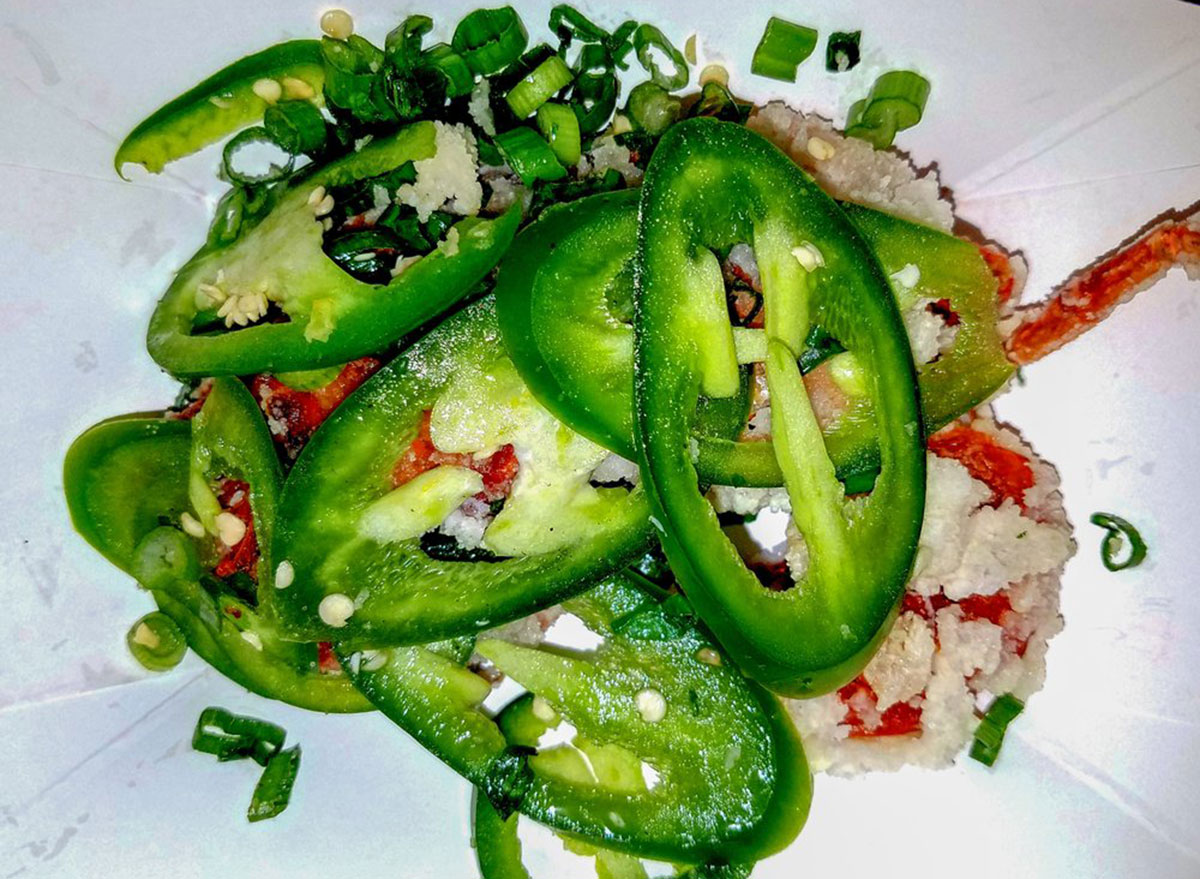 Bringing a taste of the Big Easy to the Windy City, this unassuming seafood spot has patrons begging for more.
"I'm drooling writing the review the morning after and am also in a depression state knowing there are no leftovers in the fridge. Guess I'll just need to go back, because holy moly this is the real deal," writes one Lowcountry superfan. Menu staples include the soft shell crab with jalapeños. Oh, and don't forget your beignets and deep-fried Oreos for dessert.
INDIANA: Caplinger's Fresh Catch in Indianapolis
As a relatively new-to-the-scene seafood eatery, Caplinger's set out to "debunk the misconception that you have to travel to the coast to get quality seafood." Stop by the market to pick up fresh catches to fry at home, or treat yourself to one of their specialty dishes like the soft shell crab sandwich.
IOWA: Waterfront Seafood Market in West Des Moines
Open since 1984, this eatery proves that good seafood doesn't have to be a coastal delicacy. Come for comfort food favorites like coconut shrimp or surprise your taste buds with the artfully prepared mixed poke salad. "Des Moines may be thousands of miles from either ocean, but the freshness of the meat and the talent of the cooks substantiates that geography is a silly concern, at least at this specific establishment," writes one passionate Yelp reviewer.
KANSAS: Jarocho in Kansas City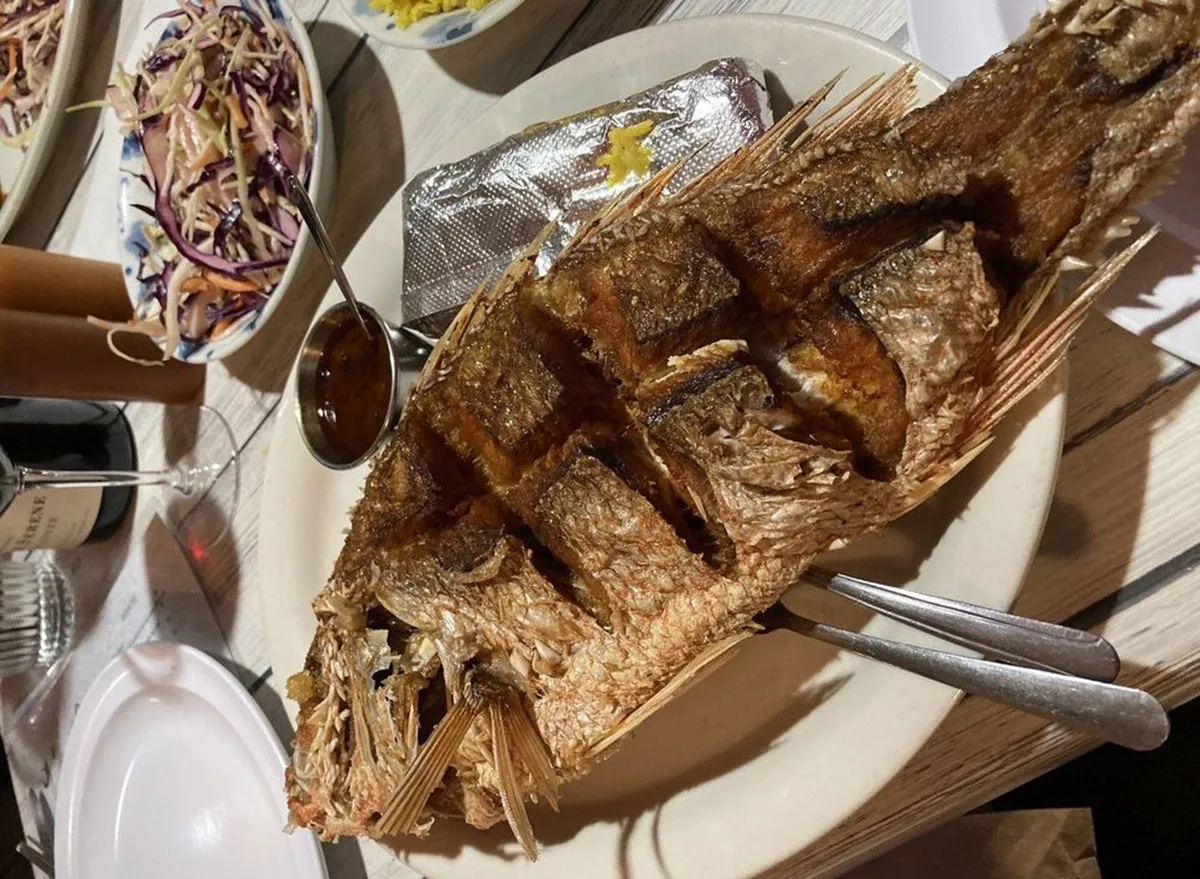 Next time you're craving Mexican food in the Kansas City area, visit Jarocho for elevated south of the border seafood fare. Voted "Best Seafood" and "Best Mexican" in Kansas City, this hotspot is the real deal. Menu highlights like the Pacifico ceviche and whole red snapper have reviewers dreaming about their next visit.
KENTUCKY: River House in Louisville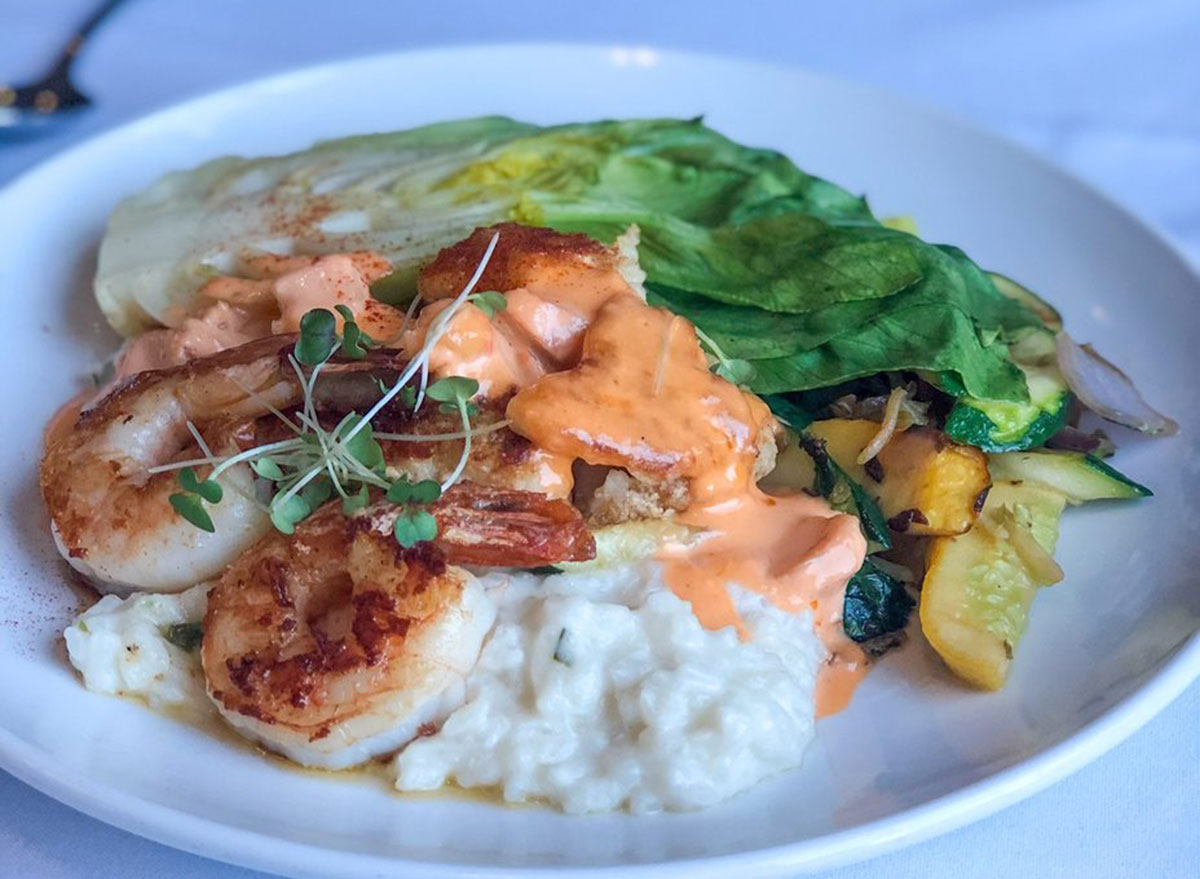 If you're looking for an upscale seafood experience with a waterfront view to boot, River House is the place to be. Whether you're celebrating or just wanting a sublime seafood experience, this riverside restaurant has a plate for every palette. Treat yourself to the Chilean sea bass with strawberry jalapeño vinaigrette salad or the tender grouper cheeks with shrimp.
LOUISIANA: Oceana Grill in New Orleans
If there's one thing the Big Easy does best, it's seafood. Located in the heart of the French Quarter, the 48-year-old establishment boasts a wide range of award-winning Creole dishes like the cajun jambalaya pasta and blackened alligator. If you're patient enough to wait in line for a table, you won't forget this seafood experience anytime soon.
MAINE: Eventide Oyster Company in Portland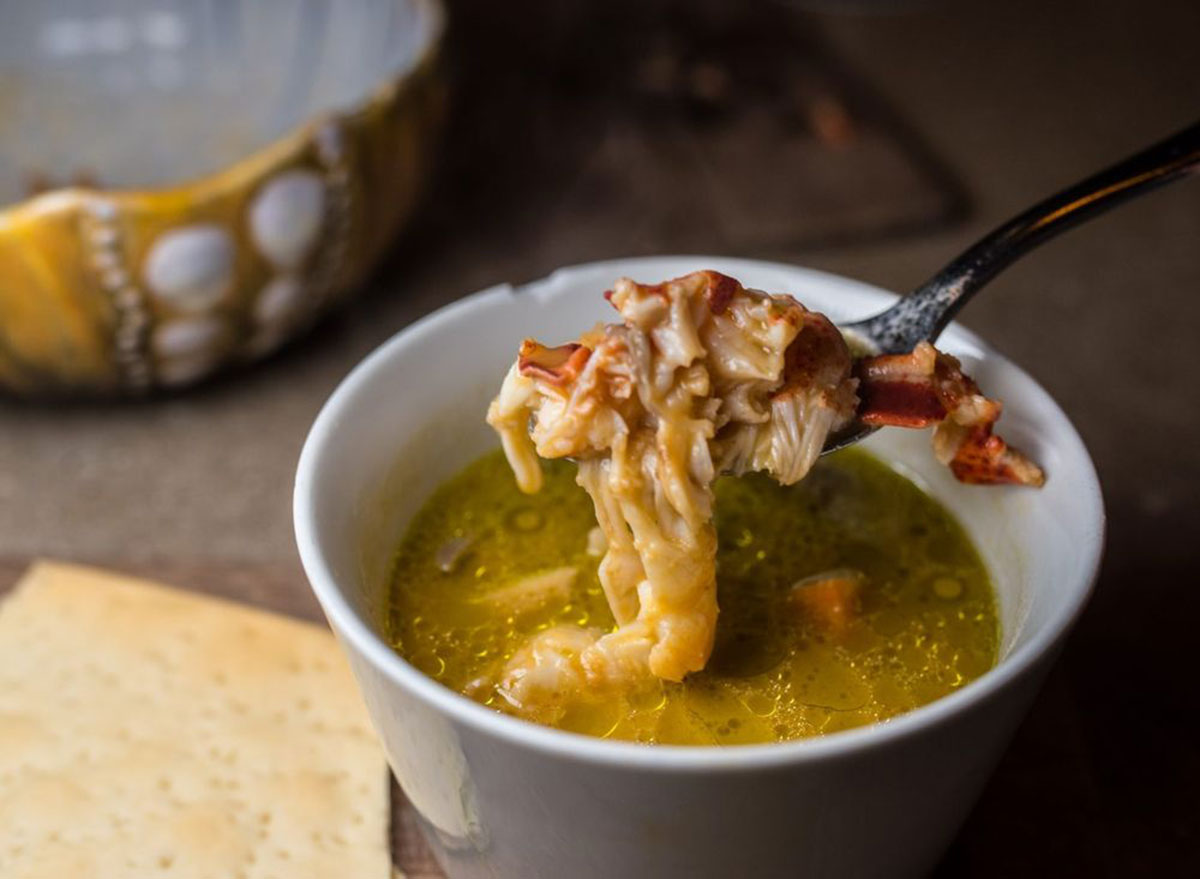 In a state known for its famed red lobster, you can rest assured most seafood joints will be serving up premium fish. So which restaurant rises to the top? Eventide Oyster Company in the heart of Portland.
"My group ordered just about everything on the menu & our taste buds were in heaven," writes one Eventide fan. Order the popular lobster puffs or savory lobster stew to satisfy your cravings.
MARYLAND: Thames Street Oyster House in Baltimore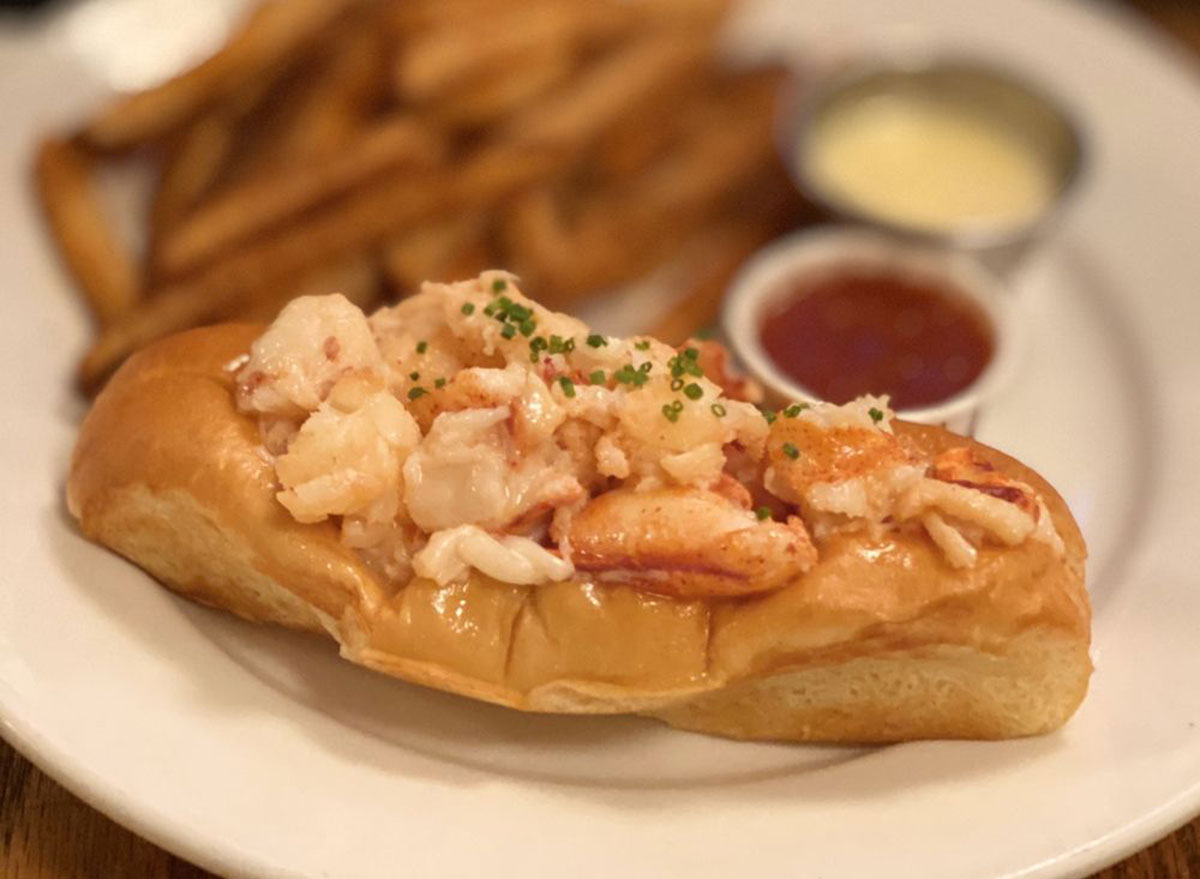 After reading this eatery's extensive reviews, it's hard to find anything not worth ordering at this iconic dining spot. Located in the historic Fells Point district, Thames Street Oyster House offers a multitude of authentic Maryland, mid-Atlantic, and New England seafood.
"When I say that a recent dining experience at Thames ranks #1 on my List of Most Pleasurable Meals in the last few years, I am not exaggerating. It REALLY is that good," raves one Yelp reviewer.
Menu highlights include the creamy shrimp risotto and buttery lobster rolls.
MASSACHUSETTS: Neptune Oyster in Boston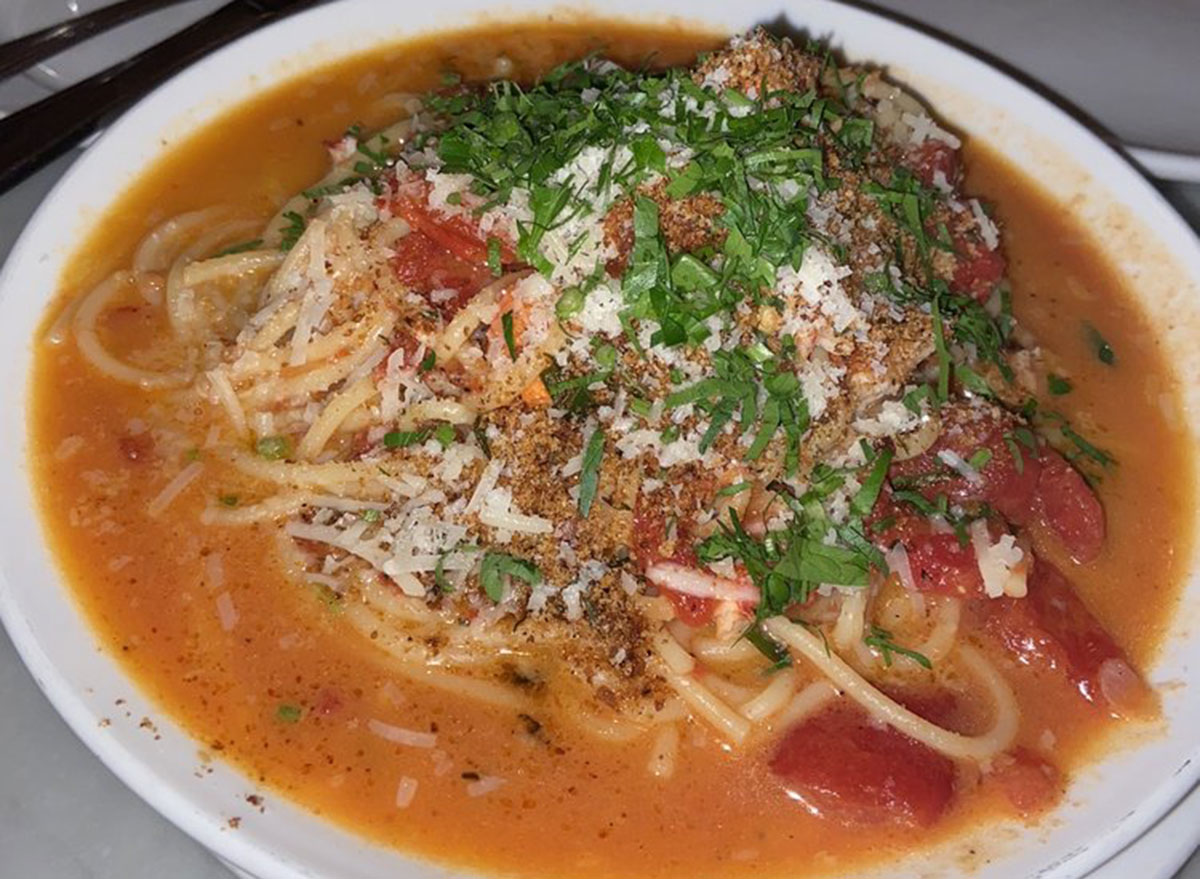 Known for its generous serving sizes and fresh-off-the-boat fish, Neptune Oyster has customers lined out the door for a reason. If you're lucky enough to snag a table, prepare to be treated to premium seafood dishes like the lobster spaghettini and fried Ipswich clams. Don't have time to wait? Order takeout for fast pick-up and mouthwatering seafood on the go.
MICHIGAN: Joe Muer Seafood in Detroit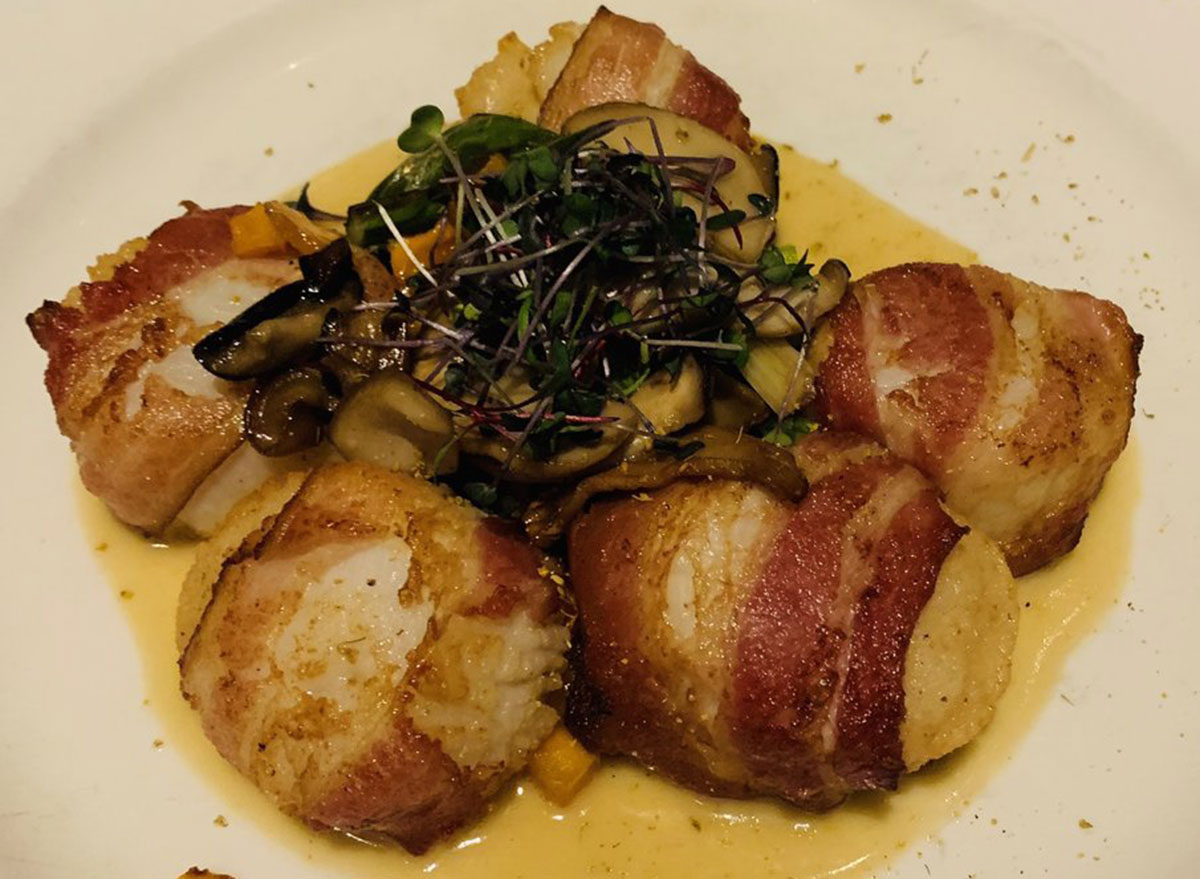 Joe Muer Seafood, open since 1929, offers an upscale seafood experience, complete with a riverside view and live music. The iconic seafood spot offers main courses like grilled Atlantic swordfish and Georges Bank Scallops.
"I can tell you all the dishes were basically cooked better than anywhere I've ever eaten. The lobster was perfect, filet was perfect and the sides and appetizer was cooked to perfection," writes one satisfied customer.
MINNESOTA: Grand Catch in St. Paul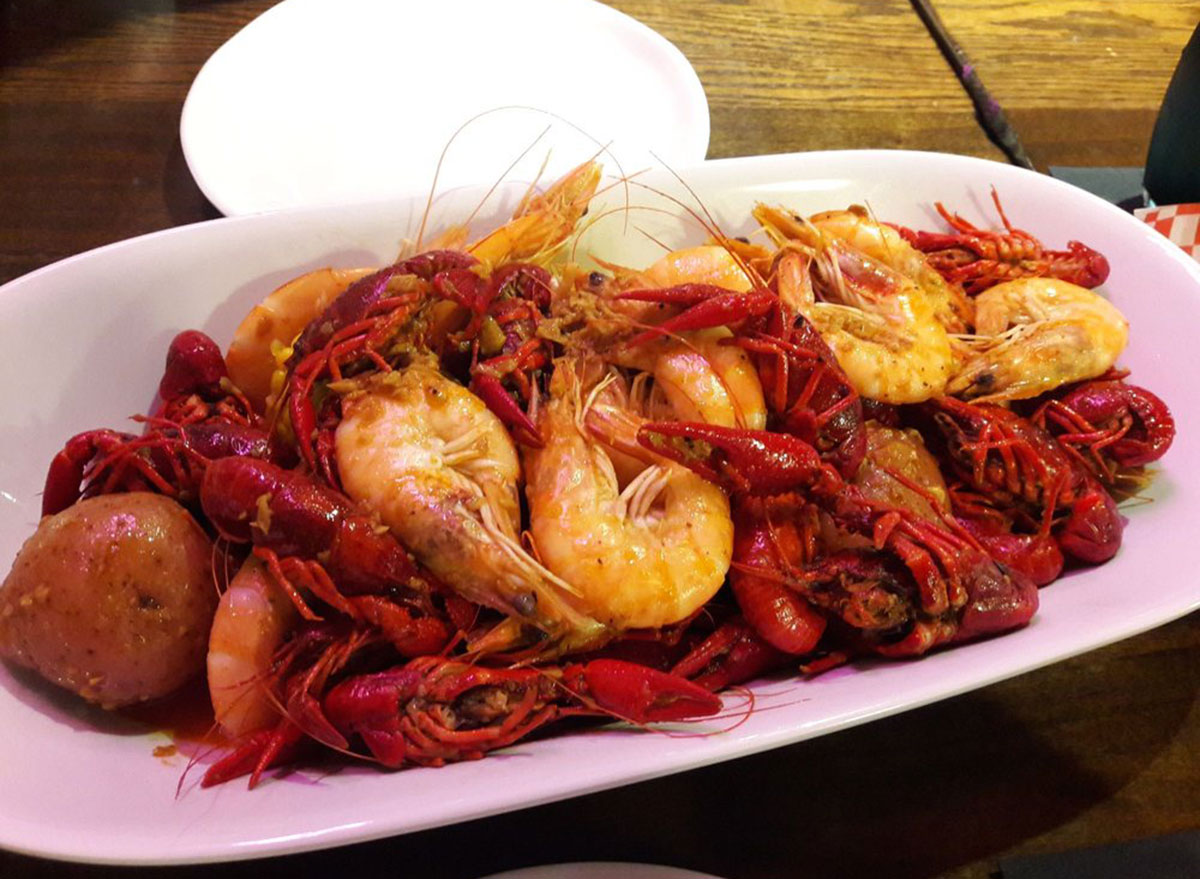 Located in St. Paul's Macalester-Groveland neighborhood, Grand Catch serves up your favorite seafood dishes with an Asian-Cajun twist. Known for the seafood boils and finger-lickin' good seasoning and sauces, this hotspot has amassed somewhat of a cult following from their drool-worthy Instagram page. Stopping by for a bite? Try the shrimp toast or the crawfish boil for a decadent seafood experience.
Mississippi: Half Shell Oyster Bar in Flowood
"Do you ever dream about food? If not, maybe it's because you haven't tried Half Shell," writes one superfan. This award-winning seafood joint features New Orleans-inspired dishes, like crabmeat beignets and Orleans shrimp and grits. Save room for dessert and top off your meal with a crowd favorite—the sweet potato creme brûlée.
MISSOURI: Jax Fish House in Kansas City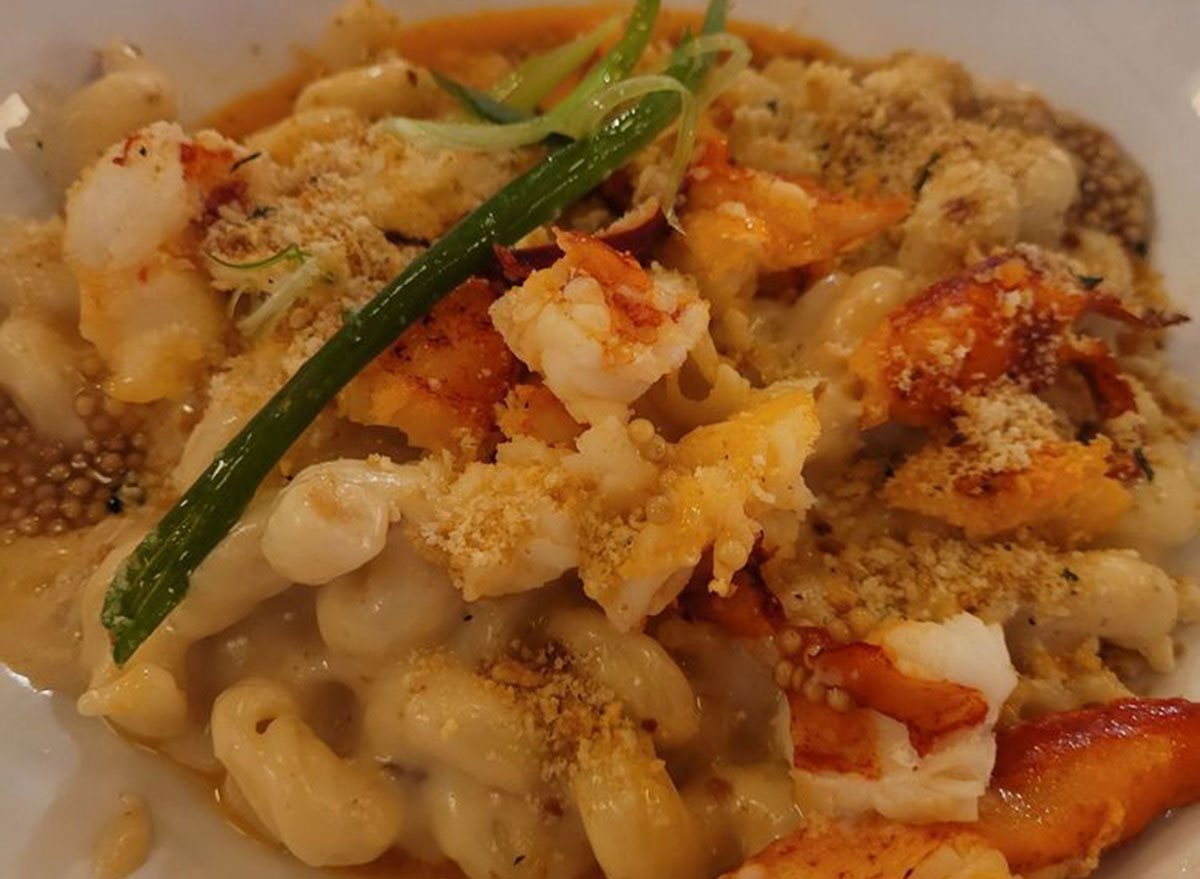 As one of six locations across the country, Jax Kansas City became the first restaurant in Missouri to partner with the Monterey Bay Seafood Watch, an environmentally sustainable seafood program. Indulge in the lobster mac and cheese or chargrilled oysters for a classic Jax experience.
MONTANA: Juliano's Restaurant in Billings
Housed in a victorian-style home built in 1902, Juliano's boasts award-winning dishes and a supposed haunting from former resident, Earnest E. Murray. This gourmet—yet spooky—dining experience offers American seafood classics with European and Asian influences.6254a4d1642c605c54bf1cab17d50f1e
"By far the most exceptional restaurant in Billings! They rotate their menu monthly, get fresh fish shipped from Hawaii weekly, and most importantly they have fun with the food," writes one enthusiastic patron.
NEBRASKA: Plank Seafood Provisions in Omaha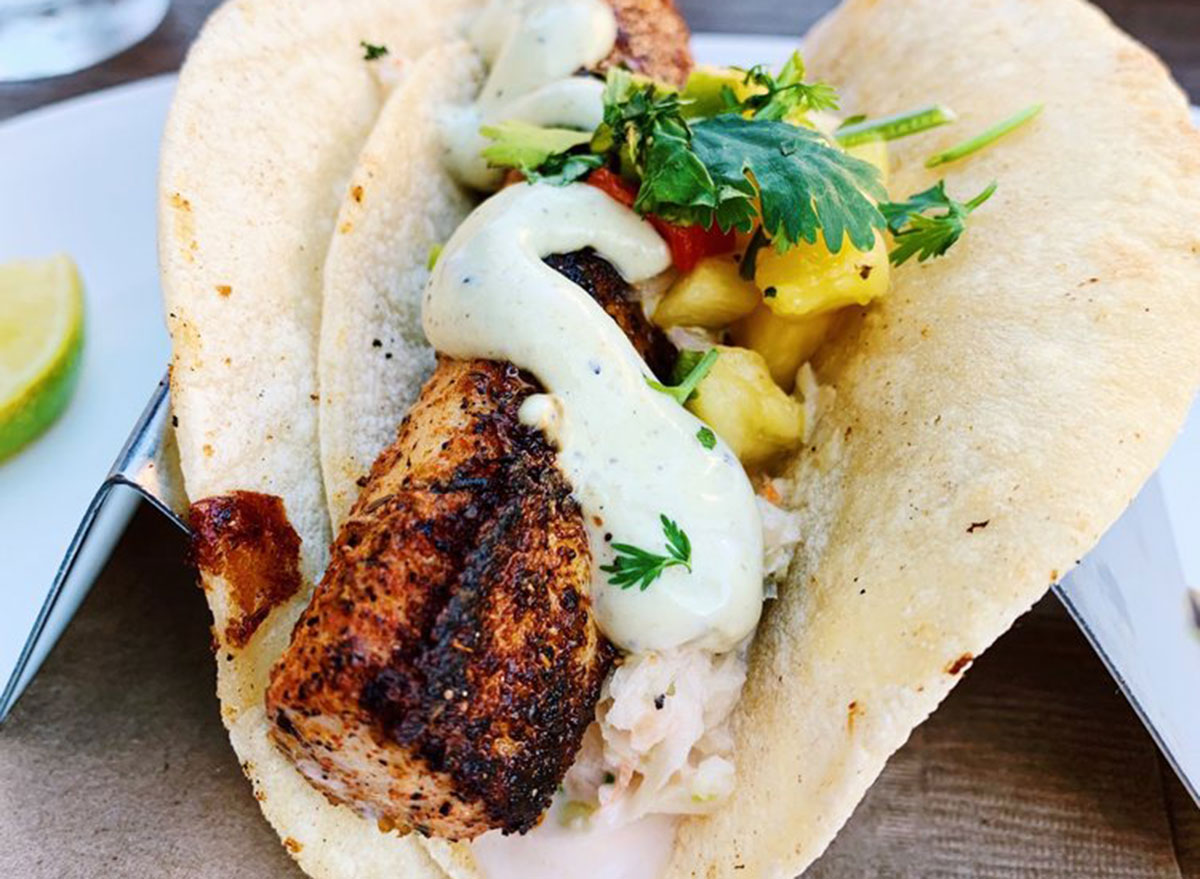 This nautical-chic establishment serves up the best seafood that Nebraska has to offer. With oysters shipped in daily and fish flown in fresh, this landlocked establishment offers dishes as fresh as coastal restaurants. Try the crispy buttermilk clam strips or the blackened Mahi Mahi tacos for an exquisite Omaha seafood experience.
NEVADA: The Legends Oyster Bar in Las Vegas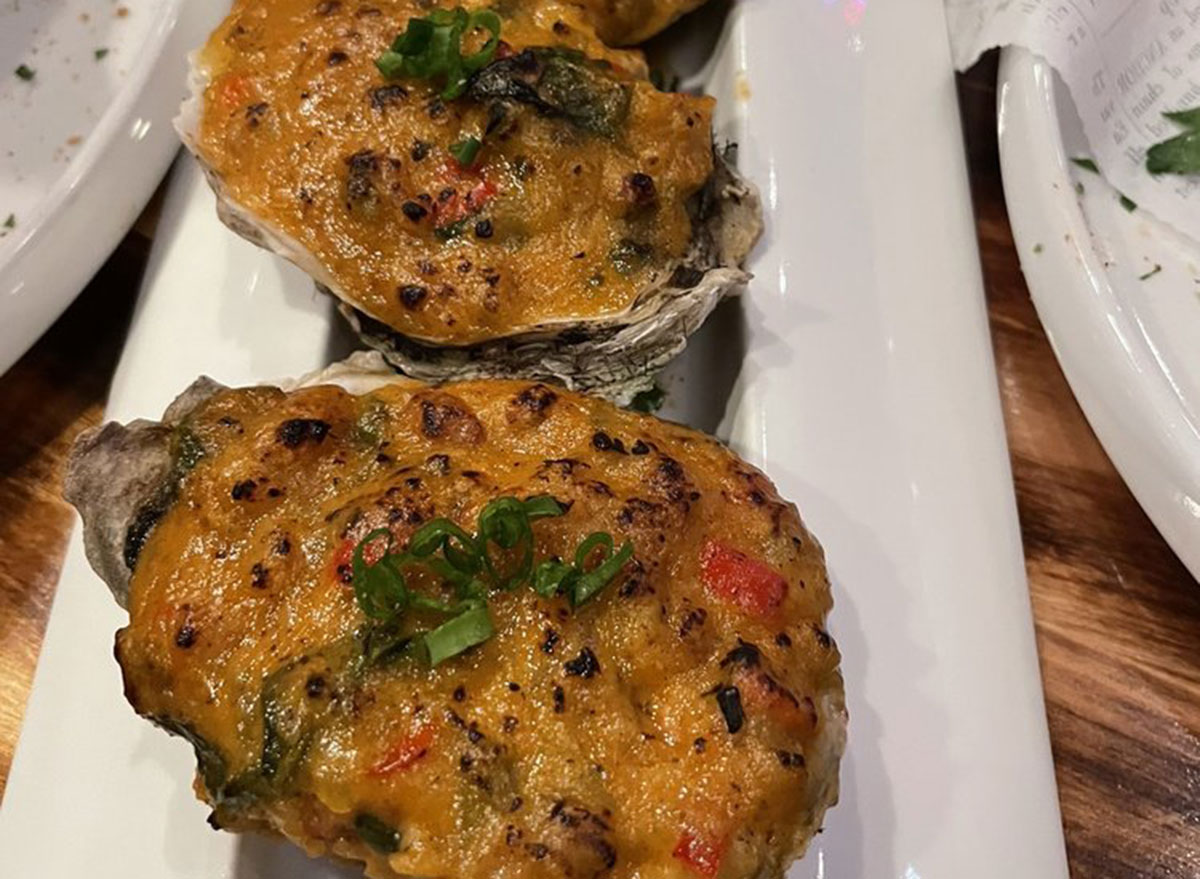 For the best seafood in Sin City, visit The Legends Oyster Bar. Tucked in the corner of a larger shopping plaza, this unassuming location is nothing short of its name—a legend.
"WOW! I've lived in Vegas my whole life, I am so shocked how I just found out about this place! This spot really blew me away! Everything was amazing from the service, ambiance, to the food," writes one raving local. Menu highlights include the oyster Rockefeller and the seafood pan roast.
NEW HAMPSHIRE: Hooked Seafood Lounge in Manchester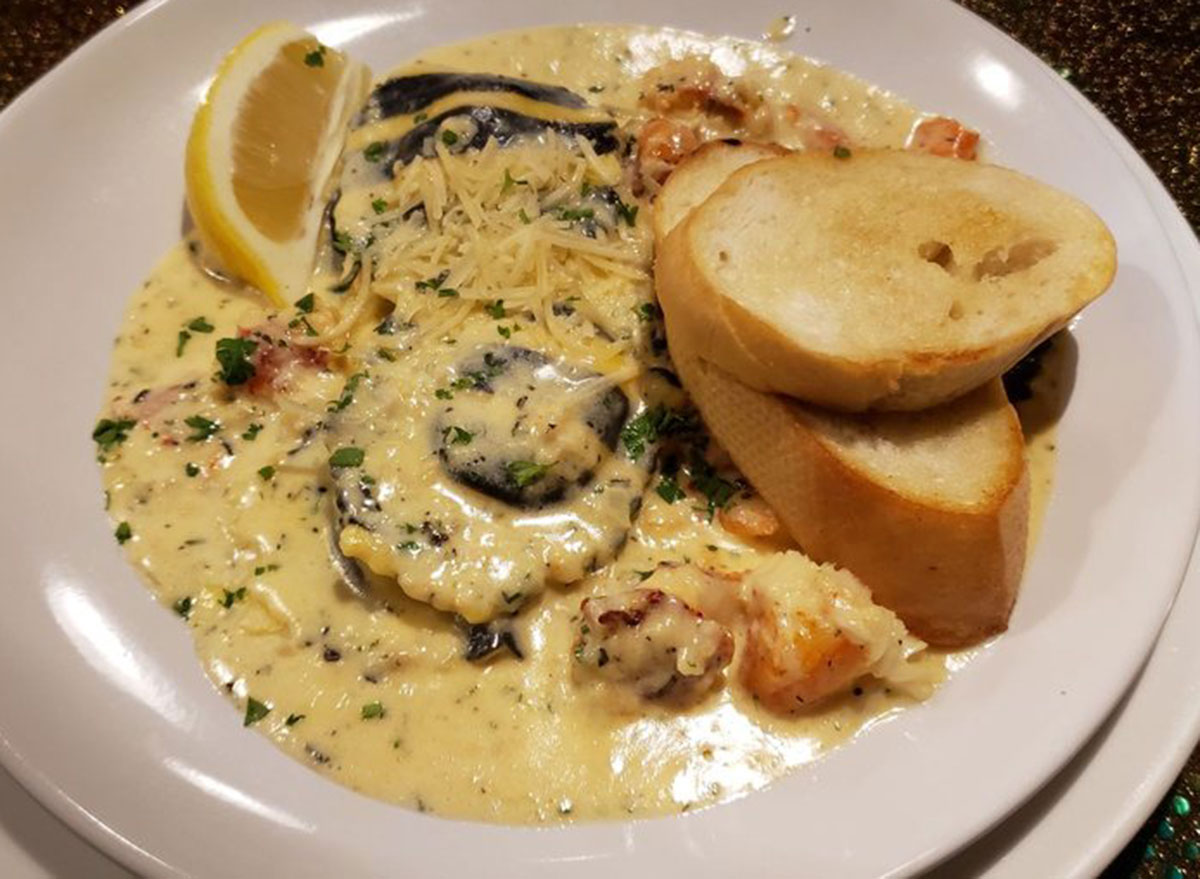 You won't find a negative review on this seafood joint's Yelp page! Hooked offers a bevy of seafood specialties, ranging from creamy lobster ravioli to blackened salmon, there's something for every seafood lover. And after trying the chocolate lovers cake for dessert? We guarantee you'll be hooked!
NEW JERSEY: Seabra Marisqueira in Newark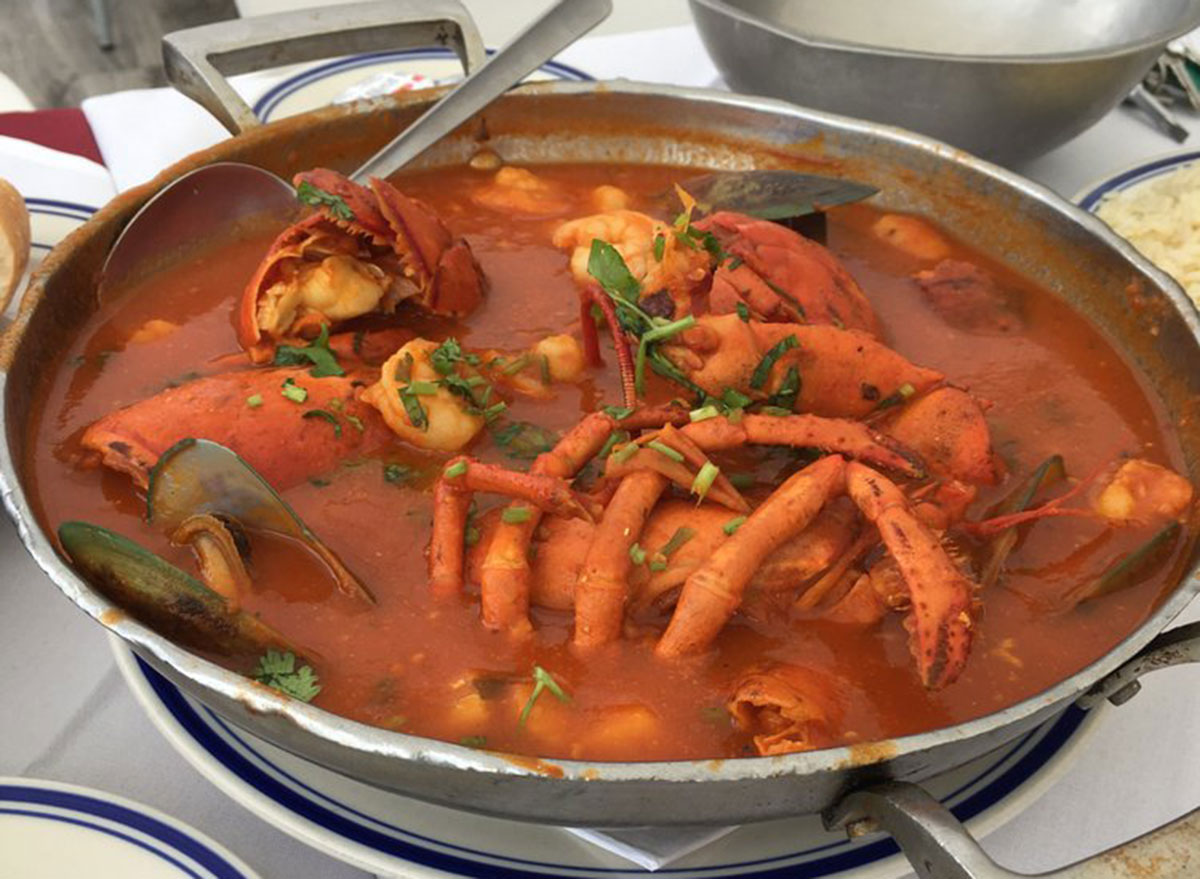 Since opening its doors in 1989, Seabra Marisqueria has remained a seafood landmark in Newark. This family-owned eatery offers a wide selection of Portugese dishes like salada de polvo (octopus in vinaigrette sauce) and mariscada (shellfish) with red sauce.
NEW MEXICO: Crackin' Crab Seafood Boil in Albuquerque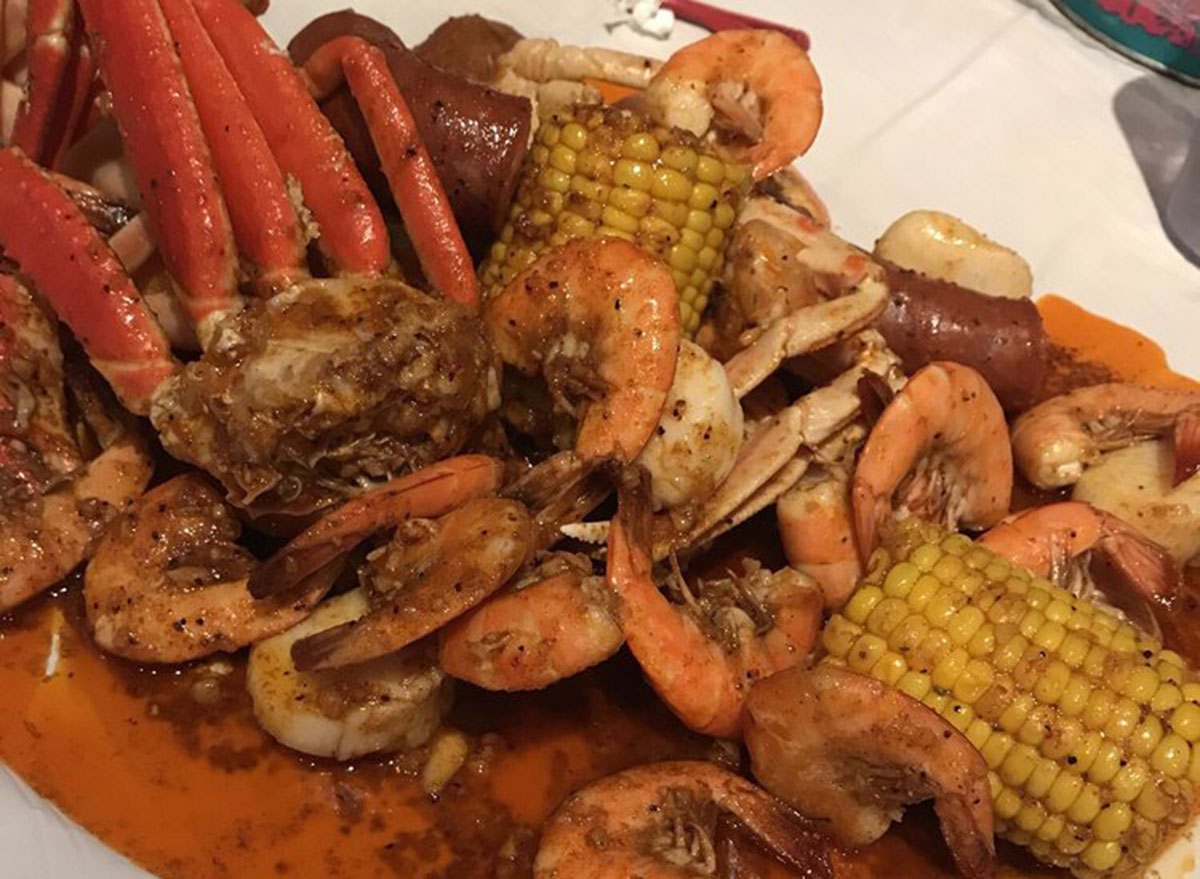 Walk into this seafood joint on a Friday night and you'll find customers waiting to get a taste of their fresh eats and customized spice mixes. Try the fried calamari or grab a mixed seafood bag if you're not afraid to get your hands dirty!
NEW YORK: The Boil in New York
For seafood restaurants in the Big Apple, saying the competition is steep is an understatement. The Boil, with locations in Greenwich Village, LES, and Jersey City, NJ, serves up cajun-style seafood.
"Well eight years and a lot of crawfish later, I can safely say this is still my favorite boil place in the city, and one of my favorite restaurants of all time. This love runs deep!" writes one loyal customer.
NORTH CAROLINA: Fish Bites Seafood Restaurant in Wilmington
This hole-in-the-wall eatery is a Wilmington hotspot among locals and visitors alike. Seafood classics like blackened grouper piccata and stuffed flounder have customers coming back for more.
"This is my….however many times I've been to Fish Bites Seafood Restaurant and once again, they impressed me with their service and flavors," writes a Fish Bites superfan.
NORTH DAKOTA: Maxwell's Restaurant and Bar in West Fargo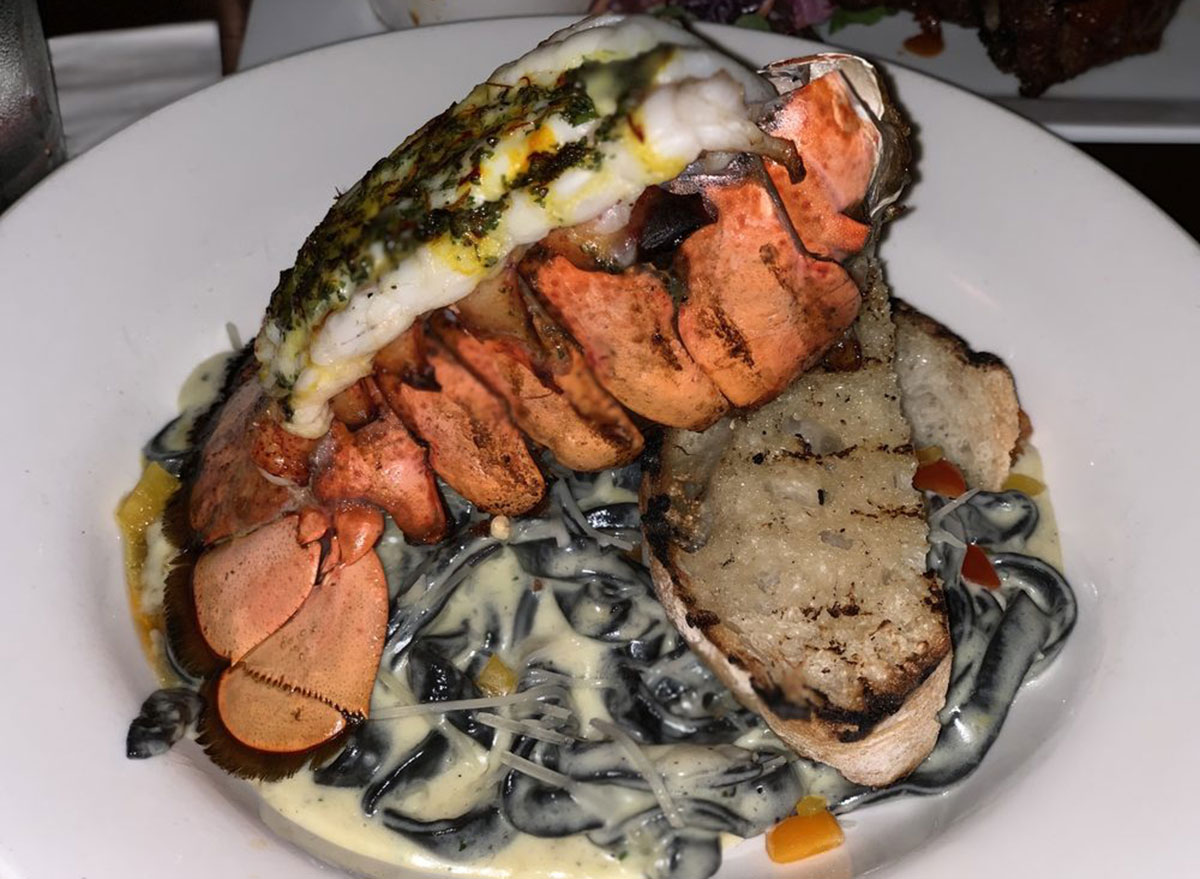 Offering "a relaxing environment with adventurous cuisine," Maxwell's serves up a wide array of French-inspired seafood dishes. Whether you're in the mood for lighter fare like sesame seared ahi tuna or ready to indulge in decadent lobster with squid ink pasta, this restaurant has a dish for every seafood lover.
OHIO: Kai's Crab Boil in Columbus
Established in 2018, this new to the scene seafood joint is already making waves in downtown Columbus. If you don't mind getting a little messy, this place is for you. Reviewers rave of the well-seasoned dishes and finger-lickin' good eats (literally).
"I love this place! If you don't mind getting a little messy, just go for it! But seriously, you get gloves, a bib, and crackers, so you're really going to get hands-on with your food," warns one fan.
OKLAHOMA: The Crawfish Pot in Oklahoma City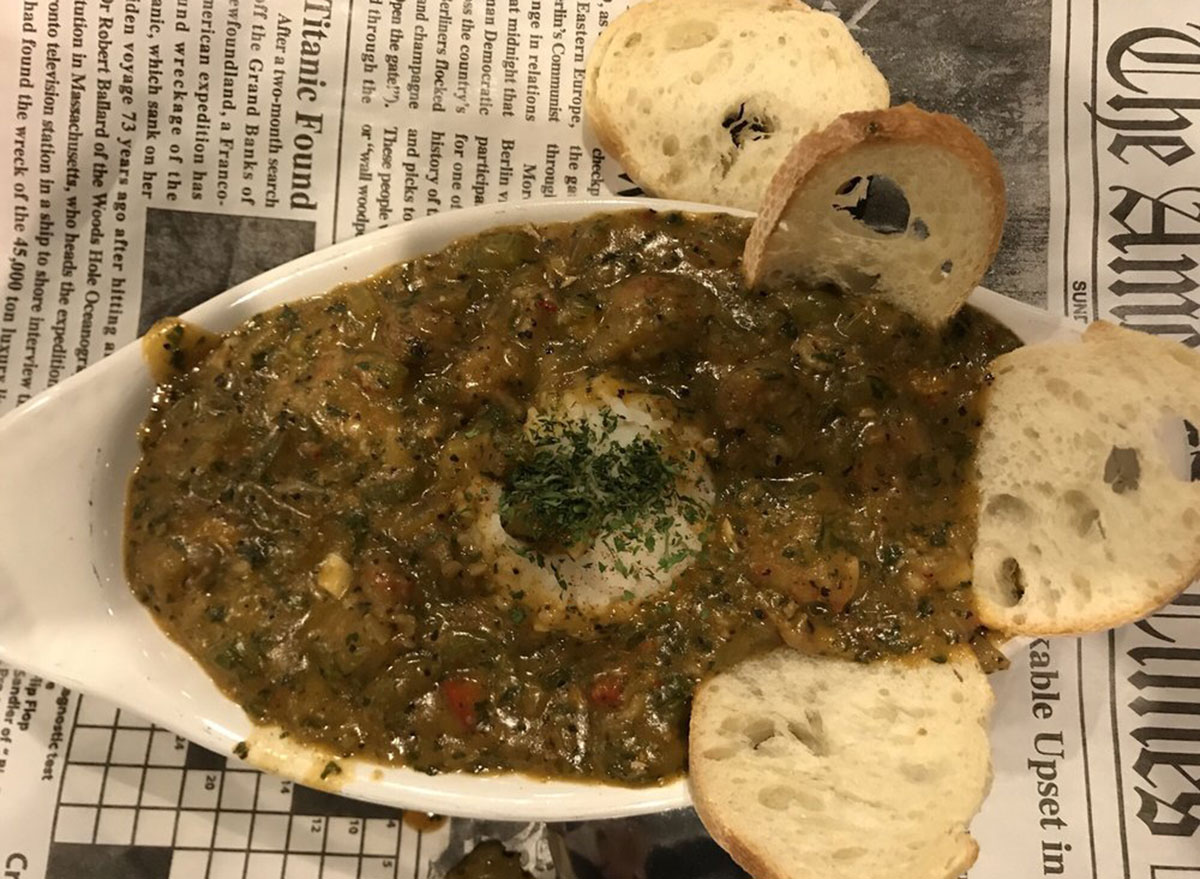 If you're in the mood for a seafood coma, The Crawfish Pot is the place for you. Offering generous portion sizes of homestyle cajun seafood favorites, this hotspot will satisfy every fishy craving. From fried crawfish wontons to the spicy shrimp étouffée, you won't be able to stop dreaming of this seafood joint anytime soon.
OREGON: Southpark Seafood in Portland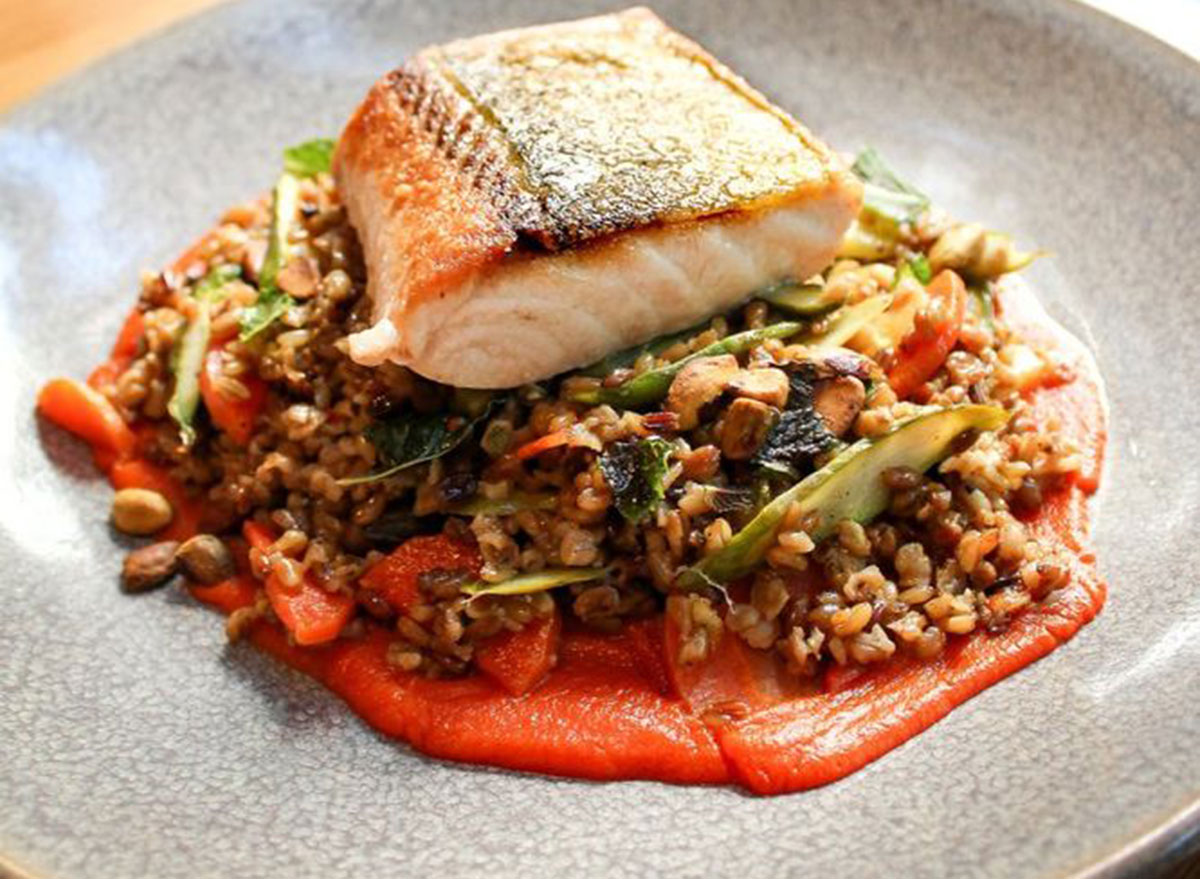 Whether you're looking to celebrate an occasion or just hoping to treat yourself, Southpark Seafood offers an elevated seafood experience for every palette. This upscale eatery offers a farm-fresh menu chock-full of sustainably sourced seafood courses like wild king salmon and bourbon butter oysters. The cherry on top? Warm blackberry crisp with a generous scoop of vanilla ice cream for dessert.
PENNSYLVANIA: Oyster House in Philadelphia
Located in the heart of Philly, this established seafood joint offers refined ocean fare like scallop crudo and pan-seared striped bass. If you're feeling ambitious, tackle the signature Oyster House raw bar tower, complete with oysters, clams, shrimp, chilled lobster, and scallops.
RHODE ISLAND: Hemenway's Restaurant in Providence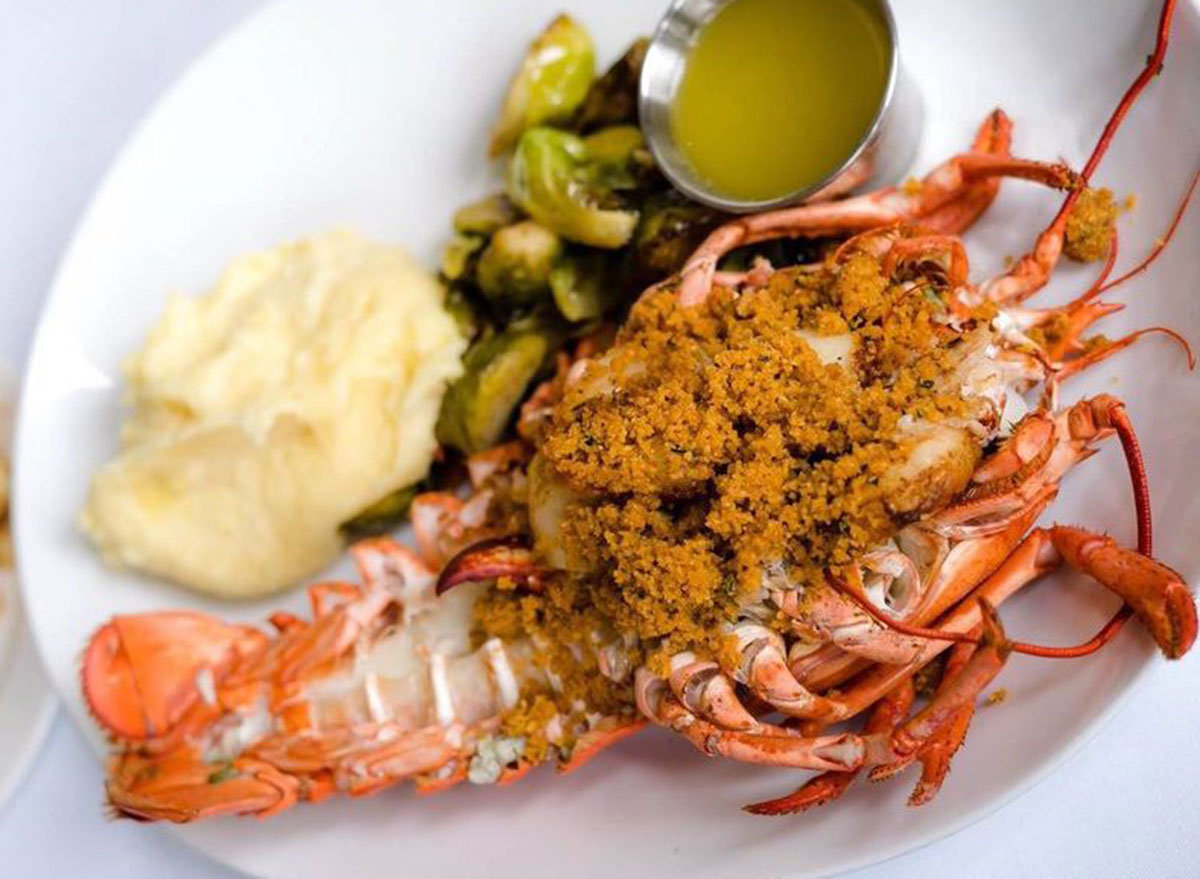 This seafood spot has been the go-to seafood staple in Providence for decades.
"Went to Hemenway's after hearing it was the best seafood in Providence, so we couldn't pass up trying it! And let me say, we were IMPRESSED. Food, service, and atmosphere were all 5/5," writes one satisfied patron. Indulge in the stuffed lobster with green beans or lean towards the lighter side with the seared yellowfin tuna plate.
SOUTH CAROLINA: 167 Raw in Charleston
What started as a small wholesale seafood company started in 1978 has grown to be an icon in the Charleston food scene. Known for their assortment of fresh oysters, 167 Raw also serves up mouthwatering dishes like lobster tostada tacos and a rotating fish of the day.
"Freshest seafood, to die for. So many oysters to choose from it's ridiculous. Their raw bar selection makes a seafood lover melt in delight," writes one impassioned Yelp reviewer.
SOUTH DAKOTA: Sushi-Masa in Sioux Falls
Looking for the best sushi in South Dakota? Sushi Masa has you covered. From spicy tuna rolls with avocado to a sashimi boat platter, this quaint establishment has all your seafood dreams rolled up into one.
TENNESSEE: Urban Grub in Nashville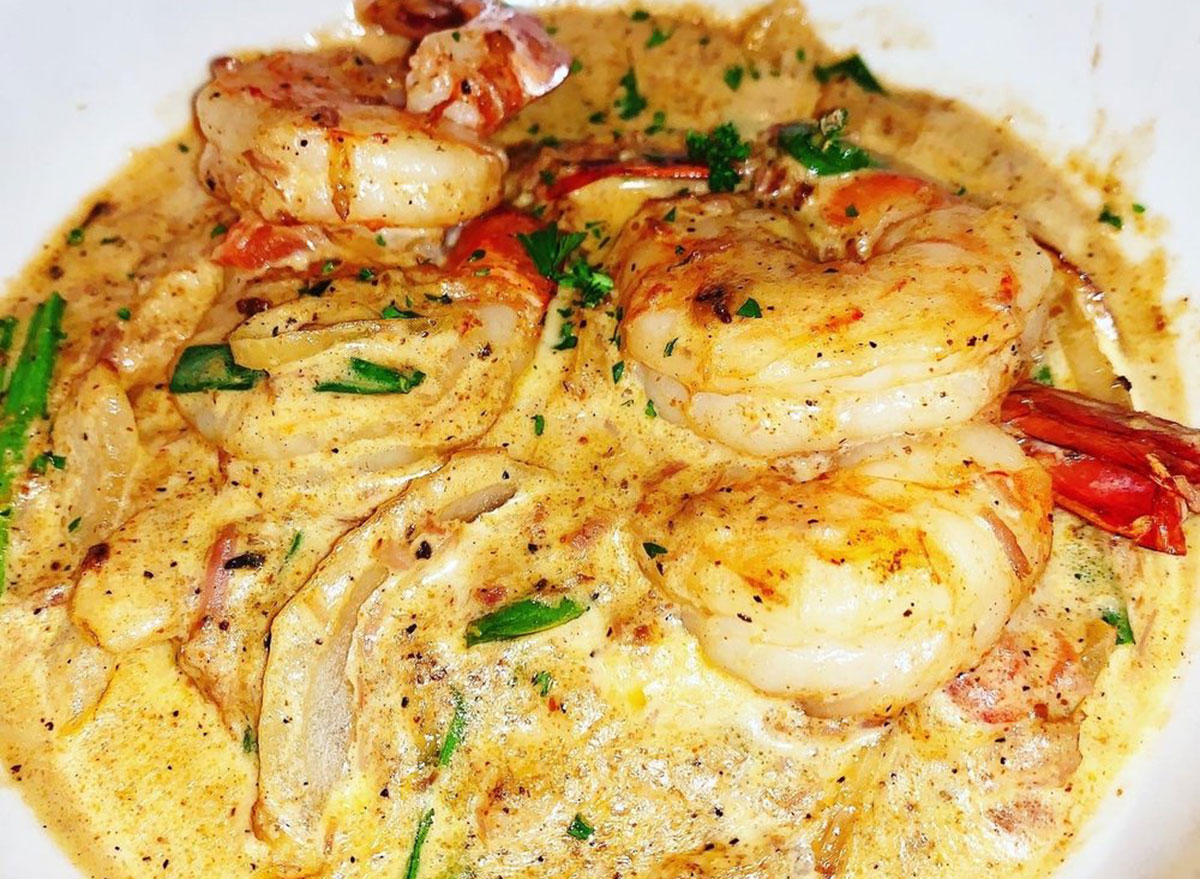 Since opening its doors in 2012, this seafood joint has taken the Music City by storm. Located in what used to be a modest carwash, Urban Grub offers a cozy-chic atmosphere and delectable southern seafood fare.
"Best meal I have had in a long time. I would eat here again in a second. But be warned; after an evening meal here, it's not out to Music Row. It's off to bed," writes one satisfied customer.
TEXAS: Goode Company Seafood in Houston
Come for the old school, diner-style atmosphere and stay for the southern coastal seafood classics. Dive into the sautéed crab fingers or opt for the wood-fired swordfish entree for the full Goode Company experience. Of course, no visit to this Texas seafood staple would be complete without the heavenly chocolate cream pie for dessert!
UTAH: Harbor Seafood and Steak Company in Salt Lake City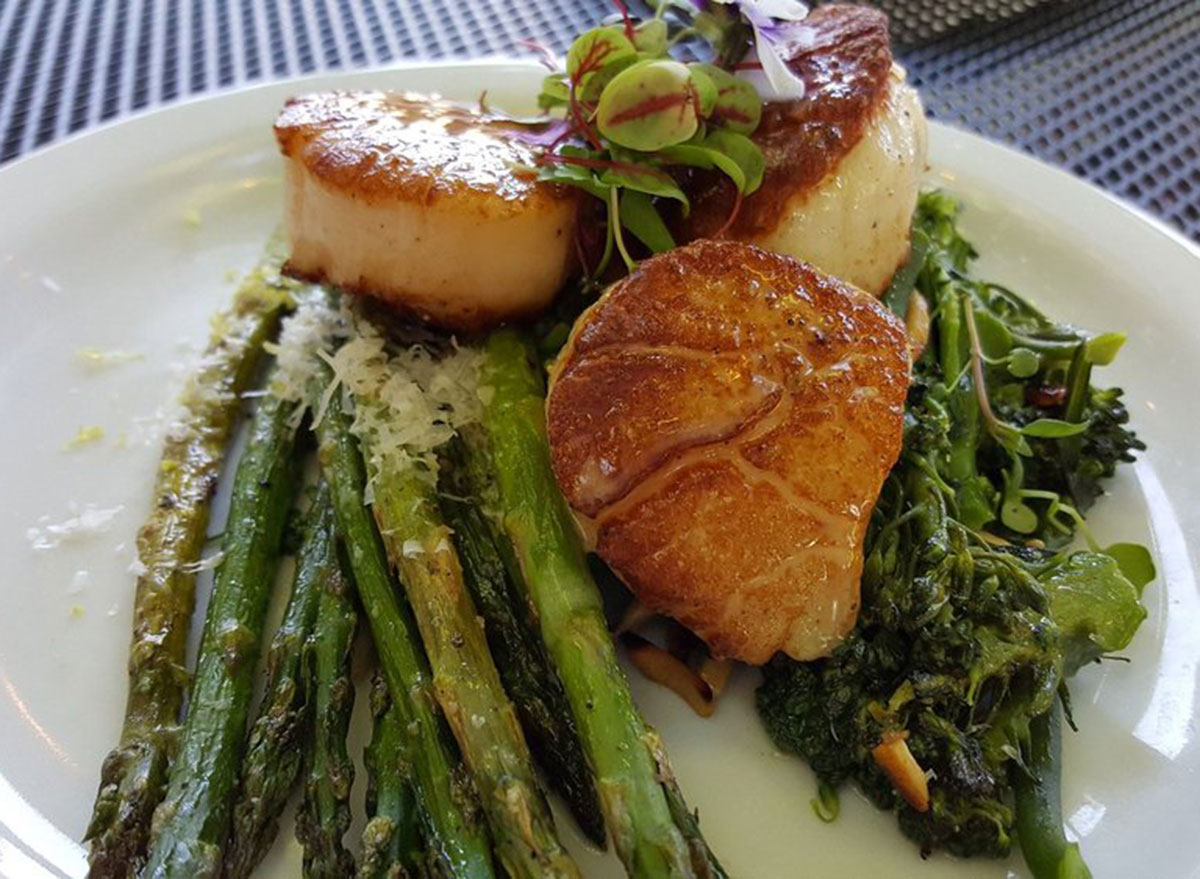 Serving up elevated takes on classic seafood comfort food, Harbor Seafood and Steak Company has amassed a significant following since opening in 2014.
"Unbelievable! If you want the night of your life, go to Harbor," writes one enthusiastic Yelp reviewer. From the crab-stuffed squash blossom to sizzling scallops, this upscale eatery has surf n' turf options for everyone.
VERMONT: Bleu Northeast Kitchen in Burlington
Nestled in the heart of Burlington, Bleu Northeast Kitchen offers refined seafood fare in a sophisticated setting. As a member of the Vermont Fresh Network, this culinary destination stands out by supporting local farms and using fresh, organic ingredients. Treat yourself to the lobster benedict at brunch or end your day with the savory pan-roasted redfish.
VIRGINIA: Sauce & Toss in Richmond
This no-frills seafood joint offers exactly what its name implies. Get ready to roll up your sleeves and dive into messy, saucy seafood buckets filled with your choice of muscles, clams, crawfish, and more. If you're hoping to stay on the cleaner side, opt for a plate of fried scallops or soft shell crab.
WASHINGTON: Elliot's Oyster House in Seattle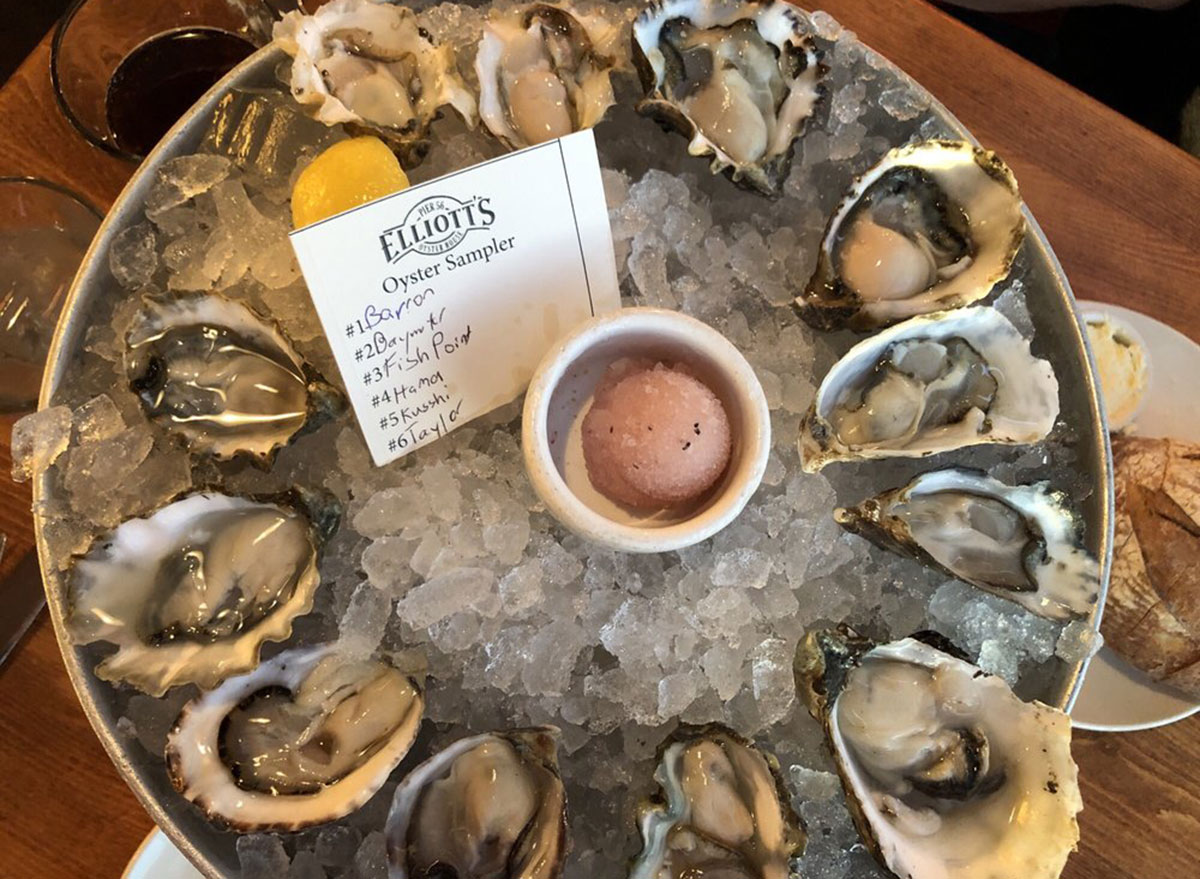 With top-notch service, a stunning waterfront view, and the freshest seafood money can buy, Elliot's Oyster House has been delighting customers for over 40 years. Choose from an assortment of chilled oyster options or indulge in a variety of seasonal entrees.
"Overall, this is one of those places that fits the bill for locals, visitors, dates, special occasions, sports fans, and families…without being mundane or over the top. Elliott's Oyster House is Goldilocks 'just right' with a bit of polish," writes one well-spoken fan.
WEST VIRGINIA: Tricky Fish in Charleston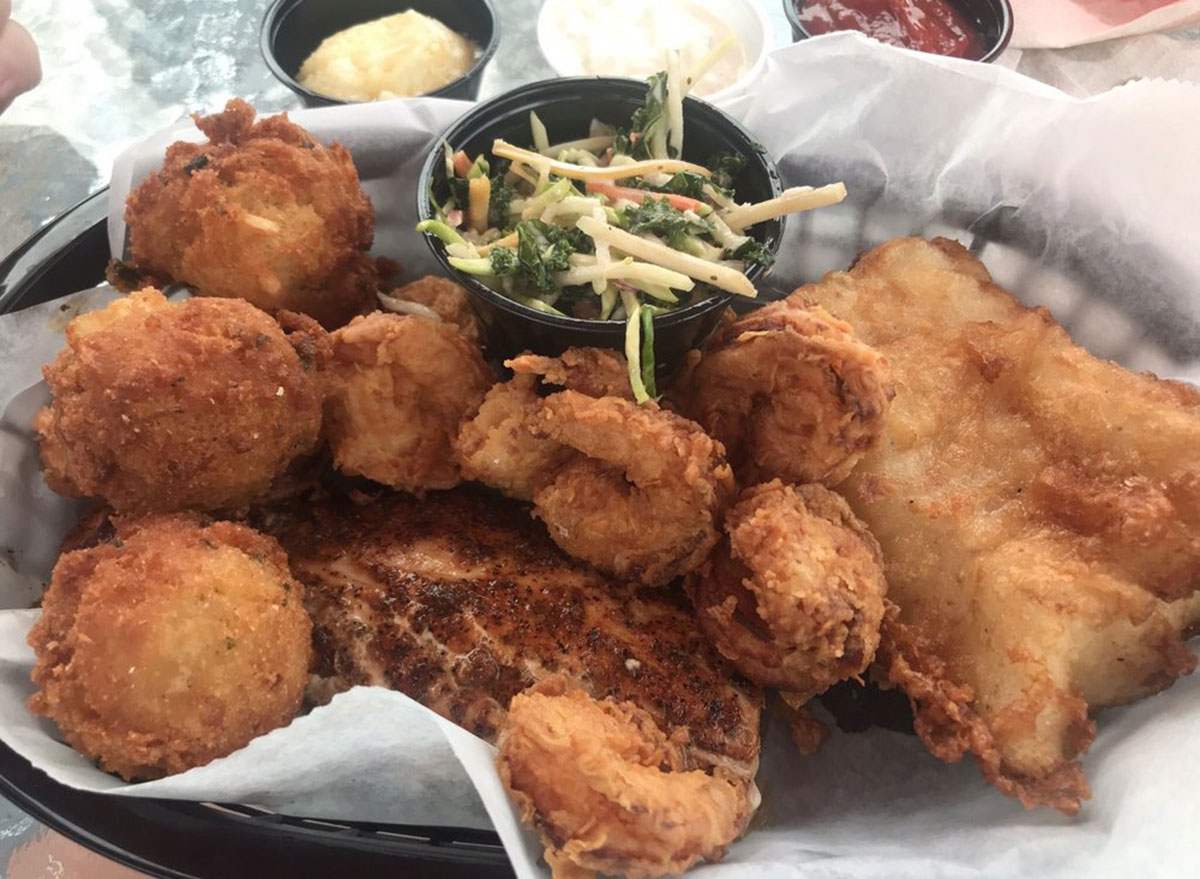 If you're looking for a casual stop to curb your seafood cravings, Tricky Fish is the place for you. This family-friendly location serves up plates that even the pickiest of eaters will enjoy, like mahi-mahi tacos and fried cod baskets.
Note: Tricky Fish is closed for the season until Spring 2022.
WISCONSIN: St Paul Fish Company in Milwaukee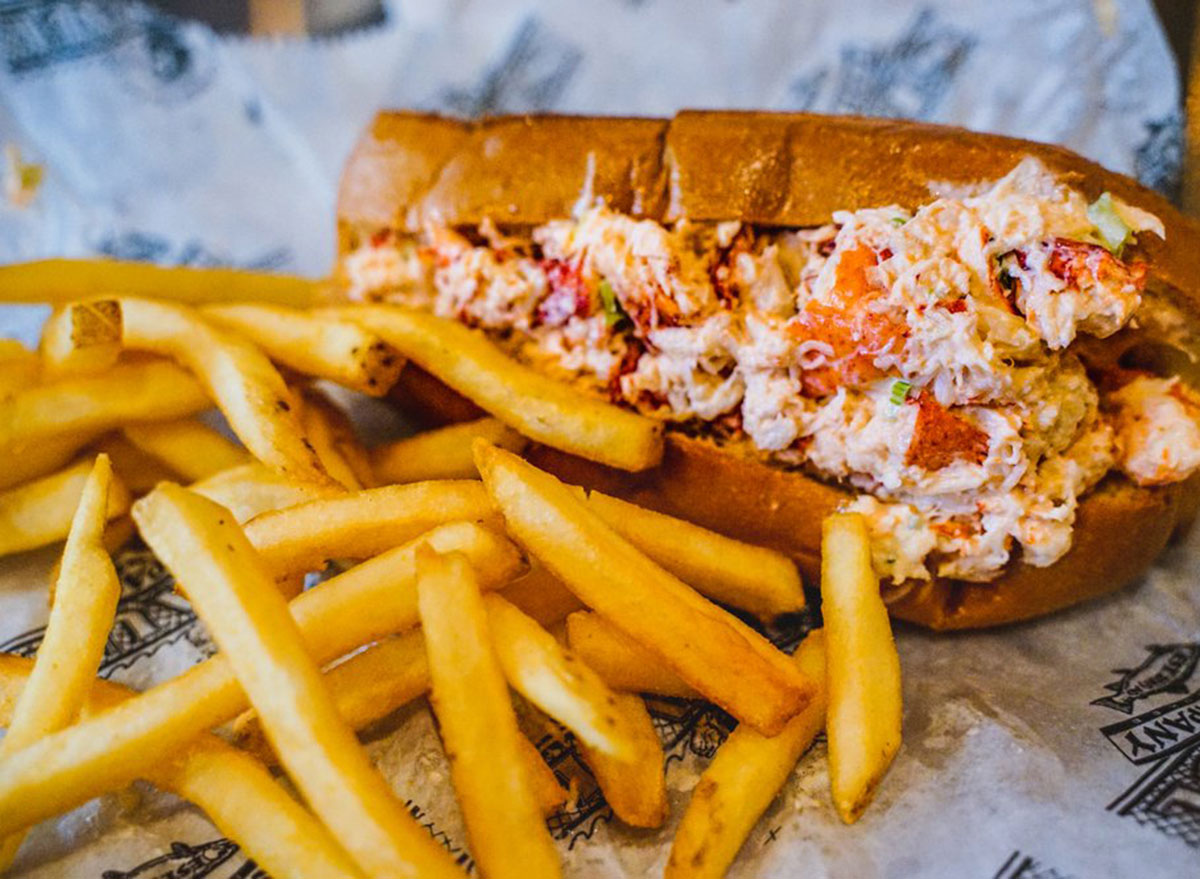 Located just blocks from the water inside the Milwaukee Public Market, St Paul Fish Company is known for having the best fish for the best price. Whether you grab a table and enjoy the hustle and bustle of the market or order a piping hot meal to go, you're guaranteed to enjoy your dishes. The star of the show? The "to die for" buttery lobster roll on a brioche bun.
WYOMING: The Kitchen in Jackson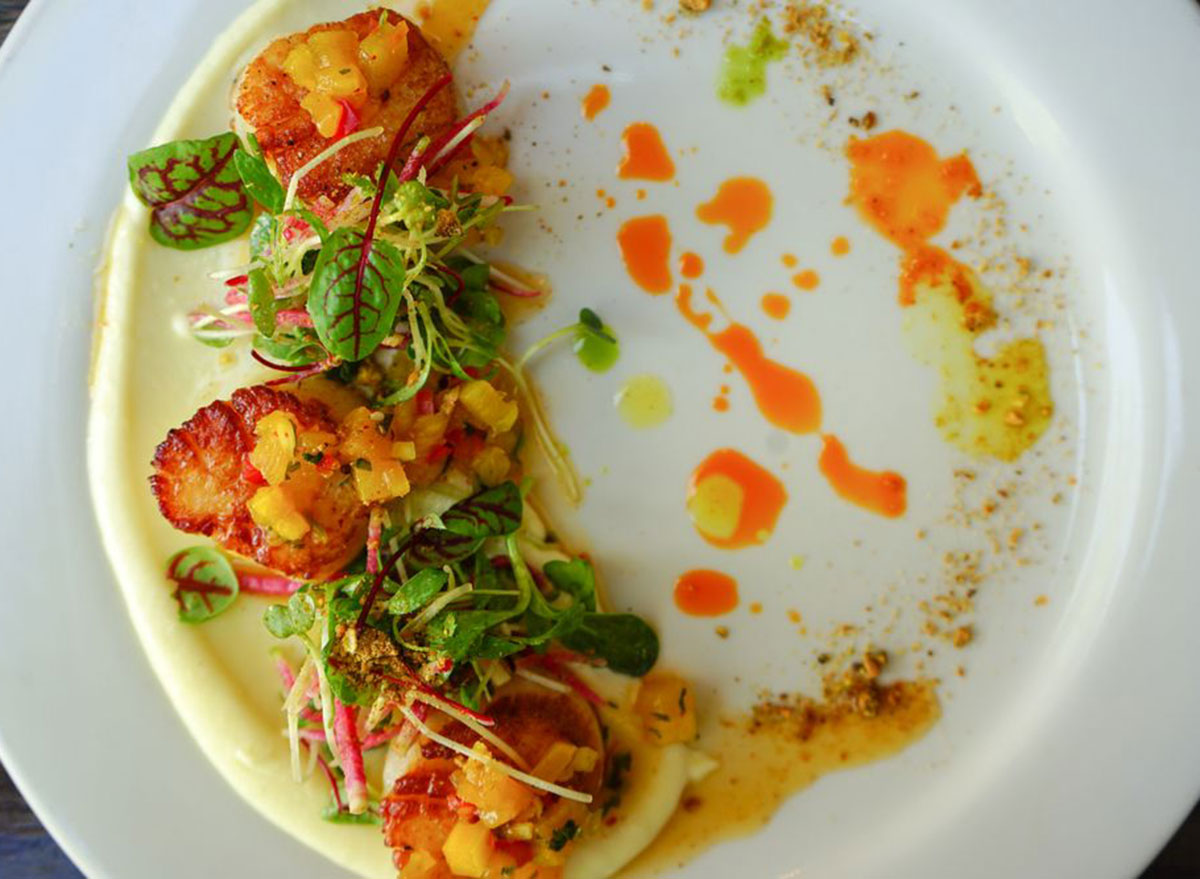 Located in the picturesque town of Jackson Hole, The Kitchen offers Asian-inspired, refined surf n' turf fare. Dive into the flavor of the curry mussels or indulge in an entree of diver scallops with herb butter and carrot puree.
"One of the best meals I've ever had in any city. An absolute must-try or you're doing yourself a disservice," writes one satisfied patron.
Read more about the best spots to grab a meal in your state:
The Best Mexican Restaurant In Every State
The Best Brunch Spot in Every State
The Best Mac & Cheese in Every State