7 Fast-Food Chains That Serve the Best Hash Browns
Make breakfast even better with this spud-tastic side.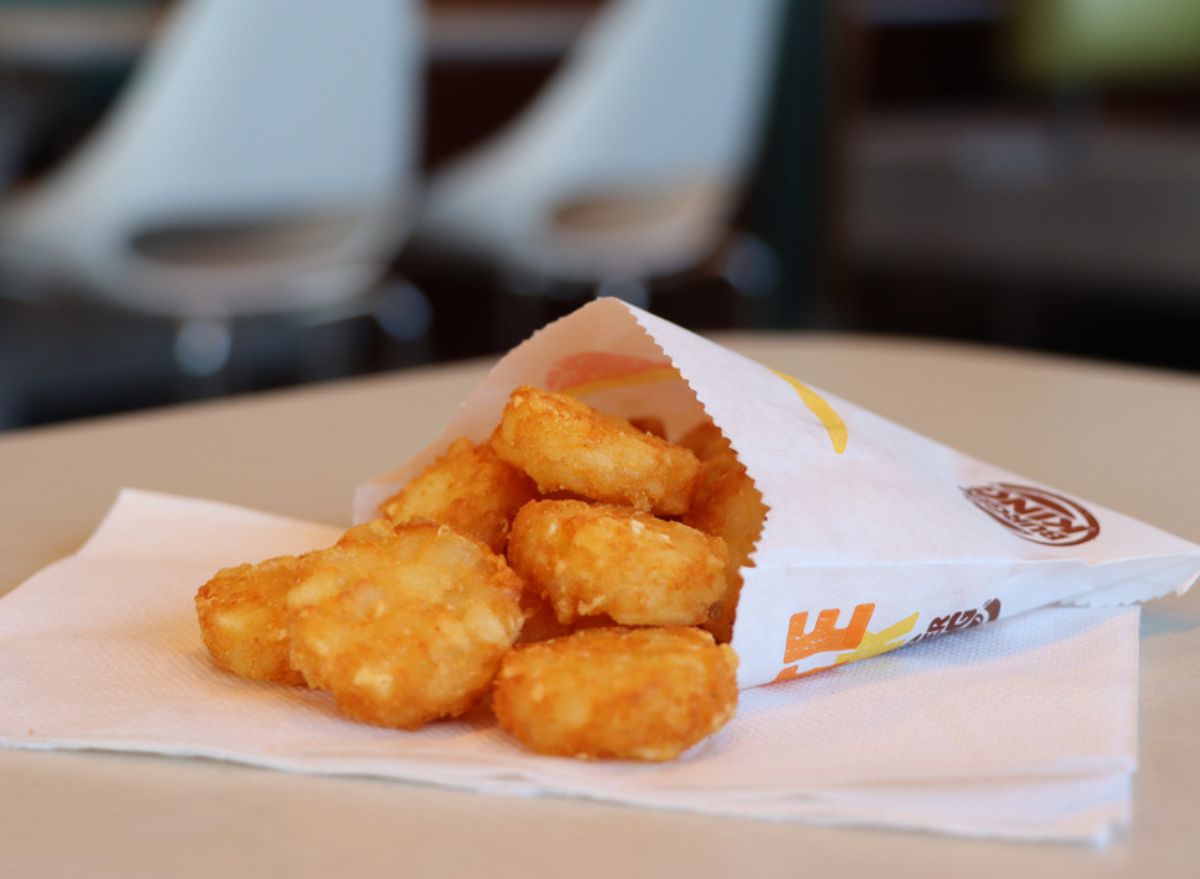 Hash browns are a popular breakfast side and staple. They're crispy, comforting, cost-effective, and versatile, which is why so many fast-food chains and restaurants serve them, putting their own unique spin on the classic recipe in order to stand out.
"Hash browns are believed to have originated in Switzerland, where they were known as 'rosti' and were made by grating potatoes and frying them until crispy," says Trista Best, MPH, RD, LD. "Hash" comes from the French word "hacher," which means "to chop" or dice. The dish later became popular in other European countries, such as Germany and Austria, before making its way to the United States and fast-food chains, like McDonald's.
Hash browns can be made in a variety of ways, but typically, it involves grating potatoes, squeezing out excess moisture, and frying to give them a nice, crispy texture and golden brown hue. "They are often served alongside eggs, bacon, and toast for a hearty breakfast, and can also be used as a base for more complex breakfast dishes such as hash brown casseroles or breakfast sandwiches," Best says.
Some fast-food restaurants have mastered the art of the hash brown better than others, so the next time you've got a craving for them, try these seven fast-food chains that are known to have the best hash browns.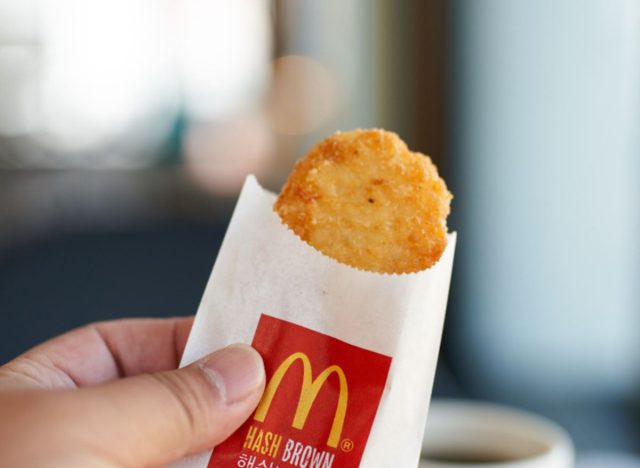 McDonald's has been serving hash browns since 1977, and these golden-brown, round-ended hash browns are iconic. They're fluffy and soft on the inside, have a crispy exterior, and are simply seasoned, with just some salt and pepper. FYI, they are cooked in oil that contains beef extract for that special something, just like McDonald's fries so vegans and vegetarians beware.
"They are also relatively low in calories, with each hash brown containing around 150 calories," Best says. Reviewers suggest ordering a side of McDonald's hash browns to upgrade any breakfast sandwich on the menu.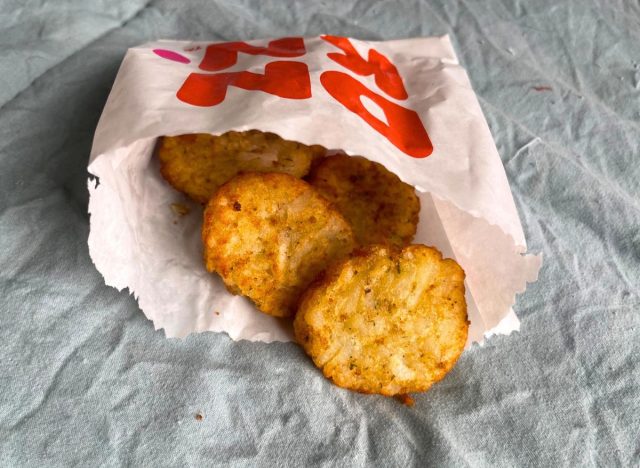 The hash browns at Dunkin' are golden, soft, and tender, and lightly seasoned with a blend of black pepper, parsley, onion, and garlic. If you prefer less crispy browns, then Dunkin' is the spot for you. In fact, a reviewer on TikTok even considers Dunkin's hash browns to be better than McDonald's in terms of flavor and price point.6254a4d1642c605c54bf1cab17d50f1e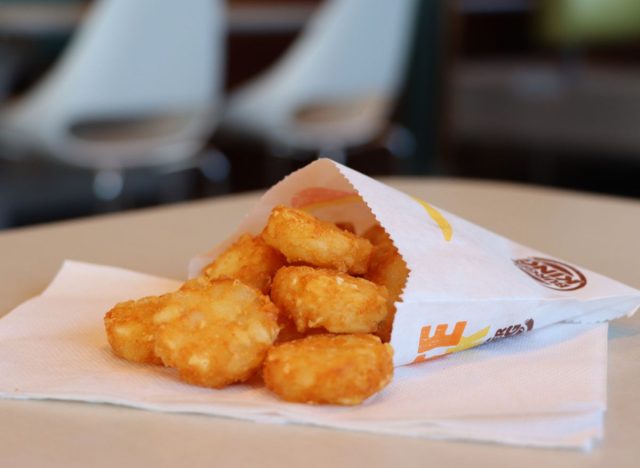 Burger King's hash brown bites have a "sweet-and-salty" flavor combination and crispy texture. To be fair, they resemble tater tots, more so than traditional hash browns. "The diced potatoes are seasoned with a blend of spices… creating a taste that is both savory and sweet," Best says. Take note: They aren't the best for weight loss, as a medium order has about 540 calories, that's more than a Bacon, Egg, and Cheese Crossan'Wich!
Hash browns at Hardee's/Carl's Jr. are "poppable," in a bite-sized form, resembling "nuggets." They're seasoned with salt and pepper and made with real shredded potatoes, at an affordable price point. They are a tad greasy and on the denser side, so if you really want that soft, fluffy interior, you're better off going somewhere else.
"Jack in the Box's hash browns have a slightly buttery flavor that sets them apart from other fast-food chains," Best says. And, that's likely a good thing, because their flavor has that "wow" factor. One quick sniff from the bag will make your mouth water—they smell that good. The only drawback is that their texture is thin and could use a boost for added thickness.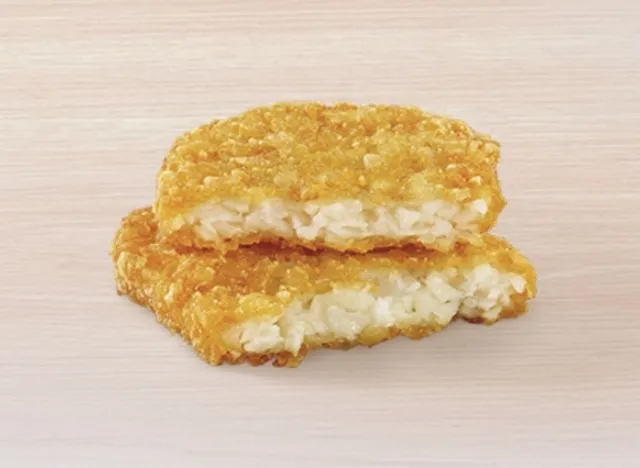 Taco Bell's hash browns resemble a traditional patty, and they're perfectly crisp on the outside and have a very clean fried potato flavor. They're not too greasy (no need to wipe with a napkin before taking a bite), generous and thick in size, and have a satisfying crunch.
Chick-fil-A's hash browns are served as small, round "bites" that are well-seasoned with salt and crispy. "They pair wonderfully with the brand's signature dipping sauces," says pastry chef and food blogger Norah Clark. Chick-fil-A includes hash browns in other menu items, too, like in their "scramble bowls," consisting of hash browns, scrambled eggs, cheese, and a protein of choice.
Isadora Baum
Isadora Baum is a freelance writer, certified health coach, and author of 5-Minute Energy.
Read more about Isadora