8 Healthiest Fast-Food Desserts, According to an RD
You don't have to skip ordering a sweet treat at the drive-thru, as long as you're making the right choice.
Everyone knows that fast food isn't exactly considered health food, but if you happen to find yourself heading for that drive-thru, it's often because you're in the mood for a quick, convenient meal. A balanced approach to food is great for your overall health, so it's OK to indulge in fast food every once in a while. Moderation is key! And that mindset works when it comes to fast-food desserts, too.
So if you are wanting to keep up with your weight-loss and healthy eating goals, it's good to keep in mind some of the healthier fast-food menu items—desserts included. While it might sound too good to be true, there are actually several fast-food desserts that won't completely derail your healthy lifestyle.
We spoke with Marysa Cardwell, MS, RDN, CD, CPT,  and consultant for Lose It!, for advice on some of the best fast-food desserts you can order the next time you find yourself pulling up to the drive-thru. And if you're looking to learn more about sweet treats, check out these 15 Classic American Desserts That Deserve a Comeback.
Wendy's Junior Frosty
Per vanilla Frosty
: 190 calories, 5 g fat (3 g saturated fat, 0 g trans fat), 90 mg sodium, 32 g carbs (0 g fiber, 27 g sugar), 5 g protein
The Junior Frosty at Wendy's is one of Cardwell's top picks. In fact, she "cannot leave Wendy's without getting a junior Frosty."
Caldwell also noted that the portion is perfect for a treat and has a low-calorie count for a dessert.
"Moderating the serving size of the Frosty can help to provide you with a sweet treat without going over your sugar and calorie goals for the day," she says.
The vanilla Frosty has fewer calories, but if you prefer chocolate, don't deprive yourself as a Junior size of that flavor comes in at 200 calories.
KFC's Chocolate Chip Cookie
Per cookie
: 120 calories, 6 g fat (3 g saturated fat, 0 g trans fat), 70 mg sodium, 18 g carbs (1 g fiber, 12 g sugar), 1 g protein
When you're ordering your Kentucky Grilled Chicken (or fried!), don't be afraid to add a chocolate chip cookie to your order.
Sure, chocolate chip cookies aren't incredibly nutritious, but one KFC cookie has lower calories, carbs, sugars, and fat than the restaurant's other dessert options. Enjoying one cookie with your meal will keep you on track to meet your health goals.
Popeyes Hot Cinnamon Apple Pie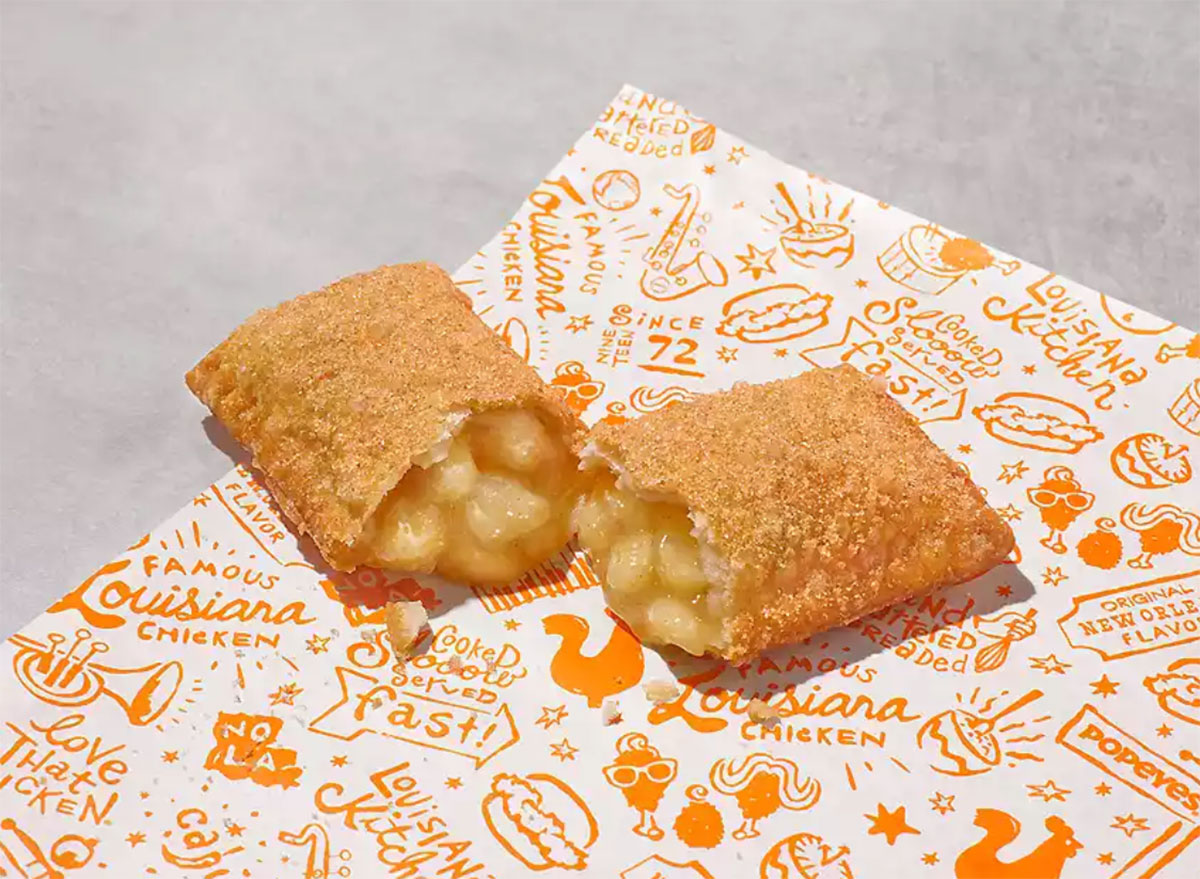 Per pie
: 236 calories, 16 g fat (6 g saturated fat, 0 g trans fat), 260 mg sodium, 35 g carbs (1 g fiber, 12 g sugar), 3 g protein
Who can resist a warm, gooey apple pie? Luckily, you don't have to.
Popeyes' Cinnamon Apple Pie dessert has rather modest calorie and sugar levels, especially compared to some of the other items on the menu. Go ahead and enjoy this sweet treat.
And if you're looking to lessen your intake of the sweet stuff, the easy guide to cutting back on sugar is finally here.
Carl's Jr. Strawberry Swirl Cheesecake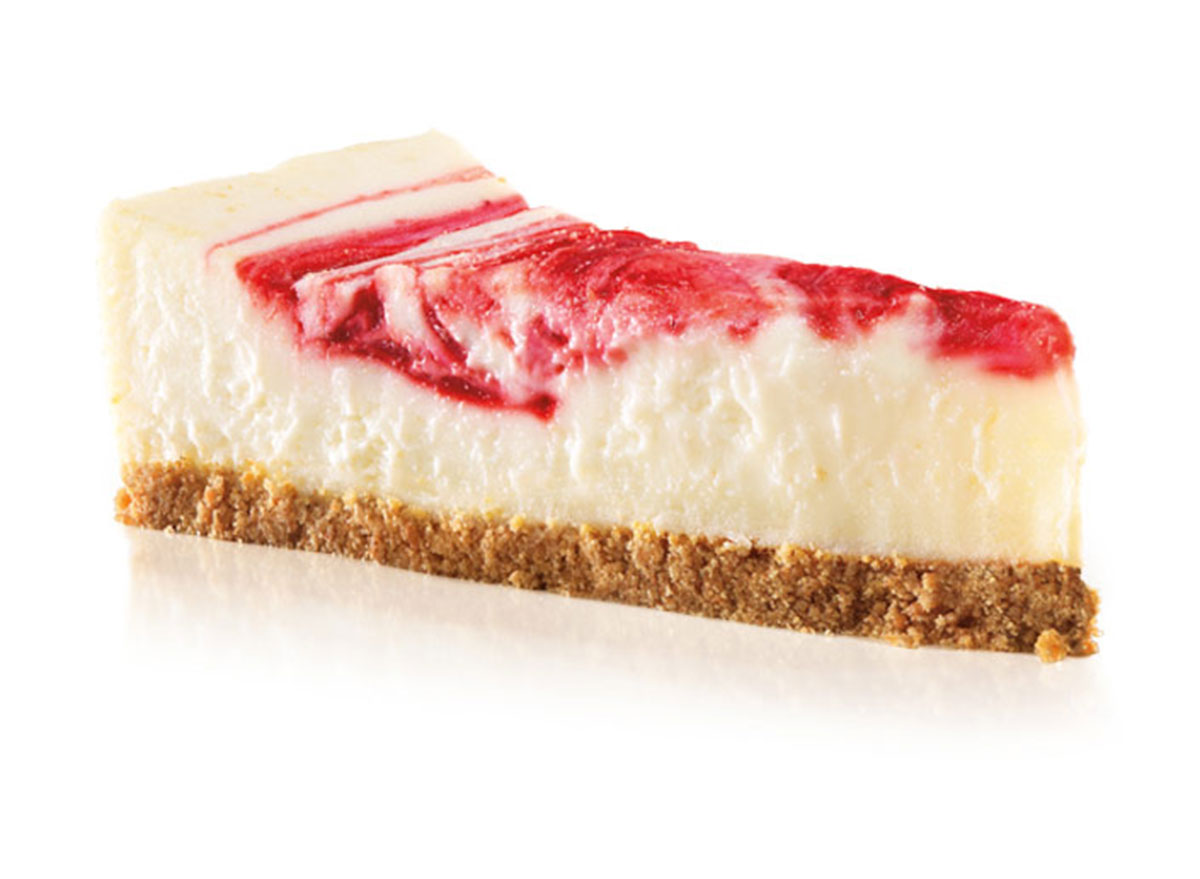 Per slice
: 320 calories, 17 g fat (10 g saturated fat, 0.5 g trans fat), 250 mg sodium, 35 g carbs (1 g fiber, 23 g sugar), 7 g protein
Although the Strawberry Swirl Cheesecake at Carl's Jr. is a little higher in calories, it does have a smaller amount of sugar and carbs than some of the restaurant's other options. Plus, it's packing 7 grams of protein, so that's another win. This is a good option to enjoy if you are craving something sweet, and you could easily split it with someone if you just want a few bites.
Taco Bell's Cinnamon Twists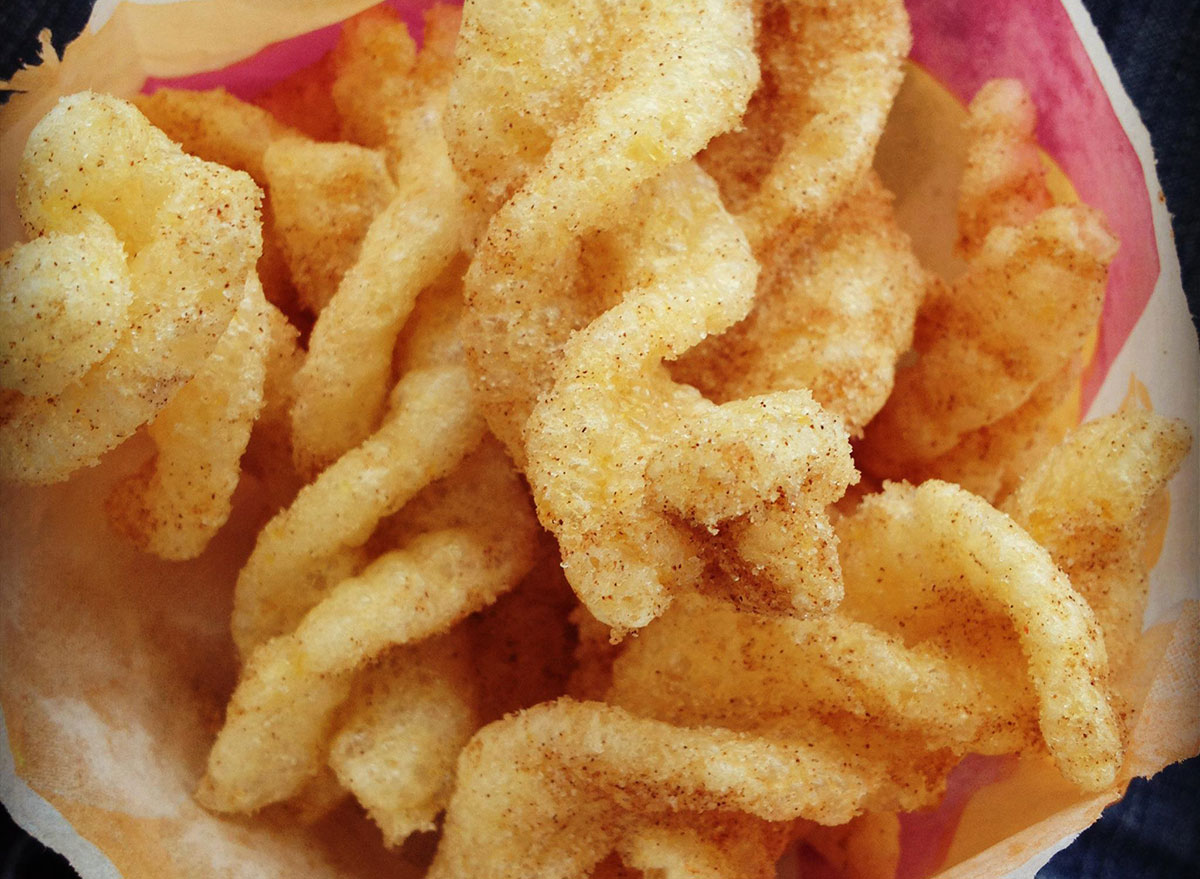 Per serving
: 170 calories, 6 g fat (0 g saturated fat, 0 g trans fat), 210 mg sodium, 27 g carbs (<1 g fiber, 13 g sugar), 1 g protein
Taco Bell has a limited dessert menu focused on cinnamon-sugar-flavored desserts. Of the two, the cinnamon twists are the better option.
"With only 170 calories and 17 grams of sugar, the cinnamon sticks are a good choice for a sweet treat," Caldwell says. "It is also cholesterol and trans-fat free."
Because Taco Bell also has a lot of customizable menu items, you can order a healthier entrée to go along with your treat, too.
Dairy Queen Choco-Brownie Treatzza Pizza Slice
Per slice
: 190 calories, 10 g fat (6 g saturated fat, 0 g trans fat), 95 mg sodium, 26 g carbs (1 g fiber, 18 g sugar), 3 g protein
Dairy Queen is the, well, queen of fast-food desserts. How can you possibly choose what to indulge in when you visit?
Amidst all the Blizzards, Dilly bars, and sundaes lies the Treatzza Pizzas. There are several flavors to choose from, but the Choco-Brownie is your best bet for a better-for-you dessert. This nostalgic, '90s era treat has more than enough chocolate in every bite to make your tastebuds happy, but it is surprisingly healthier than many other less exciting options on the menu. One slice has under 200 calories, 10 grams of fat, and 18 grams of sugar.
Jack in the Box NY Style Cheesecake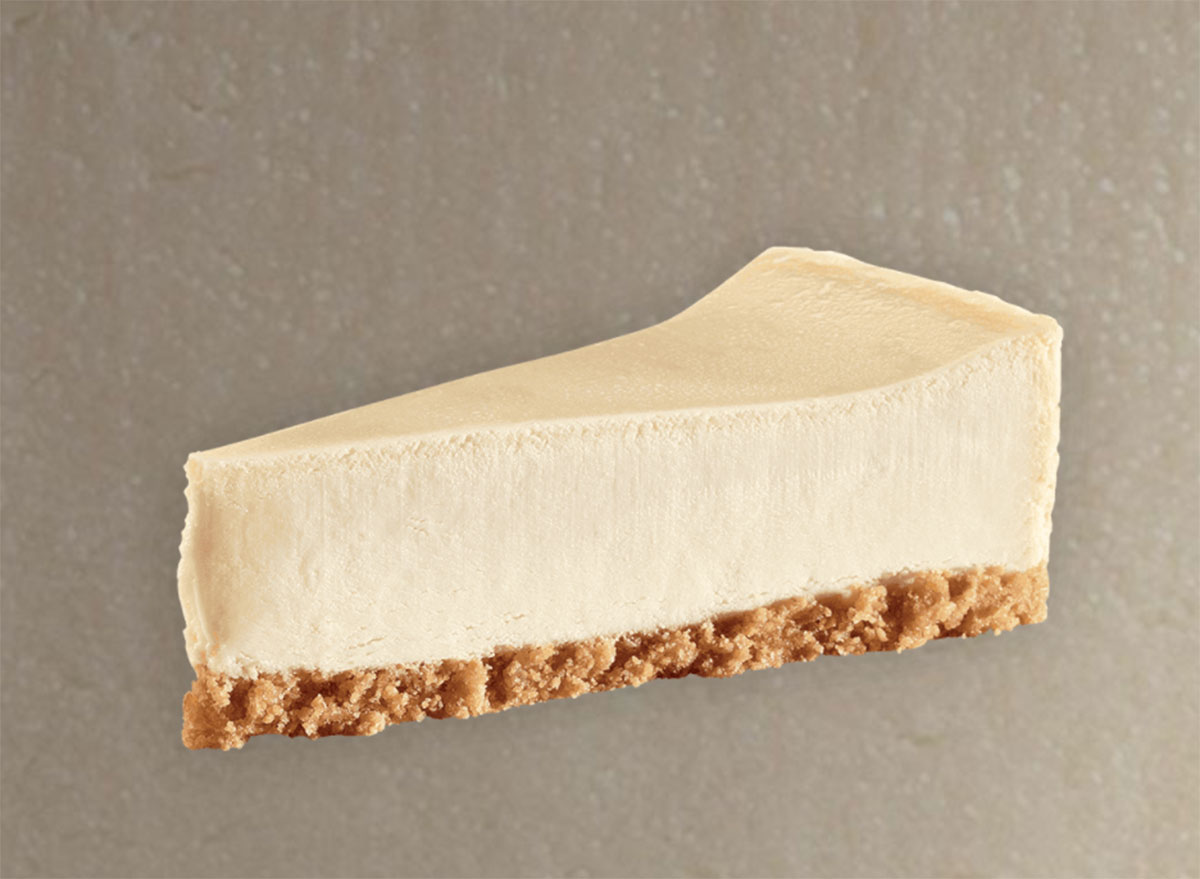 Per slice
: 310 calories, 17 g fat (9 g saturated fat, 0 g trans fat), 260 mg sodium, 32 g carbs (1 g fiber, 22 g sugar), 7 g protein
Cheesecake is notoriously high in fat and calories, but the NY Style Cheesecake at Jack in the Box defies the norm with 310 calories and 17 grams of fat. (By comparison, cheesecake at The Cheesecake Factory typically has between 1,000 and 2,000 calories and around 100 grams of fat!)6254a4d1642c605c54bf1cab17d50f1e
Jack in the Box's other dessert options primarily include milkshakes with more than 1,000 calories, so the NY Style Cheesecake takes the cake here for the best fast food dessert at this restaurant.
Burger King Hershey's Sundae Pie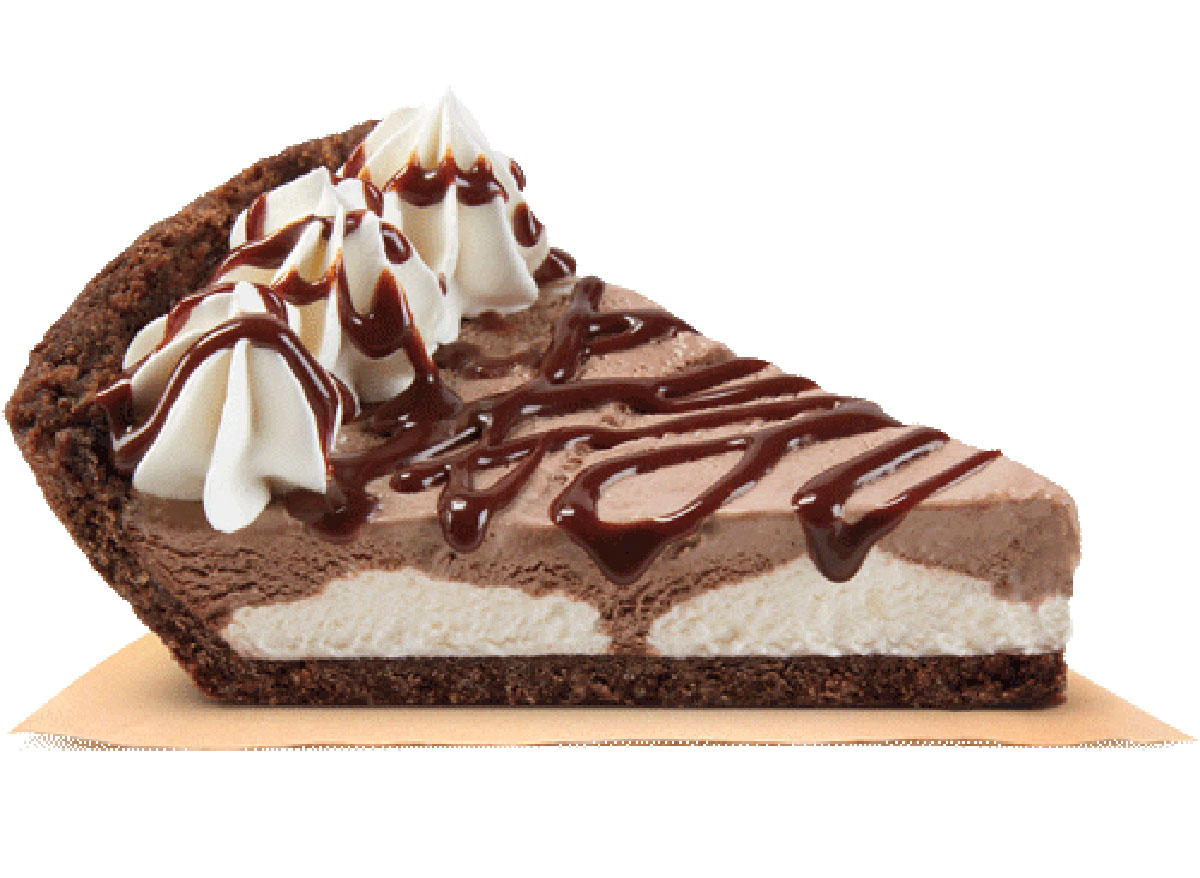 Per slice
: 300 calories, 19 g fat (12 g saturated fat, 0 g trans fat), 220 mg sodium, 32 g carbs (1 g fiber, 22 g sugar), 3 g protein
While Burger King does have soft-serve ice cream and chocolate chip cookies, but if you want something a little more unique, the Hershey's Sundae Pie will fit the bill without leaving you feeling sluggish later in the day. This dessert has about 300 calories, 19 grams of fat, and 22 grams of sugar. This is OK to eat in moderation and when in doubt, go ahead and share it with a loved one.
Paige Bennett
Paige is a Los Angeles-based editor and freelance writer. In addition to writing for Eat This, Not That!, she works as the content editor for Inhabitat.
Read more about Paige