5 Fast-Food Restaurants That Serve the Best Tater Tots
No soggy tots here—these are crispy and golden to perfection!
When you think of fast food restaurants, tater tots are probably one of the last food items to cross your mind. Visions of pickle-doused burgers and golden fries are the historical go-to, but tater tots are officially taking over menus.
"Ah, the humble tater tot. She has had a serious glow-up since the school lunch cafeteria—and for good reason," says Chef Michael Silverstein, who's appeared on MasterChef & MasterChef Back to Win. "The tot isn't just a potato. It's crispy, crunchy, fluffy perfection and ready to take the culinary world by storm."
He says he's a forever fan of a classic tater tot—complete with ketchup for dipping—but that he loves the creativity restaurants and chains are showing as of late. For example, he had Vietnamese-inspired tots with marinated beef in Houston recently, and in Los Angeles he got to experience some bulgogi tots with sweet gochujang sauce.
While tots are having a moment at fancier restaurants, some fast-food chains are also going above and beyond in the tot game. These are the best, so save up your appetite and swing by the drive-thru later today.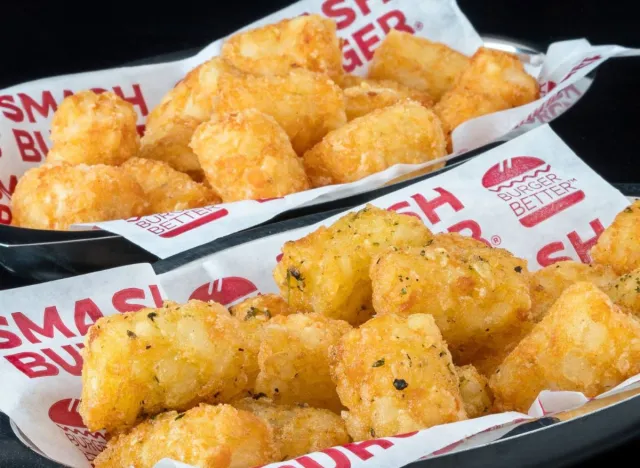 If you typically order the fries at SmashBurger, this is your sign to switch things up next time and ask for the tots instead. The fast food chain has made tots a staple on its menu, and they keep its classic recipe simple to focus on the tot trifecta: crispy exterior, fluffy inside, and lightly seasoned.
"As a chef, for me it's all about the perfect ratio and contrast between the fluffy, smooth and creamy interior, followed by a thin, crispy, and not stale golden exterior," says Chef Ryan Cunningham, co-founder of RollinGreens. He adds that light seasoning and a yummy, complementary dipping sauce can take your tater chow down to the next level.
If you want just a touch more flavor, try SmashBurger's Smash Tots, which feature the same crispy golden brown exterior, only they've been tossed in a savory coat of rosemary, garlic, and olive oil.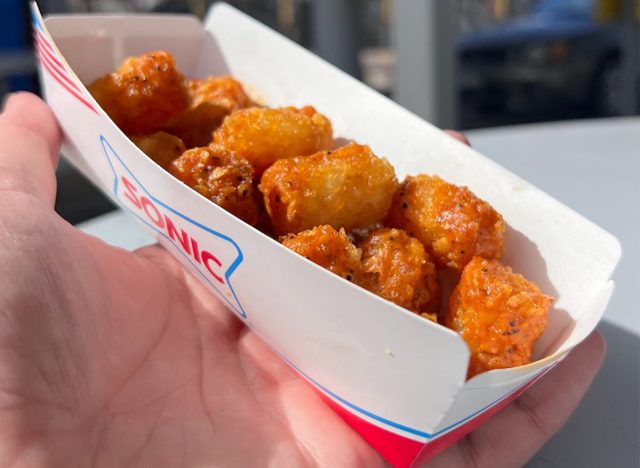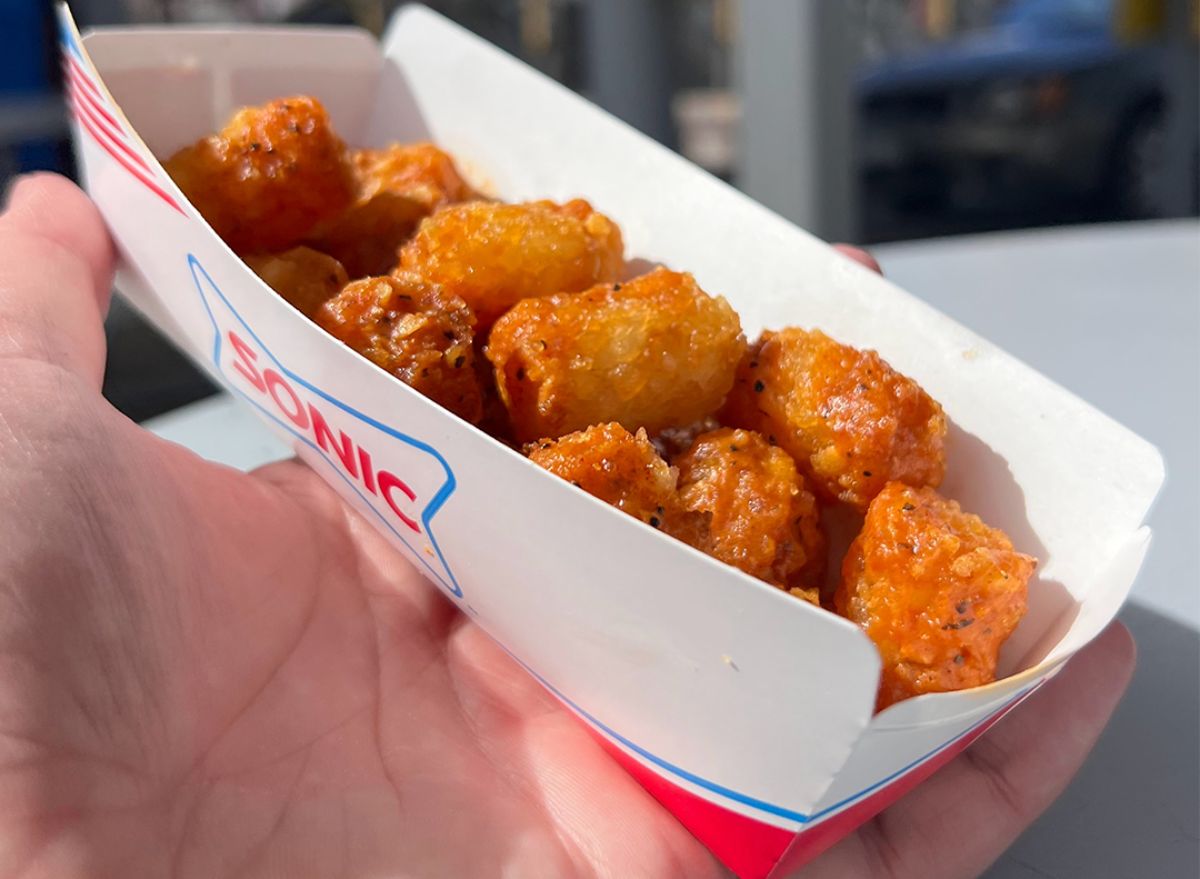 Sonic's made a name for itself as the American drive-in destination so it's no surprise that they've got the iconic tater tot on its menu. Their version has a perfectly crispy exterior that's fried to golden perfection, and a pillowy-soft inside that makes for a mouth-watering fusion of textures.
The classic version is seasoned with salt, but if you're game to try something a bit more creative then opt for their new, BBQ-seasoned tots. They're the classic version, just with a Southern BBQ twist.
Whatever you choose, know that the tots are a longtime favorite staple on the menu so you can't go wrong. In fact, they're so good that Reba McEntire and her beau told People that they opted to have Valentine's Dinner there specifically because they loved the tots so much.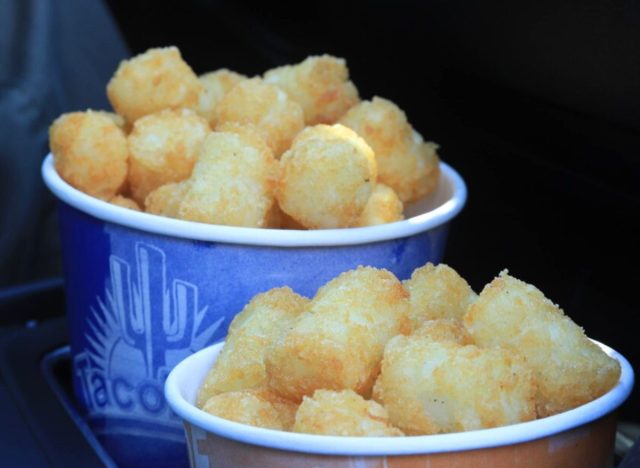 We know what you're thinking. A fast food chain that specializes in tacos is going to serve up a wow-worthy tot? You betcha. A Food & Wine writer even waxed poetic about TacoTime's delightful golden nuggets, writing that the "taco chain isn't really about the tacos" and that "mostly I find myself thinking about the tater tots."
The chain technically refers to their tots as "Mexi-Fries," and they're made with a special spice blend and served with a side of mild hot sauce. If you're feeling very indulgent, consider trying the Stuffed Mexi-Fries, which are crispy potato nuggets filled with a pillowy blend of creamy cheddar cheese and diced jalapeno.
A pizza chain is another unexpected place to find tater tots that'll have you eager to come back for more, but don't sleep on Domino's twist on this classic. This year—timed for the Superbowl—the restaurant debuted Loaded Tots at select locations. While there were some skeptical side-eyes, the tots have officially been met with rave reviews and were a big win for the company.6254a4d1642c605c54bf1cab17d50f1e
You can choose from three different options: Philly Cheesesteak Loaded Tots, which are loaded with green peppers, onions, cheddar cheese and Philly steak; Cheddar Bacon Loaded Tots, which are topped with a blend of mozzarella and cheddar cheese and drizzled with Alfredo sauce; and the Melty 3 Cheese Loaded Tots, which is a three-cheese blend, garlic parmesan cheese, and bacon.
What also sets these tots apart is that Domino's runs them through the pizza oven. The result is a gooey-meets-crispy cheesy dish with tons of flavor.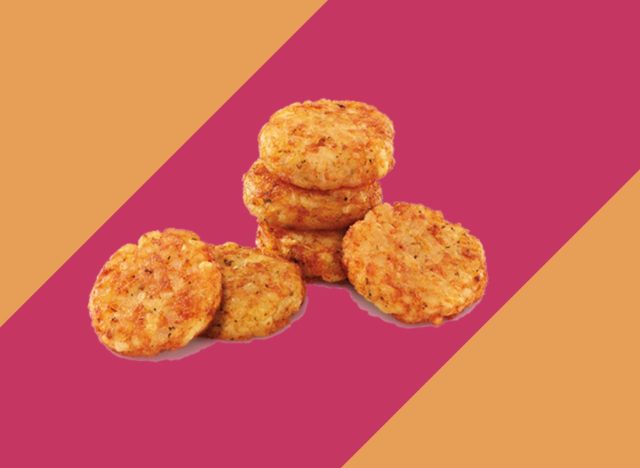 Let's call Dunkin's hash browns what they are: flat tots. And when we say flat, we aren't referring to the flavor. These bite-sized potato delights are made with a unique proprietary seasoning that has people coming back for more every time. While the recipe is top secret, a member of their culinary team, Holly, did confirm that the seasoning includes garlic, parsley, and sage.
She went on to say, "As we perfected the Dunkin' hash brown, the culinary team in the Dunkin' Test Kitchen had experimented with different seasonings (like ranch) or sauces for our hash browns, but at the end of the day, we decided not to mess with a good thing."
In other words, sometimes simple is best when it comes to the classics.
Wendy Gould
Wendy Rose Gould is a veteran freelance lifestyle reporter based in Phoenix, Arizona. She covers travel, wellness, pets, and beauty.
Read more about Wendy