5 Fast-Food Chains With Surprisingly Gourmet Menu Items
Who would have thought you could order truffle fries or ribeye from a fast food joint?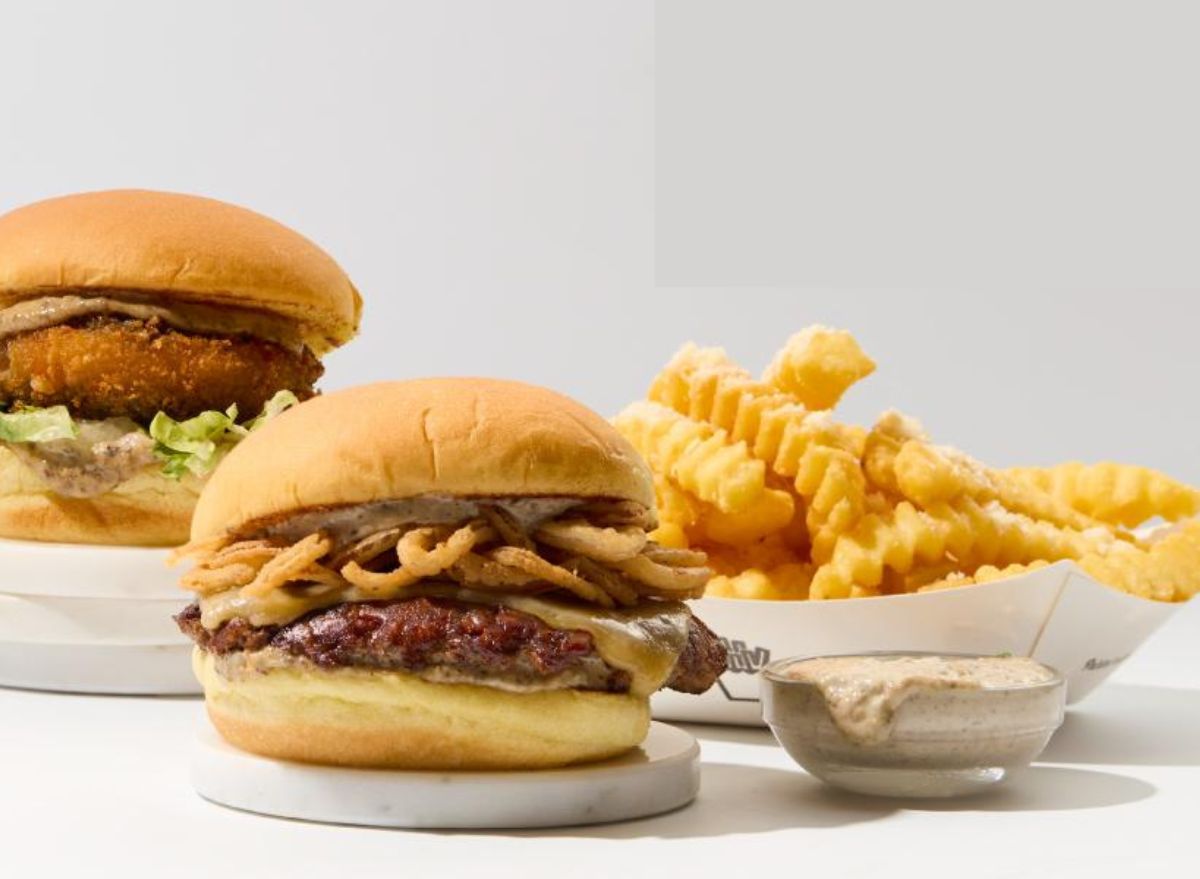 Traditionally, fast food and gourmet fare have always occupied opposite ends of the dining out spectrum. One is known for dollar menus and wrappers, the other is synonymous with formal wear and reservations. Fast food, after all, is supposed to be affordable, unassuming, and above all else served quickly, which is pretty much the opposite of visiting a gourmet restaurant.
Sitting down for a Michelin-star meal is all about savoring the experience, but who says you can't enjoy similarly full-bodied flavors at your local drive-thru? It's no secret that modern customers want more from their favorite chains nowadays than the same-old burgers and nuggets.
Research conducted before the arrival of COVID-19 found that over 70% of consumers are more likely to visit a restaurant if it offers "new flavors." This trend has only intensified post-pandemic, with major chains introducing more and more new menu items at a rapid rate. Some of the biggest fast-food chains in the world have even begun experimenting with surprisingly gourmet options across their menus. Let's take a look at some of the latest fast food gourmet menu items in 2023.
Burger King's Melts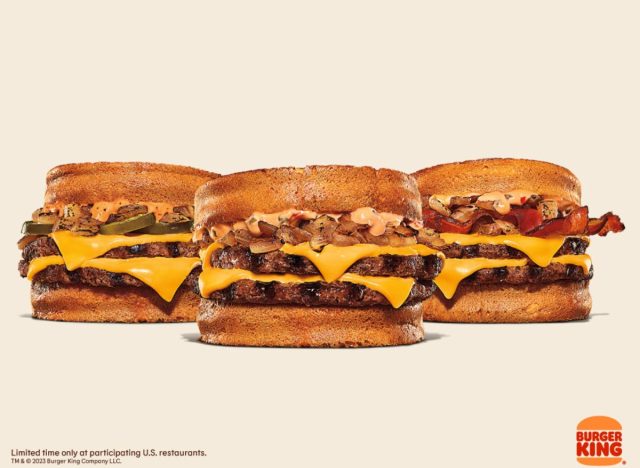 This spring the home of the Whopper is offering customers an innovative and decidedly gourmet-inspired take on the All-American patty melt. These "melty handheld toasted sandwiches" may not sound all that fancy at first, but the melts feature a new ingredient almost never seen on fast food menus: caramelized onions.
The melts were a passion project for Chad Brauze, Burge King's senior director of culinary innovation and sustainability. Prior to joining Burger King in 2021, Brauze worked at multiple Michelin-star restaurants in NYC and even trained under legendary Chef Ferran Adrià at one point.
"We started making the onions in the back of house and nailed the flavor profile," he told Restaurant Business. "They bring a touch of sweetness to the build." Brauze also opted for ¾-inch thick bread slices instead of more traditional burger buns. All in all, he calls the new melt "an indulgent, craveable one-handed item you can eat while still driving your car."
Available in three varieties (Classic, Spicy, Bacon), the Melts feature two slices of toasted bread, layered with two flame-grilled Whopper Jr. patties, melty American cheese, and caramelized onions. Don't wait too long to order yours, though, as this is a limited-time offer set to end on May 14th.
Starbucks' Olive Oil Coffee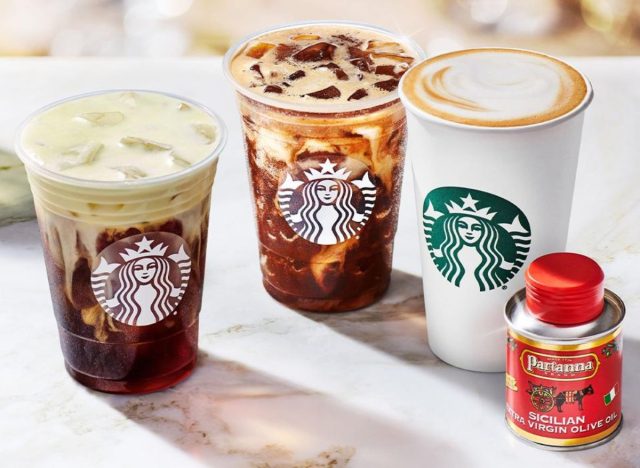 Ubiquitous in kitchens from Rome to Reno, olive oil is a key ingredient used in countless dishes. While olive oil is most often associated with Mediterranean cuisine, Starbucks has raised more than a few eyebrows this year with the release of its new line of olive oil coffee.
These new "Oleato" beverages feature Starbucks coffee infused with cold-pressed, extra virgin olive oil. First launched at Italian Starbucks locations in February 2023 to a generally positive, if not slightly confused, reception by the local Italian customer base, the new concept was first introduced to American customers last month.
Only available at select Starbucks locations in NYC, Chicago, Seattle, and Los Angeles for now, The Oleato line offers three varieties of oil-infused coffee to choose from: A Caffe Latte made with olive oil steamed with oat milk; the Golden Foam Cold Brew with olive oil-infused cold foam; and the Iced Shaken Espresso featuring olive oil-infused oat milk and hazelnut flavoring. Certain Starbucks Reserve locations will also serve an Iced Cortado and an Espresso Martini made with olive oil.
Starbucks CEO Howard Schultz has high hopes for the new line of beverages, saying it will "transform the coffee industry," but reviews so far have been mixed at best. Some customers are complaining that the drinks prompt more frequent visits to the bathroom.6254a4d1642c605c54bf1cab17d50f1e
Shake Shack's White Truffle Menu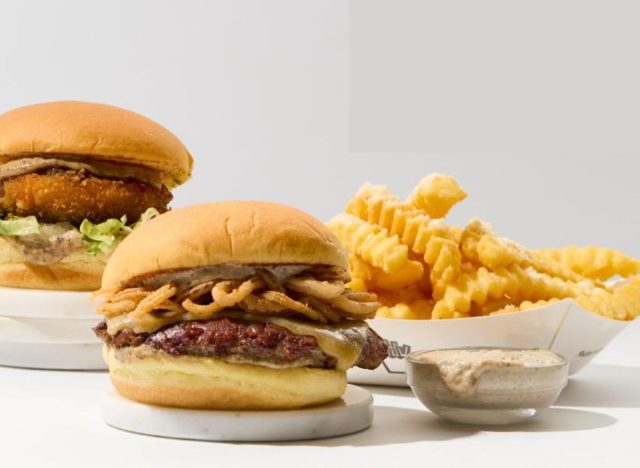 Shake Shack has always presented itself as a classier take on the quintessential quick-service burger, so it made all the sense in the world when the burger brand introduced the White Truffle Menu earlier this year.
Known for its unmistakable, aromatic flavor, the white truffle is extremely rare – and expensive. White truffles are usually reserved for fine dining and Michelin-star restaurants. Even most white truffle oils available nowadays use artificial flavoring. Shake Shack's latest menu offerings all feature real white truffle sauce, made with Regalis Foods' USDA Organic White Truffle Arbequina Oil.
Customers can choose from the White Truffle Burger, featuring a Fontina cheeseburger topped with real white truffle sauce, along with crispy sweet onions on a toasted potato bun, or the White Truffle 'Shroom Burger made with a Crisp-fried portobello mushroom filled with melted muenster and cheddar cheeses, real white truffle sauce, and shredded lettuce on a toasted potato bun. As far as sides, the White Truffle Menu also offers Parmesan Fries with White Truffle Sauce.
Arby's Steakhouse Garlic Ribeye Sandwich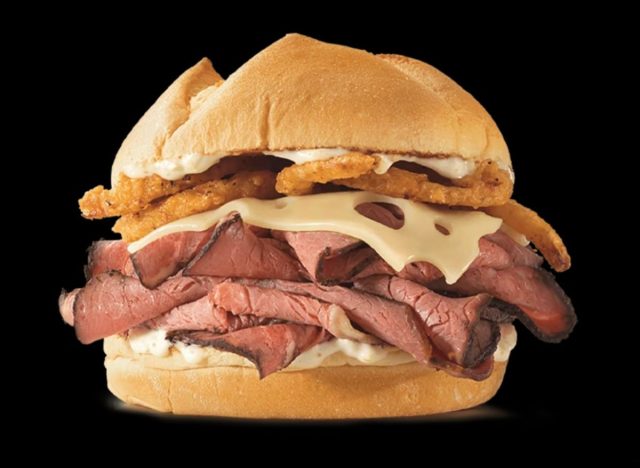 Who says you need to visit a steakhouse for a prime cut? Earlier this year Arby's released the Steakhouse Garlic Ribeye Sandwich featuring 100% real ribeye—and that's nothing to scoff at. Ribeye consistently ranks among some of the most expensive steak cuts thanks to its deep marbling and tenderness.
The new sandwich is also thinly sliced, seasoned with tons of flavors like salt, black pepper, garlic and thyme, and topped with natural Swiss cheese, crispy onions, and creamy garlic aioli on a toasted bun.
The combination of ribeye and garlic aioli is an exciting flavor profile, and recent reviews, including our own, have generally been favorable toward the new sandwich. You'll definitely get steakhouse vibes from this one.
Panera Bread's Toasted Baguette Sandwiches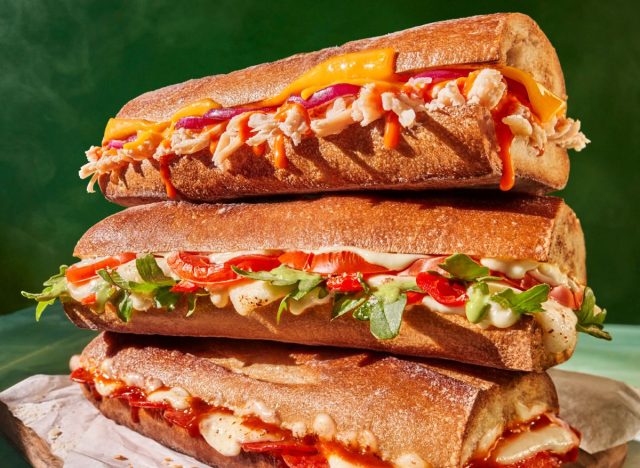 At the end of last year, the French baguette was granted official Unesco heritage status as an intangible symbol of France's culture and national identity. The French know a thing or two about fine dining, and while the baguette isn't nearly as common in the U.S. as it is overseas, Panera Bread recently launched a new line of baguette sandwiches.
In 2023 customers can choose from three new Toasted French Baguette options: The Green Goddess Caprese Melt features peppadew peppers, fresh mozzarella, grated parmesan, basil, arugula, green goddess dressing, garlic aioli, and salt and pepper. The Pepperoni Mozzarella Melt is made with pepperoni, fresh mozzarella, a fontina/mozzarella blend, and market sauce. The Smoky Buffalo Chicken Melt is prepared with smoked chicken, American cheese, red onions, and Buffalo sauce.
"Our Toasted Baguettes take inspiration from the best cafes in Europe, with fresh and clean ingredients that define Panera's food with a heavy emphasis on both abundance and value for our guests," said Eduardo Luz, Panera's chief brand and concept officer.
John Anderer
John Anderer is a writer who specializes in science, health, and lifestyle topics.
Read more about John