I Tasted 6 Frozen Lasagnas and This One Blew Me Away
They were judged on texture, creaminess, and flavor.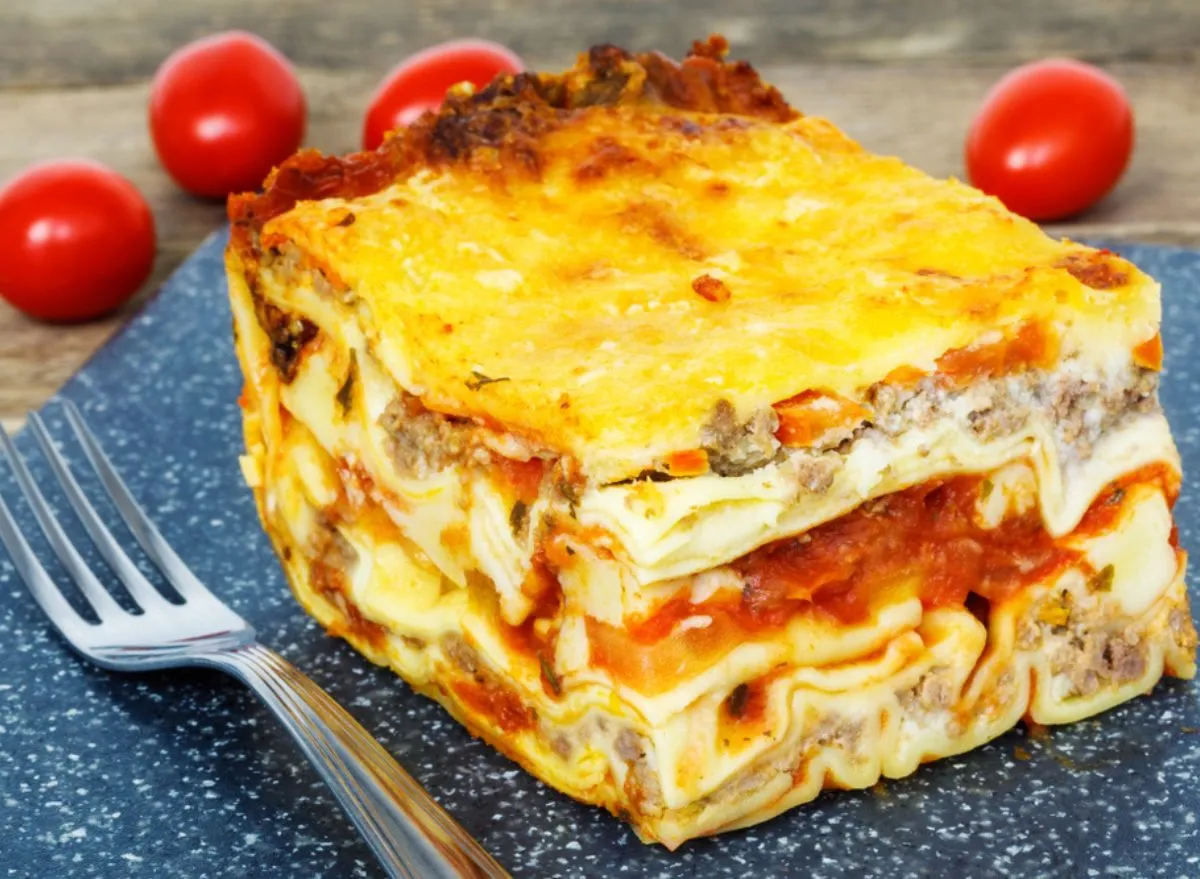 For pasta lovers like myself, lasagna is an ideal dish, with its gooey layers of meat and cheese. It is suitable for virtually all palates (what's not to like!?) and is extremely satisfying for those days when you're just craving some salty carbs. There's no beating fresh lasagna, but since I'm not a chef, I typically opt for microwave meals from the grocery store. I decided to try all the frozen lasagna options in my quest to identify the best one.
To my surprise, there were only six options at my local grocery store—so I bought them all. During my taste test, I looked for a frozen lasagna that was soft, creamy, and bursting with flavor.
What I tasted:
Amy's Vegetable Lasagna
Cali'Flour Foods Lasagna With Meat Sauce
Real Good Foods Lasagna Bowl
Stouffer's Cheese Lovers Lasagna
Stouffer's Meat Lovers Lasagna
Stouffer's Veggie Lovers Lasagna
Without further ado, here's how the store-bought frozen lasagnas ranked in my taste test, listed from worst to best.
Cali'Flour Foods Lasagna With Meat Sauce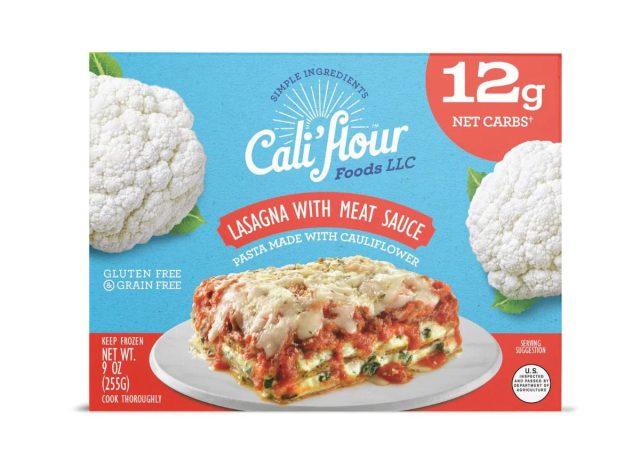 The Look:
At first glance, this cauliflower lasagna looked like any other frozen lasagna I've seen. However, it did have more of a watered-down look as the sauce rested on top. There was also a pretty thick layer of cheese on top, which looked good.
The Taste:
I was pretty disappointed with this lasagna because it frankly just tasted like a pile of mush. I've had the brand's pizza before and I'm generally a fan of cauliflower substitutions, but it just didn't work here. There's no escaping that a main staple of lasagna is the pasta, and the absence of it really detracted from my overall rating. The meat sauce was good though, so it wasn't a total fail.
Stouffer's Meat Lovers Lasagna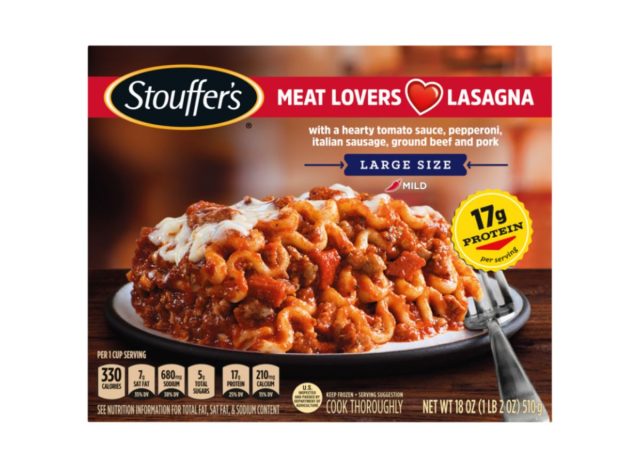 The Look:
This looked like the classic slab of lasagna I was familiar with from my mom's homemade dish. It had a layer of cheese on top with sauce and then layers of pasta, sauce, cheese, and meat. Don't expect yours to look like the box because once cooked it's a bit different with the ingredients mashed together.6254a4d1642c605c54bf1cab17d50f1e
The Taste:
I had high hopes, but I was pretty disappointed with this Stouffer's lasagna. I was expecting to taste bits of pepperoni, Italian sausage, ground beef, and pork, and I barely got any meat—huge bummer. The pasta itself was thick and held the contents nicely, but the meat was supposed to be front and center here and it just lacked. Also, even after heating in the oven for 45 minutes, the center was lukewarm. I probably could have microwaved it and saved myself some time.
Real Good Foods Lasagna Bowl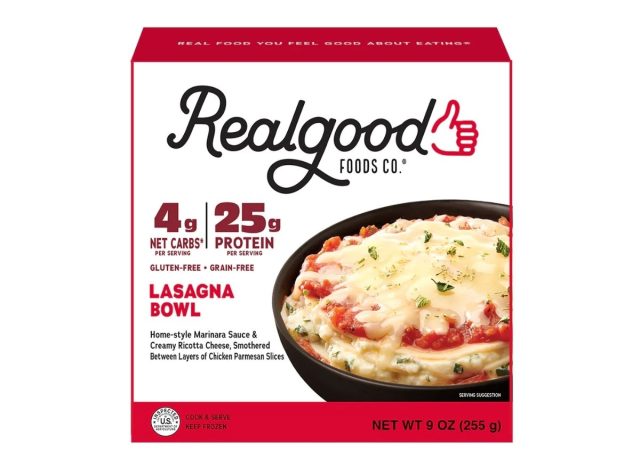 The Look:
For starters, I was pretty confused about what I was looking at when I picked up this lasagna from Real Good Foods. I think the circular shape threw me off because lasagna is typically served as a square or rectangle. Regardless, I could see a mixture of sauce and cheese—with an emphasis on the latter, which I can't complain about.
The Taste:
Apparently, I didn't read the box closely enough, because I was just expecting pasta and cheese. However, to my surprise, the pasta was replaced with layers of chicken and cheese. I like chicken, so while this bowl deviates from the traditional, I didn't mind and really enjoyed it. Even though the portion was small, I was stuffed after a few bites, probably thanks to the protein in the chicken. The cheese was also really rich, creamy, and delicious. I don't know if I would technically even describe this as lasagna, but it is definitely tasty.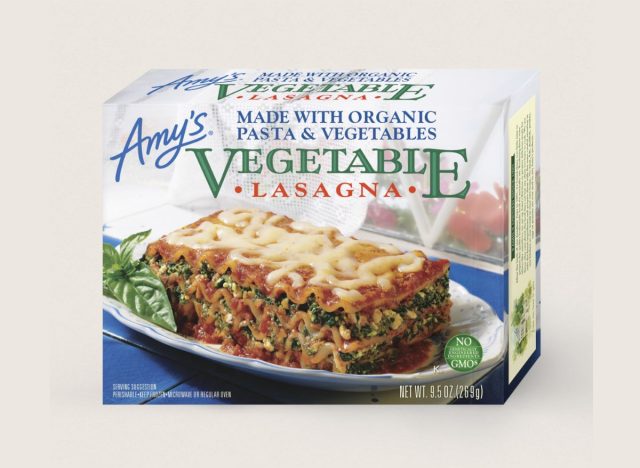 The Look:
Out of all of the frozen lasagnas I tried, Amy's Vegetable Lasagna looked the most like a slice I'd get at a restaurant. It was perfectly square and I could actually see the ingredients in between the layers.
The Taste:
Unlike Stouffer's lasagna, I could actually taste the vegetables individually—they didn't all blend together. The cheese was creamy, but I could have used a little more (it is lasagna, after all). I'd definitely get this again.
Stouffer's Cheese Lovers Lasagna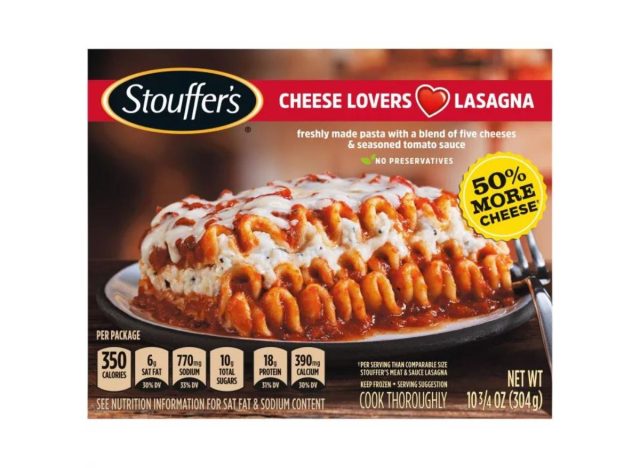 The Look:
It looked nearly identical to the meat version with its cheese and sauce on top of the first layer of pasta. There was nothing remarkable about it in the aesthetics department.
The Taste:
I was super excited to get into this lasagna and I was not disappointed. While I can't tell you the names of the five kinds of cheese in this lasagna, I will say it was cheesy and scrumptious. It had both sprinkled cheese and thick creamy cheese for the ultimate package. I got some cheese flavor with every bite, and it wasn't overshadowed by the sauce, so major props to Stouffer's.
Stouffer's Veggie Lovers Lasagna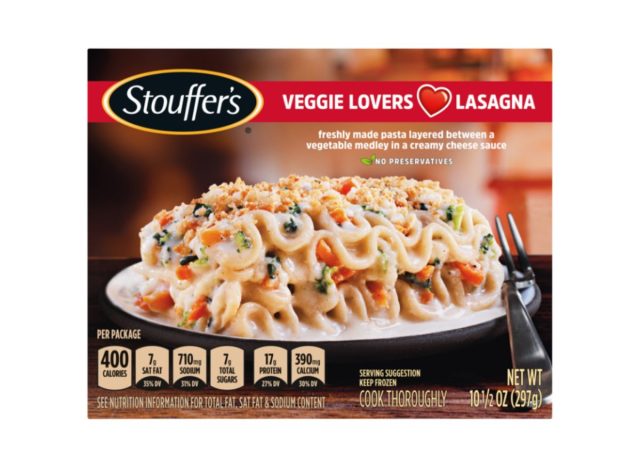 The Look:
Out of all of the lasagnas, this one looked most similar to the promotional picture on the box. It had a layer of breadcrumbs on top and a thick, creamy sauce, layered in with the vegetables. It looked more like a casserole since it wasn't that familiar red color, but that didn't affect the taste.
The Taste:
While it didn't taste like "traditional" lasagna, it was by far the best frozen lasagna. It had just the perfect amount of pasta, vegetables, and sauce. Instead of tomato sauce, it was a thick cheesy white cream sauce and it was delicious. The breadcrumbs added some texture and meshed well with the cheesy sauce. There was no way I could have made out that there were carrots, spinach, broccoli, and onions in it, but I could taste that it contained vegetables, and it was refreshing.
Casey Clark
Casey Clark is a current journalism student at Hofstra University with a passion for food, beauty, and entertainment.
Read more about Casey