9 Best Trader Joe's Frozen Meals, According to Our Editors
You can find all kinds of tantalizing foods in TJ's freezer section. Here are our favorites.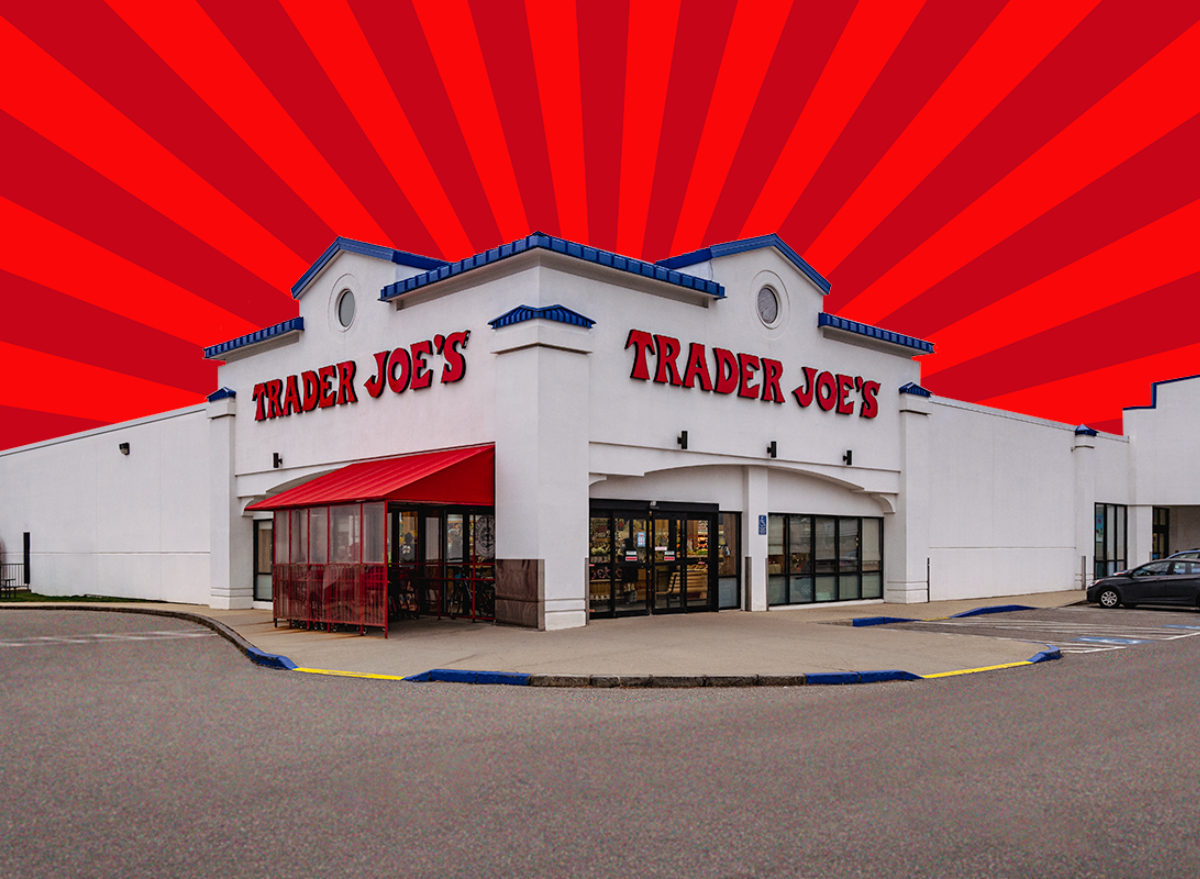 The product recommendations in this post are recommendations by the writer and/or expert(s) interviewed and do not contain affiliate links. Meaning: If you use these links to buy something, we will not earn a commission.
You can't really shop at Trader Joe's without becoming a fan, at least on some level. Heck, that's probably why you're reading this. You're an avid TJ's enthusiast, aren't you? You probably even have one of those canvas tote bags with the store's embroidered logo.
You gobble up the fun, crunchy snacks. You slice through the vast and eclectic selection of cheese. And you can hardly resist all the intriguing sweets. But, most of all, you go for the frozen foods.
We get it. Many of the staffers here at Eat This, Not That! are regular Trader Joe's shoppers, too. And we spend a lot of time in the freezer section. Frankly, it's the coolest place in the entire store, and not just because of the temperature. Where else can you find so many worldly flavors in one place? From Portuguese tarts to Korean rice cakes, you can get all kinds of tantalizing foods, each affordably priced and well preserved for whenever the mood strikes.
We all have our own favorites. Keep scrolling to find out which frozen meals our editors love the most. You might even discover your next fave. That'll give you one more reason to go back. Just don't forget to take your tote!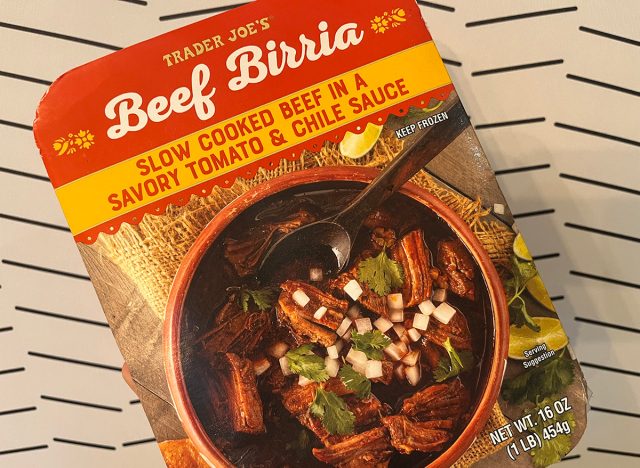 Beef birria tacos are always the right move at my local taco truck, especially late at night. But, in some ways, I like the Trader Joe's version even better. It's not only rich, delicious, and fun to eat, but it's also fun to cook. To do it right, you must follow a few steps. First, you zap the saucy, shredded beef in the microwave, then you soak some corn tortillas in its savory broth and fry them up in a skillet. Pile on some meat—add onions, cilantro, and lime, if you're going all in—then fold and sizzle until crispy. I could fry (and eat) these tacos all day, which is a good thing, because this double-serving dish gives you plenty of juice.—Chris Shott, Deputy Editor, Restaurants & Groceries
Japjae Korean Glass Noodles & Vegetable Stir Fry
If you appreciate Korean flavors and noodles with sublime textures, then there's a strong chance you'll love the Japchae from Trader Joe's. I love the combination of veggies in this frozen dish and the sweet and savory sauce. But the true star is the glass noodles, which are the perfect combination of soft and chewy. I love to heat up a pack of japchae for a quick lunch on the weekdays. It also makes a great dinner with the addition of some protein, like chicken or tofu.—Zoe Strozewski, News Writer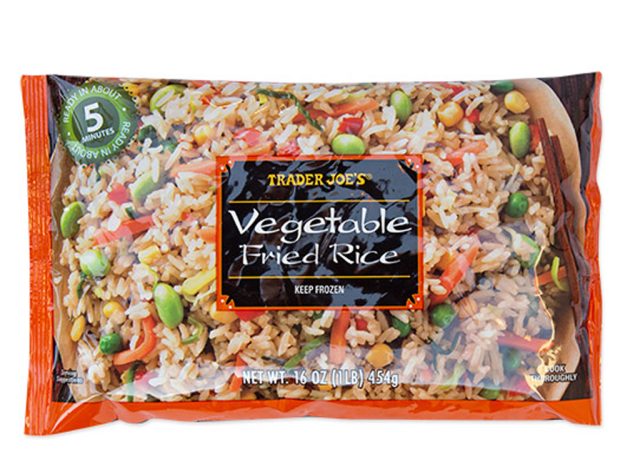 6254a4d1642c605c54bf1cab17d50f1e
My freezer is never without a bag of
Trader Joe's Vegetable Fried Rice
. It makes for a healthy, veggie-packed dinner that's ready in 10 minutes—which is super important when I'm hungry and not in the mood to cook anything from scratch. To increase the protein and veggie count, I add extra frozen edamame and frozen peas, scramble up some eggs, and toss in some cubed TJ's Organic Sprouted Tofu. I top it all off with a drizzle of soy sauce, toasted sesame oil, and chili garlic oil for a bit of extra spice and crunch.
—Olivia Tarantino, Managing Editor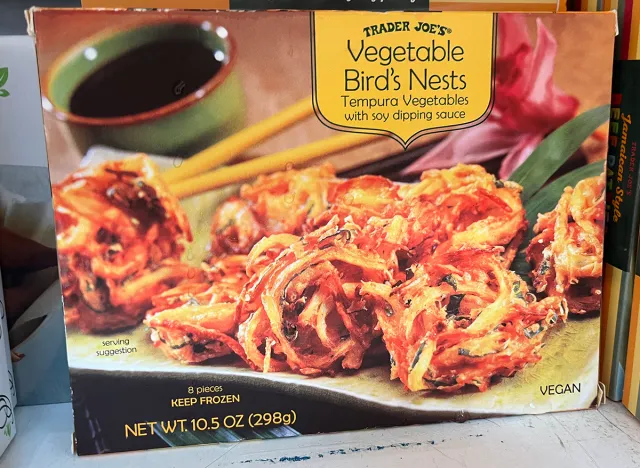 I think my favorite frozen "meal" from Trader Joe's would be the bird's nests. It's so delicious, super quick to whip up, and you can't beat the crunchiness factor paired with the soy sauce it comes with. Such an easy crowd-pleaser when hosting guests or great to enjoy on a cozy Saturday at home watching movies!
—Alexa Mellardo, Deputy Editor, Mind + Body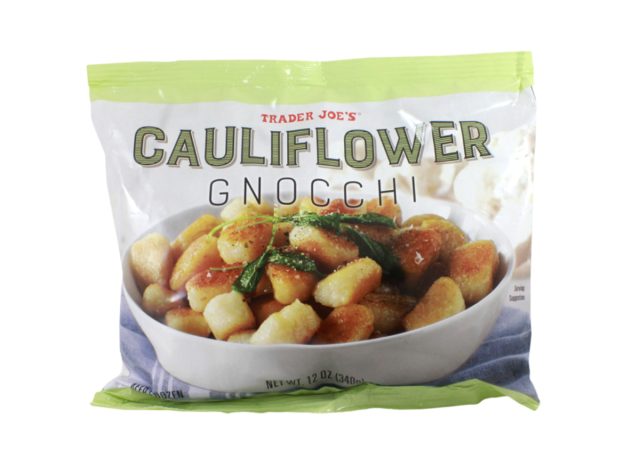 It may be trendy and cliché, but I genuinely love Trader Joe's Cauliflower Gnocchi. It's the perfect base for pasta sauce when I want to change up an otherwise basic dinner, and it's also easy to heat up for a filling lunch. I've even tried them in a dessert recipe that involved cinnamon sugar, so they can double as dessert, too!—Marisa DiPaolo, Social Media Director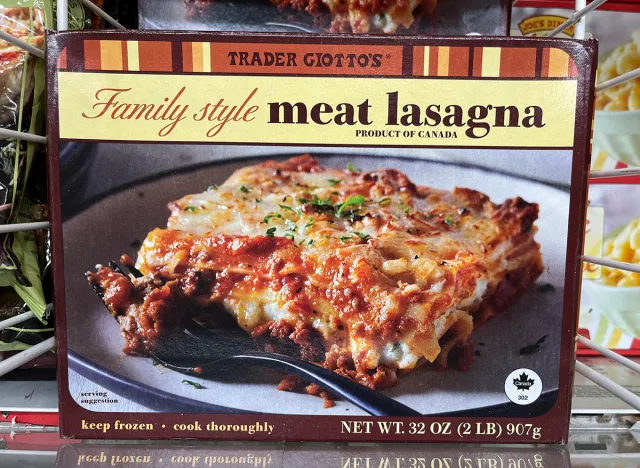 When I was a teenager, family members used to say I had a "hollow leg," which is a rather folksy way of saying "insatiable appetite." The one thing I could never get enough of was lasagna. Naturally, I preferred my mother's homemade version. (Don't worry, Mom, it's still my fave!) But even a prolific casserole maker like her could never build enough of them to satisfy my endless demand for the stuff. That's why we always kept a bunch of Stouffer's brand meat lasagnas in the freezer. Those microwavable single servings became my routine afternoon "snack." One reason why I like the meat lasagna from "Trader Giotto's" is because the flavor reminds me of the Stouffer's variety from the old days. Also, it's a heckuva lot larger. According to the package, the two-pound, family-style portion feeds up to four people. Or, effectively, one hungry teenager.—Chris Shott
I have a soft spot for those free samples of teriyaki chicken you'll sometimes find at mall food courts. And I think that Trader Joe's BBQ Teriyaki Chicken is shockingly close to the real thing! The sauce is the perfect combination of savory and sweet, and the actual chicken is some of the most high-quality frozen poultry I've ever had. It goes great with white rice, steamed veggies, and a little Sriracha if you want some extra heat.—Zoe Strozewski
Gluten Free Cheese Pizza With A Cauliflower Crust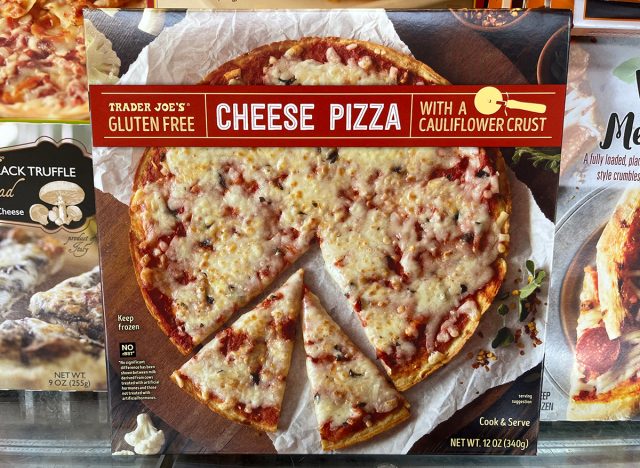 Anyone who has to avoid gluten in their diet knows that good gluten free pizza is hard to come by.
This frozen pizza from Trader Joe's
is actually great, with a soft but not soggy crust that isn't hard as a rock. The sauce is tasty, it's perfectly cheesy, and it heats up in just 10 minutes!—
Marisa DiPaolo
The Gnocchi alla Forrentina is so incredibly easy to whip up in the skillet and tastes absolutely delicious-slash-restaurant-worthy when paired with a nice glass of red wine!—Alexa Mellardo