4 Best Gluten Free Crackers To Buy, Say Dietitians
You can still eat your favorite carbs while leaving the gluten behind.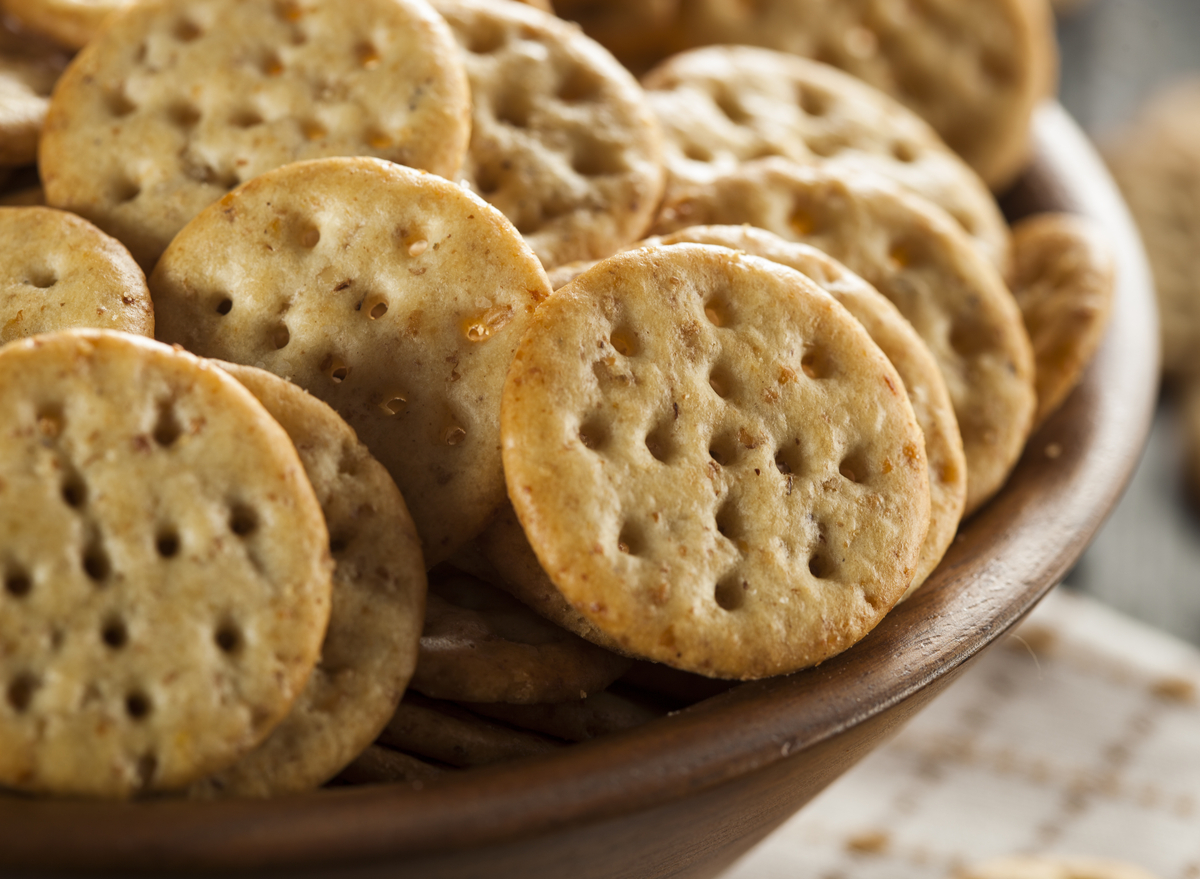 Crackers may be the most versatile and necessary food around. Need a quick snack? Throw some cheese on a cracker. Have a delicious dip that is just begging to be eaten? Get out the crackers. Out of croutons for your salad? Just crumble up some crackers.
The ways to use crackers are almost as abundant as the types of crackers you can choose from. From thin crisps to dense and seedy, lightly salted to dressed in intense flavors, there's a cracker for every person and every use.
While there's no shortage of ways to eat this perfect snack food, if you've given up gluten because of celiac disease or gluten intolerance, you might be wondering what to do about this typically wheat-based snack.
Thankfully, I've put together a dietitian-approved list of four of the best gluten-free crackers to buy based on flavor, health, and quality.
Read on, and for more healthy grocery tips check out 6 Store-Bought Salsas with the Highest Quality Ingredients.
Simple Mills Farmhouse Cheddar Almond Flour Crackers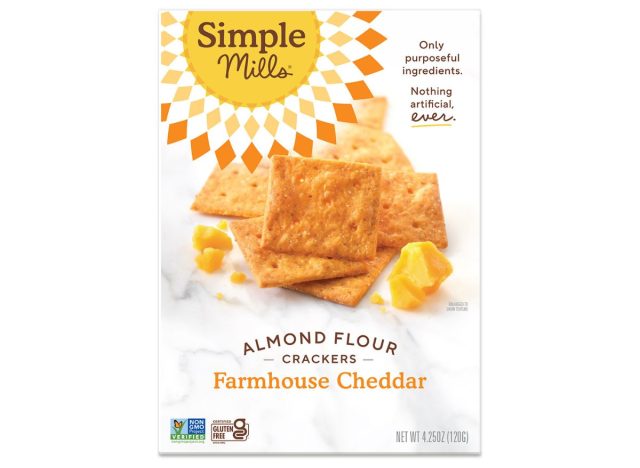 Per 17 crackers
: 150 calories, 8 g fat (1.5 g saturated fat), 230 mg sodium, 17 g carbs (1 g fiber, 1 g sugar), 3 g protein
Simple Mills crackers use natural ingredients like nuts, seeds, cassava, tapioca starch, and sunflower oil to make a cracker that's incredibly similar to some of your favorite wheat-based choices.6254a4d1642c605c54bf1cab17d50f1e
"The ingredients are "simple," and their cheddar variety tastes just like an adult version of Goldfish that a lot of people grew up on," says Sharon Puello, MA, RD, CDN, CDCES. With a light buttery texture and cheesy flavor, these are one of my favorites when you need a quick savory snack.
Mary's Gone Crackers Super Seed Classic Crackers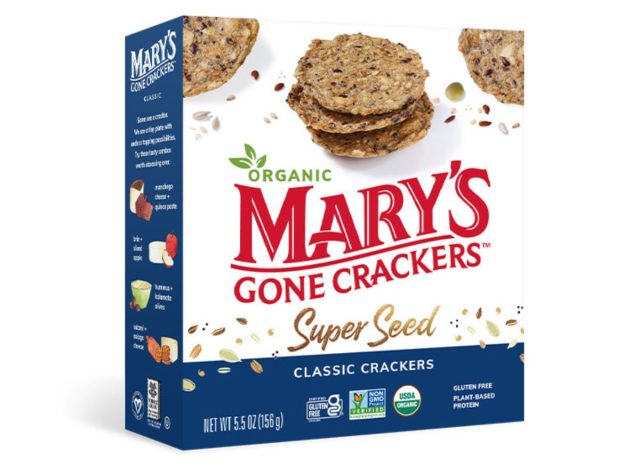 Per 12 crackers
: 150 calories, 7 g fat (1 g saturated fat), 280 mg sodium, 16 g carbs (3 g fiber, 0 g sugar), 5 g protein
Sometimes you just need a dense and hearty cracker to dip, top, or add some crunch to your life. Mary's Gone Crackers Super Seed Classic Crackers fit the bill. Each cracker has 5 different seeds including pumpkin, sesame, sunflower, flax, and poppy seed, as well as quinoa and brown rice for extra protein.
Each serving has 3 grams of fiber and 5 grams of protein, which make these crackers a substantial, high-fiber snack all by themselves. While I love the classic flavor to pair with dips and veggies, they come in five other flavors including jalapeño, basil garlic, everything, seaweed, and rosemary.
RW Garcia Sweet Potato crackers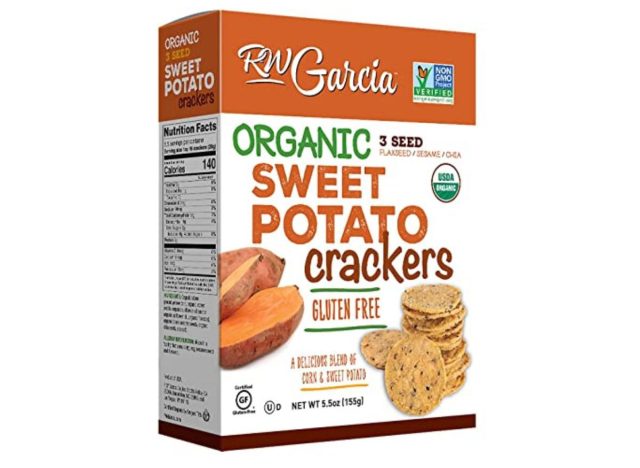 Per 16 crackers
: 140 calories, 7 g fat (1 g saturated fat), 50 mg sodium, 18 g carbs (1 g fiber, 2 g sugar), 2 g protein
These RW Garcia gluten-free crackers use sweet potatoes and corn instead of wheat for a unique and delicious flavor. "They include chia seeds and flaxseeds, which add a small amount of Omega-3 fatty acids in the form of ALA," says Sarah Pflugradt, MS, RDN, CSCS.
Many people get their omega-3s from fish, but if you don't eat fish, foods like chia seeds and flaxseed can help meet your needs. Once eaten, the ALA in plant foods can be converted into EPA and DHA, which are important for brain, eye, and reproductive health.
Crunchmaster Protein Crackers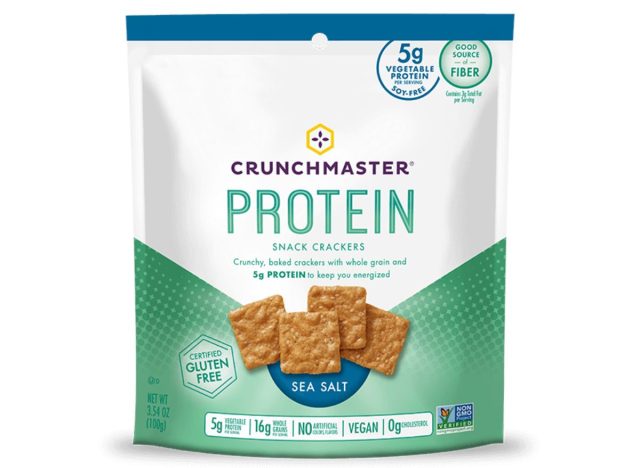 Per 32 crackers
: 130 calories, 3 g fat (0 g saturated fat), 170 mg sodium, 20 g carbs (3 g fiber, 1 g sugar), 5 g protein
Crackers have a reputation for being heavily processed with little nutritional value. Each serving of Crunchmaster Protein Crackers has 5 grams of protein and 3 grams of fiber to help you feel full and meet your health goals more easily.
The protein and fiber come from natural sources like brown rice flour, garbanzo bean flour, brown rice protein, and sesame seeds. Pair these crackers with cheese or hummus for a satisfying snack that's packed with protein and fiber.
Kelsey Kunik, RDN
Kelsey Kunik is a registered dietitian, freelance writer, nutrition consultant, and sustainable food blogger.
Read more about Kelsey