The Best Chinese Takeout in Every State
Here's the spot near you that everyone is talking about.
Certain foods just make for excellent takeout, and Chinese cuisine is the perfect example. It's the ultimate comfort food and surely the wide range of options and dishes contributes to the popularity of Chinese takeout. In fact, a study recently determined that Chinese food was the takeout that made people the happiest. The German food delivery app Lieferando studied 2,158 people throughout 2020 and analyzed their emotional reactions to 11 different types of cuisine ordered for takeout. Using what's called the Brief Mood Introspection Scale (BMIS), researchers recorded each participant's mood prior to eating their takeout meal as well as within five minutes of finishing their meal. According to Lieferando, ordering Chinese cuisine boosted happiness levels by as much as 58%.
And at the end of a long day or week, we don't necessarily want to go out to a restaurant and we really don't want to cook a full meal. The solution to this dilemma? Chinese takeout, of course. Thanks to reviews and feedback from locals and tourists alike, we put together a definitive list of the best spots to get Chinese takeout in every state across the U.S. Plus, check out: 5 'Chinese' Foods No One Eats in China.
(Plus, if you're looking for a burger be sure to skip the 8 Worst Fast-Food Burgers to Stay Away From Right Now.)
ALABAMA: Great Wall Chinese Restaurant in Birmingham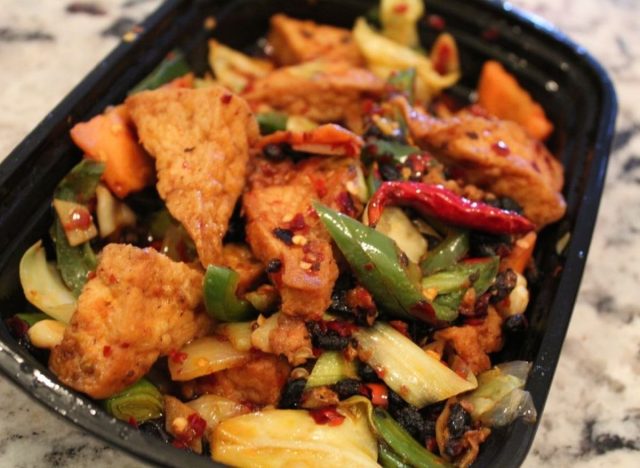 One reviewer described the food at Great Wall as "the BEST Chinese food in the south." Customers are especially enthusiastic about the wontons in spicy peanut sauce, the fried dumplings, the Ma Po Tofu, egg rolls, the Szechuan beef, and spicy noodles, although they note that you really can't go wrong.
"The food was absolutely amazing and flavorful," wrote another reviewer.
ALASKA: Pagoda in North Pole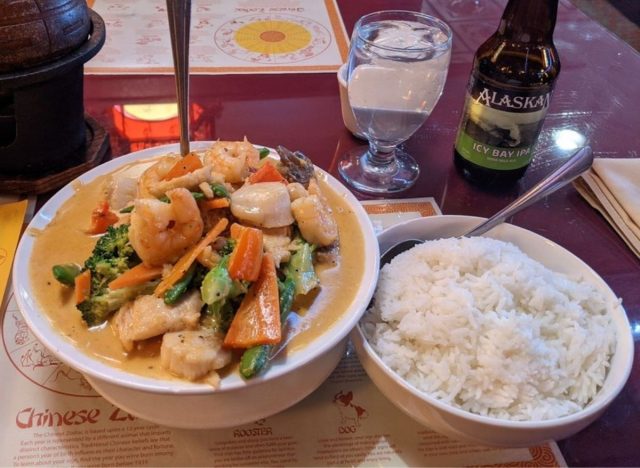 Located in a town that's known for its year-round Christmas decorations, Pagoda has been praised by reviewers as "delicious," "amazing," and "mouthwatering." The Mongolian beef is a huge hit, and other customer favorites include walnut shrimp, pork fried rice, and sweet and sour chicken. In addition to tried and true Chinese fare, Pagoda's menu also includes a few unique selections like General Tso cauliflower and jalapeño scrambled eggs with shrimp or chicken.
ARIZONA: Wong's Chinese Cuisine in Phoenix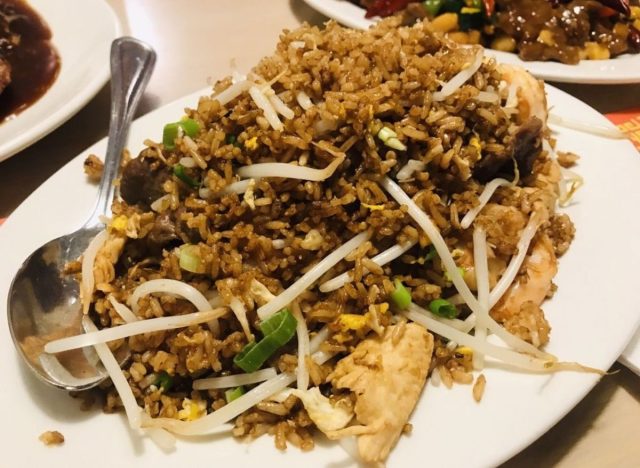 This family-owned Chinese restaurant in Phoenix is known for making standout food by using fresh, top-quality ingredients.
"The food is amazing, you can taste the fresh ingredients," wrote a reviewer. Customer favorites include the wonton soup, kung pao chicken, pork fried rice, and Mongolian beef. Reviewers also noted that the food at Wong's makes great leftovers — and who doesn't love getting two meals for one?
ARKANSAS: Three Fold Noodles & Dumplings in Little Rock
The dishes at Three Fold are all made from scratch on a daily basis. Reviewers love the dumplings and recommend going with pork as your protein; other popular choices include the taro chips, steamed buns, and the beef noodle soup.
"We ordered from the Three Fold Noodles + Dumpling Co. website this evening, and WOW!!! We both got the pork dumplings soup and pork potstickers. The staff that brought our curbside order was very pleasant. Our order was packaged really well and perfumed my truck with heavenly smells," wrote one satisfied customer. "While the pork potstickers were amazing, the pork dumplings soup was out-of-this-world!!! I even finished the extra broth from my wife's soup."
CALIFORNIA: Yang Chow in Los Angeles
Yang Chow has been a Los Angeles staple since it opened its doors in 1977. The restaurant is best known for its beloved "slippery shrimp" dish, made with fried shellfish in a sweet and sticky chili, ginger, garlic, and vinegar sauce.
Reviewers describe the famous slippery shrimp as "the best," "amazing," and "so delicious." They also noted that Yang Chow makes excellent orange chicken, sizzling rice soup, pan-fried noodles, wonton soup, and Szechuan beef.
COLORADO: Overseas 101 in Colorado Springs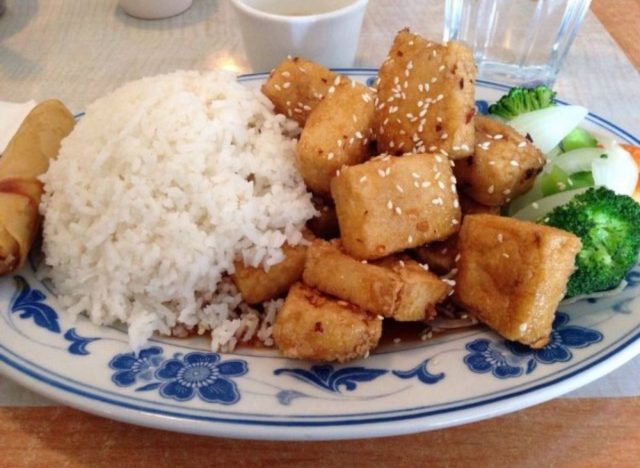 Overseas 101 is described by reviewers as a hole in the wall that's a hidden gem in Colorado Springs. They described the food as "beyond good," "delicious," and "so flavorful" and noted that the portions are huge. The cream cheese wontons and tofu and wonton soup are two of the restaurant's most popular dishes, and reviewers also praised the sesame chicken and crab rangoons.
CONNECTICUT: Sichuan Pepper in Vernon
When ordering from Sichuan Pepper, be sure to get the Dan Dan Mein (noodles with minced pork and spicy sauce), which is described by reviewers as "so tasty and a good deal." The homemade pork wontons in seaweed, dried shrimp broth, and hot and spicy frog legs also come highly recommended.
"This place is fabulous," wrote a reviewer from neighboring Massachusetts. "I have been here several times as one of the few authentic places anywhere near me (and yep, I have eaten Sichuan food in Sichuan)."
REALTED: The Best To-Go Dishes in Every State
DELAWARE: Mom's Kitchen in Bear
Mom's Kitchen specializes in cuisine from Northeastern China. The restaurant serves up specialties including frog in garlic, braised pork with green beans, shrimp with fungus, and radish and meatball soup.
Reviewers describe Mom's Kitchen as "a diamond in the rough" and praise the "delicious" food which tastes like it's home cooked. One customer went as far as to say that it's "probably the best REAL Chinese food on the East Coast." High praise!
FLORIDA: Red Shallot in Doral
Red Shallot serves up Chinese and Taiwanese food that customers love so much it's earned a rare five-star average on Yelp.
"It's not often you find a hidden gem like Red Shallot where they put so much effort and love behind the food they cook," wrote a local. Other reviewers praised natural, authentic ingredients and described the restaurant as "even more amazing than the reviews could make it seem."
GEORGIA: La Mei Zi in Doralville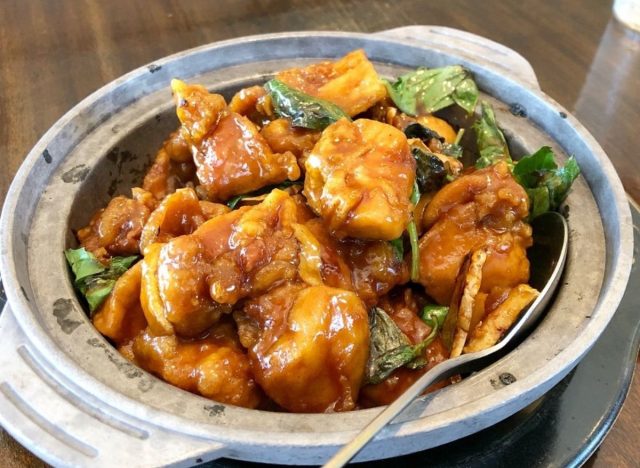 Located right outside Atlanta, locals say takeout from La Mei Zi was a godsend during the pandemic. "Ordering food from here has been a shining star to help us get through the monotony of life lived, well, during a pandemic," wrote a reviewer. "The food is veritable perfection in taste, temperature, and presentation (yes, even when taking out!) and we have yet to experience a messed-up order."
HAWAII: Lam's Kitchen in Honolulu
Located in Honolulu's Chinatown, reviewers say Lam's Kitchen is about as authentic as you can get in America. "Solid food, fresh and quality ingredients, excellent service, and great prices," wrote one repeat customer. Popular dishes include the beef tendon soup, chow fun, wontons, and choy sum.
IDAHO: Wok-Inn Noodle in Boise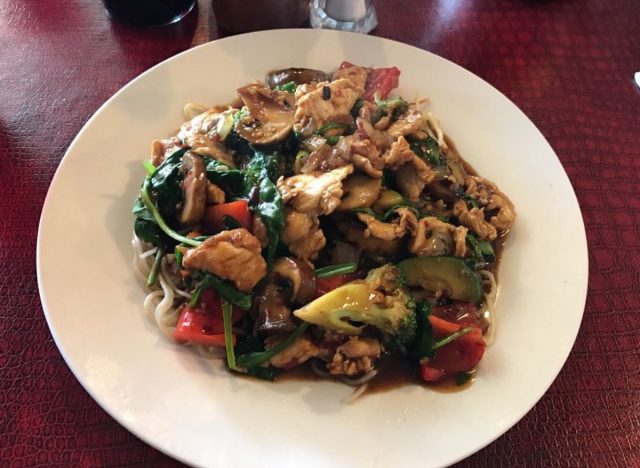 Wok-Inn Noodle is a hole in the wall that you don't want to miss if you're looking for the best Chinese food in Idaho. They serve up classic dishes such as made-to-order egg rolls, chow mein, fried rice, and Mongolian chicken.
"I (was) wonderfully surprised! The man who is cook there for 30 years even makes his own noodles from scratch. Everything is fresh cooked to order. I had the noodles with vegetables and they were amazing!" wrote a reviewer who was pleased with both the quality of the food and the customer service. "I highly recommend this little place. He made me smile as well as the delicious food. It is nothing fancy but a great place to grab some takeout!"
ILLINOIS: MingHin Cuisine in Chicago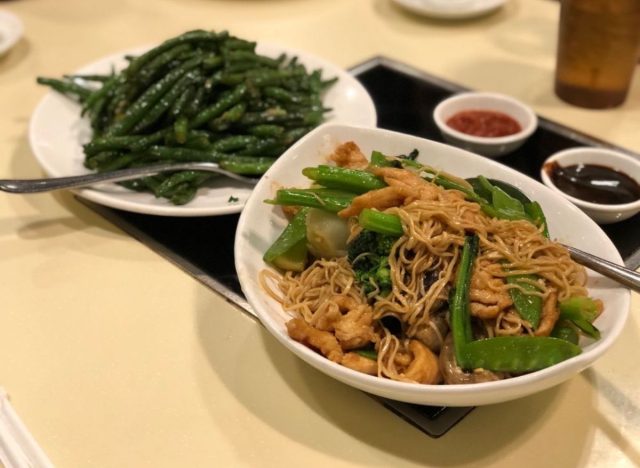 MingHin Cuisine received the Michelin Bib Gourmand award in 2018 and reviewers concur that the food is incredible. The Hong Kong-style dim sum is especially popular, and other favorites include the dumplings, rice noodle rolls, and barbeque pork buns.
INDIANA: House of Cheung in Indianapolis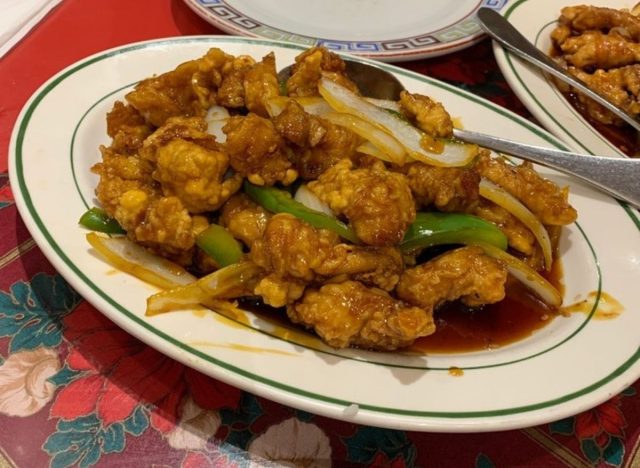 Although many enjoy the dine-in experience at House of Cheung thanks to its decor, the restaurant's takeout game is equally strong.
"We recently moved to the area and have been searching for a new Chinese take-out restaurant. We're so happy we found this!" wrote a reviewer. "My favorite is the Mongolian Beef, and my fiancé loved the Sesame Chicken. The Mongolian beef is stir-fried (and has lots of onions, FYI) which is nice and doesn't make it feel too heavy. The sesame chicken is deep fried but has great flavor." They noted that the service is excellent and the orders are always ready on time.
IOWA: Long Xing in Iowa City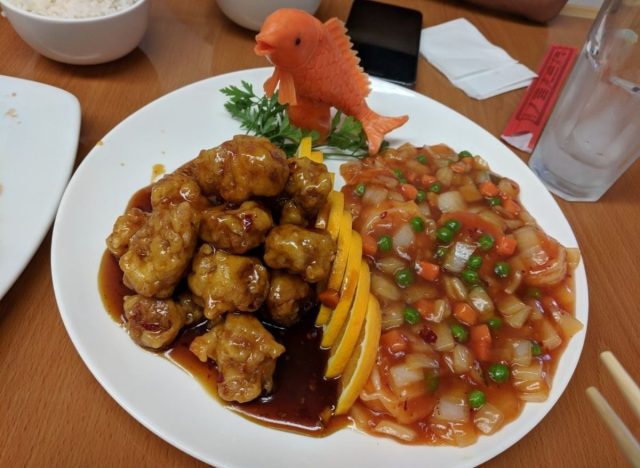 Long Xing's menu offers your standard Chinese-American fare, made to perfection at affordable prices.
"My friends and I picked up several entrees, fried rice, lo mein, and crab rangoons for a little painting party that we did. And boy did this place deliver in deliciousness," wrote a reviewer. "They were so kind for throwing in scallion pancakes (not pictures) and fried donuts for free. But the most jaw dropping part of all, all of the food we got was under $100."
Many locals noted that they order from Long Xing frequently and described the portions as "large enough for two dinners."
KANSAS: ABC Cafe in Overland Park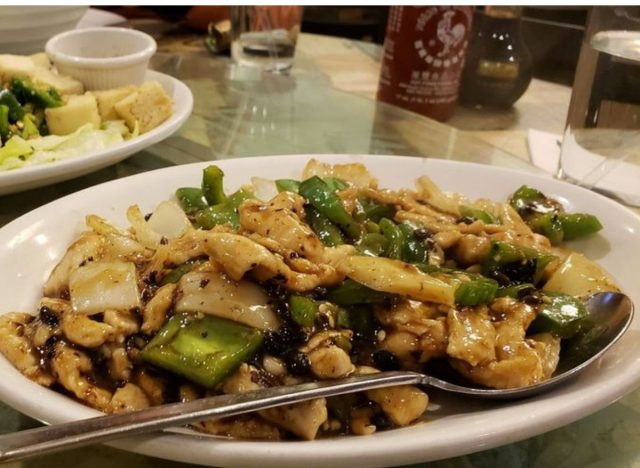 You'll find fresh, authentic Chinese food at ABC Cafe where the signature dishes are salt and pepper tofu and seven-flavor mushroom and shrimp. There are also over 40 dim sum options.
"Impressive classic Chinese food family owned and operated. I love and enjoy this kind of restaurant because I can experience and feel the authenticity," wrote a reviewer. "The food is extraordinary and stands out in regards to quality and flavors."
KENTUCKY: Oriental Wok in Fort Mitchell
Oriental Wok is an award-winning family-owned restaurant that serves up Chinese favorites like chop suey, chow mein, and egg rolls. You may recognize owners Mike and Helen Wong from the Food Network show "Family Restaurant Rivals," in which they competed in 2019. "Had take-away for dinner on Friday. Excellent egg roll, grilled sea bass and half order of Chinese eggplant," wrote a local reviewer. "Best quality food and service with curbside pick-up. Love this place."
LOUISIANA: Dian Xin in New Orleans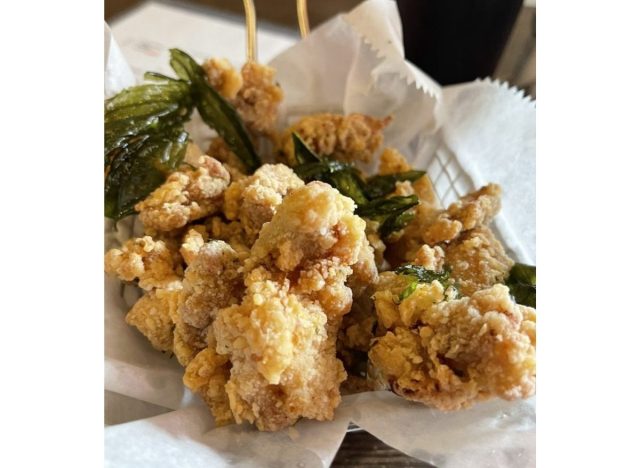 Dian Xin is best known for its dim sum, but reviewers also rave about dishes including the dumplings and the crawfish bao.
"This is really good Chinese food! Highly recommend. We ordered and brought back to our room," wrote a reviewer who got takeout at Dian Xin during a trip to New Orleans. "The food was made quickly, it was ready as we walked in the door (in the timeframe they said) and was packed so well everything was still hot when we got back to our room. Staff was friendly and efficient."
MAINE: Empire Chinese Kitchen in Portland
Empire Chinese Kitchen is known for its dim sum and bao dumplings, but customers say you really can't go wrong with anything on the menu.
"We ordered takeout for a picnic the other night and WOW! It was SO good," wrote a reviewer. "Honestly, we ordered 82939 dishes and you literally can't go wrong. Every single dumpling is amazing, but the pork sui bun and soup dumpling were my favorites. We had several amazing chicken and duck dishes too!"
MARYLAND: Bob's 66 Shanghai in Rockville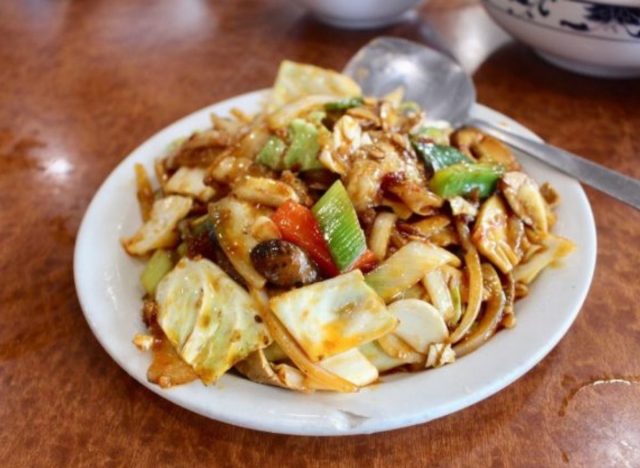 Bob's 66 Shanghai has earned its popularity among customers and has been recognized by the Washingtonian Restaurant Guide, the Washington Post, and Zagat Survey. Crowd-pleasers include the crab and pork soup dumplings, spicy Szechuan-style sliced beef, spicy pork wontons, and spicy fried tofu.
"Tried out this place and it was super delicious. We were in the mood for soup dumplings and wow this place did not disappoint. Luckily, we did takeout because dine-in had a line outside," wrote a reviewer. "Food was hot and fresh with loads of flavor. I also got the general tso chicken, which was phenomenal. Crispy, spicy, and sauced up."
MASSACHUSETTS: Clay Pot Cafe in Boston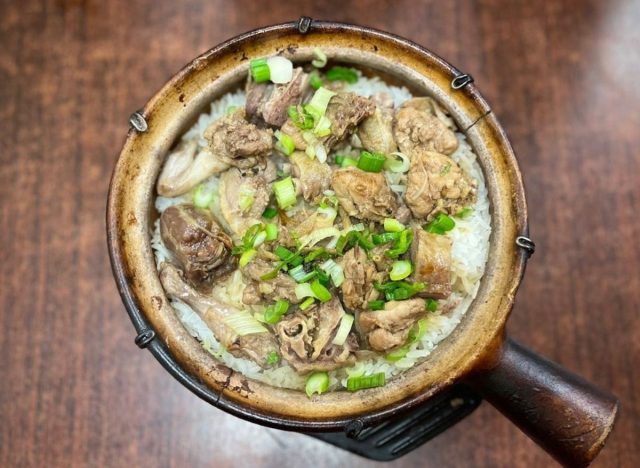 Living up to its name, clay pot dishes are the star at Clay Pot Cafe in Boston's Chinatown. There's a wide variety of options but reviewers are especially enthusiastic about the pot dishes made with yellow eel, Chinese sausage and pork belly, and chicken with Chinese mushrooms.
"The food is very homey & brought back memories of childhood. Of course, I didn't share that then, but I am now. I got the Chinese sausage and bacon small clay pot rice, and it is a go to when I come here," a local reviewer wrote. "A little secret when eating clay pot rice is that if you leave the rice at the bottom long enough, it should get crispy which is completely wonderful when drenched in sauce."
MICHIGAN: The Peterboro in Detroit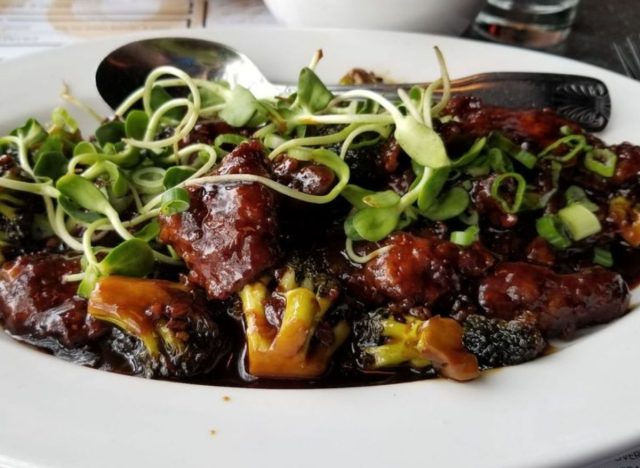 The Peterboro offers a contemporary take on traditional Chinese food. Reviewers are especially enthusiastic about the crab rangoon and cheeseburger spring rolls, a fun twist on a Chinese classic. Although many opt to dine in so they can enjoy the decor and the exceptional cocktails, the Peterboro also offers stellar takeout.6254a4d1642c605c54bf1cab17d50f1e
"It's hard to find quality Chinese food in the city, I'd say this is definitely close to the best," wrote a reviewer. "An added plus, they use the adorable pop and fold take out boxes. I personally think that automatically makes Chinese food taste better, opposed to standard styrofoam to go boxes that you so often receive these days."
MINNESOTA: Golden Chow Mein in St. Paul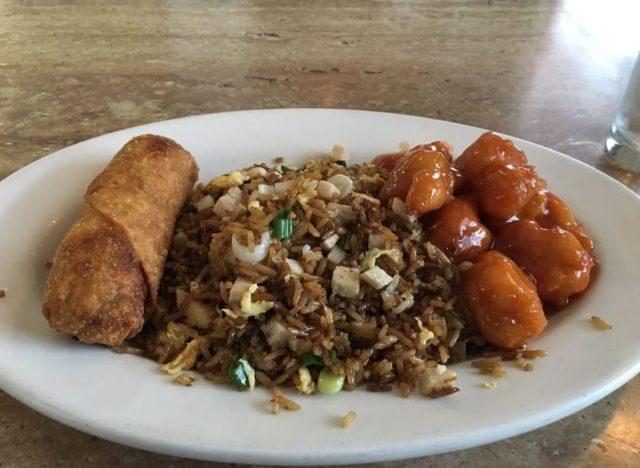 Golden Chow Mein has been a St. Paul mainstay for over 30 years. It serves the typical Chinese-American favorites like chow mein, egg rolls, and kung pao chicken. "Phenomenal west seventh classic. This is the place to go for your Cantonese cravings," wrote a local reviewer. "The sesame chicken is divine, the stir fry is sublime, and this will be a constant rotation in our takeaway sweepstakes. If you haven't ordered yet, you're missing out."
MISSISSIPPI: Mr. Chen's in Jackson
A Chinese restaurant connected to an Asian market, the menu at Mr. Chen's features Chinese specialties like spicy beef tendon, steamed dumplings, seafood clay pot, salted crispy frog legs, lotus leaf sticky rice, and twice-cooked pork. "This place is a GEM! My buddy and I got takeout for dinner here and made our own cornucopia. Duck buns (OMG), crazy spicy chicken, basil chicken and salted crispy shrimp," wrote a reviewer. "The buns were absolutely delicious, gimme all the duck. The crazy spicy chicken was delicious as well. All of it was amazing. If you're in Jackson and you're not getting your Chinese food here, you're missing out!"
MISSOURI: Wonton King in St. Louis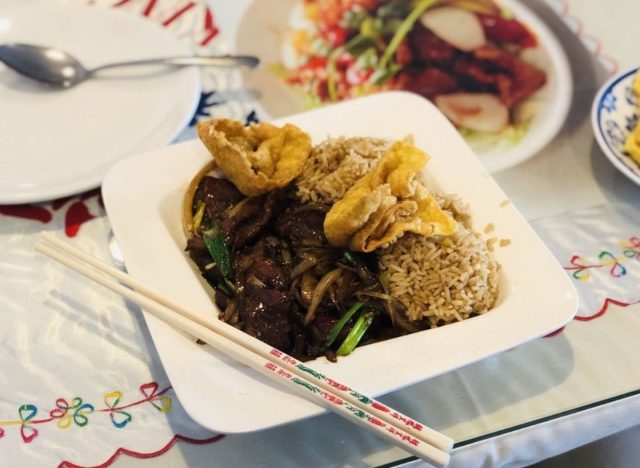 Wonton King is beloved in St. Louis for its dim sum selection, pork buns, and dumplings. It even gets the stamp of approval from a Hong Kong native. "Coming originally from Hong Kong, I am pleasantly surprised to have discovered Wonton King. Wonton King has become my go-to place for Cantonese cooking in St Louis. Pricing is pretty reasonable and plenty of parking is available at the parking lot," wrote a reviewer. "At my visits, I tried various types of dim sums. A few favorites include: 1) Roast pork, which is really crispy and lean, 2) ha gou (a.k.a. shrimp dumplings) and 3) beef noodle (a.k.a beef cheung fun)."
MONTANA: Hong Kong City in Belgrade
Located just outside Bozeman, Hong Kong City has earned rave reviews from locals and tourists alike. Standout dishes include General Tso chicken, pan-fried noodles, and spring rolls. "I ordered dinner here last night for the first time as take-out. It was absolutely amazing!! I ordered the Curry Chicken with steamed rice and wasn't disappointed," wrote a local reviewer. "The ingredients were fresh and the food was very hot! I am excited to place my next order here very soon and to take all my friends and family here in the future!"
NEBRASKA: Dragon Wok in Omaha
Dragon Wok serves up freshly cooked, made-to-order food, with favorite dishes including crab rangoon, sesame chicken, and egg foo young.
"Super hot and freshly made! I get take out regularly. The sauce on the string bean chicken is amazing….I like a thinner sauce. It's the perfect balance of sweet, savory, and saltiness," wrote a local reviewer who's a regular at Dragon Wok. "Crab rangoon, hot and sour soup, peanut butter chicken are also really good." She added that ordering online makes it "super easy" to customize your dish.
NEVADA: Shang Artisan Noodle in Las Vegas
Using noodle-making techniques that are unique to Shanxi in North China, Shang Artisan Noodle "aims to both honor and elevate the Chinese culinary tradition on handmade noodles," according to its mission statement. Reviewers rave about the Shang noodle soup, chow mein, and spicy wontons.
"The BEST beef noodle soup I have ever had. I traveled all the way from Boston just to eat this, and it exceeded my expectations. Worth the trip. Highly recommend!!" wrote a reviewer. Food amazing enough that it's worth a cross country trip? Sign us up!
NEW HAMPSHIRE: Golden Tao in Manchester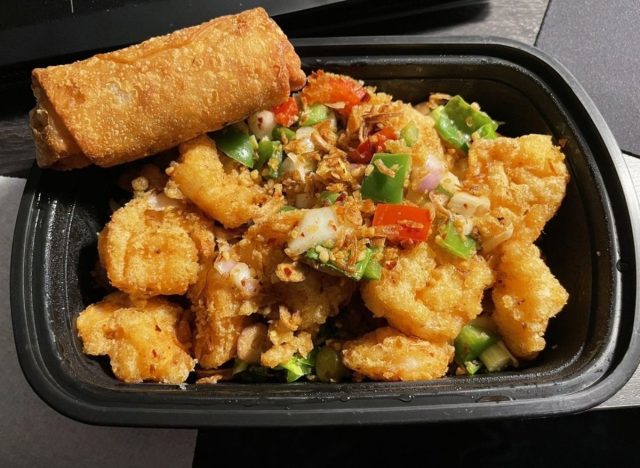 Golden Tao specializes in Americanized Chinese staples including moo shu dishes, lo mein, chop suey, orange chicken, and fried rice. Reviewers say the crab rangoon and lo mein are the best things on the menu, but you really can't go wrong at this beloved restaurant.
"This spot (serves) great take-out meals!" wrote a reviewer. "I recommend the Crab Rangoons. Served w/ sweet and sour sauce — yum." Another said that Golden Tao "has the best American Chinese food we have found in all of New England!"
NEW JERSEY: Hunan Taste in Denville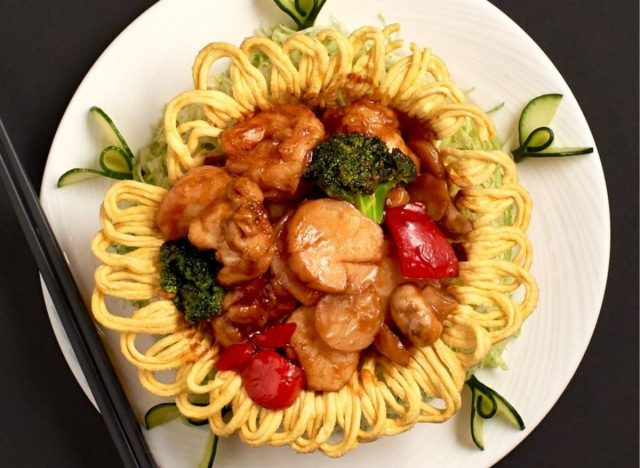 Hunan Taste is on the upscale side with house specialties including Peking duck, tangerine scallops, and Mongolian lamb. It's become a beloved local staple since it opened its doors in 1986. In addition to Hunan Taste's specialty dishes, reviewers are especially enthusiastic about the crispy sesame chicken and the Grand Marnier shrimp.
"Everything was as recommended. Perfection!" wrote a reviewer. "The food was fresh, tasty and plated very well. We got the crispy duck with crepes, we got wonton Soups, pork fried rice and a chicken sechuan pork. All very good."
NEW MEXICO: Tsai's Chinese Bistro in Albuquerque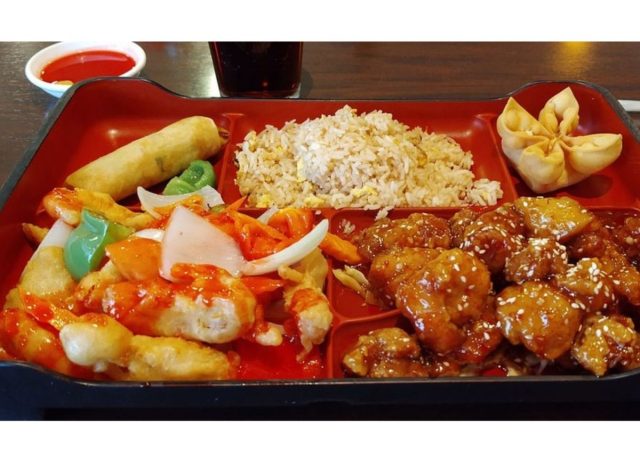 Authentic Chinese cuisine can be hard to come by in New Mexico, but reviewers say that Tsai's Chinese Bistro is a tasty exception. This family-owned restaurant prides itself on treating its customers like family.
"Tsai's is my go-to for Chinese takeout. The service is always fast and friendly plus the portions are massive for a reasonable price," wrote a local reviewer. "I usually go for the chicken Lo mein or the pineapple fried rice which are both good. But omg, those spicy dumplings are really where it's at. They're sooo good, I always save the sauce to reuse in something else because it's delicious."
NEW YORK: Xi'an Famous Foods in New York City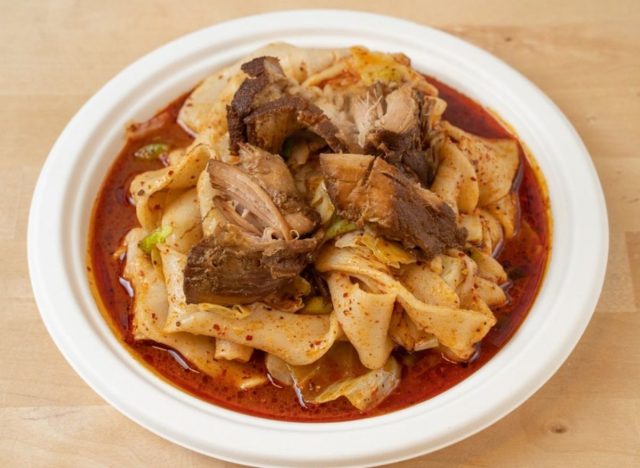 Xi'an Famous Foods is a New York City chain that's famous for its hand-pulled noodle dishes.
"I'm a sucker for hand-pulled noodles, so I reallyyyy enjoyed the lamb noodles. The noodles are super thick and wide and have a great bite to them. You can really taste the flavor of the spice, but it's not too overbearing; one of my friends could handle eating it even though she has a lower spice tolerance," wrote a reviewer visiting from California. "The sliced lamb is tender and delicious. As for the pork burger, I also loved it. The outside of the bread was crispy, while the inside was soft, and the stewed pork just melts in your mouth. They give you a ton of meat!"
NORTH CAROLINA: Sister Liu's Kitchen in Durham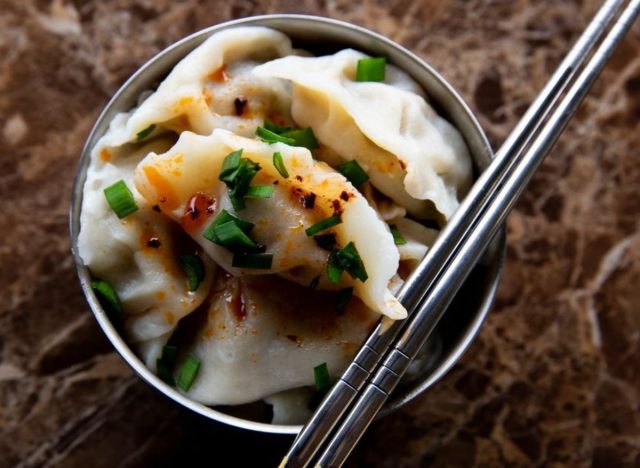 The menu at Sister Liu's Kitchen changes daily, but the handmade dumplings are a huge draw, as are the restaurant's noodle dishes and Chinese "burgers" on steamed buns.
"Just picked up takeout and this was unbelievable! The pork burger is scrumptious, with the buns toasted/fried. My husband got the spicy lamb burger and it was divine," wrote a local reviewer. "We accidentally ordered our dumplings as frozen…the owner immediately cooked some up for us instead. This is a place you do not want to miss!"
NORTH DAKOTA: Mandarin Kitchen Express in Fargo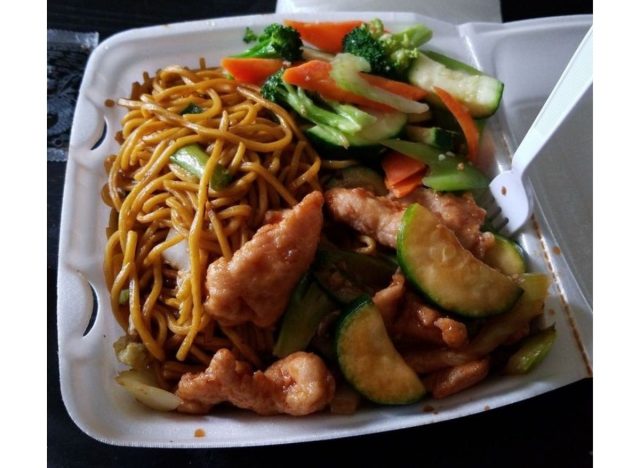 Mandarin Kitchen Express earns rave reviews for its delicious food and its friendly staff who adjust dishes in order to accommodate customers' dietary restrictions. Popular dishes include the peanut chicken, bourbon chicken, spring rolls, and salt and pepper shrimp. "Wow!!! This place is amazing. The price is outstanding. You get so much food. And it's some of the best I've ever had!!" wrote one reviewer. "I 100% will be back. Super easy to order online. My food was ready quickly. I can't believe how good my food is."
OHIO: LJ Shanghai in Cleveland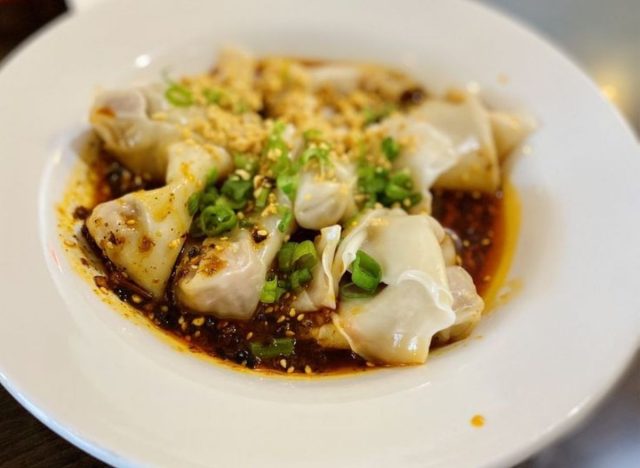 LJ Shanghai is the hands-down favorite in Ohio when it comes to Chinese food. Popular amongst both locals and visitors, diners love the flavorful dishes and massive portions. Favorites include the soup dumplings, Shanghai shrimp and pork wonton soup, and seaweed salad.
"How do I give this place 10 stars?" asked a reviewer visiting from out of town. "This place is real authentic Shanghainese food, but surprisingly also comes with unapologetically spicy Sichuan dishes," wrote another. "I'm postponing my food trips to California and NYC after finding this place. I can't wait to come back and try the rest of the menu."
OKLAHOMA: China Garden in Tulsa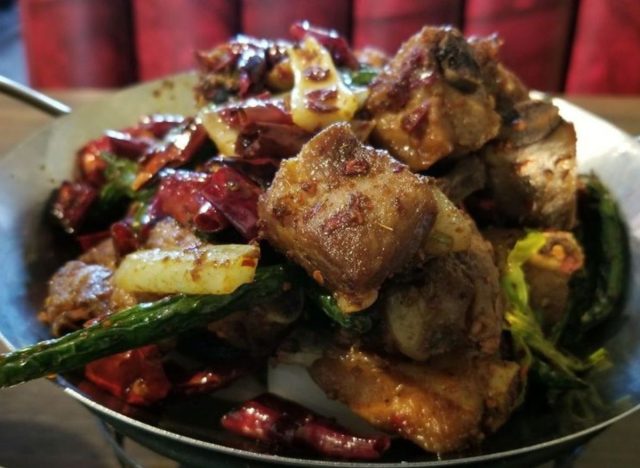 A reviewer from Arkansas wrote that China Garden has the "best Asian food in the Midwest." Spicy fried cumin lamb, watercress fish, and beer duck are among the restaurant's specialties and reviewers rave about the egg drop soup and fried dumplings.
"The food is always so fresh, and Very Authentic," wrote a local reviewer, noting that "I spent a year in China and was very pleased to find the same tasty dishes here in Tulsa."
OREGON: Mama Chow's Kitchen in Portland
Mama Chow's is actually a food cart that serves up excellent wonton soup, dumplings, and kalua pork, among other top-notch dishes.
"So damn amazing. So much love put into the food. Best chicken and garlic noodles I've had," wrote a reviewer. "Loved the fresh crunch of the veggies in the noodles and the chicken was perfectly fried. Just go." Copy that!
PENNSYLVANIA: Han Dynasty in Philadelphia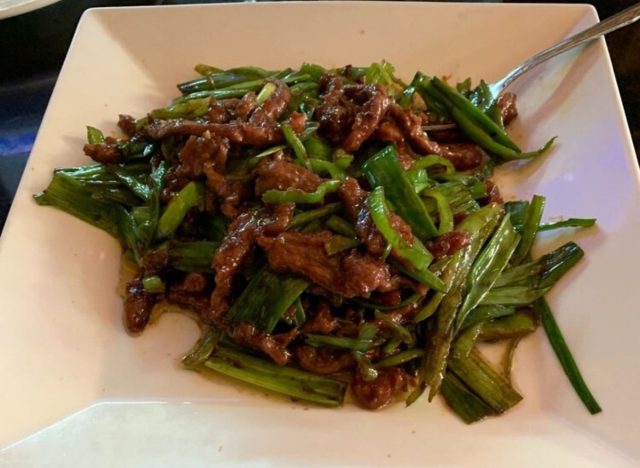 There are a few Han Dynasty locations across Pennsylvania, but the Philadelphia location is considered the best. Serving up Sichuan fare like dan dan noodles, spicy cucumbers, dry pots, and kung pao tofu, there's something here for everyone.
"I've gotten delivery twice from Old City during the pandemic and it hasn't disappointed. Food came hot and delicious," wrote a local reviewer. "I'm really here to say that the spicy crispy cucumbers are a must! We got them the first time and had to get them again this time. They're really refreshing and while they're called spicy, I don't really consider them spicy compared to the other dishes. The spicy chili oil sauce is on the sweeter side and the dish as a whole is just very crisp, cool, and addicting!"
RHODE ISLAND: Chengdu Taste in Providence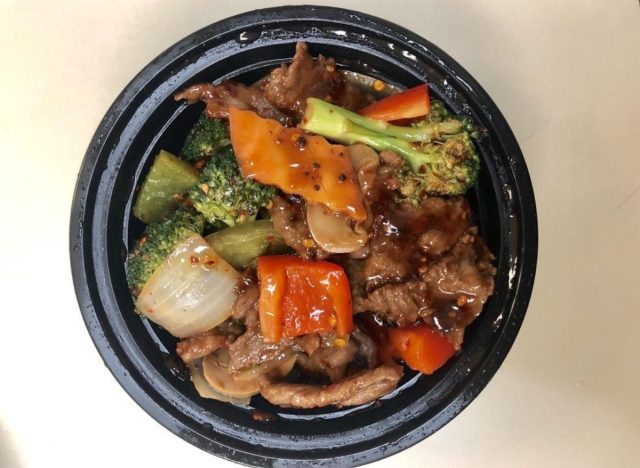 Chengdu Taste specializes in spicy Sichuan cuisine and has earned its stellar reputation and reviews by cooking up dishes that use only the best and freshest ingredients.
"As someone who is ethnically Chinese and thrives off of Sichuanese food especially, I think that I can say this from a relative place of authority: Chengdu Taste is LEGIT," wrote a reviewer. "Incredibly authentic food that rivals the best Chinese places from the West Coast and even from China itself. If you're in the mood for the immeasurable pleasure one gains from Sichuan peppercorn or love a good spicy kick in the mouth, please please come to Chengdu Taste."
SOUTH CAROLINA: Red Orchids Bistro in Charleston
Red Orchids Bistro specializes in creative spins on traditional Chinese classics. House specialties include fried red snapper, mapo tofu, tea-smoked boneless duck, and five-spice lamb chops. Meanwhile, reviewers also can't say enough good things about the Hunan shrimp and the crab rangoon.
"Locally owned small business Chinese restaurant that everyone should be ordering from! It is quality Chinese and a great and friendly staff," wrote a reviewer. "Prices are a little higher than your typical takeout, but trust me you can taste the different (sic)."
SOUTH DAKOTA: Phnom Penh Restaurant Asian Cuisine in Sioux Falls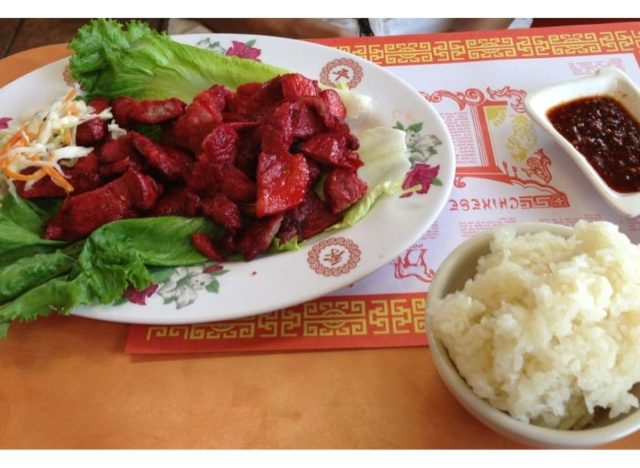 Phnom Penh Restaurant serves both Cambodian and Chinese food. Reviewers love the Cambodian options as well, but the Chinese standouts are the steamed buns, the sticky rice, spring rolls, and General Tso's chicken.
"The papaya salad was FULL of pungent fish sauce and spice – totally umami! And the tofu was crispy and delicious, dark brown, maybe some type of soy marinade?" wrote a local reviewer. "Husband said his egg rolls were some of the best and the rice that came with the General Tso's was seasoned, not plain, which was a nice touch. We have not had this much FLAVOR from an Asian restaurant in years. Also the family is so sweet and friendly. What an amazing find."
TENNESSEE: Steam Boys in Nashville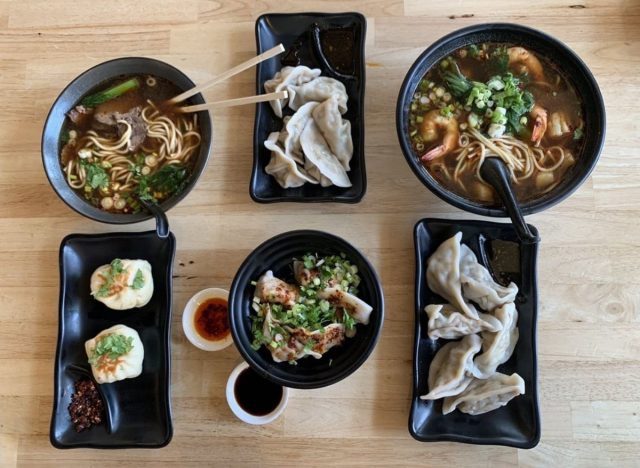 According to its mission statement, the owners of Steam Boys opened the restaurant with the goal of bringing Chinese comfort food to Nashville. And if the rave reviews are any indication, they've succeeded and then some. Fluffy bao, dumplings, and noodle bowls are among the restaurant's staple dishes.
"Service was friendly and food was delivered promptly. Everything is made fresh," wrote a local reviewer who has both dined in and ordered takeout from Steam Boys. "We had a little bit of everything — seared buns, which come in orders of two, steam buns, which are sold as singles, dumplings that come in orders of six, and boba tea. The seared pork buns were heavenly and our favorites."
TEXAS: Tiger Noodle House in Katy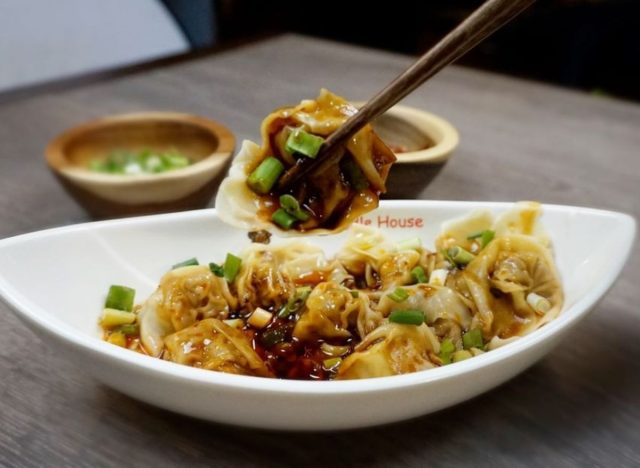 Tiger Noodle House prides itself on its authentic Szechuan cuisine and serving what they describe as the "best food from many regions of China." But don't take their word for it—reviewers can't say enough good things about the food at this popular spot.
"This place has such AMAZING food!! Everything tasted so fresh and full of flavor! So glad we discovered this place and that is so close to our house!" wrote an enthusiastic customer. "Highly recommend the fried dumplings and I've also had their tiger rice, sesame chicken, and General Tso chicken! All were delicious!!!"
UTAH: Mandarin Restaurant in Bountiful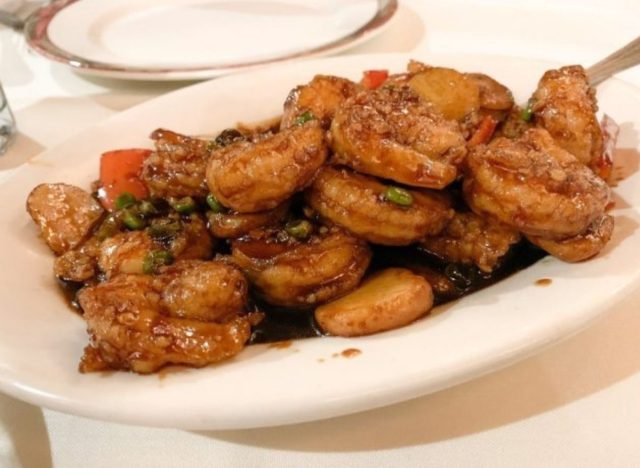 Located in the suburbs of Salt Lake City, Mandarin Restaurant opened its doors in 1977 and has established itself as the best Chinese restaurant in Utah. Favorite dishes include Imperial Noodles, Cashew Chicken, and Char Shu fried rice, and reviewers noted that they appreciate the gluten-free menu's wide variety of options.
"It's hard to find good Chinese food in Utah with excellent service but this does not disappoint. The Manadarin has been around for decades and there's a reason it's still going strong under its continued ownership which my family happens to know," wrote a local reviewer. "Definitely one to add to your foodie bucket list!"
VERMONT: A Single Pebble in Burlington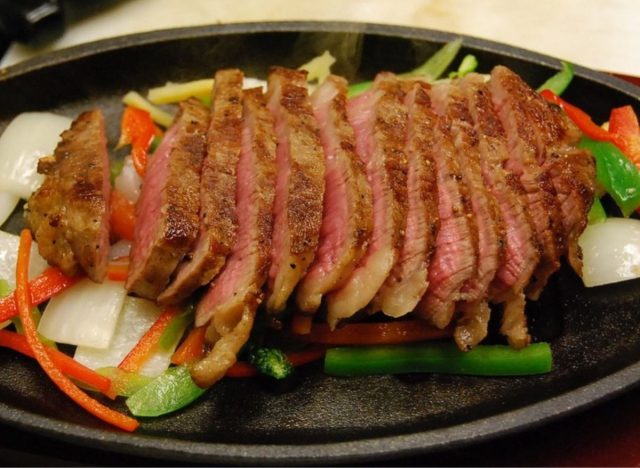 Alton Brown described A Single Pebble's shiitake-based mock eel dish as his "all-time favorite chopstick food" on an episode of the Food Network's "The Best Thing I Ever Ate."
Reviewers are equally enthusiastic about the food at A Single Pebble. "Great place, although a little more expensive than your regular Chinese joint. Appetizer, perfect. Hot and sour soup, amazing. Red oil chicken, wicked hot and flavorful," wrote a visitor from Connecticut. "Take out at time was told ready. Great job for take out."
VIRGINIA: Peking Gourmet Inn in Virginia Beach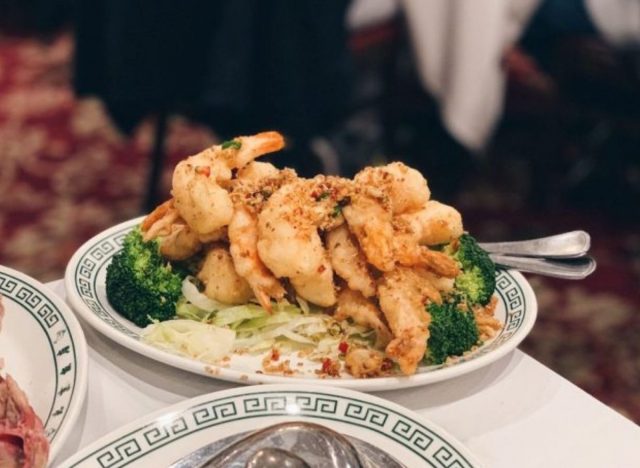 Calling all fans of Peking duck: the Peking Gourmet Inn, which has been in business since 1978, serves up a version that's become legendary among foodies. Made with crisp-skinned duck and served with homemade hoisin sauce, freshly prepared pancakes, and homegrown jumbo spring onions, one reviewer described it as "the best in the world."
Although the restaurant is best known for its signature dish, there are plenty of other excellent options including Szechuan beef, pan-fried noodles, and snow crab asparagus soup.
WASHINGTON: A+ Hong Kong Kitchen in Seattle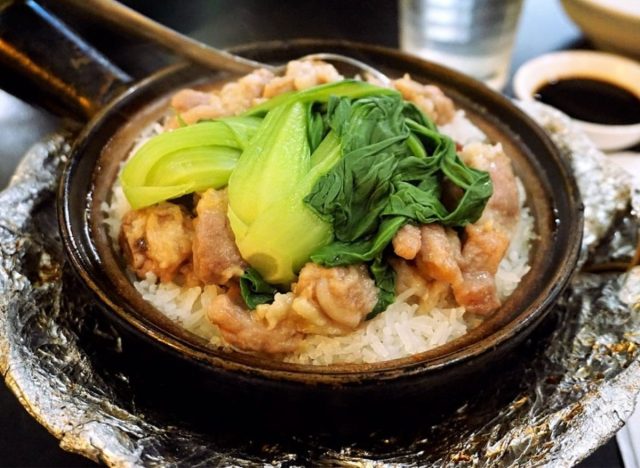 Located in Seattle's Chinatown, A+ Hong Kong Kitchen earns high praise for its authentic, high-quality dishes. Favorites include their shrimp and pork wonton soup and noodle soups.
"​​Absolutely delicious, and approved by family from Hong Kong," wrote one reviewer. "Every dish was fantastic, from the noodles, to the veggies, to the dessert, to the Hong Kong style milk tea. A bomber standout was the XO sauce rice noodle rolls!"
WEST VIRGINIA: China Spring in Martinsburg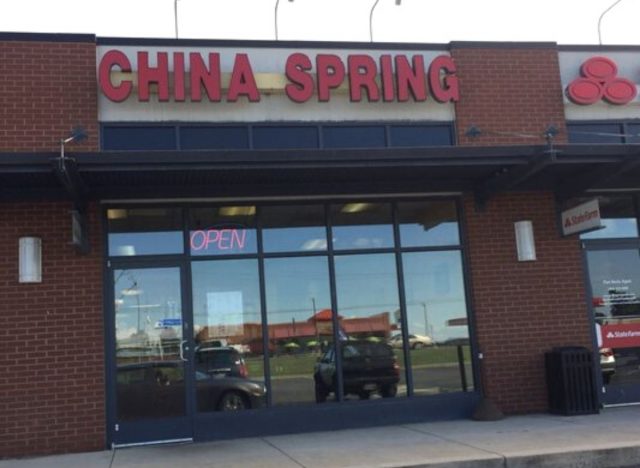 China Spring has a large menu, but luckily reviewers have shared the "don't miss" dishes, which include kung pao chicken, crab rangoon, and steamed dumplings.
"If you want some good Chinese food at a reasonable price, come here. Get takeout!" wrote a reviewer from out of town. "I got the shrimp and vegetables in brown sauce and was not disappointed. The vegetables and shrimp were fresh. You can't ask for more than that! They were cooked just right and I was very happy and felt satisfied at the end of my meal."
WISCONSIN: Sze Chuan in West Allis
Located in the suburbs of Milwaukee, Sze Chuan is a hit thanks to its specialty dishes that include spicy Szechuan dumplings, chicken in spicy numbing sauce, and fish fillet in chili pepper soup. Everything is made using only fresh ingredients and the result is delicious.
"Ordering on the phone was super easy. We got the Mapo Tofu with Pork, eggplant with garlic sauce and crab Rangoon with steamed rice. I also grabbed Thai tea and that was definitely delish!" wrote a reviewer who recently moved to West Allis. "Y'all, all this food was only $35! Like what! The food was delicious, very authentic from the Sze Chuan region (the owners are from that area and pride themselves in offering authentic regional Chinese food!)."
WYOMING: Good Friends in Cheyenne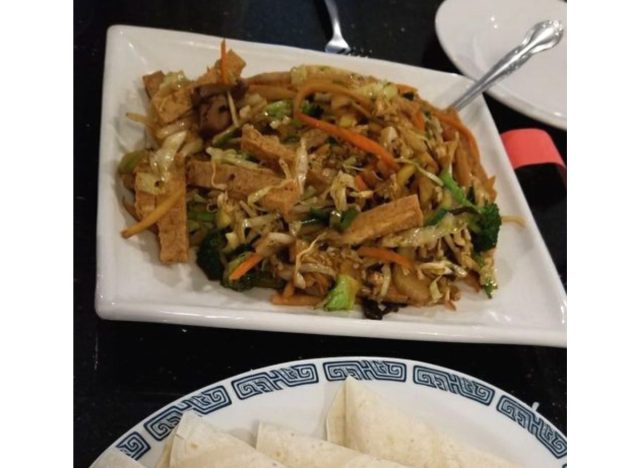 Tasty old-fashioned Chinese-American cuisine is what you'll find at Good Friends. Local reviewers who are regulars at the restaurant shared their ordering tips, describing the orange chicken, sweet and sour chicken, egg rolls, drunken noodles, and Mongolian beef as the best dishes.
"My favorites are the egg drop soup, Drunken noodle and Mongolian beef. The restaurant is family-owned and the staff are always very friendly and want (to) make you feel like you're at home. Great to eat in and for take out, which is quick and courteous," wrote a regular. They also shared an insider tip: "If you like spicy, call an hour or more advance notice and ask for their spicy fish bowl made in Sichuanese style. Tell them 'Sticky Rice' sent you."
Discover more of the best spots in your state:
Where to Get the Best Burger in Every State
The Best Beer Spot in Every State
Caitlin Flynn
Caitlin Flynn is an award-winning writer and reporter who experienced early age corporate burnout in 2015 and traded New York City for the misty air and superior coffee of Seattle.
Read more about Caitlin