15 Best Healthy Snacks to Buy for Kids, According to a Dietitian
Take a meal off your hands and buy the highest-quality, healthiest, ready-to-eat foods to nourish your little one.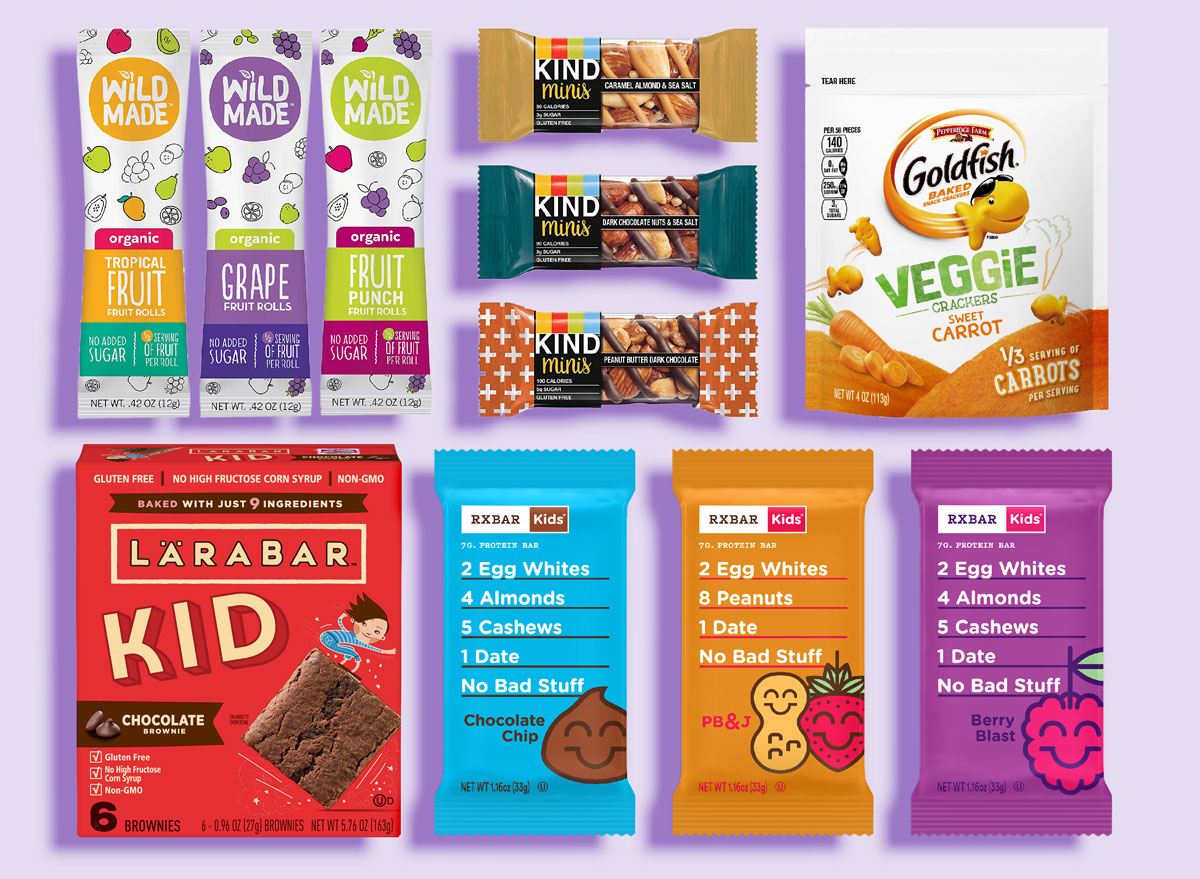 This post contains affiliate links. If you use these links to buy something, we may earn a commission.
With school, summer camps, and daycares closed due to the coronavirus, some parents are coming to the blunt realization of just how tricky it is to keep your kids busy all. day. long. (Hats off to teachers, am I right?) And keeping kids busy is just the half of it. You also have to keep them well-fed with healthy snacks for kids to minimize their cries of hunger (and so you can finish up a project from work).
While you can always whip up snack ideas for kids, at this point, save yourself the headache and just buy them.
That's why we put together the healthy kids' food shopping guide you didn't know you needed. And these aren't just your average junk food snacks. These healthy foods have a nutritional profile that will "contribute to the overall nutrition of the day," not detract from it, according to Maya Feller, MS, RD, CDN, a registered dietitian nutritionist who specializes in diet-related chronic illness and owner of Brooklyn-based Maya Feller Nutrition.
Even if you already had your snack routine dialed down before quarantine, we bet there are some snacks on this list that you didn't know about yet—and those that your kids will love.
These are the 15 best healthy snacks for kids you should buy right now.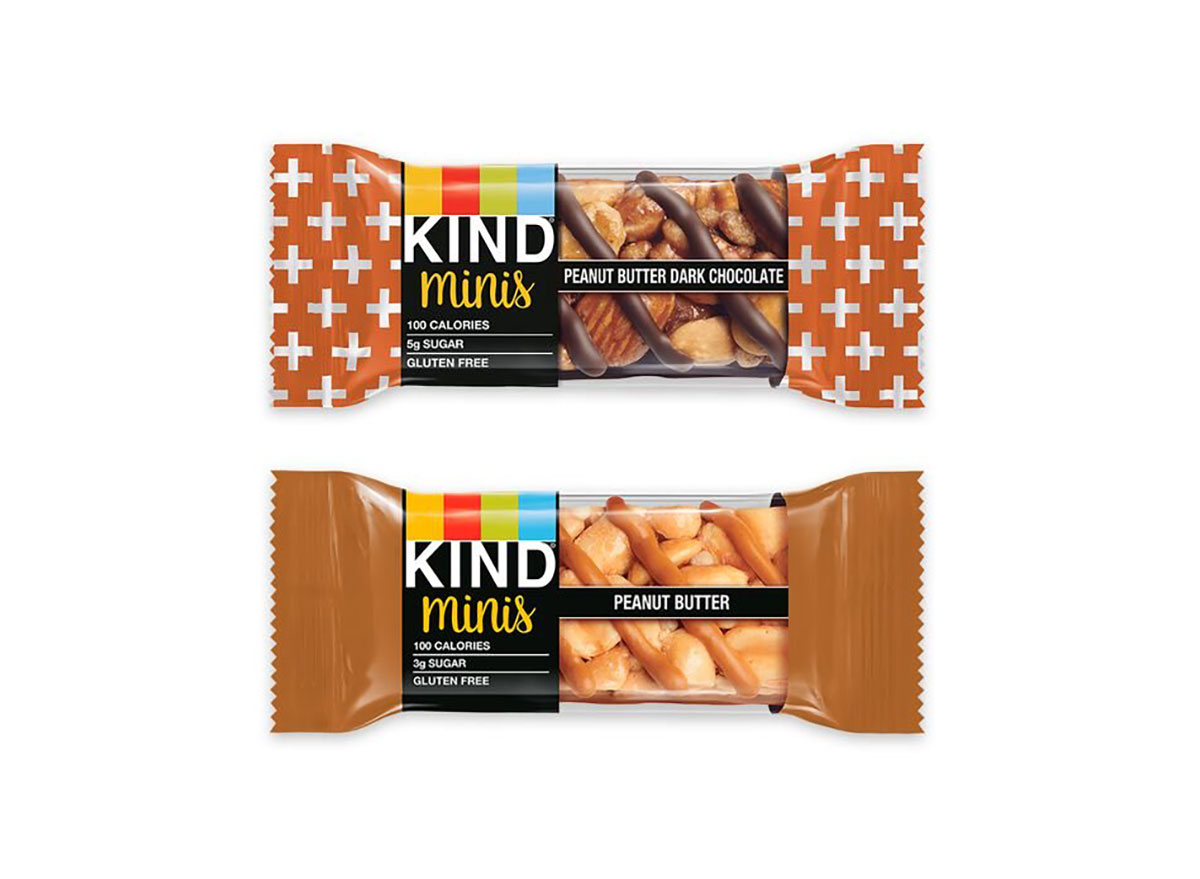 "Hands down, [KIND Minis] are one of my favorite after-school snacks for my kids paired with a fresh fruit/veggie," says Feller. KIND stays true to its mission: to make sure each bar's first ingredient is a whole food (like almonds) and is low in sugar.
Satisfy your kid's sweet tooth and tide them over until dinner with this protein bar from Annie's. "Enjoy paired with sliced cucumbers and/or baby bell pepper," recommends Feller.
For a gourmet take on those classic snack boxes you know and love, place an order for Applegate Naturals pepperoni, cheese, and cracker packs. Feller recommends "rounding it out with a fresh fruit or vegetable and consider portioning this into 2 servings."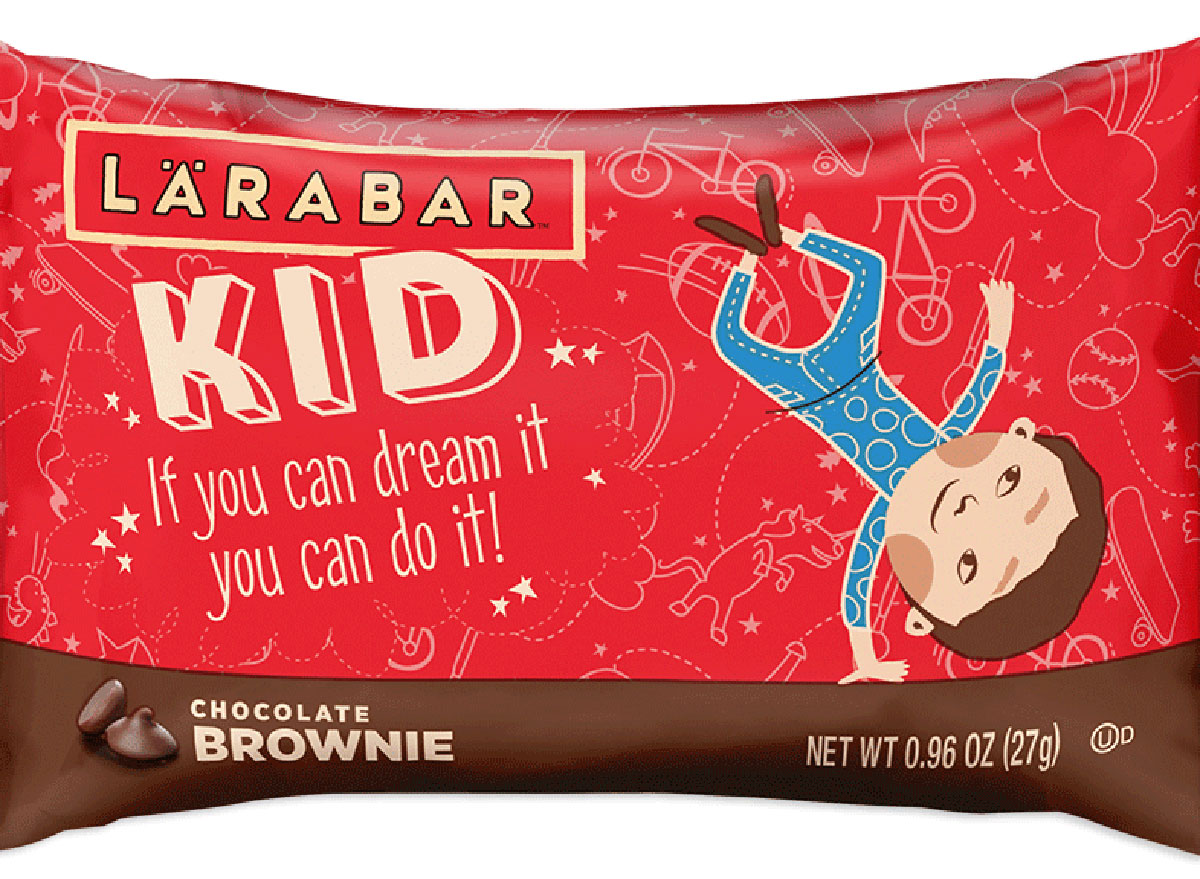 You're going to need to order at least two boxes of these: one for your kids and one for you. Made with just nine ingredients (and no bad stuff), this is a dessert you can feel good about serving your kid.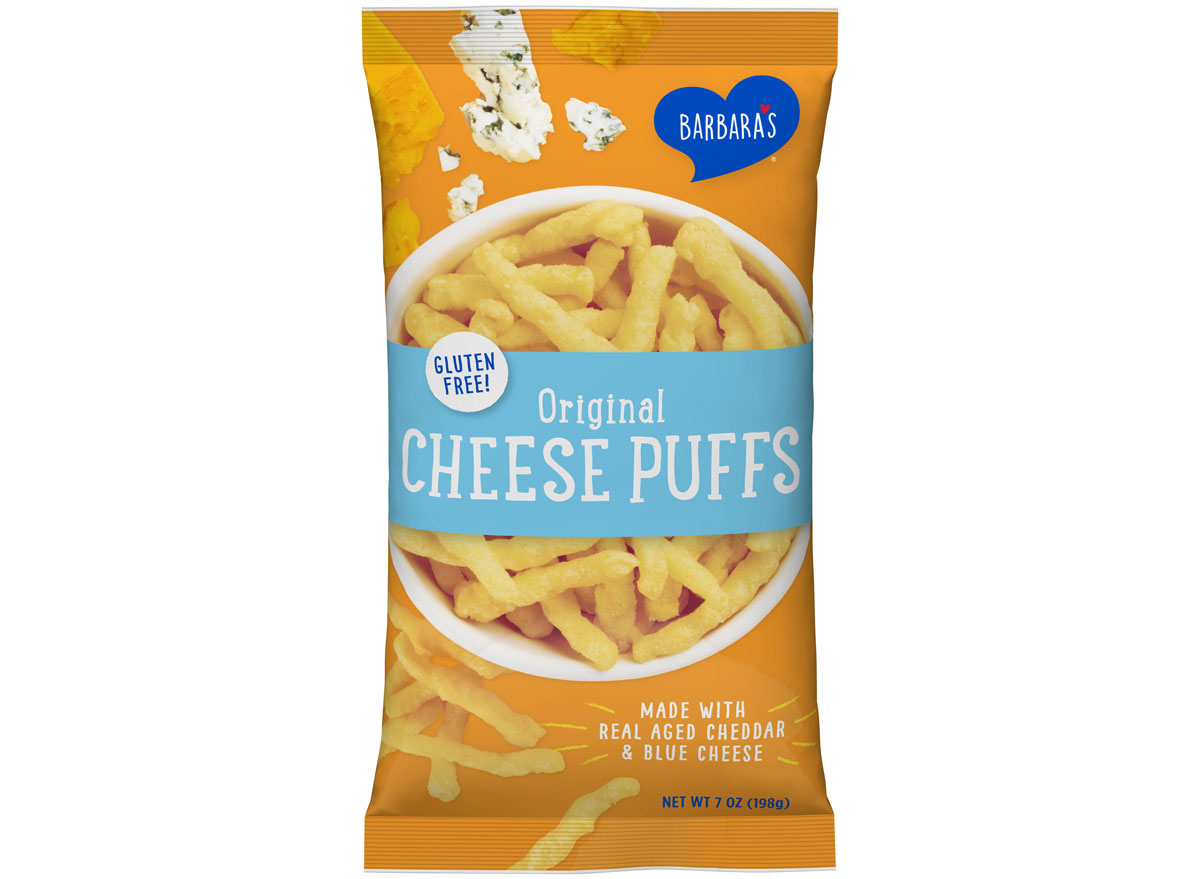 You don't need those square "Cheez" crackers to satisfy your little one's cheese craving. For a gluten-free kid's snack that your young one will love, opt for Barbara's Cheese Puffs instead. They're made with stone-ground corn and real cheese. Feller recommends serving this snack with fresh fruit or vegetable of your choice for a wholesome snack.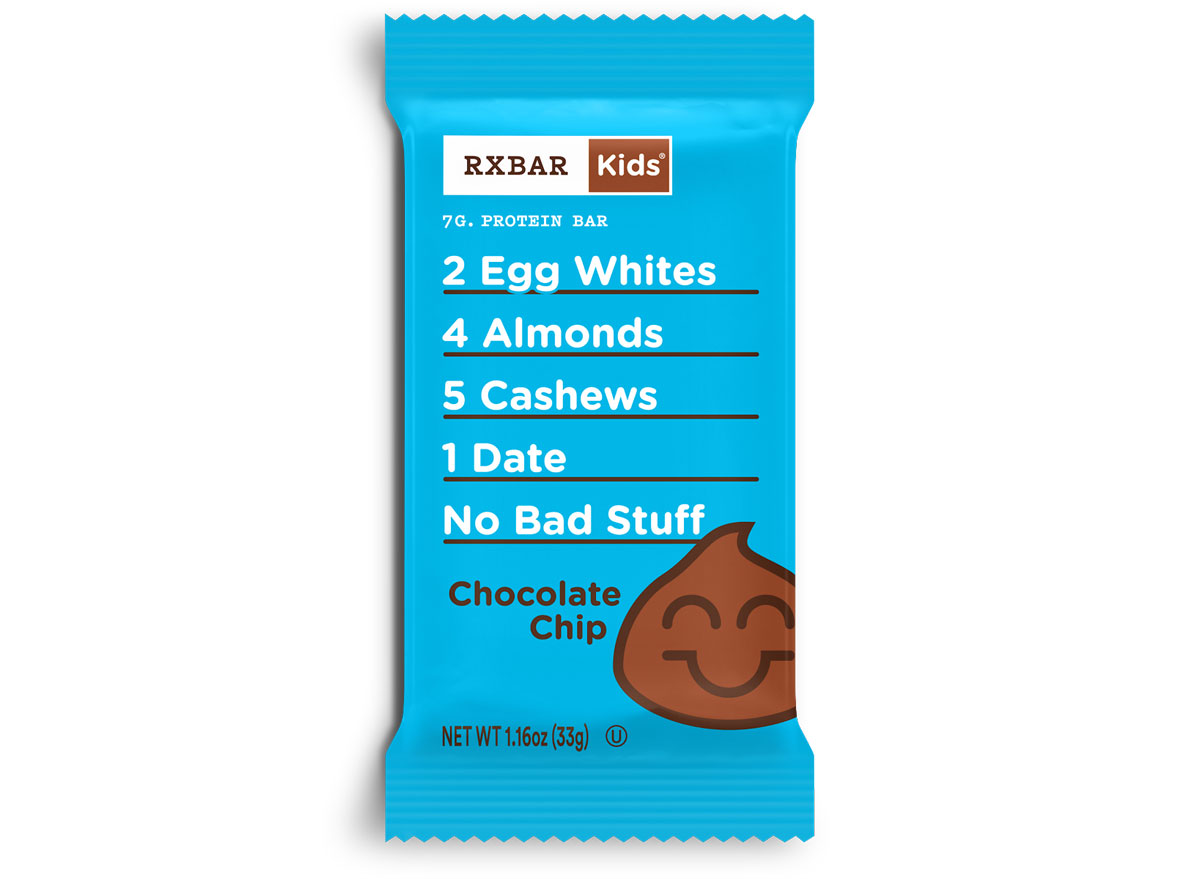 If your kids have been able to kick a soccer ball around a park or swing a bat, RXBAR Kids are the perfect snack for your active kids. Feller said this was a staple "after rock climbing and gymnastics" (back when kids could do those).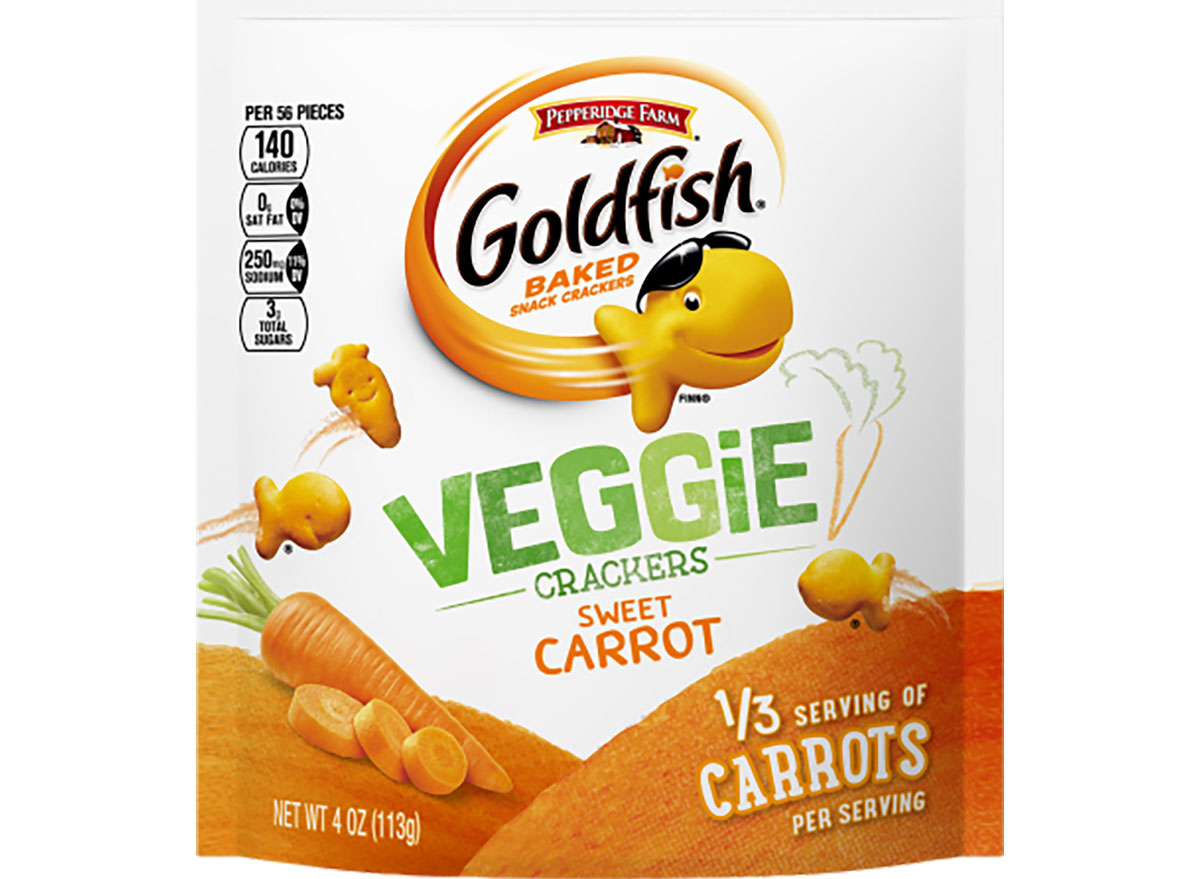 All aboard the veggie train! Your kid's favorite snack just got a veggie upgrade. Spoiler alert: they taste exactly the same as the snack your kids already know.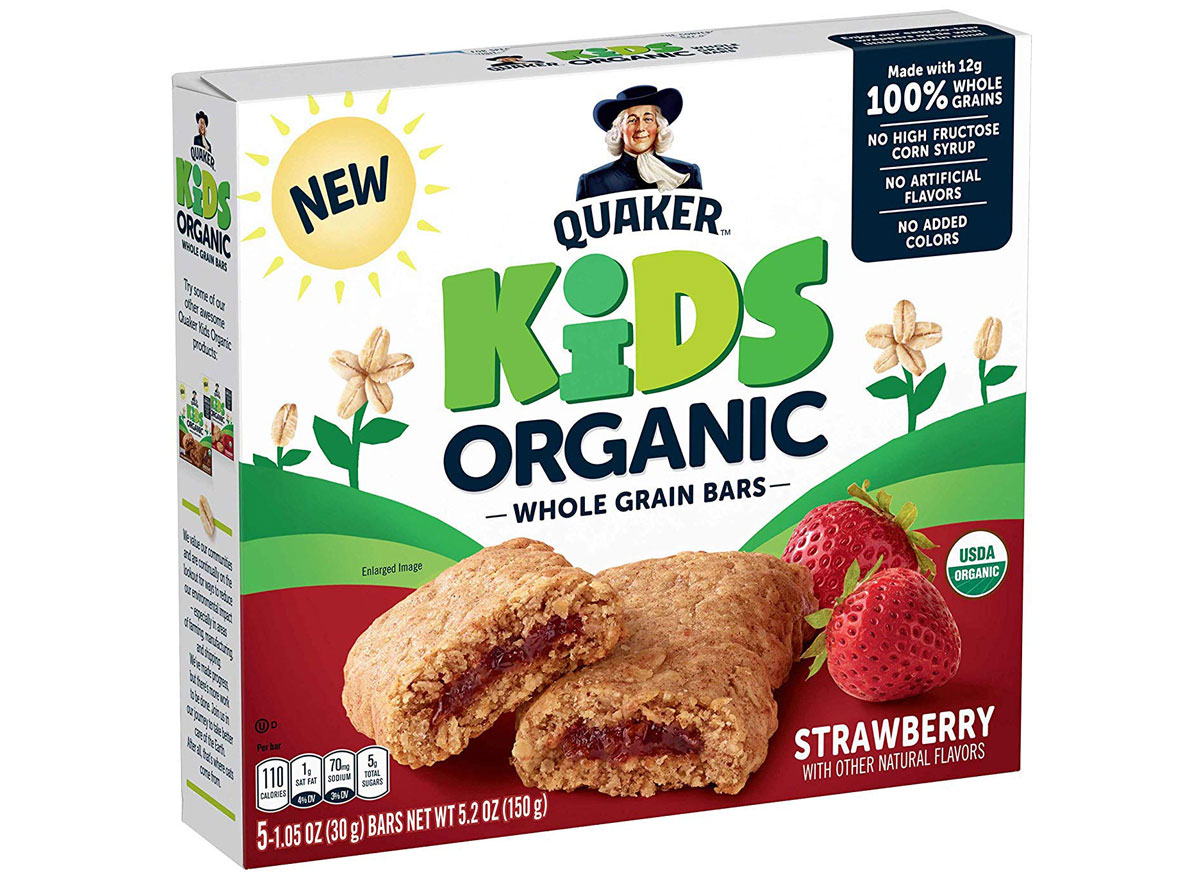 6254a4d1642c605c54bf1cab17d50f1e
For a low-sugar way to get more whole grains into your kid's diet, stock up on these bars from Quaker. Each bar contains 12 grams of whole grains!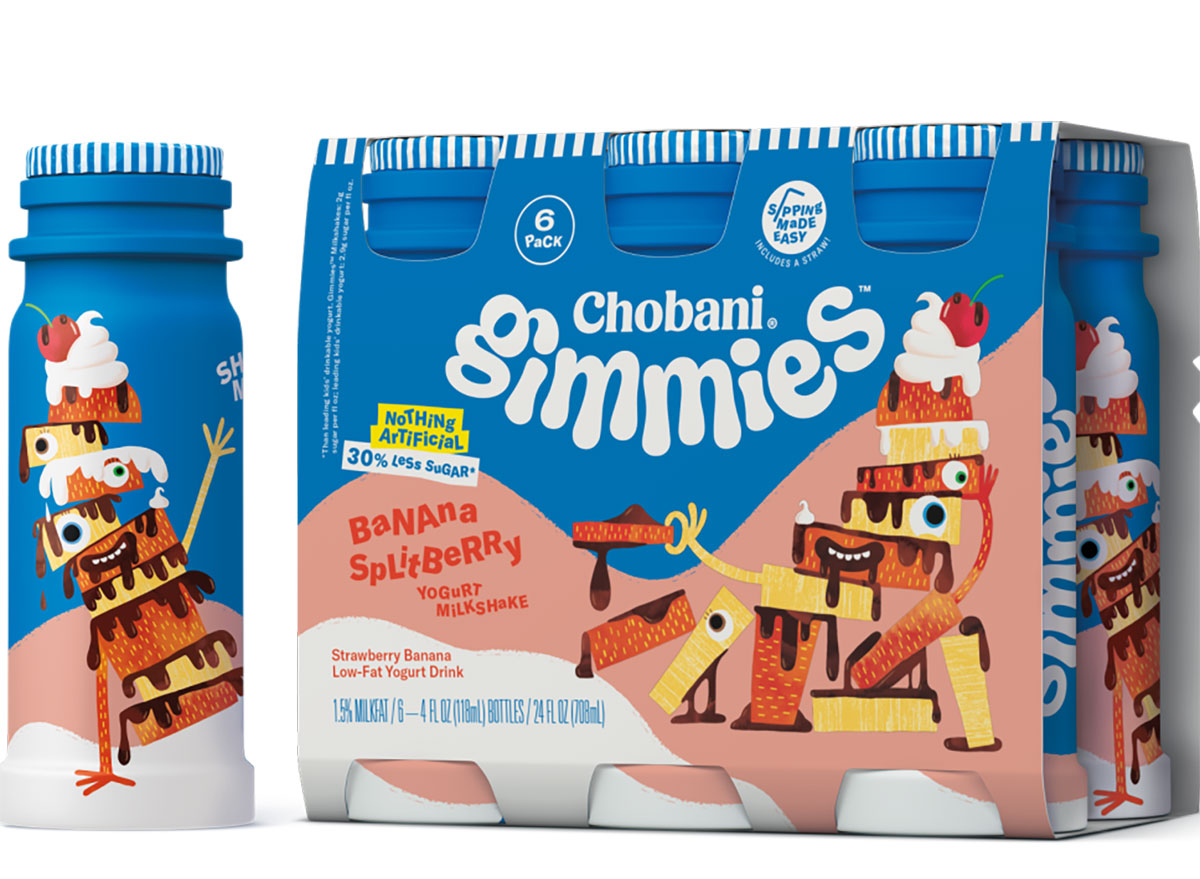 Tell your kids it's time for a milkshake and watch them line up at the fridge. In reality, you're actually giving them Chobani's Gimmies Yogurt Milkshake — a low-fat Greek yogurt drink. Each bottle will fill them up with 6 grams of protein and contains 10 percent of their daily recommended value of calcium.
Those fruit rolls you grew up on? Sorry to say, but they were more high fructose corn syrup than fruit. Not these. Wild Made uses no added sugar and each organic roll has half a serving of fruit.
Frozen pops shouldn't be complicated. That's why Chloe's only uses three ingredients: fruit, water, and cane sugar. Your kids will love the flavor and seeing their favorite cartoon character!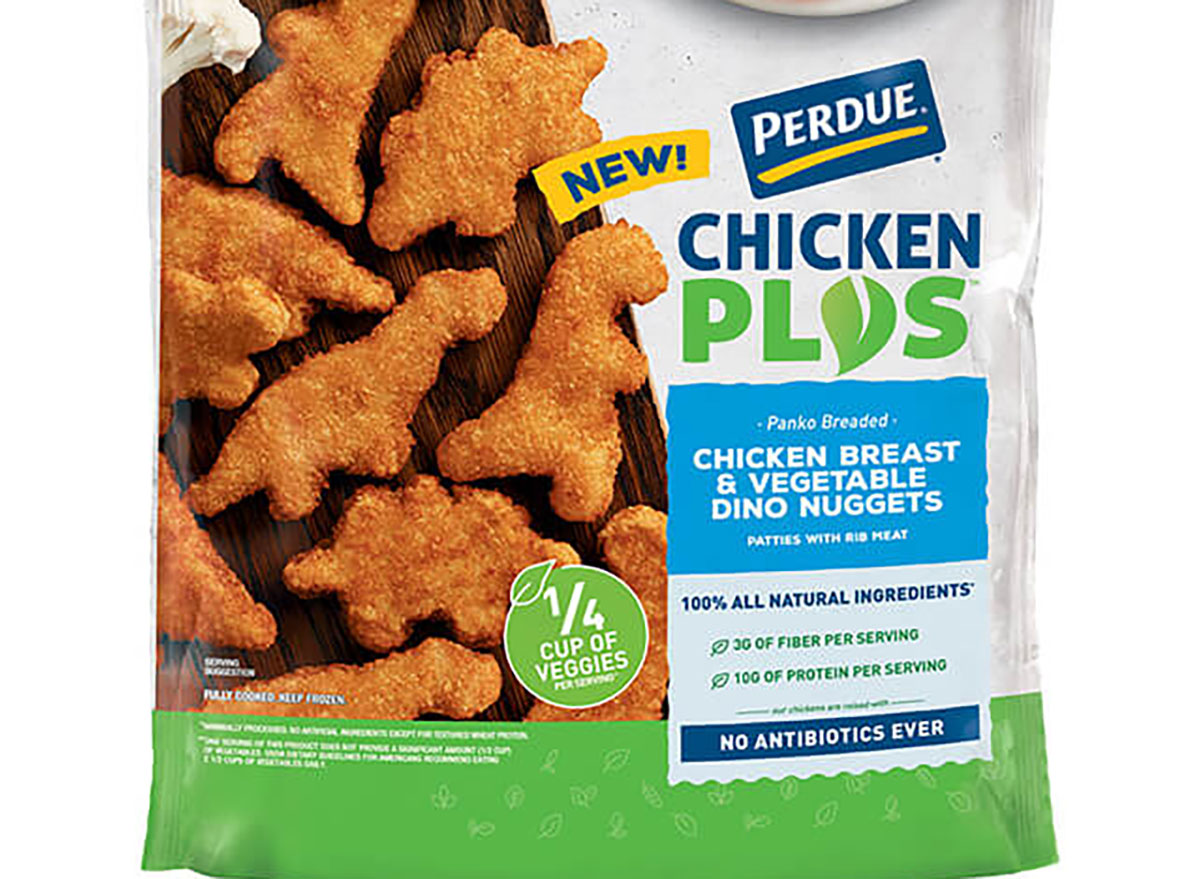 If you're looking to sneak in some more veggies into your kid's diet without blatantly serving a side of broccoli, consider this new line from Perdue your new best friend. These kid-friendly dino nuggets contain a quarter cup of veggies per serving along with 3 grams of belly-filling fiber.
Keep your kids busy and feed them at the same time with Split's peanut butter and jelly squeezable packets. This way, they can have their favorite PB&J without you ever having to break out the bread.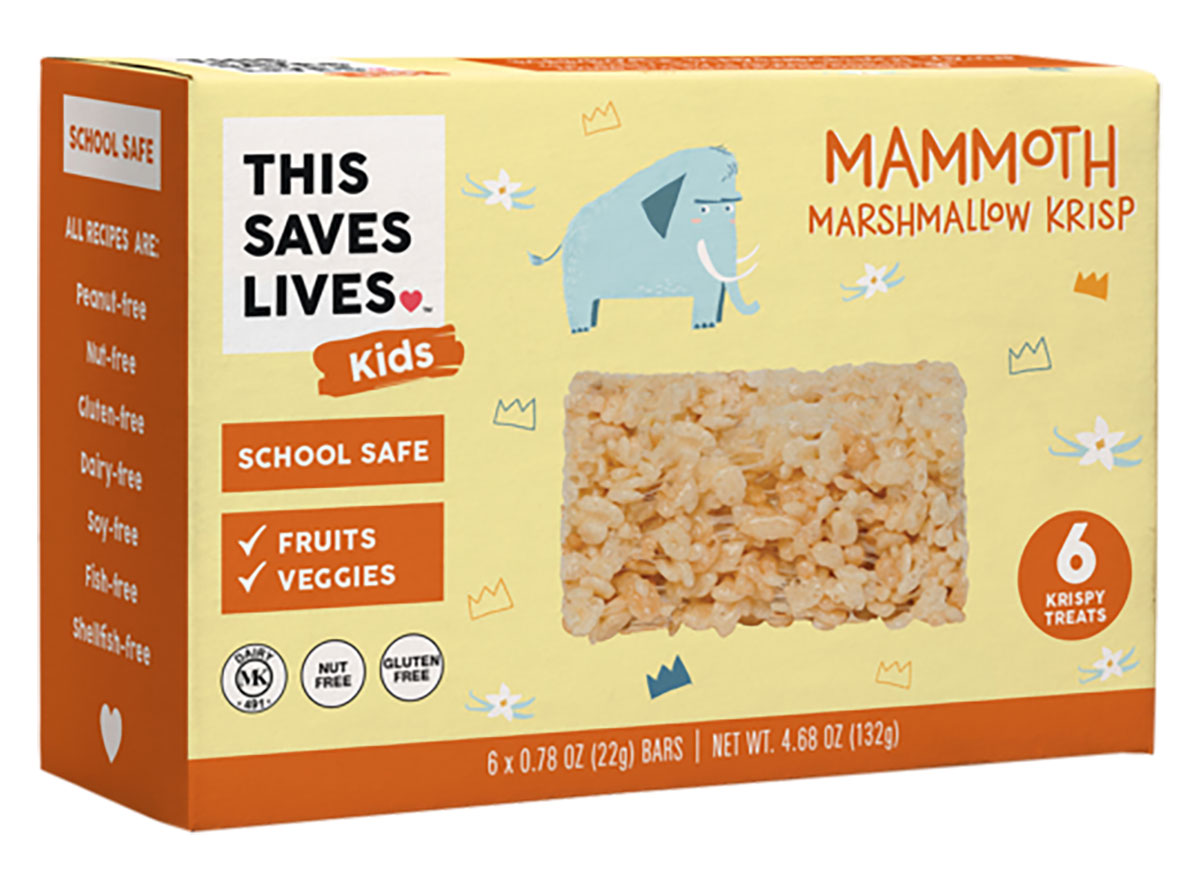 Trying to get your kids to eat more veggies? Hand them a krispy treat from This Saves Lives. Confused? Your kids will be too! This Saves Lives sneaks an entire serving of fruits and veggies into each of these marshmallow treats.
Yasso Frozen Greek Yogurt Bars, Strawberry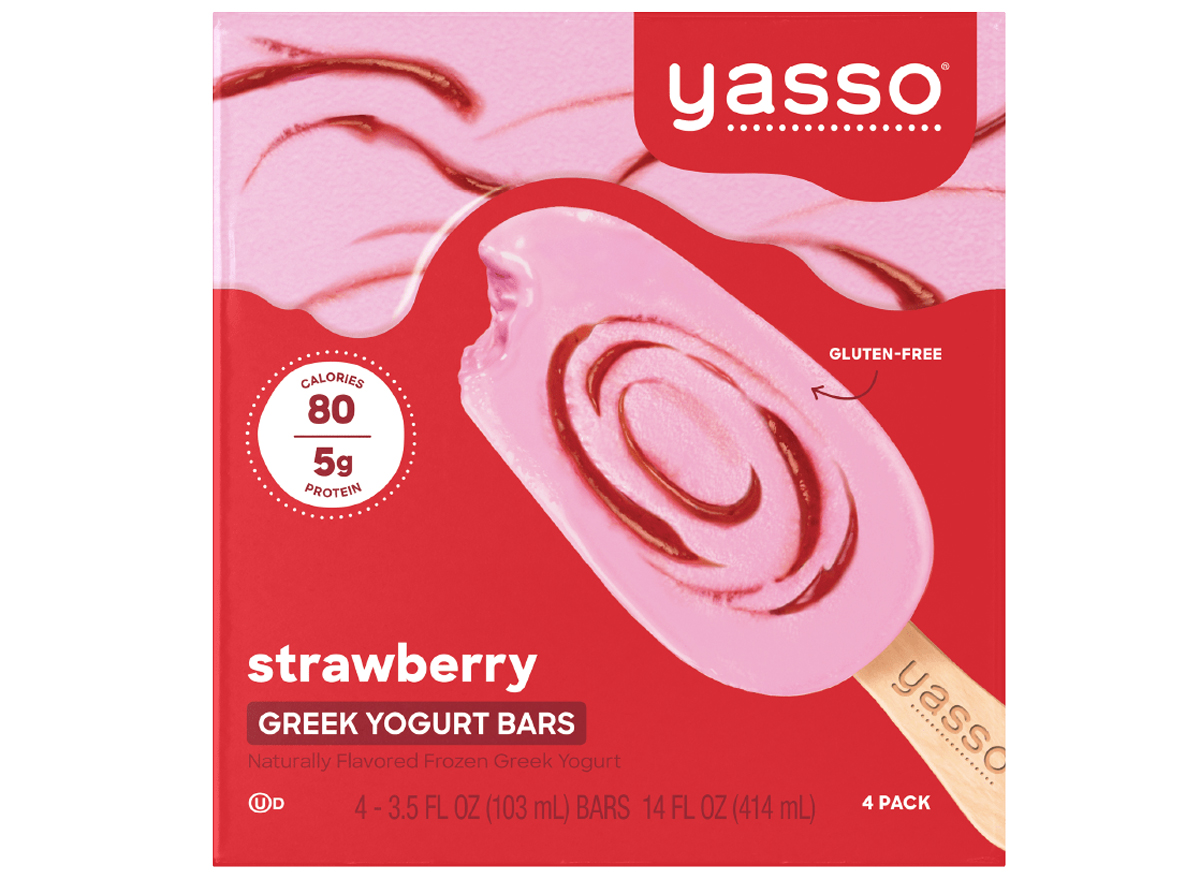 If you deserve diving into a pint of ice cream at the end of the day, so does your kid. To make sure they're not overdoing it on the sugar, get a box of frozen Greek yogurt pops from Yasso. They have less sugar than your average frozen treat and they're teeming with live and active probiotic cultures from the Greek yogurt: perfect healthy snacks for kids who need to soothe their little tummy.
Olivia Tarantino
Olivia Tarantino is the Managing Editor of Eat This, Not That!, specializing in nutrition, health, and food product coverage.
Read more about Olivia