13 Quick & Easy Snacks Ideas for Kids
These nutritious treats will keep your child coming back for more.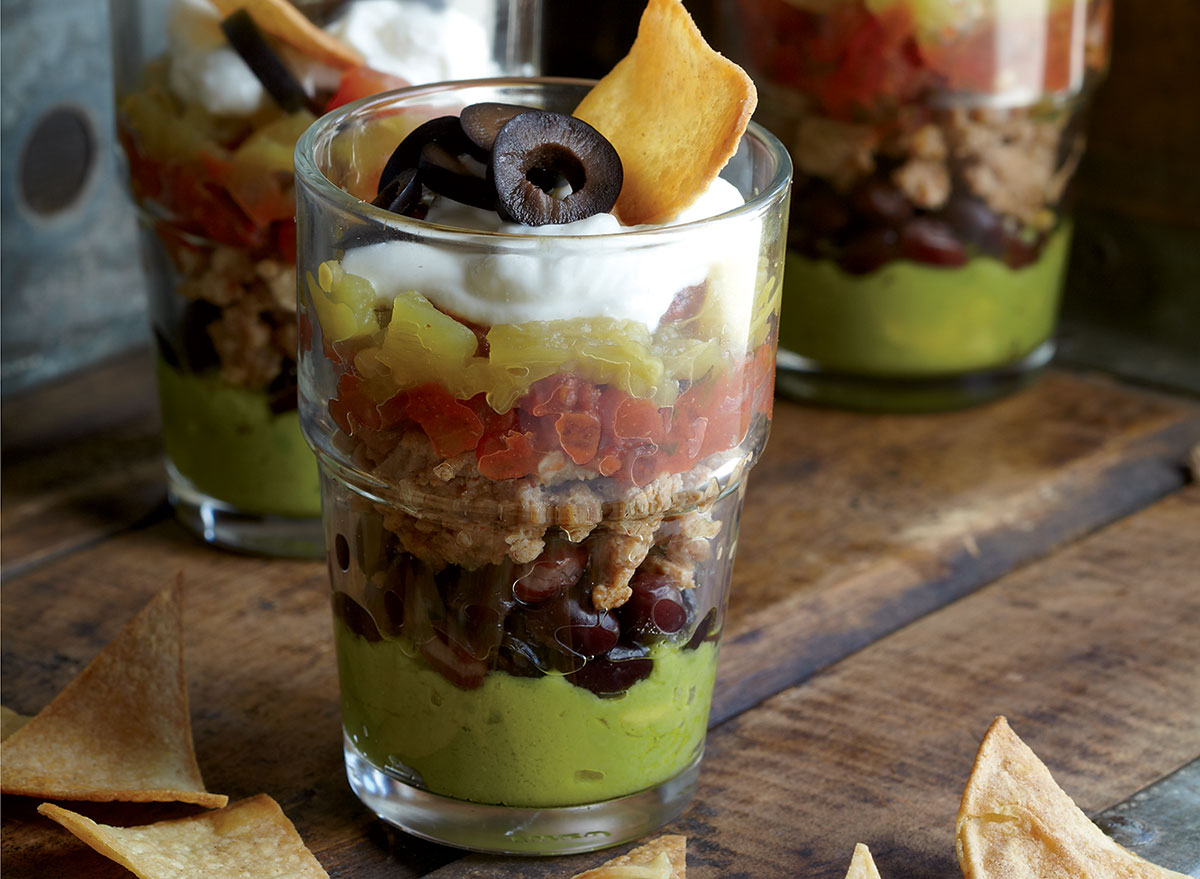 When it comes to getting your children to eat healthy, sneaking in some extra fruit and vegetables or trading out processed ingredients for more wholesome ingredients can seem like a nightmare. One of the easiest tricks to guarantee your kids eat well is by treating them to some homemade snack ideas for kids, instead of mass-produced junk food. Trying to decide what snacks to choose can seem daunting, but luckily, registered dietitian nutritionist Lindsey Pine, MS, RDN, CSSN, CLT of Tasty Balance Nutrition helped us narrow down the list.
"My rule of thumb for creating healthy snacks is to combine protein, plus fiber, and a little fat," Pine says. "A snack with these components will not only provide a range of important micronutrients but will also fuel your child's physical and mental activities throughout the day without the dreaded sugar crash that can occur from unbalanced, sugary snacks. Some of my favorite snacks are super simple such as natural style nut butter and apple slices, string cheese, homemade energy bites, crunchy veggie dippers with hummus, hard-boiled eggs, fruit smoothies, and low sugar Greek yogurt."
When you need to whip up easy snack ideas for kids, these options will provide the best boost for the day.
If your kids crave something sweet, finding a way to pack in some extra fruit can never hurt. This moist banana bread not only sneaks in some extra potassium but cuts the overall fat of traditional banana bread by only using half the butter and replacing the rest with Greek-style yogurt. The bread easily replaces store-bought muffins or pastries your children might be scarfing down as a snack on a normal day.
Get our recipe for The Best-Ever Banana Bread.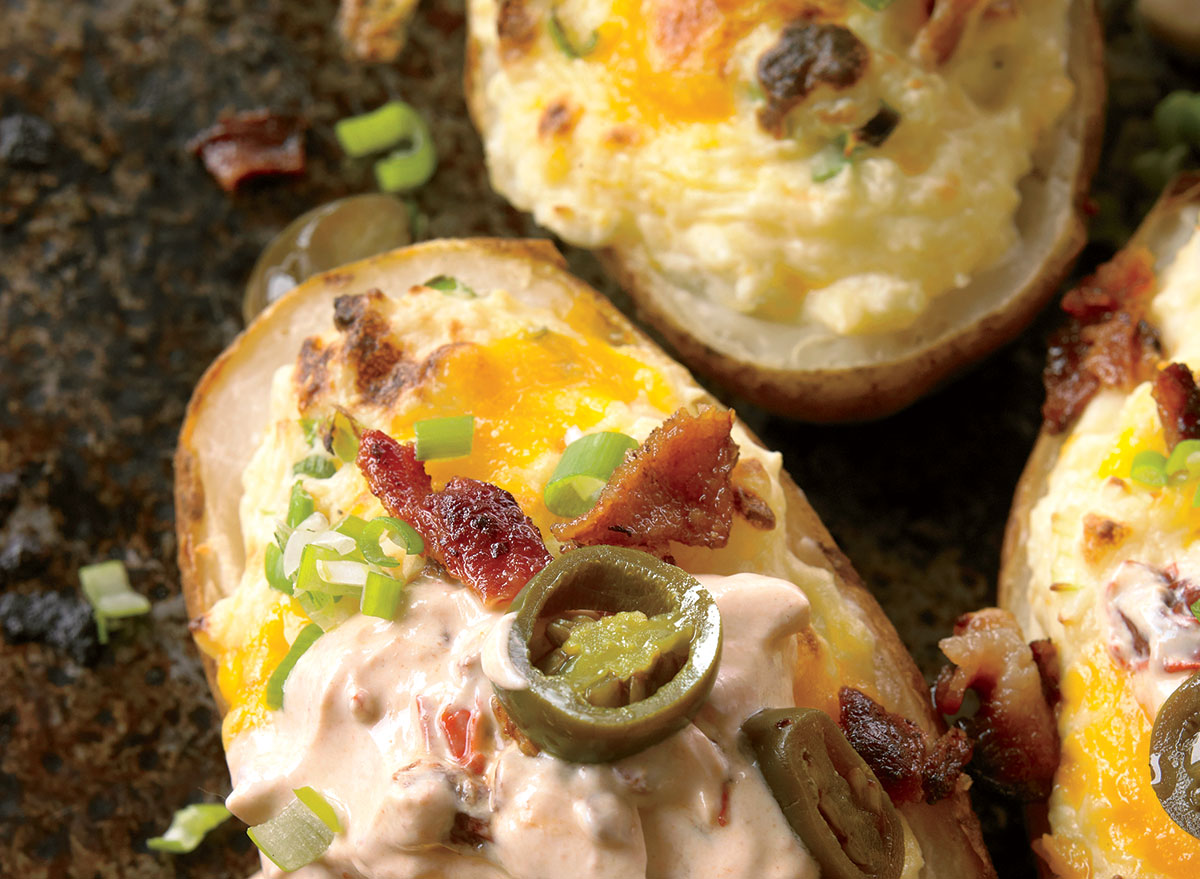 If you're looking for snack ideas for kids when you need to host a playdate or keep a group of kids well-fed, these potato skins not only please a crowd but also offer up a healthier alternative to regular potato chips and other potato-centric snacks. These oven-baked skins serve up vitamin C and folate, thanks to leaving the skin on while cutting the number of calories you might find in other traditional snacks. If the group you need to feed is less tolerant toward spiciness, you can also omit the pickled jalapeños to keep the dish manageable for every mouth.
Get our recipe for Spicy Potato Skins.
Veggies and Homemade Ranch Dressing
What could be an easier snack idea for kids than setting up a raw vegetable platter and letting your kids dip their carrots and celery into some healthy ranch dressing? By concocting this all-around favorite dipping sauce at home, you cut out swathes of fat that you otherwise serve up in a store-bought dressing by making this variant of dressing with Greek-style yogurt. Keep things healthy and balanced, while making a tasty ranch dressing that everyone loves.
Get our recipe for Homemade Ranch Dressing.
Fruit and Granola Yogurt Parfait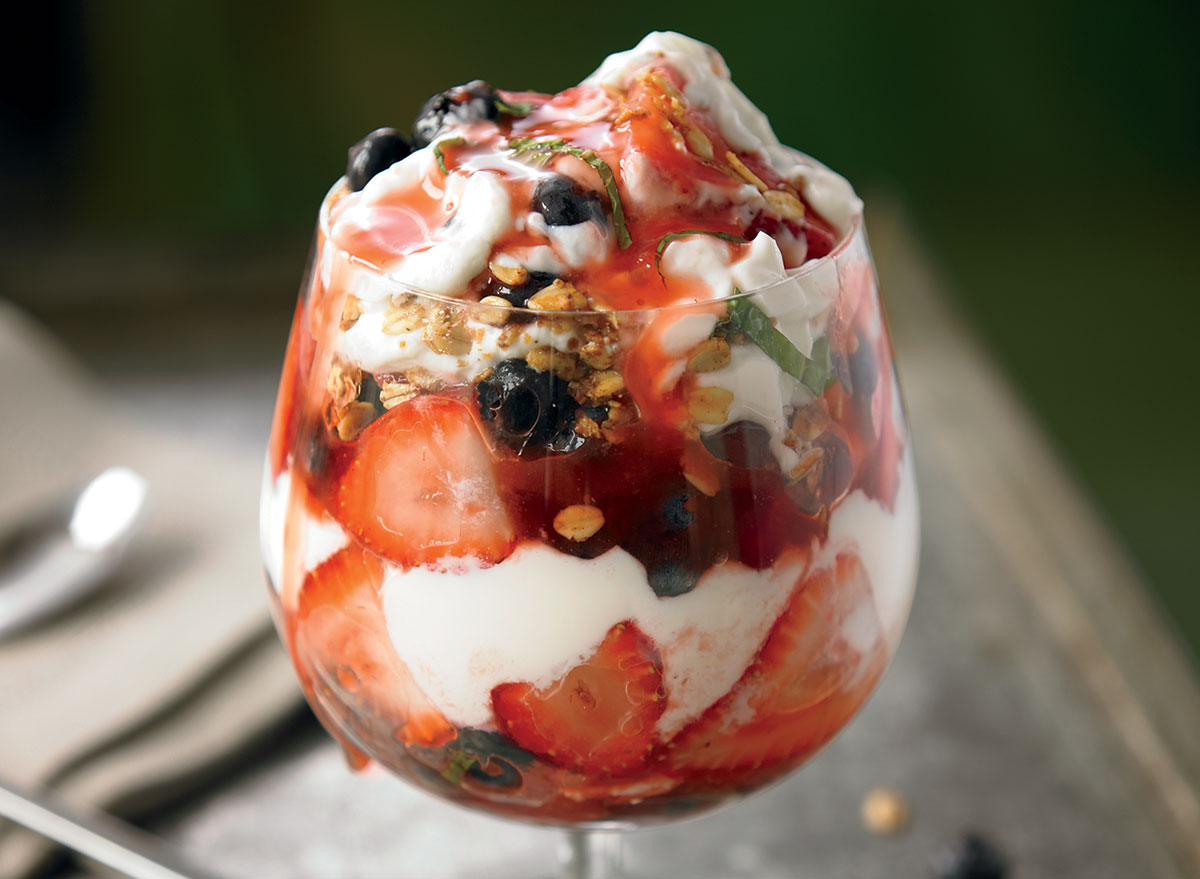 Packing together loads of fiber, protein, and a mix of vitamins on the cheap, this parfait redefines the definition of healthy. By assembling your own yogurt parfait at home, you not only make sure your kids stay away from the extra sugar found in-store brands but serve up a portion of fresh fruit. This recipe ensures that you can whip up a cheap and healthy snack for kids in no time.
Get our recipe for Fruit and Granola Yogurt Parfait.
Oven-Baked Chicken Fingers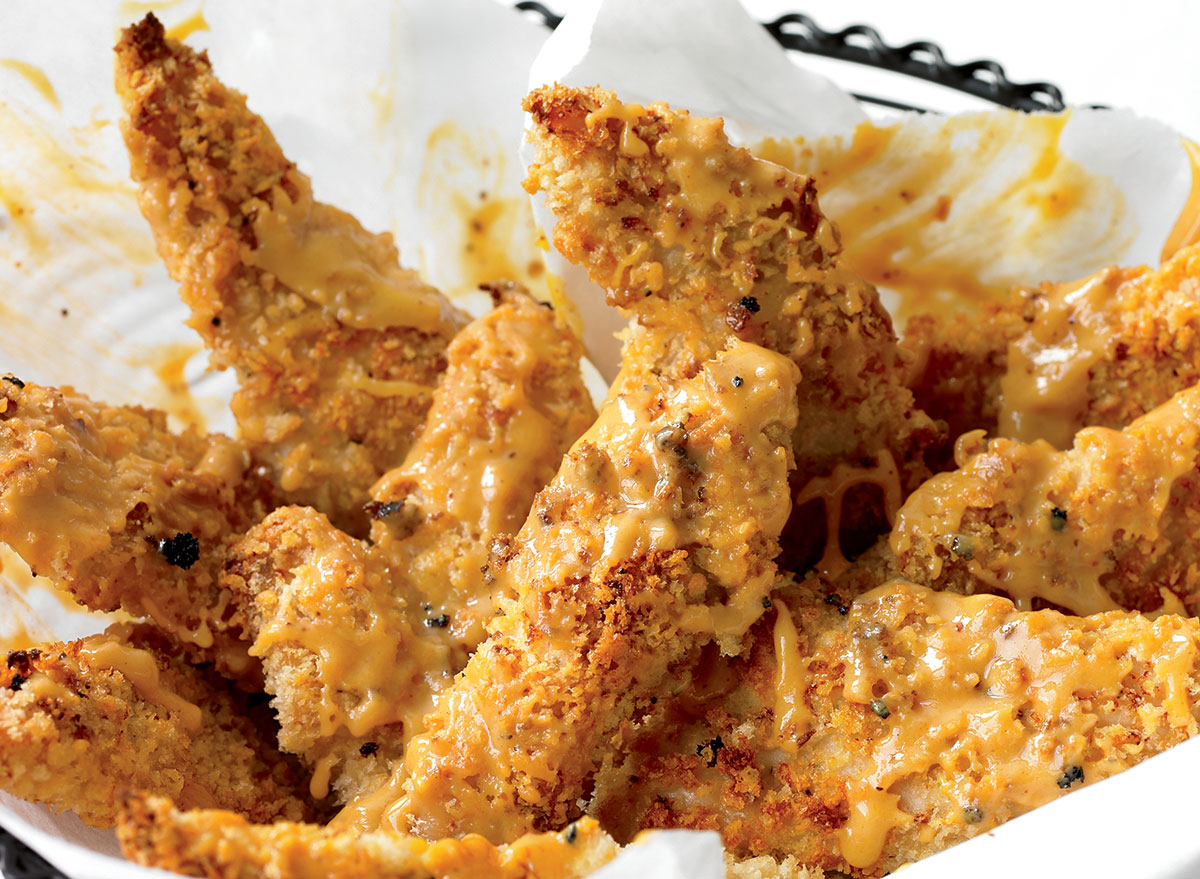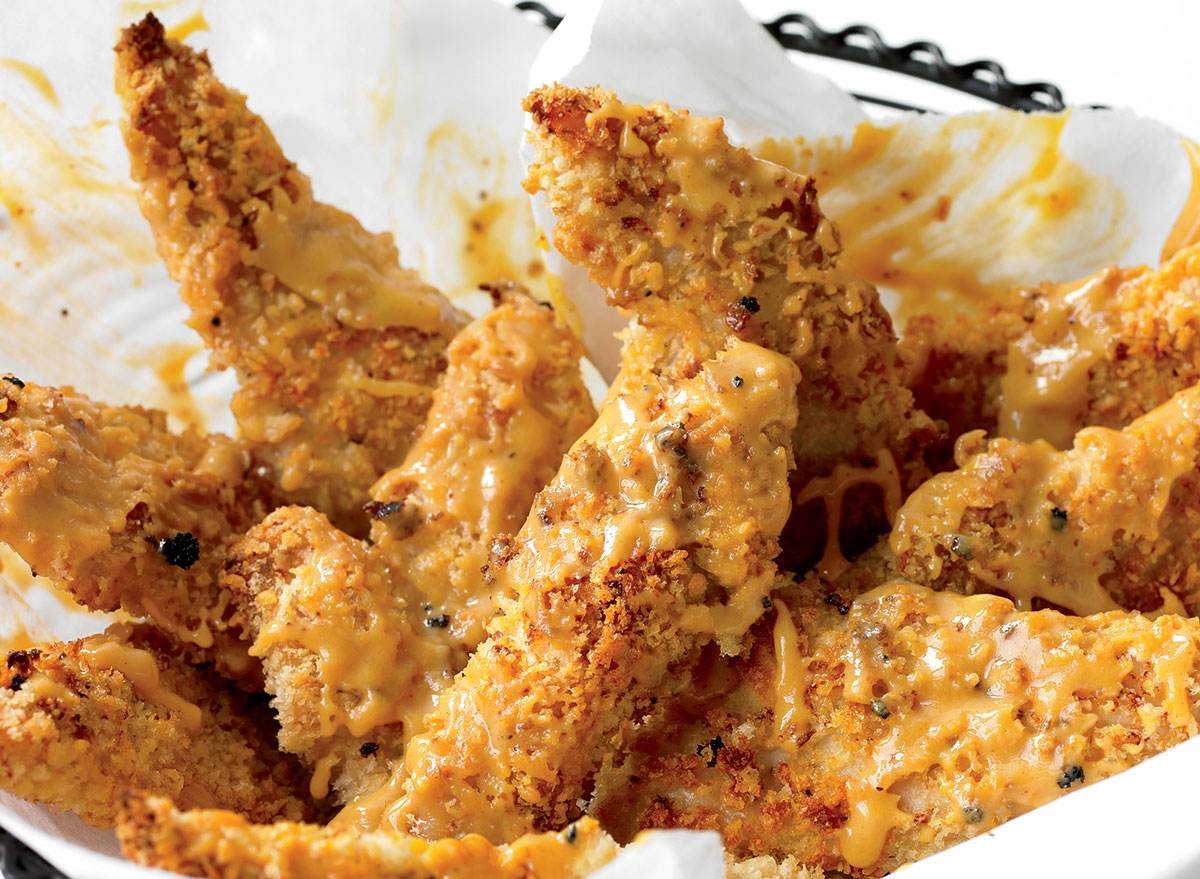 Even the pickiest of eaters can't help but love chicken fingers. This snack typically comes at a cost—with so much fat and salt-packed in, store-bought chicken tenders don't typically provide a healthy snack for kids. Luckily, this oven-baked variety offers up an alternative that can please everyone who tries a piece. To tame the spicy kick in these, make sure to cut out the chipotle peppers.
Get our recipe for Oven-Baked Chicken Fingers.
The Oatmeal Chocolate Chip Cookies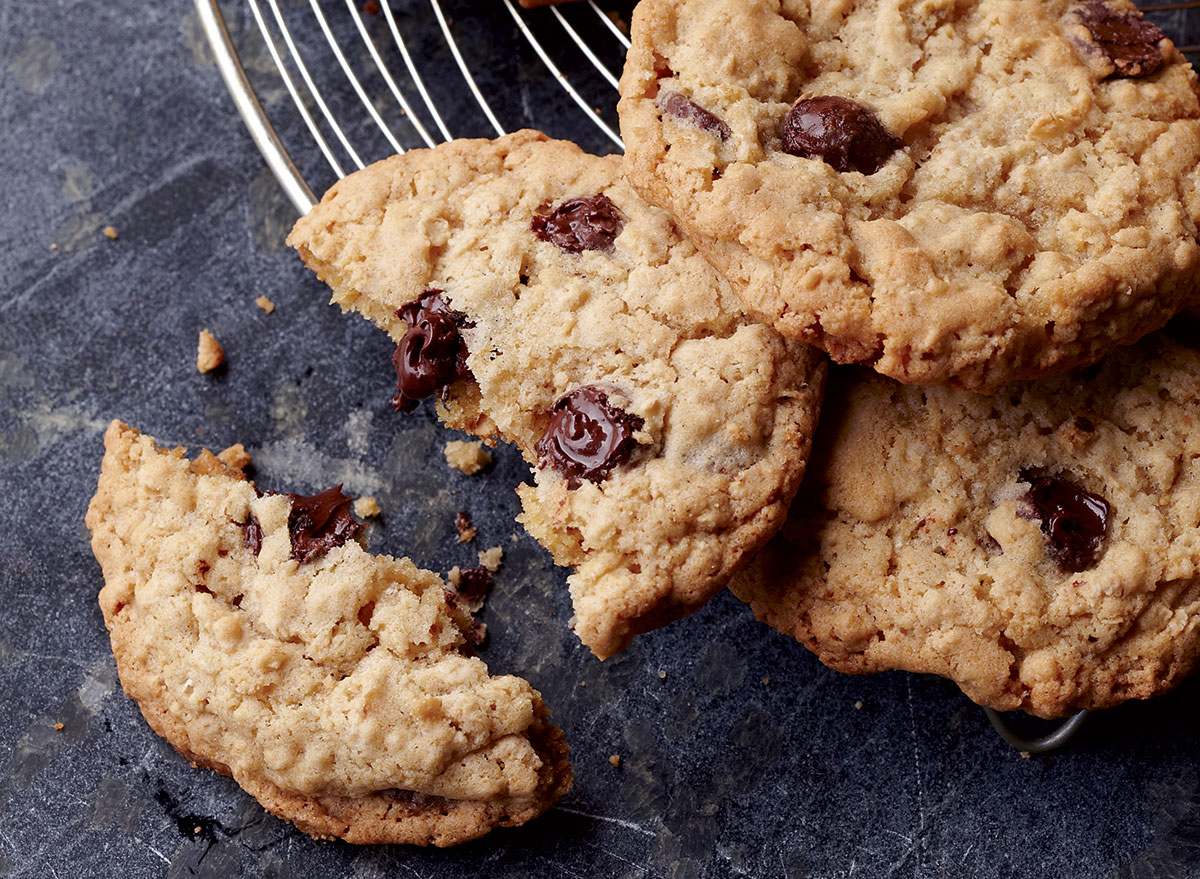 Everybody loves a good cookie, but it can be hard to find a version of one to serve as a snack to the kids in your life that doesn't contain a load of fat and sugar. These oatmeal chocolate chip cookies provide a great middle-ground to serve to any group of children looking for a treat. By including some extra oatmeal, you make sure everyone gets a good serving of fiber while adding an extra filling heft. Next time you need to serve up a plate of healthy snacks for kids, you can rest easy knowing that these cookies will disappear in no time.
Get our recipe for Oatmeal Chocolate Chip Cookies.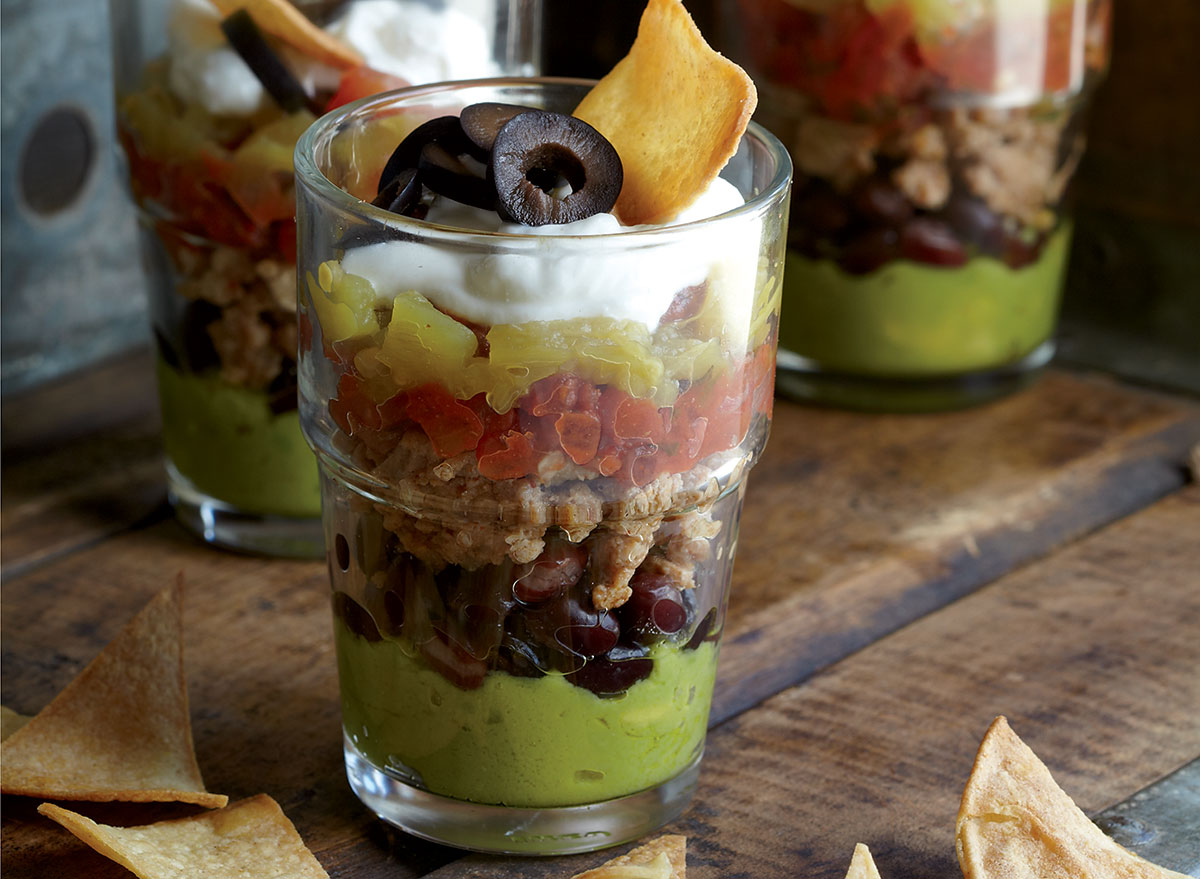 If you need to feed a large group of kids a snack, letting them dig into a layered dip seems like a no-brainer. This potluck favorite replaces sour cream with Greek-style yogurt and ground beef with lean turkey, so you can feel secure knowing that everyone gets a balanced treat that doesn't overdo it on the fats or salt. You could even supercharge this snack by replacing tortilla chips for dipping with vegetables. Either way, this snack hits the spot.6254a4d1642c605c54bf1cab17d50f1e
Get our recipe for 7-Layer Dip.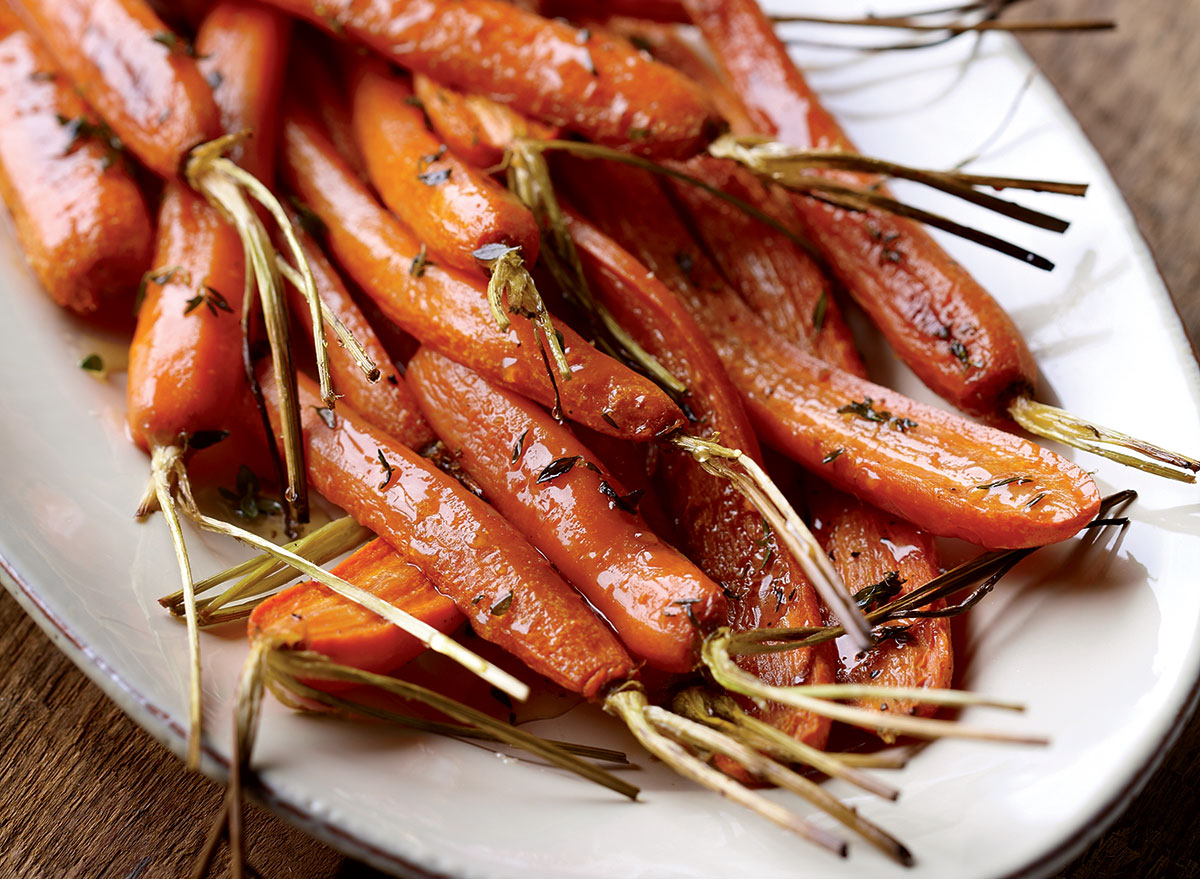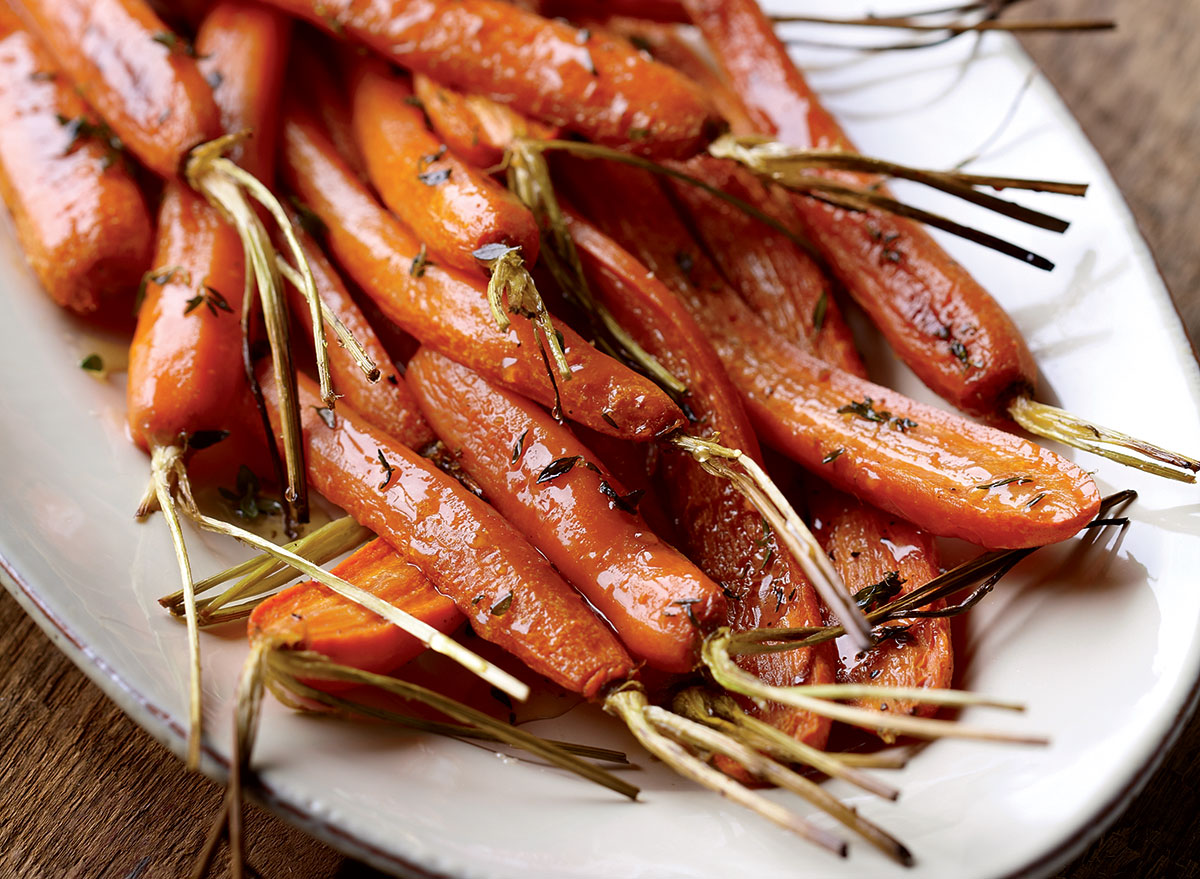 Finding fun ways to get kids to eat vegetables has been a constant challenge for parents for decades. These honey-roasted carrots not only taste like a sweet treat but make you feel good knowing they are getting excellent servings of beta carotene and vitamin A. With only 110 calories, these roasted vegetables make for an excellent in-between meal nibble.
Get our recipe for Honey-Roasted Carrots.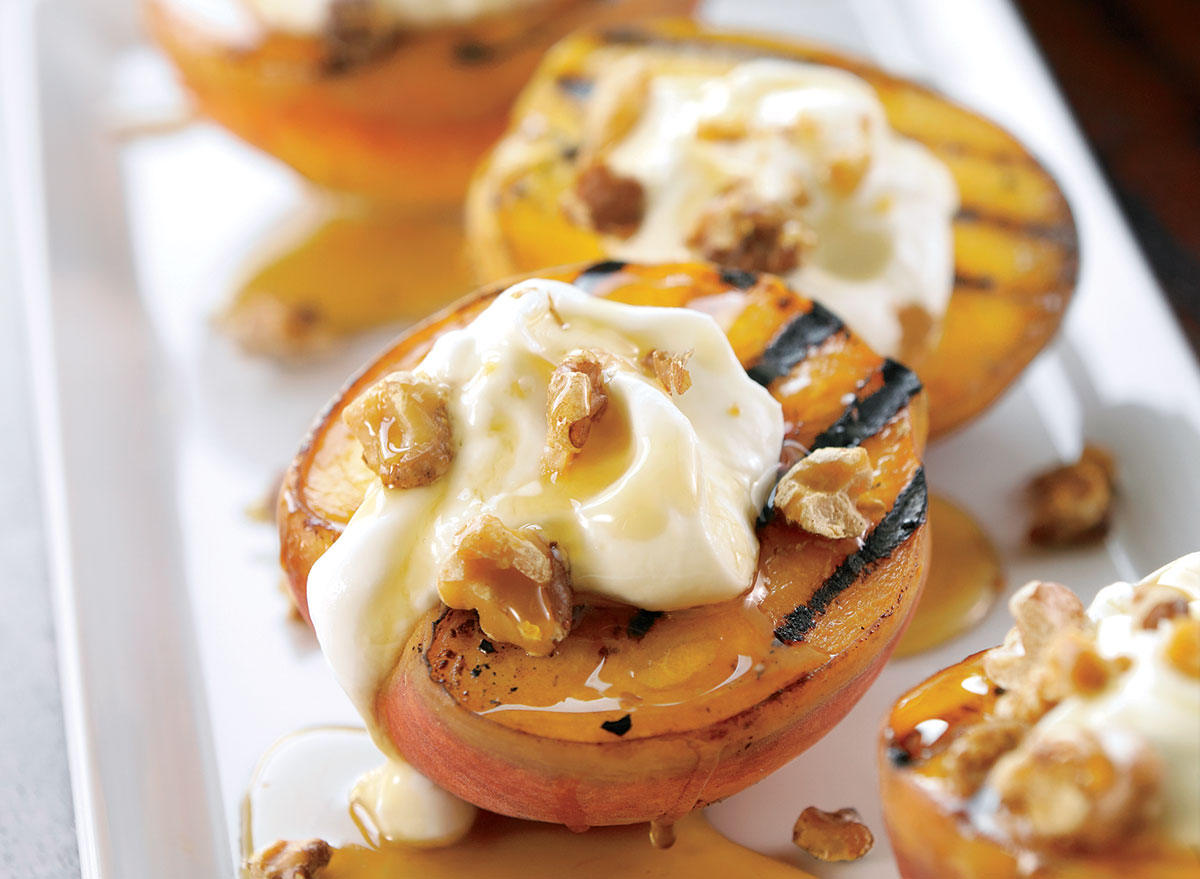 If your children have a sweet tooth and don't need all the extra sugar found in most pastries, introducing them to these grilled apricots will be a game-changer. With healthy doses of vitamins A and C, these apricots are not just easy and quick to make but even double as a dessert instead of a snack. When you can get everyone to replace a snack with fruit, everyone wins.
Get our recipe for Grilled Apricots.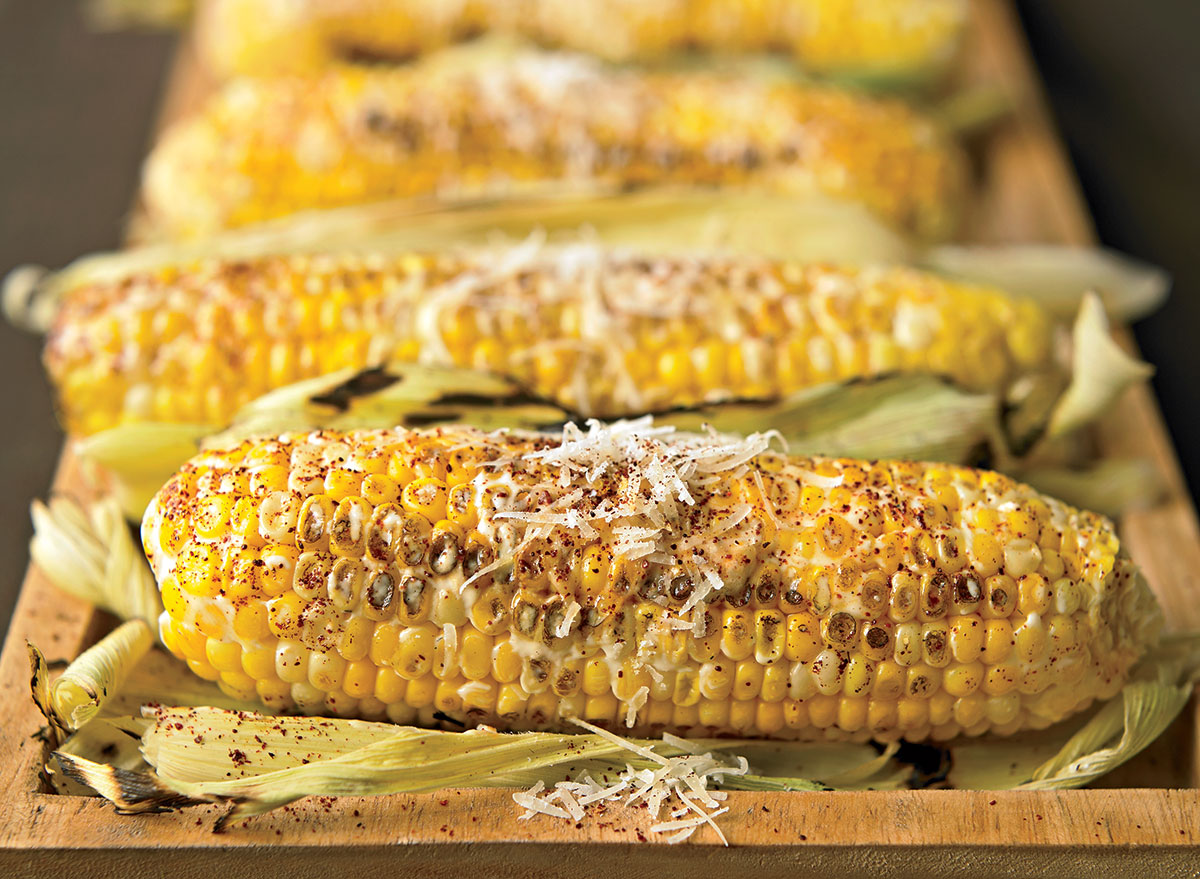 Mexican-style corn, or elote, couldn't be easier to make and is even easier to eat. This corn snack offers up a great way to sneak in some extra protein and iron in a quick bite that everyone loves. With only 210 calories, this Mexican-style corn not only cuts down on unnecessary ingredients found in other mass-produced junk food but offers up a great after school snack to hold any kid over until dinner.
Get our recipe for Mexican-Style Corn.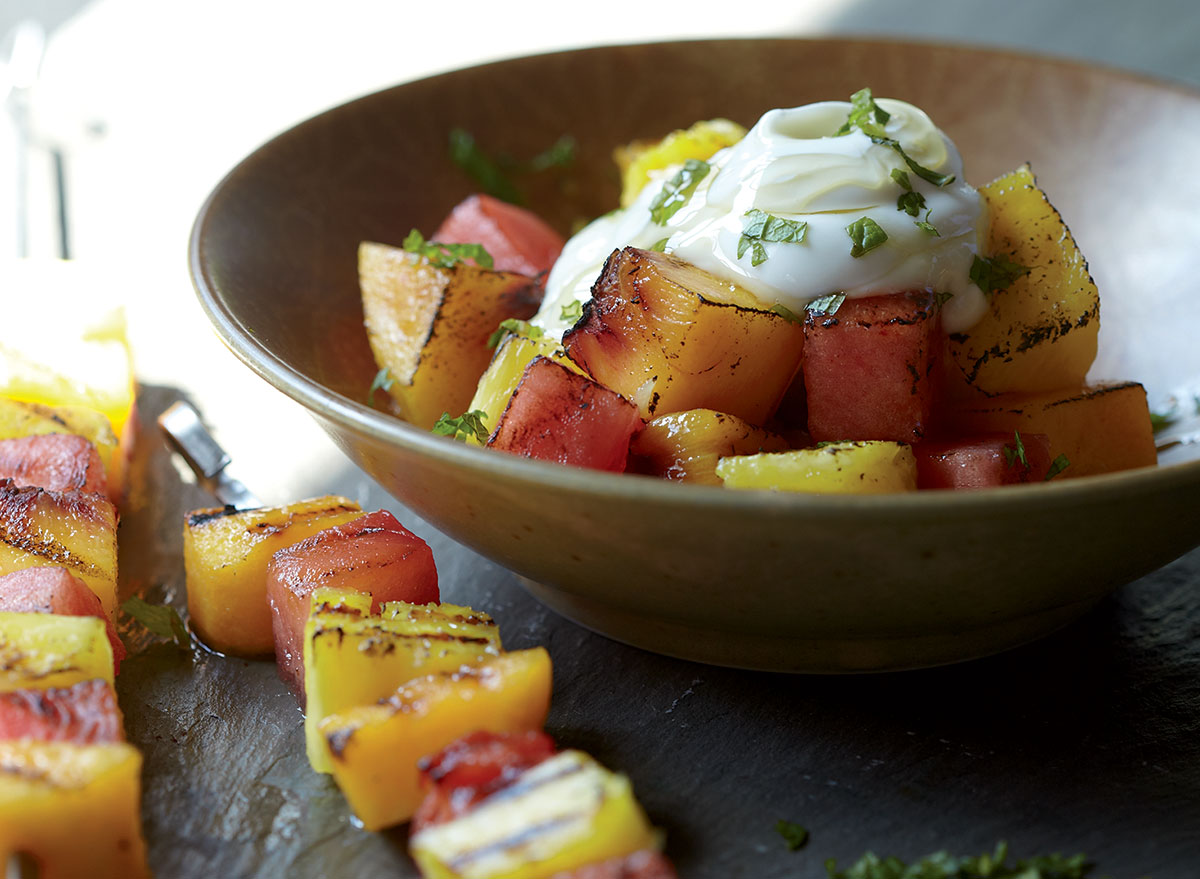 When you want to curb a kid's sweet tooth, trying out these grilled fruit kebabs won't only be a fun way to eat a serving of fresh fruit, but provides a burst of vitamin C and protein into the day. The tart acidity of the fruit gets cut down by the Greek yogurt mixed with honey, making for a snack that tastes so good, anyone could forget it is healthy. You can even experiment and try adding different fruits to build your own.
Get our recipe for Grilled Fruit Kebabs.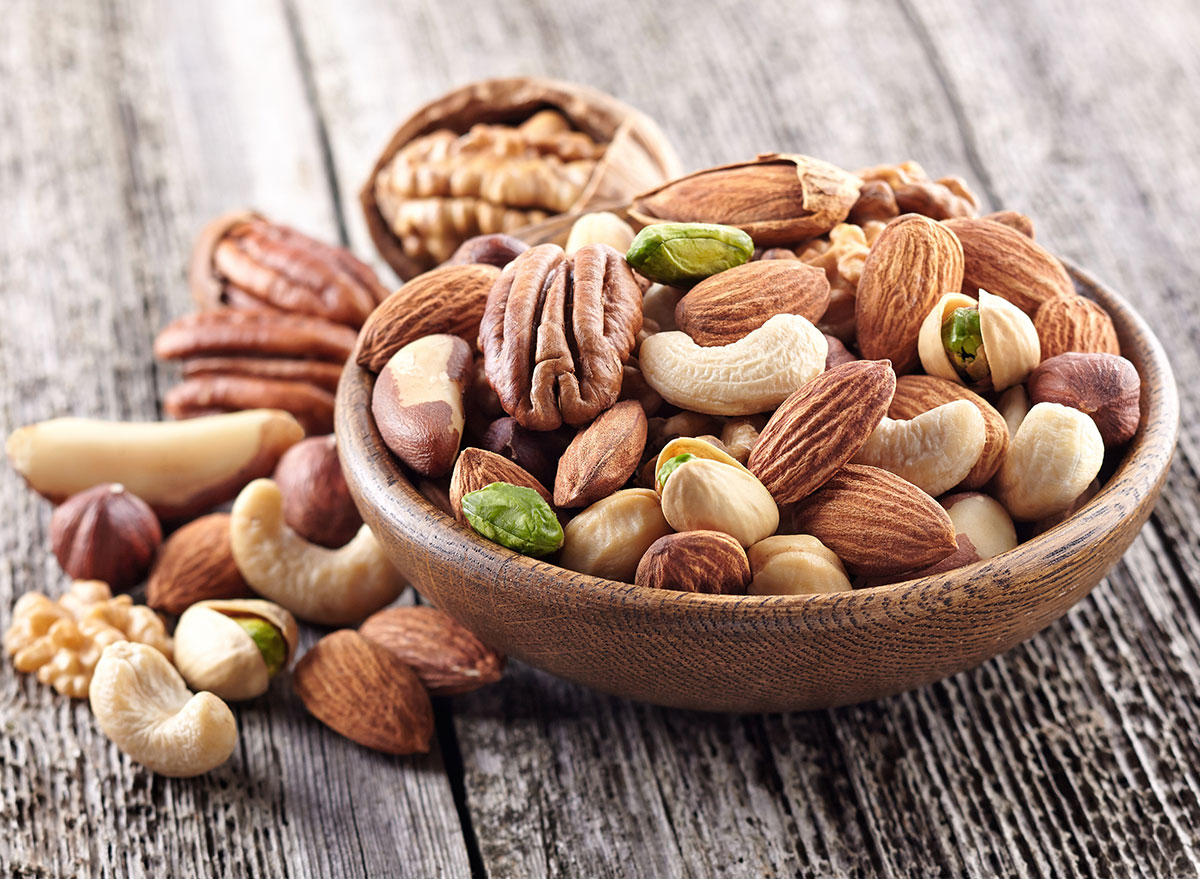 Nuts provide a great energy boost because of their healthy fat and protein content, so it is no wonder that they're some of the best snack ideas for kids coming home after school or daycare. Whether you have an adventurous eater at home who might like five-spice peanuts, to the general favorite blend of cocoa pecans, you can't go wrong with nuts! As long as no one has an allergy, these snacks curb hunger for hours.
Get our recipe for Spice-Roasted Nuts.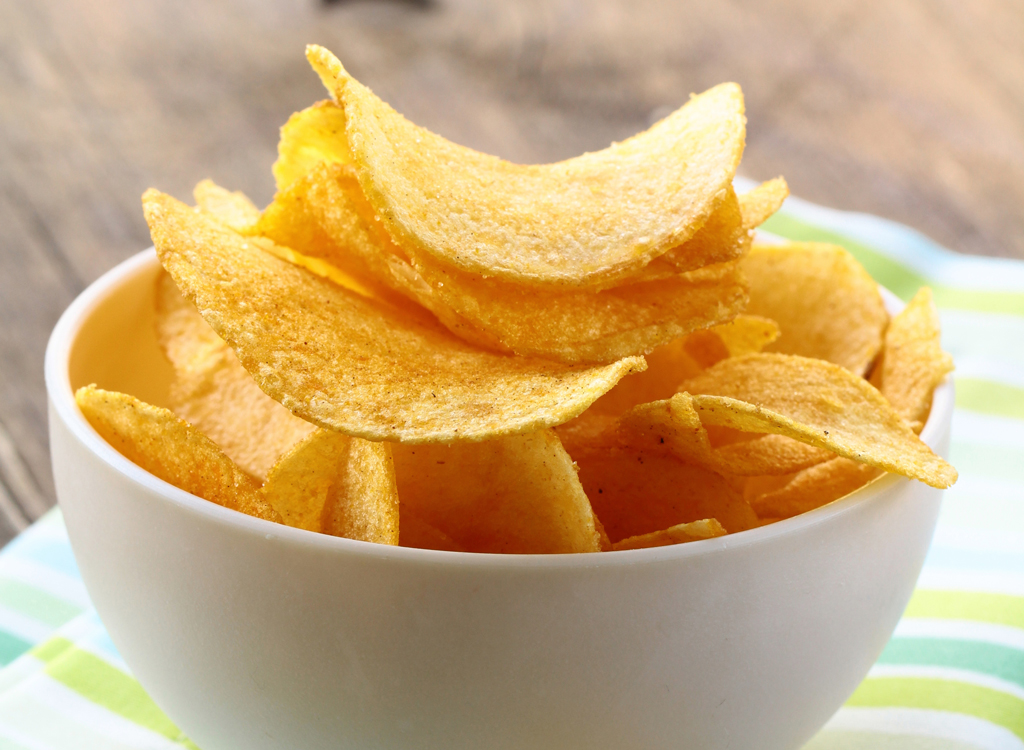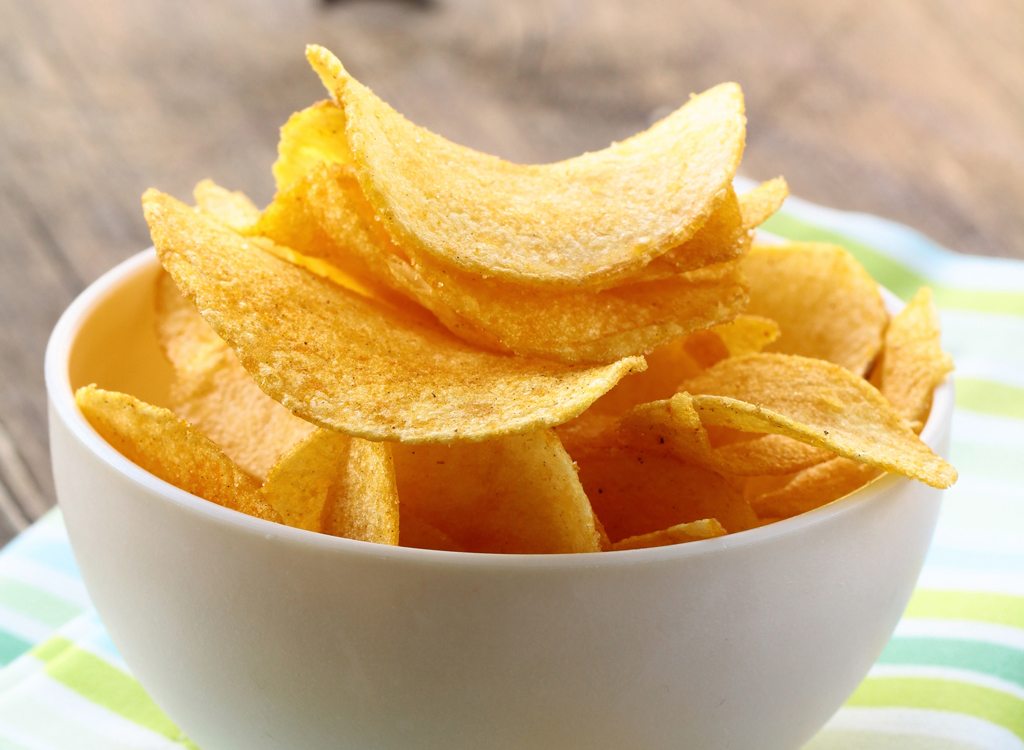 Everybody loves chips, but when you have to settle for a store-bought version loaded with saturated fat, any parent might feel hesitant serving up a plate-full as a snack. Have no fear, as these baked-at-home not only contain far less fat than the average chip, you can even customize them to make your own flavors at home! By breaking this classic out, you'll easily have fans for life!
Get our recipe for Homemade Chips.