The Best Indoor Grills So You Can BBQ All Year Round
Who says you need to wait for summer to make a burger? Here's your guide to the best indoor grills so you can get to cooking.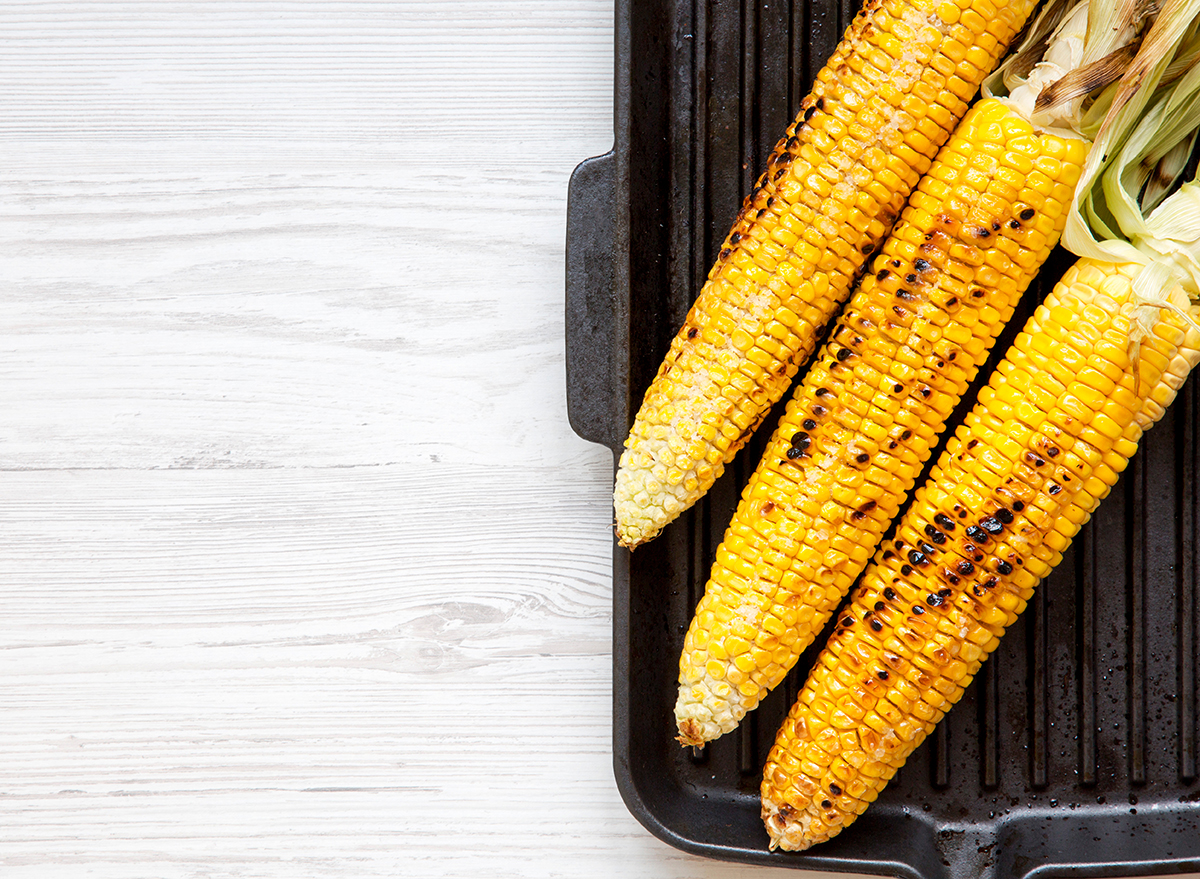 Whether it is a dreary, rainy summer day or an extra-blustery winter night, there's just something inside you that still craves the flavor of grilled meats, veggies, and even fruits. The weather doesn't have to stop you from enjoying a grilled meal, though! Thanks to many safe, modern indoor grills, you can easily grill up chicken breast for your salad or grill fruit for a light dessert year-round. You don't have to wait until summer!
If you want those delicious grill marks on your food—even in January—opt for one of these top-rated indoor grills.
Here are the best indoor grills so you can have a BBQ whenever the mood strikes.
Ninja Foodi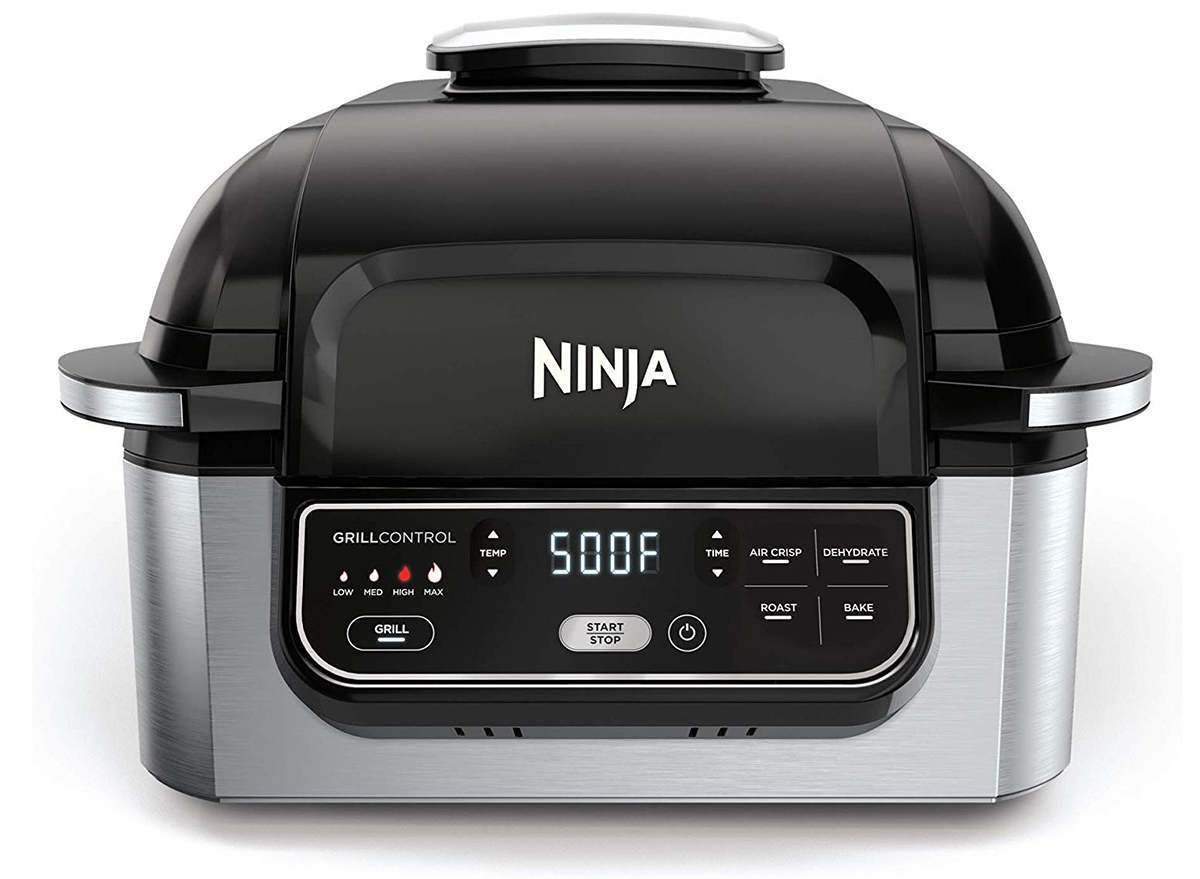 Why yes, this is the same brand that helps you blend up your morning or post-workout smoothies. While the initial price tag of the Ninja Foodi might leave you with sticker shock, this 5-in-1 cooker doesn't just offer a sizzling grill; it also air fries, bakes, roasts, and dehydrates food to your heart's content. It can replace several kitchen gadgets, making it worth every penny. The grill leaves perfect char marks, and the air fryer offers "75 percent less fat than deep frying," so you can enjoy some homemade fries with your turkey burger.
One verified reviewer on Amazon also loved the smart temperature probe, saying, "You can select the level of 'doneness' accurately, provided you have meat that is thick enough to properly insert the probe. This probe can be used either to control the cooking process or, if you prefer, monitor the temperature" so you get perfect meat, every time.
Hamilton Beach Indoor Grill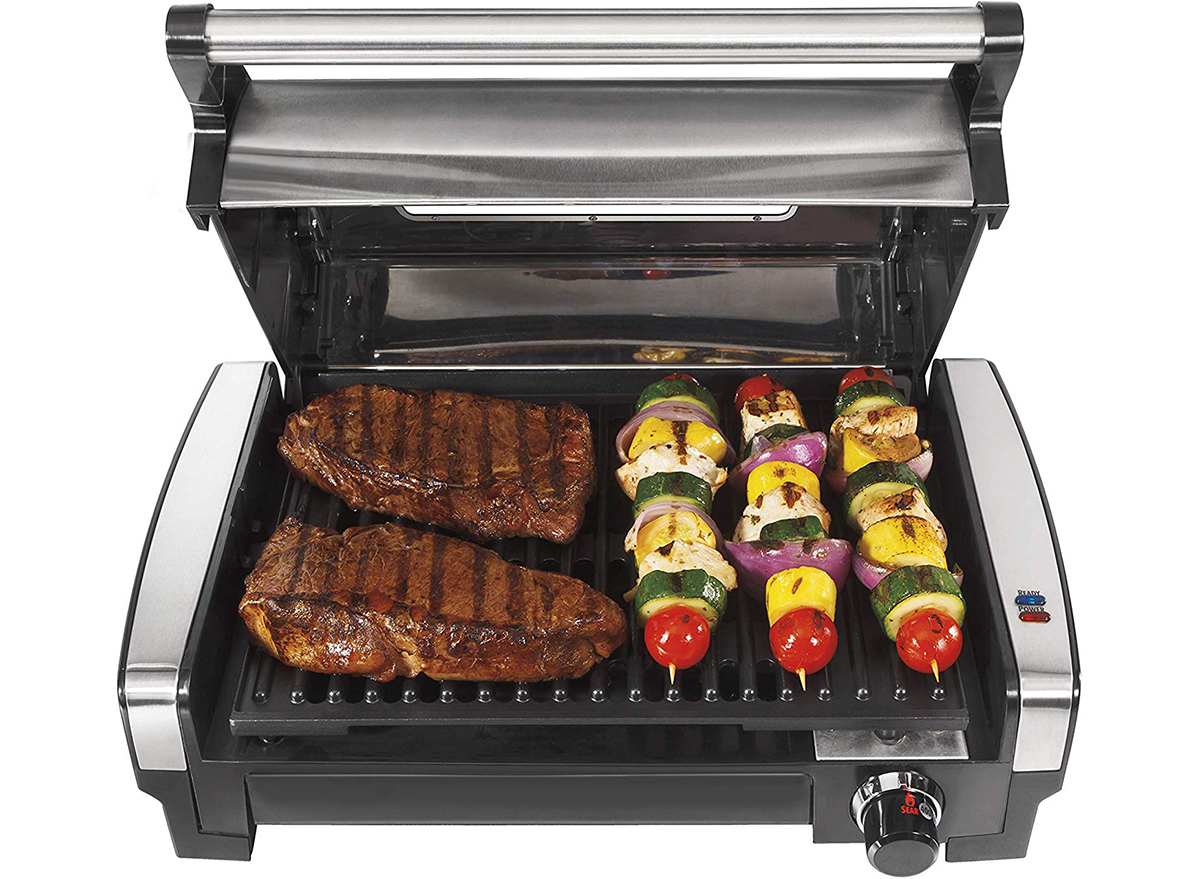 With more than 2,000 5-star reviews, it's safe to say this indoor grill by trusted kitchen brand Hamilton Beach will have you grilling every day. This grill looks much like a traditional outdoor grill, but smaller. It is non-stick, so it is a breeze to clean, and it has a viewing window, so you can keep the lid closed but still check in on the cooking process. It makes it easy to sear, too, so you can get that nice, caramelized exterior and juicy interior of meats.
One user found this grill to be a great tool for every part of the cooking process, even cleanup.
"I can easily fit 3-4 steaks or chicken breasts at a time on this grill," she says. "I love that the drip pan catches everything. There is no way for grease to fall elsewhere. I love that it breaks down for easy cleanup and that I can throw the parts into the dishwasher."
Cuisinart 5-in-1 Griddler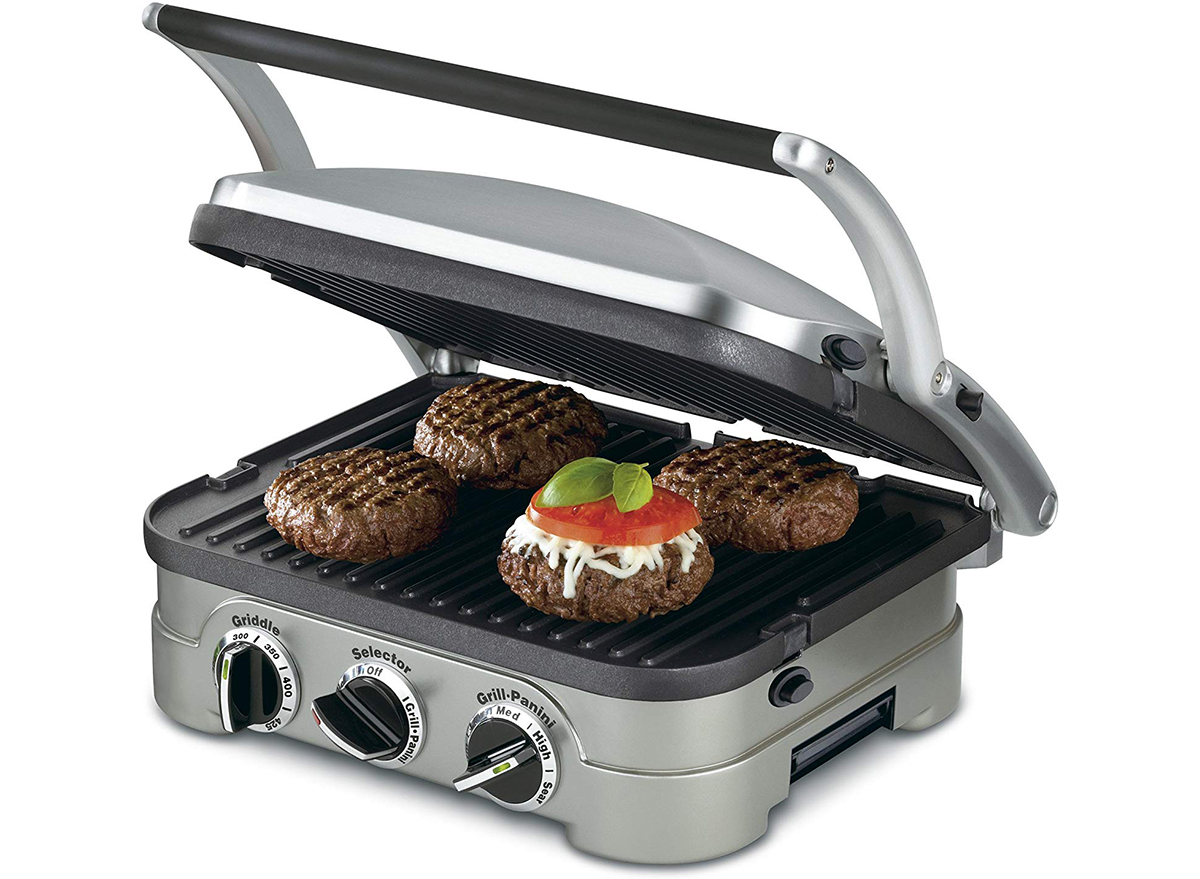 With five different functions, including grilling, this Cuisinart 5-in-1 is a great deal, especially for the price. It has varying functions for grilling, as well as serving as a griddle or a panini press. More than 6,000 customers ranked it a 5-star grill because of how easy it is to use and clean. If you are cooking for a family, it expands into a full grill to fit more lean meats and veggies, or you can fold it into a half grill. There are simple temperature controls and the option to sear, too.
Because it is so easy to use (and clean), it encourages users to cook an array of new foods on it.
"After grilling my first hamburger, I fell in love with this grill," said one reviewer. "Not only was cleaning a breeze, but it seemed like the burger tasted much better. So I decided to try a panini (which was completely new to me). I sliced a hunk of kielbasa in half lengthwise and grilled it, then put it between two slices of bread and made my first ever panini. Now I'm hooked and looking forward to new cooking adventures to broaden my cooking horizons."6254a4d1642c605c54bf1cab17d50f1e
Mega Chef Indoor Grill and Griddle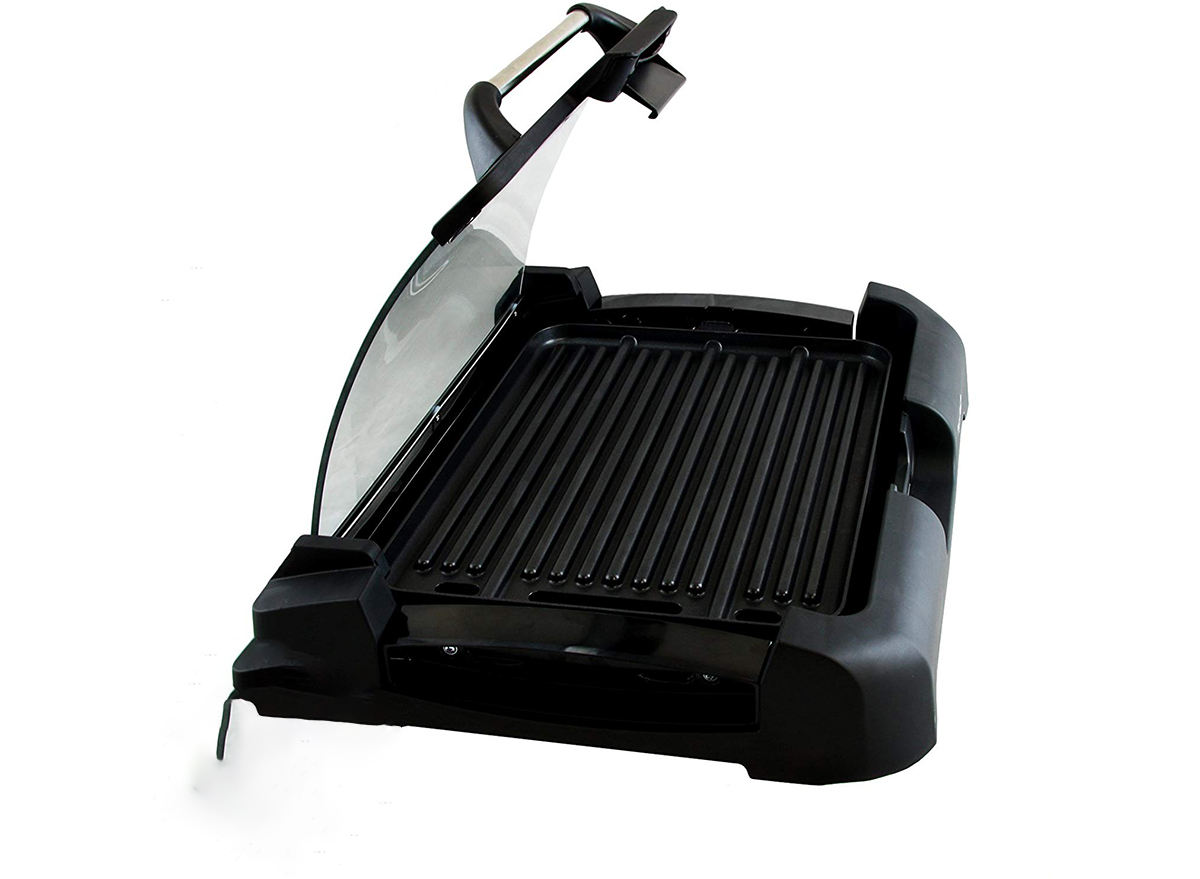 This indoor grill by Mega Chef has plenty of real estate for your grilling needs, plus a glass cover to prevent splatters. Despite its easy-to-clean interior and excellence in cooking food and leaving the highly sought-after grill marks, it has one of the lowest prices of any indoor grill (even those without such high reviews!). Mega Chef touts its non-stick coating, so "you can easily prepare delicious and appetizing meals with less oil than traditional cooking methods." Many users mentioned grilling salmon and steaks with ease, plus you can flip the grill pan to turn this into a griddle.
Maxi Matic Indoor Electric Nonstick Grill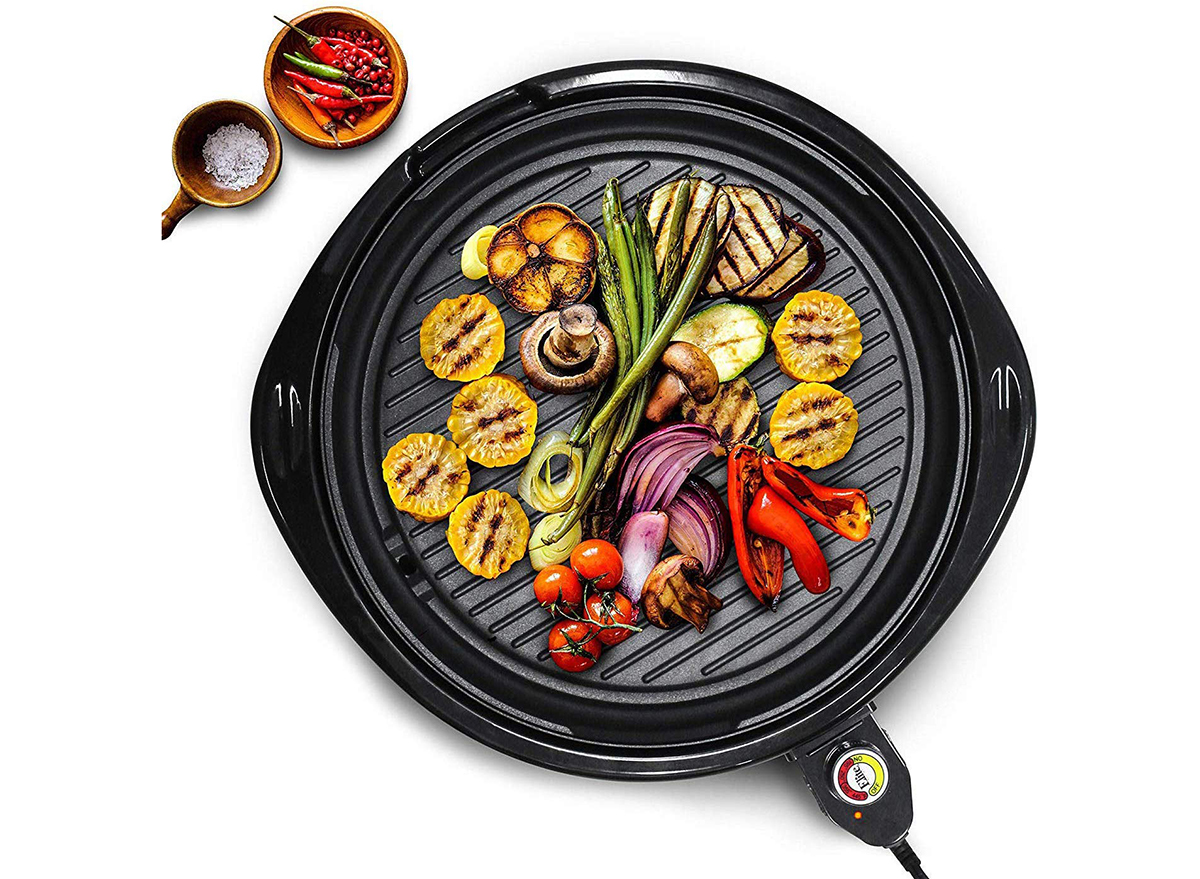 The Maxi Matic rings up as the cheapest indoor grill on our list, but the quality is far from cheap. This round indoor grill has a 14-inch diameter, so it can handle several cuts of meat or handfuls of vegetables at once. The company states that the grill's circular heating element evenly cooks food without burning it, and it has a non-stick coating, so you won't need to grease the pan. Several users mention using the Maxi Matic indoor grill specifically for Korean barbecue, which is a great way to make your favorite dishes healthier at home.
Hot Shot Indoor Electric Smokeless Grill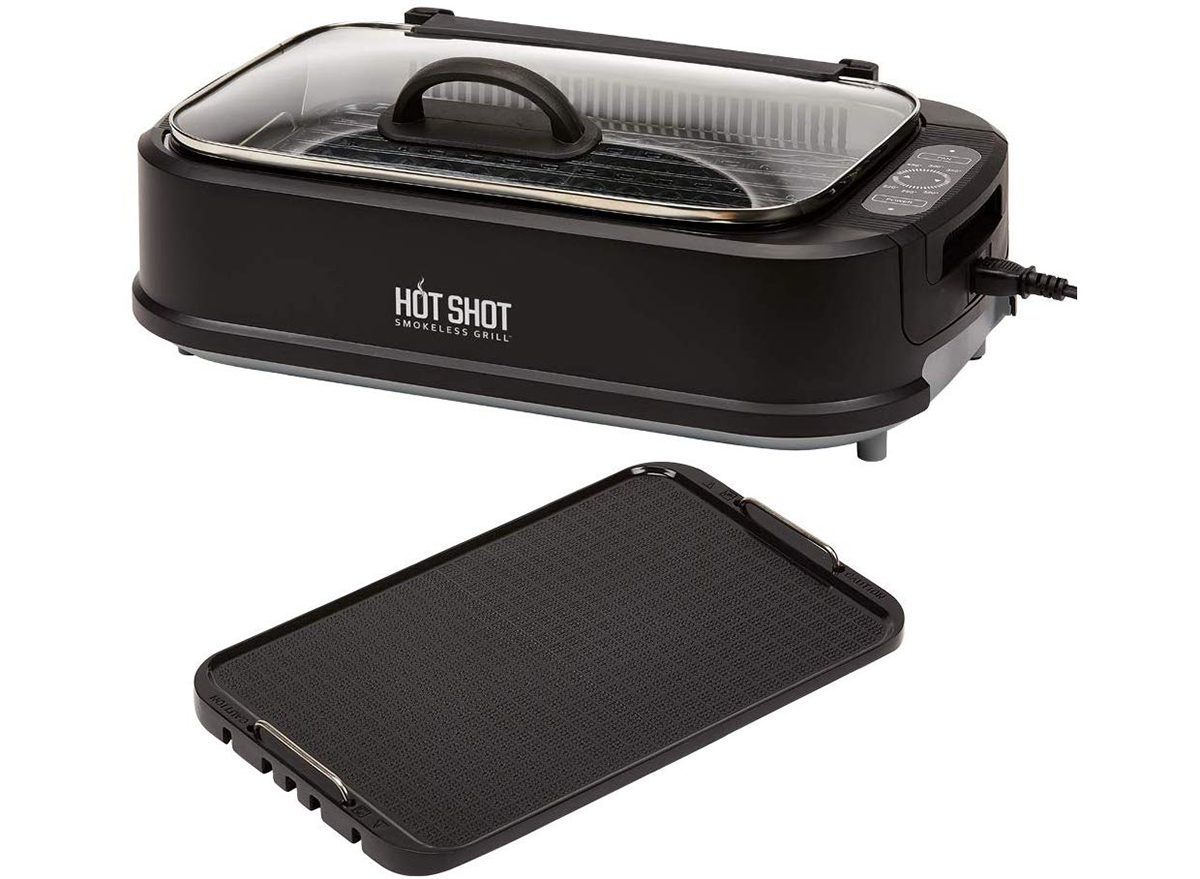 The Hot Shot can handle enough food at once to feed a large family. This grill is smokeless, and the drip tray will catch any grease rather than letting your food sit in those fats. Several users loved using this grill specifically to cook seafood, so be sure to add it to your repertoire if you are always looking to get in those omega-3 fatty acids!
George Foreman Indoor/Outdoor Electric Grill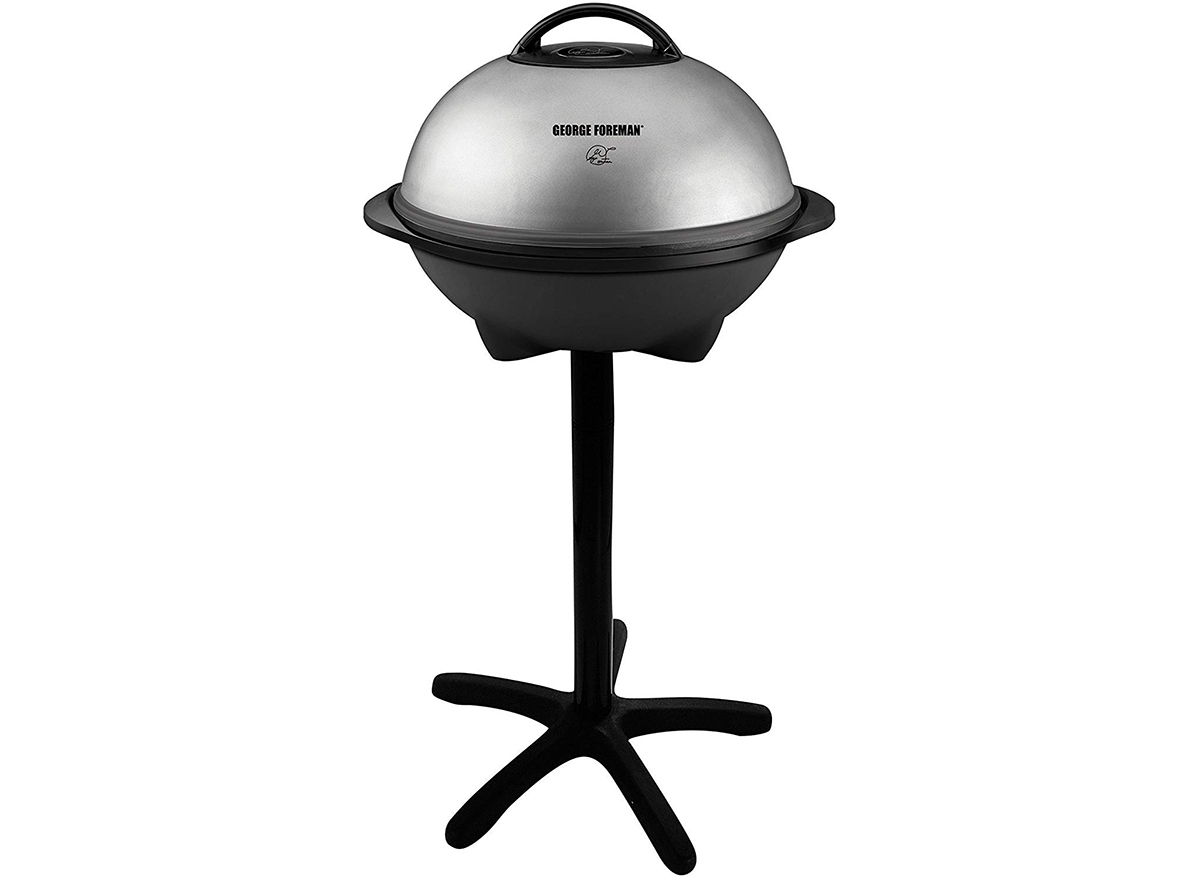 Planned a barbecue that got rained out? This 15-serving George Foreman grill can be used inside or out, so you can easily move the party indoors if the weather doesn't cooperate. The surface can cook enough food for 15 people at once without taking up a ton of space. It can fit on a counter, or it attaches to a stand for outdoor use. It is ideal if you have a big family or love to entertain.
One promising review offers a long list of pros: "Good for anyone in an apartment where gas/coal is not allowed. It doesn't take up too much room but the grill surface is big enough to cook up to 15-servings. Nice size. Heats evenly across the grill. Definitely gets hot enough to sear meats with no problem. Any grease generated flows right to the grease tray. Cleans up pretty easily with dish soap and a sponge."
Presto Electric Indoor Grill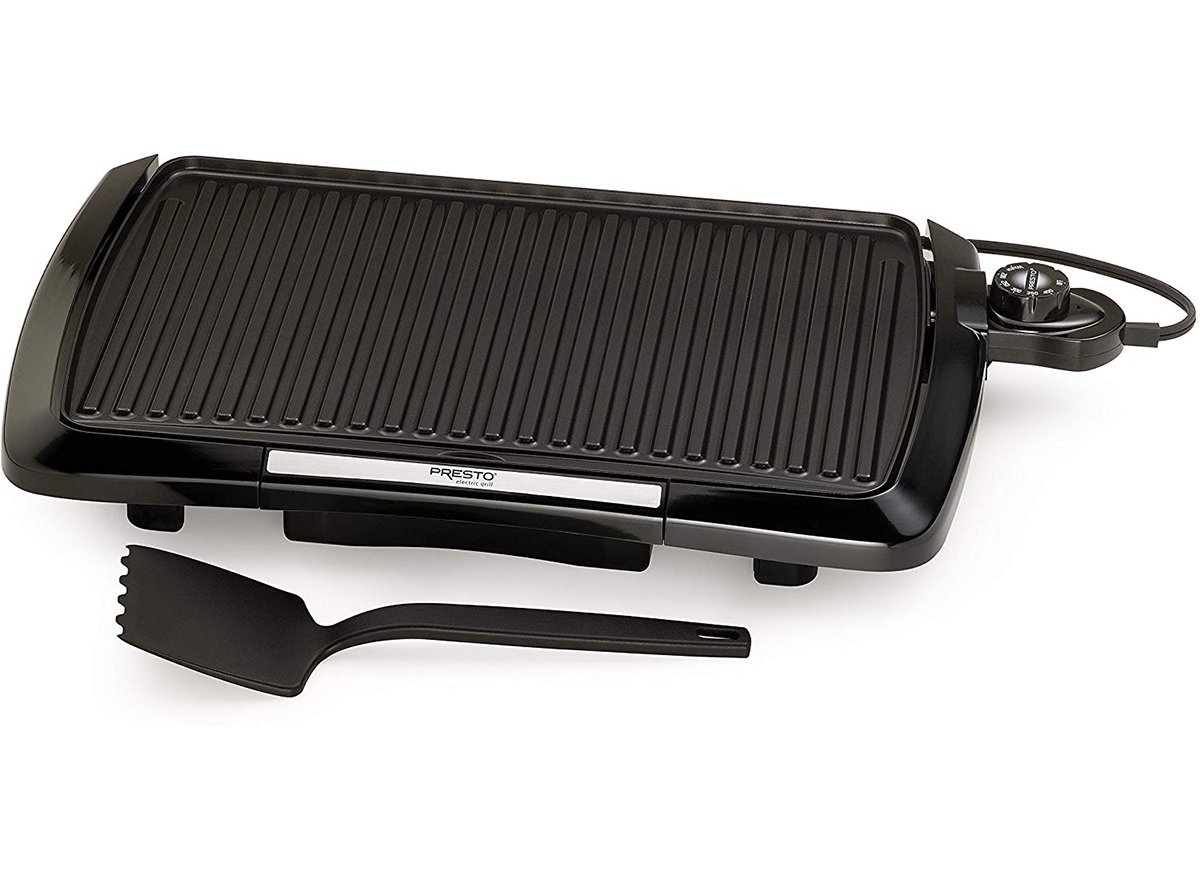 The Presto is another affordable grill meant for the great indoors. It is simple and functional; it allows grease to drip and drain away, and it will leave your food with appealing grill marks. Some of the Presto's best features are that it is dishwasher-safe for the quickest cleanup, and it's lightweight. If you don't have the counter space to keep it out all of the time, you can easily move it from counter to cabinet.
BELLA Indoor Smokeless Grill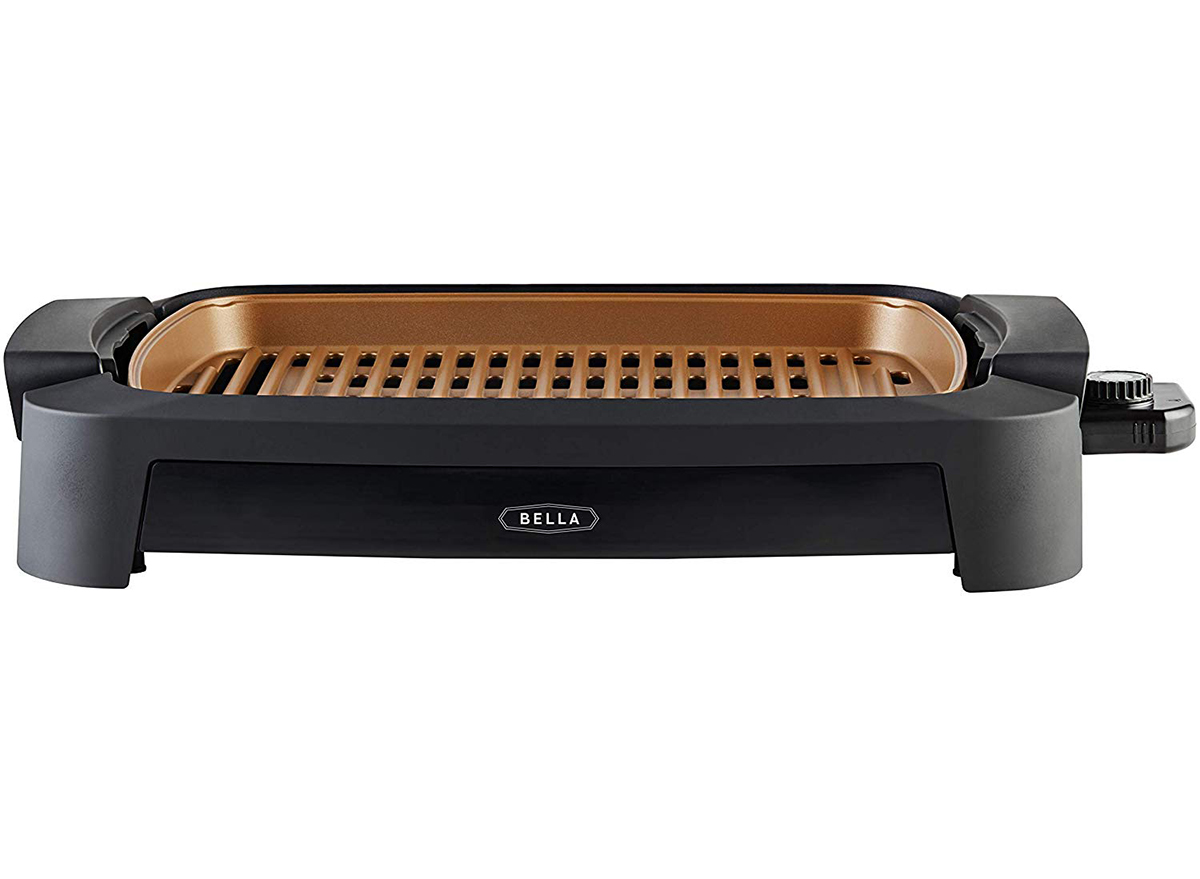 The BELLA indoor grill is smokeless and set at a low price. Its most unique feature is its copper grilling surface, which is stainless and non-stick without the need for Teflon, a coating that has raised health concerns. You can use this for much more than grilling, too; it roasts, sautées, steams, and fries. One note, though—many customer reviews mention this grill is very non-stick, so take extra care that nothing slides right off the grill!
Breville Smart Grill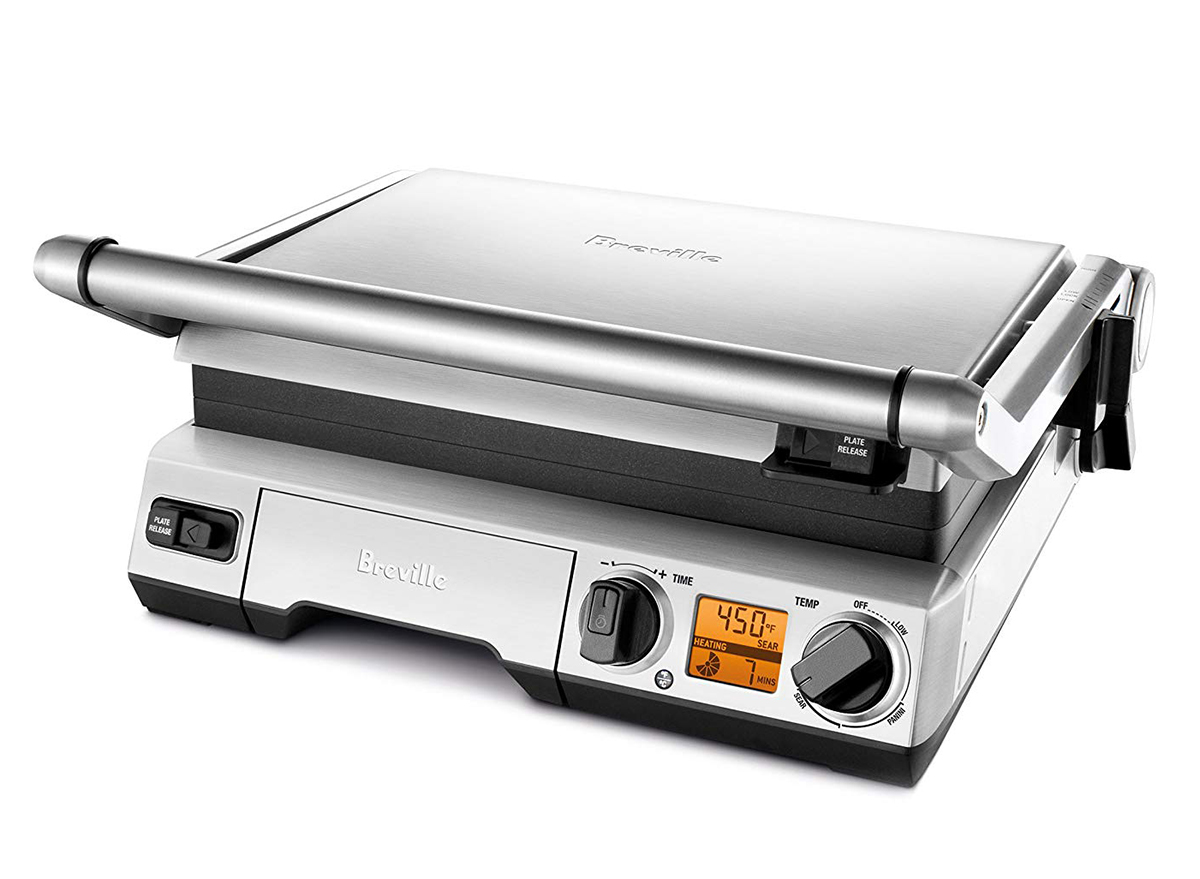 Breville is a brand that comes highly praised by home cooks. This is the most expensive indoor grill on our list, but the quality is well worth it, as this grill will have you cooking delicious, seared meats and perfectly tender vegetables for years to come. Nearly every component of this grill is adjustable; the height can be adjusted to prevent squishing your paninis, while the grill/griddle plate can be tilted or set flat to either drain grease or cook eggs and pancakes.
Paige Bennett
Paige is a Los Angeles-based editor and freelance writer. In addition to writing for Eat This, Not That!, she works as the content editor for Inhabitat.
Read more about Paige