15 Cozy Low-Carb Casserole Recipes Perfect for Fall
Enjoy your favorite classic casseroles without loading up on carbs.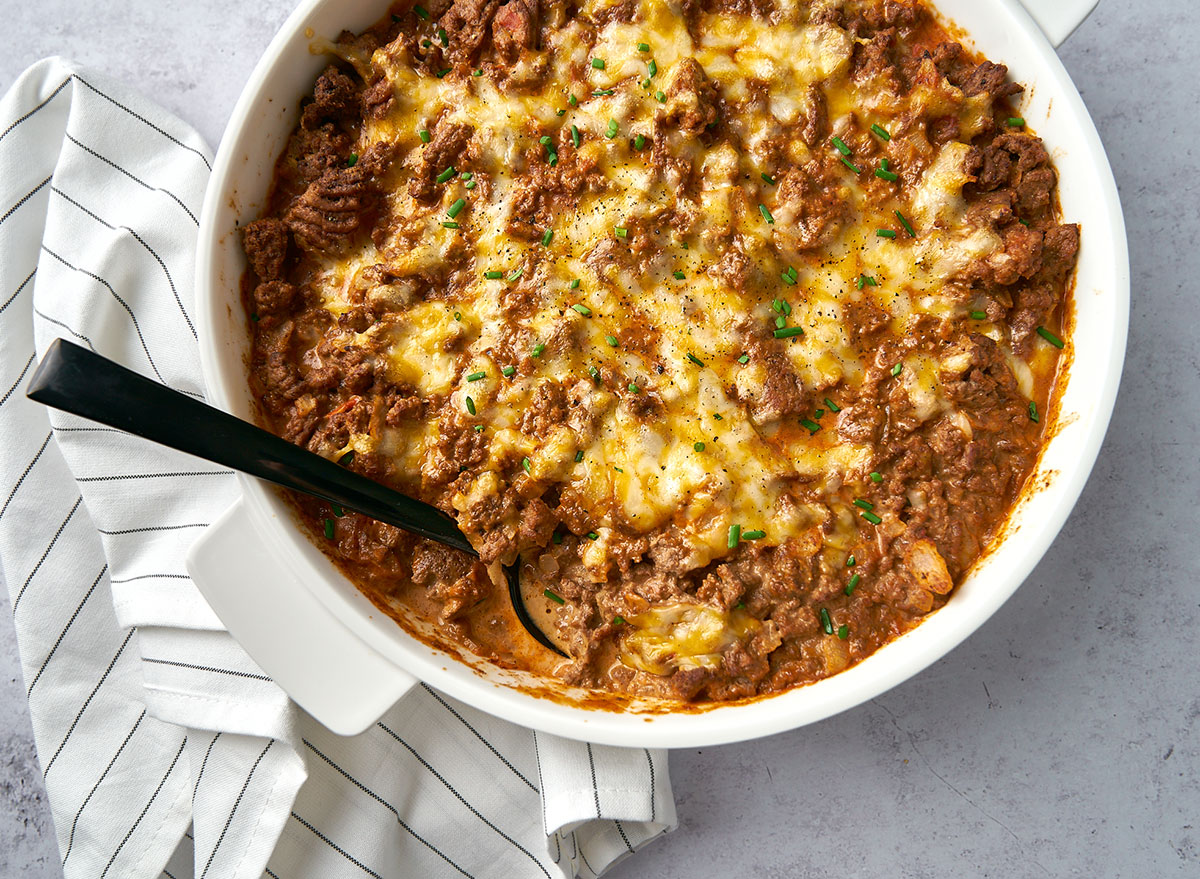 Casseroles are normally a quick and easy way to put a meal together—throw a few ingredients into a casserole tray and then pop it in the oven. But just because casseroles are convenient doesn't mean that they're always delicious or healthy. Many times they're carb-laden and filled with potatoes, rice, and other starchy products.
For people who are trying to avoid carbs in their diet, casseroles might seem off-limits, but that's far from the truth. Here are 15 casserole recipes for the fall that are relatively low in their carb content. Then for more recipes, check out 25 Cozy Soup Recipes That Are Perfect for Weight Loss This Fall.
Keto Eggs Baked in Cream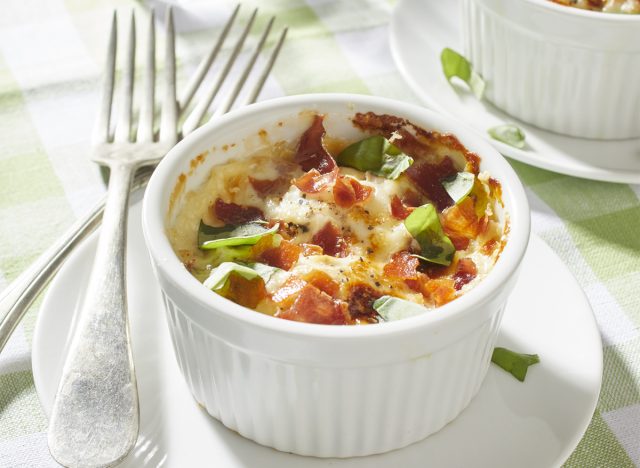 Followers of the keto diet are determined to follow a diet that's filled with high-protein and low-carb meals, so this breakfast casserole recipe is great for anyone looking to consume fewer carbs while still walking away from the meal feeling full and satisfied. As the egg and prosciutto-filled casserole is baked in the oven, it's also a warm way to start the day on a crisp fall morning.
Get our recipe for Keto Eggs Baked in Cream.
Green Bean Casserole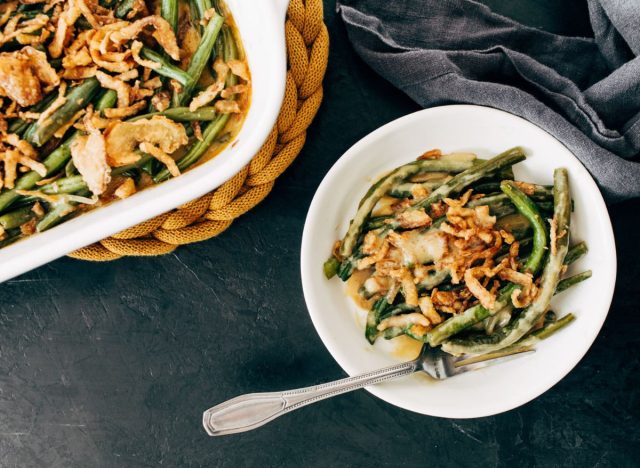 Is there a holiday table complete without green bean casserole? A staple in many, many households throughout the fall and winter holidays, this recipe offers a more refined version of the famous dish by including white wine and shredded gruyere cheese. It also only contains 14.6 carbs per serving, perfect for a holiday treat.
Get the recipe for Green Bean Casserole from Pinch of Yum.
Zucchini Casserole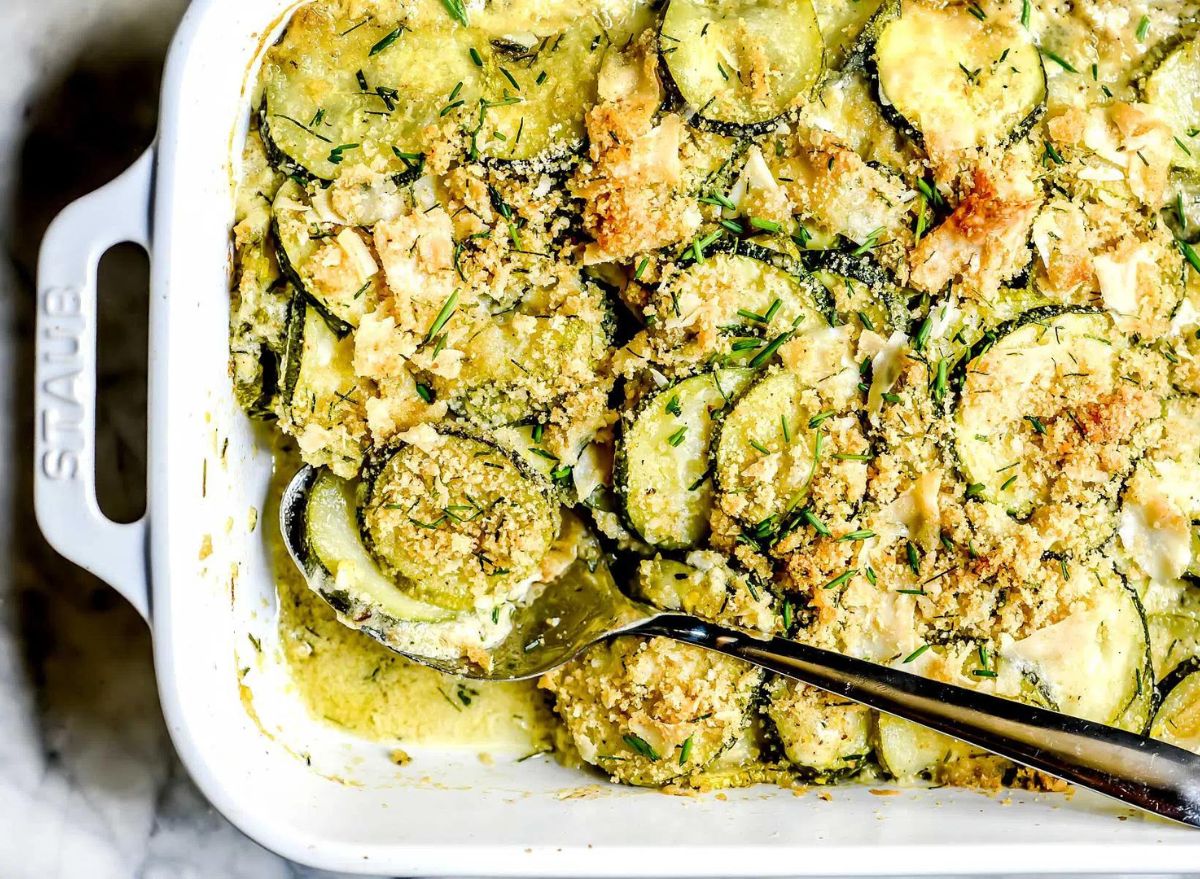 If you've tried zoodles, or noodles made of zucchini to help lower carb intake, it's time to try zucchini casserole, which is primarily just zucchini and parmesan cheese. The recipe also saves on carbs by nixing a flour-based roux sauce in favor of a creamy base made of sour cream and an egg yolk.
Get the recipe for Zucchini Casserole from FoodieCrush.
Pepperoni Pizza Cauliflower Casserole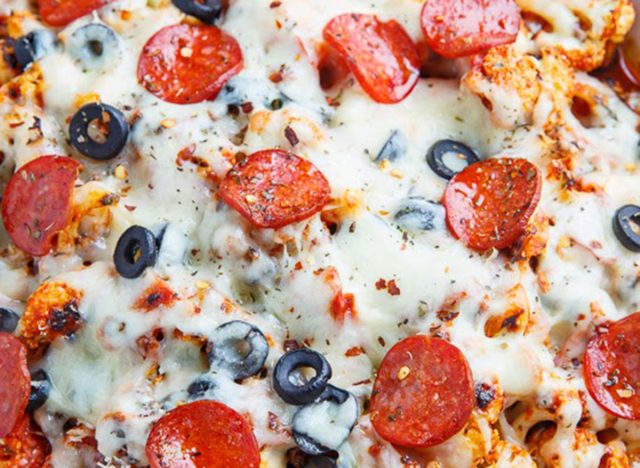 To help combat the high carb content found in pizza, there's been the innovation of cauliflower crust to pile the toppings and sauce on top of, but make use of your casserole dish this fall by turning that into a warm oven-ready casserole. The meal features one cauliflower head, covered in all the things you'd find on a pepperoni pizza—sauce, black olives, mozzarella cheese, and of course, pepperoni. The casserole is still relatively high in sodium, but it's definitely lower than if you were eating a regular pepperoni pizza, so that's got to count for something.
Get the recipe for Pepperoni Pizza Cauliflower Casserole from Closet Cooking.
Vegetarian Breakfast Casserole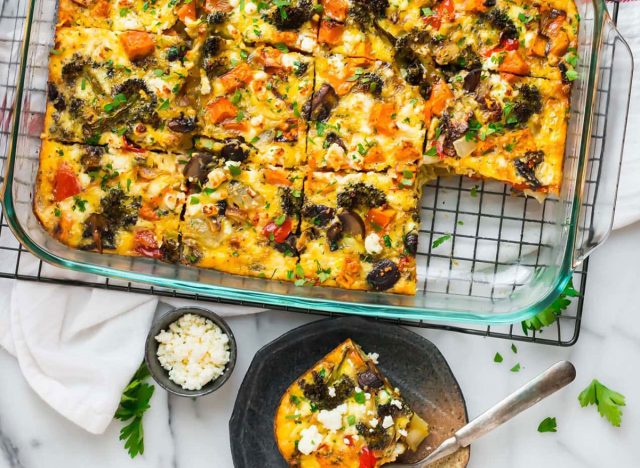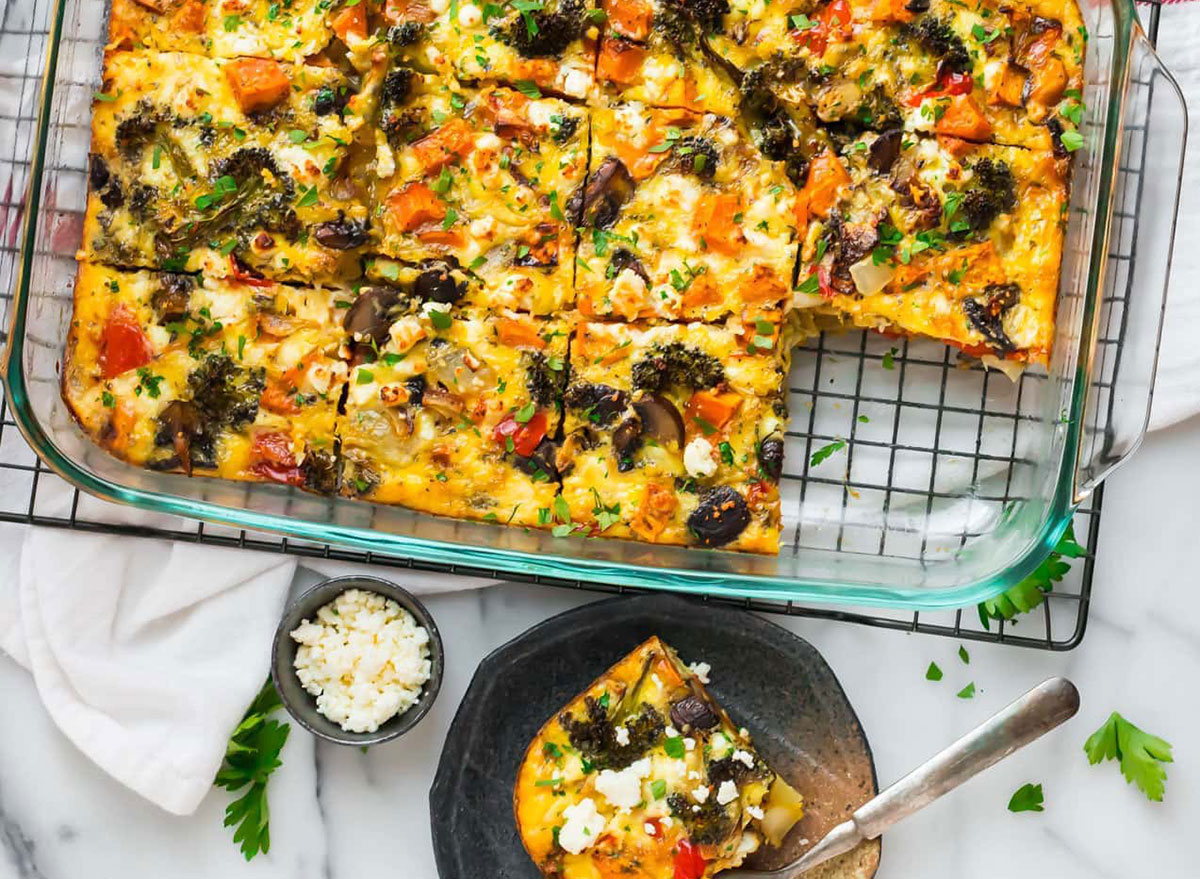 Some casseroles might take a bit of time to put together, but the great thing about them is how well they store in the fridge, so reheating a piece is simple. For example, this breakfast casserole is packed full of vegetables and makes for a quick and hearty breakfast for days after it's made. This casserole also packs in fall-friendly veggies like sweet potatoes and broccoli for nutritious, seasonal flavors.
Get the recipe for Vegetarian Breakfast Casserole from Well Plated by Erin.
Baked Spaghetti Squash Casserole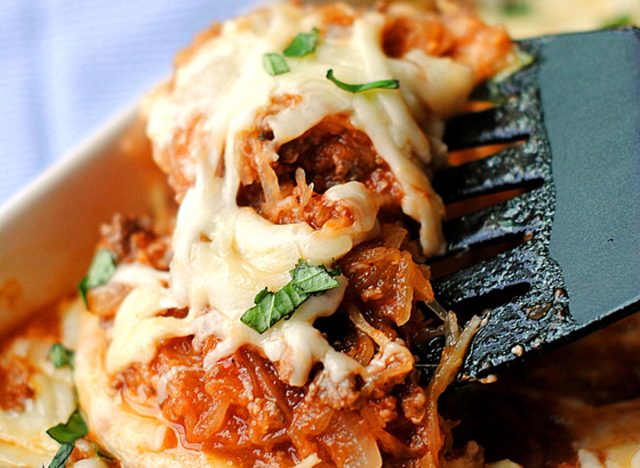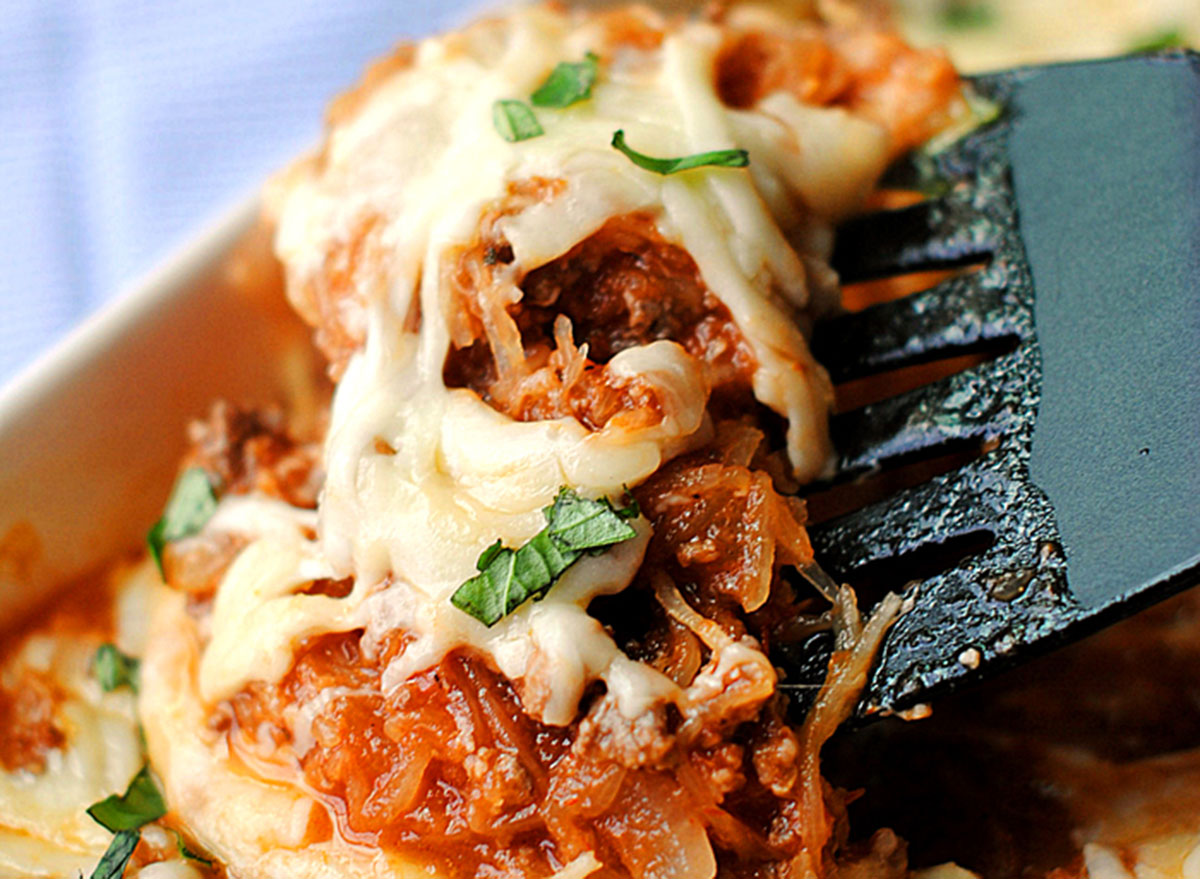 One of the easiest ways to cut carbs from a meal is by substituting pasta noodles for a vegetable, like a spiralized zucchini, or in the case of this recipe, a spaghetti squash. Like its fellow gourds, spaghetti squash is a staple of fall cooking and is a hearty and nutritious way to make a filling dinner without packing on the carbs. This casserole is also filled with tomato sauce and lean ground beef, making it a healthier version of a traditional spaghetti dinner.
Get the recipe for Baked Spaghetti Squash Casserole from Eat Yourself Skinny.
Keto Breakfast Casserole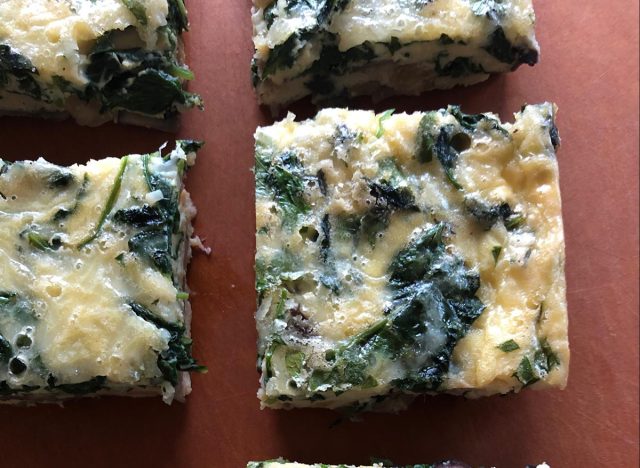 The Keto diet, which limits the intake of carbs, is pretty restrictive, but that doesn't mean it's impossible to have a good meal. This breakfast casserole recipe combines fresh fall veggies like kale and mushrooms, as well as eggs, of course, to make a filling and nutritious breakfast.
Get our recipe for Keto Breakfast Casserole.
Healthy Stuffed Pepper Casserole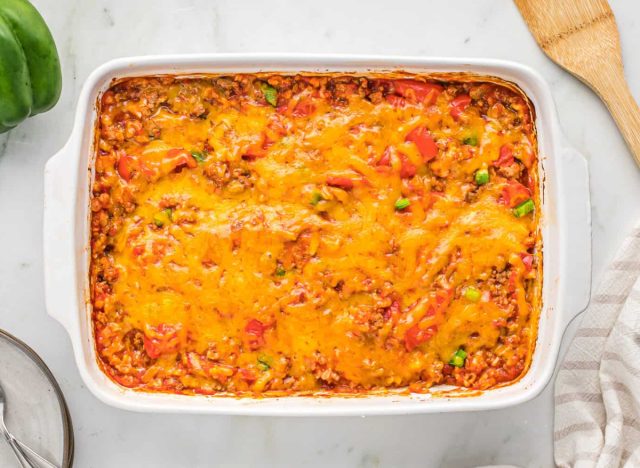 You can find bell peppers at most supermarkets year-round, but for a really standout veggie, bell peppers are best in season in the summer through the beginning of fall. Take advantage of the various colored vegetables by making this stuffed pepper casserole. Making this for dinner will also ensure that you have a meal that's low in fat and has a good amount of protein, so you'll be full without filling up on unhealthy foods.
Get the recipe for Stuffed Pepper Casserole from Rachel Cooks.
Ham and Cheese Low Carb Breakfast Casserole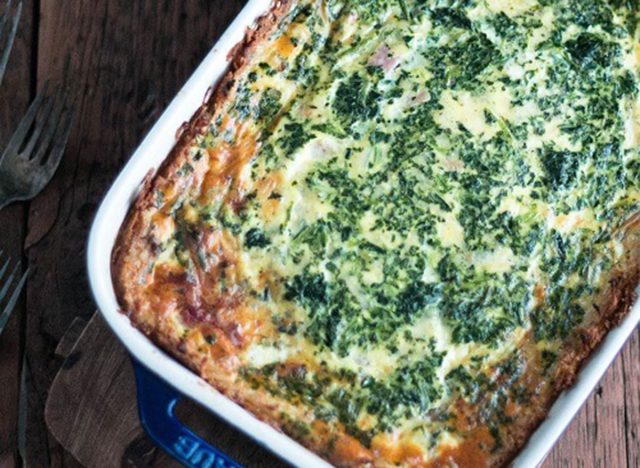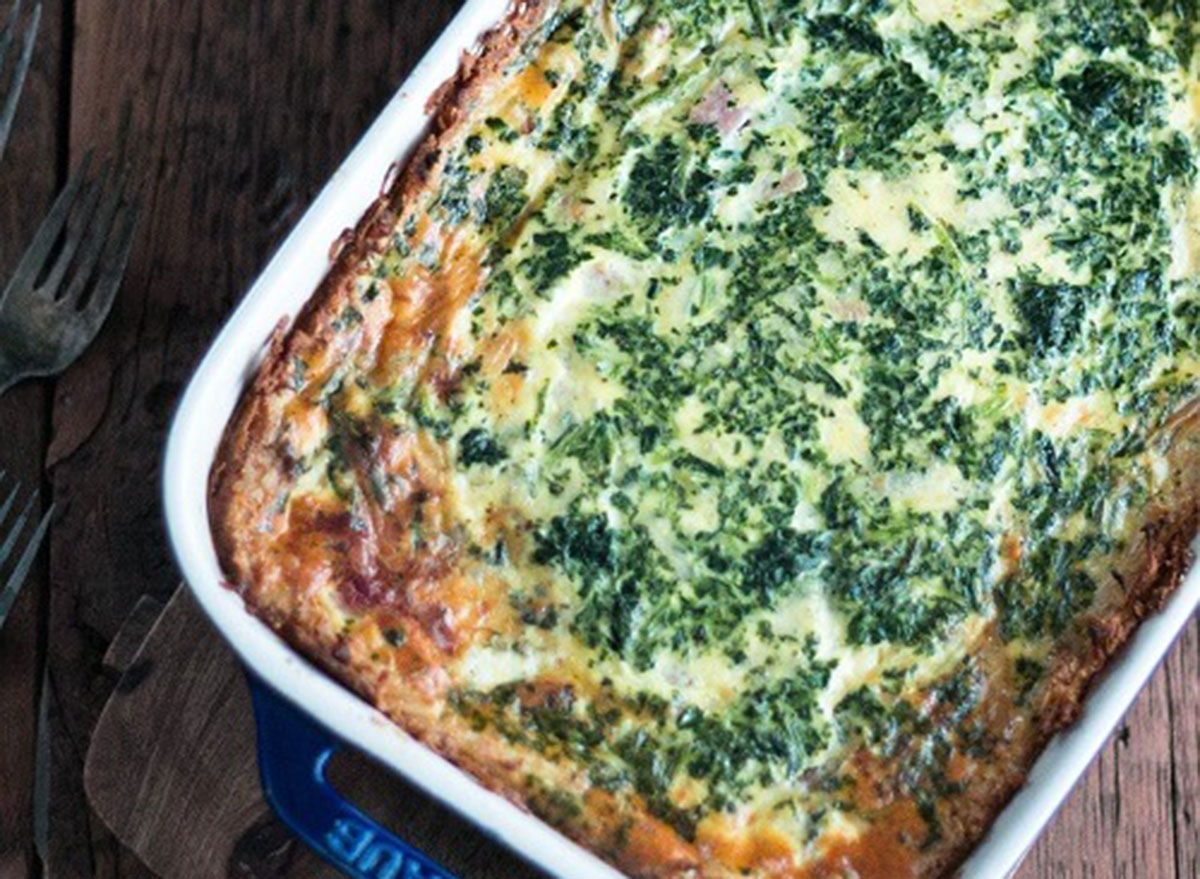 It's not too tricky to put together a breakfast casserole that's relatively low in carbs, as most consist of eggs and an assortment of veggies. This one's no different, but goes a step further with its inventive base. Instead of using a crust made of flour, or another carb-laden starch like crispy hash brown as a base, this recipe uses shredded celery root as the main component to support the dish.
Get the recipe for Ham and Cheese Low Carb Breakfast Casserole from I Breathe I'm Hungry. 
Vegan Oatmeal Breakfast Bake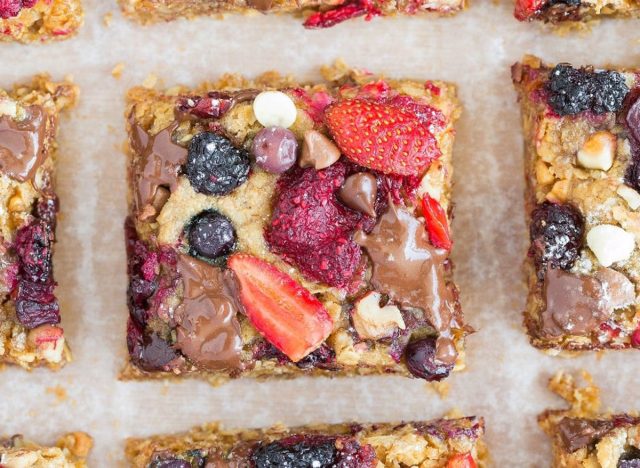 The original variation of this recipe isn't low carb, but conveniently it has a Keto modification, which is just as convenient to make and equally delicious. The modified version of the recipe is also full of fall flavors, as it uses pumpkin purée, maple syrup, and almond flour instead of the oats and bananas found in the original recipe.
Get the recipe for Vegan Oatmeal Breakfast Bake from The Big Man's World.
Whole30 Breakfast Casserole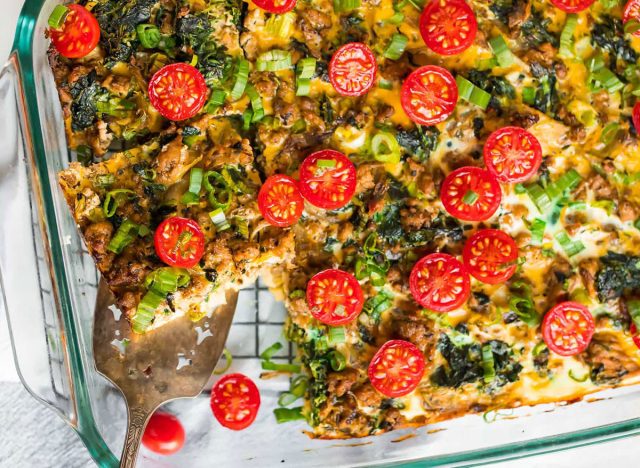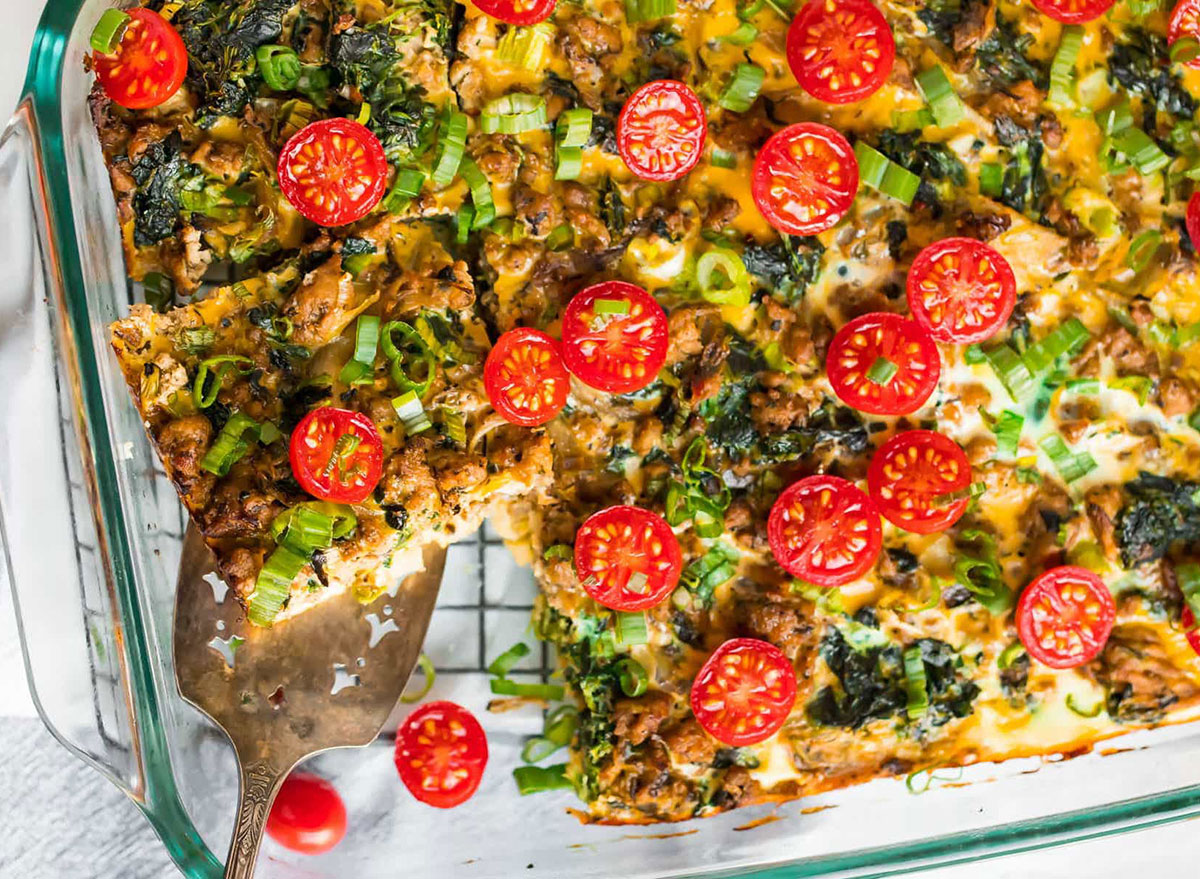 When you think of casseroles, dinner is usually the first meal that comes to mind. But casseroles can be pretty great for breakfast as well, including this low-carb one that fits in perfectly with the Whole30 diet. The casserole has everything in it that you'd need to make a delicious breakfast-eggs, sausage, hash browns, and fall-friendly veggies like spinach. The recipe is low-carb, but it's also gluten-free, dairy-free, and Paleo for anyone with additional dietary restrictions.
Get the recipe for Whole30 Breakfast Casserole from Well Plated by Erin.
Keto Monte Cristo Breakfast Casserole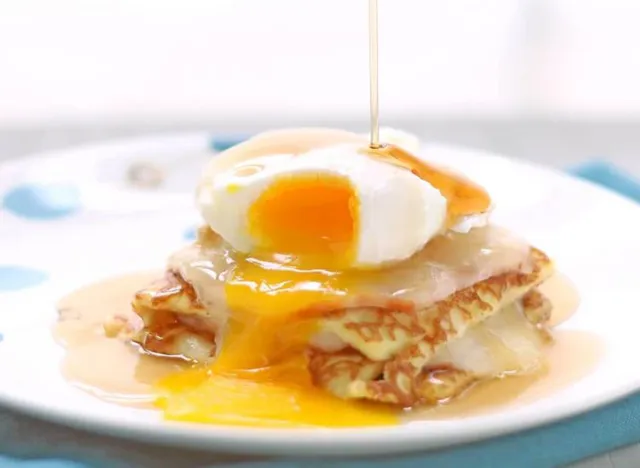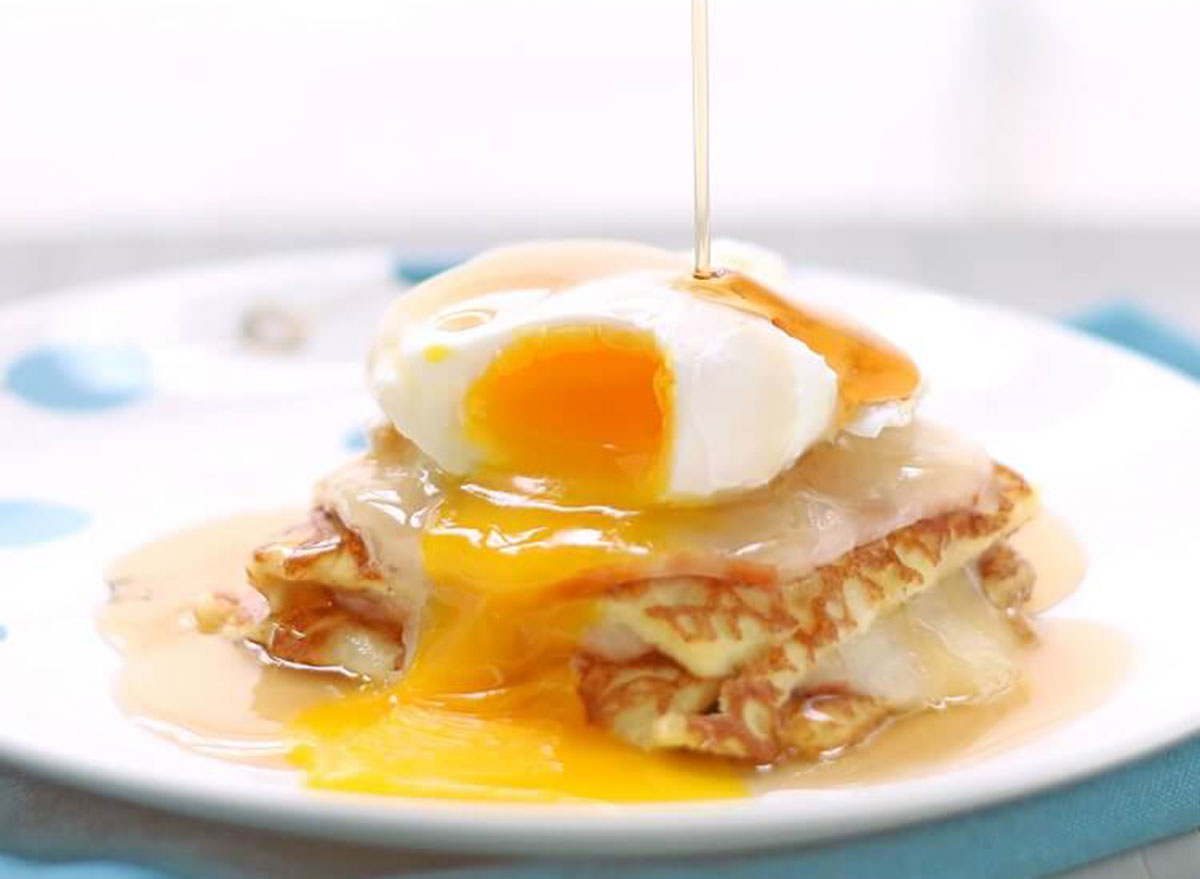 When it starts to get a little chillier in the fall, it can be nice to imagine that you're somewhere warm like Monte Cristo, in the Tyrrhenian Sea just off the coast of Italy. Maybe you can't fly there right now, but you can do the second best thing and make a Monte Cristo sandwich-inspired breakfast casserole. This one is made with cream cheese pancakes instead of the traditional carb-filled bread and contains a whopping 32 grams of protein per serving.
Get the recipe for Keto Monte Cristo Breakfast Casserole from I Breathe I'm Hungry. 
Shakshuka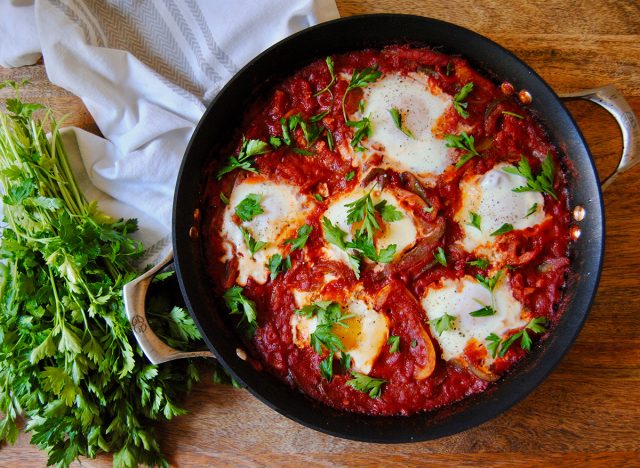 Shakshuka might not look like your traditional casserole, and that's a good thing. For anyone looking to mix up their regular meals, try out this North African dish that's packed full of protein. It's also a relatively low-carb dish, made up of eggs and meat in a garlicky tomato and pepper sauce.6254a4d1642c605c54bf1cab17d50f1e
Get our recipe for Shakshuka.
Green Chile Cauliflower Chicken Casserole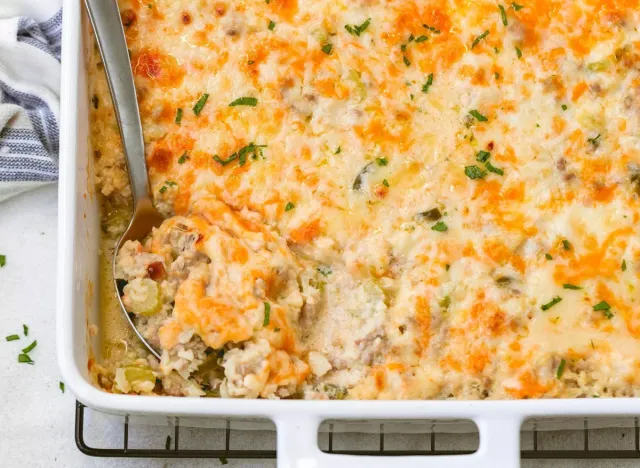 On a chilly fall day, there's no better way to heat up than with something warm to eat, and what warms a person up more than a kick of spice from some chili peppers? Conveniently, green chiles from New Mexico are typically in season through the end of October, making them a great addition to add to fall meals. They especially go well with this casserole, which also contains cauliflower and chicken. The low-carb dish is covered in a layer of creamy, cheesy sauce made up of Monterey Jack cheese and cream cheese.
Get the recipe for Green Chile Cauliflower Chicken Casserole from Eatwell 101.
Keto Cheeseburger Casserole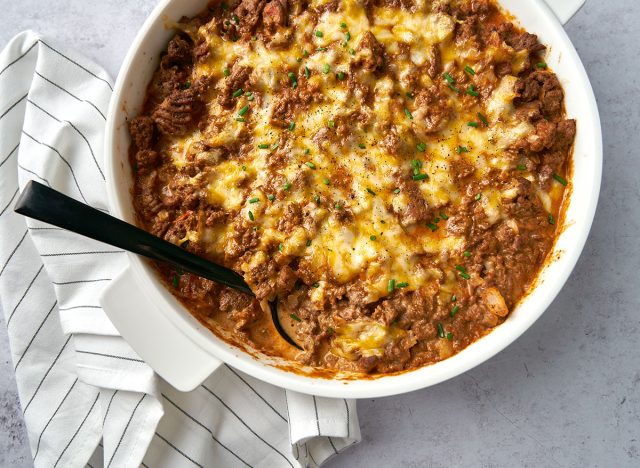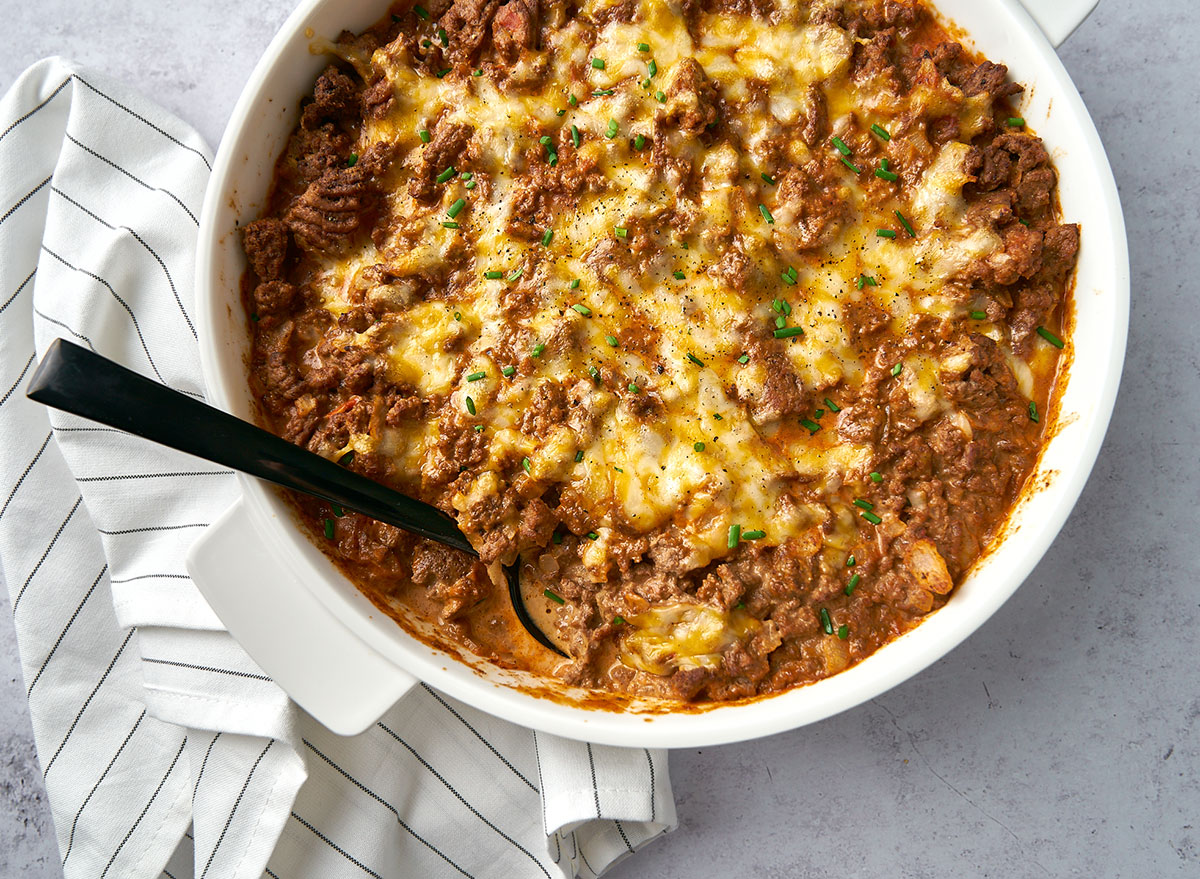 Who doesn't love a cheeseburger? They're meaty and delicious all year round, but they're not always healthy. This casserole on the other hand captures all the flavor of a cheeseburger, without all of the fat and sodium. The casserole is pure cheeseburger but also doesn't rely on anything carb-heavy like a bun or other regular casserole components, such as rice or breadcrumbs, making it low-carb and Keto-friendly.
Get our recipe for Keto Cheeseburger Casserole.
If you're wanting to lower your carb intake this fall, or are just in the mood for a meal that has more fat and protein than carbohydrates, try one of these low-carb casserole recipes. You'll be able to enjoy a decadent, warm, flavorful fall meal while also sticking to your own personal health goals. These are all great for sharing, too, so wrap one up and bring it to your next autumn gathering.