The Best Oatmeal Combinations for Faster Weight Loss, Says Nutritionist
Mix these toppings together on your oatmeal for weight loss success!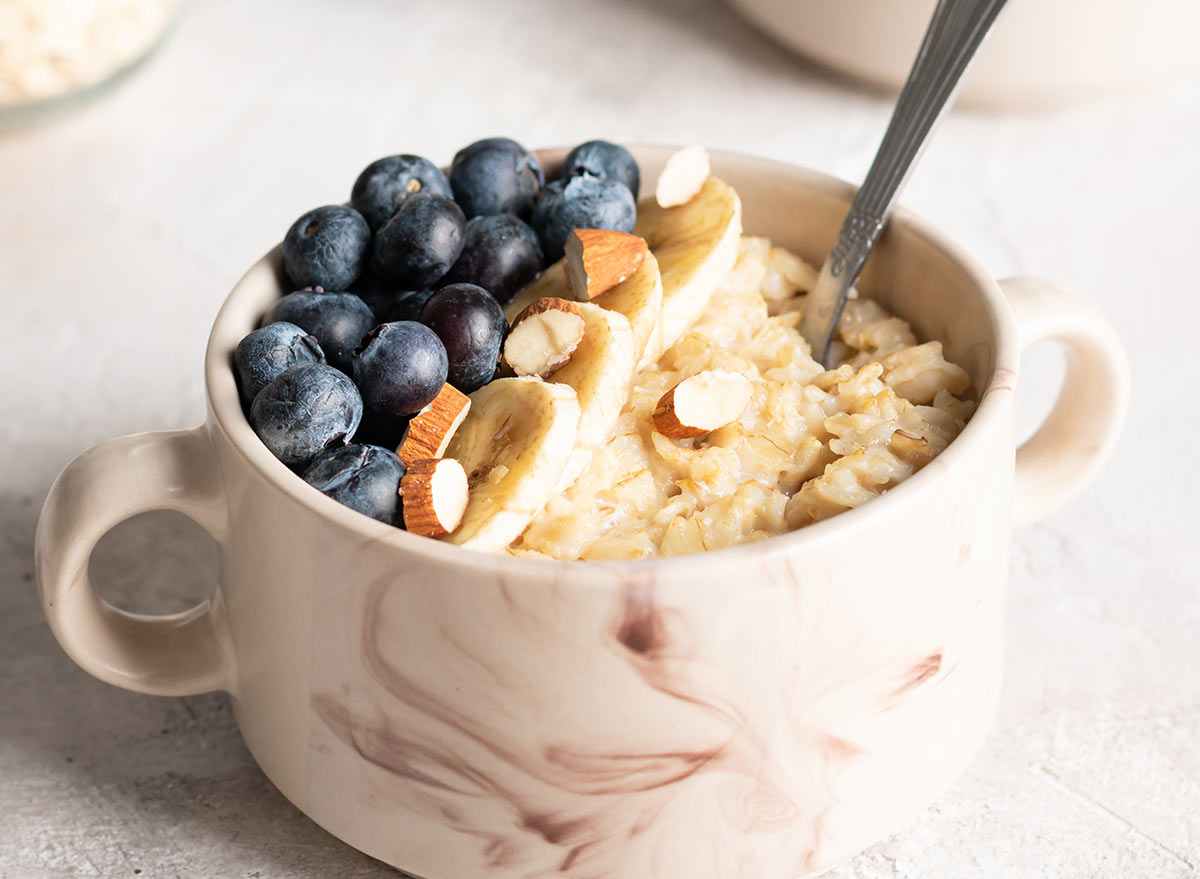 For weight loss (and general health) it's hard to name a better breakfast than oatmeal. The whole grain goodness of oats loads you up with fiber and protein, keeping you full throughout the morning. And at a mere 150 calories per half-cup, oats won't start your day on a heavy note. In fact, a 2016 study from the Journal of the American College of Nutrition found that oatmeal increased satiety and suppressed appetite better than ready-to-eat cereals.
Still, if you frequently turn to oatmeal as your weight-loss-friendly breakfast of choice, you might need some new ways to keep things interesting in your morning bowl. Fortunately, though oats all by themselves aren't known for packing much flavor, they're a perfect canvas for all sorts of compelling concoctions. Vary up your oatmeal routine with any of the intriguing flavor combos below—then check out our 21 Cozy Oatmeal Recipes Perfect for Weight Loss This Fall.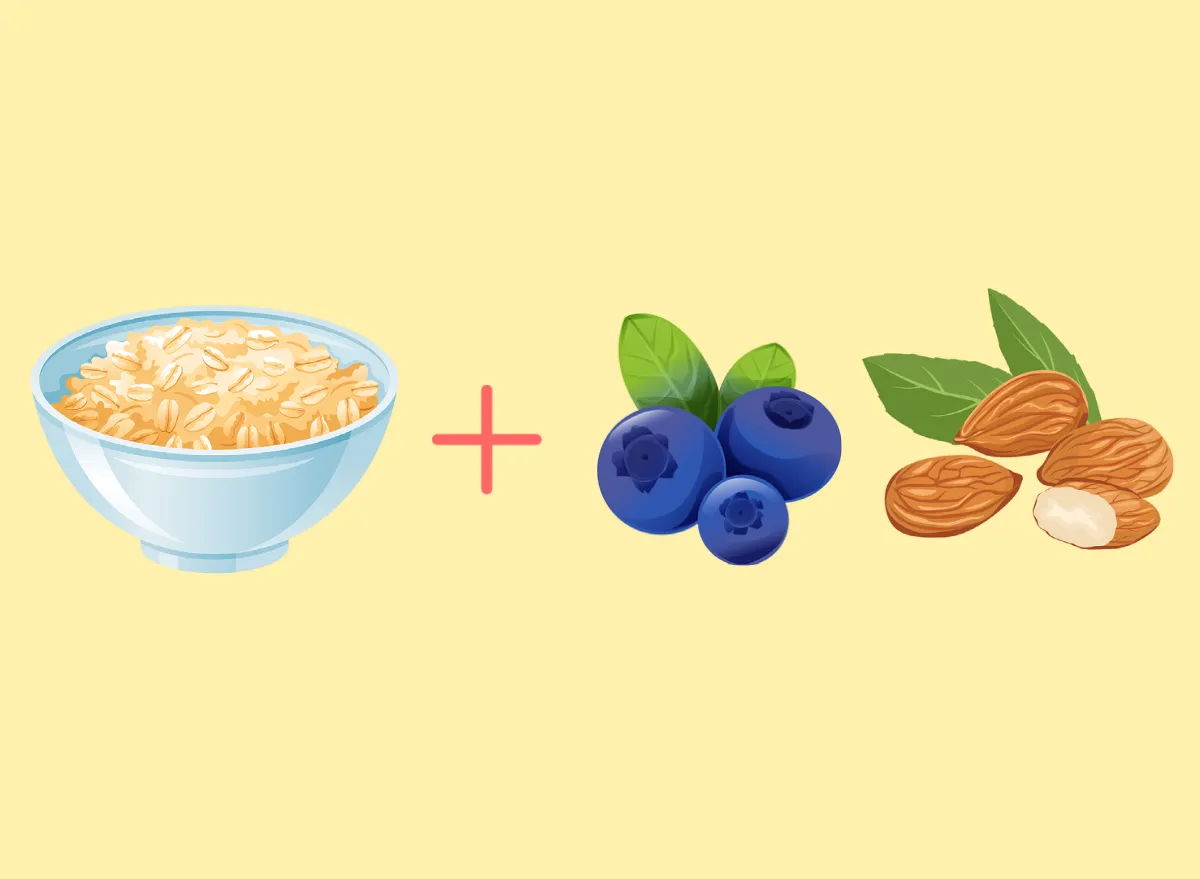 You may think calorie-dense almonds wouldn't be slimming, but studies show that people who eat nuts more frequently tend to have a lower body mass index (BMI). So go ahead and include a small handful of slivered almonds in your next oatmeal creation. Then, for sweetness, turn to fresh or frozen blueberries. Some research indicates that anthocyanins, the flavonoids that give blueberries their signature color, may have natural weight loss-promoting properties.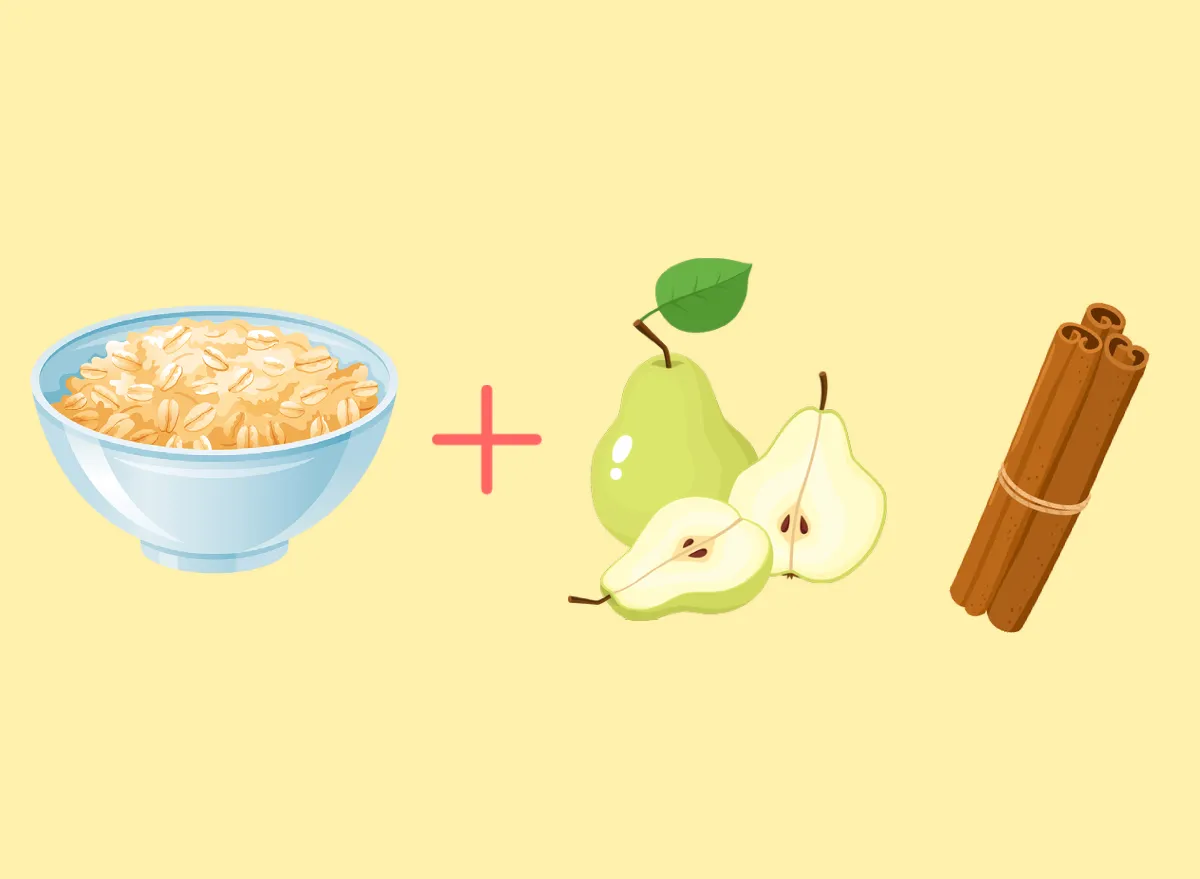 The cozy flavors of fall come through loud and clear when you combine pears and cinnamon in your oatmeal. Half a fiber-rich medium pear adds just 50 calories, and the calories in a sprinkle of earthy cinnamon are negligible, making this an especially low-cal choice. Try finely diced ripe pear in microwaveable oats, or add firmer pears to baked oatmeal.6254a4d1642c605c54bf1cab17d50f1e
Flaxseed + Banana + Peanut Butter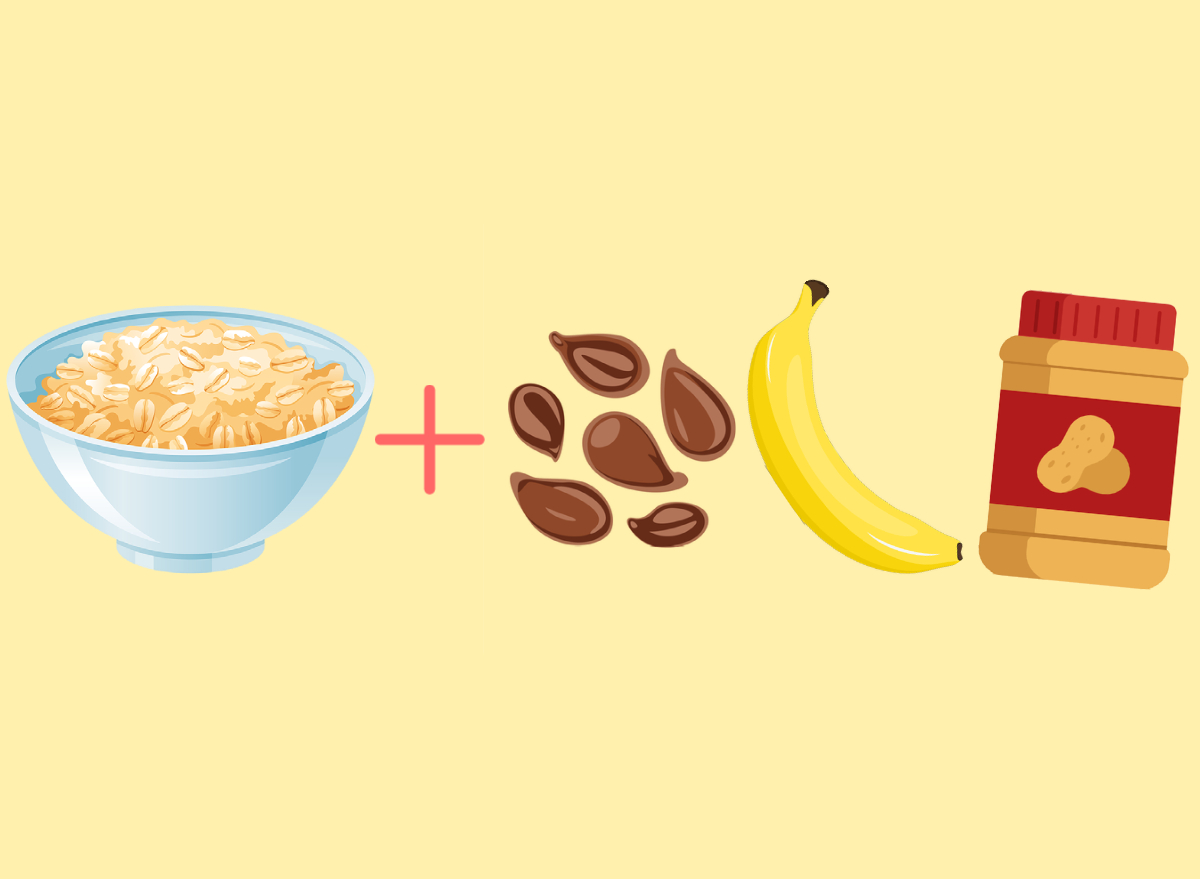 Banana and peanut butter are a classic combo for a reason. This simple food pairing isn't just delicious, it's good for weight loss, too! A tablespoon of peanut butter packs 4 grams of protein to keep a full belly, while bananas add sweetness so there's no need for honey or brown sugar here. Sprinkle in a tablespoon of flaxseed for extra texture, fiber, and heart-healthy omega-3 fatty acids.
Check out the 9 ways bananas can help you lose weight.
Pumpkin + Turmeric + Pomegranate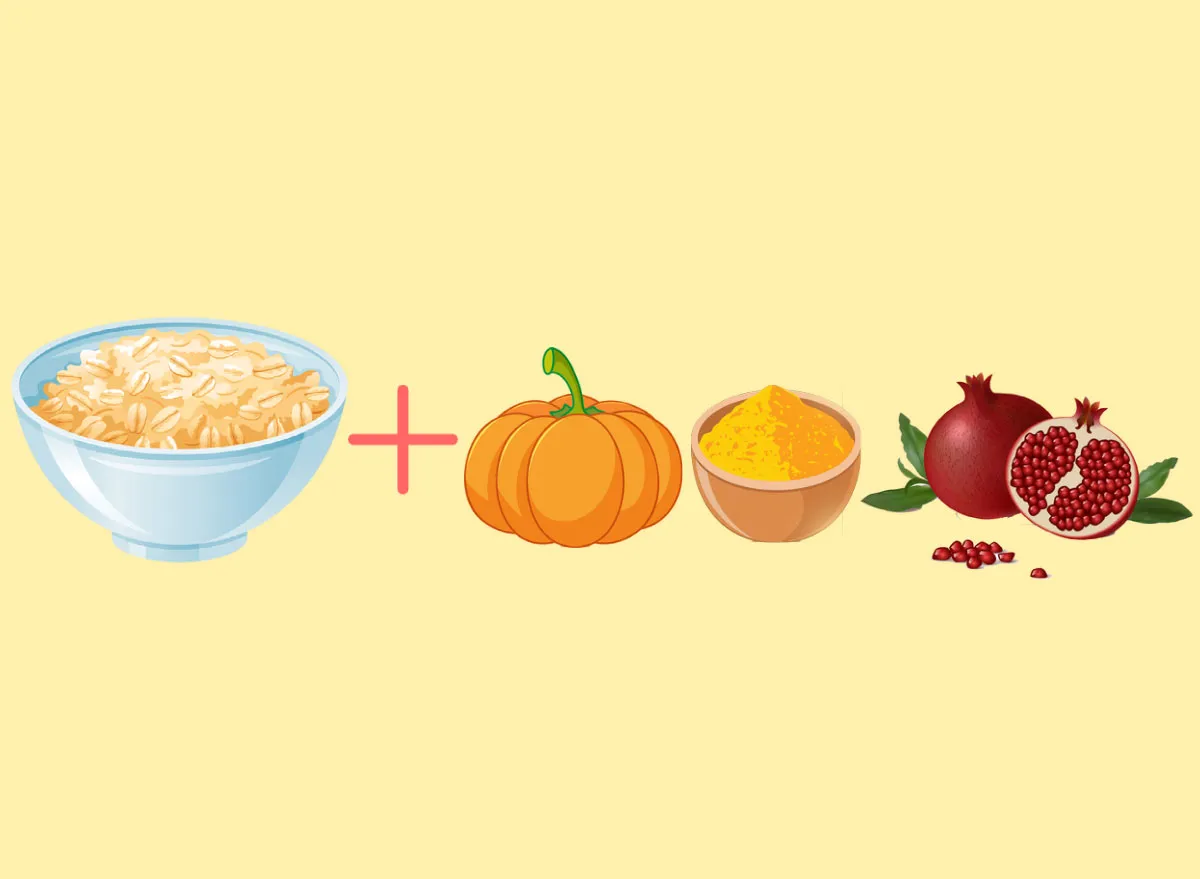 Ready to think way outside the bowl? Spice things up—literally—with a unique mélange of pumpkin puree, turmeric, and pomegranate seeds. Pumpkin provides plenty of fiber to stave off cravings and boasts important micronutrients like vitamin A, vitamin C, and potassium. Meanwhile, turmeric's antioxidant properties make it a worthwhile addition to your diet at any time. Its spicy bite pairs beautifully with the pumpkin's mild creaminess. Finish things off with jewel-toned pomegranate nibs for sweetness and crunch. A quarter-cup contains just 36 calories!
Shredded Carrots + Walnuts + Maple Syrup
Fruit is an obvious go-to as an oatmeal topping, but veggies can find their way into a tasty bowl, too. Create a carrot cake-inspired breakfast by incorporating shredded carrots, walnut pieces, and maple syrup into your next baked oatmeal. Baking will soften the carrots and walnuts so they're not overly crunchy. Between the fiber from the carrots and the protein and good fats in the nuts, it's a satiating, healthy mix that still manages to taste like dessert.
For even more oatmeal inspiration, read these next:
Sarah Garone, NDTR
Sarah Garone, NDTR, is a registered nutrition and dietetic technician, and a health, nutrition, and food writer.
Read more about Sarah