The Best Oatmeals to Lose Abdominal Fat—Ranked!
It's weight loss friendly, healthy, and can be made sweet or savory.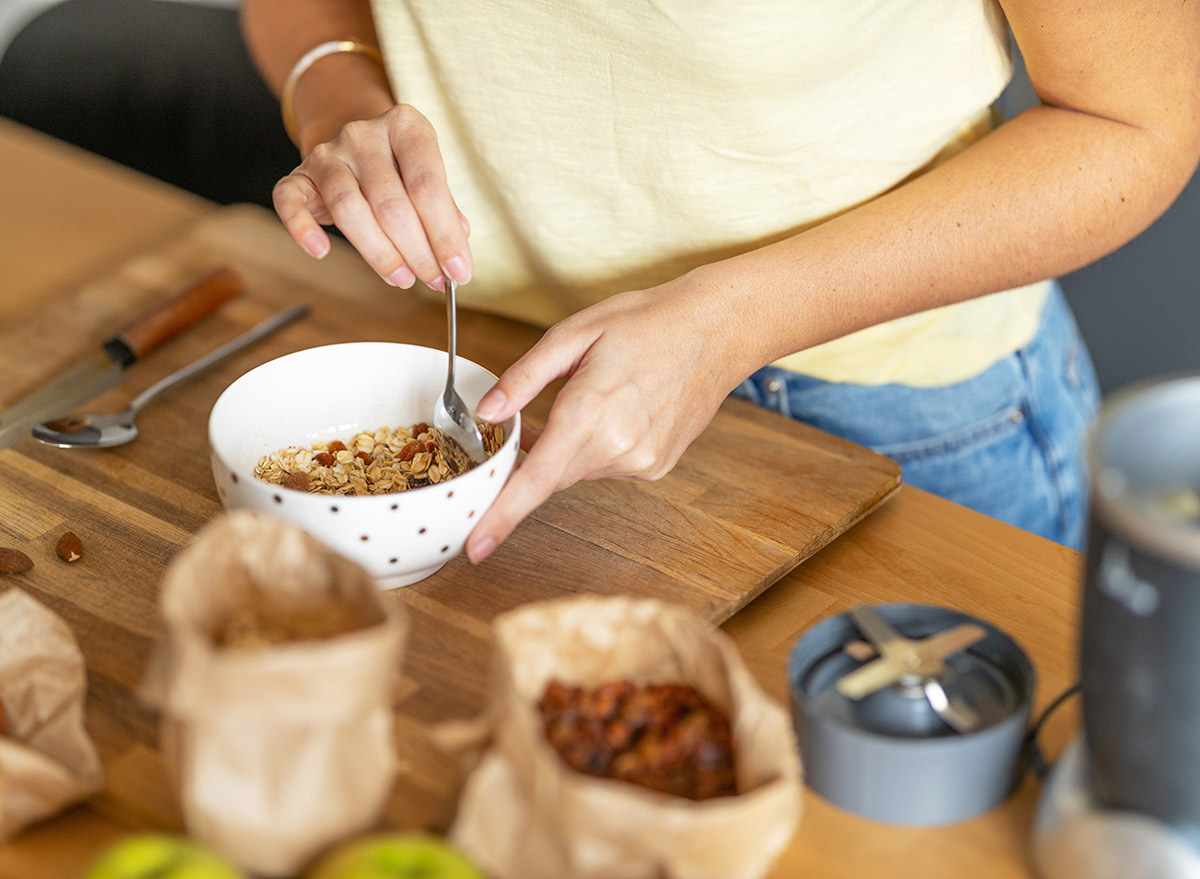 Oatmeal is a timeless breakfast food, isn't it? The baked oatmeal trend has taken TikTok by storm. The boomers' generation loves a hot bowl of classic oatmeal. Millennials are making overnight oats to take to work in the mornings.
Oatmeal has been shown to lower cholesterol levels, regulate blood sugar, and keep you full for longer when compared to breakfast options like cereal or pastries. However, oatmeal becomes less healthy when we load it with added sugars and creamers and forget to balance all those carbs with some protein and fat.
The options on the market for oats typically come based on how long it takes to cook them: quick oats, rolled oats, and steel-cut are the three main categories. While these options are certainly healthy, they require some prep to turn them into a meal.
These six popular brands of oatmeal provide a fat loss-friendly breakfast that you'll continue to feel excited about!
Kodiak Cakes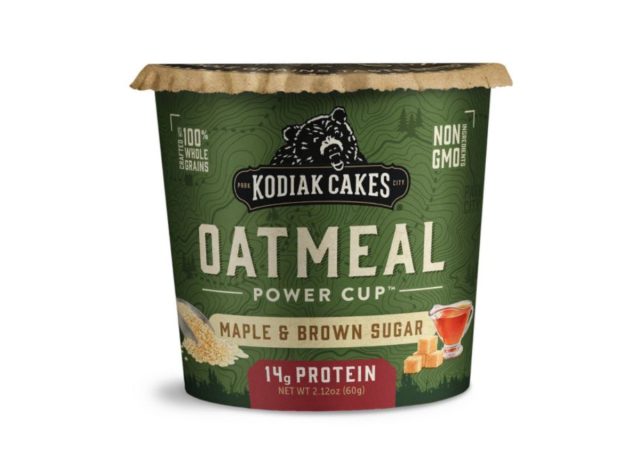 Per container
: 230 calories, 3 g fat (0.5 g saturated fat), 200 mg sodium, 37 g carbs (4 g fiber, 12 g sugar), 14 g protein
These little cups package a perfectly balanced breakfast into just 230 calories. This brand is balanced with 4 grams of fiber and 14 grams of protein per serving. You'll be hard-pressed to find a higher protein option at the grocery store!
Purely Elizabeth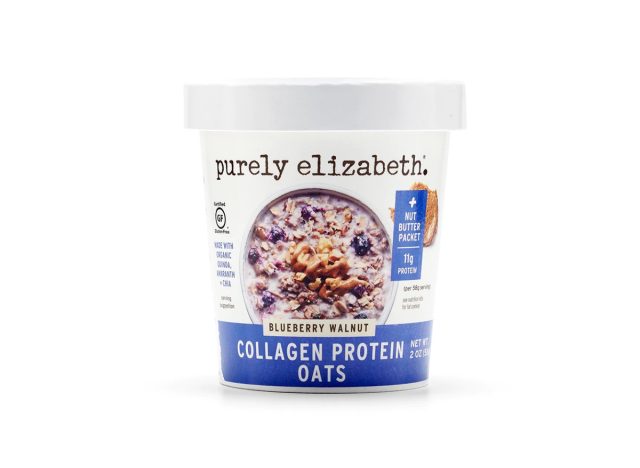 Per cup
: 260 calories, 12 g fat (1.5 g saturated fat), 120 mg sodium, 29 g carbs (4 g fiber, 5 g sugar), 11 g protein
This superfood company creates balanced breakfast options from granolas to oatmeal. Their Blueberry Walnut flavor is lightly sweetened and super savory. We love that they add collagen to boost the protein content and keep you feeling full between meals! With 10 grams of protein and 4 grams of fiber per serving, this option is a close runner-up!
Brave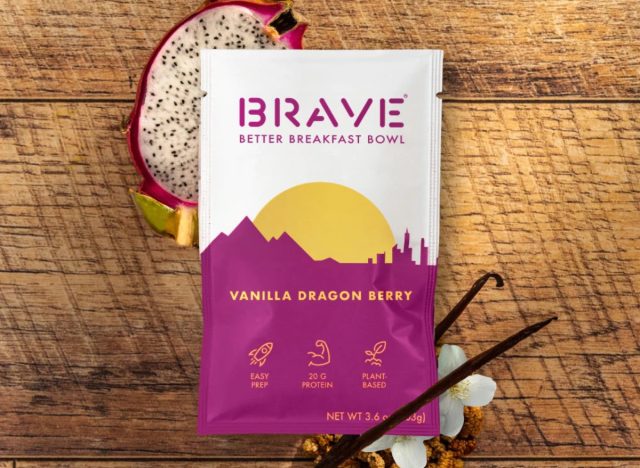 Per pack
: 460 calories, 26 g fat (6 g saturated fat), 340 mg sodium, 51 g carbs (14 g fiber, 12 g sugar), 20 g protein
Their newest flavor Vanilla Dragon Berry feels exotic with its vibrant pink color. These oatmeals do well as overnight oats. Conveniently, make it the night before, and let it sit in the fridge so that it's ready to go when you are.
These options are higher in calories than most, but that's not always a bad thing. These packets come balanced as a complete meal with 20 grams of protein, healthy fats, and high-fiber carbohydrates that deliver a whopping 14 grams of fiber.
Depending on your goals, a more calorie-dense breakfast could be just what the doctor ordered to keep you feeling full and satisfied throughout the day to meet your weight loss goals!
Yishi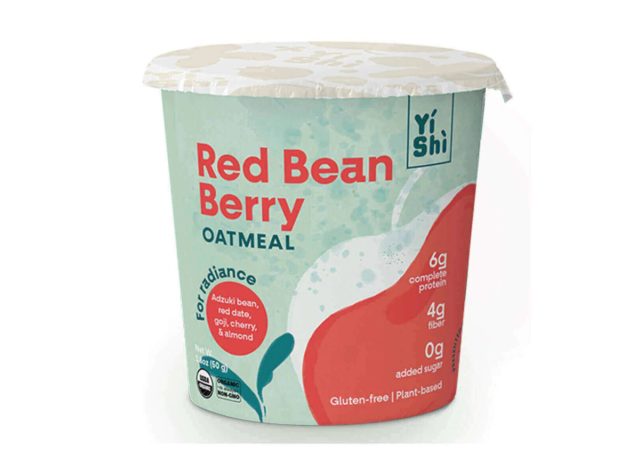 Per container
: 190 calories, 6 g fat (0.61 g saturated fat), 5 mg sodium, 34 g carbs (4 g fiber, 7 g sugar), 6 g protein
You might need a moment to wrap your mind around this Asian-inspired oatmeal brand. Even though your taste buds might need a moment to adjust, we think you'll come to love these creative flavor profiles.
Red Bean Berry flavor is our top pick with notes of dates, cherries, and Goji berries. It regularly sells out, so get it while you can! With 4 grams of fiber and 6 grams of complete protein, we like the balance at just 190 calories here.
Quaker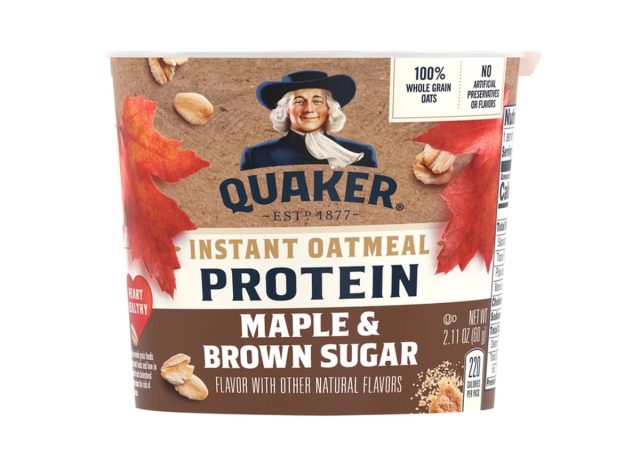 Per container
: 220 calories, 3 g fat (0.5 g saturated fat), 270 mg sodium, 41 g carbs (4 g fiber, 13 g sugar), 10 g protein
An oatmeal list wouldn't be complete without Quaker! Their rolled oats are a classic, but they now make oatmeal in microwaveable cups. We recommend seeking out their high-protein line for an added nutrition boost of 10 grams of protein per serving. They serve up many of their classic favorites like Maple Brown Sugar with a boost of protein and a quick, microwavable packaging.6254a4d1642c605c54bf1cab17d50f1e
Bob's Red Mill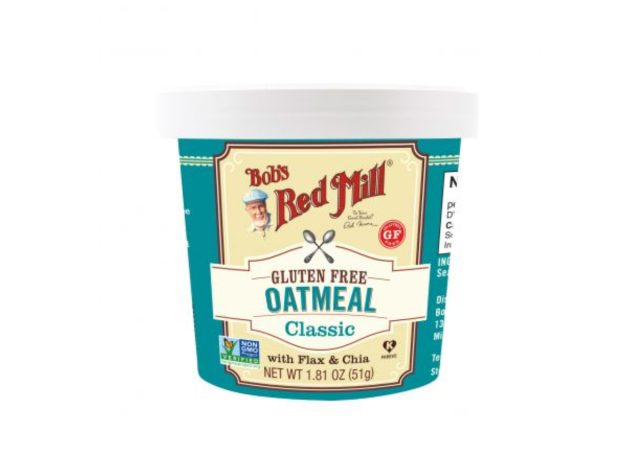 Per container
: 210 calories, 5 g fat (1 g saturated fat), 160 mg sodium, 33 g carbs (7 g fiber, 1 g sugar), 7 g protein
For those that prefer classic, unsweetened oatmeal, this option is for you. Bob's Red Mill mixes their oats with chia and flax—giving them a fiber boost with 7 grams per cup! With 210 calories total per serving, that's tough to beat! We recommend pairing this to-go cup and pairing with an extra protein option to keep you full even longer.
Caroline Thomason, RDN
Caroline is a women's health Registered Dietitian and diabetes educator based in Northern Virginia.
Read more about Caroline