9 Best & Worst Pancake Mixes To Buy, According to Dietitians
Pancakes and weekends go together like peanut butter and jelly. How does your short stack stack up?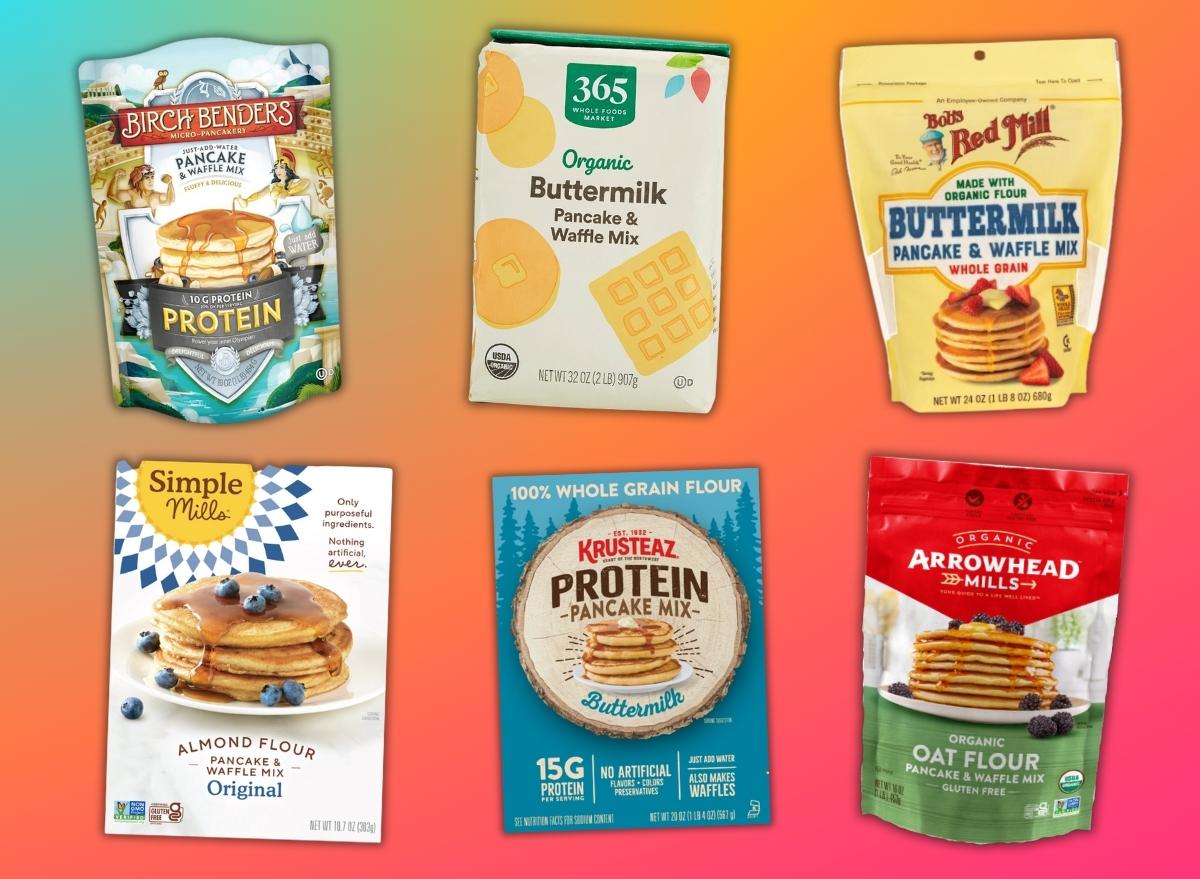 This post contains affiliate links. If you use these links to buy something, we may earn a commission.
If you have especially fond childhood memories of waking up to the intoxicating scent of freshly flipped flapjacks, we don't blame you for trying to recreate that bliss as an adult. These days, there are so many healthy pancake mixes out there that are not only full of important nutrients and low in sugar but also nostalgically delicious—even by 8-year-old-you standards. That means you can leave those nutrient-void mixes in the past.
So how do you pick a base that'll make for healthy pancakes? The key to choosing a better-for-you mix lies in reading the label, from the ingredient list to the nutrition facts panel.
"Ingredients that make a good pancake are simple and straightforward," says Katia Mashni, RD, a registered dietitian with Top Nutrition Coaching. So when you're shopping for a healthy pancake mix, start by looking for a short list of ingredients you're familiar with. "The main ingredients [in pancake mix] include whole wheat, oat, or almond flour; and some mixes might have dried eggs, milk, baking powder or baking soda, sugar, and salt," Mashni says.
How to choose the best pancake mix
Ingredients are just the tip of the iceberg. Here, Mashni helps us sift the nutritious from the not-so-great-for-you pancake mixes at the grocery store:
Limit added sugars to less than 8 grams per serving. Here's why: "Most people enjoy maple syrup, honey, jam, or fruit with their pancakes, so it would be best to reduce the amount of added sugar from the pancake mix to be able to have a more balanced meal with the toppings of our choice, like fruit and honey," Mashni says. "Starting our day with a high-sugar meal can cause blood sugar spikes that will leave you feeling tired or sluggish 1 to 2 hours after breakfast."
Limit saturated fats to less than 8 to 10% of the daily value per serving. The American Heart Association and Dietary Guidelines for Americans 2020-2025 recommend limiting saturated fats to less than 10% of total calories for the day. Mashni says it's better to limit saturated fats from packaged products and instead get those fats from healthier sources that provide more nutrients, such as olive oil, grass-fed butter, or peanut and almond butter.
Avoid pancake mixes with hydrogenated oils. "Trans fats and hydrogenated vegetable oils like hydrogenated cottonseed oil, hydrogenated soybean oil, and palm oil have been linked with adverse effects on our health, like inflammation, impaired blood lipid levels, and adverse effects on heart health," Mashni says,
Try to avoid artificial additives, such as dyes. Food additives are added to packaged products to enhance flavor, texture, and shelf-life. They're safe in small amounts, but the jury is still out on how these ingredients affect our long-term health with continued consumption. For example, "food dyes like Red 40 and Yellow 5 and 6 have been linked in some studies to hyperactivity, including ADHD," Mashni says. "Some children seem to be more sensitive to food dyes than others. And some studies have shown food dyes may affect health if consumed in large amounts or regularly." That's why Mashni suggests avoiding food dyes when possible for a healthier approach overall.
Now that you know how to choose the perfect pancake mix, here are the best and worst options at the grocery store. And if you're feeling creative enough to make them from scratch, try these 19+ Best Healthy Pancake Recipes for Weight Loss.
The 6 Best Pancake Mixes
Birch Benders Protein Pancake and Waffle Mix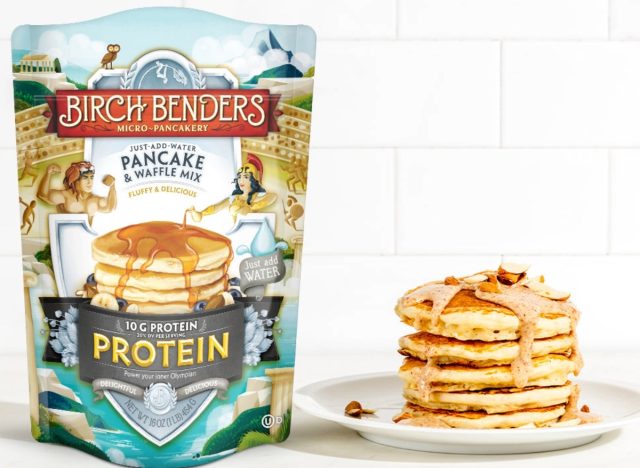 130 calories, 1.5 g fat (0.5 g saturated fat), 190 mg sodium, 18 g carbs (0 g fiber, 4 g sugar), 10 g protein
Birch Benders offers two protein pancake mixes: One that's whey-based and another that's plant-based — and Mashni gives both her seal of approval. The mix made with whey protein concentrate is high in protein and low in sugar and saturated fat. One serving has 10 grams of satiating protein and only 4 grams of added sugar, and provides just 3% of your saturated fat Daily Value (DV) coming mainly from eggs, Mashni says.
She also likes that this mix contains 10% DV of calcium, a vital bone-supporting mineral. But because this just-add-water mix doesn't contain any fiber, try stirring in some chia or flax seeds into the batter for added gut-health benefits.
Bob's Red Mill Buttermilk Pancake Mix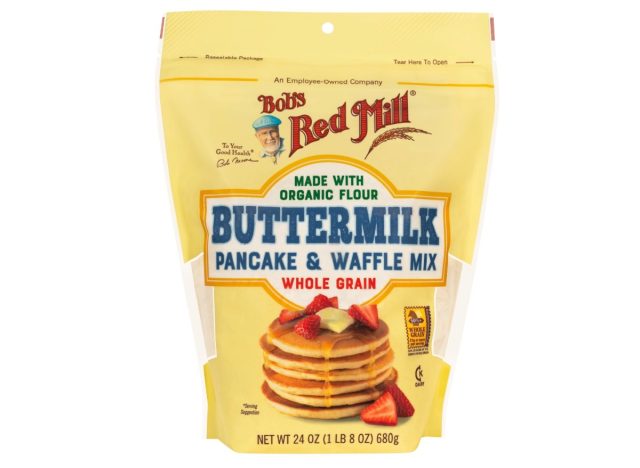 140 calories, 1 g fat (0 g saturated fat), 320 mg sodium, 27 g carbs (5 g fiber, 4 g sugar), 7 g protein
Mashni loves that Bob's Red Mills Buttermilk Pancake Mix is made with organic whole-wheat flour, which lends each serving an impressive 5 grams of fiber and 7 grams of protein — a nutrient duo that'll keep you full for longer. Pour some batter into a waffle iron to switch things up, and top it all off with peanut butter or almond butter. "Nut butters are an excellent addition to homemade pancakes as they are a good source of plant-based fats and protein (7 to 8 grams) per serving, which will help in having a more balanced meal and avoid blood sugar spikes," Mashni says.
Arrowhead Mills Organic Oat Flour Mix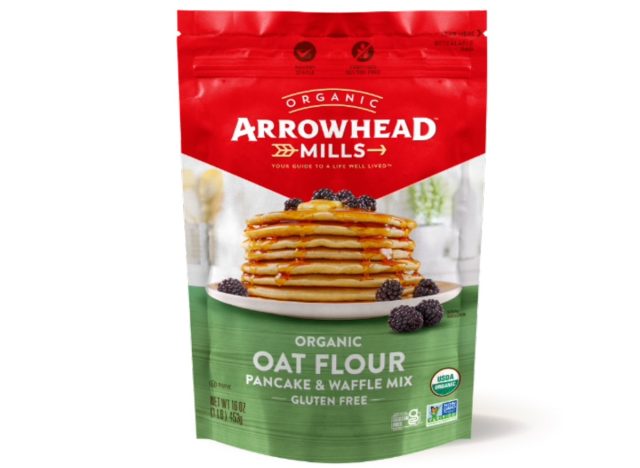 130 calories, 2 g fat (0 g saturated fat), 280 mg sodium, 25 g carbs (3 g fiber, 1 g sugar), 4 g protein
Arrowhead Mills' pancake mix comes recommended by Mashni because it has very few ingredients and is free of saturated fat. Plus, this mix is made with organic oat flour and tapioca flour, two naturally gluten-free alternatives to traditional wheat flour, deeming this pick perfect for people with celiac disease or gluten sensitivity.
While many gluten-free products are usually low in fiber, this pancake mix provides a respectable 3 grams of fiber per serving to help you stay full throughout your morning. To add even more filling protein and fiber, slather a tablespoon of peanut butter over your stack. "Peanut butter is a good source of niacin (which helps produce energy) and phosphorus (which plays a role in building healthy cells and producing energy in cells)," Mashni says.
Simple Mills Pancake and Waffle Mix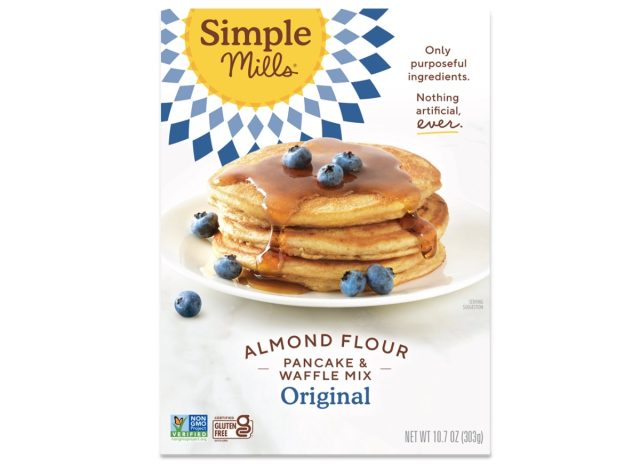 170 calories, 8 g fat (0.5 g saturated fat), 240 mg sodium, 22 g carbs (2 g fiber, 5 g sugar), 4 g protein
Simple Mills' products prioritize alternative flours, and this grain-free pancake mix is made with nutrient-dense almond flour. And you'll get 5 grams of sugar from coconut sugar and a half gram of saturated fat (or just 3% of your DV), plus 4 grams of protein per serving. This mix calls for using eggs and either water or milk, but if you want to add more satiating power to your pancakes, opt for high-protein milk, such as dairy milk, soy milk, or pea milk. Also good to know: This pick is A-OK for people with a gluten allergy or intolerance and those on a paleo-style diet.
Whole Foods 365 Buttermilk Pancake Mix 
140 calories, 0.5 g fat (0 g saturated fat), 280 mg sodium, 29 g carbs (<1 g fiber, 2 g sugar), 4 g protein
Super low in added sugar and free from saturated fats, Mashni gives Whole Foods' buttermilk pancake mix the green light because it's crafted with organic wheat flour and organic buttermilk powder and has very few simple ingredients. While this mix makes for delicious flapjacks, it's also great for frying chicken thanks to the added buttermilk. But if you're sticking to using this mix to make pancakes for breakfast, consider adding chopped pecans or walnuts, and bananas, or mix in a scoop of your favorite protein powder, to add some filling nutrients.
Krusteaz Protein Pancake Mix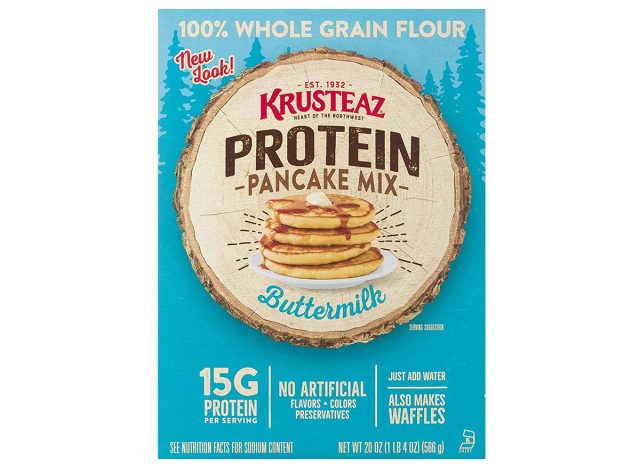 220 calories, 1 g fat (0 g saturated fat), 600 mg sodium, 36 g carbs (4 g fiber, 8 g sugar), 15 g protein
With 15 grams of protein per serving, this mix won't leave your stomach grumbling an hour after sitting down to breakfast. While at first glance, the calorie and sodium content may seem a bit high, the serving size for this mix is large: Krusteaz' serving calls for half a cup of mix whereas other mixes usually state a ⅓-cup serving. It's made with wheat flour, wheat protein isolate, and buttermilk, among a few other simple components—and zero artificial ingredients.
To add some healthy fats to the mix, consider layering your stack with a bit of almond butter. "Almond butter is a very good source of Vitamin E, a powerful antioxidant that plays a role in reducing inflammation and improving heart health," Mashni says.
The 3 Worst Pancake Mixes
Mrs. Butterworth's Epic Fruity Pebbles Pancake Mix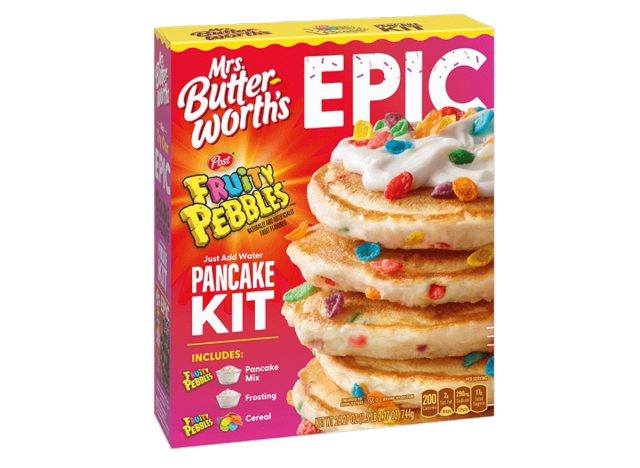 200 calories, 4 g fat (2 g saturated fat), 290 mg sodium, 37 g carbs (<1 g fiber, 17 g sugar), 3 g protein
While Mr. Flintstone may be all over this, Mashni recommends steering clear of this fruity pancake mix because it contains 10% of your DV for saturated fats and 17 grams of sugars, which are two nutrients that aren't stellar for your heart health in high amounts. What's more, this mix has a "very long list of ingredients, including bleached wheat flour, palm oil, canola oil, soybean oil, corn syrups, natural and artificial flavors, and food dyes, including Yellow 5, Red 3, Red 40, and Blue 1," Mashni says.
Instead, start your day (or end your night) with one of the healthier pancake mixes on our list — and if you've got a hankering for that sweet, fruity flavor, try adding fresh or dried (no-added-sugar) fruit into your batter to crush that craving.
Betty Crocker Lucky Charms Pancake Mix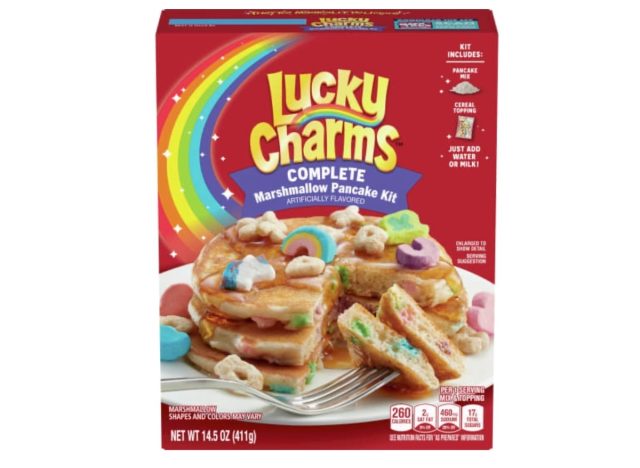 260 calories, 3.5 g fat (2 g saturated fat), 460 mg sodium, 52 g carbs (2 g fiber, 17 g sugar), 6 g protein
Just like you left every piece of cereal but the marshmallows in the dust as a kid, you'll want to skip this Lucky Charms pancake mix as an adult as well. Mashni isn't a fan of this mix because it contains 9% of your DV for saturated fat as well as 16 grams of added sugar, which is high compared to other healthier brands.6254a4d1642c605c54bf1cab17d50f1e
Most of the saturated fat content in this pick comes from palm oil, which is a less preferred choice compared to olive oil or avocado oil, Mashni says, adding that this mix has a long list of ingredients that includes artificial flavors and dyes, such as red 40, yellow 5, blue one, and others.
Mrs. Butterworth's Epic Double Chocolate Pancake Kit
190 calories, 3.5 g fat (2 g saturated fat), 320 mg sodium, 35 g carbs (2 g fiber, 15 g sugar), 4 g protein
While a pancake mix kit sounds like the perfect weekend morning activity, you're better off skipping this double chocolate kit and making your own DIY pancake bar with a healthier mix at home. This mix from Mrs. Butterworth's contains about 10% of your DV from saturated fats and is high in added sugar. It also contains a handful of artificial dyes and saturated fat-rich palm oil.
April Benshosan
April is a born-and-raised Brooklynite who has a passion for all things health, wellness, and tastebud-related.
Read more about April