The Best 6 Recipes To Make If You're Pre-Diabetic, Says Dietitian
Try these simple recipes for a healthy, pre-diabetic diet.
If you've just been told you are pre-diabetic, you may be feeling a lot of different emotions and confusion on how to move forward. This can be especially true when it comes to your diet and choosing the best foods for your diagnosis.
To help in your journey, we talked with Trista Best, MPH, RD, LD at Balance One Supplements to get some healthy, easy-to-make recipes to try if you're pre-diabetic.
"Living a balanced life with pre-diabetes doesn't have to be overwhelming," says Best. "By making a few intentional changes to your diet, you can begin to reverse your diagnosis by lowering your glucose and A1c."
Best also suggests keeping a few key notes in mind when you're choosing the food you want to eat. She says, "focus on carbs with a low glycemic index, eat fiber-rich foods, reduce sugary beverages, and choose lean meats or plant-based protein."
Here are some recipes Best recommends for pre-diabetes, and for even more healthy meal ideas, check out our list of 100 Easiest Recipes You Can Make.
Crock-Pot Vegetarian Chili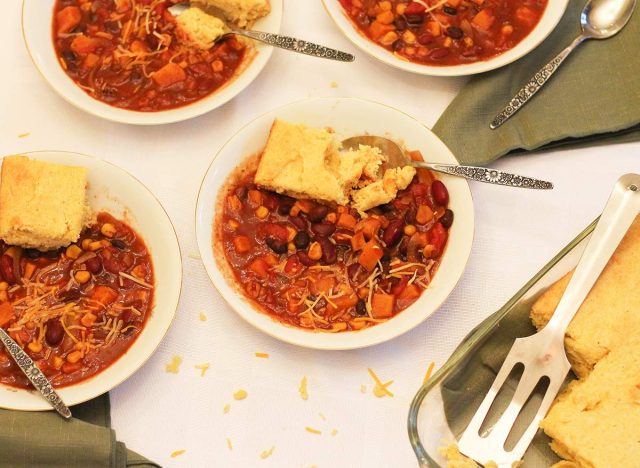 "Because soups are relatively easy to make with little preparation, especially if you're using a Crock-Pot, this soup should be a staple," says Best. "It is vegetarian, which means you are taking in a plant protein rather than high saturated fat meat, it is full of high fiber foods, and quite low in the glycemic index overall."
Get our recipe for Crock-Pot Chili.
Instant Pot Tilapia with Vegetables
"Lean protein is ideal for anyone with a pre-diabetes diagnosis, so adding fresh, steamed, or grilled vegetables on the side provides fiber without excess carbohydrates," says Best. "The carbs in this meal are working for the individual, not against them."
Get our recipe for Instant Pot Tilapia.
Warm Kale-Quinoa Salad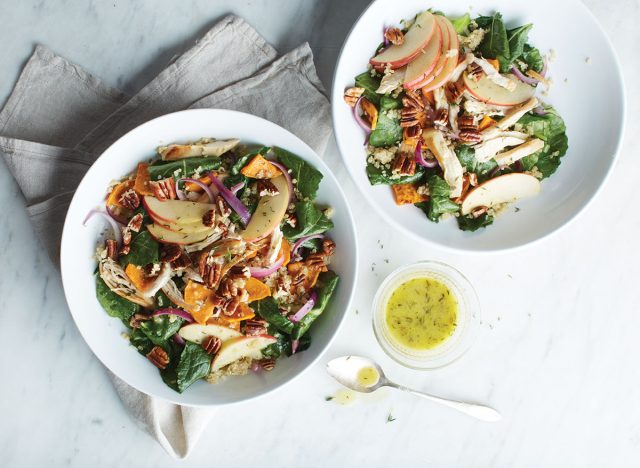 "An entree salad is a great way to pack in a ton of nutrients without a lot of calories," says Best. "Adding quinoa to the top allows the individual to take in a whole grain and a plant-based protein at the same time. This meal will help keep the newly diagnosed person feeling full and satisfied and not craving excess sugar or refined carbs."
Get our recipe for Kale-Quinoa Salad6254a4d1642c605c54bf1cab17d50f1e
Vegetarian Black Bean Omelet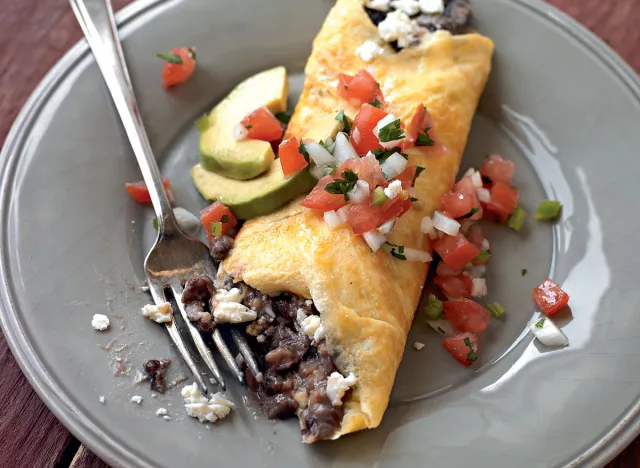 "Omelets aren't reserved for just breakfast, but make a great meal any time of the day," says Best. "Packing in vegetables, low-fat cheese, and dense protein from the eggs will help reduce the carbs in a typically carb-heavy meal."
Get our recipe for Black Bean Omelet.
Vegetable Quinoa Soup
"Soups are convenient for just about everyone, but some are loaded with saturated fat and unnecessary carbs," says Best. "A vegetable soup made with vegetable stock, a wide variety of veggies, and legumes for plant protein is a great meal for the newly pre-diabetic individual."
Get our recipe for Vegetable Quinoa Soup.
Stuffed Bell Peppers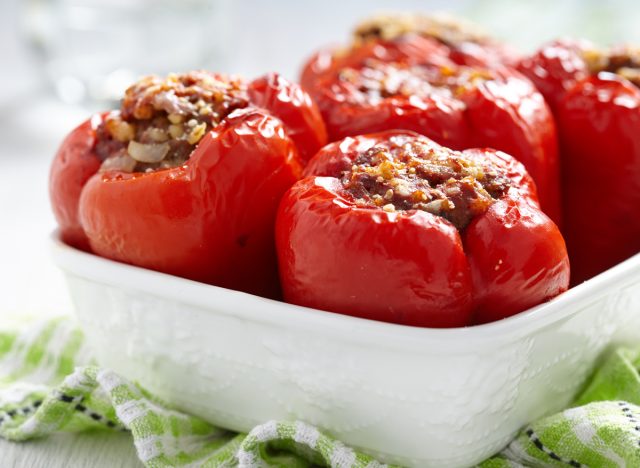 "This meal replaces the carbs in a traditional taco or burrito with a nutrient-rich vegetable," says Best. "Stuffed bell peppers can be seasoned as any taco and topped with a light amount of cheese and salsa. To lower the saturated fat you can opt to use ground turkey or tofu."
Get some recipe inspiration for Stuffed Bell Peppers.
For more tips on managing diabetes, read these next: