6 Best Canned Tunas on the Market, and 4 to Stay Away From
Between the tuna species, mercury levels, and sustainable fishing practices, there's a lot that separates the pack.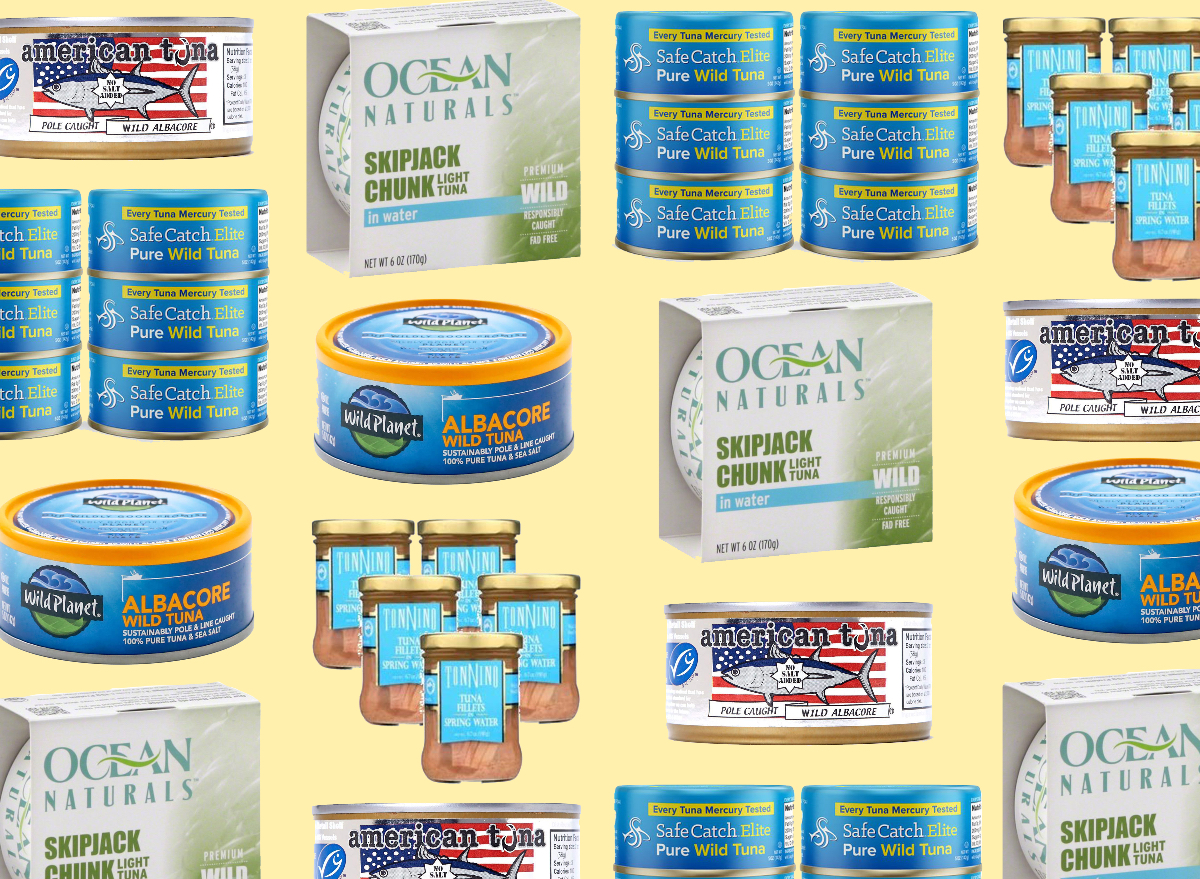 This post contains affiliate links. If you use these links to buy something, we may earn a commission.
Canned or jarred tuna is a convenient pantry protein relied on for a quick lunch or dinner. However, there's a huge range in product quality on the market. Between sustainability, nutrition, and health, there's a lot to consider before stocking up on tuna.
Resources like the Monterey Bay Aquarium Seafood Watch Site or Greenpeace's canned tuna report, which ranks 20 well known brands for their sustainability, as well as ethical and fair trade practices, are good places to start making more informed choices with canned fish.
There are a few main commercial species of tuna used in canning: albacore tuna is often sold as 'white tuna meat' and often caught in the Pacific (although it can be caught in the Atlantic). Skipjack tuna is sold as 'light' tuna. Most of the Pacific skipjack tuna comes from the western and central Pacific ocean. Yellowfin tuna can be canned as light tuna and mixed with skipjack.
What's incredibly frustrating is that at a glance, lots of tuna brands seem to have good nutrition, and the language on their website makes you think they're doing their part in responsible fishing and environmental practices. But a quick search of news articles tells you otherwise and, sadly, many common tuna brands aren't doing their part to be responsible.
Light tuna vs. white tuna
Albacore is America's favorite tuna, and it's the only species of fish that can be labeled as "white". Its meat is lighter in color and less flavorful than "light" tuna, which typically comes from skipjack and yellowfin. The "light" tuna meat is slightly darker and more pink, and is considered more flavorful. In fact, the difference between light and white tuna meat is often compared to that of chicken breast and chicken thigh. Check the ingredient labels on your tuna to know exactly what fish variety you're getting.
Oil packed vs. water packed
Some brands carry both oil- and water-packed tuna, and sometimes just tuna and salt. It's really up to you to decide your preference. From a nutrition perspective, beware of tuna packed in soybean oil. If you're going to go for oil-packed tuna, olive oil packs more nutrients and is a better option. On the other hand, if you're watching fat intake, oil-packed will be higher in calories than water packed (but it'll also taste less dry).
What about mercury?
You should always be aware of mercury in seafood, especially if you're pregnant. Mercury consumed during pregnancy has been linked to developmental delays and brain damage. Mercury is a natural element in the environment but because of human activity, it ends up in our waterways.
How is the tuna caught?
The method of catching tuna is a big deal in the sustainability field. Pole and line fishing and trolling are two highly rated methods that make sure other species don't get caught in the mix. Poll and line means exactly what you think fishing means: one person with a pole. Trolling uses a boat with a few poles. But make sure to avoid the term "line caught" which can mean other methods that sound 'safe' but are really not (like long line fishing).
How to pick the best canned tuna
Tuna is an inexpensive protein that's shelf stable. It's a good source of omega-3 fatty acids, especially EPA and DHA, which are important for heart, brain, and eye health. Albacore and bluefin tuna have the highest levels of omega-3s followed by skipjack and yellowfin. Here are some things to look out for when picking up canned tuna:
Look for BPA-free cans.
Don't buy dented or bulging cans which can indicate possible food safety issues.
Pick brands that follow responsible fishing practices that go beyond "dolphin safe".
Don't fall for vague greenwashing terms like 'line caught'. Stick to pole caught or trolling if possible.
Check the ingredient label to see what oils and broths have been added to the product, and decide if you want them in your tuna.
Related: 13 Healthy Things You Can Make With a Can of Tuna
The healthiest canned tuna you can buy
1. Wild Planet Albacore Wild Tuna
One serving
: 3 oz, 100 calories, 2.5 g fat, 1 g saturated fat, 85 mg sodium, 0 g carbs, 21 g protein
You get what you see—and more! Rated as best sustainable option by Greenpeace, Wild Planet has a robust sustainability policy. Every product is poll and line or troll caught, meaning there is less unintentional negative impact on other marine life. Wild Planet also submits their products to third party mercury testing. The brand offers a variety of canned tuna (both albacore and skipjack) and it comes packed in olive oil, no salt added, and standard varieties. There are no bad options in this brand, but if you're looking for less sodium, buy no salt added. Looking to be more fat conscious? Pick standard over olive oil packed.
2. American Tuna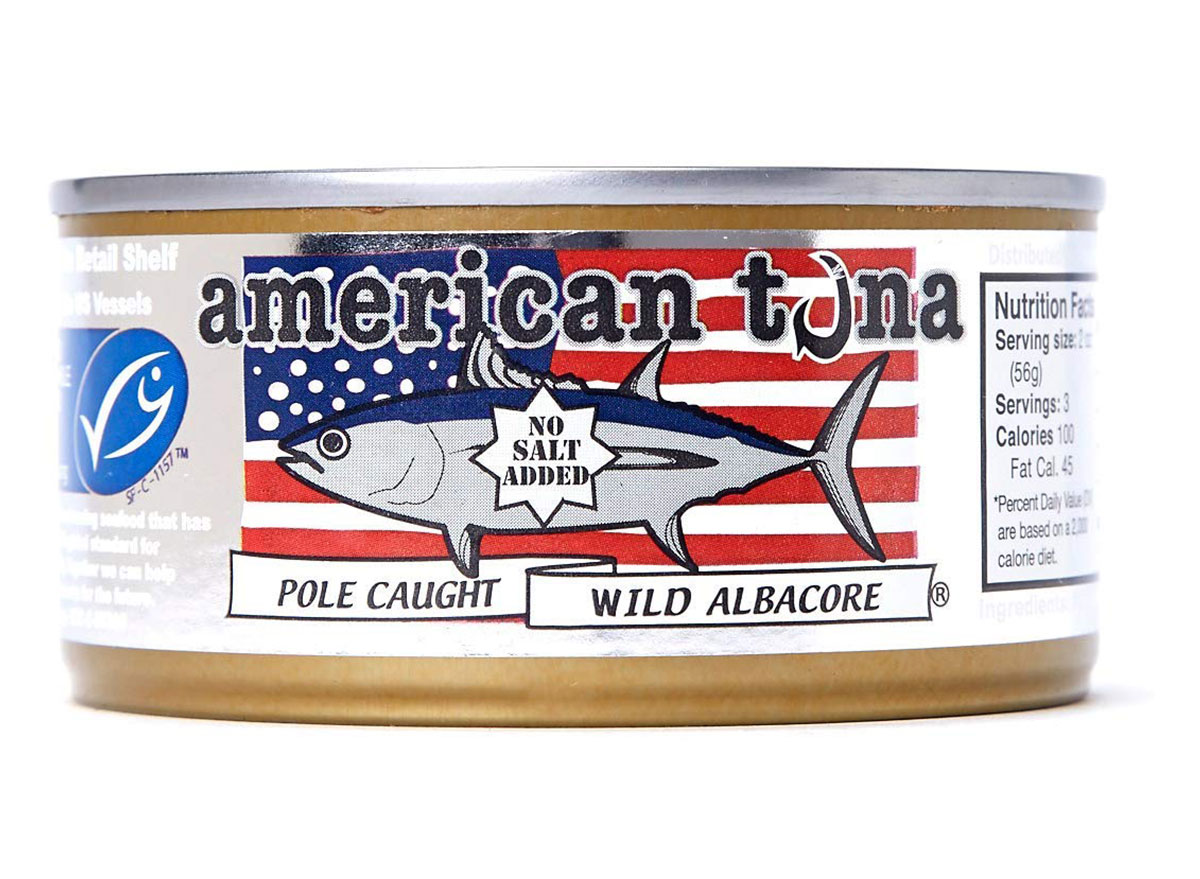 One serving
: 2 oz, 100 calories, 5 g fat, 1.5 g saturated fat, 20 mg sodium, 0 g carb, 14 g protein
This brand is highly rated by Greenpeace for their pole and line caught products and support of ocean conservation. Traceable from sea to can, the brand was founded by 6 pole and line fishing families and supports local, small-scale fishing and processing in the US. Offering flavors like brick-smoked, jalapeño, and more, there's a wide variety to meet your culinary needs. In terms of nutrition, this brand also boasts a "higher omega 3 than any other brand".
3. Safe Catch Elite Pure Wild Tuna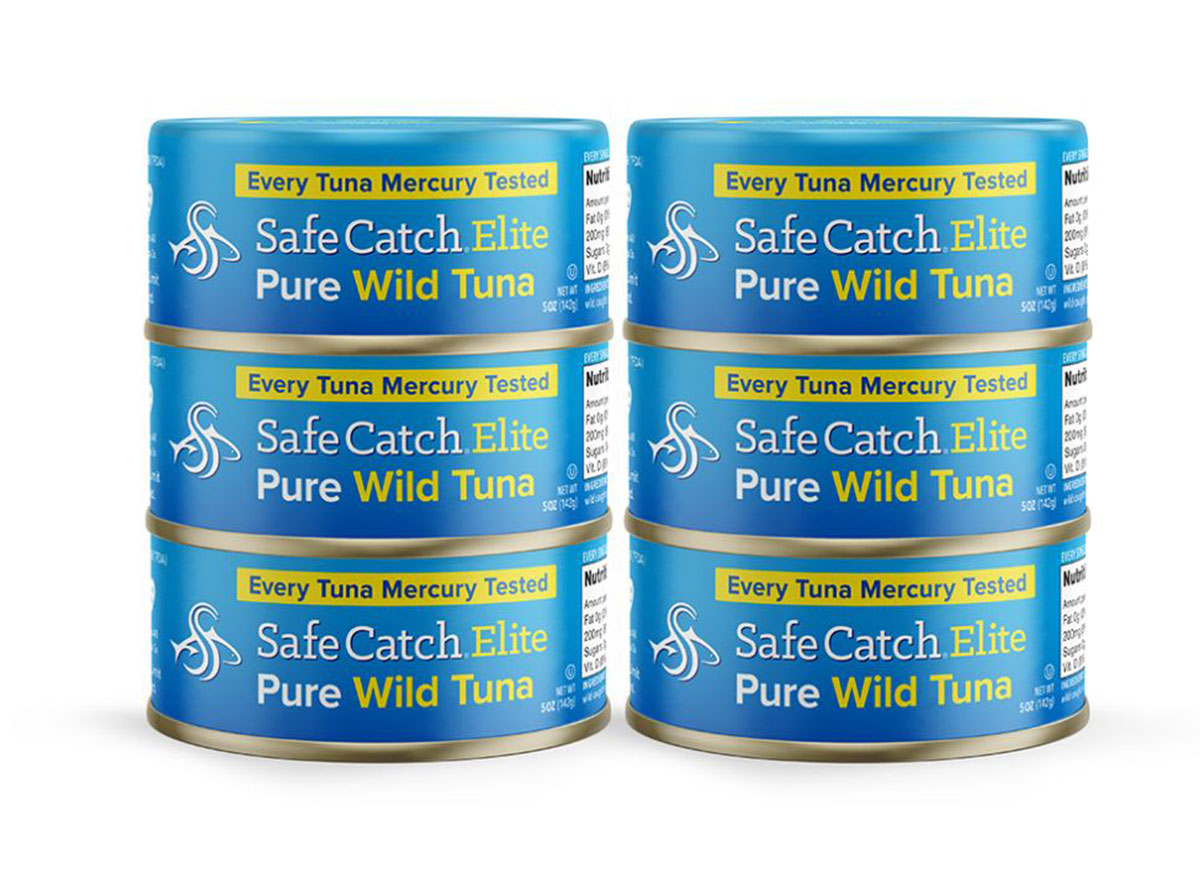 One serving
: 2 oz, 60 calories, 0.5 g fat, 0 g saturated fat, 230 mg sodium, 0 g carbs, 14 g protein
The official tuna of the American Pregnancy Association, this product focuses on producing canned tuna with low mercury levels. Because they test each individual fish for mercury, their mercury limit is ten times lower than the FDA action limit. Safe Catch's tuna is sustainably caught without use of destructive fishing methods and they follow the Monterey Bay Aquarium Seafood Watch program recommendations. The only ingredients? Skipjack tuna and salt.
4. Ocean Naturals Skipjack Chunk Light Tuna in Water
One serving
: 2 oz, 60 calories, 0.5 g fat, 0 g saturated fat, 180 mg sodium, 0 g carbs, 15 g protein
Awarded a 'green' label rating by Greenpeace, this global tuna company focuses on responsible fishing and transparency, and is a proud supporter of the Earth Island Institute. Ocean Naturals clearly lists the exact species of fish used in each product and only uses four ingredients across their line: the fish, salt, water, or olive oil. Their skipjack tuna contains 230 mg of omega 3 fatty acids per serving. All of their light meat tuna is 100 percent skipjack instead of a combination of multiple species (since some are more endangered than others).
5. 365 Everyday Value Albacore Wild Tuna In Water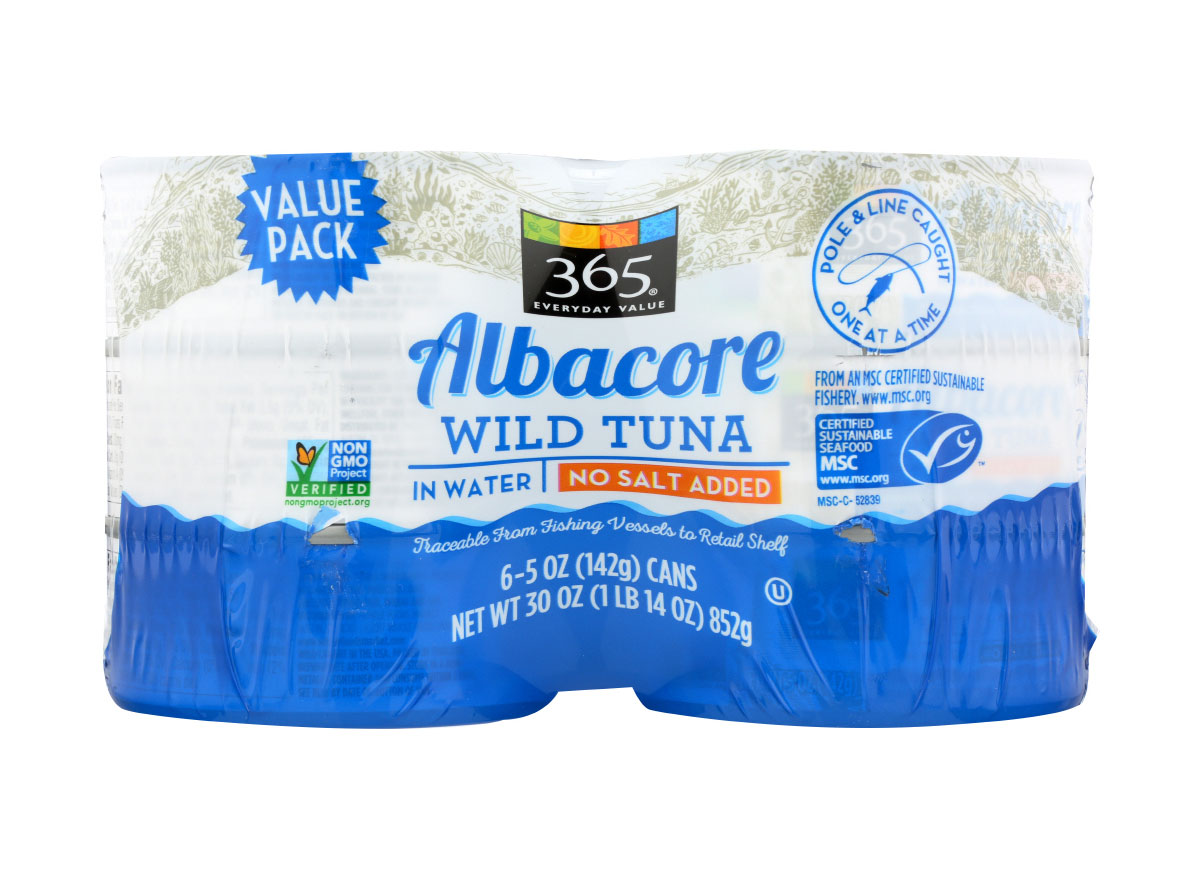 6254a4d1642c605c54bf1cab17d50f1e
One serving
: 2 oz, 70 calories, 1.5 g fat, 0 g saturated fat, 20 mg sodium, 0 g carb, 15 g protein
Whole Foods' store brand has strong traceability to ensure responsible sourcing. It's worth noting that Whole Foods was the first US retailer to commit to selling only 100 percent sustainably canned tuna. Their Albacore tuna in water is a great low-sodium pick.
6. Tonnino Tuna Fillets in Spring Water
One serving
: 2 oz, 50 calories, 1 g fat, 0 g saturated fat, 200 mg sodium, 0 g carb, 14 g protein
A higher end gourmet product from a Costa Rican brand, Tonnino tuna is definitely an experience in comparison to standard tuna cans. It comes in glass jars, packed in water or olive oil, and in a variety of flavors including garlic, capers, and jalapeño. The brand only sources from vessels registered with CIATT, a group that ensures conservation of resources and on-board observers who guarantee no species other than tuna get caught in the mix. They use responsible fishing methods and give back to their local community. While this brand has slightly higher sodium levels than others, it shouldn't be a deal breaker.
The worst canned tuna you can buy.
1. Bumble Bee Solid White Albacore in Vegetable Oil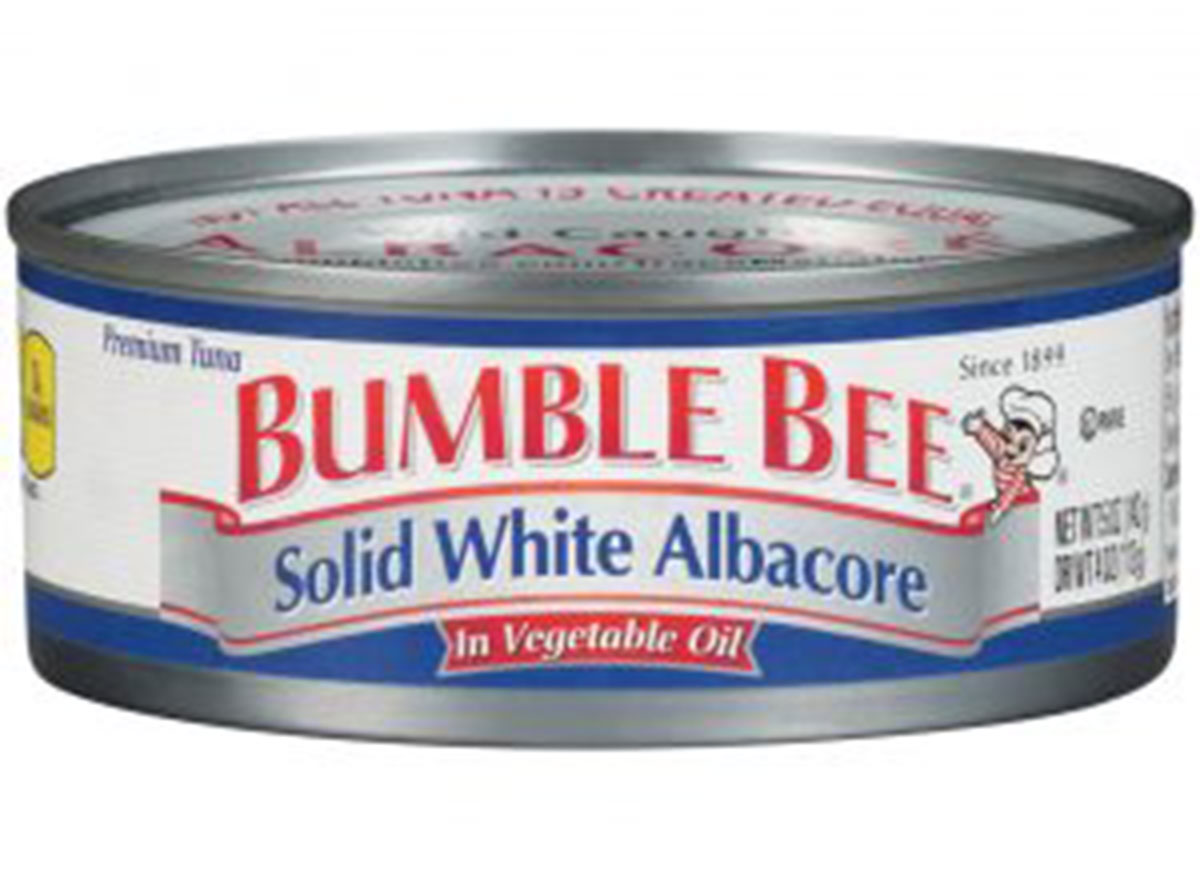 One serving
: 3 oz, 90 calories, 2.5 g fat, 0.5 g saturated fat, 160 mg sodium, 0 g carbs, 21 g protein
Bumble Bee calls their products 'preferred by customers when compared to Starkist' and a variety of other brands. But can we talk about tuna in soybean oil? While the ingredients are simple, there's no need for adding soybean oil to tuna alongside vegetable broth and sea salt. Soybean oil is an unsaturated fat, but it doesn't offer benefits like olive oil does. And when it comes to responsible fishing, watch out for this brand. While their marketing information states they are responsibly harvested from fisheries, Greenpeace advises avoiding this brand's greenwashing. You may also find it interesting that their CEO was recently convicted of price fixing, and the company accused of possible human rights and animal rights violations.
2. Market Pantry Chunk Light Tuna in Water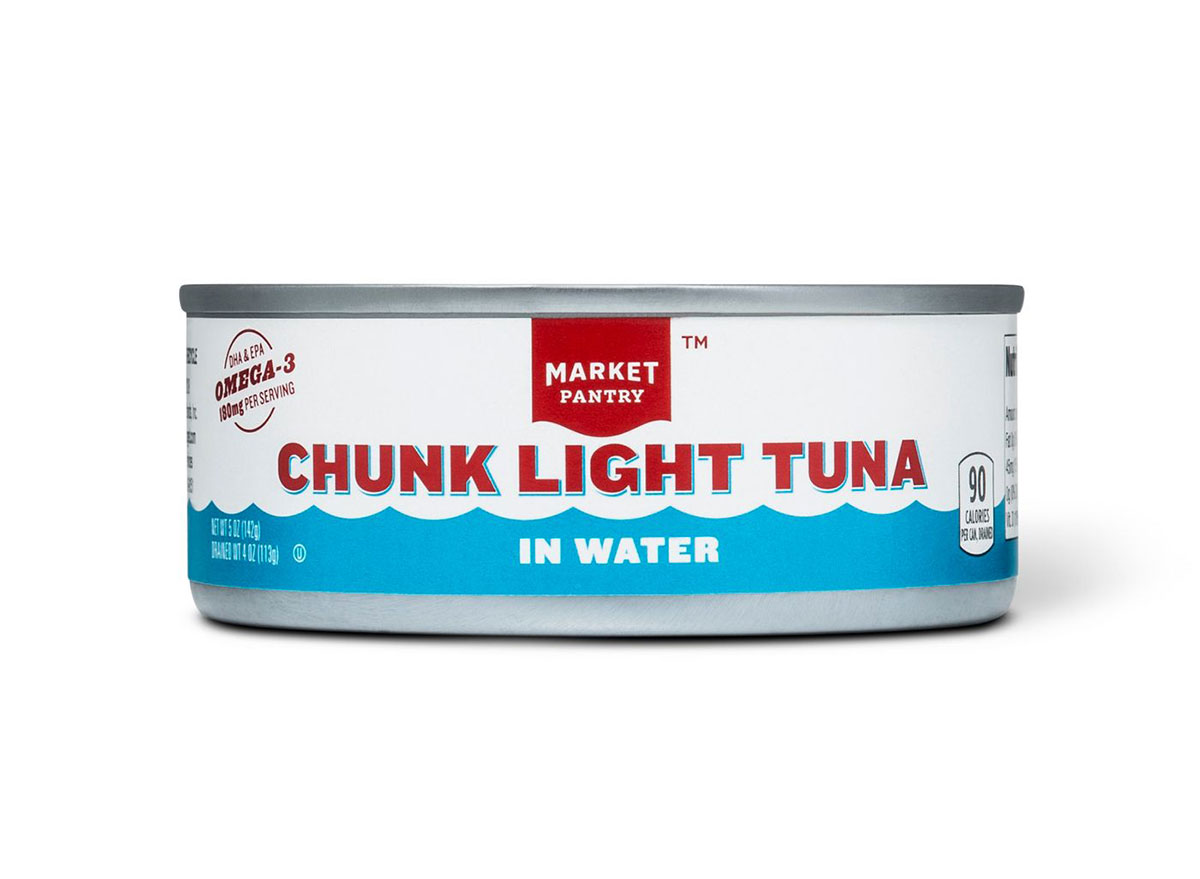 One serving
: 0.2 oz, 90 calories, 0.5 g fat, 0 g saturated fat, 360 mg sodium, 0 g carbs, 20 g protein
Don't let the 'clean' packaging fool you—this Target brand tuna is sourced from some fisheries that use destructive methods. While the Simply Balanced line from Target is pole and line caught and shows as much with comprehensive labeling, skip the Market Pantry version. This tuna also has very high levels of sodium in comparison to the rest of the tunas listed here (360 mg).
3. Kirkland Albacore Solid White Tuna in Water
One serving
: 2 oz, 70 calories, 0 g fat, 180 mg sodium, 0 g carbs, 16 g protein
This Costco tuna brand is made from albacore tuna caught by destructive longline fishing methods that lead to a lot of by-catching of threatened species. While Costco used to sell a responsibly caught option under its signature brand, it's no longer on their shelves.
4. Chicken of the Sea Chunk Light Tuna in Water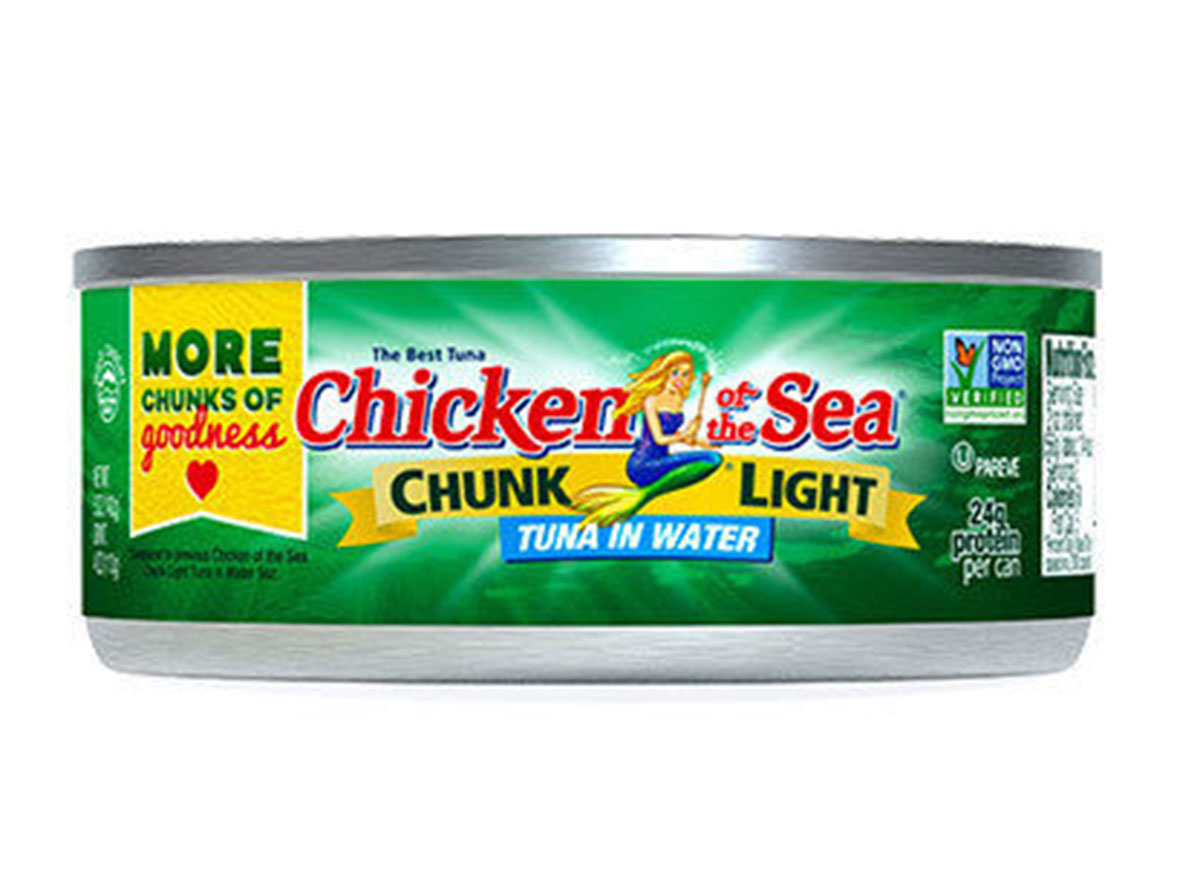 One serving
: 2 oz, 50 calories, 0.5 g fat, 0 g saturated fat, 180 mg sodium, 0 g carbs, 11 g protein
While this brand is easy to find in nearly every grocery store, it's not the best option available.
On their website they talk about their fishing methods which include tactics that are considered destructive for the ocean (including long lining). The brand offers a lower sodium version if you're watching your numbers.