The #1 Best Soup for a Flat Belly, Says Dietitian
You can enhance soup's weight loss-supporting benefits by using this recipe.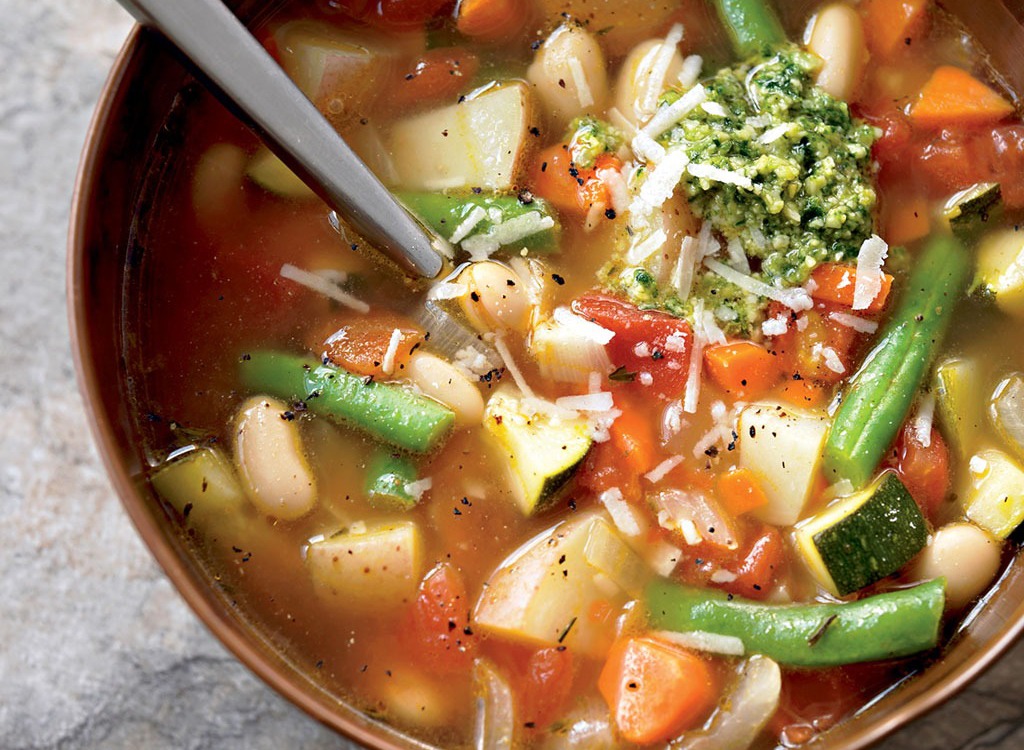 With daylight savings upon us, now we all have to get used to earlier and earlier sunsets and more and more hours without natural light in the evenings. Longer days without sunlight can put a damper on our mood and may even result in more weight gain. On average, research shows that people gain one to two pounds over the winter months.
This can be for a variety of reasons: without as much mood-regulating vitamin D from sun or even bright light exposure, we may feel a bit more down in the dumps, leading to less energy we want to spend on sticking to a healthy diet. If you experience seasonal affective disorder (SAD), studies show you may even be prone to eating more calorie-dense carbohydrates, particularly sweets and starch-rich foods, in winter.
But there is a silver lining to living through these chilly winter nights—cold weather calls for cozy, comforting soups.
Not only can soups warm you up and satisfy a hungry belly, but they may also help you counteract some weight gain associated with darker days. In fact, one 2020 meta-analysis published in the journal Physiology & Behavior found that the body of existing evidence reveals that soup consumption is significantly related to a lower risk of obesity.
"Soup can be one of the best weight management-friendly foods out there, as long as the right ingredients are included. In fact, according to a study published in the British Journal of Nutrition, soup association is linked to an increased intake of protein and fiber—two nutrients that can support weight loss," says Lauren Manaker, MS, RDN, LDN, a registered dietitian nutritionist on our Medical Expert Board.
According to Manaker, when eating soup for weight loss, you still need to be cautious of certain types of soup, namely those high in sodium and those with calorically-dense add-ins.
"There are some caveats when choosing the best soup for weight loss. First, soups can be high in sodium—an ingredient that can cause people to bloat. Second, some soups can include calorie-rich ingredients like heavy cream, butter, and sausage. And eating large amounts of these ingredients may not be the best choice when trying to manage your weight," says Manaker.
To optimize your flat belly efforts with soup, you're going to want to prioritize belly-flattening ingredients that support weight loss. Read on to find out the ingredients Manaker says are essential in the best soup for a flat belly.
The best soup for a flat belly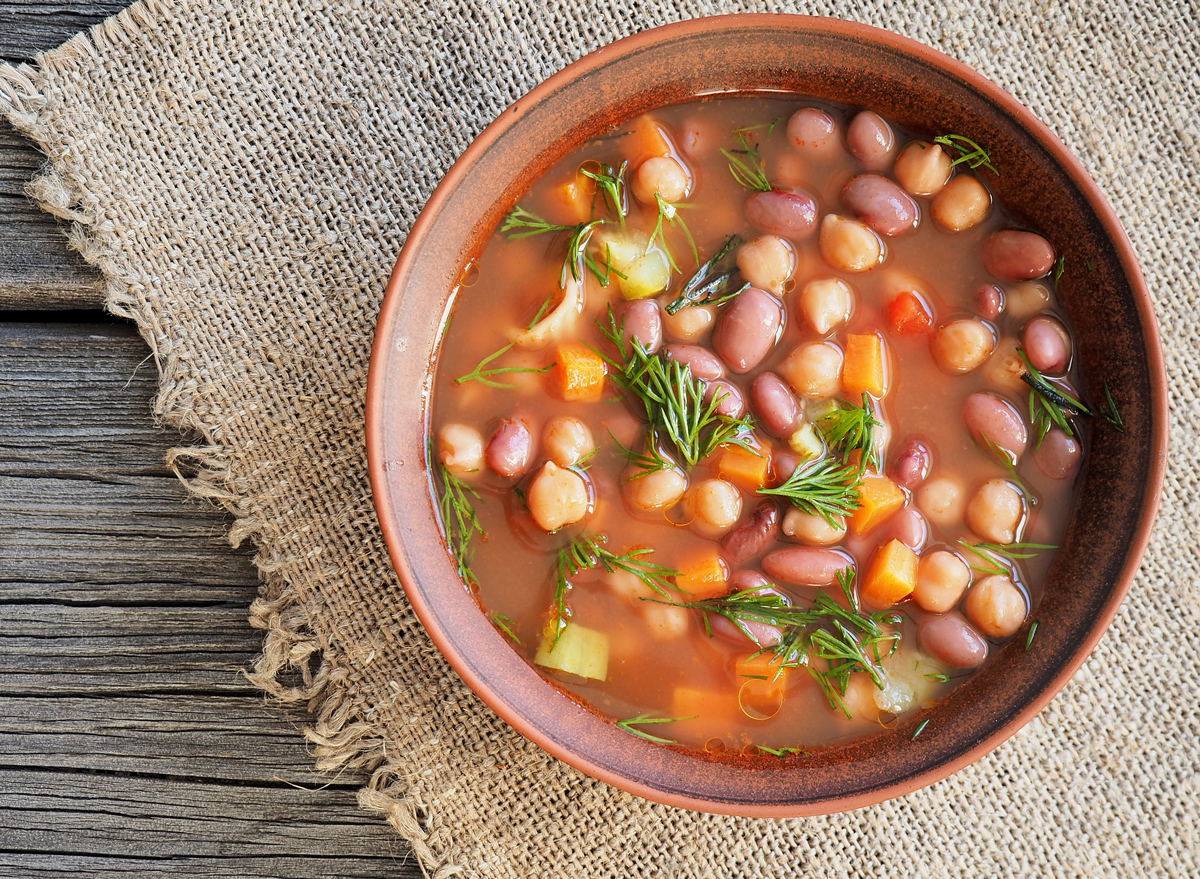 While most low-sodium soups will support weight loss, there is one soup that may be the best for a flat belly: "a basic vegetable soup with a low-sodium bone broth and some fresh ginger can be a food that may help people support their weight management goals in a cozy and sustainable way," recommends Manaker.6254a4d1642c605c54bf1cab17d50f1e
Add loads of veggies and beans
"Plenty of data shows that eating more vegetables is linked to a reduced risk of weight gain. And adding vegetables to soup is a simple way to bump up the veggie intake," says Manaker.
In addition to veggies, you might as well throw in a can of beans. Any kind of bean will work—white, black, kidney, or chickpeas. Like vegetables, fiber-rich beans have also been linked to better weight regulation.
Use a bone broth base for added protein
Creamy soups are just as comforting as broth-based soups, but they aren't as flat-belly friendly. Cream and milk are both calorically dense and dairy may be inflammatory to some, which can cause bloating. Instead, adding protein-rich bone broth can support satiety.
"When considering the base of the soup, skip the creamy and heavy choices and lean on a homemade bone broth that doesn't contain a large amount of sodium. While traditional low-sodium broth is fine, bone broth contains more protein—a nutrient that helps promote satiety. And while the data is limited when it comes to whether bone broth is the miracle liquid that many tout it as, there is no denying that this rich soup contains high-quality protein in a sippable form," says Manaker.
Season with ginger
Don't be so heavy-handed with the salt shaker when making flat belly soups. There are ways to season your soup with herbs and spices to make a flavorful soup as well as one that can support weight loss.
"Instead of adding a large amount of salt for flavor, including fresh ginger can add some zing without added sodium. Plus, eating ginger has been linked to weight loss as well, making it another ingredient that may help people maintain a healthy weight," says Manaker.
Soup recipes for a flat belly
Based on these flat belly soup ingredient recommendations, there are countless soup recipes you can try. There's Veggie-Packed Minestrone With Pesto Soup, curried lentil stew, Italian vegetable soup, three-bean chili, carrot ginger soup, and more—the possibilities are endless!
For more healthy eating news, make sure to sign up for our newsletter!
Read this next:
Olivia Tarantino
Olivia Tarantino is the Managing Editor of Eat This, Not That!, specializing in nutrition, health, and food product coverage.
Read more about Olivia