45+ Best Soups and Chilis to Make With Costco Rotisserie Chicken
All the flavor with just a fraction of the prep time.
If you have ever lived through the struggle of wanting to put together a delicious, homemade meal but just don't have the time (or energy) then you know how much of a lifesaver Costco's rotisserie chicken is. Perfectly prepared and brimming with flavor, this readymade cooked chicken works its magic once chopped into a salad or served along with some sides—and perhaps surprisingly, it can even help cut down the time and effort in your next soup or chili recipe.
Sure, saying the words "homemade soup" and "chili made from scratch" can conjure up feelings of coziness, but it can also stir up feelings of anxiety just thinking about all the steps involved to put these dishes together. Just preparing raw chicken is a feat in itself. But this is where Costco's famous rotisserie chicken comes in—gone are the days of spending hours in the kitchen.
From recipes that incorporate fall flavors, such as pumpkin and apple cider, to others that are low-carb and high-protein, here are some of the best soups and chilis to make with Costco rotisserie chicken. Plus, if you're in the mood for something other than soup, check out 12 Meals You Can Make With a Costco Rotisserie Chicken.
Homemade Chicken Noodle Soup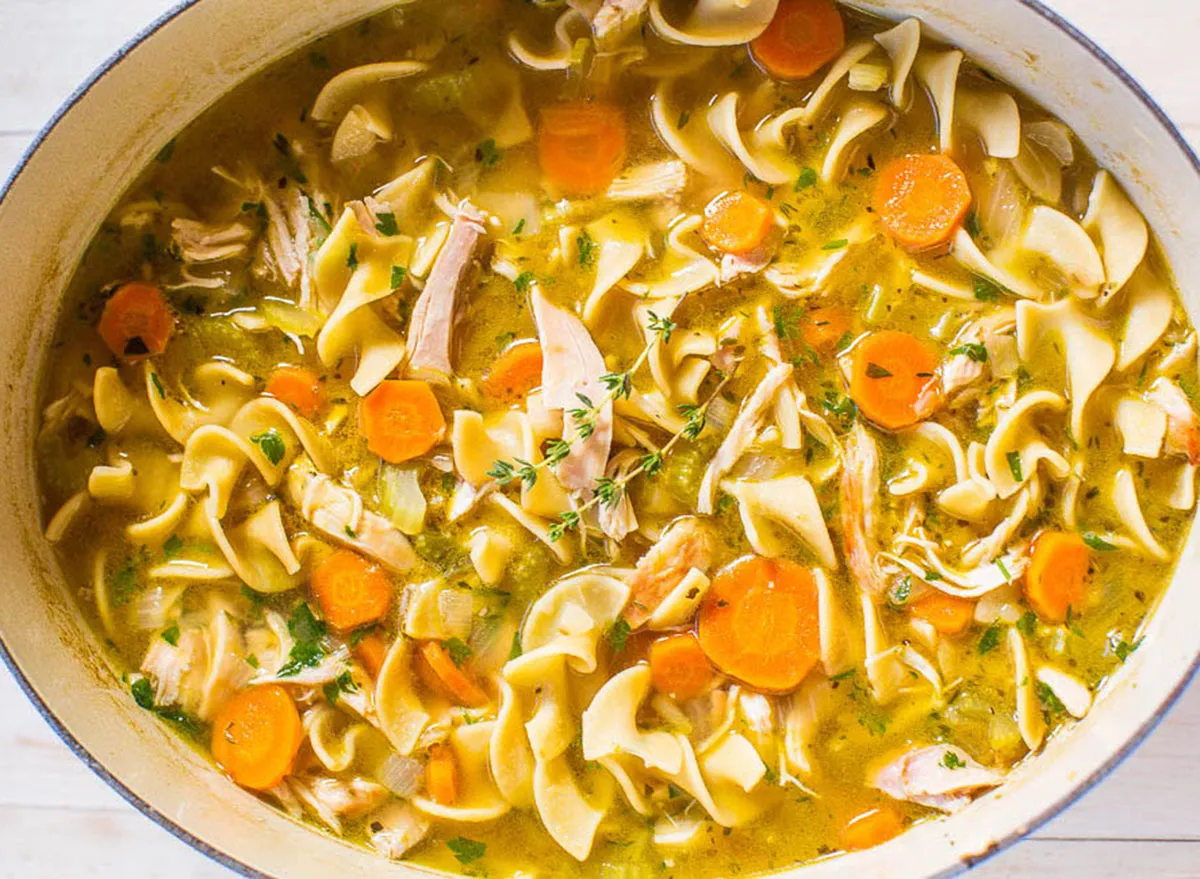 This homemade chicken noodle soup recipe is one your grandmother would be proud of. Made using chopped vegetables, such as celery and carrots, and shredded rotisserie chicken, this classic soup can be pulled together in just a mere 30 minutes.
Get the recipe from Averie Cooks.
Sign up for our newsletter for more cooking tips and healthy recipes.
Light and Creamy Chicken Noodle Soup
If you are looking to add a little something extra to your chicken noodle soup, then look no further than this light and creamy chicken soup recipe. It gets its velvety smooth texture from a combination of butter, milk, and flour.
Get the recipe from Sally's Baking Addiction.
This fantastic white chicken chili recipe will have you thinking, "beef chili, who?" Made using protein-packed cannellini beans, frozen corn, Neufchatel cheese, and shredded rotisserie chicken, this flavorful dish is perfect to serve during chilly autumn nights.
Get the recipe from Cooking Classy.
Homemade Chicken Tortilla Soup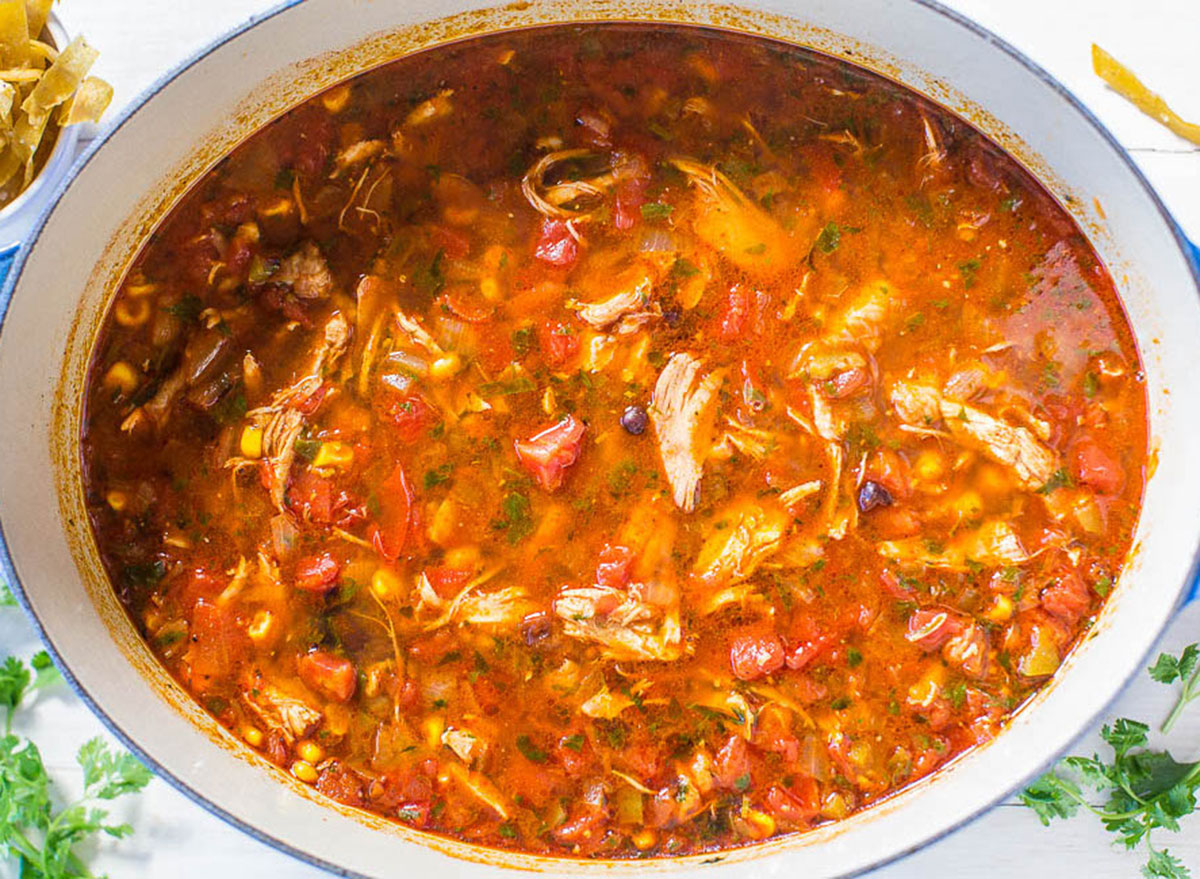 Why venture out to get chicken tortilla soup at a restaurant when you can make it right in the comfort of your own home? Thanks to precooked chicken, this recipe takes just minutes to make. Hint: This soup can be made ahead of time and then frozen for up to 6 months. Go ahead, "future you" will be thankful.
Get the recipe from Averie Cooks.
Lemon Chicken Soup with Orzo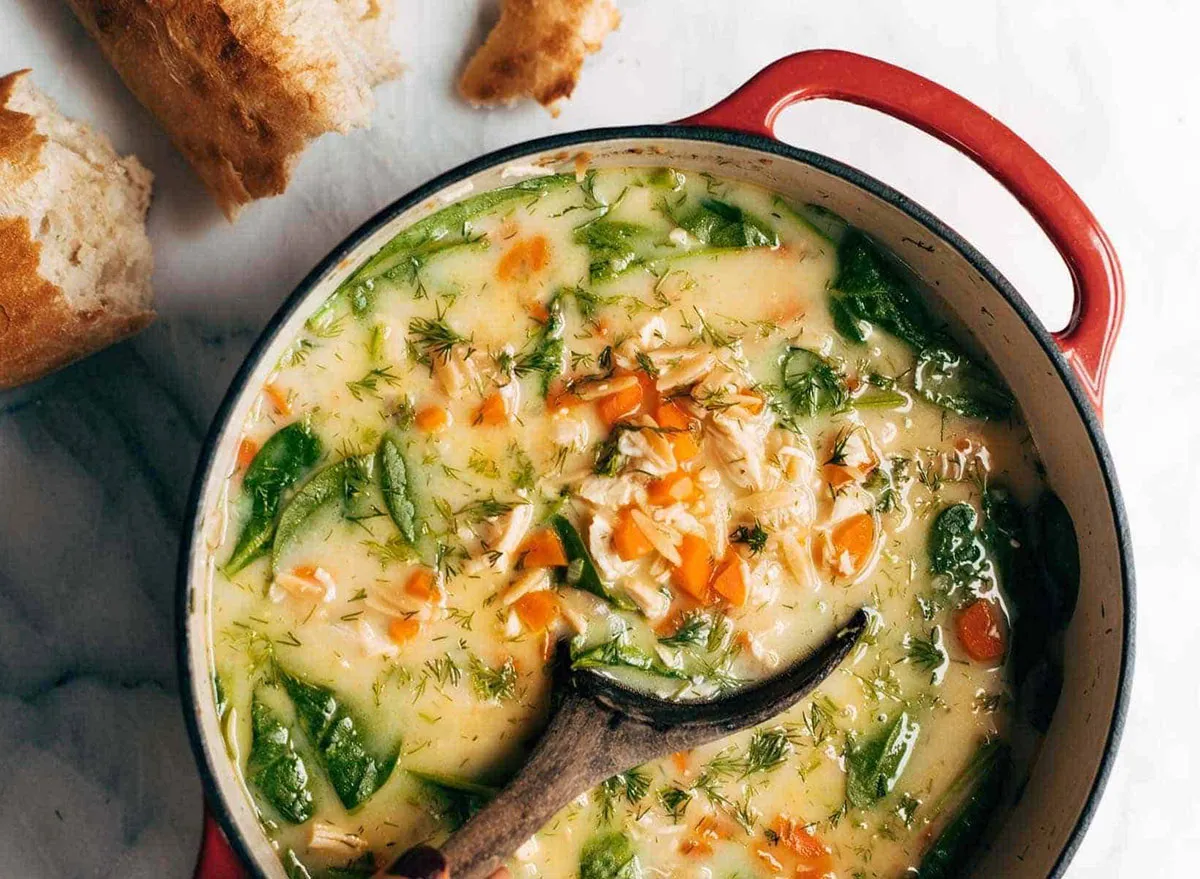 Classic chicken soup gets a welcomed upgrade with this wonderful recipe. Made using a base of lemon juice and chicken broth, expect to find delightful details, such as fresh dill, shredded rotisserie chicken, and chewy whole wheat orzo, in this velvety smooth soup.
Get the recipe from Pinch of Yum.
5-Ingredient White Chicken Chili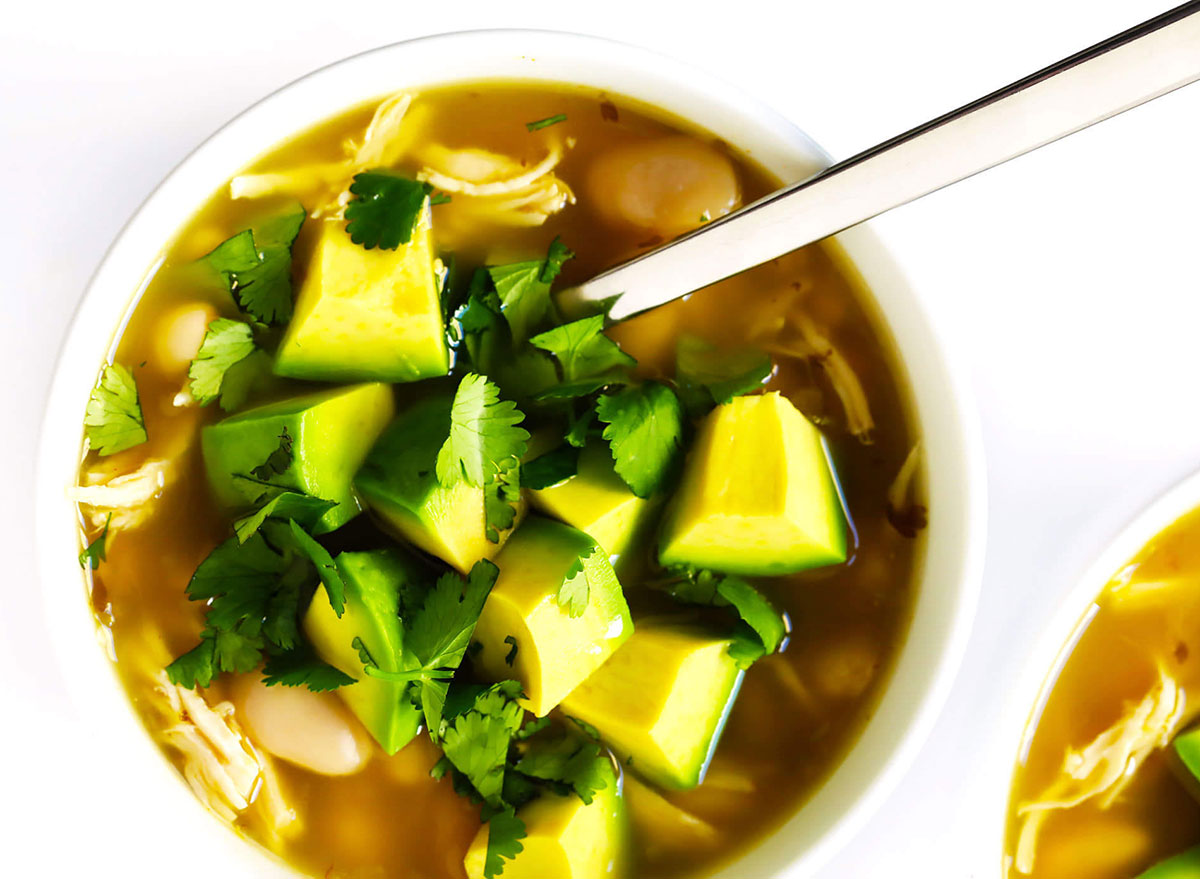 If you didn't think you could ever master a perfectly made smoky white chicken chili then think again. This recipe, which calls for just 5 simple ingredients, is impossible to screw up. Bonus: To add a little more pizzazz to your chili, use some shredded cheese, fresh avocado, or diced tomatoes as a topping.
Get the recipe from Gimme Some Oven.
Slow Cooker Chicken Chili
Say it with us—thank heavens for slow cookers. This chili recipe, which involves minimal prep, is a real time-saver, especially during busy weeknights and packed weekends.
Get the recipe from Sally's Baking Addiction.
Jalapeno Lime White Chicken Chili
Dial up the flavor of your chili by adding in chopped jalapenos and tangy lime. We'll share a secret with you, too—if you want the chili to be super spicy, go ahead and throw in the jalapeno seeds and ribs. If not, make sure you omit these during prep.
Get the recipe from Little Spice Jar.
Butternut White Chicken Chili
This innovative recipe takes a popular Thanksgiving side, butternut squash, and simmers it in a delicious batch of white chicken chili. Add this to your next holiday menu, or whip a batch up "just because".
Get the recipe from How Sweet Eats.
This vibrant chicken lime soup gets its addicting flavor from a medley of jalapenos, ginger, and lime.
Get the recipe from Running to the Kitchen.
Creamy Chicken Wild Rice Soup
This soup uses a secret ingredient that you can pick up right at your local Trader Joe's (or on Amazon, too, if you want to be technical)—21 Spice Salute. Twenty-one spices, including black pepper, celery seed, oregano, coriander, and orange peel, are all packed into this tiny bottle that works its magic once a sprinkle, or two, is added to any dish.
Get the recipe from Little Spice Jar.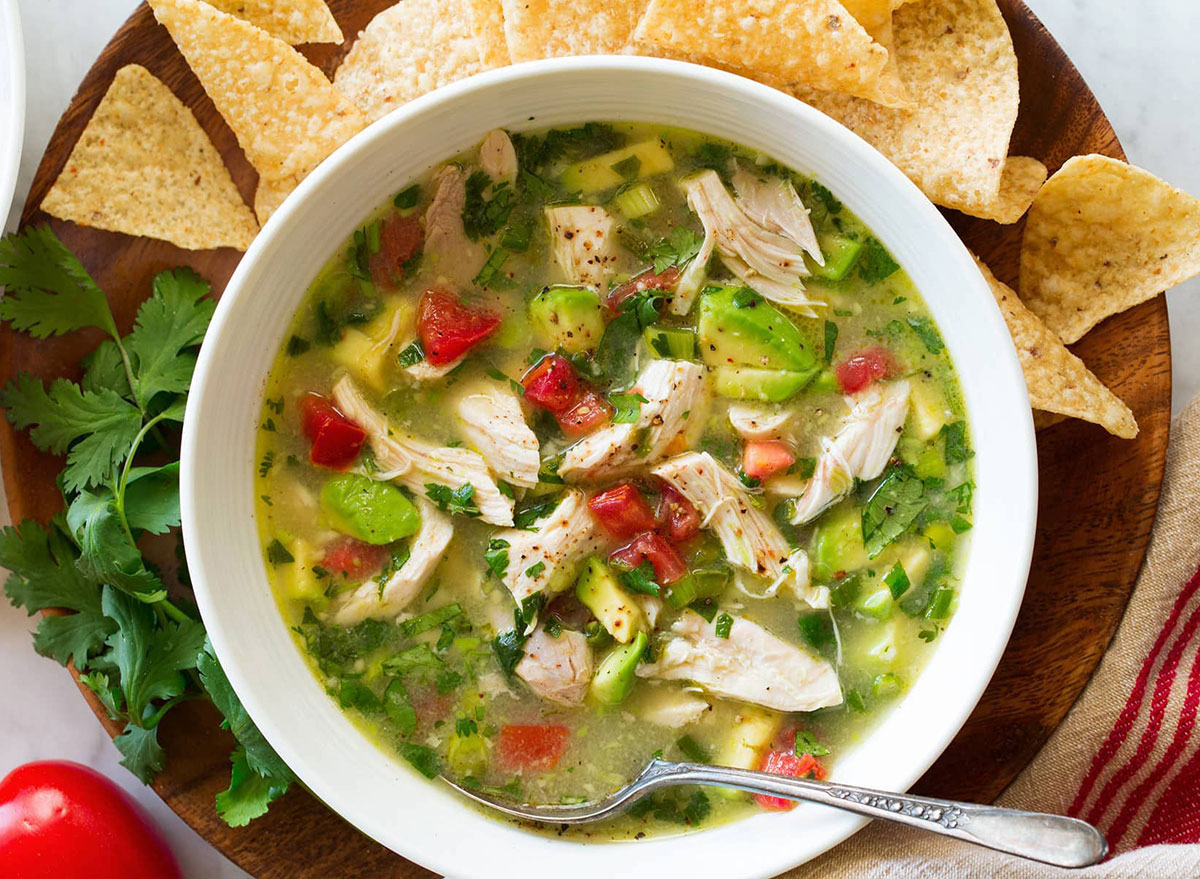 Avocados, which taste great sliced on toast or mashed up to make guacamole, prove with this recipe that they also belong in soup.
Get the recipe from Cooking Classy.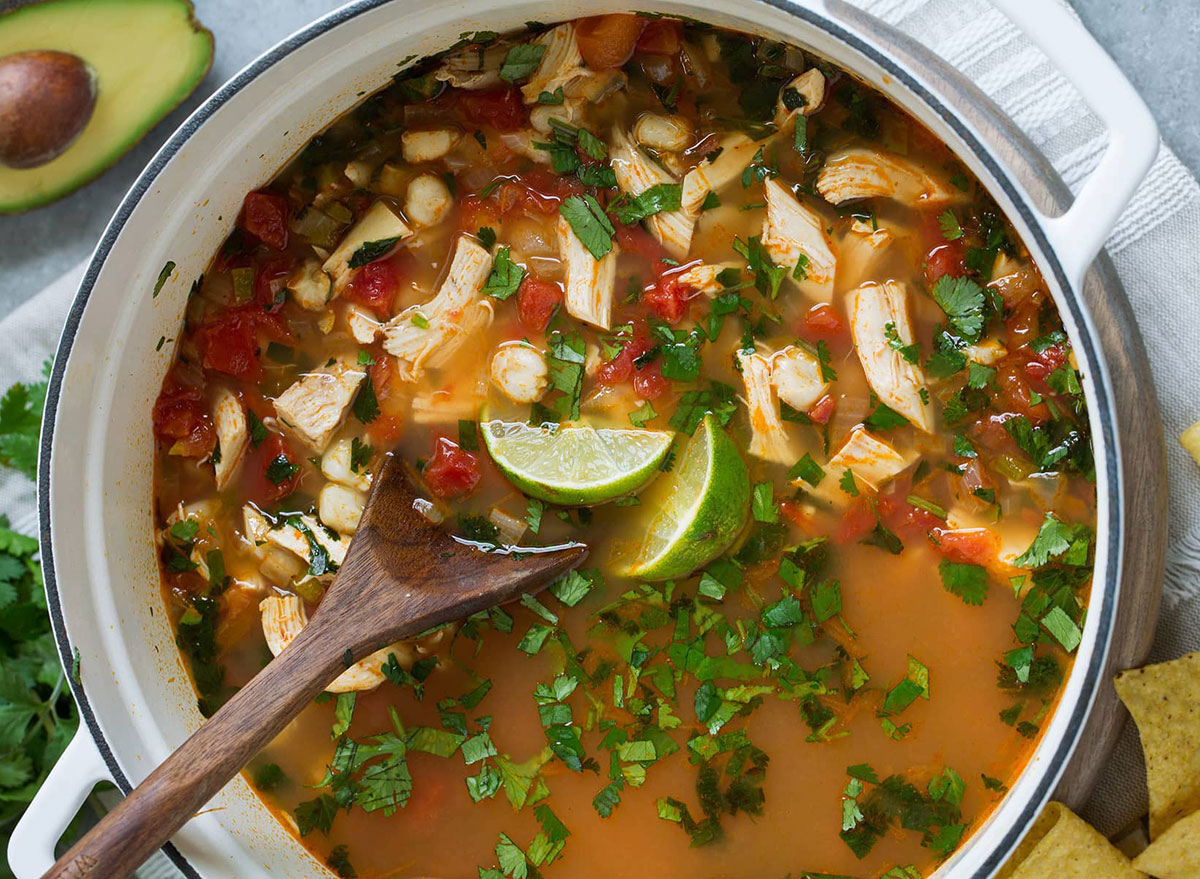 Skip the arduous chicken prep and instead pick up a rotisserie chicken to use in this incredibly succulent pozole recipe.
Get the recipe from Cooking Classy.
Instant Pot Chicken Noodle Soup
To switch things up a bit, whole wheat egg noodles are used in place of regular noodles in this classic chicken noodle soup recipe.
Get the recipe from Wellplated.
Creamy Chicken Tortellini Soup
This filling recipe proves that, whether thrown into sauce or tossed into soup, tortellini is amazing no matter what.
Get the recipe from How Sweet Eats.
This recipe is full of lemon juice, which is the perfect ingredient to add to your soups during those cold winter months. Lemon is full of vitamin C, which can help boost immunity and fight off illness.
Get the recipe from Chelsea's Messy Apron.
Healthy Vegetable Chicken Soup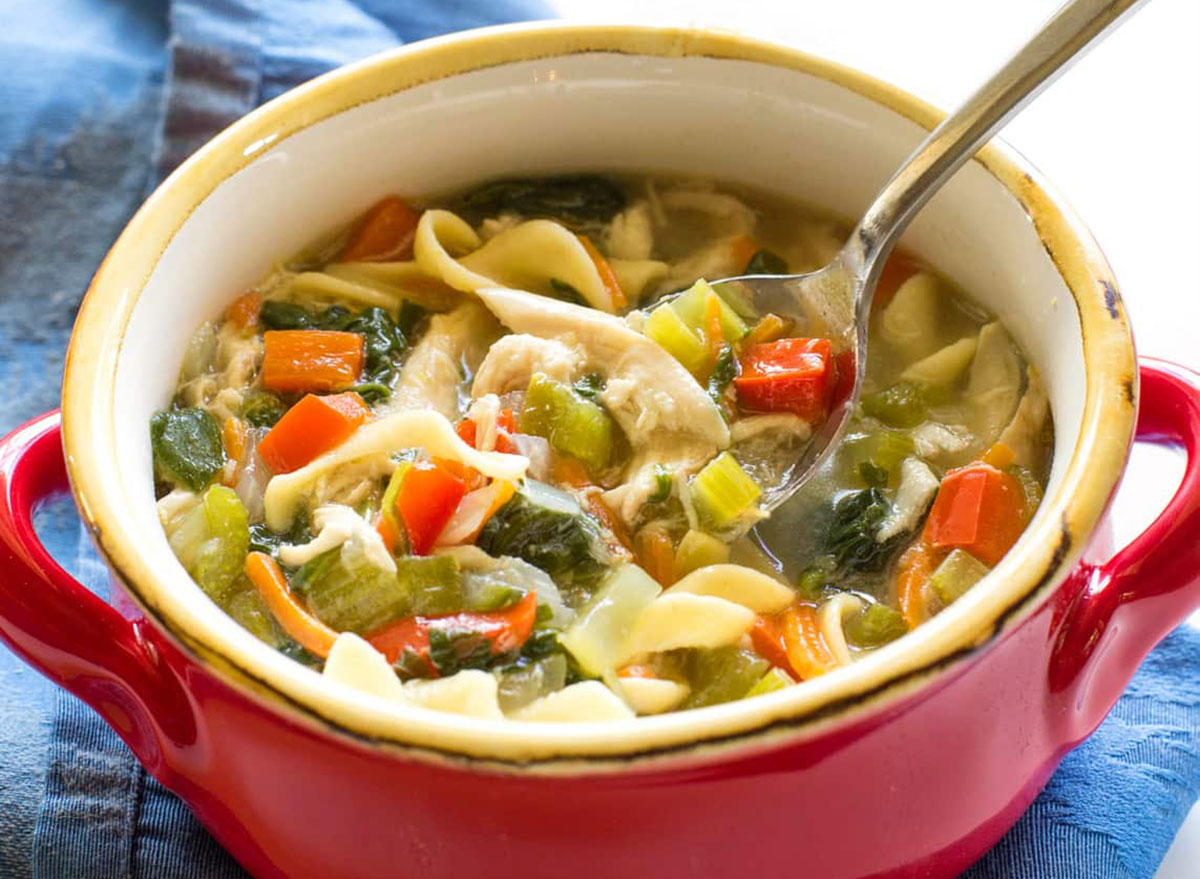 This delicious recipe lets you in on a little trick that goes a long way. For a total flavor boost, skip the canned varieties and instead use Better Than Bouillon to make your broth.
Get the recipe from The Girl Who Ate Everything.
Chicken Noodle Soup with Miso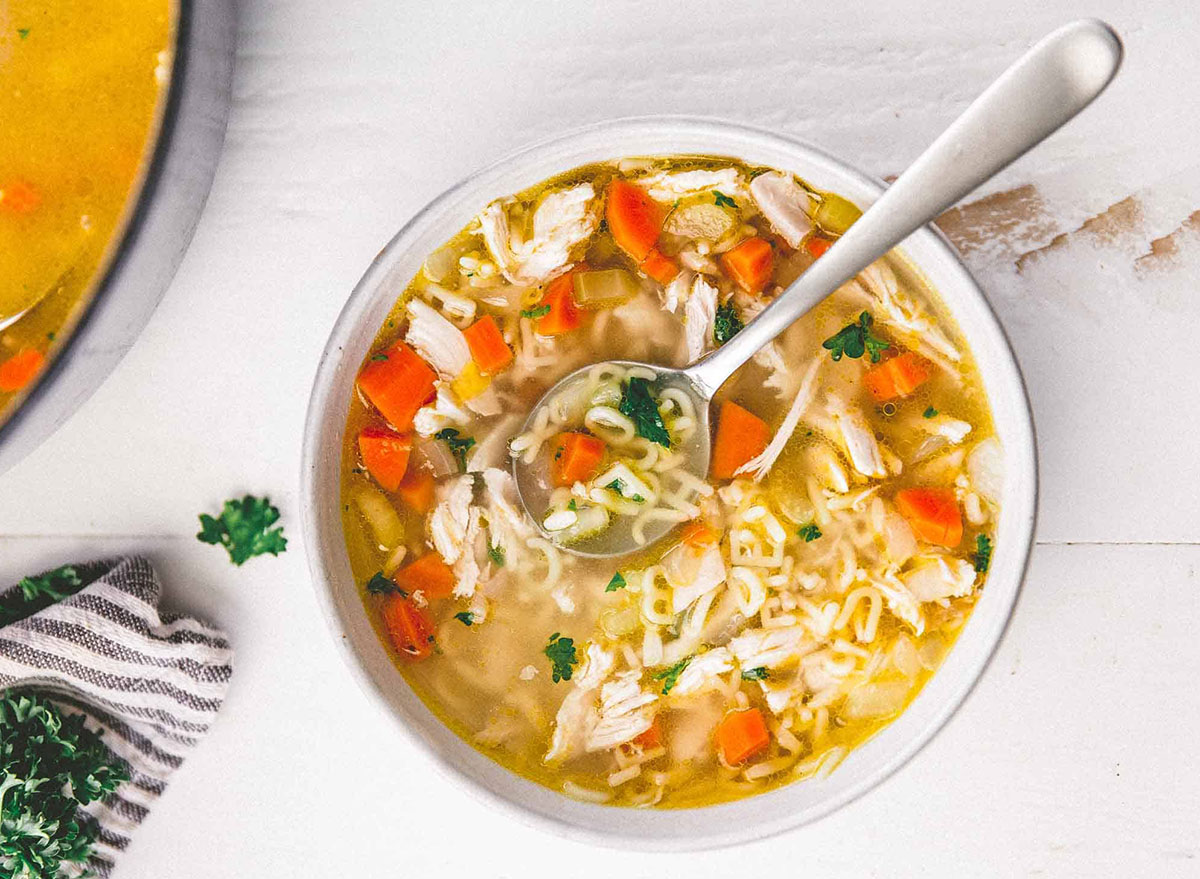 Miso paste, which can be picked up at your local grocery or specialty store, is a quick and easy way to deepen the umami flavor in this recipe.
Get the recipe from Inquiring Chef.
One-Pot Chicken Soup with White Beans and Kale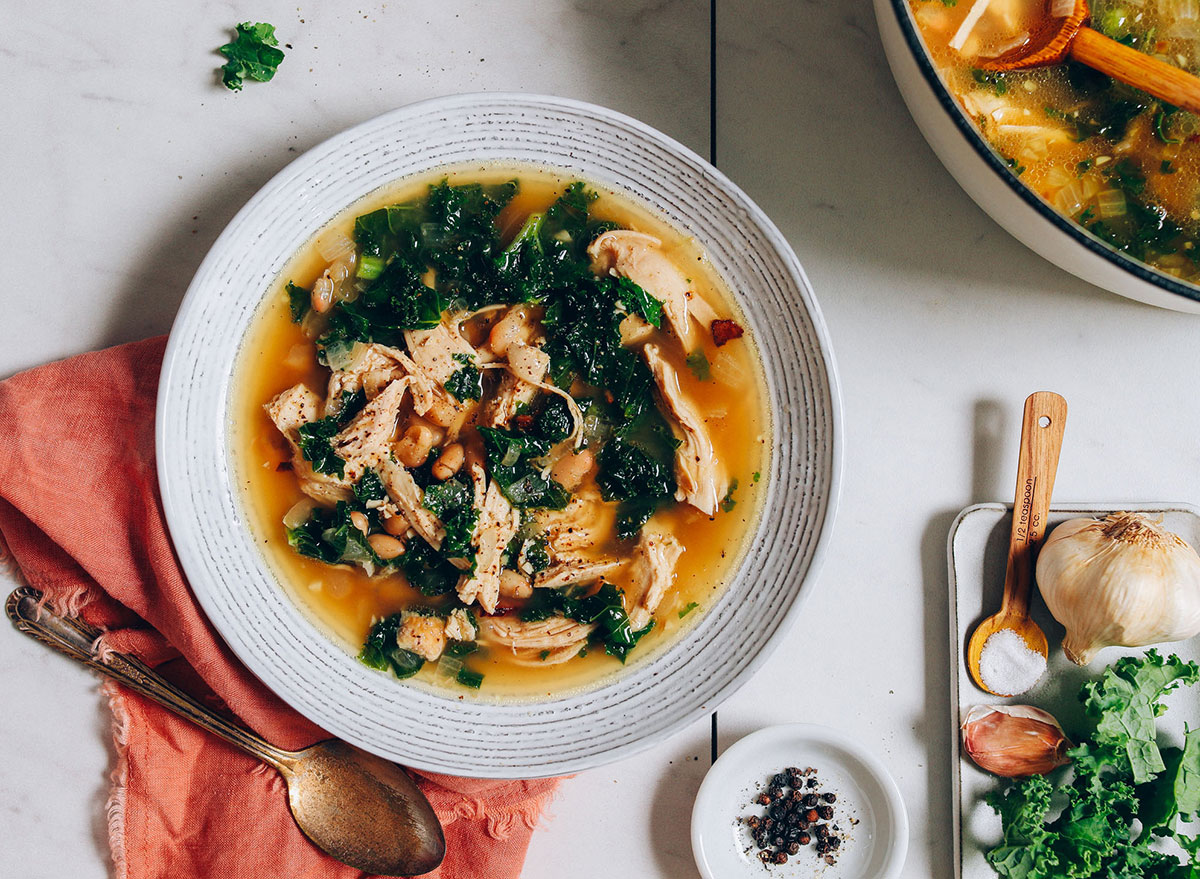 We love that this recipe uses one pot, and one pot only. This means that we can spend less time on cleanup, and more time doing stuff we actually enjoy (like making awesome recipes, such as this one).
Get the recipe from Minimalist Baker.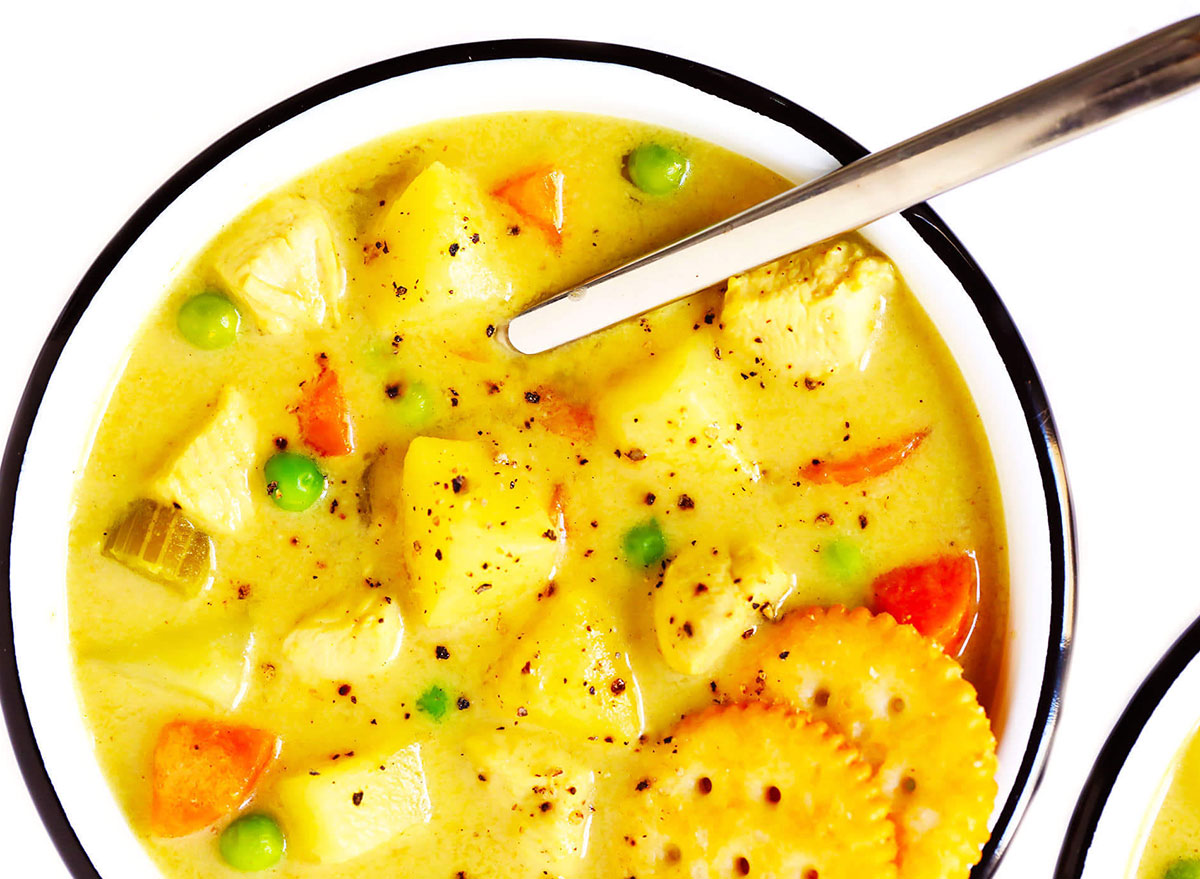 Curry and coconut milk join forces to create a truly irresistible, insanely creamy chicken broth. If you are looking to cut back on meat, you can always switch out the rotisserie chicken for chickpeas or another plant-based protein option.
Get the recipe from Gimme Some Oven.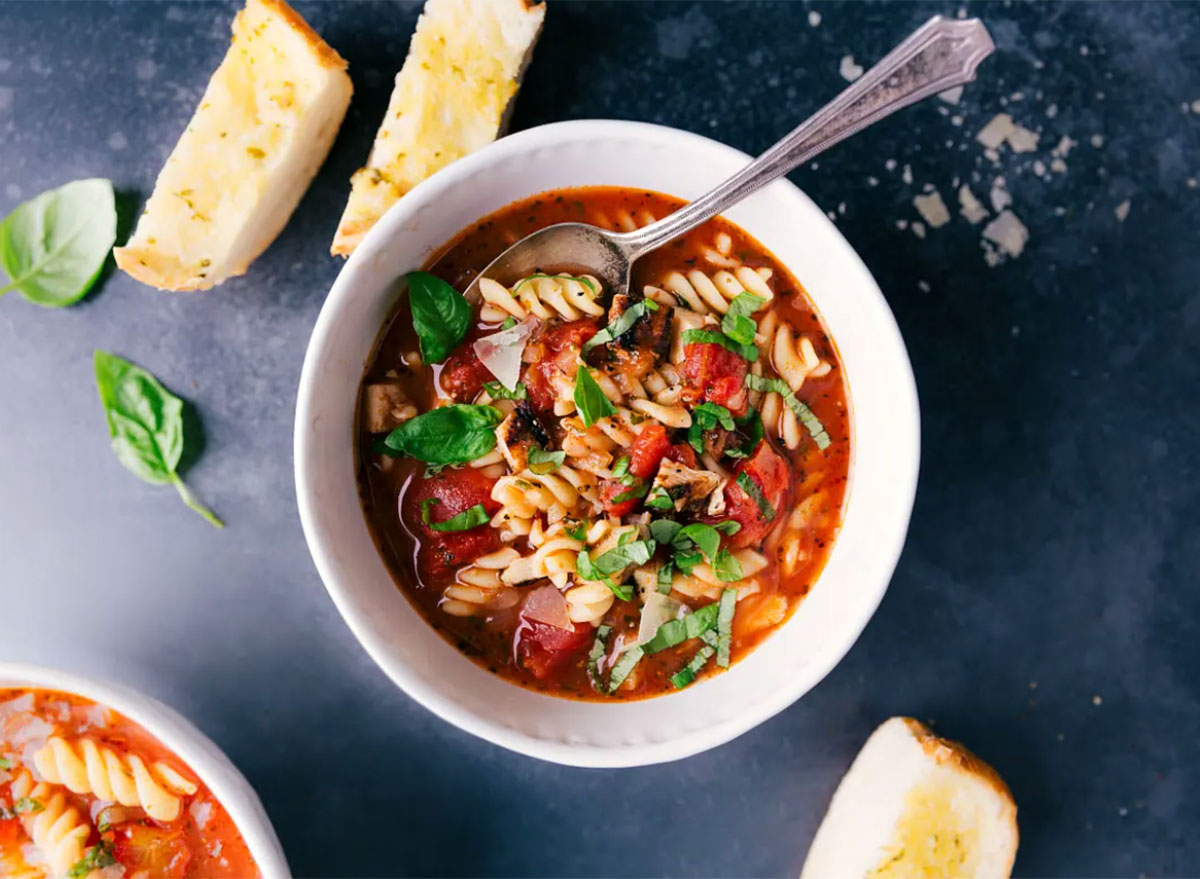 You may be familiar with chicken Parmesan, but have you ever made chicken Parmesan soup before? This soup, which can be put together in just 20 minutes, transforms a classic Italian dish into a comforting soup.
Get the recipe from Chelsea's Messy Apron.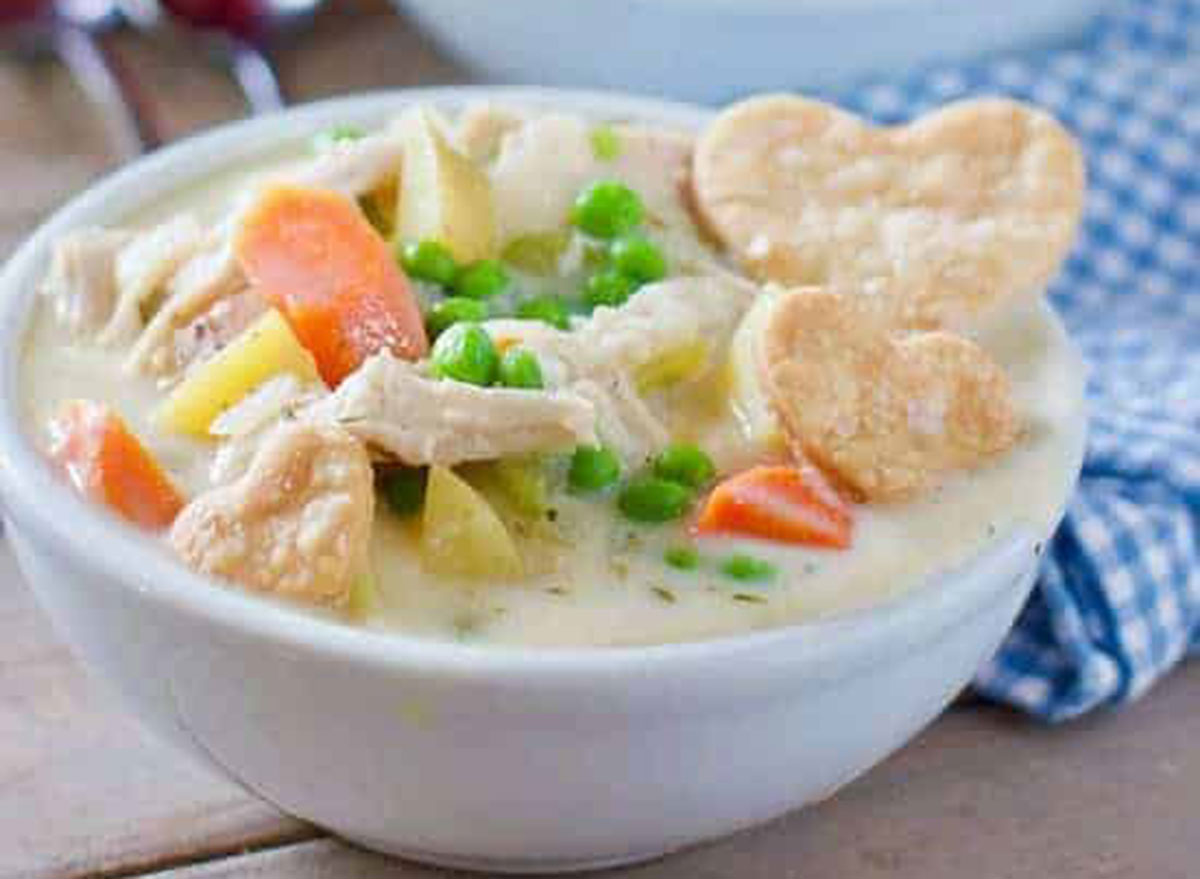 This recipe takes chicken pot pie and turns it into a luscious, thick, soul-warming soup. It is the perfect remedy for those chilly fall evenings.
Get the recipe from Laughing Spatula.
Cooler months call for big bowls of chili. This specific recipe is especially perfect for those looking for a protein-packed dish—at 31 grams of protein per serving, this chili will keep you going all day long.
Get the recipe from Ambitious Kitchen.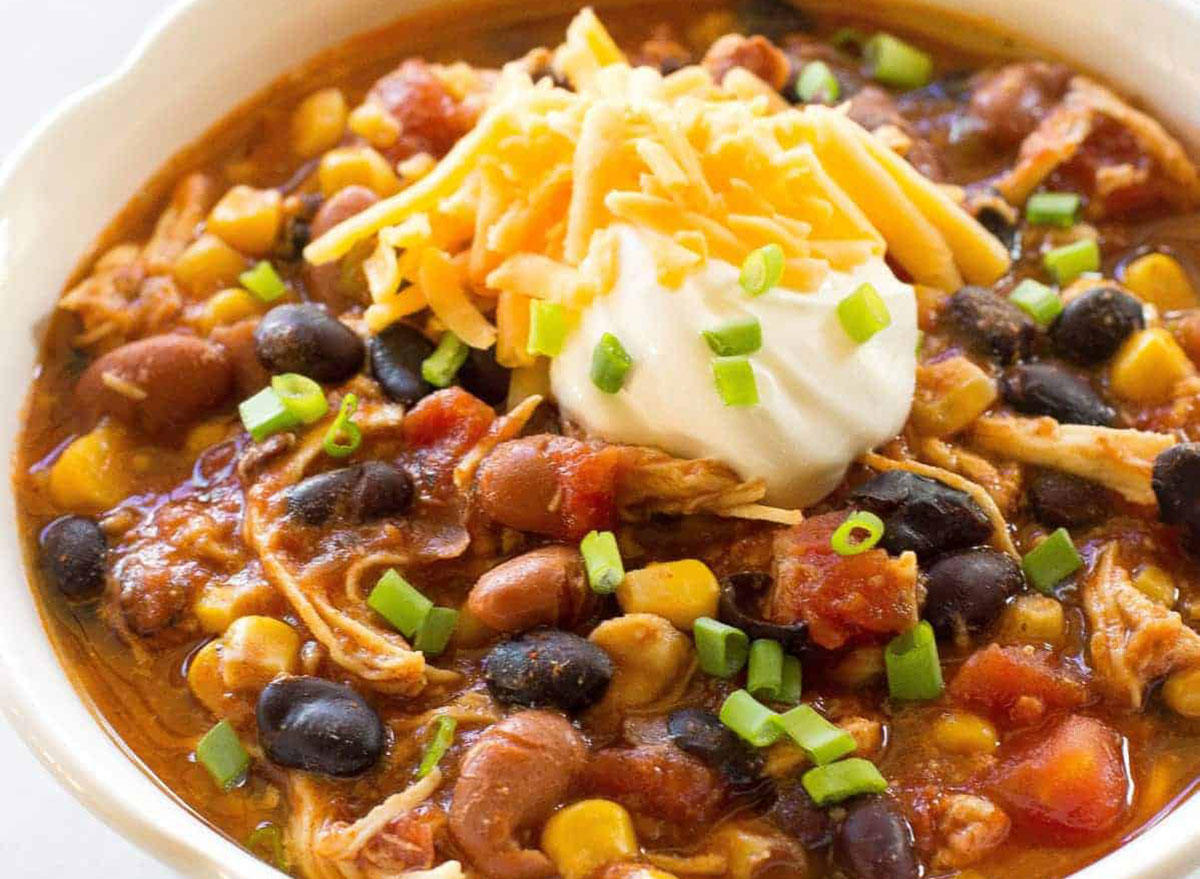 This soup recipe proves that tacos taste amazing in any form—maybe it's time for this recipe to make an appearance during your next Taco Tuesday.
Get the recipe from The Girl Who Ate Everything.
Chicken and Sweet Corn Soup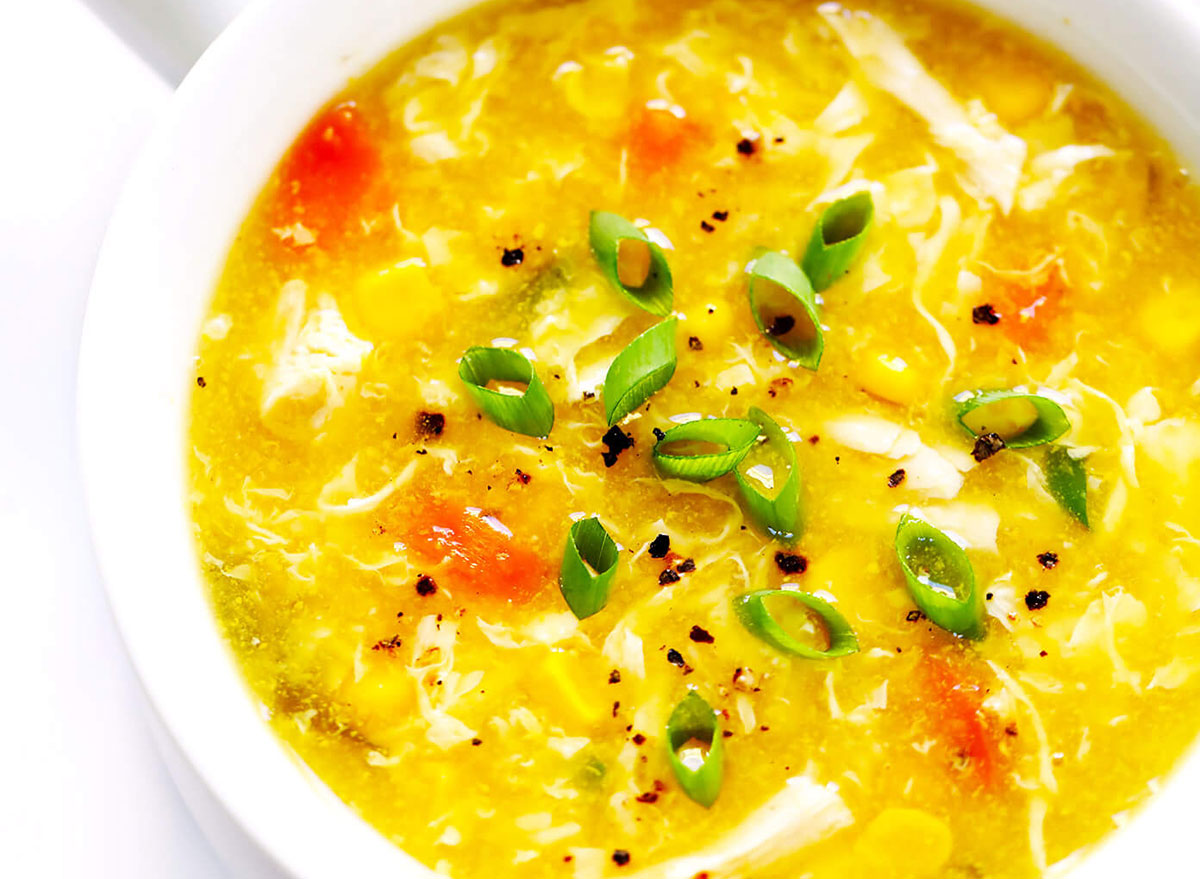 This Chicken and Sweet Corn Soup recipe is a naturally gluten-free, impressively tasty dish that is made using rotisserie chicken, eggs, and creamed corn.
Get the recipe from Gimme Some Oven.
Homemade Chick-fil-A Chicken Tortilla Soup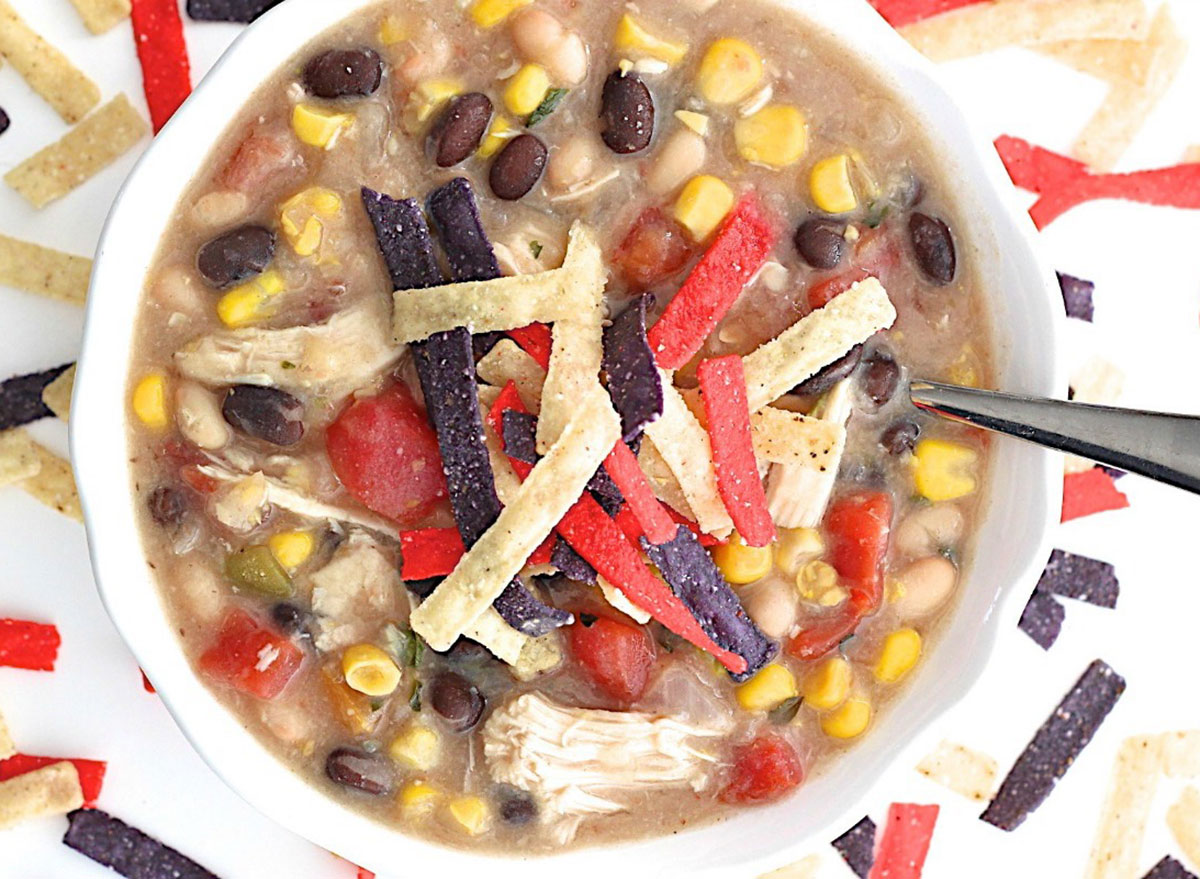 Chick-fil-A fanatics rejoice—you can now make their famous tortilla soup right at home. All you need is a handful of easy-to-get ingredients, such as cannellini beans, creamed corn, lime, and rotisserie chicken.
Get the recipe from The Baker Mama.
Crockpot Chicken Santa Fe Soup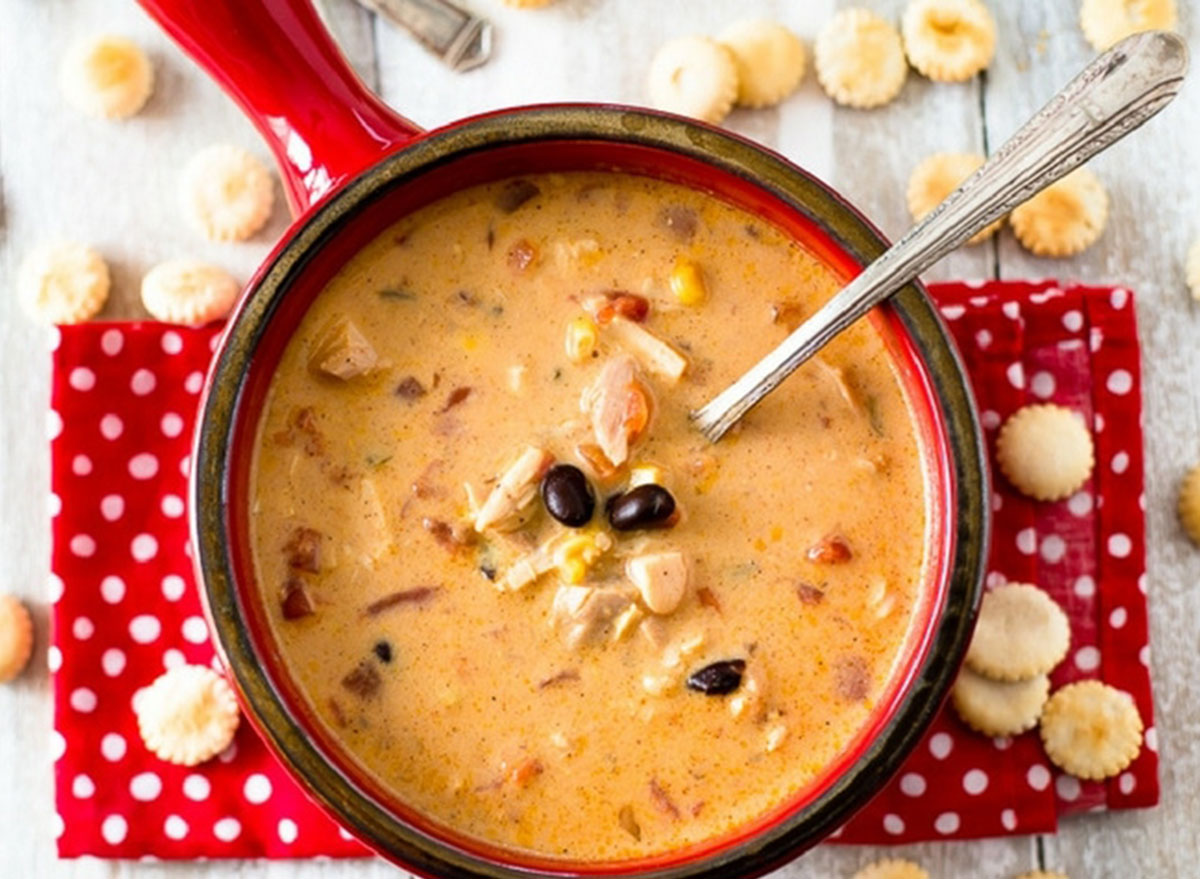 This smooth Santa Fe-inspired crockpot soup recipe is filled with traditional Tex-Mex flavors and ingredients, such as black beans, diced tomatoes with chiles, and taco seasoning. We love that it calls for a secret ingredient, cubed Velveeta cheese, to help it achieve its undeniably creamy texture.
Get the recipe from Flour On My Face.
Mexican Chili Lentil Soup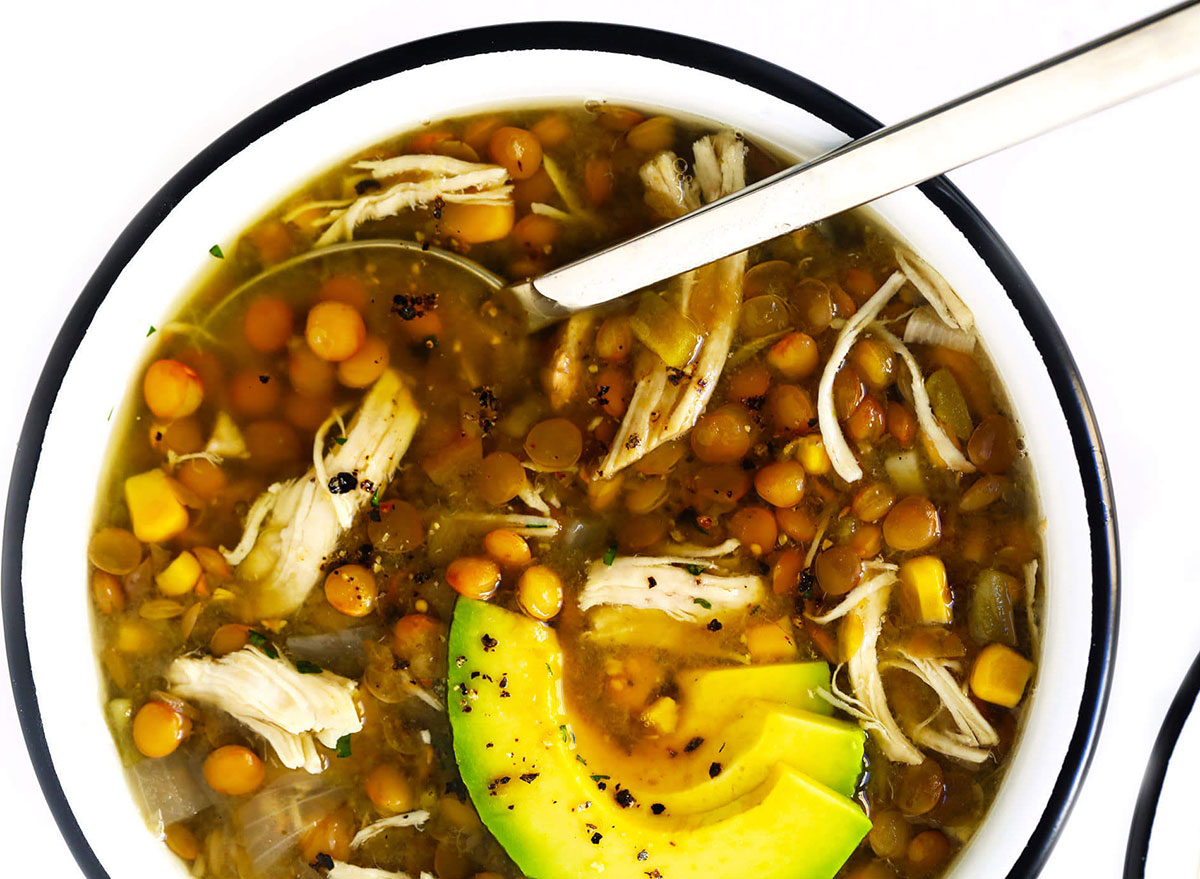 What is better than just any old bowl of chili? Mexican chili lentil soup. This dish, which is part chili and part soup, combines the best of both worlds. Here are 31+ Healthy Recipes To Make With The Dried Lentils In Your Pantry6254a4d1642c605c54bf1cab17d50f1e
Get the recipe from Gimme Some Oven.
If you thought barbecued chicken was just for summer, think again. This recipe, which combines some of our favorite picnic flavors, allows you to have a taste of summer all throughout the winter months.
Get the recipe from Your Cup of Cake.
Creamy Pumpkin Chicken Tortilla Soup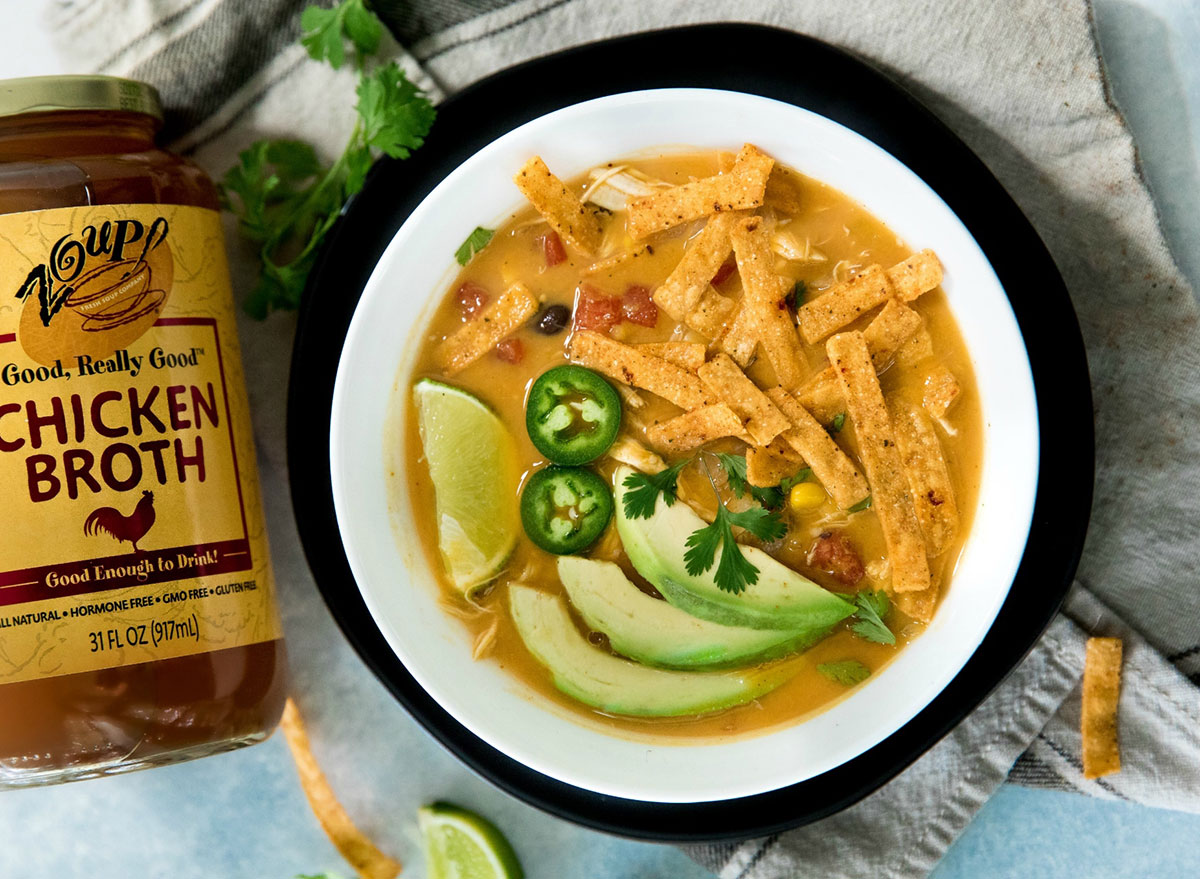 If you are already trying to brainstorm what to do with all that pumpkin you may have left after the holidays, may we suggest using it in this creamy pumpkin chicken soup? Made using pumpkin puree, Greek yogurt, and shredded rotisserie chicken, it is truly unlike anything you have ever tasted before.
Get the recipe from Kim's Cravings.
Chicken Soup with Lemon and Ginger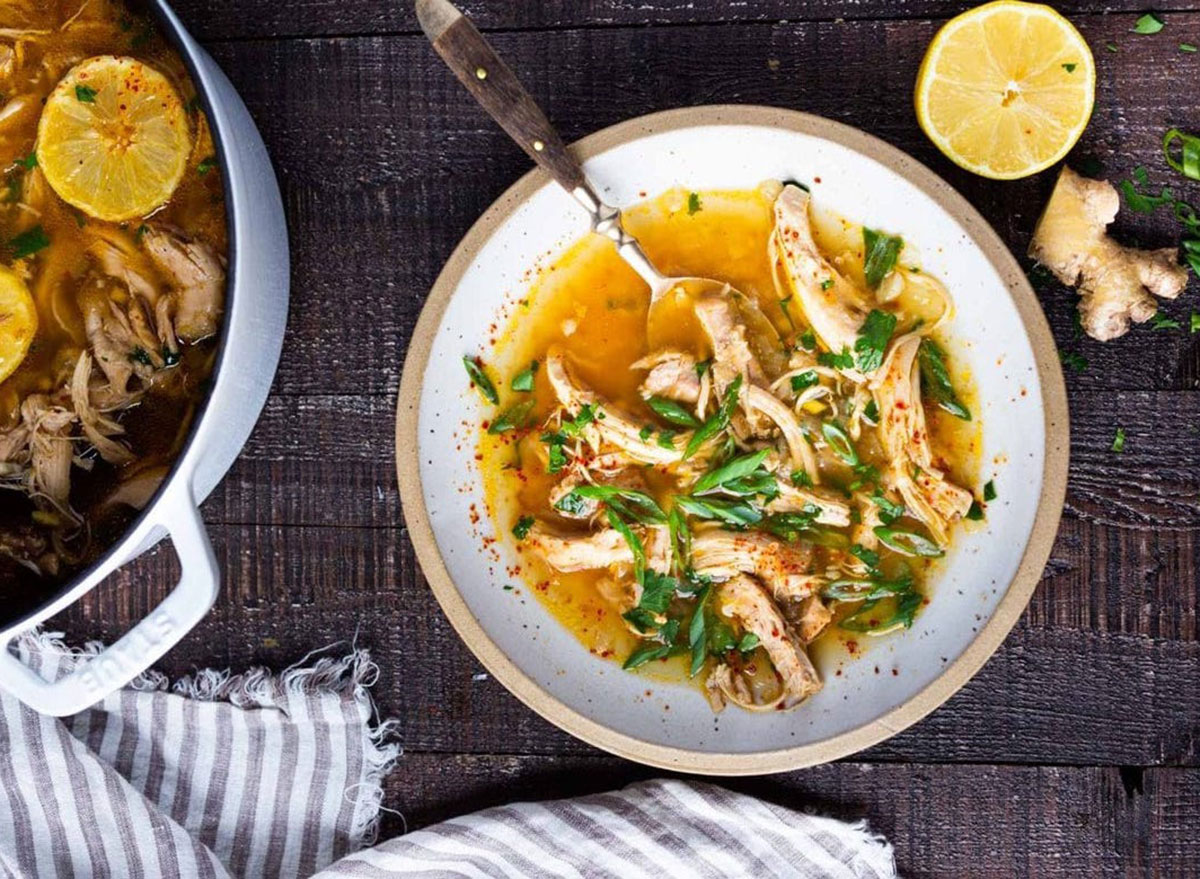 Ginger helps amp up the flavor in this dish by adding a bit of warmth and spice to it. Ginger is especially known for its healing qualities, which are especially important during cold and flu season.
Get the recipe from Feasting at Home.
If you ever wished that you knew how to recreate the chicken and gnocchi Olive Garden soup at home then today your dreams are coming true. This recipe, which calls for whole milk, carrots, shredded chicken, and celery, tastes even better than the original.
Get the recipe from Cooking Classy.
Queso Chicken Chili with Roasted Corn and Jalapeno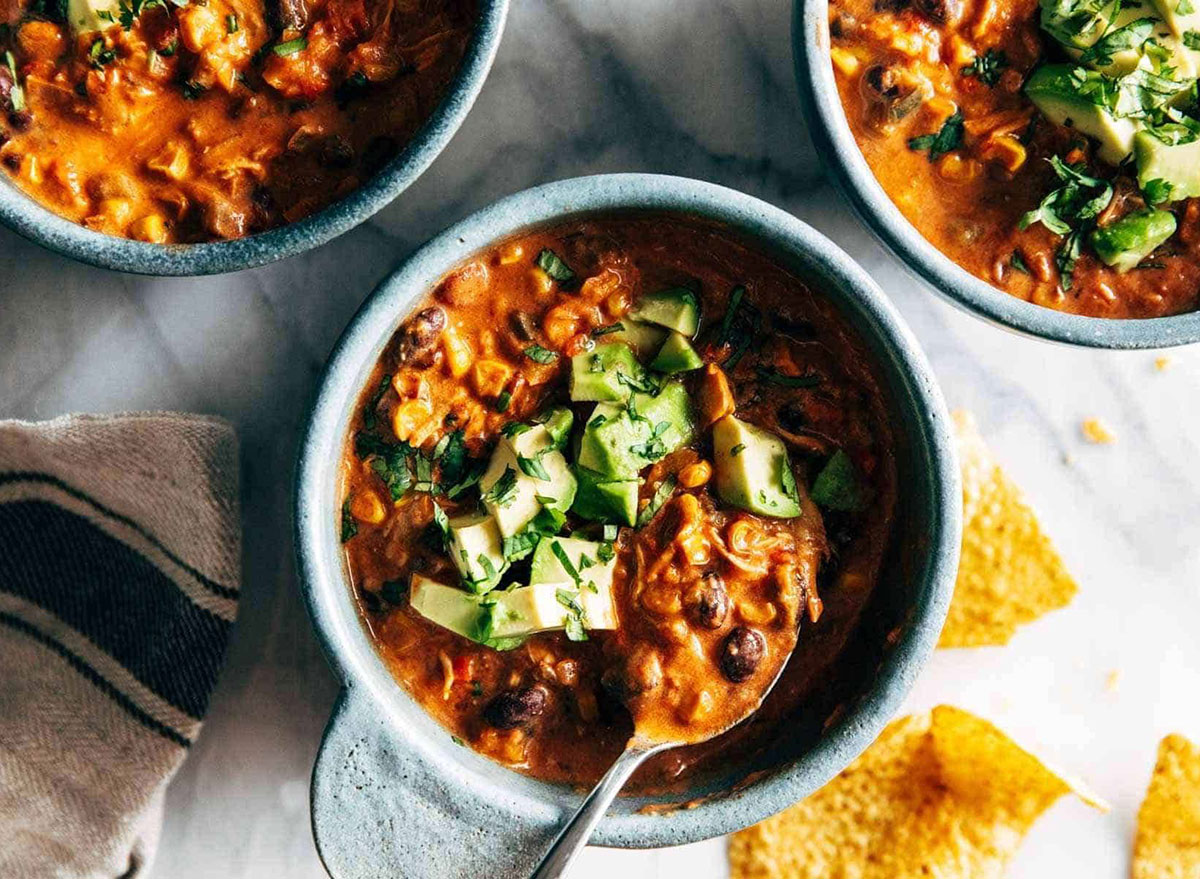 Queso is the star of this hearty recipe, which is overflowing with both fiber-rich vegetables and mouth-watering flavors.
Get the recipe from Pinch of Yum.
Instant Pot Tortilla Chicken Verde Chili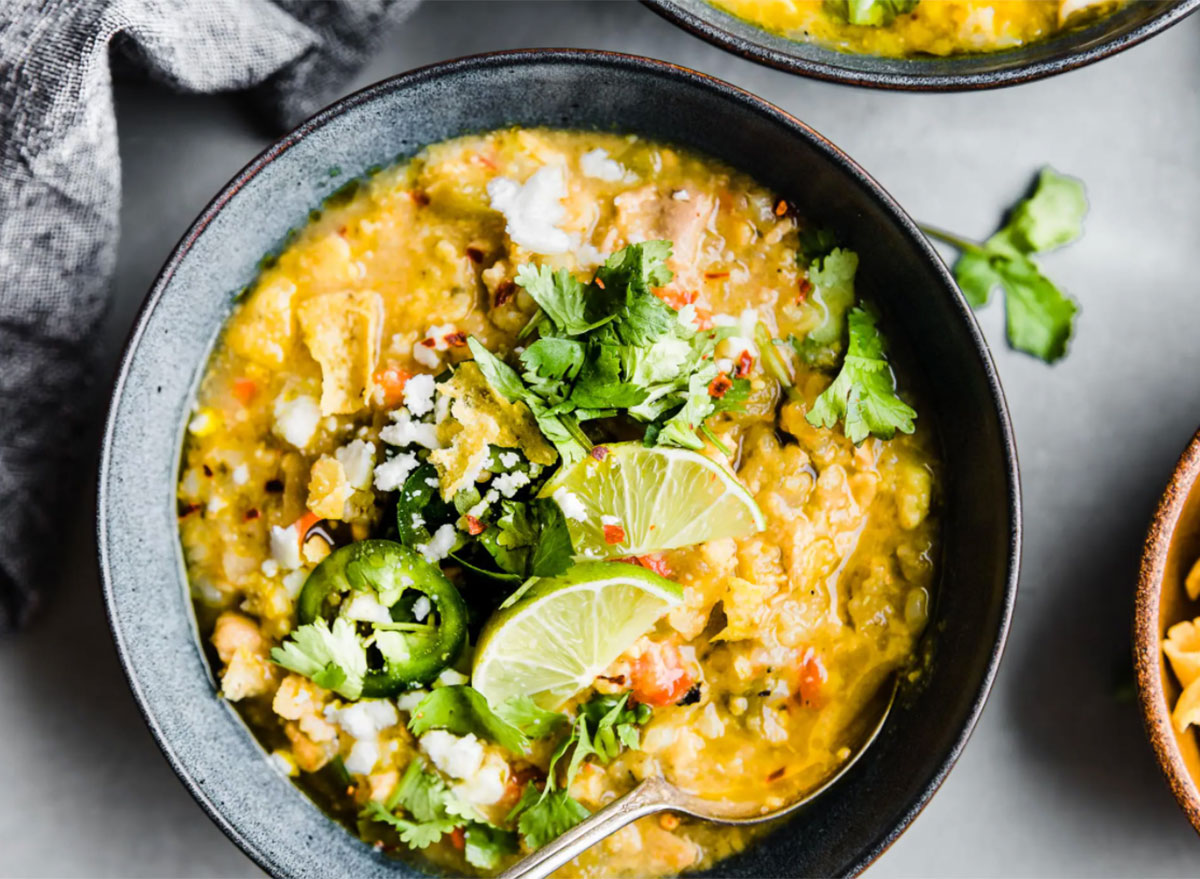 This versatile chicken verde chili recipe can be prepared either on the stovetop or in the crockpot for a quick, easy-to-make meal.
Get the recipe from Cotter Crunch.
Gluten-Free Pumpkin Chicken Chili
This low-carb, gluten-free chicken chili recipe calls for pumpkin, but suggests subbing in sweet potato or butternut squash if you don't have pumpkin on hand. It's a perfect dish to serve friends and family during the autumn season.
Get the recipe from I Breathe I'm Hungry.
Keto Buffalo Chicken Soup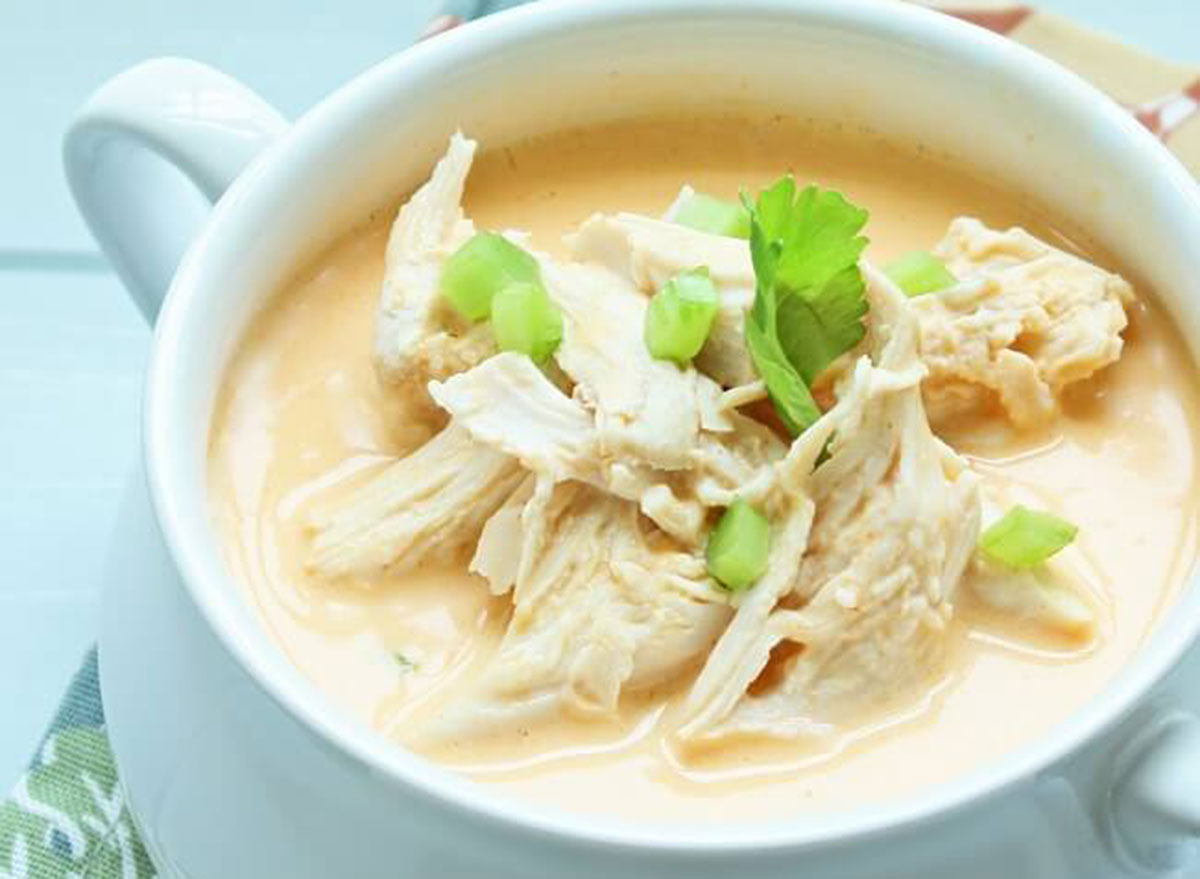 This keto chicken soup recipe gets its signature buffalo flavor by using Frank's Red Hot Sauce, blue cheese dressing, and smooth cream cheese.
Get the recipe from I Breathe I'm Hungry.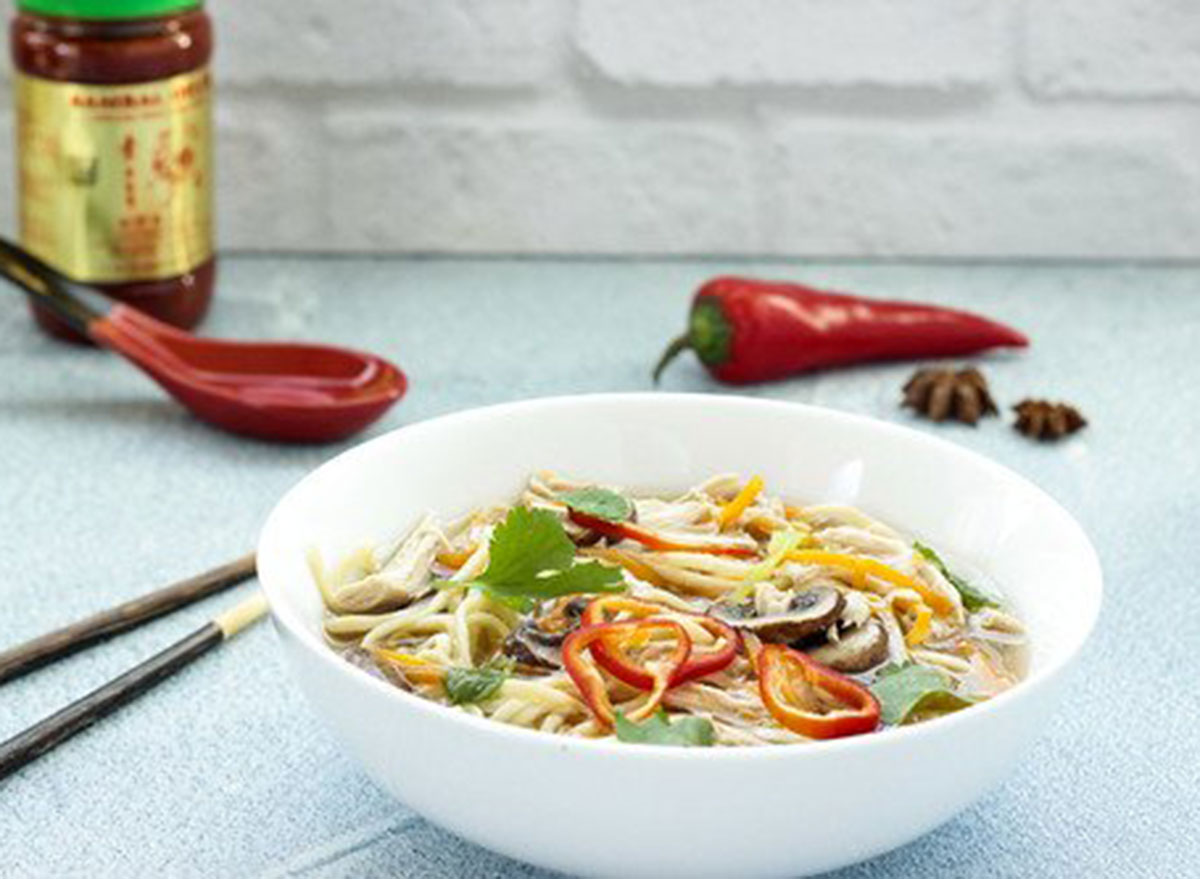 If you want to make homemade chicken pho in half the time then you need to try out this shortcut recipe by Craving Something Healthy. Cut some corners by using rotisserie chicken, boxed broth, and pre-shredded carrots.
Get the recipe from Craving Something Healthy.
Chicken and Mushroom Soup
This flexible chicken and mushroom soup recipe can be made using your choice of carbs. Whether you opt for white rice, whole-wheat pasta, or cubed potatoes, it is sure to be a big hit.
Get the recipe from Laughing Spatula.
Thai Green Curry Chicken Noodle Soup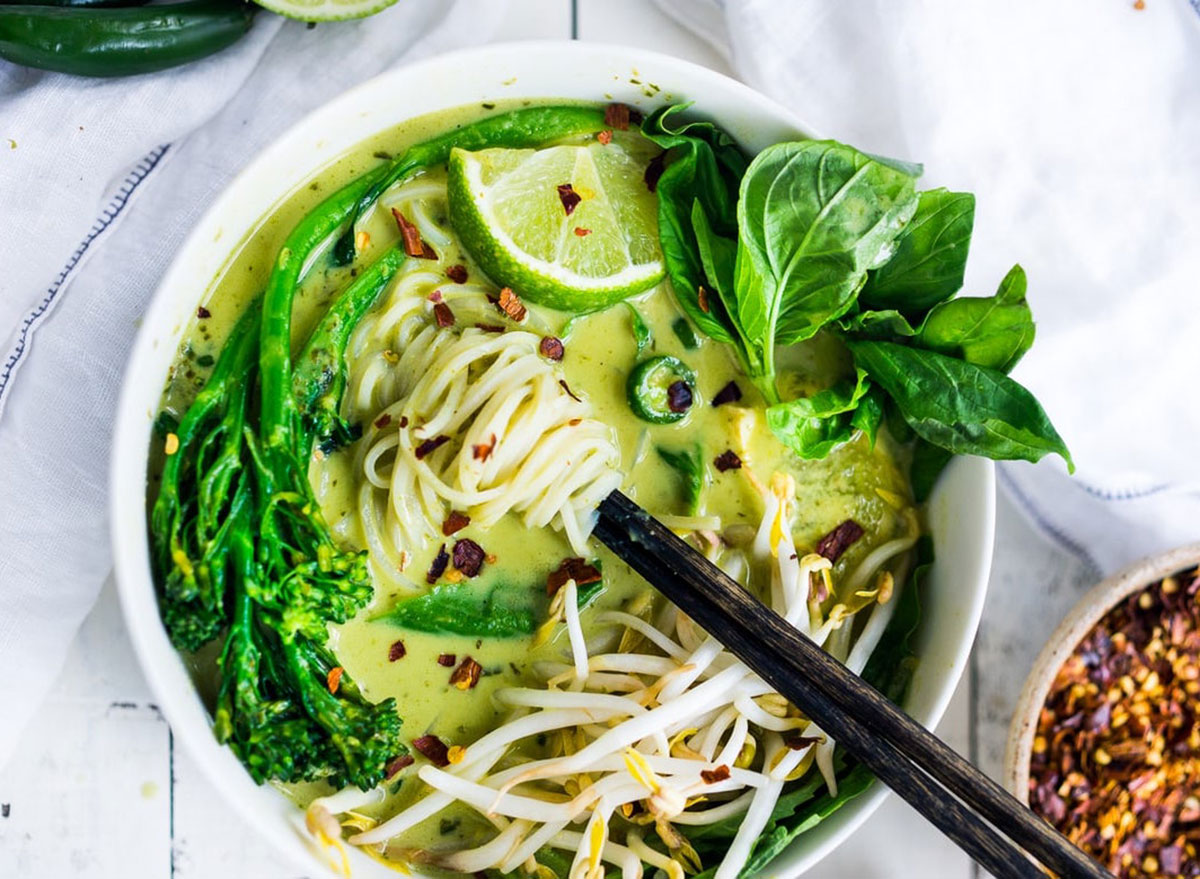 Make your green curry paste from scratch, or pick it up from the store to save on time. Also, be sure to not skip out on adding the broccolini to this dish—it adds a satisfying (and somewhat unexpected) crunch to the soup.
Get the recipe from Feasting at Home.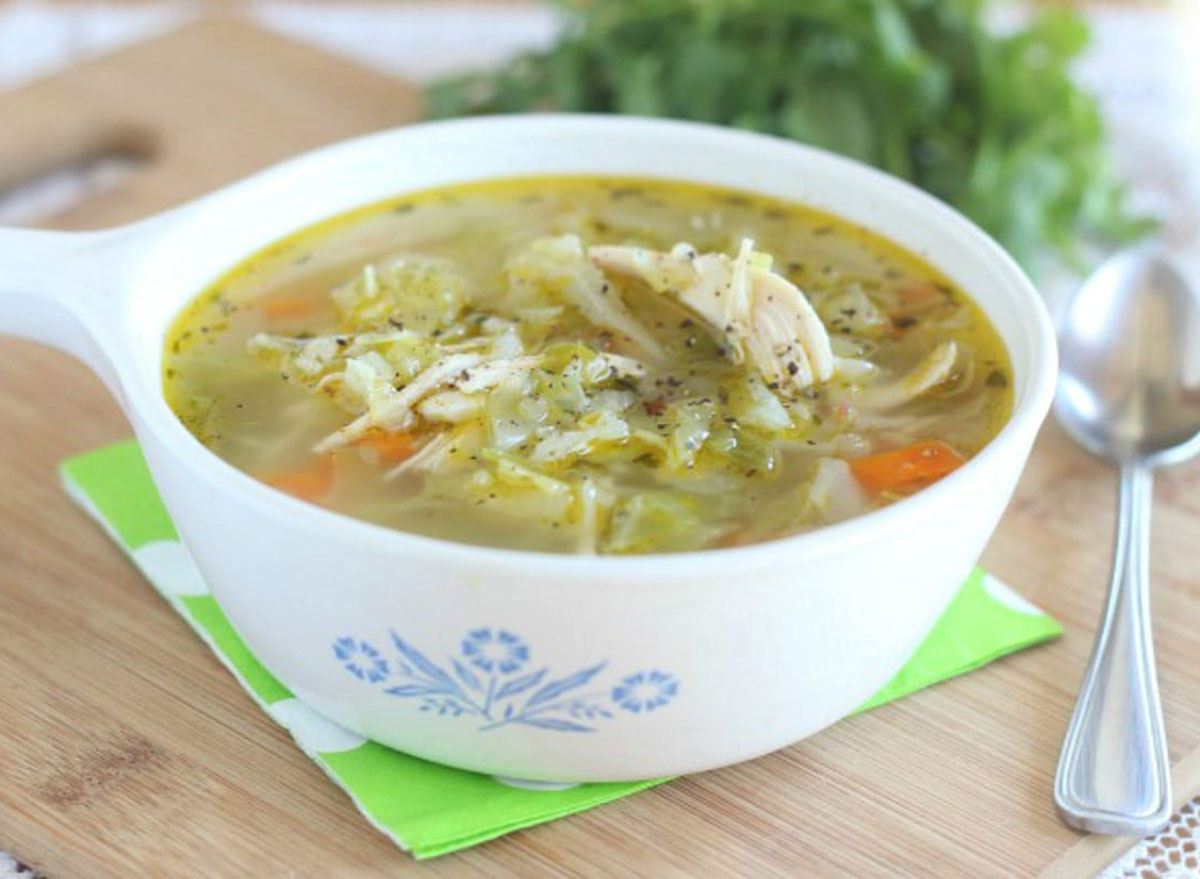 Oh cabbage, how we love thee. The cruciferous vegetable, which can be made a countless number of ways, is full of vitamin C.
Get the recipe from Oatmeal with a Fork.
Coconut Lemongrass Chicken Ramen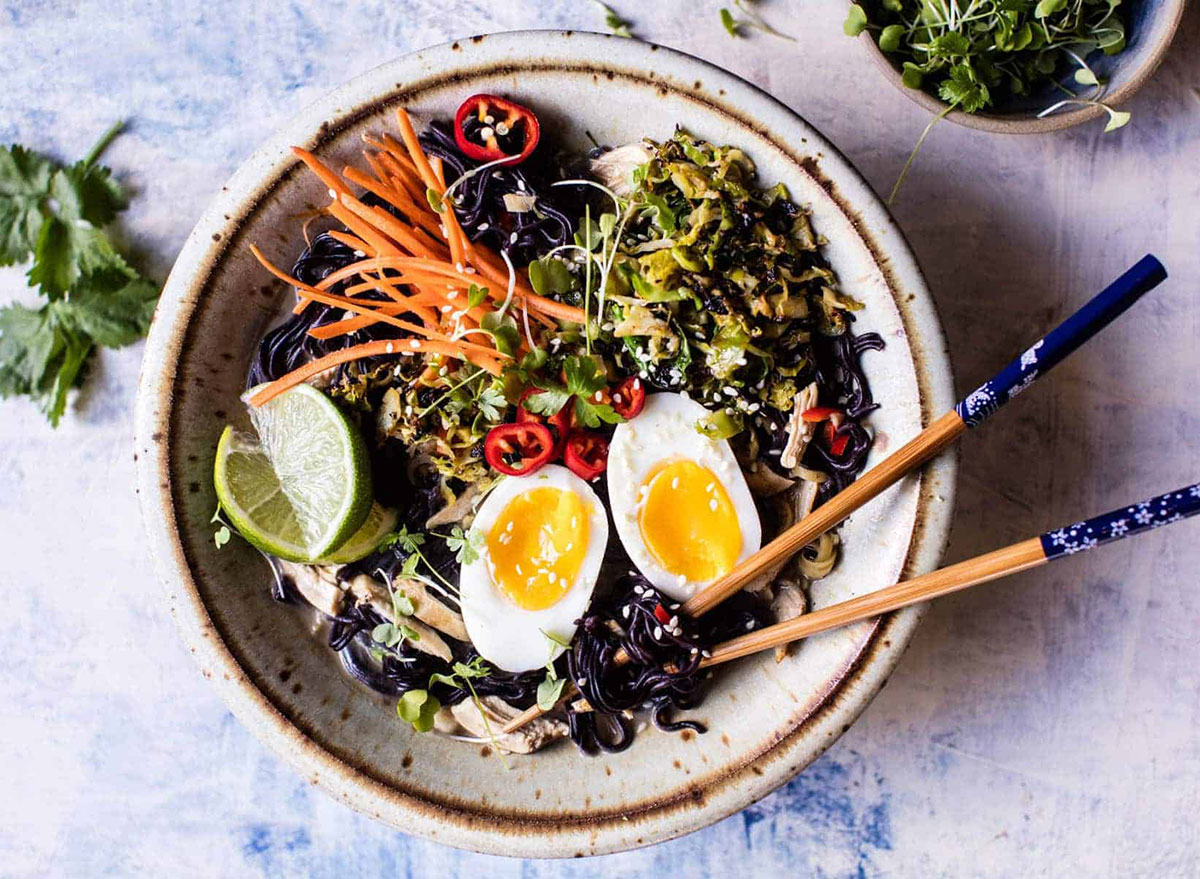 This recipe gets a little bit of an extra added edge when black rice ramen noodles, shredded Brussels sprouts, and grated ginger is added into the mix.
Get the recipe from Half Baked Harvest.
Winter Vegetable Chicken Noodle Soup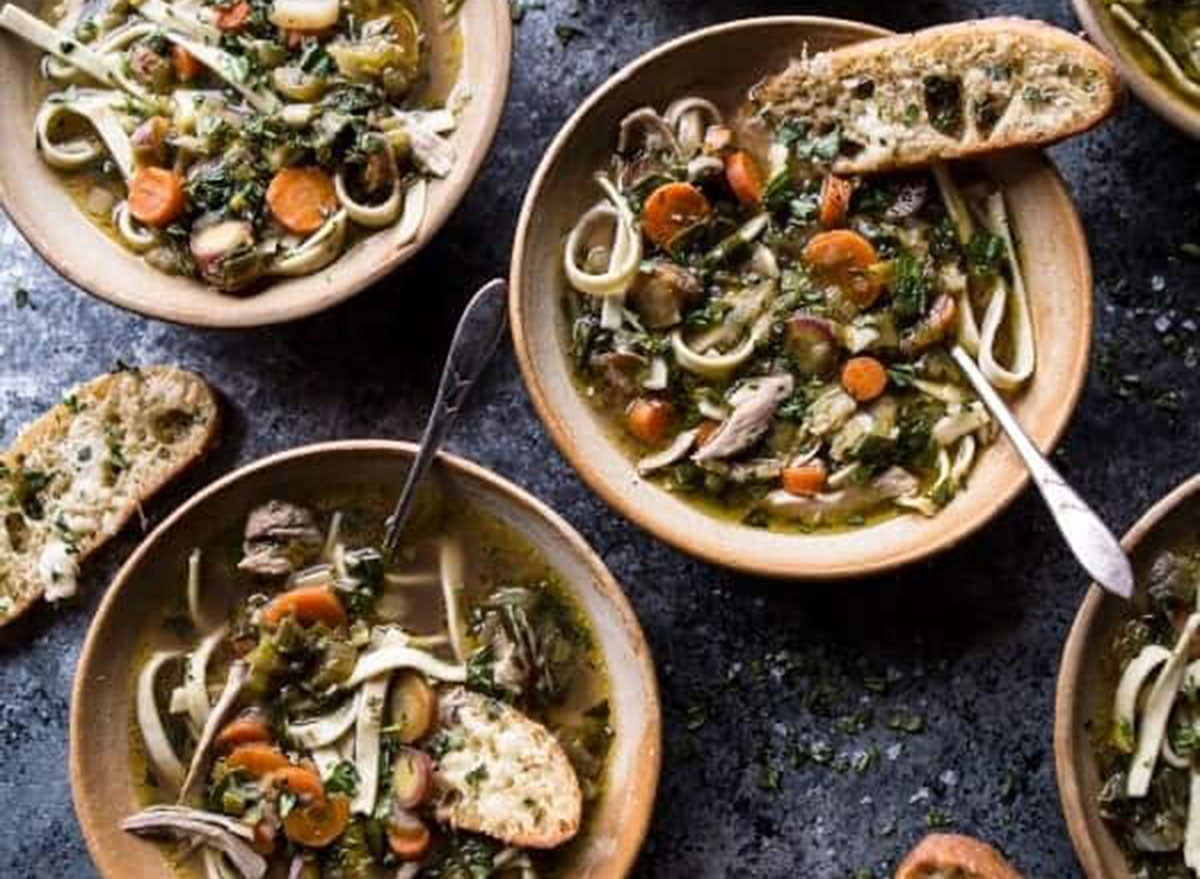 Enjoy all of your favorite winter vegetables, such as carrots, celery, leeks, and swiss chard, in this soothing chicken noodle soup recipe. Don't forget to make the Asiago cheese crostini to go with it—it is mind-blowingly good.
Get the recipe from Half Baked Harvest. 
Creamy Crack Chicken Soup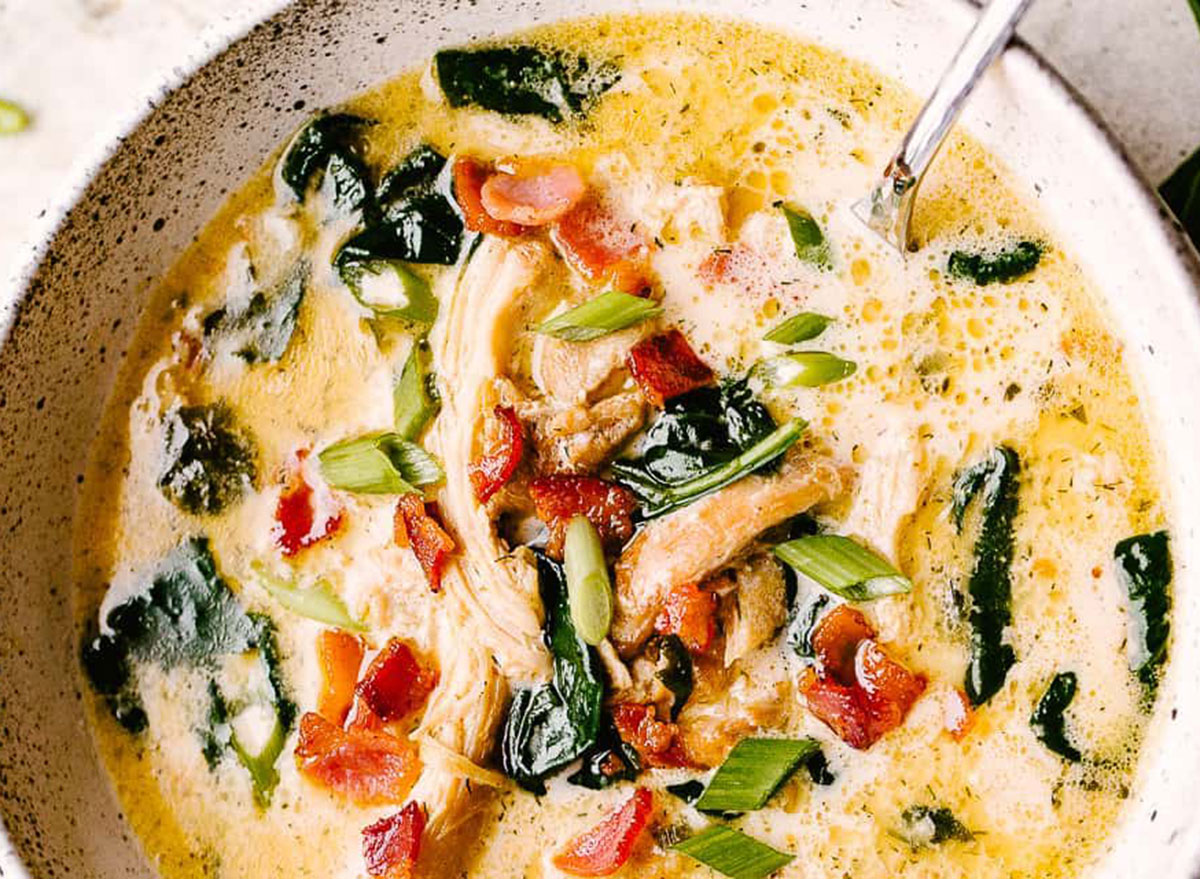 This indulgent soup combines all of our favorite comfort food flavors—bacon, cheddar cheese, cream cheese, and, wait for it, ranch seasoning.
Get the recipe from Diethood.
Autumn Chicken Apple Cider Chili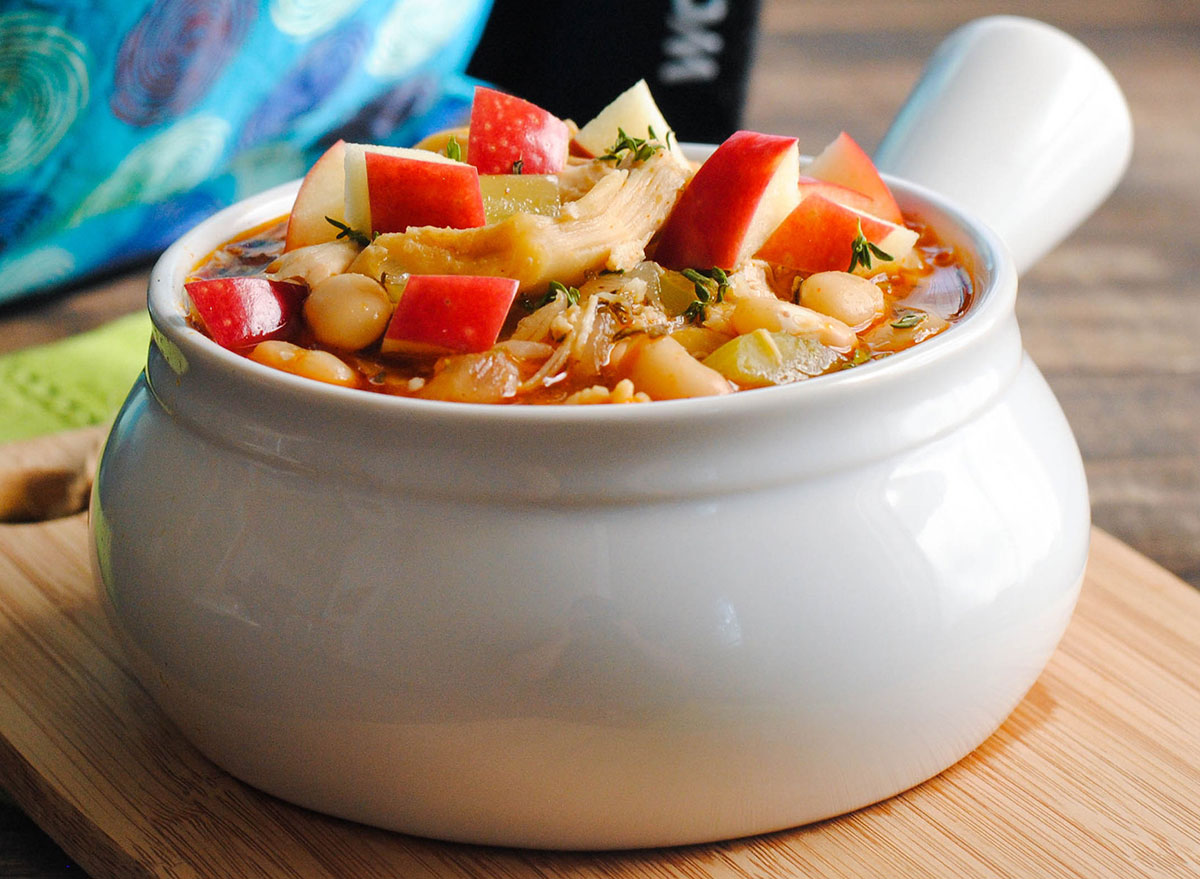 If you need something to do with all those fall apples you picked at your local orchard, then read ahead. This inventive fall soup, which is made using shredded rotisserie chicken, gets its signature flavor from chopped apples and tangy apple cider.
Get the recipe from Foxes Love Lemons.
Mexican Chicken Noodle Soup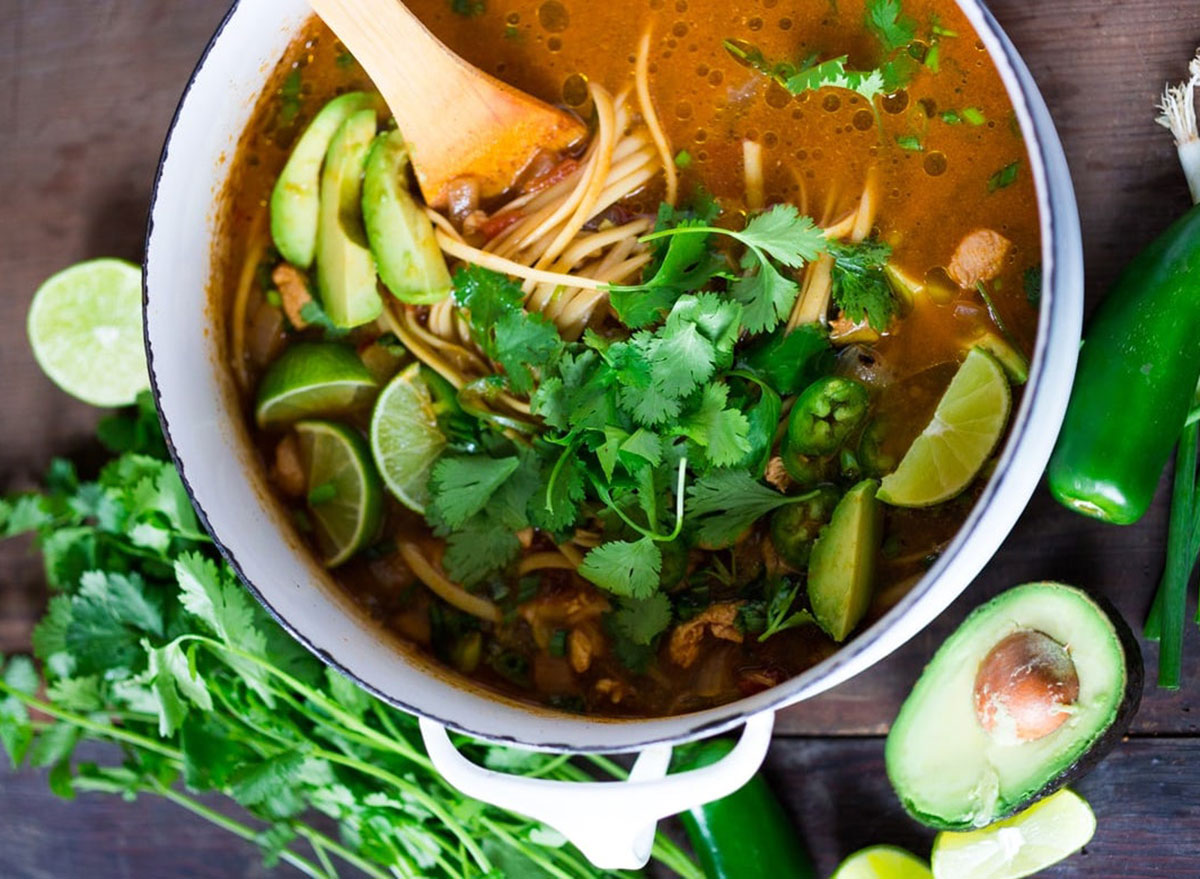 A scrumptious Mexican chicken noodle soup that can easily be made gluten-free? Sign us up!
Get the recipe from Feasting at Home.
Curry Coconut Noodle Soup with Chicken
Red curry paste, curry powder, coconut milk, and a healthy dose of garlic cloves help give this recipe its dynamic flavor. We almost cannot believe that it only requires 15 minutes of prep time!
Get the recipe from What's Gaby Cooking.
This Peruvian-inspired chicken soup recipe is packed with cilantro, which helps give it its bright, tangy flavor. Even though soup is mostly associated with the cooler months, we can imagine this recipe would taste great any time of the year.
Get the recipe from Gimme Some Oven.
Read more: