Best Supplements to Buy at Walmart, Say Experts
Here's what dietitians recommend grabbing on your next trip to the popular superstore.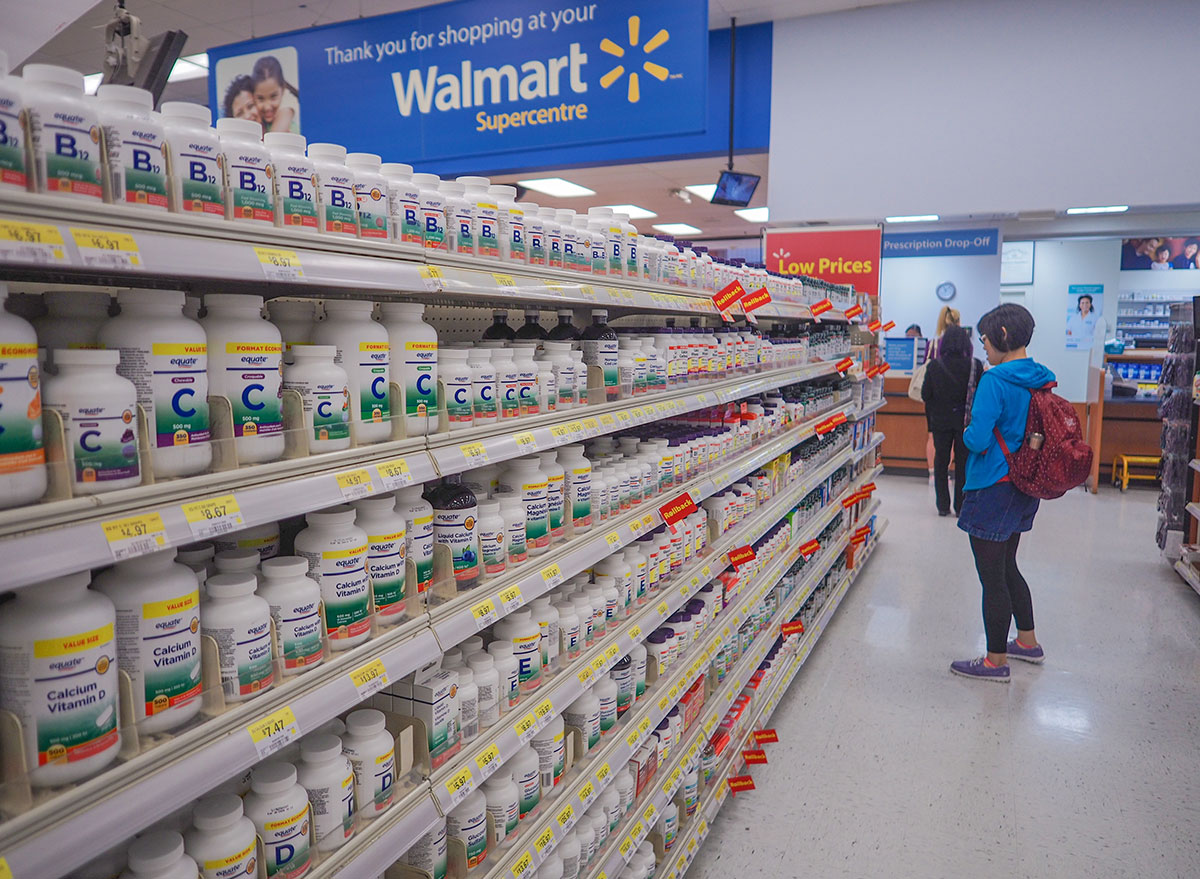 With more than 1,000 different options on the shelves, Walmart boasts one of the largest selections of supplements you can find. But while perusing the wide range of protein powders, multi-vitamins, probiotics, and more, you may face some pretty tough shopping decisions. Fortunately, we spoke with a handful of registered dietitians to get their Walmart supplement must-haves.
Whether your goal is to grow healthier hair, balance your microbiome, or fill some nutritional gaps in your daily diet, here are some products to add to your cart pronto. (And while you're on that shopping spree, be sure to scope out The Best Supplements To Buy at Costco.)
Did you know that about 42% of the American population has a vitamin D deficiency?
While a supplement can be a great way to ensure you're getting enough of this essential vitamin, not all products are created equal.
"I recommend 2,000 milligrams in the D3 form because it is more absorbable than D2," says Jenna Stangland, MS, RDN, the team dietitian for the Minnesota Wild. "Vitamin D is essential for the absorption and retention of calcium in bones. It also plays a key role in regulating mood, and is critical for the function of our immune system."
This Garden of Life D3 supplement packs a whopping 1,250% of your recommended daily value for vitamin D.
Viviscal Hair Growth Supplement For Women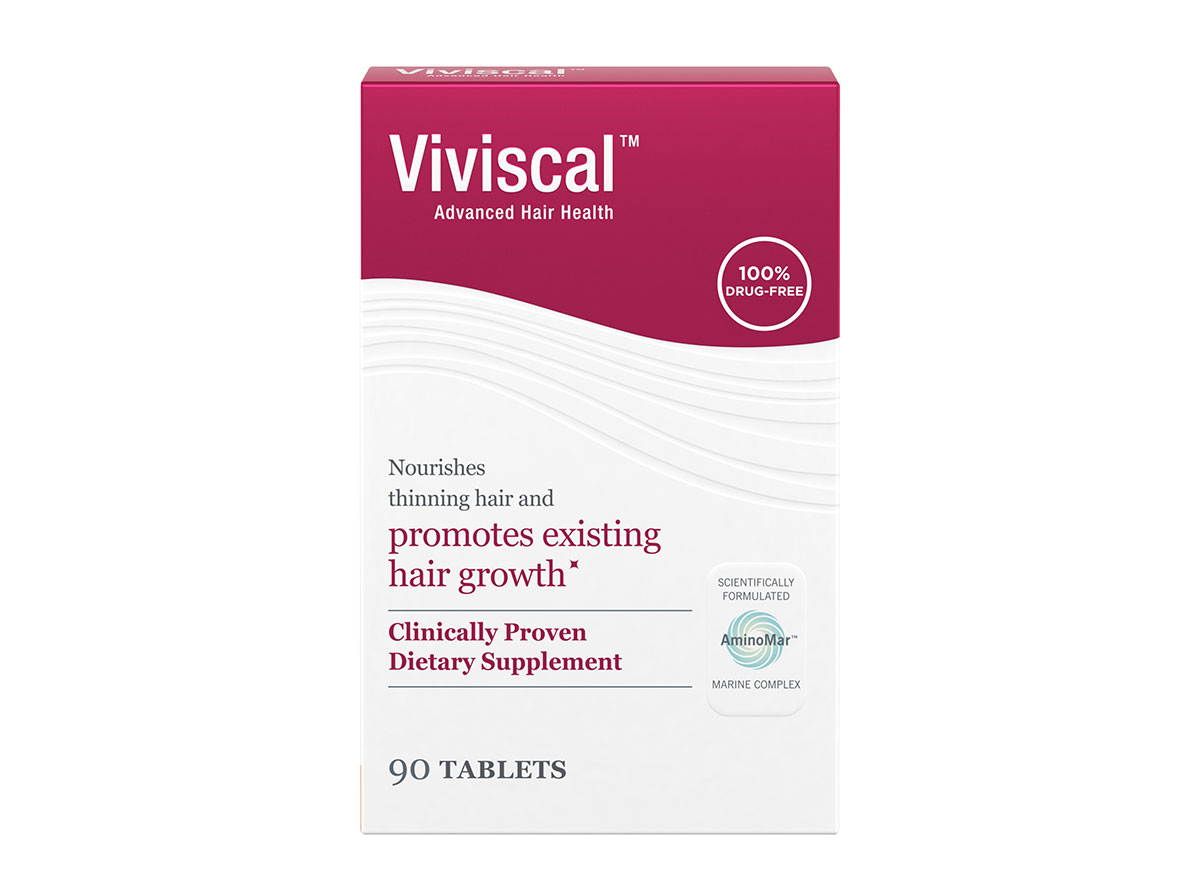 Seeking longer, thicker, more lustrous locks? Tracy Lockwood Beckerman, RD, says Viviscal is a powerhouse of hair-enhancing vitamins, minerals, and other micronutrients—it works on all hair types, and has been proven effective in clinical trials.
"This supplement contains biotin which is essential to eye, skin, hair, and brain function and it helps your body to convert food to energy," says Beckerman. "Because your body doesn't store biotin, you need to consume it regularly in order to maintain adequate levels."
Viviscal also has AminoMar, a proprietary marine complex that includes a number of hair-boosting fatty acids and vitamins and minerals, like niacin and zinc.
Spring Valley Omega-3 Fish Oil
"I feel so strongly that most people should be taking an omega-3 supplement, as well as taking in more through their diet because chronic, low-grade inflammation is the root cause of many diseases common to Western society," says Trista Best, RD at Balance One Supplements. "This inflammation is in part the result of an imbalance in omega-3 and omega-6 fatty acids. Both are essential fatty acids, but omega-6 is highly inflammatory when it outnumbers omega-3's and it is consumed in large amounts in the standard American diet. Supplementing with omega-3's is a great way to bring this back into balance."
Best says this particular fish oil supplement is not only a great value, but also offers an optimal concentration of omega-3 fatty acids at 1,000 milligrams per serving.
"I also appreciate that the consumer isn't expected to take multiple capsules, but the total dosage is provided in one convenient liquid gel," she says.
Align Probiotic Daily Digestive Health Supplement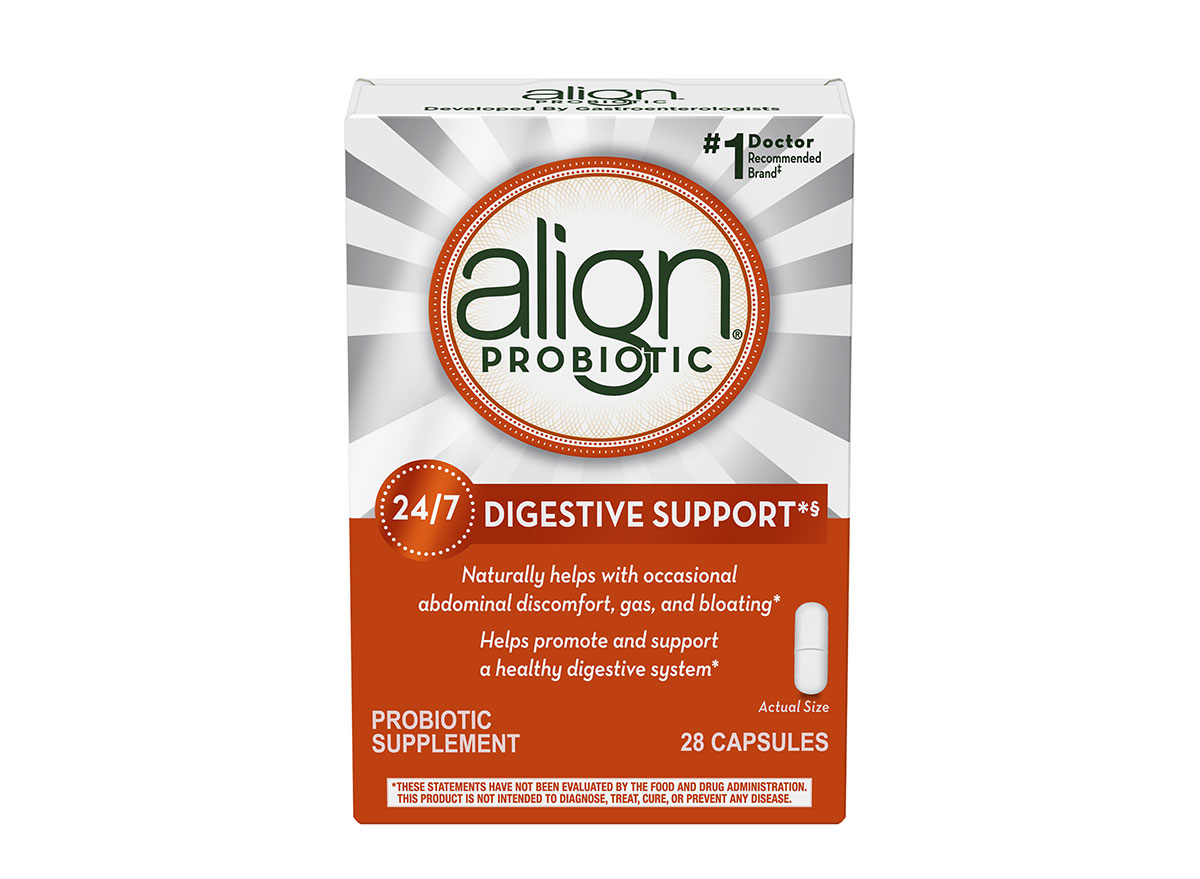 "If your medical provider or dietitian recommends a probiotic, Align, Florastor, and Culturelle are reputable high-quality options," says Elle Wittneben, RD, the Manager of Nutrition Services at Greater Boston Urology. "The formulary of Align probiotics may be especially beneficial for those suffering from irritable bowel syndrome. I also recommend probiotics to patients who do not consume a dietary source of probiotics and if the patient is on antibiotics."
Nature Made Multi Complete
A multivitamin offers a great way to get peace of mind that you're getting everything your body needs to function properly—from keeping your immune system in optimal working order to protecting your bones and joints.
"Although we should strive to get all our vitamins and minerals through food, this type of vitamin is helpful for someone who thinks they may have some nutrient gaps in the diet," says Mackenzie Burgess, RDN and recipe developer at Cheerful Choices. "You can feel confident about this purchase because Nature Made vitamins are third-party tested and USP verified. This ensures they are science-supported, contain quality ingredients, and follow strict manufacturing processes."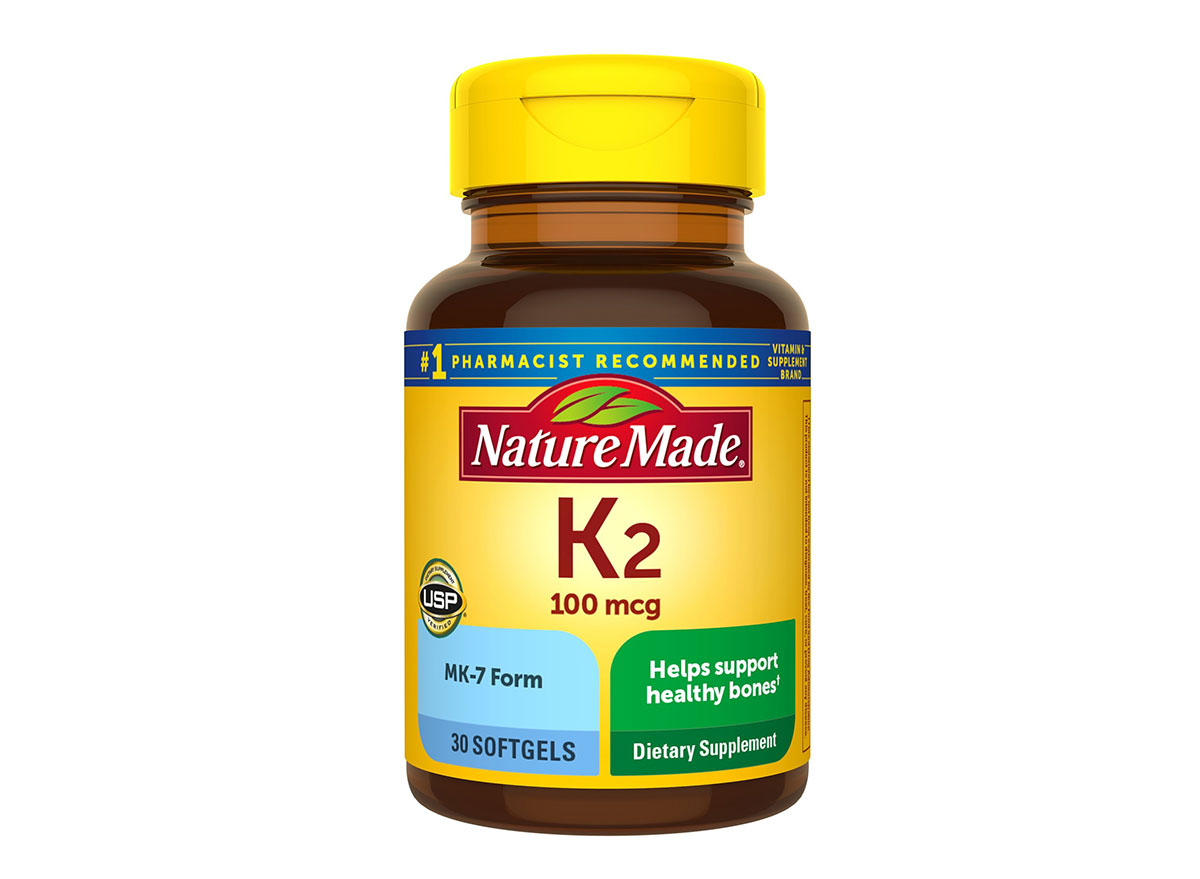 6254a4d1642c605c54bf1cab17d50f1e
According to Mia Syn, RD, MS, vitamin K1 is widely available in foods that are common in the Western diet (like veggies), but vitamin K2 can be far harder to come by—which is why it's estimated that most people don't meet the daily recommended intake for this nutrient.
"Vitamin K2 is particularly important for bone and heart health," says Syn. "And the bone health benefits of K2 apply to nearly every age group. For example, high-dose K2 is needed for growing bones in puberty as well as after menopause to reduce bone loss."
Not only that, but Syn notes that vitamin K2 can reduce arterial stiffness and slow the progression of calcification—thereby decreasing your risk of heart disease, the leading cause of death in the US.
In other words, your bones and your heart will thank you for taking this daily supplement, which packs 100 micrograms of vitamin K2.
EyePromise Restore Supplement
Stangland says anyone who works on a computer for multiple hours a day can benefit from taking this innovative supplement, which is formulated to preserve and support vision by protecting your peepers from harmful blue light-induced oxidative stress.
"EyePromise has patented high doses of both zeaxanthin and lutein, which improve visual function by increasing macular pigment, which basically helps the eyes filter light from blue screens," she says. "This formula has the added bonus of fish oil, which is an anti-inflammatory. Many people don't eat enough fish to get adequate doses of omega-3 fats."
One A Day TruBiotics, Daily Probiotic Supplement for Digestive Health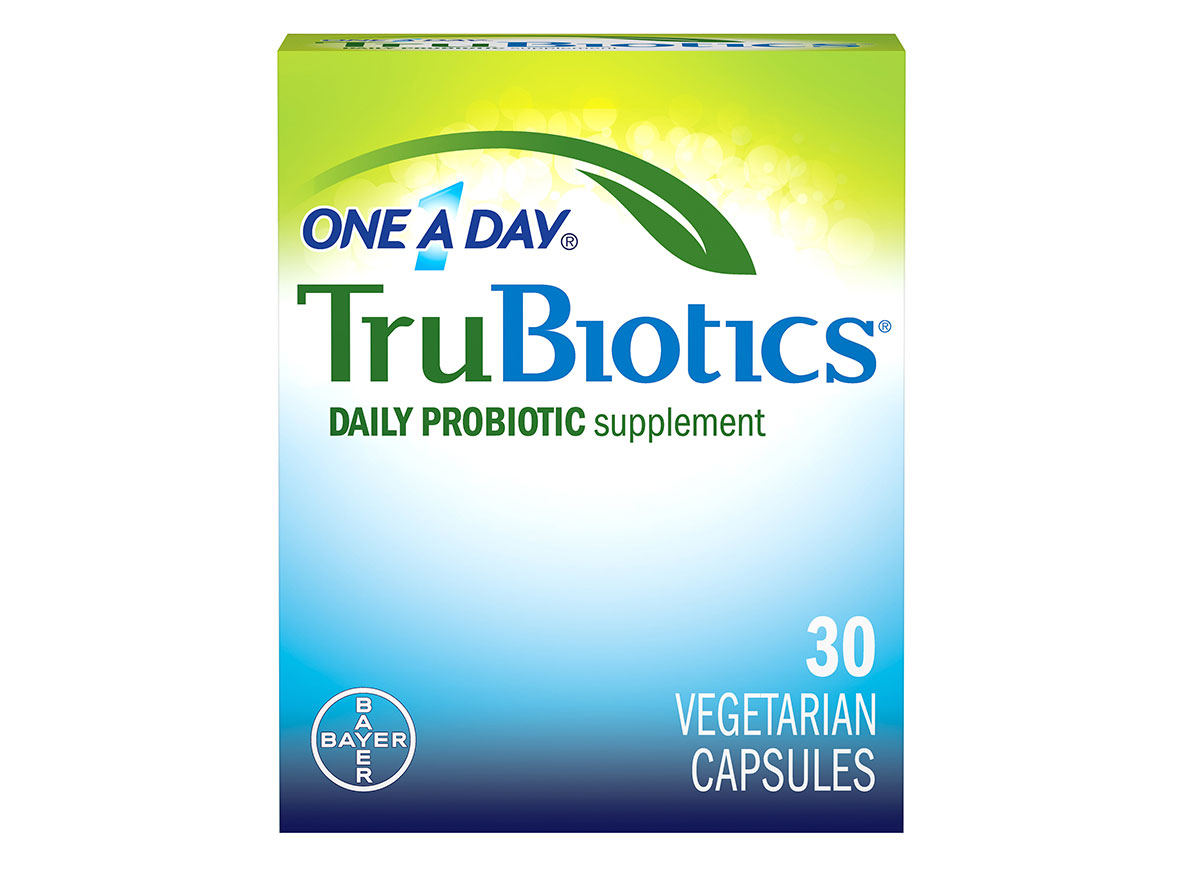 Looking for another probiotic option? This is Syn's top pick for a few reasons: each capsule contains a proprietary blend of 2 billion CFUs of probiotics, and one of the strains just happens to have one of the highest survivability rates, meaning your digestive system will reap more benefits from it.
"TruBiotics is comprised of the two most clinically studied types of good bacteria—Bifidobacterium and Lactobacillus—which are the most commonly found types of good bacteria in the human gut," says Syn. "These bacteria work together to support the digestive system and the 70% of the immune system in the digestive tract."
Thorne Research—Stress B-Complex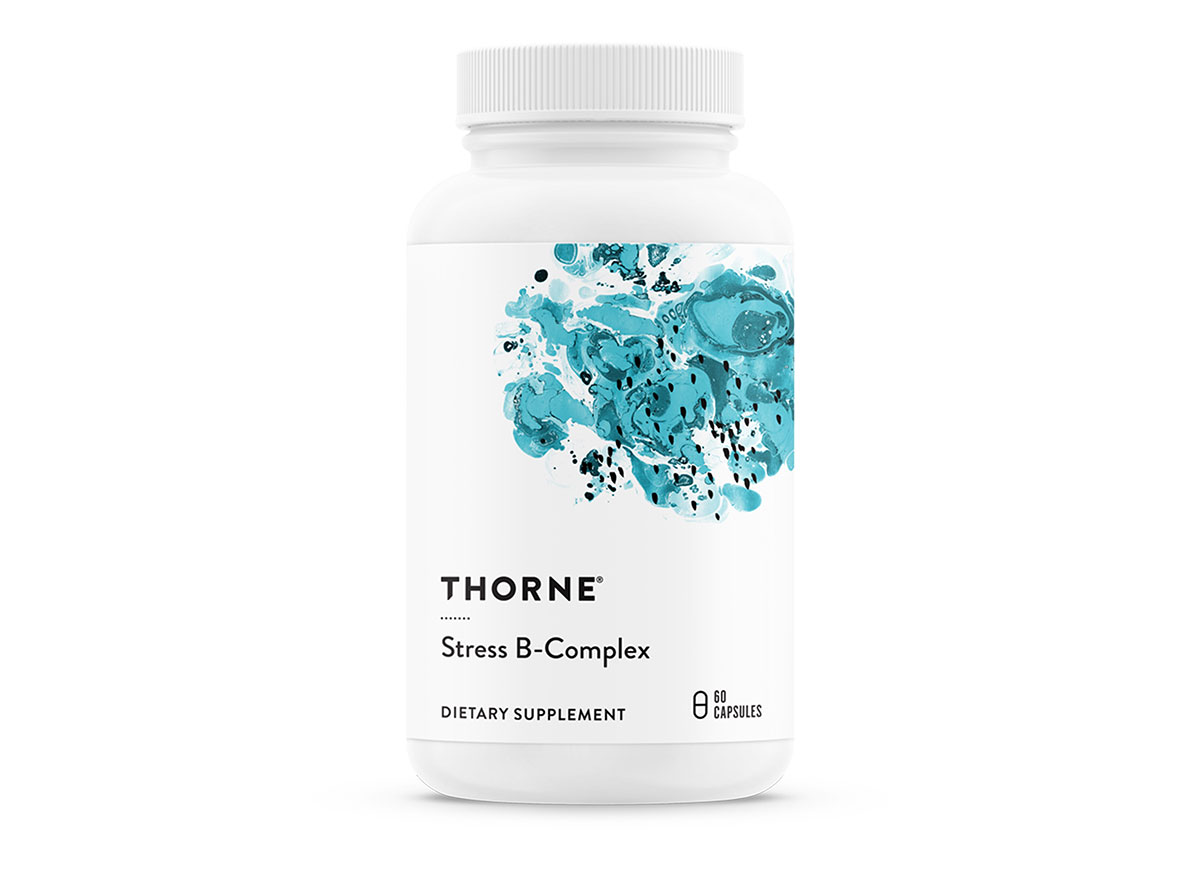 When you're dealing with an extra dose of stress, reach for this handy little supplement.
"I recommend this B complex by Thorne because it has a higher concentration of vitamin B5," explains Strangland. "That's the vitamin the body uses to make cortisol when under stress, so more B5 is needed to support the adrenal gland. An important note to look for in B vitamins is finding a methylated one like Thorne's, because B vitamins need to get methylated by the body before being used. Each B vitamin plays a different role in creating energy and forming red blood cells and because B vitamins are water-soluble, the body cannot store them. So we must get our daily needs from food and supplementation."
Get even more healthy tips straight to your inbox by signing up for our newsletter!
Rebecca Strong
Rebecca Strong is a Boston-based freelance health/wellness, lifestyle, and travel writer.
Read more about Rebecca